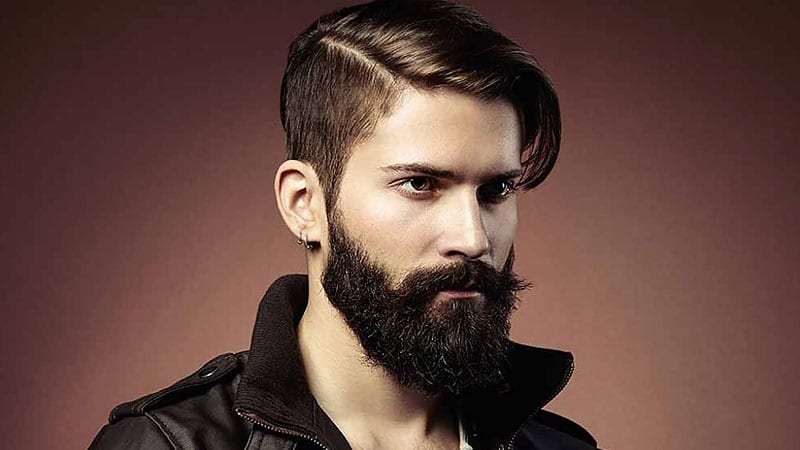 They may have lived a thousand years ago, but Vikings sure were ahead of their time when it came to their hair, or at least the History Channel's hit show would make it seem. Epic braids, killer disconnected undercuts, and masculine ponytails all spring to mind when picturing one of these historic warriors, and we love it. After all, what man doesn't want a haircut that looks insanely fierce and stylish all at once? Of course, these bold and daring 'dos certainly aren't for the faint of heart. But you've come to the right place if you can handle the huge amount of attitude from rocking a battle-ready cut. We've got all the coolest Viking hairstyles for men to inspire your next look.
RELATED: 10 Masculine Man Bun Braid Hairstyles to Try
1. Temple Shave
Viking hairstyles are often characterized by long, thick hair on the top and back of the head and shaved sides. The result is an eye-catching, attitude-filled look perfect for tough gents. To rock the style, you only need to apply some modern updates. A temple shave can be an excellent way to achieve the same edgy appearance as an authentic Viking hairstyle while maintaining a modern appeal.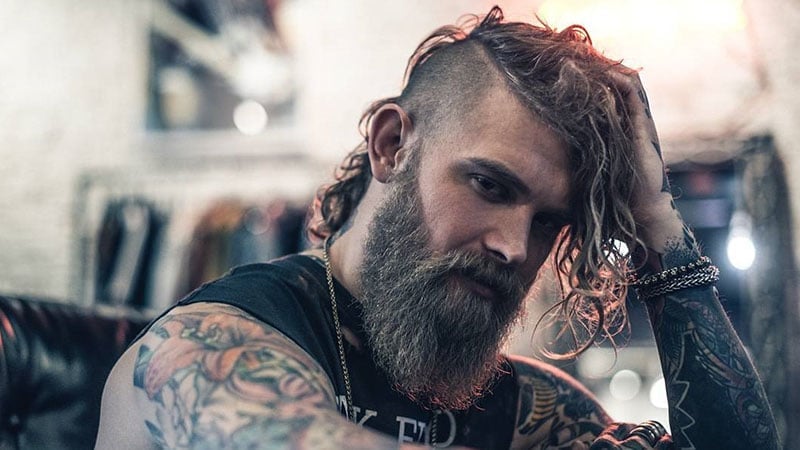 2. Shaved Head + Beard
Not all Viking hairstyles require a long mane that can be brushed, braided, or wrapped into a bun. You should consider a shaved head for a look that boasts the same sense of personality without the follicle requirement. After all, it's not just disconnected undercuts that look stylish and edgy with a flash of the scalp. Just remember to add a beard to rock the look, and don't be afraid to let it grow. While short stubble may look good on many modern gents, an authentic Viking appearance demands facial fuzz that's bigger and bushier.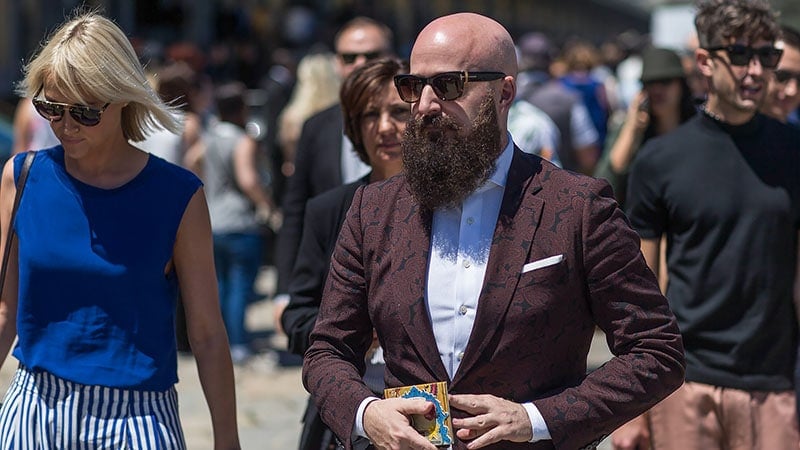 3. Braided Part
Try a braided part this year to truly take the Viking style into the future. The hairstyle is perfect for modern gents who want an edgy warrior appearance without the rough-around-the-edges finish. The look also works exceptionally well with an undercut and can be styled on top in many ways, including an on-trend pompadour. Of course, the braid will always draw focus and keep the look rooted in Viking history.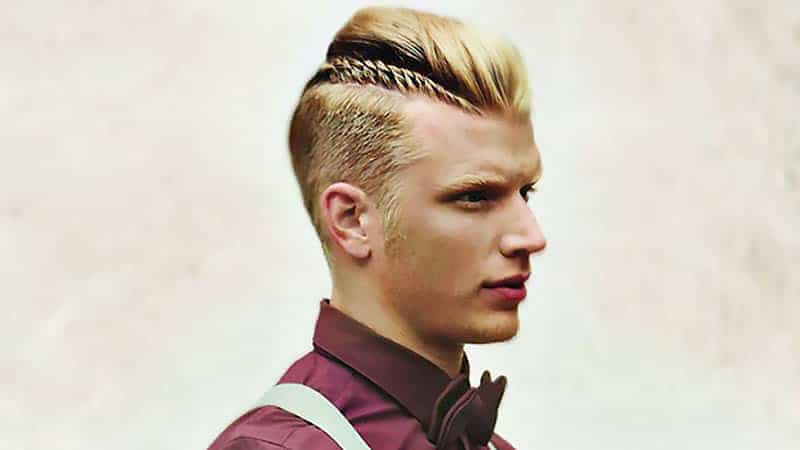 4. Loose Braid
Long hair can create some seriously awesome Viking looks. So, if you've already put in the time to grow your locks out to a considerable length, you should reward yourself with an incredible warrior style. The loose braid is such a style and one that you should try. Don't be put off if you've never braided hair before. The process is surprisingly simple, and it won't matter if it's imperfect.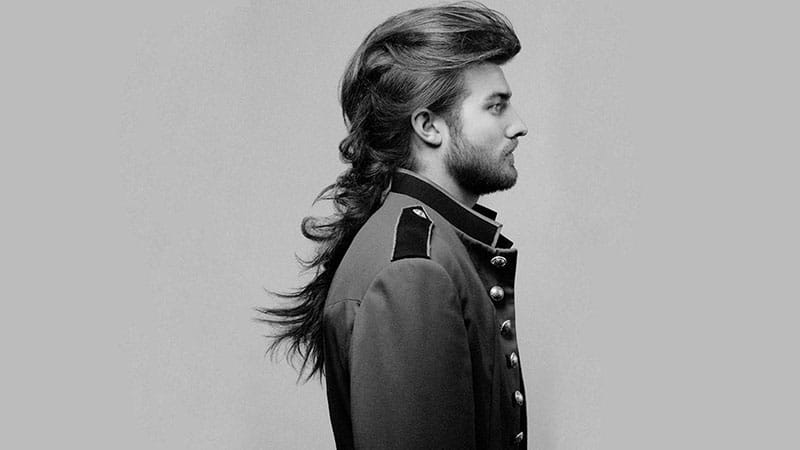 5. Top Knot + Undercut
Want a hairstyle that's equal parts Viking and hipster? Look no further than a top knot and undercut combination. The unique style can easily fall into either category and be styled depending on your preference. For a decidedly more Viking look, maintain plenty of texture on top and keep the bun messy. For a more hipster style, neatly comb and smooth your hair for a sleek look. Best of all, both work flawlessly with a cool beard.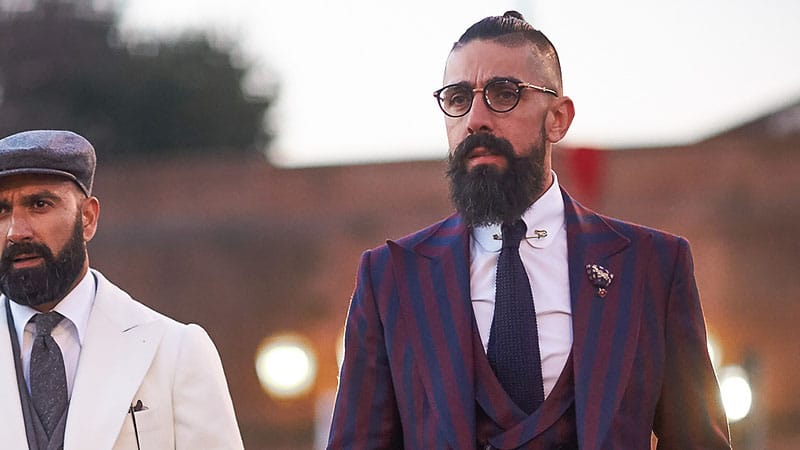 6. Long Hair + Beard
While loose, long hair can create a seriously stylish look, it doesn't always come across as a Viking style. Try partnering it with a beard to make the lengthy cut appear a little tougher and more rugged. Also, keep your hair slightly messy and full of texture, either naturally or using a sea salt spray. The combination of the beard and untidy mane will take you back to the days of the Vikings with ease.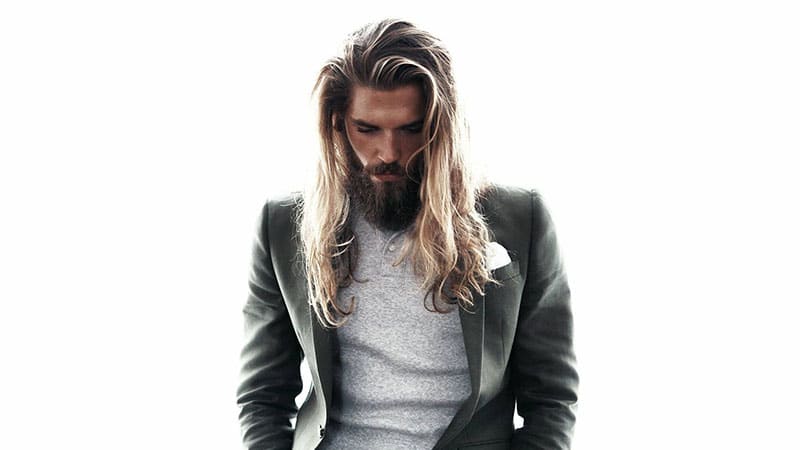 7. Mohawk
Vikings and punks may have more in common than you think. As well as a healthy dose of attitude, the two groups also seemingly shared an appreciation of the Mohawk. While they may have worn the look differently, the cut was essentially the same. Shaved sides with a noticeably longer strip of hair running down the middle of the head from the hairline to the back. Today, the hairstyle is still an excellent choice for gents and a top look to try if you can handle its intensity.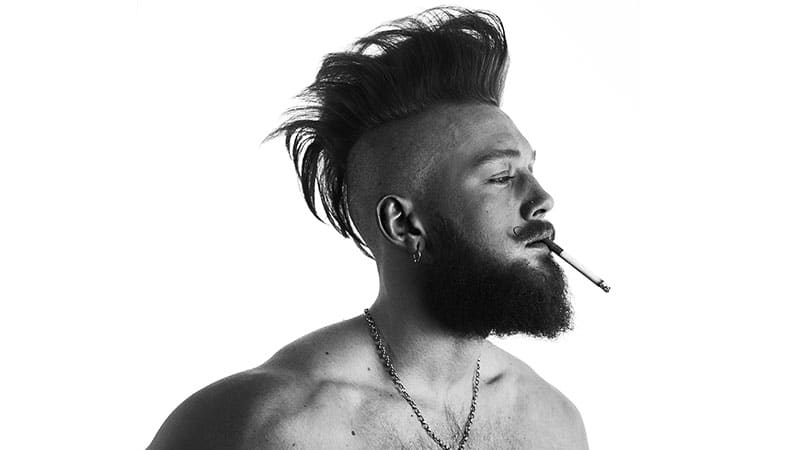 8. Slick Back + Undercut
Rocking a Viking hairstyle is all about finding the right cut with just enough intensity to suit you. So, if you like an awesome and edgy haircut that are easy to wear daily, consider trying a slick back with an undercut. The look is both rugged and sophisticated and can be adjusted to suit your needs. For a more conservative style, just leave the sides a little longer and the top a little shorter.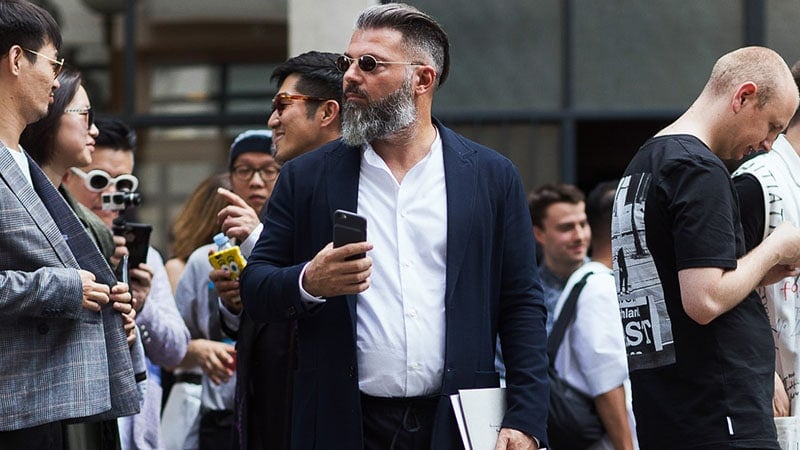 9. Messy Half-Pony
Long, glorious locks are also characteristic of the Viking style and can be an excellent way to channel the look. Keeping your hair messy and textured is the key to pulling off long hair like a Viking. You don't want your mane to get too out of control. As such, a messy, half-pony is an ideal solution. The look provides you with the rough and rugged appearance of a Viking, but it's also practical and keeps strands stylishly off your face.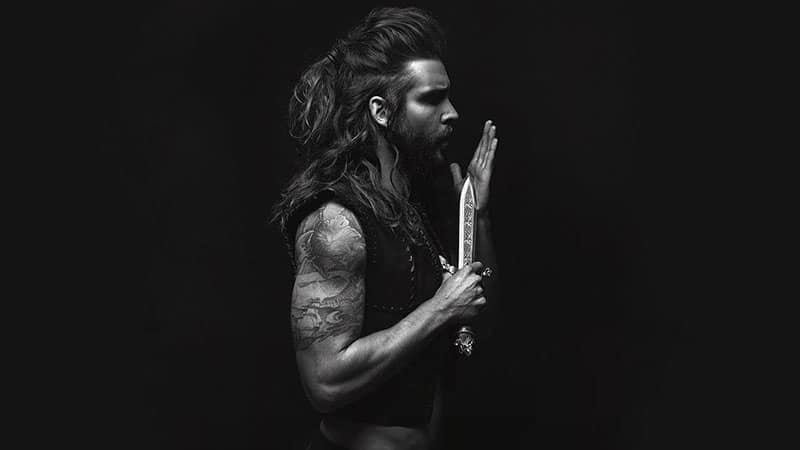 10. Half-Bun
Don't worry if you don't feel like shaving your hair and are yet to grow your locks to an epic length. You can still achieve an amazing Viking hairstyle with what you've got. A simple half-bun is all you need to take your plain, medium-length hair into warrior territory. Just remember to complete the look with a beard or, at least, a whole lot of attitude.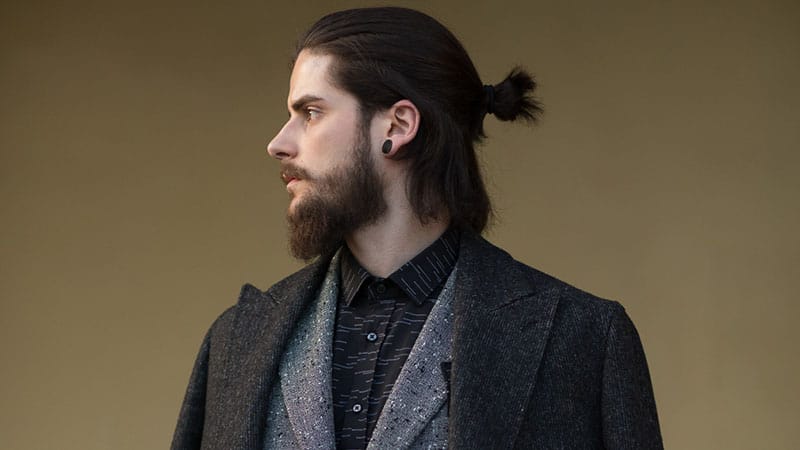 11. Man Bun
The man bun is a great style that appears modern but offers a killer Viking feel. It's also easy to create and can be worn with any hair type, including curly, wavy, and straight. To rock the look, you must have medium or long locks and hair elastic. Then, all you need to do is use your hands to pull all your hair back and secure it into a small bun. While you can use a comb or brush, your hands will offer a more authentic, slightly disheveled appearance.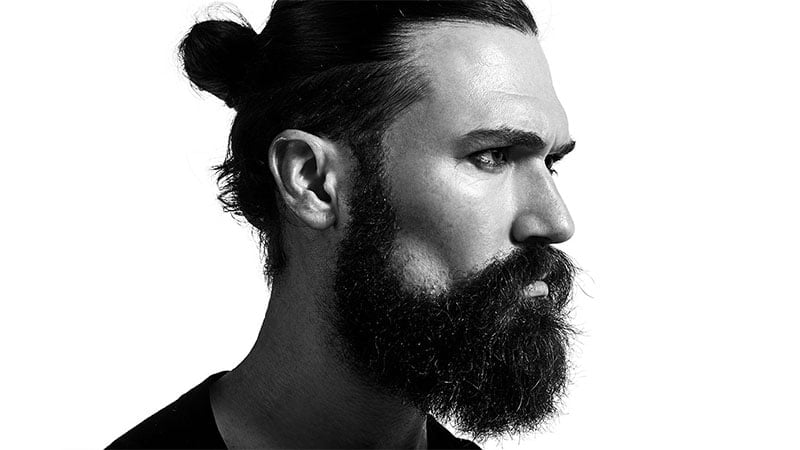 12. Man Braid
Braids are also commonly associated with Vikings and can create a unique and stylish look. Best of all, the man braid is trending and a fashionable hairstyle to try. Try creating a single braid down the center of your head for a standard style. While this will be most easy to do on long hair, the look can also work on cropped cuts with the help of some styling products.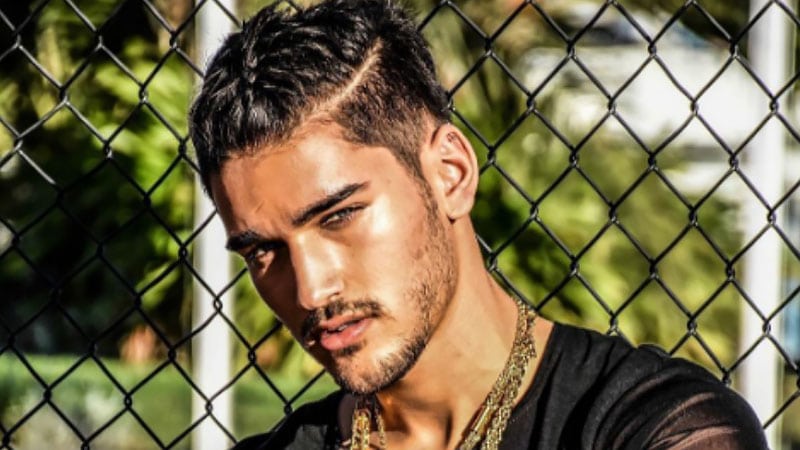 13. Half-Pony + Undercut
Don't be afraid to mix a couple of signature styles when rocking a Viking look. One way to do this is to combine a half-pony with an undercut. The powerful partnership will project serious warrior vibes and will get you noticed. To become a triple-threat, add a man braid along the top of your head before finishing with the ponytail.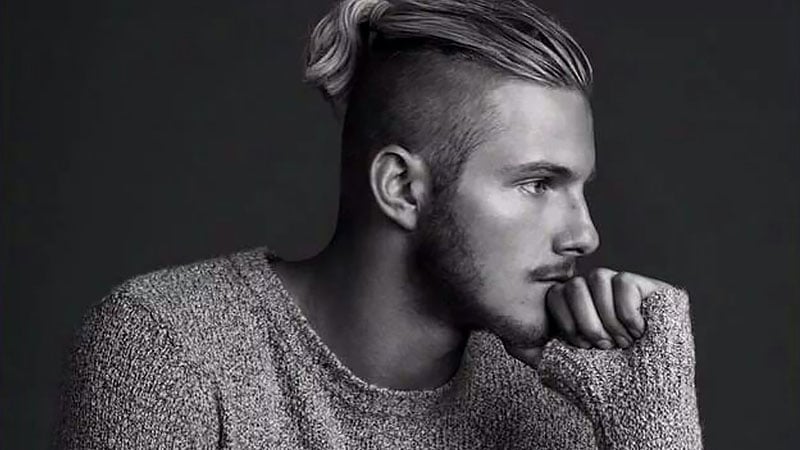 14. Low Fade
For a seriously subtle way to infuse your hair with a Viking touch, opt for a low fade haircut. The hairstyle transitions from a longer length on the top of the head to a short, shaved length near the ears, is the perfect way to experiment with Viking hairstyles without committing. To completely nail the look, just be sure to leave your hair long and thick on top and flip it over to one side.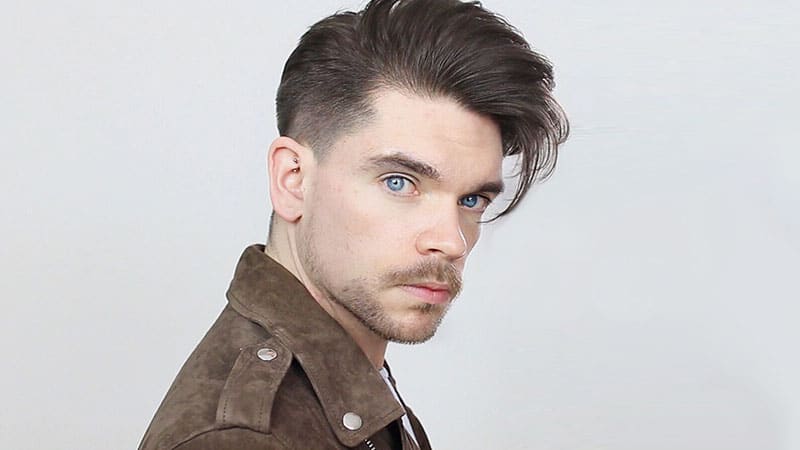 15. Half-Bun + Undercut
Like the half-pony and undercut, the half-bun and undercut can also make an awesome Viking hairstyle. While the look is edgy and masculine, it also offers a contemporary and sophisticated edge. Before asking your barber for the cut, consider how high or low you want the undercut to start. A simple adjustment in the height can completely alter the outcome of this haircut, so it's best to consider your options first.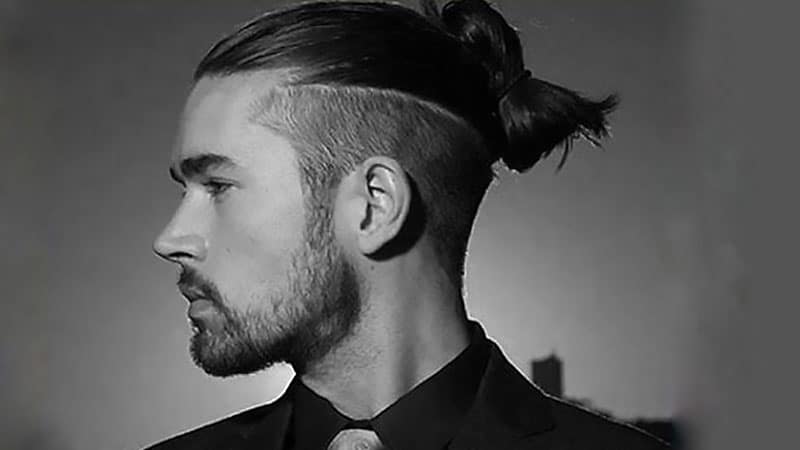 Viking Hairstyles for Men FAQs
What hairstyle did Vikings have?
There's actually not a lot of historical information to confirm what hairstyles Vikings wore. Ancient texts and Norman recollections mention styles that look like reverse mullets and partially shaven heads, as well as well-groomed beards. There's also evidence that only slaves wore their hair cropped short, while free men had it longer, around shoulder length. However, many Viking-inspired hairstyles seen nowadays emulate those worn in the television show Vikings on the History Channel. Show creator Michael Hirst is reported to have made the styles up because they didn't really know what Vikings looked like.
Why did Vikings not cut their hair?
Viking free men are likely to have worn their hair long as a form of class separation from the slaves who are reported to have short-cropped hair. Archaeological finds have also shown that Vikings regularly used grooming tools such as combs in their everyday life.
How do you do a Viking hairstyle?
1. Look to ponytails, buns, and shaved styles for an awesome Viking haircut.
2. Try a braided look for a statement Viking style.
3. Undercut styles are an excellent way to rock a Viking look with modern appeal.
4. Consider growing a beard to add an extra Viking edge to your look.
5. For an authentic Viking hairstyle, keep your locks messy and maintain plenty of texture in your strands.
6. To achieve a subtle Viking style, skip the daring cuts and select a taper fade instead.
Did Vikings have mohawks?
Currently, there's no evidence to suggest that Vikings actually wore mohawk styles. It's more likely that they could have braided their hair, as evidence has shown women did. The mohawk idea comes down to a stylistic choice and interpretation from the creators of the show Vikings.
SUBSCRIBE TO OUR NEWSLETTER
Subscribe to our mailing list and get interesting stuff and updates to your email inbox.