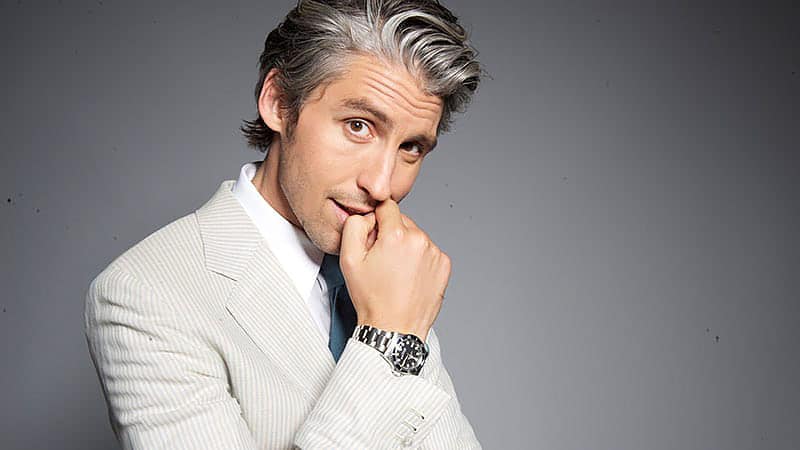 These days, going grey isn't anything you need to feel embarrassed about. In fact, it's something to be embraced. Grey hair is cooler than ever before and, when worn in the right way, it can create a seriously sophisticated look that other colors cannot. Don't believe us? Just look to the many young men who are dyeing their hair grey before the change in color naturally occurs to mimic this smart and stylish look. Not only do silver strands make gents appear distinguished and wise, but they can also project character, charisma, and confidence. All you need to do is find a grey hairstyle that oozes cool, and your locks are sure to make you appear on-trend and not at all old.
RELATED: 15 Most Stylish Hairstyles for Older Men
1. Pompadour
A pompadour can make an excellent choice for grey-haired gents. The classic style, which has re-emerged as a recent favorite, features hair styled into a high mound on top of the front of the head. While incredibly cool, this style can be difficult to achieve for men with thin locks and is best suited to those with thick hair. If you do try a pompadour, consider adding texture to keep the look from appearing too serious or old-fashioned.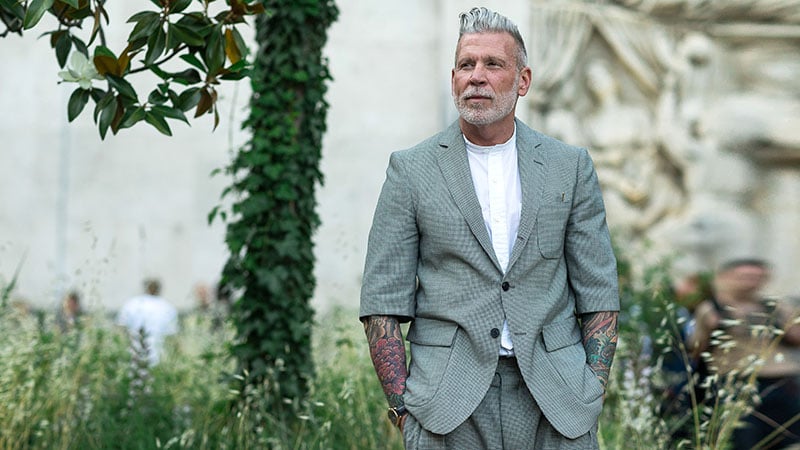 2. Short Waves
If you have naturally wavy hair, try embracing those kinks and curls instead of combing them out. By opting for a short cut that's just long enough for a wave or two, you'll be able to create a super cool style that looks great on grey strands. The benefit of this cut is that it appears neat and polished while maintaining a contemporary aesthetic. Try styling it with your hair up and off your face in a tidy manner for a seriously smart look.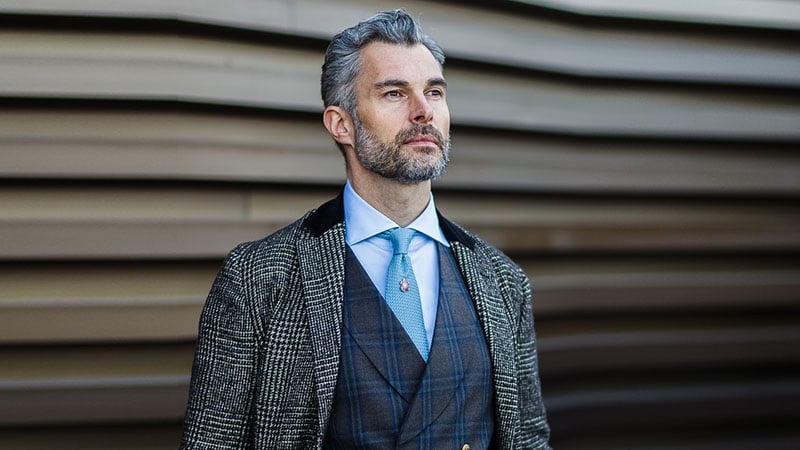 3. Dreadlocks
These ultra-cool grey dreadlocks radiate confidence. Perfect for gents who want to transition to grey without giving up their rope-like locks, this look proves that the style can suit all ages. What makes this haircut work particularly well is its short and thick dreads, which have a more mature appearance than longer lengths. The look also pairs nicely with a beard and a relaxed suit for an overall style that's full of both swagger and sophistication.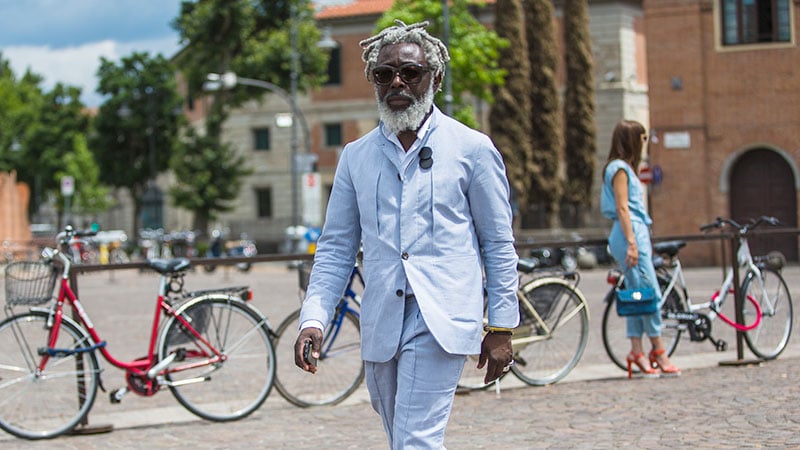 4. Grey Hair + Beard
When grey hair is paired with a beard, the combination becomes seriously stylish. The look also helps to create a more balanced appearance thanks to its bushiness. As you age, your hair cannot only become grey, but it can also thin out, and you may experience a receding hairline. As such, a beard will help complement your hair up top and offset the appearance of any missing strands. Just ensure that your haircut is stylish and that your beard is neatly trimmed to maintain a look that is suave and not at all Santa-like.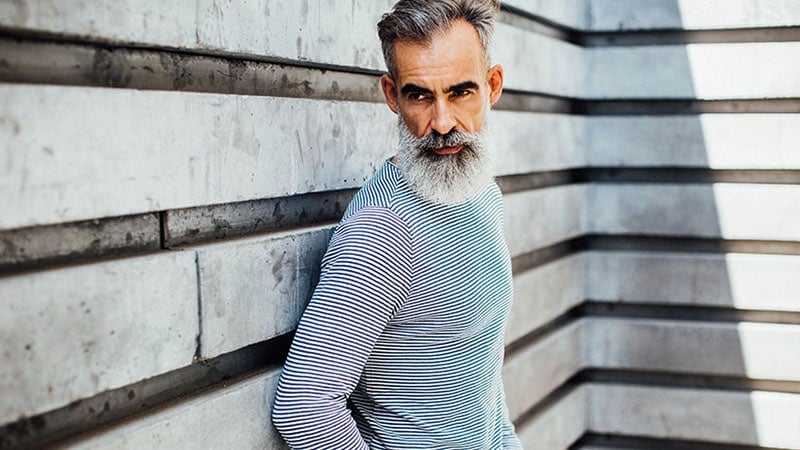 5. Medium Length Hairstyle
Don't think that just because you have grey hair that you need a short haircut for a stylish look. A medium length haircut can also appear cool, especially when rocked with confidence. Even if you have fine hair, you can still wear this look, as long as you have texture. While straight hair will fall flat and limp, waves or curls (whether natural or created with some texturizer) will add volume and appear more youthful. When donning this hairstyle, you should also consider adding some facial hair to the equation. A little bit of stubble or a short beard will look great when paired with slightly longer locks.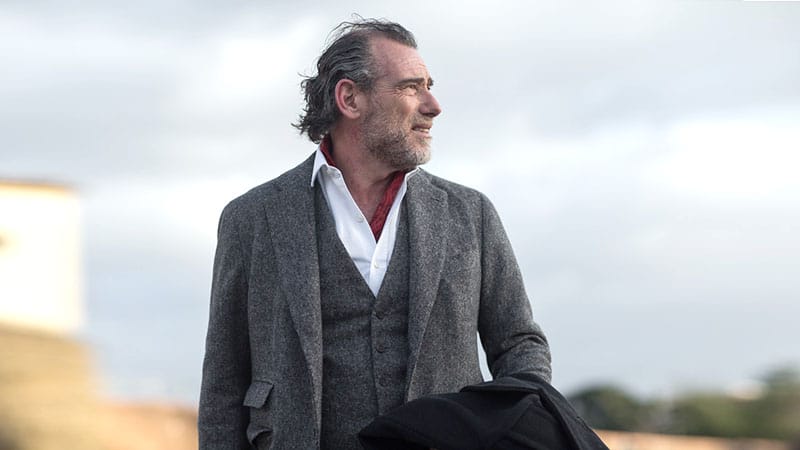 6. Quiff
The trick to making grey hair appear youthful is to partner it with an on-trend cut. A quiff is one such fashionable hairstyle and will guarantee that your grey hair doesn't make you look like a grandpa. To achieve the look, ask your barber for a cut that's longer on top with shorter, faded sides. Then, style your hair by using a hair dryer to add volume to the front and pomade to mold a neat quiff.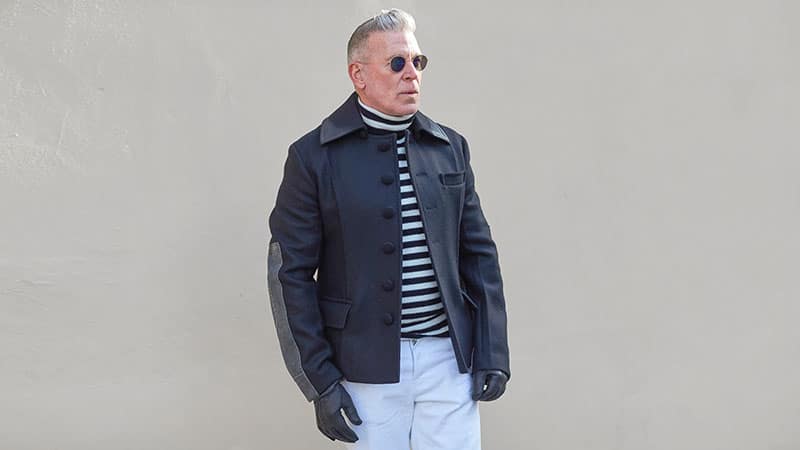 7. Undercut
When cut right, grey hair can appear edgy and awesome. While there are a few styles that will achieve this outcome, an undercut is the best. This incredibly popular haircut features short, shaved sides and back and a top that is left long. The result is a seriously cool cut that you can wear in many ways. Choose between styles, such as a slicked back look or pompadour, for your undercut to achieve a great modern and masculine 'do.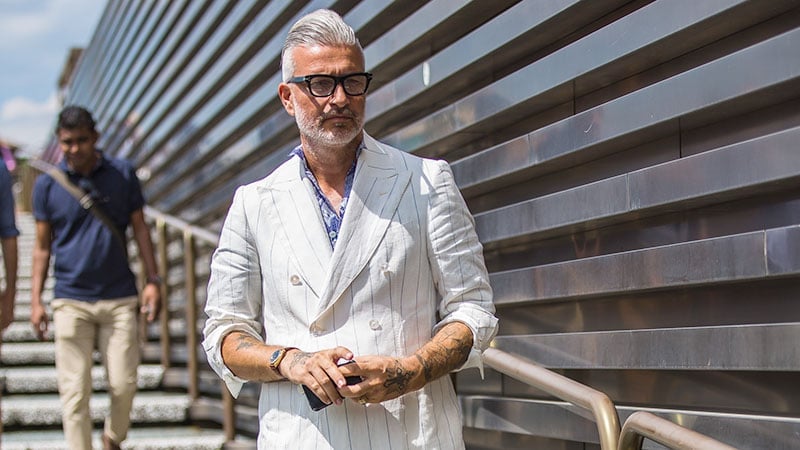 8. Subtle Layers
Due to its soft color, light grey hair can often look thin and wispy. To make your light grey locks appear full of volume, consider adding some subtle layers. Adding just a few layered sections to your short hair will help create the appearance of dimension and add depth. It will also contribute to creating texture, which can be incredibly useful for not only pumping up the appearance of volume but also injecting a youthful appeal into the style.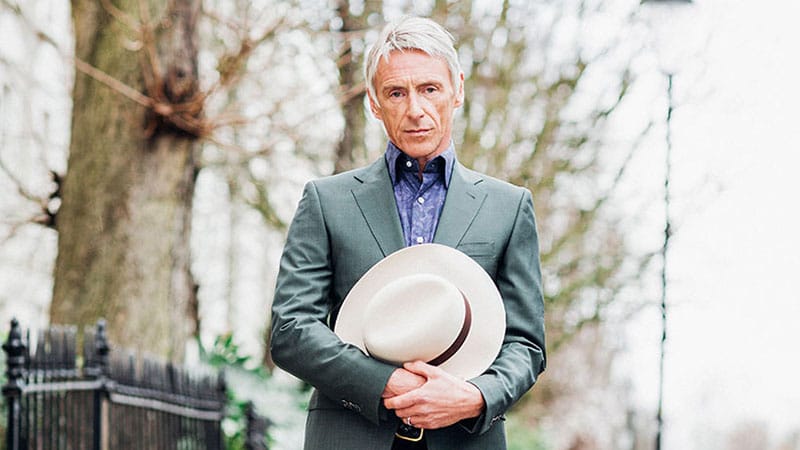 9. Long Hair
Nothing quite oozes cool like long grey locks paired with an edgy yet elegant style. While this look won't suit everyone, it will work for those who have plenty of confidence and their own unique style. To rock the style, grow out your locks to just past your shoulders and embrace your natural texture. Then, pair you look with rock and roll additions, such as a beard, dark sunglasses, and a statement coat.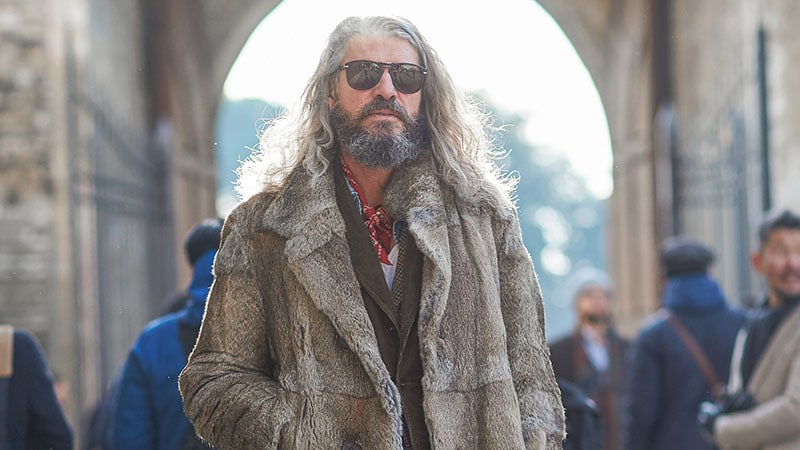 10. Messy Hairstyle
If your hair has gone grey early or you've chosen to rock silver locks with the help of a colorist, it's best to opt for a hairstyle that's youthful. Although elegant and sophisticated styles appear dapper and handsome on older gents, they can ultimately age the appearance of those who are younger. To ensure that your silver strands make you look awesome instead of older than you are, stick to unstructured and messy looks with plenty of texture.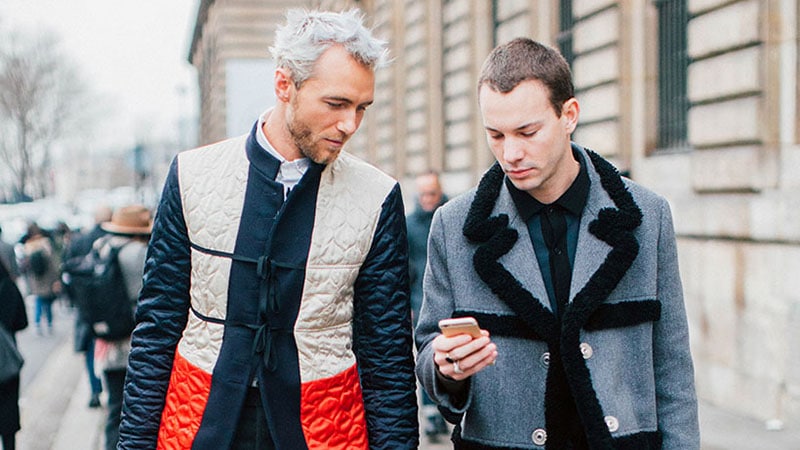 11. Pushed Back
An excellent way to rock grey locks is to push them back into a simple yet sophisticated style. The look, which can be created by combing hair back with a small amount of pomade, looks dapper and charming on grey strands. It's also a fantastic choice for gents who work in the business world. By simply pairing this hairstyle with a sleek and stylish suit, you'll instantly unleash your inner silver fox.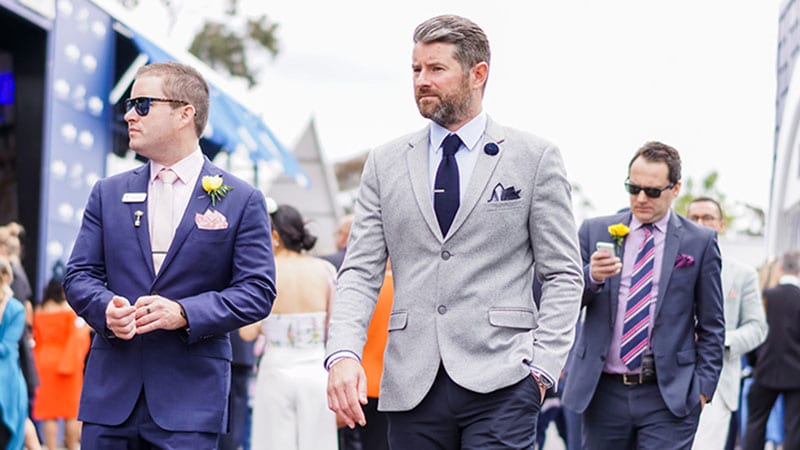 12. League Cut
An Ivy League haircut is a classic men's hairstyle and can work with any color strands, including grey. The style is a slightly longer version of a crew cut and features the hair on the top of the head styled up and to one side. Although it may not be the most exciting or daring of looks, this cut is easy to wear and will always appear stylish. For a look that is more distinct or that boasts more character, consider adding some facial hair to go with your silver Ivy League cut.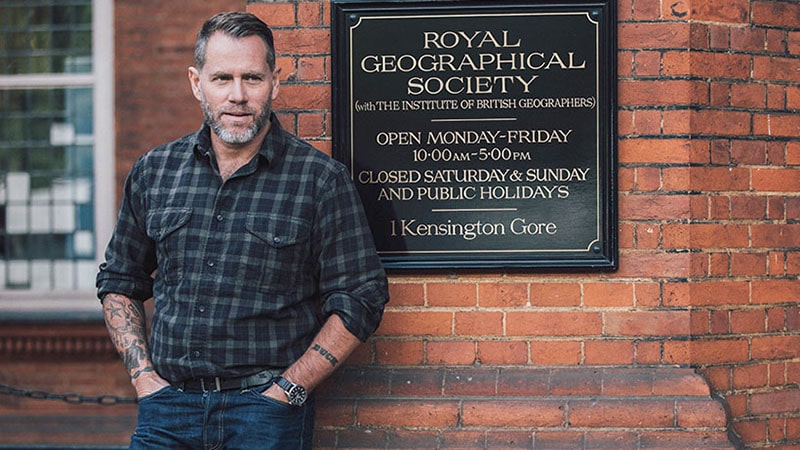 13. Slicked-Back + Undercut
Your hair may have gone grey, but that doesn't mean that you should stop experimenting with new and daring styles. All you need to do is choose the right style for you. This silver slicked-back look is an awesome hairstyle to try and will provide any gent with an edgy aesthetic. The key to its success lies in blending the mature and sophisticated appearance of slicked-back locks with a bold and eye-catching undercut.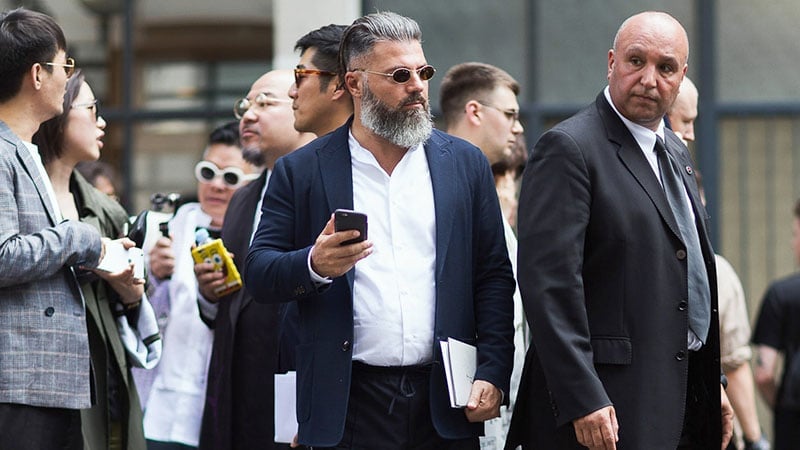 14. Grey Taper Fade
Stop playing it safe with all-over short styles and start experimenting with different lengths. After all, you're never going to ooze awesome if your hair is plain, grey, and boring. So, embrace cuts that are more modern and ask your barber for a style that's longer on top with shorter sides. In particular, a look with sides that taper from long to short and appear to fade away into the skin will offer a great on-trend style without feeling like an extreme change.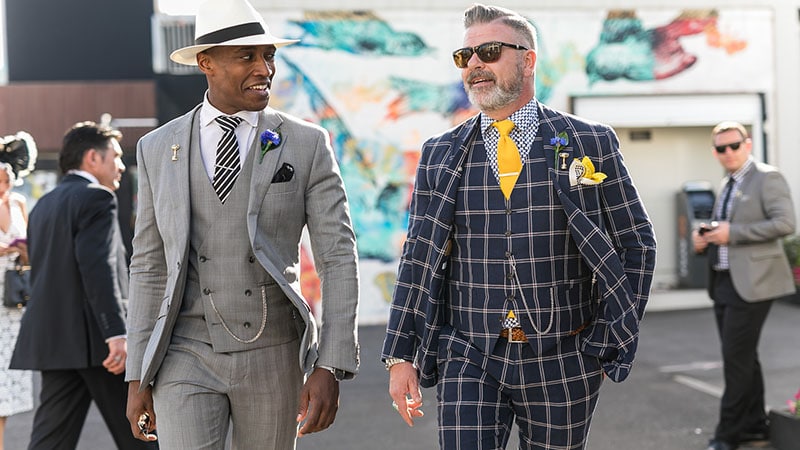 15. Crew Cut
If you want a cool cut for your grey hair but are worried about pulling off a bold look, consider trying a simple crew cut instead. Although the crew cut may date all the way back to the 1940s, it feels far from old. In fact, a crew cut is a timeless look that can work for gents of all ages. To infuse a more modern style into your grey crew cut and to keep things feeling fresh, consider adding some texture or styling your strands a little messy.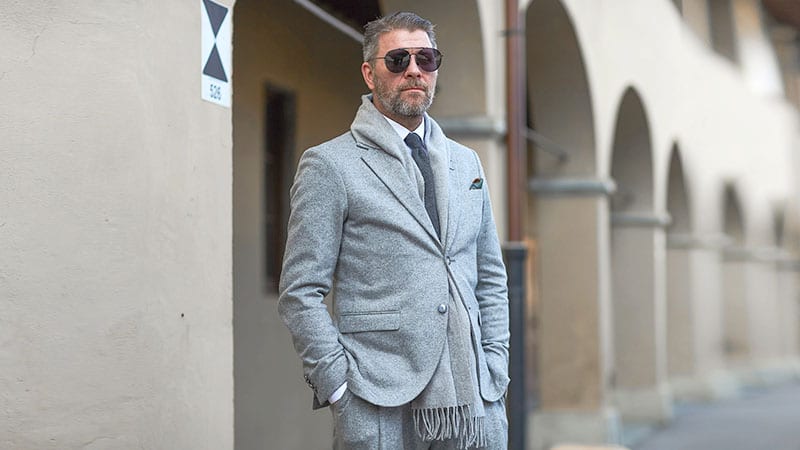 How to Rock Grey Hair
Embrace grey hair with a cool hairstyle that makes you appear on-trend and not old.
Don't be afraid to try new and daring hairdos, such as a pompadour, undercut or taper fade with your silver strands.
Add texture to your grey hairstyle to inject it with a fresh aesthetic and keep classic looks from appearing outdated.
Stick to short and neat grey hairstyles to enhance a sophisticated or professional appearance.
Try balancing thin or receding grey hair with a beard.
Pump up the volume and inject a youthful texture into short grey hair by adding a few layers.
FAQs
Is grey hair attractive on a man?
Grey hair is attractive on guys, turning them into the ultimate silver foxes. Grey hair is cooler than ever before, and, when worn in the right way, it can create an exceptionally sophisticated look that other colors cannot.
What age does men's hair go grey?
Generally, men start seeing grey hair show up in their 30s, with around half of men showing greys by their 50s. However, a lot of greying comes down to genetics, with some guys turning into silver foxes as young as in their 20s, while others can have a full head of dark hair well into their fifties.
How do men cut their hair grey?
The color of your hair has no impact on the kinds of styles you can rock. Ideally, you'll choose a haircut that suits your face shape and lifestyle. Short styles such as quiffs, pompadours, undercuts, and slicked back are great ways to show off the added depth and texture the greys create while still looking sophisticated and professional. Alternatively, if you've got thick hair, you can always wear longer styles, such as flowing length, dreadlocks, or a mid-length bro flow.
Is grey hair dead hair?
Grey hair is not dead, it just hair that has less melanin, the pigment that holds color. As you get older, your body starts to produce less melanin in the follicles, which results in the strands of silver, grey, and white.
SUBSCRIBE TO OUR NEWSLETTER
Subscribe to our mailing list and get interesting stuff and updates to your email inbox.