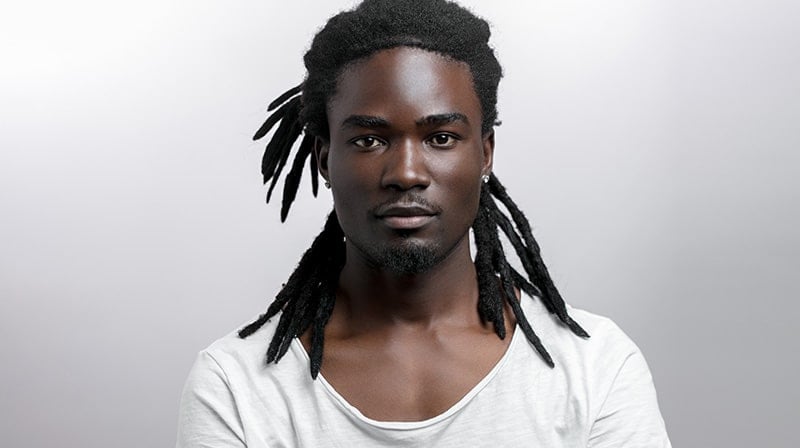 Whether you're into tapered fades or undercuts, dreadlocks have a way of transforming any seasonal hairstyle into a guaranteed street style eye-catcher. If you're considering giving your everyday look a dreadlocked upgrade, look no further. We've rounded up the best dreadlock styles for men to inspire you.
1. Undercut with Dreadlocks
If you want to take your style up a notch from a tapered fade, you should consider trying an undercut. The longer your dreads, the more drama this cut will add to your style. To show off your buzzed sides, tie your hair into a high ponytail or topknot. If you're feeling adventurous, you can customize your look with beads and other accessories to match your outfit of the day.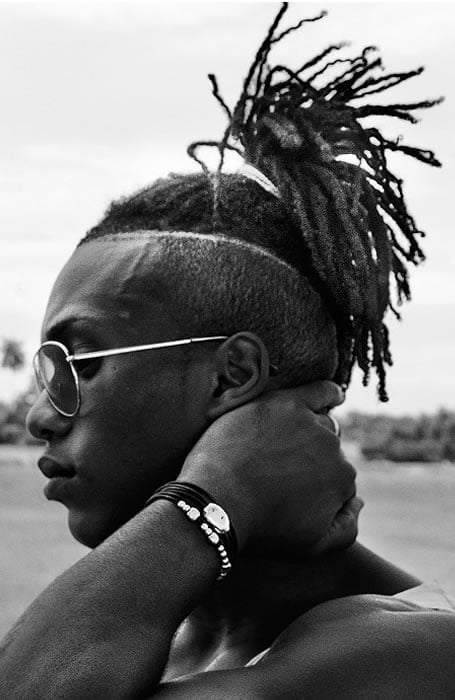 2. Braided Dreadlocks
There are various braiding techniques for dreaded hair. Regardless of which one you choose, it is bound to add an interesting texture to your style. Plus, it's nice to switch things up now and then. If you're after a braided look, it's best to keep your dreads thin. This way, the look is easier to control, and it's simpler to incorporate more complex style elements. Of course, there are also braids that cater to thick dreads, so everyone's a winner here.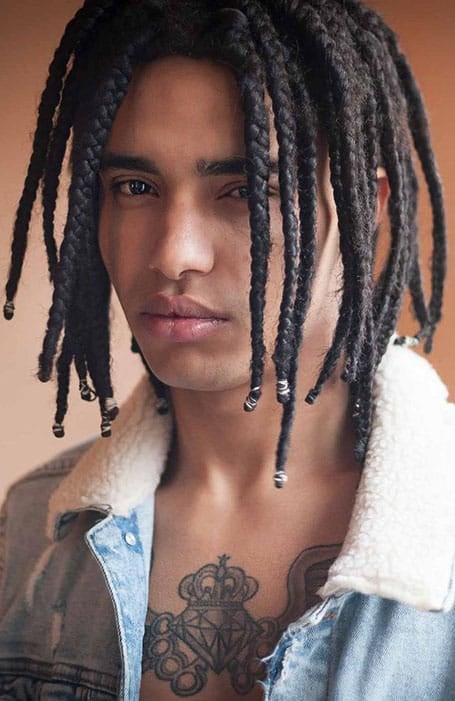 3. Brow flow with Dreadlocks
Bro flow dreads are the perfect 'undone' look for casual events and occasions. But, for the effortless look to succeed, you need to ensure that your locks aren't overly tight. Doing so will maintain the natural thickness of your hair and add height to your dreads. To perfectly nail the style, your dreadlocks should brush your lower neck in the back and frame your facial features in the front.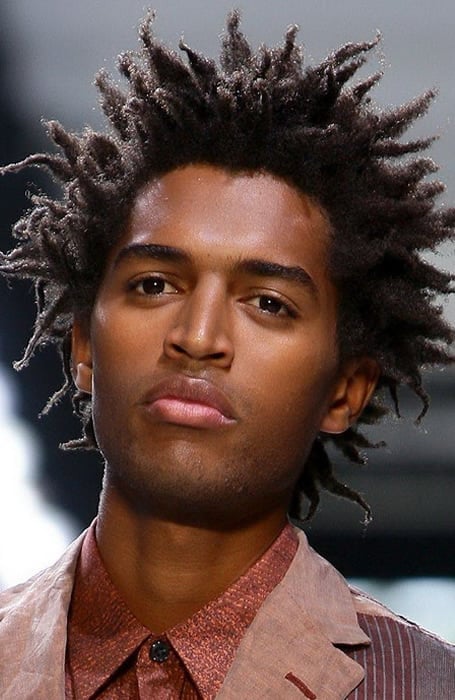 4. Mohawk with Dreadlocks
This style proves that you can pretty much incorporate dreadlocks into any hairstyle. The crucial element to achieving this look is to shave the sides of your head, thus shaping the signature mohawk silhouette. The length of your locks will determine the final look of your 'hawk. They can be as long or short, even or uneven as your dreaded head desires.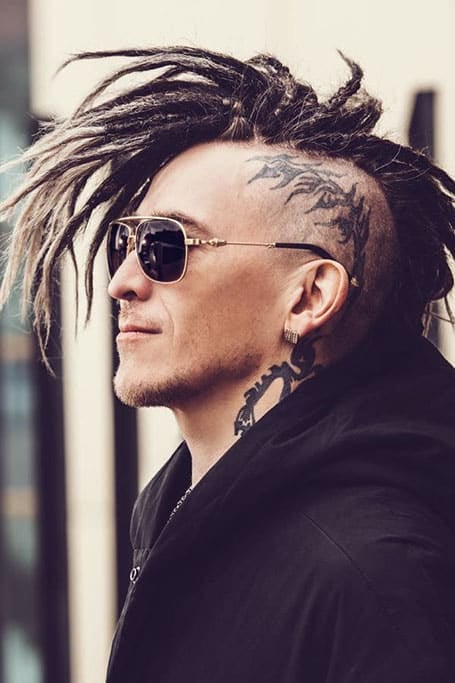 5. Dreadlocks with Side Part
A deep side part can visibly boost the volume on your crown and give your dreads an impressive appearance. If you create a side part as you are beginning to dread your hair, your dreads will naturally start to grow into this shape. Alternatively, if you have already grown your dreads, the weight of your long locks should help to keep the style in place once created. For a little more edge, you can also consider adding an undercut to this style.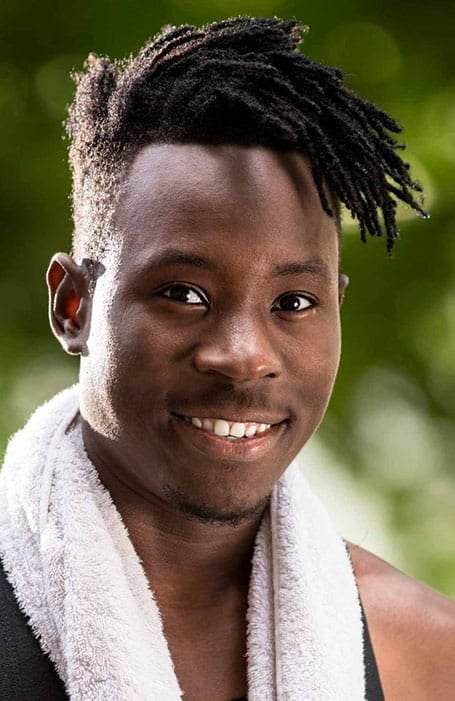 6. High Top with Dreadlocks
If you're new to the dreadlock game and don't want to wait for your hair to grow out, high top dreads are a good style to try. These dreads are usually kept quite short, so you don't need Rapunzel lengths to make the look work for you. Due to its length, it's also one of the most manageable dread styles of all. Combined with trimmed sides, high top dreads will leave you with a fun yet sleek finish.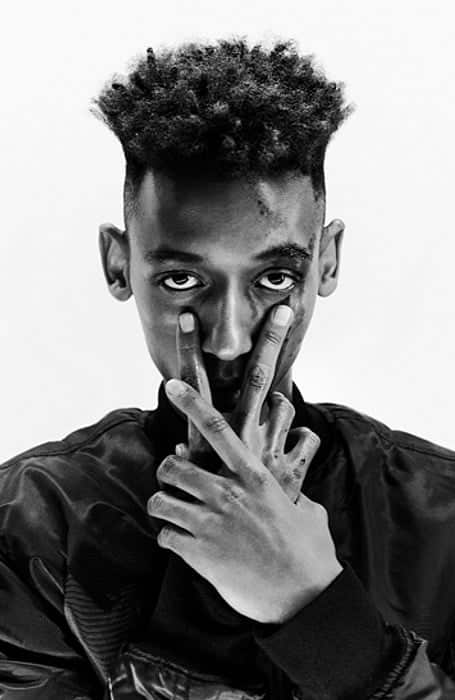 7. Dreadlocks with Grey Hair
Grey dreads are proof that dreadlocks look good at any age. The key to nailing this awesome style is to keep it natural and let mother nature do its part. Therefore, don't be afraid to let your grey come through, and don't be too strict on your growth. A bit of un-dreaded root, in addition to some well-groomed facial hair, will add a relaxed yet stylish feel to your overall look.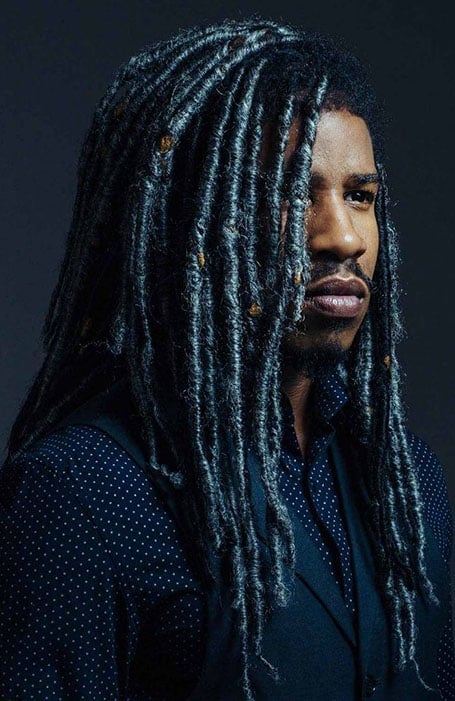 8. Dreadlocks with Taper Fade
A taper fade is a stylish and modern way to update dreadlocks. The cut is a popular addition to high top dreads as it gently blends into a full head of locks. Of course, you can choose to add a fade to any length and style of dreads. The possibilities are plenty. Singer/songwriter "The Weeknd," for instance, has become a poster boy for the many varieties this style can offer.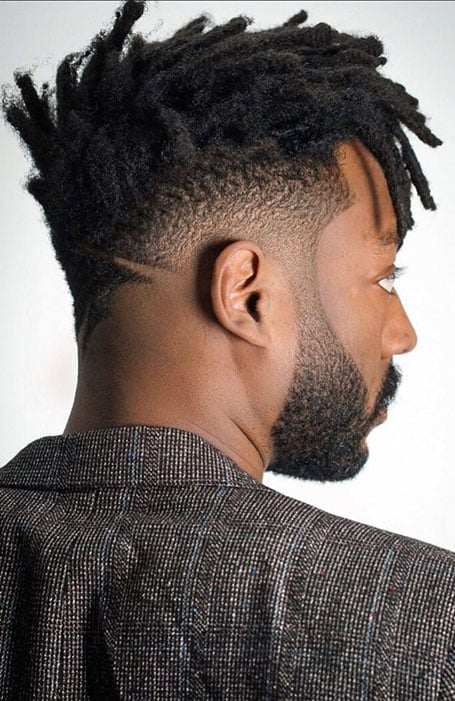 9. Dreadlocks with Dyed Hair
As opposed to what one might think, coloring trends don't get lost on dread heads either. While you still have the option of getting your hair dyed once you have your dreads, it might be beneficial to get the process going before locking up your hair. Bleaching will open your hair cuticles and assist the dreading process. If your style is already dreadlocked, consider multiple oil treatments to strengthen your hair before coloring it. These treatments will prevent your hair from breaking or drying out and ensure you get the results you desire.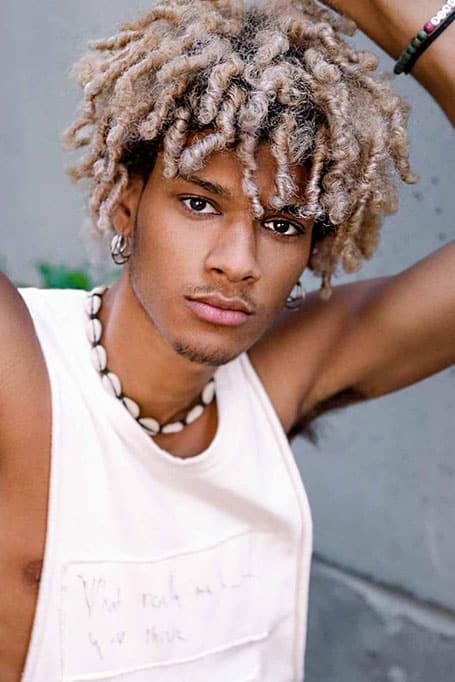 10. Short Dreadlocks
As you are growing into your dreads, you will find yourself at a short length. But, whether intended or not, it's undoubtedly a cool look to try. For this style to appear its best, the dreads on your crown and sides/back of your head should be approximately the same length. Tight curls will make for a tidy and sleek appearance while looser locks will look more relaxed. To tailor your short dreads to your liking, you can also try pulling and tucking individual pieces into place.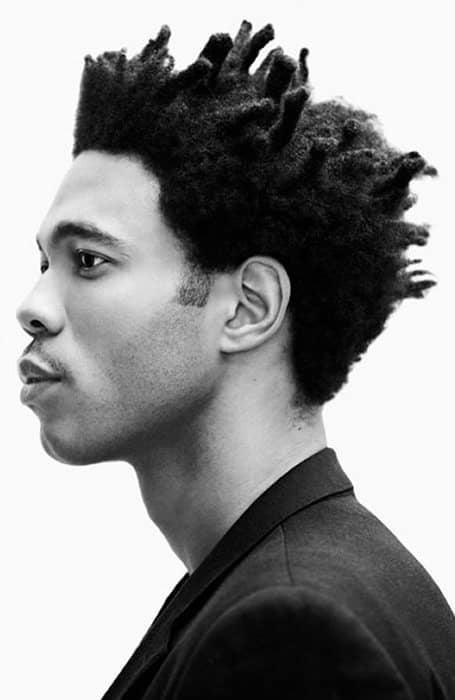 11. Afro Dreadlocks
The dreadlock hairstyle is surprisingly versatile and can be styled in various ways, this includes the classic option or a look that is fuller and thicker to show off your hair texture. Afro dreads will have a less distinct rope-like appearance and could appear more like twists. This could be the start of forming your dreads or have been done with the freeform method. Freeform locs are created without manipulation techniques and will have a natural finish.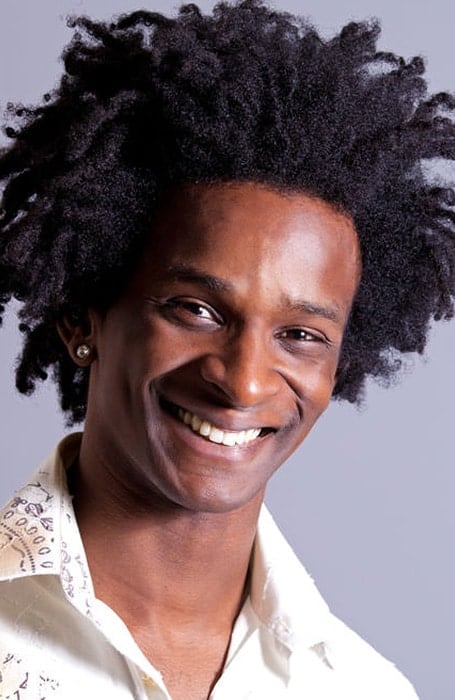 12. Classic Dreadlocks
There are many styles of dreadlocks and ways to personalize your look to best reflect your preference and complement your hair length. However, there is definite appeal in the classic approach, creating rope-like strands. There are different methods to create your ideal dread hairstyle and these will include braiding, twisting, and backcombing. Your decision will depend on your desired outcome. Dreadlocks can be worn long or short but will look best with coarse hair texture.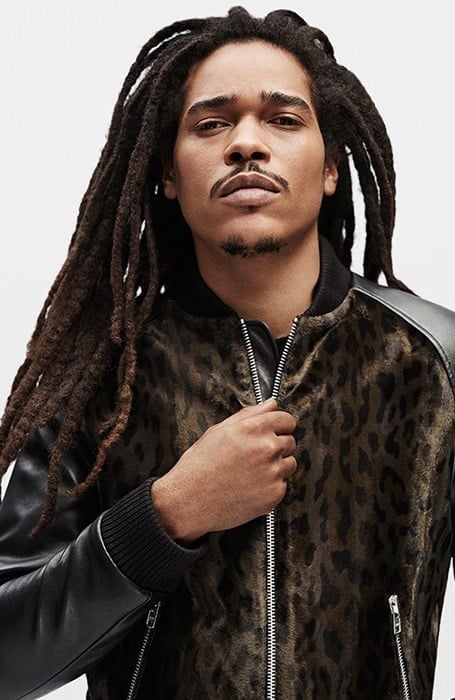 13. Cornrow Dreads
If you are looking for an interesting approach to dreadlocks then consider cornrow dreads. This look is created by braiding the hair on the scalp using the underhand braiding technique. This will give your braids their raised appearance. Cornrows are an excellent protective style is because they are long-lasting and will promote natural hair growth. It is also a simple braided style that complements hair of all textures and will create an interesting contrast with your dreads.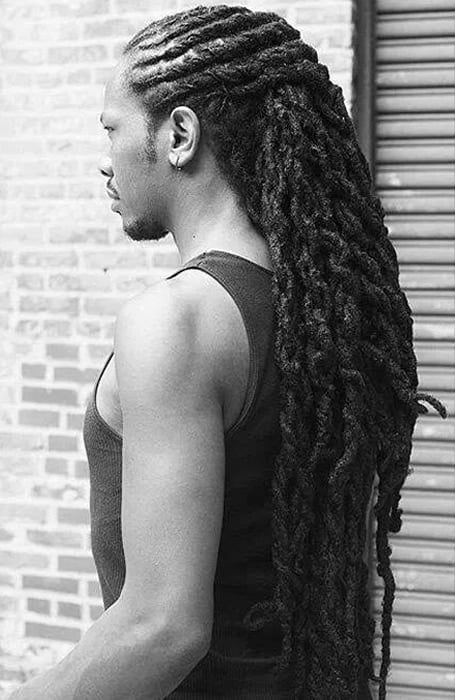 14. Curtain Dreadlocks
The dreadlock hairstyle can be styled in various ways depending on your preference, this includes styling the hair so that it frames the face with a curtain hairstyle. Curtain bangs get their name because their purpose is similar to how a curtain drapes a window. The style will have a part in the middle and is ideal to highlight your features and give you a youthful finish. The hair around the face is cut shorter and will create a subtle contrast.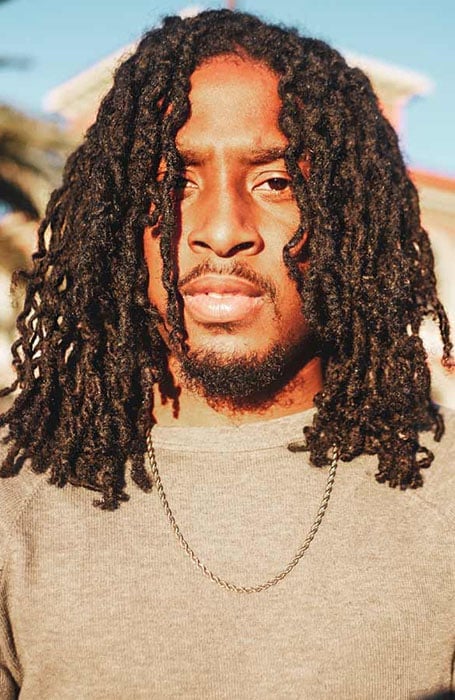 15. Dreadlocks with Beads
To give your dreadlocks a unique finish and to make your look reflect your style and personality, a great option is dreadlocks with beads. Beaded hair will let you personalize your look. This is also a symbolic choice because beads have been worn by African tribes for centuries and will tell a lot about the wearer. Beads have been used to indicate marital status, social hierarchy, achievements, and more. If you add beads to your hair this could be a way to honor your ancestral heritage.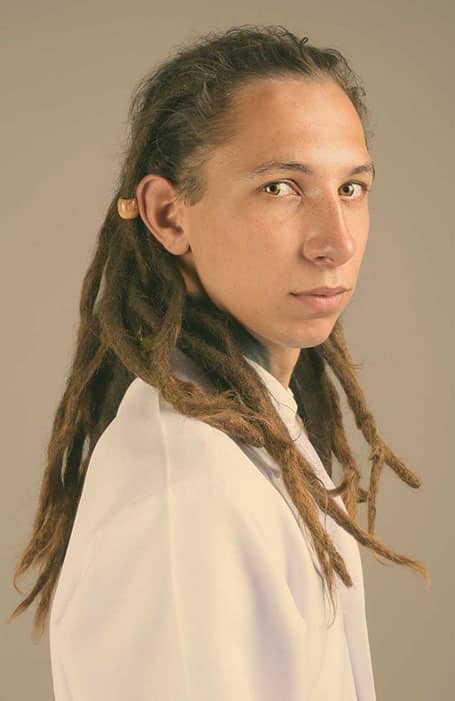 16. Dreadlock Twists
To create dreadlock twists you will twist two sections of the hair. They can be used to form the foundation for dreadlocks to start locking. It is an excellent choice for men who do not have the time to grow or maintain classic dreadlocks. Hair Twists will be a less permanent way to wear dreadlocks and despite not being as long-lasting and without the rope-like appearance, it is a great look to embrace your natural hair texture.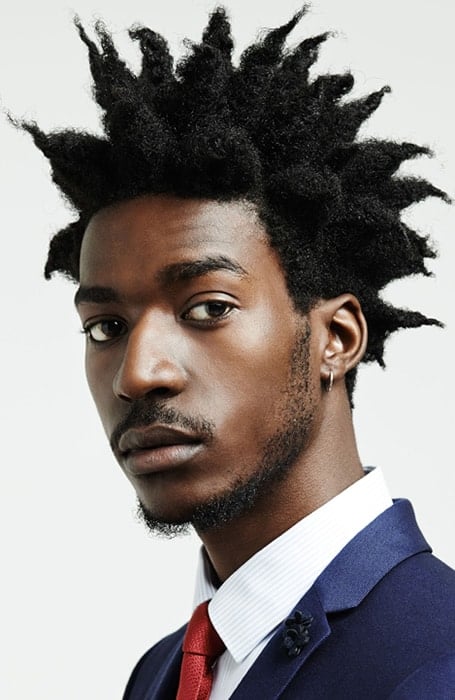 17. Dreadlocks with Bun
If you are looking for a simple but cool way to style your dreads, consider a bun hairstyle. The bun works with all hair textures and lengths and will complement the thickness of the dreadlocks. Tying back the hair can be incredibly flattering and will open up your features. It is also a practical way to wear the hair when you want to keep it in position or in warm climates to keep it off the neck and face.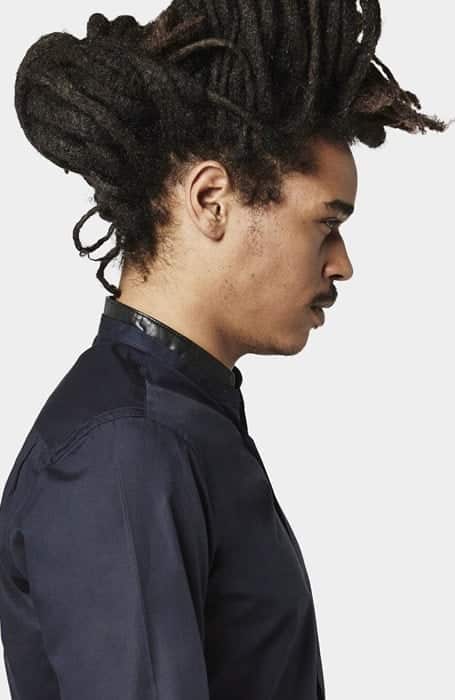 18. Dreadlocks with Fringe
A fringe is a great addition to any hairstyle because it can transform your appearance. It is also incredibly flattering and there are various fringed styles to choose from, depending on your preference. They can frame the face, balance your features, and complement your face shape. Fringes are also worn to create a more youthful appearance, taking years off your appearance. A dreadlock fringe will be more noticeable than many other styles because of its thickness and texture.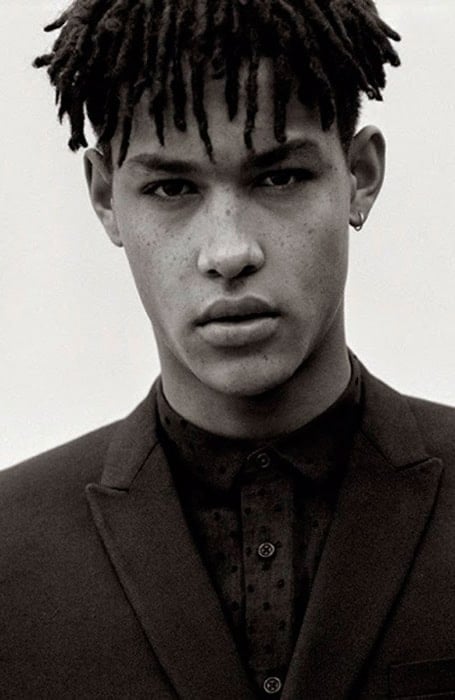 19. Dreadlocks with Hair Design
Hair design is an edgy and cool addition to any hairstyle. It is a way to express yourself and show your style and there are many options to choose from, including simple line artwork to detailed imagery. Adding hair design to your dreadlocks will give you a look that demands attention but it can also remove some of the bulk and weight from the back and sides of the hair.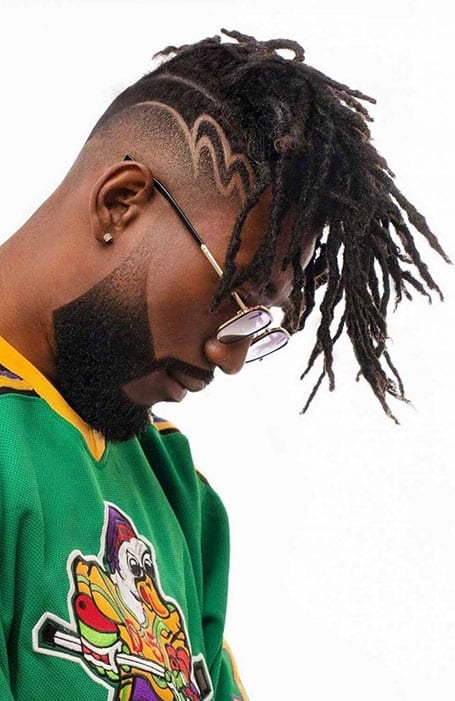 20. Dreadlocks with Line Up
Dreadlocks are textured and look great when worn in various lengths and thicknesses. They can be styled in various ways, but to create a look with a structure that will create contrast with your dreads, try styling them with a line up. The line up creates a shape on the hairline, parting, or temples. Your barber will use clippers or a razor to shave straight lines or angles to create a unique look that will get your attention.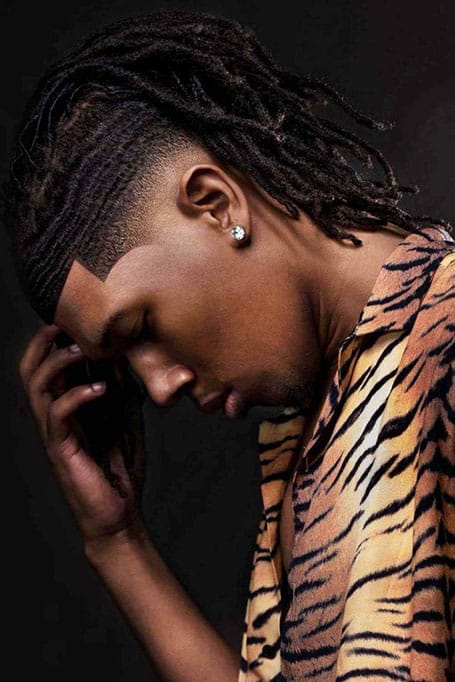 21. Dreads with Top Knots
Top knots are a knot styled on top of the head. It is a simple and undeniably cool look, especially when styled with dreadlocks. Dreadlocks take time, money, and maintenance to achieve. The result is stylish and versatile rope-like strands that you can wear in various ways. This gives you the freedom to express yourself and find a hairstyle that makes you look and feel great. Dreadlocks can be achieved with all hair textures and worn at varying lengths and thicknesses.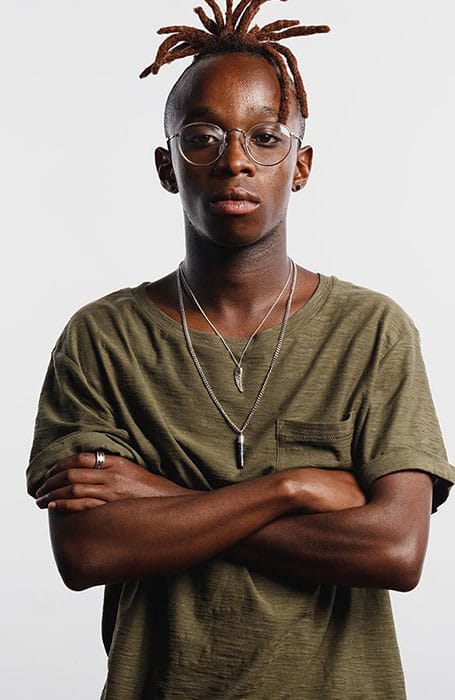 22. Freeform Dreads
There are several ways to achieve dreadlocks but the natural approach is with freeform dreads. To create this style, you will not use manipulation techniques and let your hair grow and shape naturally. This is a more affordable option that also requires less maintenance. It can be worn with various lengths and thicknesses and you still have the same versatility with styling. This includes half up and down hairstyles and simple ponytails and buns.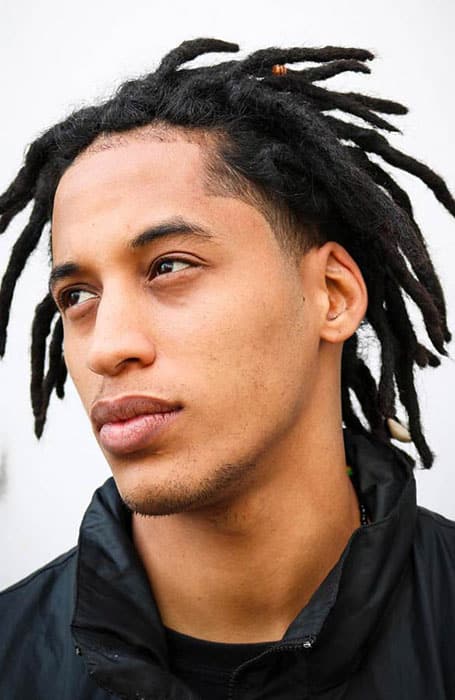 23. Frosted Tips Dreadlocks
The frosted tip hairstyle was popular in the 90s but the modern approach is more versatile and can be added to a range of different hairstyles, including dreadlocks. To achieve this look you want to create a contrast between the hair on top of the head and the rest of the hair. You will bleach the tips, which will draw the eye to the hair on top and create the illusion of fuller, thicker locs. It will give you an edgy and cool finish that will demand attention.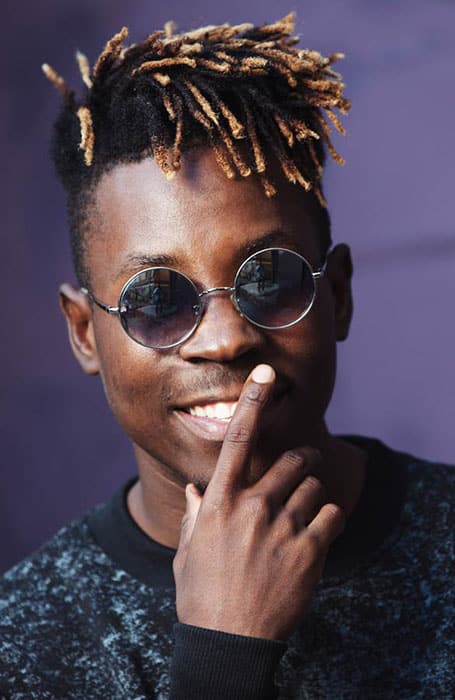 24. Half Up Half Down Dreadlocks
There are many ways to style dreadlocks, and if your hair is at least shoulder length you can try the half up half down hairstyle. The appeal of this look is it pulls the hair back and away from the face, while the rest of the hair is loose. This will create a neat and polished appearance while also letting you show off your dreadlock style. The half up half down hairstyle is also practical and effortlessly cool, ideal for opening up your face but also making the hair appear less bulky.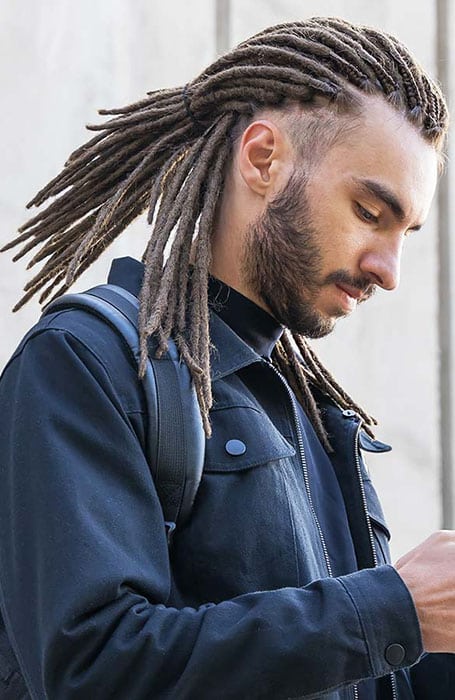 25. High Fade Dreadlocks
Dreadlocks are a stylish and symbolic hairstyle but they can feel heavy and bulky. To counteract this and also to create a look with structure and contrast, you can pair your dreadlocks with a high fade. Faded hairstyles are great for giving the hair a neat and polished appearance but they will also remove bulk and weight. There are many fades to choose from but the high fade is one of the most visible because it fades high, over the midway line between the temples and the top of the ears.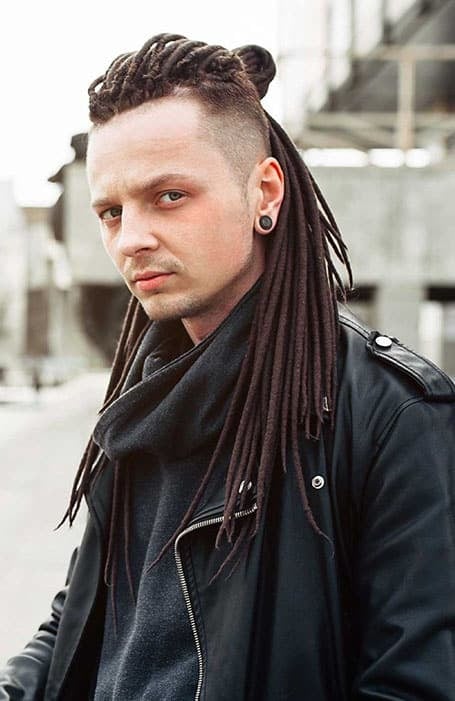 26. High Ponytail with Dreadlocks
The high ponytail is an effortlessly cool hairstyle that can be created within minutes. It works best with long hair, which will make it more noticeable. The high ponytail is more polished in appearance than a mid or low ponytail and can be a good way to style the hair for special occasions and formal events. At the same time, the hairstyle is practical, pulling the hair away from the face and off the neck.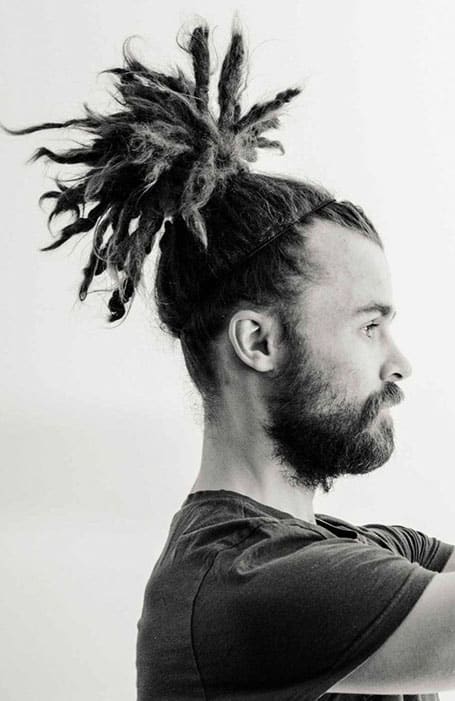 27. Long Dreadlocks
Long dreadlocks will take time and commitment to achieve but the result is impressive. This is an excellent way to show off your hair and it will demand attention, making it ideal for a man who wants to stand out from the crowd. Locs can promote hair growth and will give your hair a break from heat and chemical treatments. They are also a symbolic choice with connections to the Rastafari movement or used as a rejection of the West.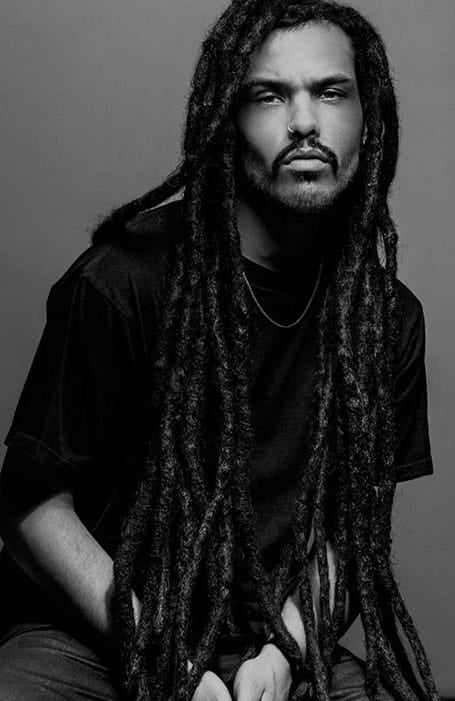 28. Low Ponytail Dreadlocks
The low ponytail is an incredibly simple hairstyle that will complement hair of all lengths and thicknesses, including dreadlocks. It is a great way to pull the hair up away from the face and off the neck, making it a practical option for the summer months and hot temperatures. The low ponytail will give you versatility with how you style it. This will include tying up shorter dreadlocks which you would not be able to wear in a top bun or high ponytail.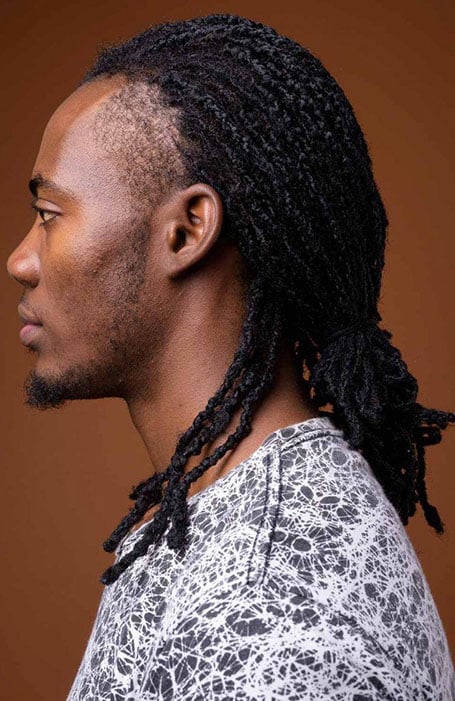 29. Ombre Dreadlocks
The ombre coloring technique is one of the most popular ways to create a subtle contrast to the hair and give it depth and dimension. You will blend two or more colors in a gradual way, often with the lighter color placed toward the bottom. This gives you all the benefits of traditional highlights without any of the hassles because you do not need to worry about root regrowth and maintenance. Ombre is an excellent way to experiment with color, whether natural hues or artificial.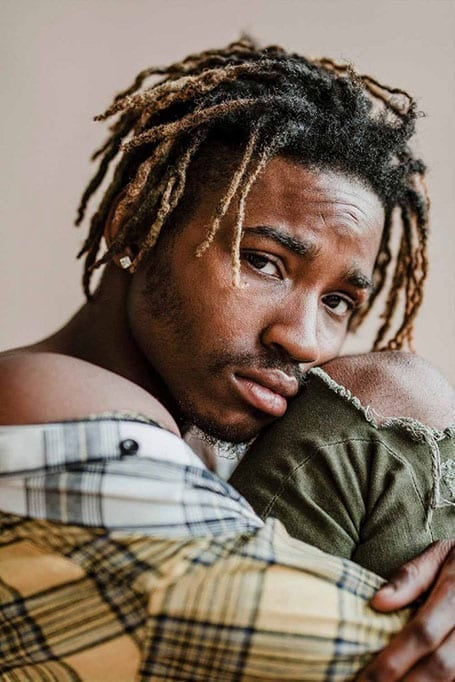 30. Thin Dreadlocks
Dreadlocks work best with coarse hair textures and curly hair. It is a surprisingly versatile hairstyle and you can adapt it to various lengths and thicknesses. Thin dreadlocks could benefit thin and fine hair because they will put less tension on the scalp. This can also be a great option for those who want to create multiple dreadlocks as the smaller and thinner they are in appearance, the more you will need. Thin dreadlocks are also great for men trying to add length because they will grow faster.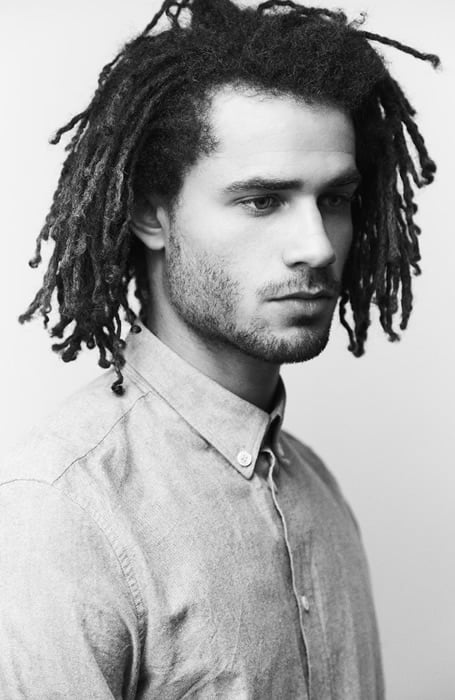 History of Dreadlocks
The history of dreadlocks is a subject that has been hotly debated. It is reported that evidence exists of dreadlocks being worn by various tribes and peoples around the world. This includes the Vikings, ancient Egypt, Germanic tribes, and the Maasai, Fulani, and Ashanti tribes. The hairstyle has links with the Rastafari movement and is an expression of religious belief. It can be worn as a symbol of pride, and a connection to Africa. It is a hairstyle with great cultural importance.
How to Start Dreads
Dreadlocks are time-consuming and high maintenance, but they are expressive and versatile hairstyles with cultural and religious symbolism. If you want to learn how to start transforming your hair into dreadlocks, there are several ways to do this, including two stand twists and twisting and gel methods. For more information and a guide on how to achieve this, you can watch the YouTube video below.


How to Make Dreads
Dreadlocks can be achieved with multiple hair textures and created in various thicknesses. There are various techniques to choose from depending on your desired result, but the three most well-known options include backcombing technique, the twist, and rip method, and the braiding technique. Depending on your preference, there are different steps to take. Find out more about what it takes to make your dreads by watching the YouTube video below.
How to Wash Dreadlocks
Dreadlocks need to be washed around once a week. The frequency of washing will depend on your hair thickness, length, level of activity, and more. When washing your hair will you need to remove the natural sebum oil. This will require you to use a wash like an apple cider vinegar or baking soda. Warm water is the best for washing the hair and will reduce the risk of frizz and dryness. It is also important to ensure you dry your hair after washing them to prevent any unpleasant odor. Find out more with the YouTube video below.
Dreadlocks Styles for Men FAQs
What do dreadlocks symbolize?
Dreadlocks refer to a hairstyle that features hair that has been twisted, matted, or braided into ropelike strands. It's a hairstyle that's best suited to type three and four hair, as this is more likely to naturally loc up. It's also an important hairstyle among Black communities and holds significance culturally and for Black identity.
How much is it to get dreads?
Getting dreadlocks done professionally will cost between $250-$800. The price will vary depending on the length and amount of hair you have, as this will impact the number of dreadlocks and the amount of time it takes.
Do dreads smell?
Dreadlocks can smell because of their matted appearance which can lock in odors. However, dreads should not smell if cared for properly and washed regularly. You need to wash your hair at least once a week but if you live an active lifestyle or are in a hot climate you will need to wash it more. The important thing to remember is to dry the hair completely after washing to prevent an odor.
How dirty are dreadlocks?
Dreadlocks are not dirty and that is a myth. If you wash and care for them properly they will be extremely clean.
Are dreadlocks Jamaican or African?
Dreadlocks can be traced back to several African tribes including the Maasai, Fulani, and Ashanti tribes. However, they are associated with Jamacia because of the Rastafarian movement.
Do barbers do dreadlocks?
You can get dreadlocks done at a barber or hair salon; however, you'll want to check that they specialize in them first and have experience working with Afro hair. You might also want to check what technique they use, as this can vary between locations.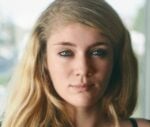 Cailyn Cox holds a degree in journalism and has been working with The Trend Spotter as a writer for over ten years. She has worked with some of the most prestigious women's and men's lifestyle publications. For her, writing is not just a job; it's a passion, which is why each article she writes is approached with such enthusiasm and dedication. She has extensive knowledge of hairstyles, tattoos, and beauty and has made a career out of creating informative articles that appeal to women and men of all ages.
SUBSCRIBE TO OUR NEWSLETTER
Subscribe to our mailing list and get interesting stuff and updates to your email inbox.