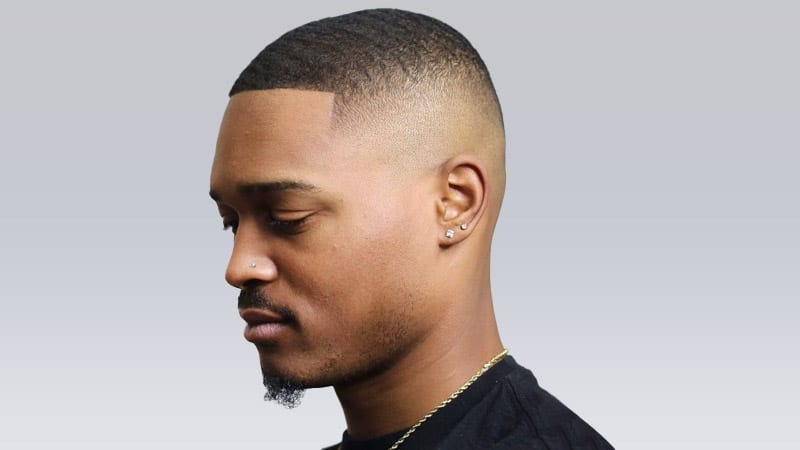 Unless you are from Texas, you may not be familiar with the southside fade, and that would be unfortunate because it is every bit as cool and versatile as you would expect. Is it one of the most stylish or easy-to-wear fades around? No. Is it suitable for all occasions, including the workplace? Probably not. But it is undeniably excellent for those wanting to make a statement or prove they are daring and adventurous. It features length on the top and front of the head, with significantly shorter back and sides. There are different ways to try it out, and we have all the inspiration you need!
Southside Fade Haircuts
1. Southside Fade Half Circle Design
There is no better way to inject your personality into your haircut than with a hair design. Different shapes and patterns exist, but a half circle is one of the most effective because it is simple but undeniably cool. Style it at the hairline to benefit from the longer and thicker strands created by the southside fade.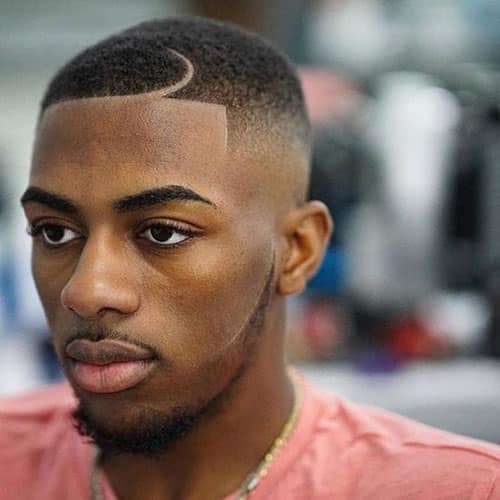 2. Southside Fade With Bald Fade
The southside fade is excellent for men who want a short haircut. Rather than opt for something classic like the high and tight or buzz cut, this cut is a fresh and cool approach. You can combine it with other looks to give a more personalized finish, such as pairing it with a bald fade that will reduce the hair to the skin level.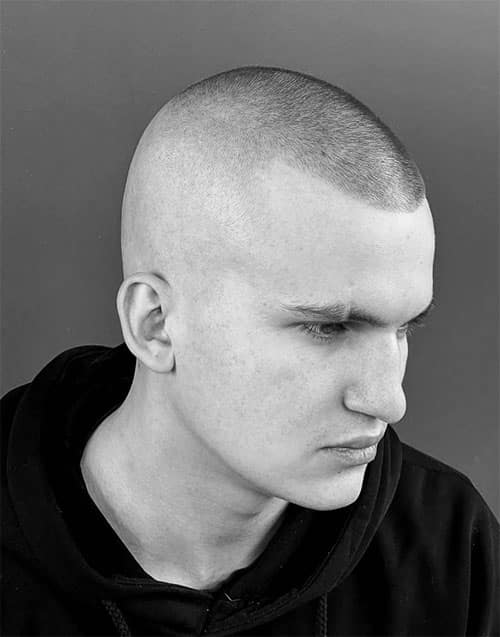 3. Southside Fade With 360 Waves
Undeniably cool, the southside fade is a style that will get your hair noticed. The hair appears thicker and longer toward the front of the hairline, with gradually shorter strands toward the back, and can complement naturally curly hair. This includes 360 Waves, a style that creates a wave pattern throughout the hair.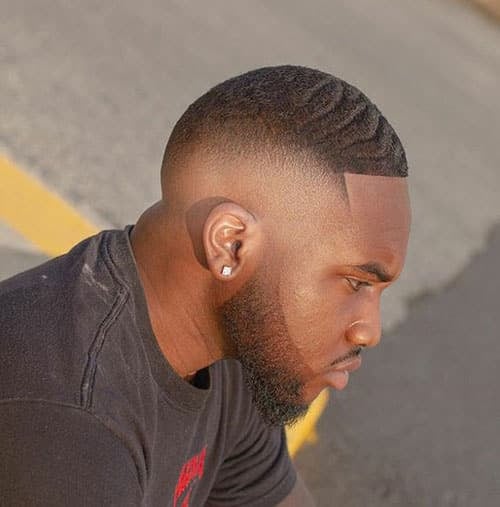 4. Southside Fade Crew Cut
Even classic hairstyles like the crew cut can be paired with the southside fade, giving you a fresh and exciting finish. This haircut is trimmed close to the head with a visibly shorter back and sides, so it will naturally complement this epic faded look. It is the ideal option for those who are daring and want a bold and visible cut.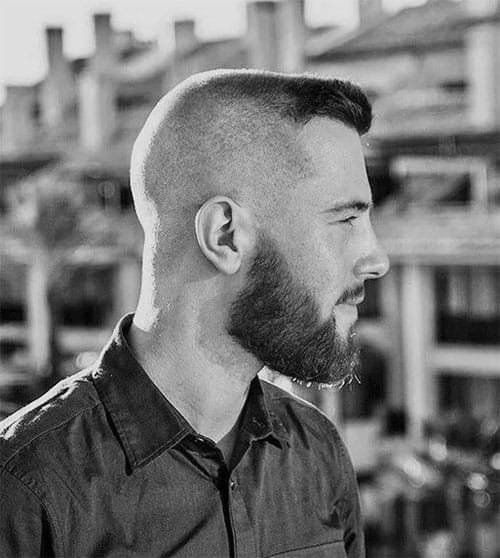 5. South Side Fade With Love Heart Design
You have heard of wearing your heart on your sleeve. Well, why not try a different approach and style it into your hair. This is a fun and expressive look for men who are not afraid to try something new or be daring. The design is focused at the top of the head, which complements the way the southside fade shortens; longer and thicker at the front and shorter toward the back.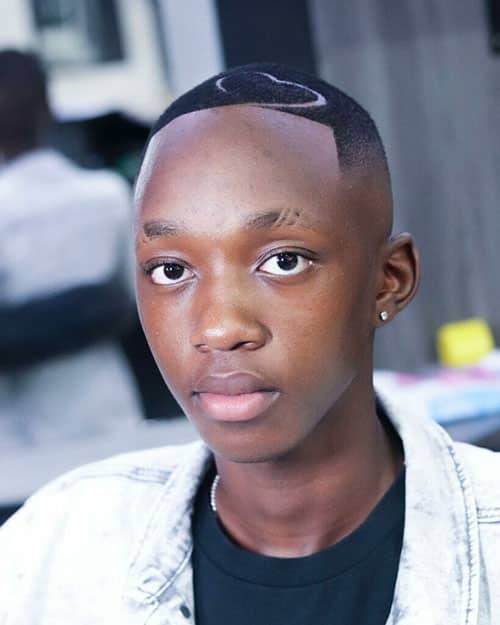 6. South Side Fade With Beard Shape Up
If you were wondering if you could rock the southside fade with a beard style, the answer is a resounding "yes." When combined with a beard shape-up, the look feels more balanced. It can be worn with different length beards, depending on your preference, and is an excellent way to draw the eye to the front of the face (great if you are experiencing signs of balding or hair loss).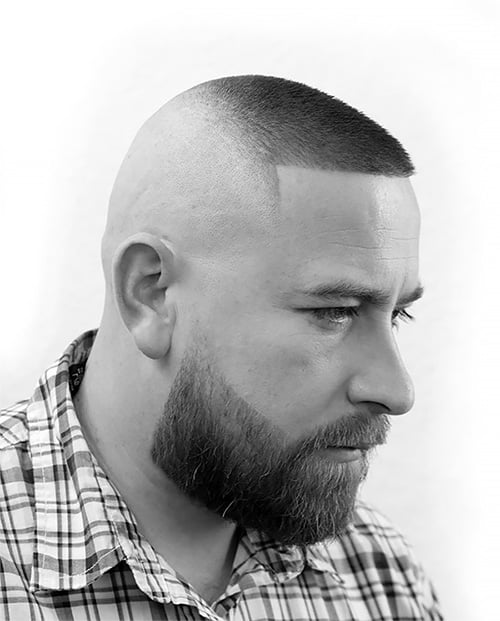 7. Southside Fade With Braids
Braids are a protective style promoting natural hair growth. They are also an excellent way to have fun with your hairstyle, as there are many types to choose from, letting you find the perfect style to reflect your attitude. The brilliant texture braids create to make them an ideal candidate to be paired with a fade, and there are few faded looks as noticeable as the southside.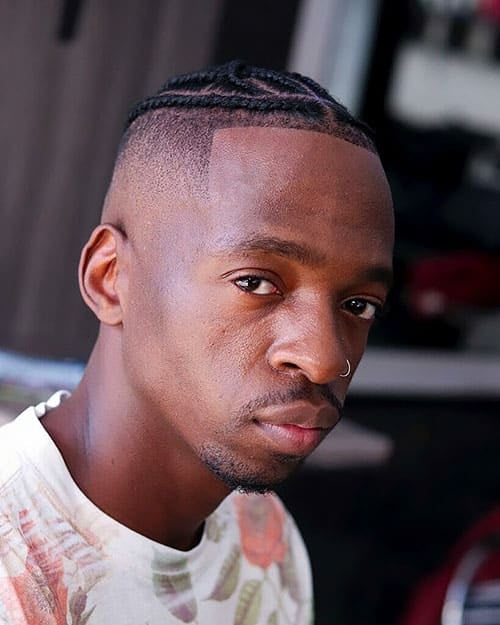 8. Southside Fade With Circle Design
You have seen what the southside fade looks like with a half circle; you can also opt for a full circle design. The precision required to pull off this shape requires you to enlist the help of a professional, but the result is unmissable. You can also get creative with different hair designs, including diamonds, and hearts, whatever your preference is.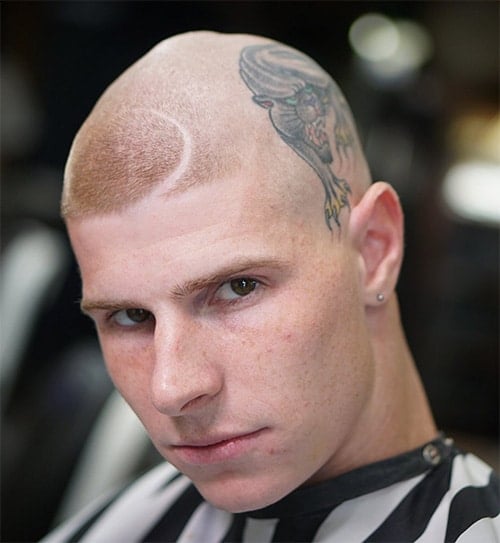 9. Southside With Goatee
The southside fade looks excellent when worn with a beard style, whether a full beard or something more structured. A goatee is a classic option, defined by how it is shaped to a small point. Ideal for bringing attention to your chin, it can also feel sophisticated and youthful. This haircut can also make the jawline and cheeks more pronounced.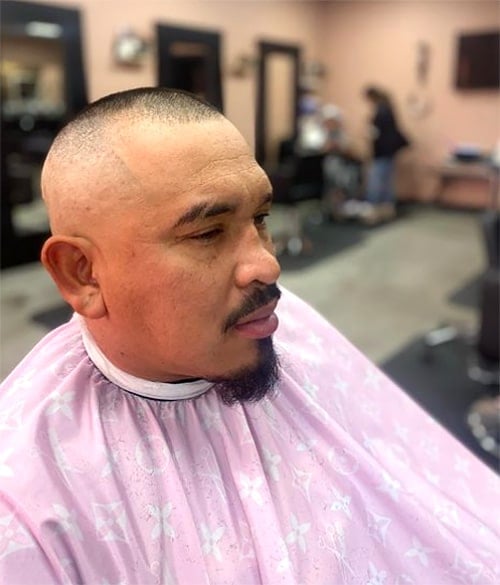 10. Southside Fade With Head Tattoo
What better way to show off your head tattoo than with a southside fade? The naturally short length on the back and sides will complement your ink, leaving you with an edgy and rebellious finish. No one wants to cover up their tat, so this hairstyle gives you the perfect way to show off while still finding a fresh and youthful cut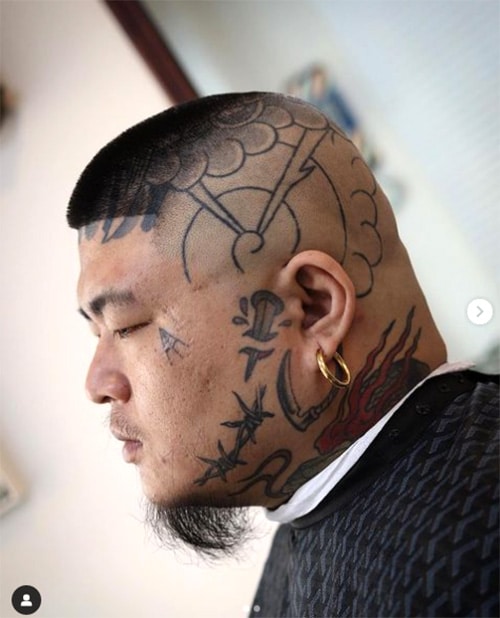 What is a Southside Fade Haircut?
We know faded hairstyles are looks that gradually shorten the length of hair around the back and sides of the head. But have you heard of the southside fade? It is reported to have emerged from the southside of Houston, Texas. It is a fresh and edgy approach to a fade which sees the hair cut short on the bottom and left thicker on top. The strands at the front of the face also appear longer. It can be flattering on men with thick and curly hair but is also great for detracting from a receding hairline or balding.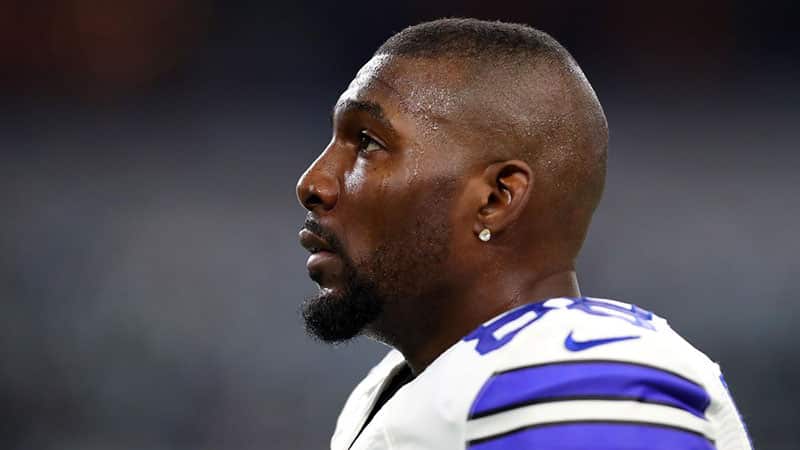 How to Cut a Southside Fade
If you like rocking a southside fade, you need to know what goes into creating it. You will need a steady hand, and the style will likely take some practice to master (if you want to attempt to do it yourself). The good news is there are many helpful tutorials online, such as the video below, giving you the steps needed to complete it.
Southside Fade FAQs
When was the Southside fade discovered?
The southside fade can be traced to the south of Houston, USA. It has been a popular cut for a long time but is now making a comeback because it is an edgy and effortlessly cool haircut.
How is the Southside fade different from a skin fade?
At first glance, there are many similarities between the southside fade and the skin fade. The southside fade focuses the length and thickness of the hair at the top of the head and toward the hairline, leaving much of the back and sides faded. The skin fade will often start lower down on the head and gradually taper the back and sides for a more blended finish. It will fade to the skin level.
Which hair type is the Southside fade suitable for?
The southside fade is great for thick and curly hair but can also be styled for those who are experiencing hair loss and balding.
SUBSCRIBE TO OUR NEWSLETTER
Subscribe to our mailing list and get interesting stuff and updates to your email inbox.