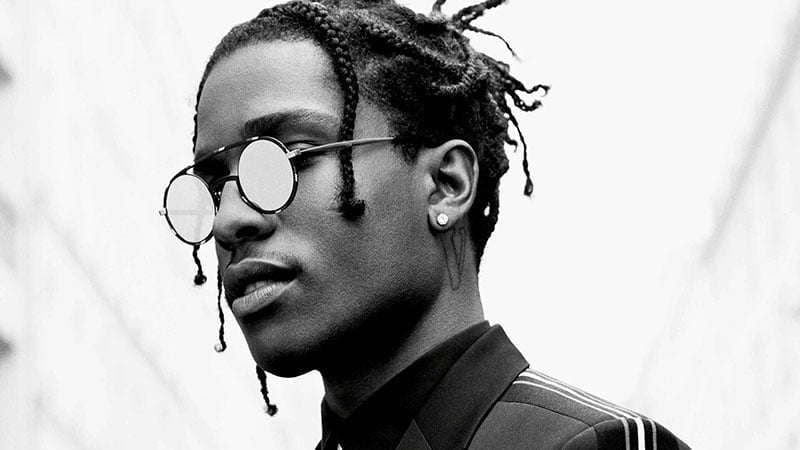 Following in the footsteps of the man bun, the man braid has taken over as the coolest new hairstyle for men. The edgy and versatile look is perfect for creating an appearance that's both on-trend and out of the ordinary. From bold and brave designs to small and subtle styles, man braids have an option to suit every gent. So, no matter if you consider yourself a hipster, tough guy, or merely a modern man, you can rock braids whenever you're ready. Just click through to find the coolest man braid hairstyles that are sure to inspire you to try this trend.
1. Man Braid + Viking Hairstyle
A Viking inspired braid is the perfect hairstyle for turning long locks tough.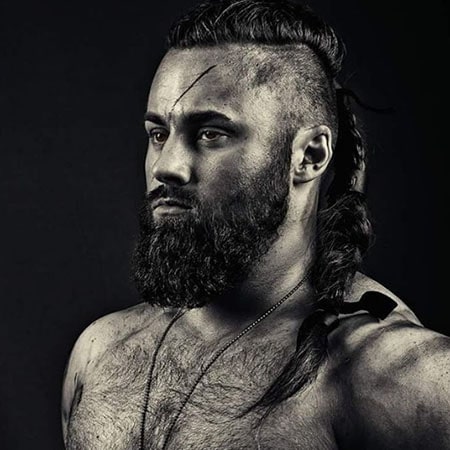 2. Man Braid + Fine Hair
Having fine hair is no reason to miss out on trying the man braid trend.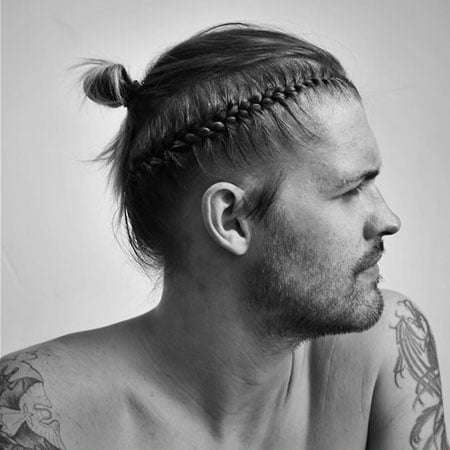 3. Man Braid + Beard
Partnering a man braid with a beard creates a strong appearance with a cool, hipster vibe.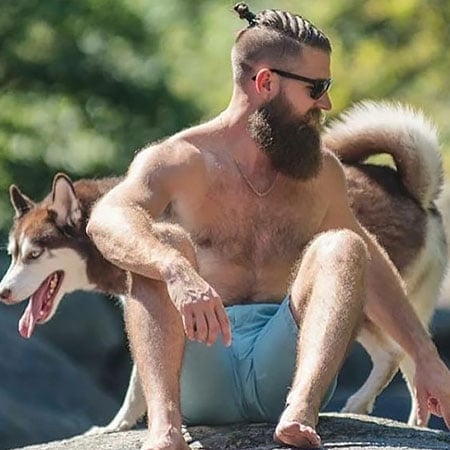 4. Man Braid + Short Hair
While you will need at least a little length on top to create a man braid, the look can work with shorter cuts.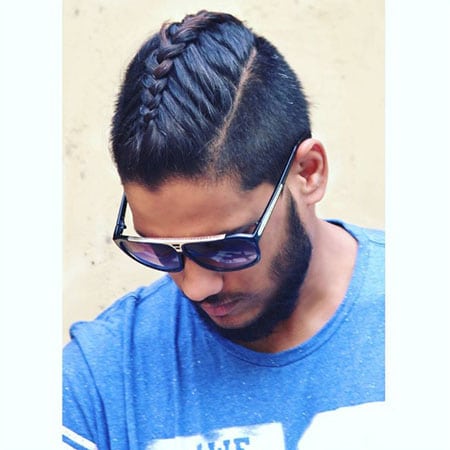 5. Man Braid + Half Bun
This unique style features a half man bun with a top braid and smaller plait on the side.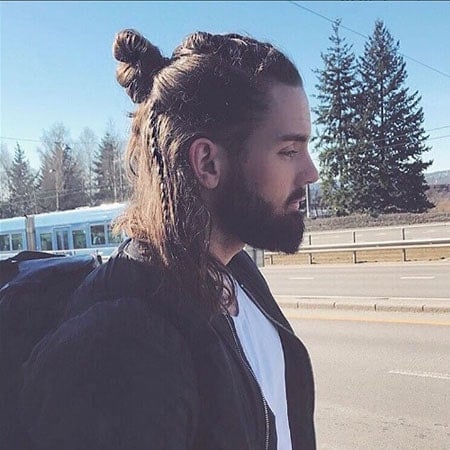 6. Man Braid + Shaved Sides
Even a low Fade can be worked into a braided look by weaving together a wider section of hair.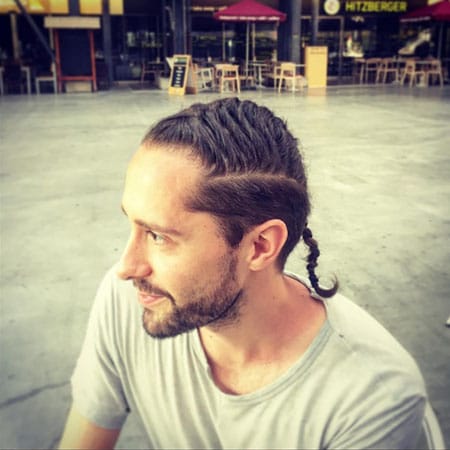 7. Triple Man Braids + Bun
Three braids combined with a bun creates a neat look that's full of impact.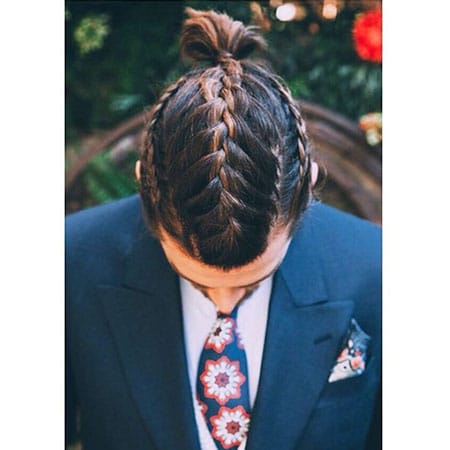 8. Man Braid + Side Part
A simple side part braid is a quick and easy way to update your style without changing your overall look.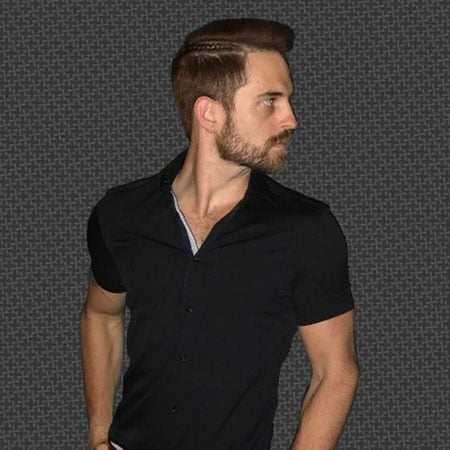 9. Man Braid + Simple Braided Section
Instead of creating a braid that runs from the front to the back of your head, why not try braiding a small section running across?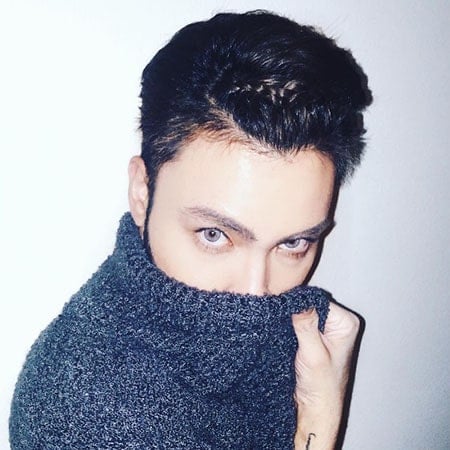 10. Reverse Man Braid
A reverse man braid with a bun is a great way to keep your look polished at the front and fashion-forward at the back.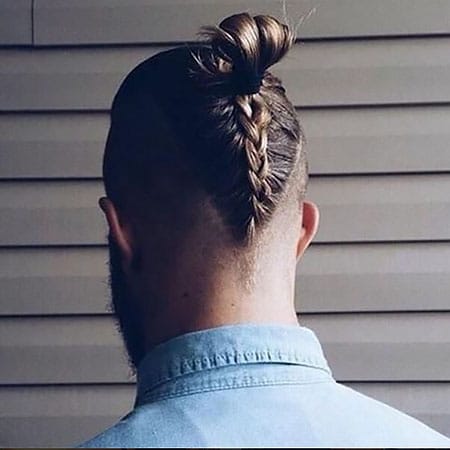 11. Man Braid + Pompadour
Instead of slicking back the sides of your pompadour, try braiding them for a similar yet slightly edgier appearance.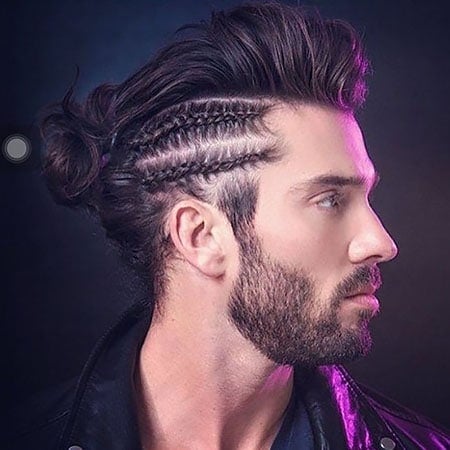 12. Warrior Man Braids
Thanks to their rich history, braids can be used to create a cool, warrior look.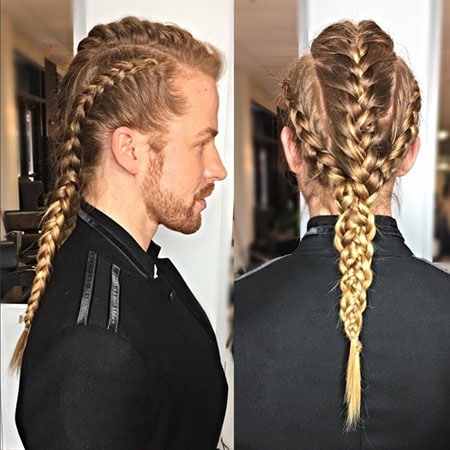 13. Man Braid + Hair Design
One of the great things about man braids is their versatility and ability to be transformed into many modern hair designs.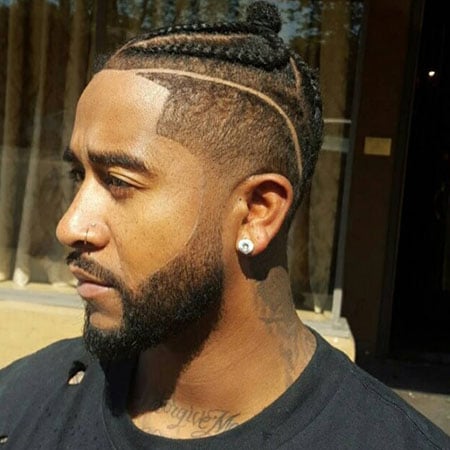 14. Man Braid + Messy Hair
While sharp braids appear edgy and bold, a messy man braid looks laid-back and casual.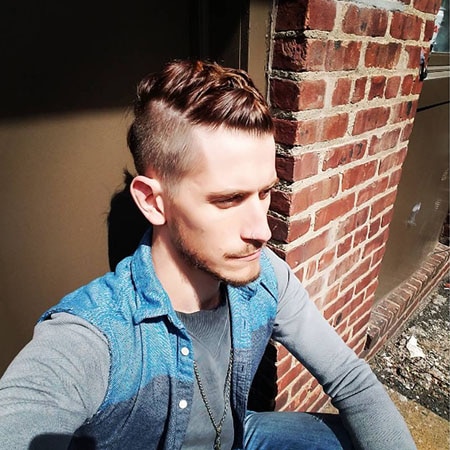 15. Man Braids + Hard Part
This hard part braid provides the perfect line of distinction between the long hair on top and the short, shaved sides.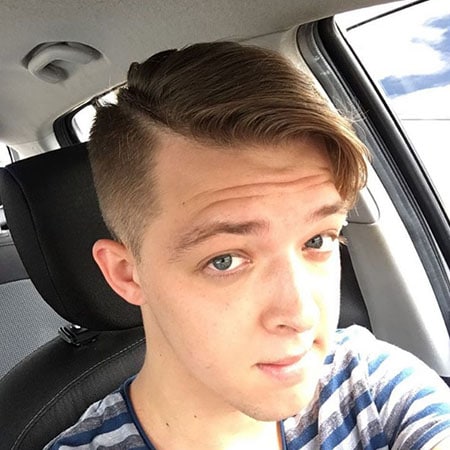 16. Man Braids + Top Knot
Try taming a long mane with man braids and a top knot for special events and functions.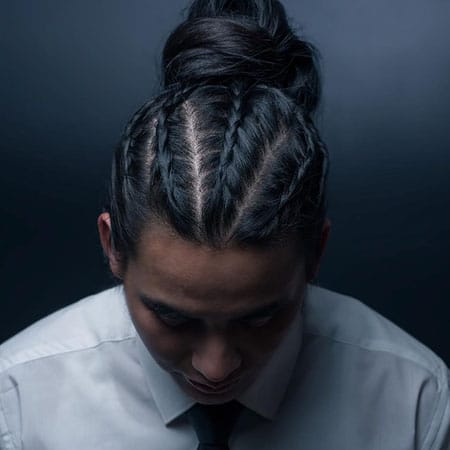 17. Man Braids + Double Side + Bun
Gents who prefer a subtle look will appreciate the understated style of these double side braids that gather into a bun.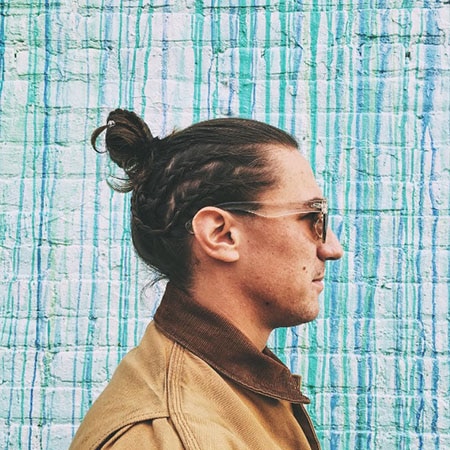 18. Man Braids + medium Length Hair
While medium length hair can sometimes seem a little uninspired, the addition of a braid will inject the length with a fashionable edge.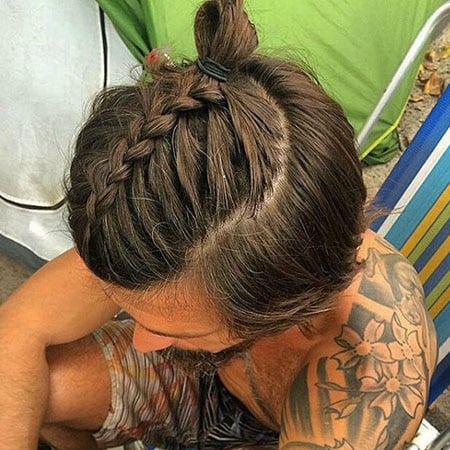 19. Man Braid + Mini Bun
A man braid with mini bun has an athletic appeal that makes the style look just as in place in the boxing ring as it does roaming the city streets.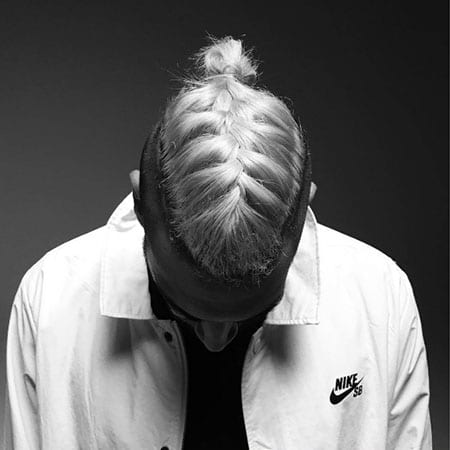 20. Man Braid + Faded Sides
Cool, contemporary and eye-catching, a man braid with a fade is the perfect hairstyle for the sophisticated and style-savvy gent.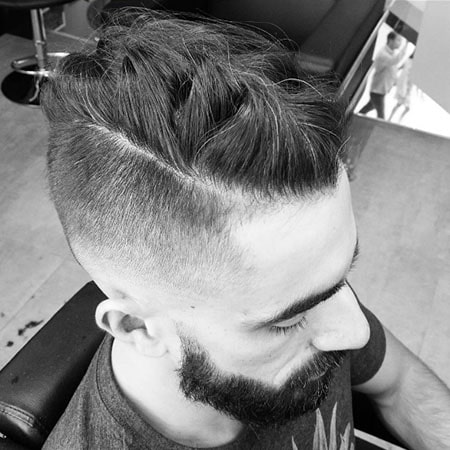 21. Man Braids + Volume
Thick, chunky man braids have a contemporary and on-trend appearance.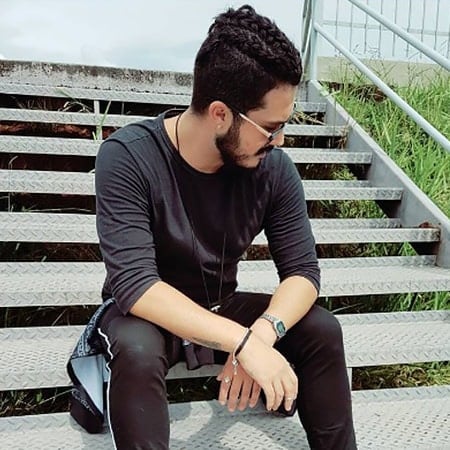 22. Man Braids + Ponytail
Not only is a man braid ponytail on-trend, but it's also easily achieved at home with just a little bit of practice.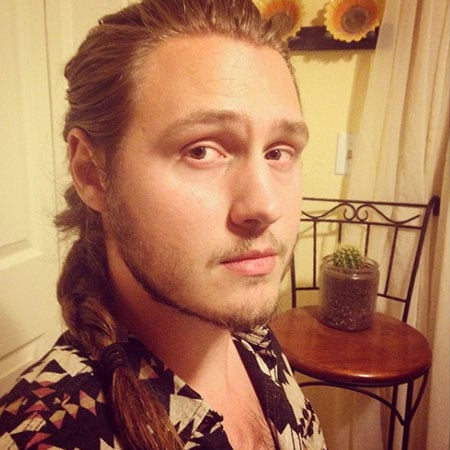 23. Man Braid + Disconnected Undercut
The disconnected undercut is the perfect haircut for rocking a man braid.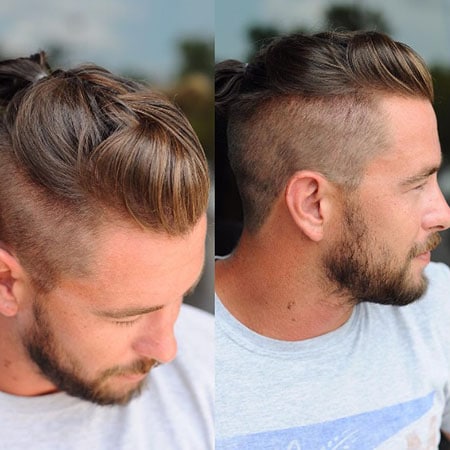 24. Man Braid + Blond Hair
Grown out color can make a man braid appear even more unique and stylish.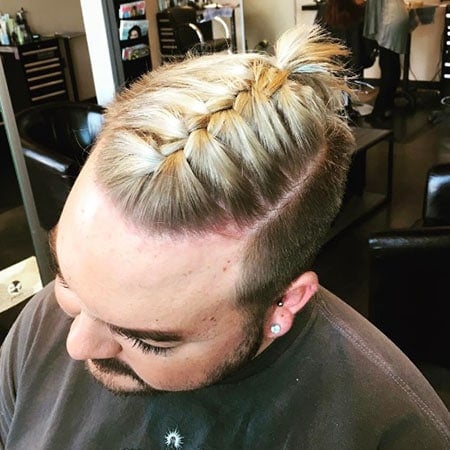 25. Man Braid + Pompadour + Hair Design
Weave your pompadour into a loose braid and a hair design to give this classic style a new edge.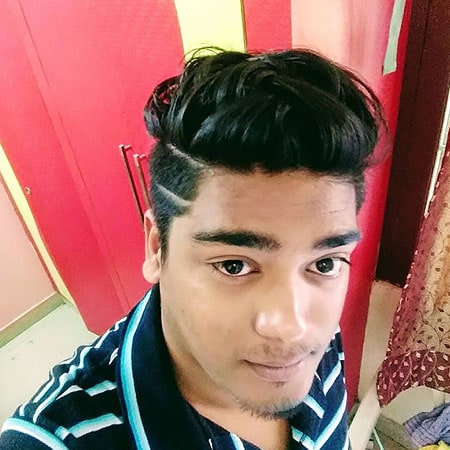 26. Man Braids + Blond + Black Hair
If a simple braid isn't quite as bold as you would like, try adding a streak of contrasting color to turn up the impact.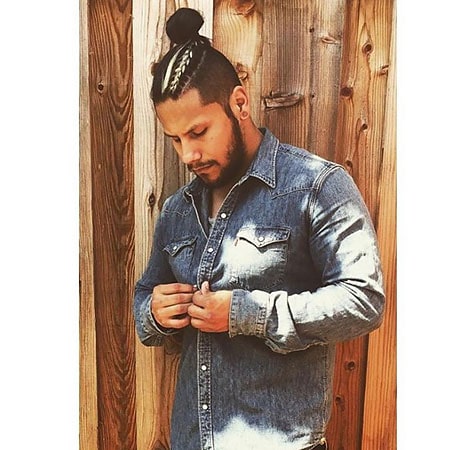 27. Man Braids + Low Bun
This braided hairstyle, which features a low bun, is kept masculine and modern thanks to its messy and haphazard appearance.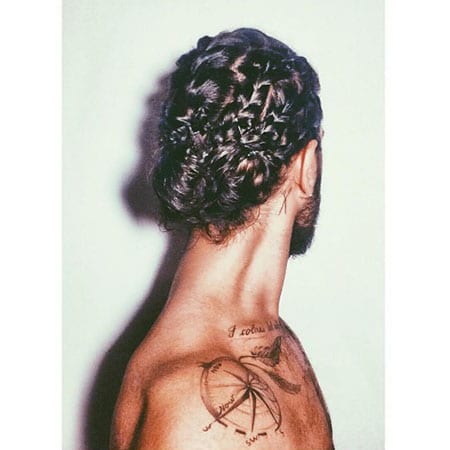 28. Man Braid + Part
If you're new to the man braid trend, try adding a small braid along your part line for a subtle yet fashionable look.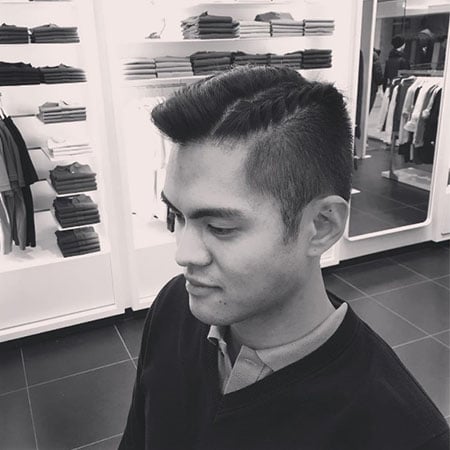 29. Man Braids + Short Sides
By pairing statement braids with short sides, you can create a balanced look that appears edgy but not over the top.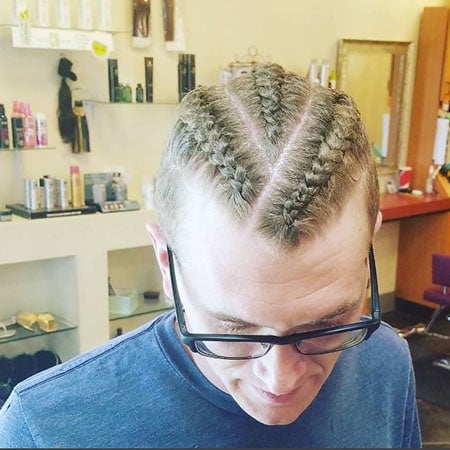 30. Man Braids + Mohawk
Whether you're rocking a mohawk or a faux hawk, a braid can be a stylish and statement-making addition.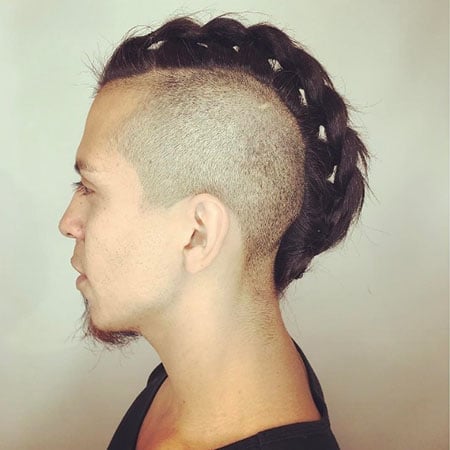 31. Man Braid + Wavy Hair
Create an edgy style by braiding part of your hair and allowing the rest to remain wild with natural waves.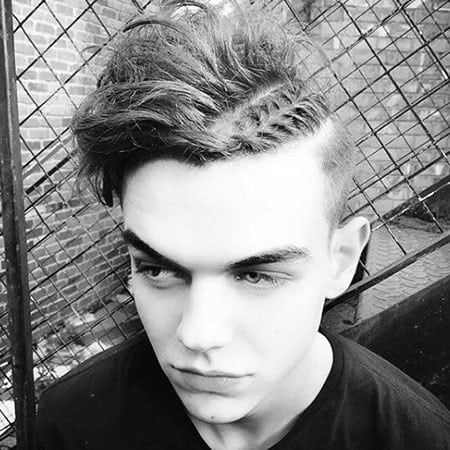 32. Man Braid + Thick Hair
Thick hair is ideal for creating a voluminous and eye-catching braid.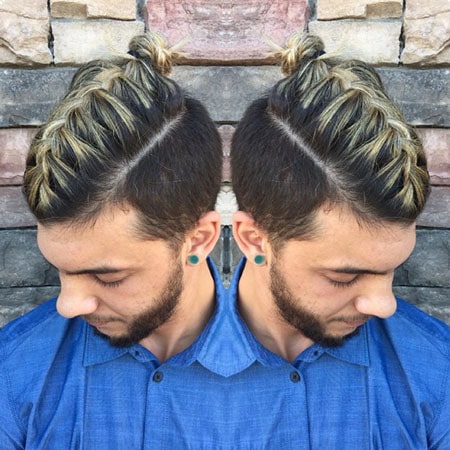 33. Man Braid + Undercut
This cool hairstyle features a thick man braid and an undercut paired with a smaller part braid.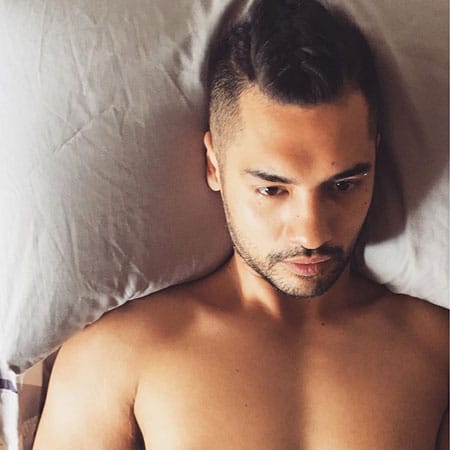 34. Man Braid + Symmetrical Hair Design
This symmetrical braid design for men is graphic and undeniably impressive.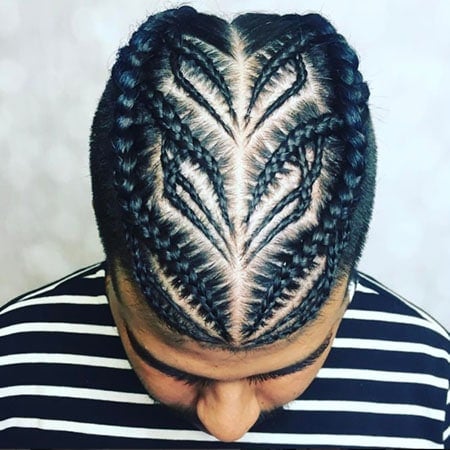 35. Man Braid + with Short Sides
If you have hair that's long on top with short sides, consider adding a braid for a fashion-forward style update.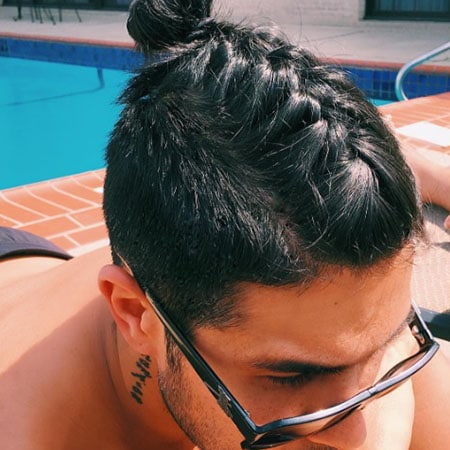 36. Man Brid + Long Hair
A simple French braid is a stylish option for gents with long locks.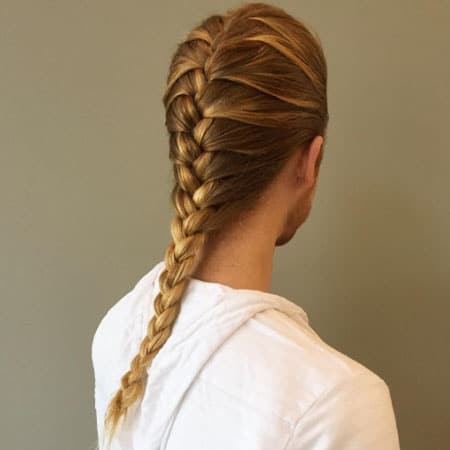 37. Man Braids + Intricate Hair Design
In the right hands, your braids can become a detailed work of art.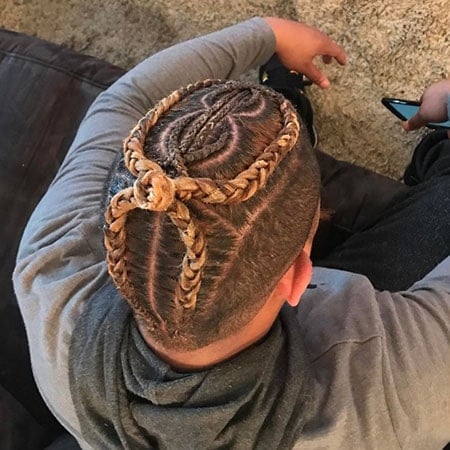 38. Double Man Braids + Bun
While two braids and a bun may seem like a simple combination, the final appearance is complex and edgy.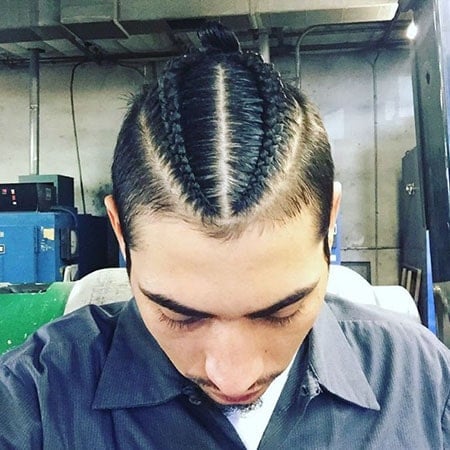 39. Man Braids + Middle Part + Bun
Split double braids with an intense middle part before joining them into a single bun for a fierce hairstyle.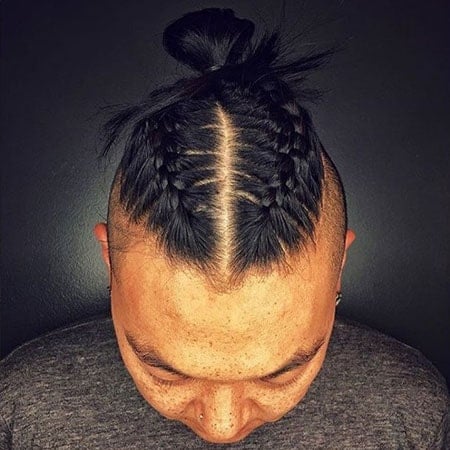 40. Man Braids + Bun + Cornrows
A simple way to update classic cornrows is to add some curves and end with a man bun.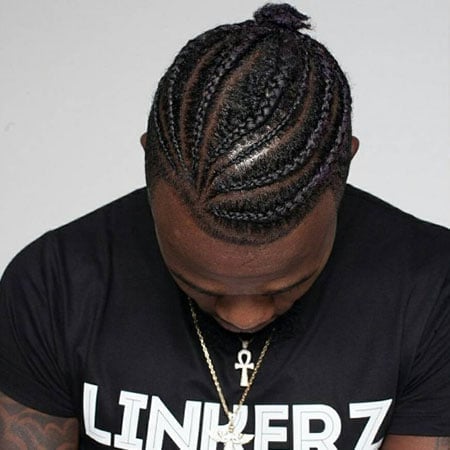 FAQs
Do braids look good on guys?
Braids look great on guys who have a bit of extra length in their hair or long luscious locks. It's a great way to wear the hair up, keeping it out of your face, and looking stylish at the same time. Protective braids such as cornrows are also great for keeping Afro hair healthy and strong and look amazing with intricate and detailed designs.
Can you braid short hair guys?
As long as you have enough length to be able to capture the hair in the braid, you can braid short hair. You can also opt for a braid along your part if your hair is quite short, as narrow braids require less length. The only adjustment you'll need to make is the amount and kind of styling product you'll use. Opt for something strong-hold that will give you some grip as well, such as dry shampoo paste or a matte pomade.
How do guys wash their hair with braids?
Guys with longer-term protective braids, such as cornrows, can easily wash their hair. The best method is to wash it in the shower, using a mix of clarifying shampoo diluted with water and massaged into the scalp. Then rinse, letting the shampoo flow through the ends, and follow with conditioner using the same method. Once the hair is air-dried, you can then apply scalp treatments and moisturizing mousse to keep the hair hydrated.
How much do braids cost for guys?
The cost of braids will vary depending on your hair's thickness and length, the intricacies of the design, and the salon and stylist you choose. Expect to pay between $50-$100 on average.
SUBSCRIBE TO OUR NEWSLETTER
Subscribe to our mailing list and get interesting stuff and updates to your email inbox.