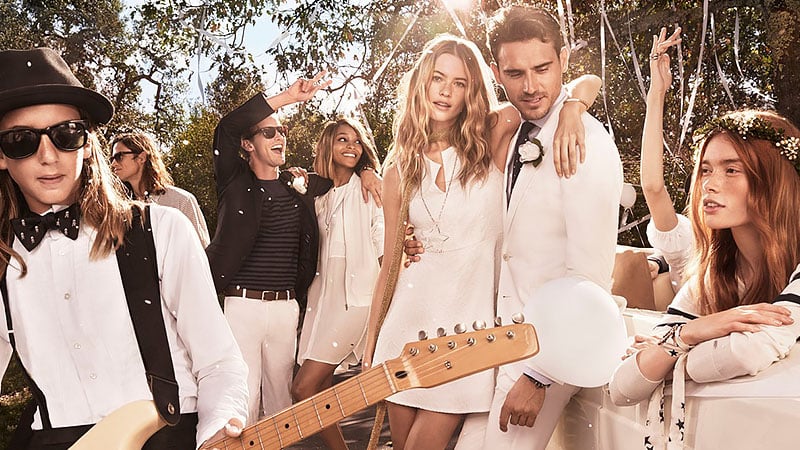 Although bridal wear tends to err on the side of tradition, it does go through trends. Like any type of clothing, styles come in and out of fashion as tastes change and grow. Currently, one trend is dominating the world of wedding dresses both on the runway and in the boutiques. Short wedding dresses have emerged as a new favorite amongst designers and stylish brides alike. Whether they're cropped just above the ankles or cut to a daring cocktail length, short dresses are appearing on aisles everywhere. Not only is the short wedding dress a refreshing departure from the traditional floor-length or train gown, it's also completely practical and versatile. Whether you're having your wedding at the beach, are opting for a vintage theme, or are looking to be the most fashion-forward bride, there's a type of short wedding dress to suit your needs.
RELATED: 20 Most Affordable Wedding Dresses for Brides
1. Short Beach Wedding Dresses
A beach wedding is a beautiful affair. The combination of the gorgeous scenery with the love-filled celebration creates a remarkable wedding that no one in attendance will ever forget. But with a beach backdrop comes the challenges of having a wedding outdoors. Not only is there sand to contend with, but your wedding will also likely be at least somewhat open to the elements and at the mercy of the weather. This is no reason to avoid having a beach wedding, it just means you need to adjust your plan, including your outfit. So, instead of opting for a traditional gown, which can be troublesome at the beach, choose a short one instead. Between mid-shin and mid-thigh is an ideal length to allow you to easily navigate the location. Keep fabrics light and styles unstructured to also remain comfortable and sweat-free on what will undoubtedly be a warm day.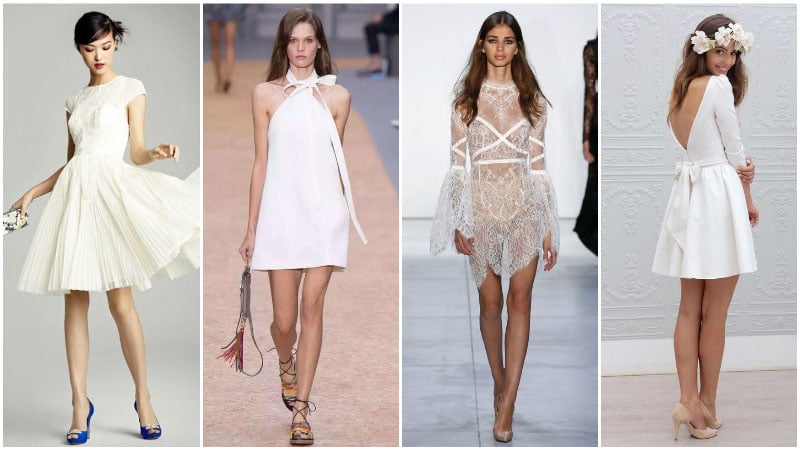 2. Vintage Short Wedding Dresses
Whether your wedding carries a vintage theme or is simply traditional, a vintage gown can be a lovely choice. Timeless and beautiful, a vintage-style wedding dress provides a bride with polish and charm on her big day. While floor-length gowns can still look classic, of course, nothing says true vintage like a shorter length. For a great 1920's style, choose a knee-length dress featuring feathers or fringing. The touch of flapper girl fabulousness will look gorgeous and exciting for the occasion. Alternatively, a tea-length gown that finishes just above the ankles makes a great vintage option for ladies that are after a slightly longer length. While flapper dresses are generally loose-fitting with a column shape, tea-length dresses and other vintage styles often feature a fit and flare silhouette. Completed with a touch of classical lace, these vintage styles look positively perfect for a wedding.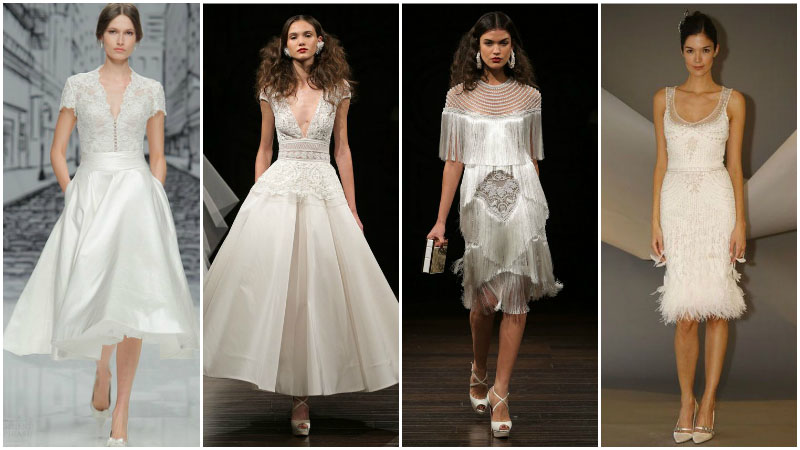 3. Modern Short Wedding Dresses
A short wedding dress can easily reference a point in time and look vintage, but it can also just as easily look modern. While classic brides continue to select floor-length gowns and dresses with trains, a new wave of contemporary brides are choosing short, edgy designs. Beautiful and unique, modern short wedding dresses have an exciting and unexpected air to them. Perfect for stunning guests, these gowns are the ultimate in fashion-forward wedding attire. When shopping for one, keep an eye out for anything that looks current, non-traditional and chic. Think bold and structured for the silhouette and be sure to choose a gown with unique and stylish details.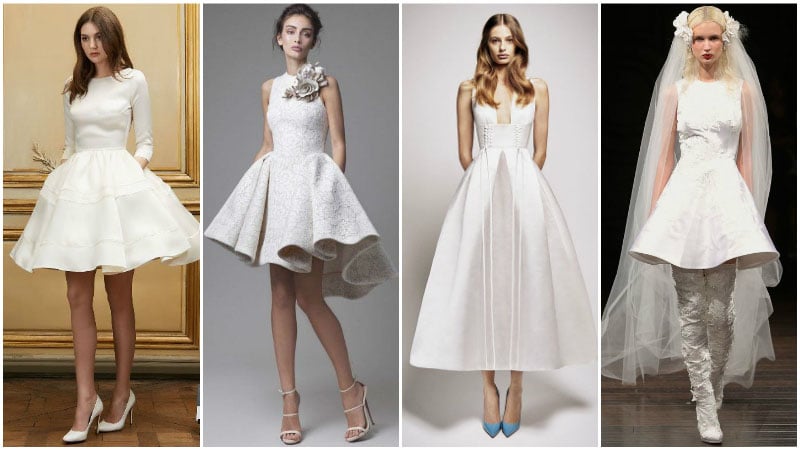 4. Short Lace Wedding Dresses
A lace gown is a traditional wedding look. Despite being a bridal favorite for countless generations, the delicate fabric never seems tired or outdated. Instead, it remains a classic that many women still choose to wear on their big day. If you love the look of lace but are leaning toward a more modern style, why not consider a short, lace dress? The style can be just what you need to bridge the gap between the worlds of contemporary and classic. Featuring all the elegance of a conventional lace dress with all the excitement of a modern one, a short, lace, wedding dress is a superb option. For a spring or summer wedding, choose lighter styles of lace and crochet lace with the subtle appearance of skin from beneath the fabric. Likewise, a length finishing at or above the knee will offer an airy feel that's perfect for warm weather.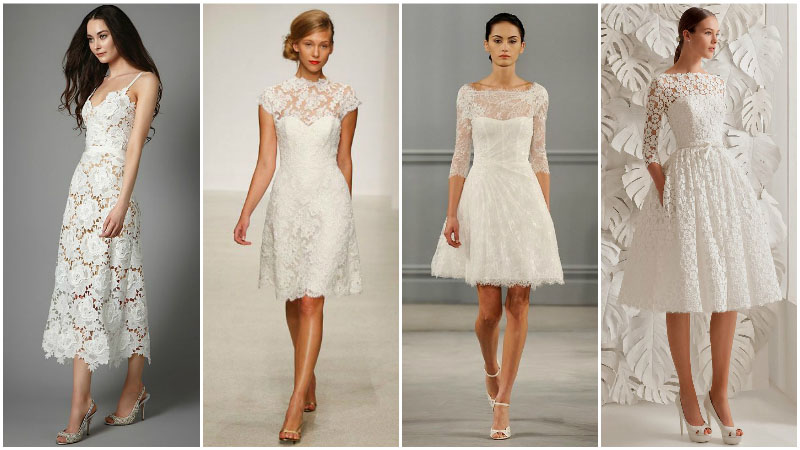 5. Short Wedding Dresses with Sleeves
While a short, sleeveless, or strapless wedding dress will conjure thoughts of a spring or summer ceremony, a sleeved version can look perfectly in place for any season. Offering a slightly more traditional look to otherwise contemporary styles, sleeves add a ladylike elegance to even the shortest of wedding dresses. Wedding dress sleeves, which are almost always made in the same fabric as the bodice, tend to be fashioned in lace. As the delicate fabric offers a light and bridal feel, it's perfect for creating sleeves that are well balanced with the dress. Other, heavier fabrics can still look great, and will undoubtedly have a modern and sharp appearance.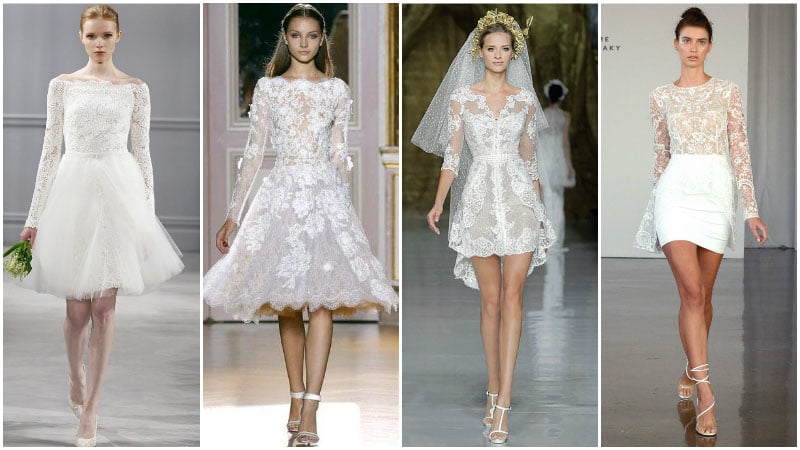 6. Short Sleeve Wedding Dresses
Long sleeves tend to make wedding dresses look more elegant and polished. Short sleeves, on the other hand, have a different effect, creating a more relaxed and sweet appearance. Reminiscent of a classic t-shirt, the style is refreshingly simple for a wedding dress. Keep the look from getting too casual, however, by opting for luxurious fabric and a perfectly fitted bodice. Doing so will ensure that your look remains bridal, rather than just "done up". Also, remember to ensure that the dress is well-balanced in terms of weight and how much skin you are showing. As short sleeves keep the top of your dress light, you're able to add more volume to your skirt if your wish. Likewise, as your arms and lower legs are bare, a high-neck, which covers more skin, makes a great collar option.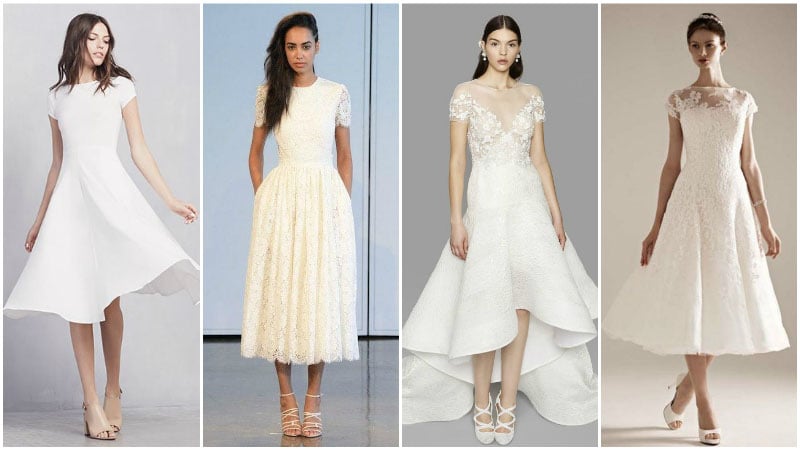 FAQs
Is it OK to wear a short wedding dress?
It is definitely OK to wear a short wedding dress, especially if your wedding is more informal. There are various styles to choose from, including cropped above the ankles and cocktail-length dresses, and they are fantastic alternatives to traditional garments. Not only are they practical, making it easy to dance and move around, but they also lend themselves well to beach and barn weddings, as well as rustic and vintage themes.
What wedding dresses look best on short brides?
Some of the most universally flattering wedding dress shapes, including for petite brides, are the mermaid and trumpet styles. You want to find a dress that elongates your shape, and other great styles are sheath dress and A-line gowns. Alternatively, you can opt for a cocktail-length dress, which is a fun and modern alternative to traditional gowns. It is advisable to avoid dresses that are too puffy or overly embellished, as this can overwhelm your shape and hide your figure. The simpler cuts, devoid of too much detail, tend to be the most flattering.
SUBSCRIBE TO OUR NEWSLETTER
Subscribe to our mailing list and get interesting stuff and updates to your email inbox.