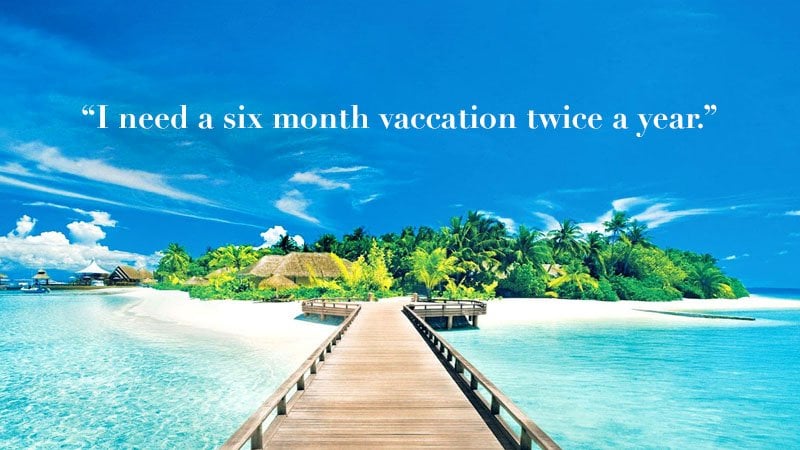 Laughter truly is the best medicine, and funny quotes are the perfect prescription! Not only do they provide a good chuckle, but research has shown that laughter can also improve heart health and increase endorphins. No matter what kind of day you're having, a good laugh is always a great pick-me-up. Whether you need a quick giggle or a full-on belly laugh, this list of funny quotes is sure to do the trick!
Funny Jokes
1.

Funny Inspirational Quotes
Sometimes inspirational quotes can be a bit boring and don't inspire much. These funny quote alternatives call for the humorous side of motivation while still giving you the spark to get some work done. Use these to inspire a friend and make them giggle, or print them out for your mood board. Alternatively, you can add it to an Instagram caption to make people smile or write it on a Post-It for a pick-me-up.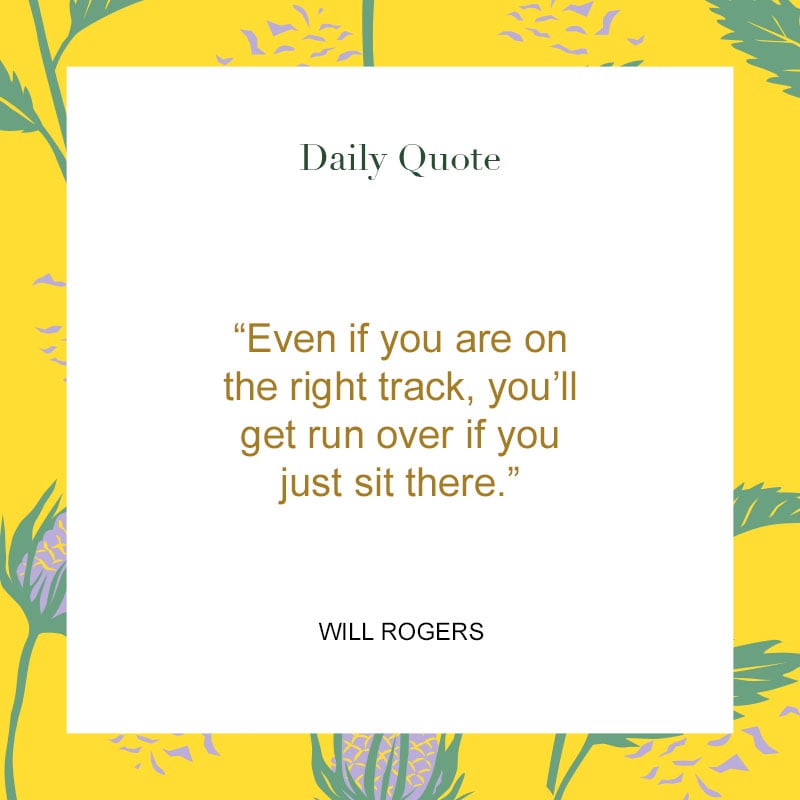 1. Opportunity is missed by most people because it is dressed in overalls and looks like work." —Thomas Eddison.
2. "If you're going to be thinking, you may as well think big." —Donald Trump
3. "Opportunity does not knock; it presents itself when you beat down the door." —Kyle Chandler
4. "Even if you are on the right track, you'll get run over if you just sit there." —Will Rogers
5. "If you think you are too small to make a difference, try sleeping with a mosquito." —Dalai Lama

2.

Funny Quotes About Life
Life throws a lot at you. From kids to new journeys, there's always a way to find humor in it. These funny quotes encapsulated the trials and tribulations that happen to everyone, but keep it light and cheery and tickle your funny bone. Share these with someone who needs a bit of cheering up or if you need to give yourself a boost. From celebrities to famous quotes from anonymous people, there is something to give you a chuckle or two!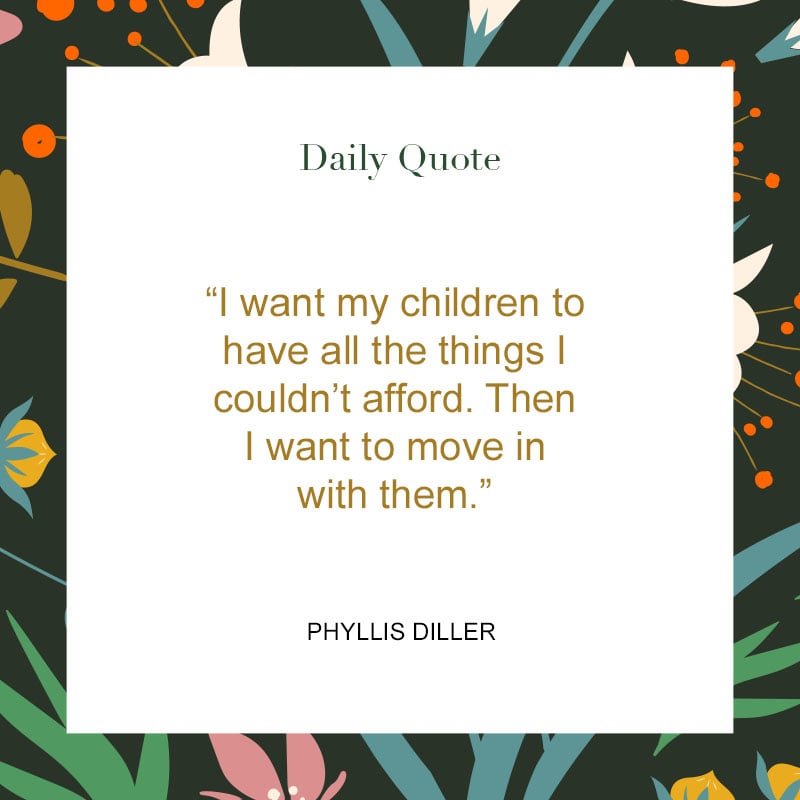 6. "I want my children to have all the things I couldn't afford. Then I want to move in with them." —Phyllis Diller
7. "Never follow anyone else's path. Unless you're in the woods and you're lost, and you see a path. Then, by all means, follow that path."—Ellen DeGeneres.
8. "Insomnia sharpens your math skills because you spend all night calculating how much sleep you'll get if you're able to 'fall asleep right now."—Anonymous.
9. "I used to sell furniture for a living. The trouble was, it was my own."—Les Dawson.
10. "I'm sick of following my dreams, man. I'm just going to ask where they're going and hook up with 'em later." —Mitch Hedberg.
3.

Funny Motivational Quotes
Finding motivation can be tough, but adding some humor into the mix can make it a bit easier. Life has its ups and downs, so uncovering the funny side can motivate you to achieve remarkable things, whether big or small. Keep these funny quotes close by for a pick-me-up and an extra boost. Even when life knocks you down, they'll lend a hand to help you back up!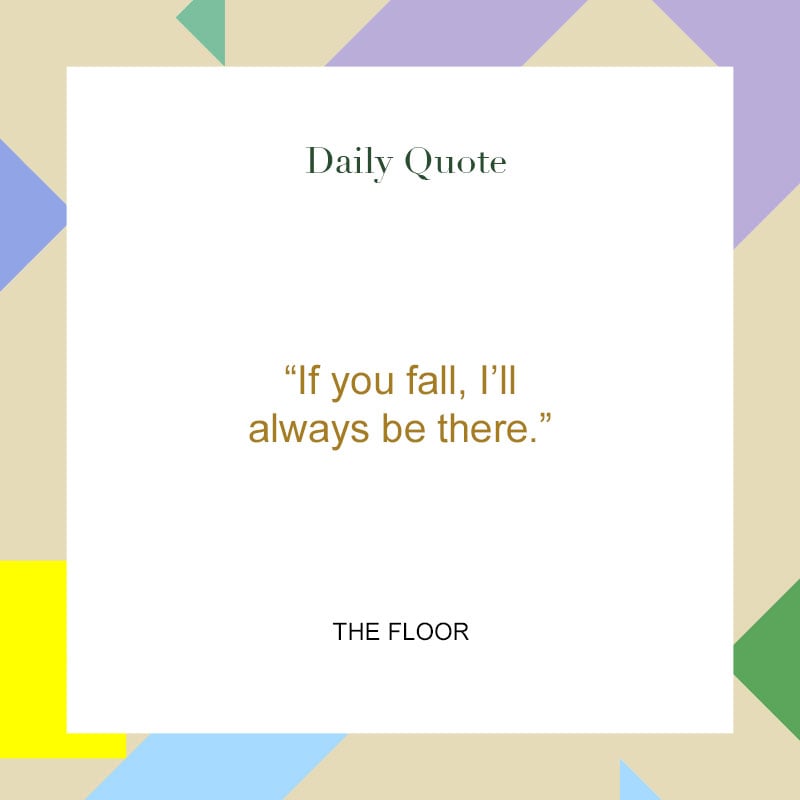 11. "When I hear somebody sigh, 'Life is hard,' I am always tempted to ask, 'Compared to what?'" —Sydney Harris
12. "If you're going to be able to look back on something and laugh about it, you might as well laugh about it now." —Marie Osmond.
13. "Whoever said, 'It's not whether you win or lose that counts,' probably lost." —Martina Navratilova
14. "If you fall, I'll always be there." —The Floor.
15. "I intend to live forever. So far, so good." —Steven Wright
4.

Funny Friday Quotes
Arguably the best day of the week, Fridays, are sure to put a smile on your face. These funny quotes may just take it one step further. Whether you're stepping out with friends and enjoying a night on the town or staying in with a glass of wine and your favorite film, this selection can encapsulate your moods perfectly. Use these as a caption for an Instagram story or caption, and prepare for the laughs to roll in!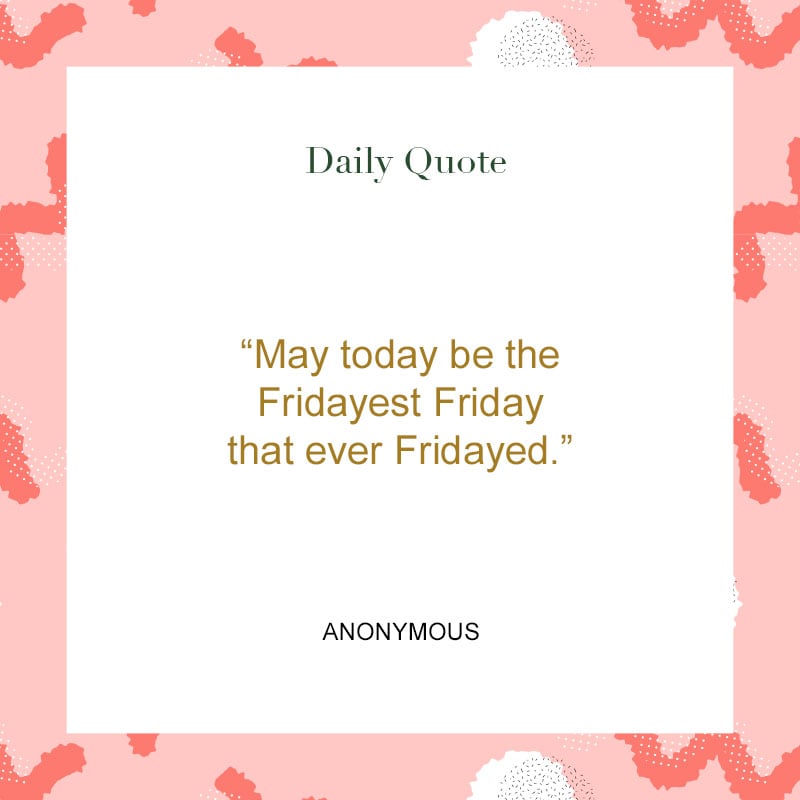 16. "May today be the Fridayest Friday that ever Fridayed." —Anonymous
17. "Friday is my second favorite F word. Food is my first." —Anonymous
18. "It's Friday night. Time to be a hero and rescue some wine trapped in a bottle." —Anonymous
19. "Friday is like a superhero that always arrives just in time to stop me from savagely beating one of my co-workers with a keyboard." – West Lee
20. "It's always difficult to keep Fridays confined within themselves. They tend to spill over." – Parag Tipnis.
5.

Funny Work and Office Quotes
Office life impacts everyone in various ways, but these funny work quotes resonate with all. These sayings are not only relatable but also downright hilarious. Share them with a colleague for a good laugh or jot them down for a personal pick-me-up. Remember, we all have tough days, but with a smile on your face and these quotes in mind, you'll go far!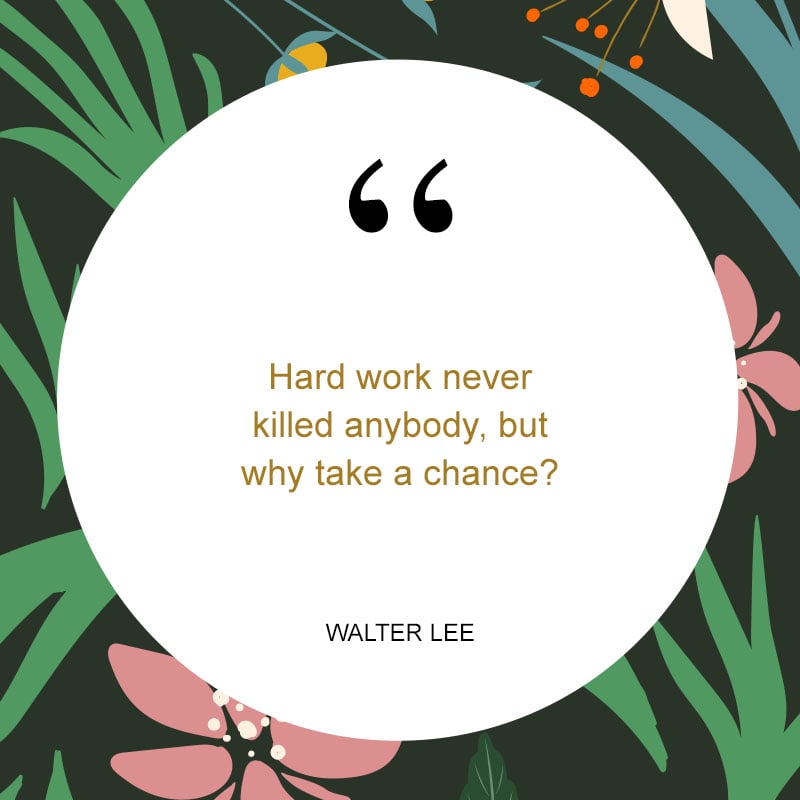 21. "If you think your boss is stupid, remember: you wouldn't have a job if he was any smarter." — John Gotti.
22. "Hard work never killed anybody, but why take a chance?" — Edgar Bergen
23. "The only thing that ever sat its way to success was a hen." — Sarah Brown
24. "Nobody ever wrote down a plan to be broke, fat lazy, or stupid. Those things are what happen when you didn't have a plan." – Larry Winget
25. "The only place success comes before work is in the dictionary." – Vince Lombardi
6.

Funny Best Friend Quotes
There's no one quite like a best friend. They stick with you through thick and thin, so they're the go-to person when you need a good laugh. Whether you want to show your appreciation or just put a smile on their face, these funny friendship quotes are sure to do the trick. They're relatable and witty and can apply to many situations, no matter how long you've been pals.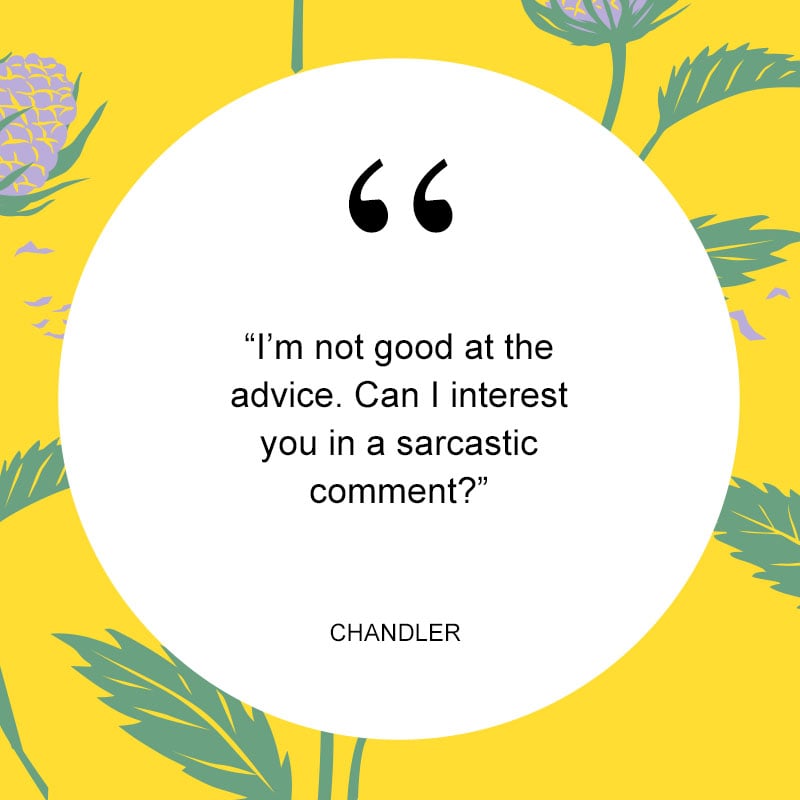 26. "I'm not good at the advice. Can I interest you in a sarcastic comment?" —Chandler (Matthew Perry), Friends.
27. "Having those weird conversations with your friend and thinking, "if anyone heard us, we'd be put in a mental hospital." —Unknown.
28. "We've been friends for so long I can't remember which one of us is the bad influence." —Unknown.
29. "Best Friends. They know how crazy you are and still choose to be seen with you in public." —Unknown
30. "Best friend: the one that you can be mad at only for a short period of time because you have important stuff to tell them." —Unknown
7.

Funny Birthday Quotes
If you're unsure what to write in a birthday card besides the obvious, these sayings are a great option. Not only are they funny to read, but they can apply to all sorts of people and situations. Adding one of these funny quotes to an Instagram post will instantly make it better while using them in a speech will fill the room with laughter and create a connection with the birthday person.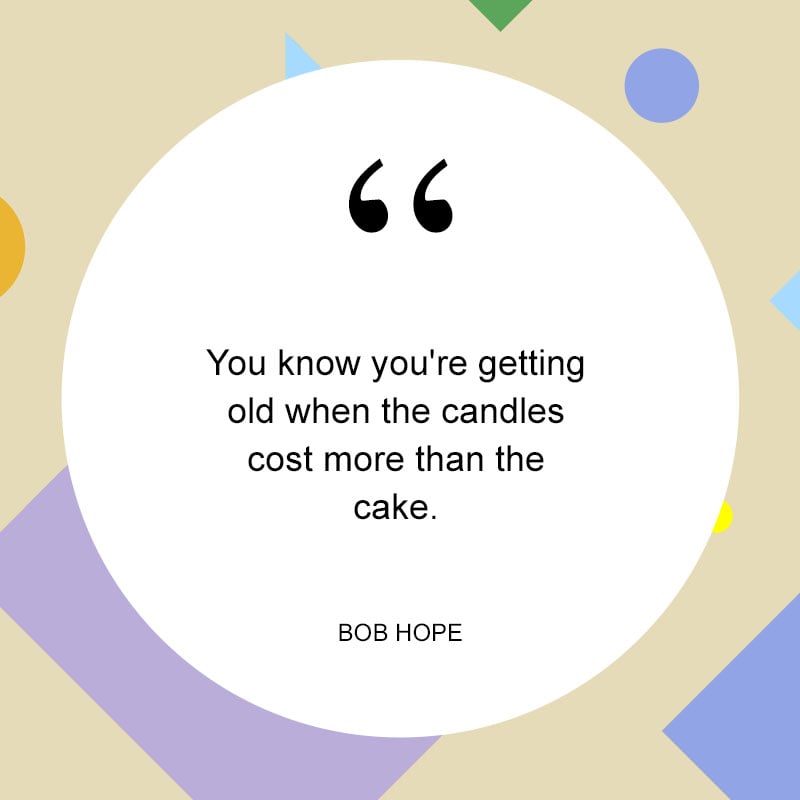 31. "You know you're getting old when the candles cost more than the cake." —Bob Hope.
32. "Eventually, you reach a point when you stop lying about your age and start bragging about it." —Will Rogers.
33. "Men are like wine. Some turn to vinegar, but the best improve with age." —C.E.M. Joad
34. "You're in mint condition for a vintage model. Happy Birthday." —Catherine Pulsifer
35. "Birthdays are good for you. Statistics show that the people who have the most live the longest." —Unknown.
8.

Funny Twitter Quotes
Nothing beats a funny tweet. Social media is full of funny quotes, and here are a few of them. Use them for any reason you like – share them with a friend, use them as a caption, or just read them when you need a laugh. We've included the user's tags so you can credit their clever thoughts!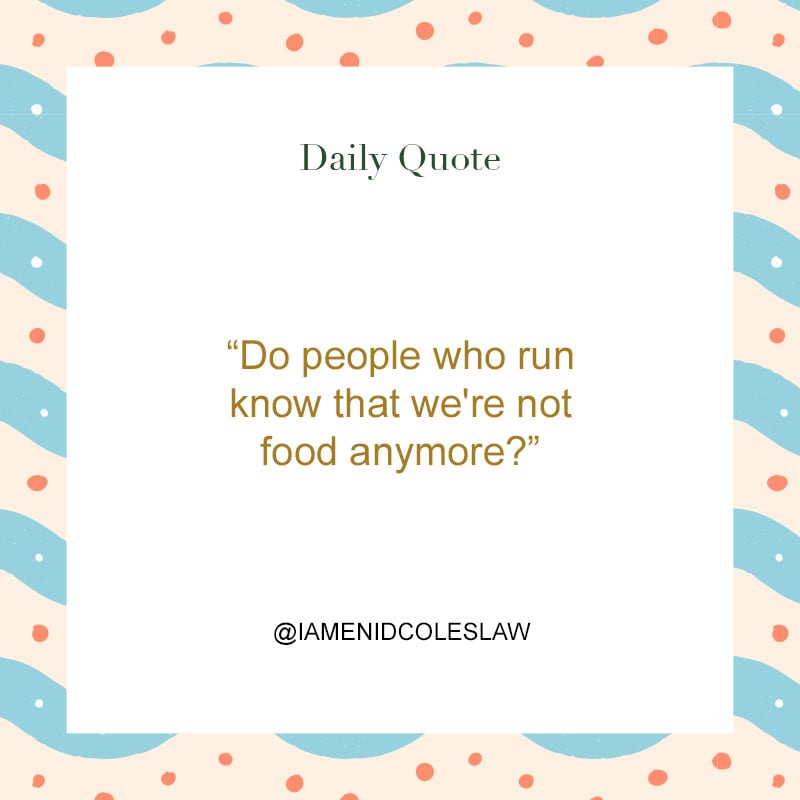 36. "In a thousand years archaeologists will dig up tanning beds and think we fried people as punishment" @oliviawilde
37. "[COMMERCIAL ON TV] Me, as a kid: Hey, I have that toy! Me, as an adult: Hey, I'm on that medication." @mommajessiec
38. "When parents say to kids "go to your room & think about what you've done" it's really good practice for what you'll do every night as an adult." @tastefactory
39. "I told my boyfriend I was going to start my period, and he said, "AGAIN??" It's like, you know what, you're right, I'm cancelling my subscription." @cULTMOTHER
40. "Do people who run know that we're not food anymore?" @IamEnidColeslaw
9.

Funny Christmas Quotes
Christmas is the time of year that brings joy to many. Besides the amazing food and abundance of presents, one of the best ways to add laughter to the season is by placing some humor beneath the Christmas tree. These funny quotes are relatable and hilarious, whether it's about ordering gifts online, office parties, or spreading cheer.
41. "Christmas is a baby shower that went totally overboard." —Andy Borowitz
42. "This holiday season, no matter what your religion is, please take a moment to reflect on why it's better than all the other ones." —Guy Endore Kaiser
43. "What I don't like about office Christmas parties is looking for a job the next day." —Phyllis Diller.
44. "Mail your packages early so the post office can lose them in time for Christmas." —Johnny Carson.
45. "Christmas is the season when people run out of money before they run out of friends." —Larry Wilde.
10.

Funny Love and Marriage Quotes
Love and marriage might seem like a match made in heaven, but even the happiest relationships could benefit from a little assistance. These funny quotes delve into the humorous aspects of love, capturing both the highs and lows of romantic connections. Whether you're looking for material for an anniversary social media post, a heartfelt love letter, or simply some amusement, these love quotes will surely do the trick.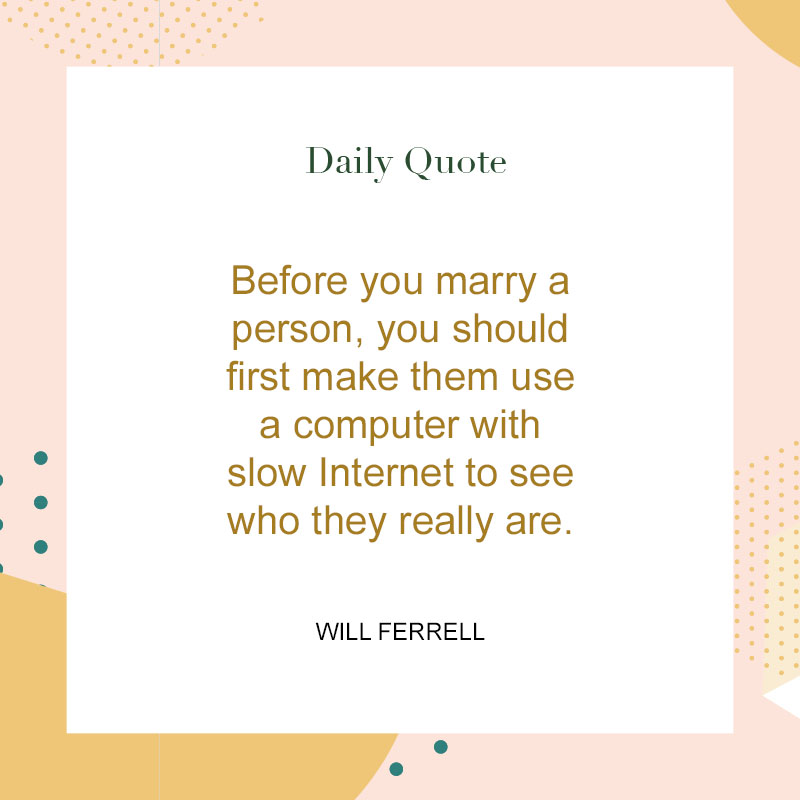 46. "Before you marry a person, you should first make them use a computer with slow Internet to see who they really are." —Will Ferrell.
47. "I love being married. It's so great to find that one special person you want to annoy for the rest of your life." —Rita Rudner.
48. "I haven't spoken to my wife in years. I didn't want to interrupt her." —Rodney Dangerfield
49. "Love is like a fart. If you have to force it, it's probably shit." —Unknown.
50. "Most women desire someone who makes them laugh and also feel safe. So basically a clown ninja." —Unknown.
11.

Short Funny Quotes
Sometimes the best jokes come in small packages – and this collection of funny short quotes proves it true. Compact and hilarious, they're bound to make you laugh. Here you'll discover sayings from beloved comedians like Robin Williams and George Carlin – they're smart and amusing without being corny or old-fashioned. They're ideal for those who prefer straight-to-the-point humor and appreciate a snappy one-liner or two!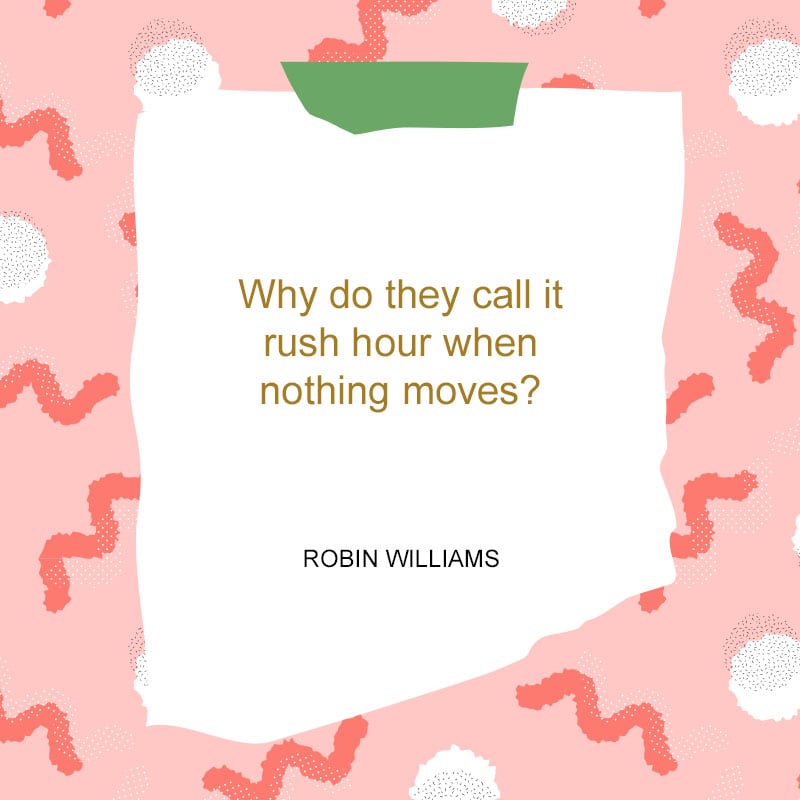 51. "Here's all you have to know about men and women: Women are crazy, men are stupid. And the main reason women are crazy is that men are stupid."—George Carlin
52. "Here's something to think about: How come you never see a headline like 'Psychic Wins Lottery'?"—Jay Leno
53. "A day without sunshine is like, you know, night."—Steve Martin
54. "Never do anything out of hunger. Not even eating."—Frank Semyon (Vince Vaughn), True Detective
55. "Why do they call it rush hour when nothing moves?" —Robin Williams
12.

Funny Graduation Quotes
After years of hard work, graduation is a milestone that needs to be celebrated. But why commemorate the event with a generic quote that everyone uses when you can use a funny quote? These sayings use humor to articulate the dedication you have put into your education and also highlight the importance of determination. Plus, there's a quip or two about commencement speeches that everyone can relate to – it's a universal thing!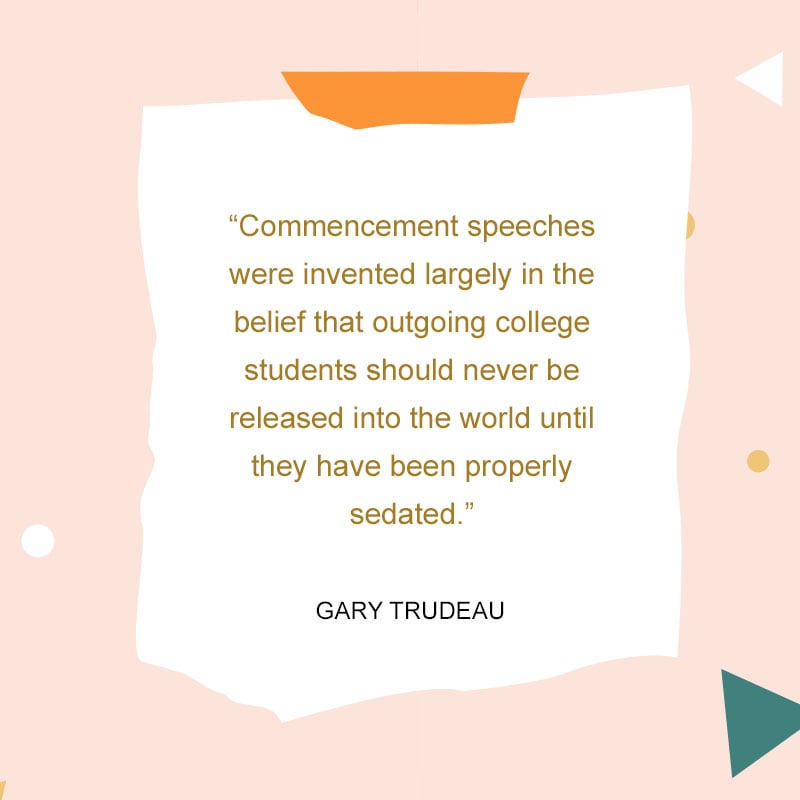 56. "You know that point at your graduation ceremony where everyone tosses up their caps? Isn't it great that we all celebrate how smart we are by throwing sharp pointy objects in the air?" —Unknown
57. "If you can find a path with no obstacles, it probably doesn't lead anywhere." —Frank A. Clark.
58. "Commencement speeches were invented largely in the belief that outgoing college students should never be released into the world until they have been properly sedated." —Gary Trudeau.
59. "The main difference for you, between life yesterday and life tomorrow, is you can go to the bathroom whenever you want. It's a pretty big responsibility, but you've earned it." —Eugene Mirman.
60. "A graduation ceremony is an event where the commencement speaker tells thousands of students dressed in identical caps and gowns that 'individuality' is the key to success." —Robert Orben.
13.

Funny Mother Quotes
A mother's love is truly one-of-a-kind, even if it can sometimes be a little too involved or irritating. These funny quotes capture the immense love you feel for your parent while also injecting some humor. Whether it's a quote from a beloved TV show or the realization of how much you resemble your mom, there's something you can connect with and enjoy. Share these on Mother's Day, in a social media post, or send them to your mama to express your deep affection.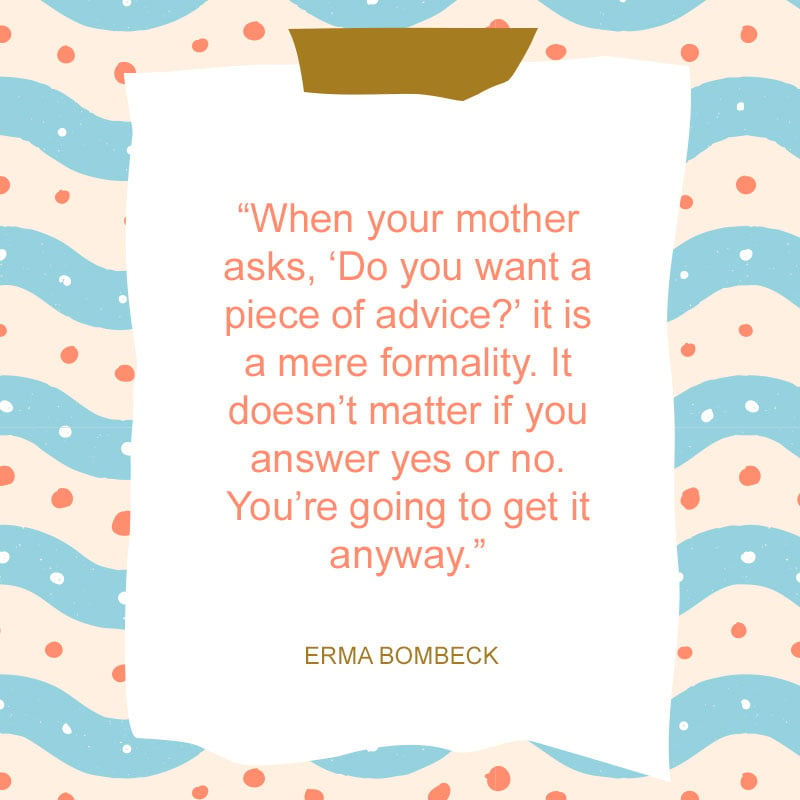 61. "When your mother asks, 'Do you want a piece of advice?' it is a mere formality. It doesn't matter if you answer yes or no. You're going to get it anyway." —Erma Bombeck.
62. "Being a mom means never buying the right amount of produce. Either everyone suddenly loves grapes and a week's worth are eaten in one afternoon, or fruit flies are congregating around my rotting bananas." —Lessons from the Minivan.
63. "I'm not insane. My mother had me tested."—Sheldon Cooper (Jim Parsons), The Big Bang Theory.
64. "Mirror, mirror, on the wall, I am my mother after all!" —Unknown
65. "Working mothers are guinea pigs in a scientific experiment to show that sleep is not necessary for human life." —Unknown
14.

Funny Office Quotes
Reading these funny quotes can make the daily grind feel less like a chore. Whether you have a coworker who gets on your nerves or you genuinely enjoy your job, this selection of jokes will help you find the humor in your 9 to 5 job. From iconic comedians like Groucho Marx to the unforgettable Michael Scott from "The Office," these funny quotes will bring laughter to your workday.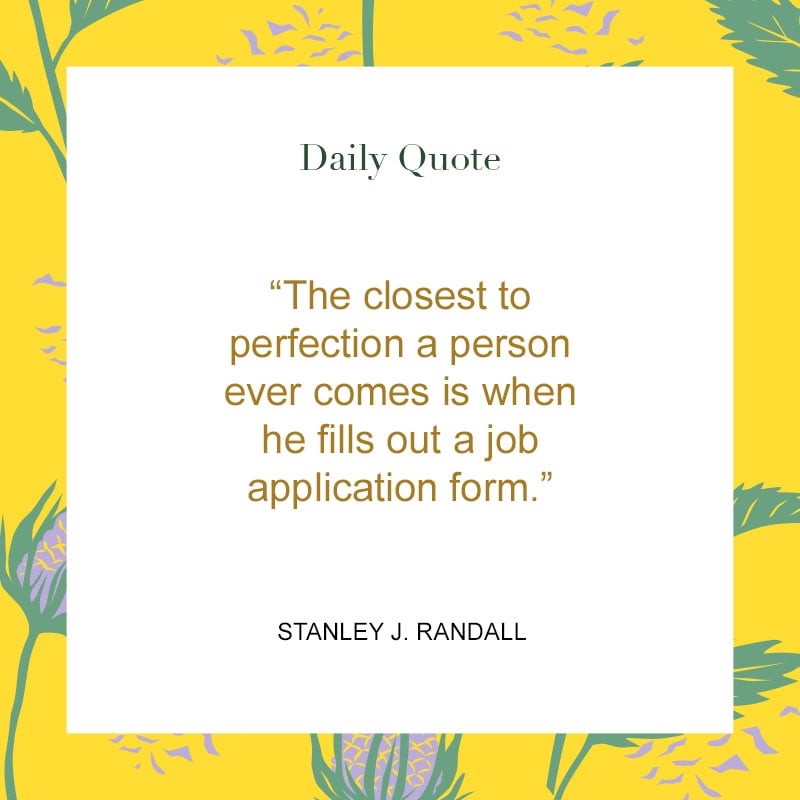 66. "Common sense is like deodorant. The people who need it most never use it." —Anonymous
67. "Sometimes I'll start a sentence, and I don't even know where it's going. I just hope I find it along the way." — Michael Scott.
68. "Doing nothing is very hard to do… you never know when you're finished." — Leslie Nielsen.
69. "The closest to perfection a person ever comes is when he fills out a job application form. " — Stanley J. Randall.
70. "The problem with doing nothing is that you never know when you're finished." – Groucho Marx.
15.

Funny Halloween Quotes
Get ready for spooky season with this bundle of funny Halloween quotes. Some of these jokes are great for your costume, while others are perfect for sharing on social media with your buddies. Laugh out loud with quips about ghosts, skeletons, or vampires. Whether you're trick-or-treating or just enjoying the season, these funny jokes will have everyone cracking up.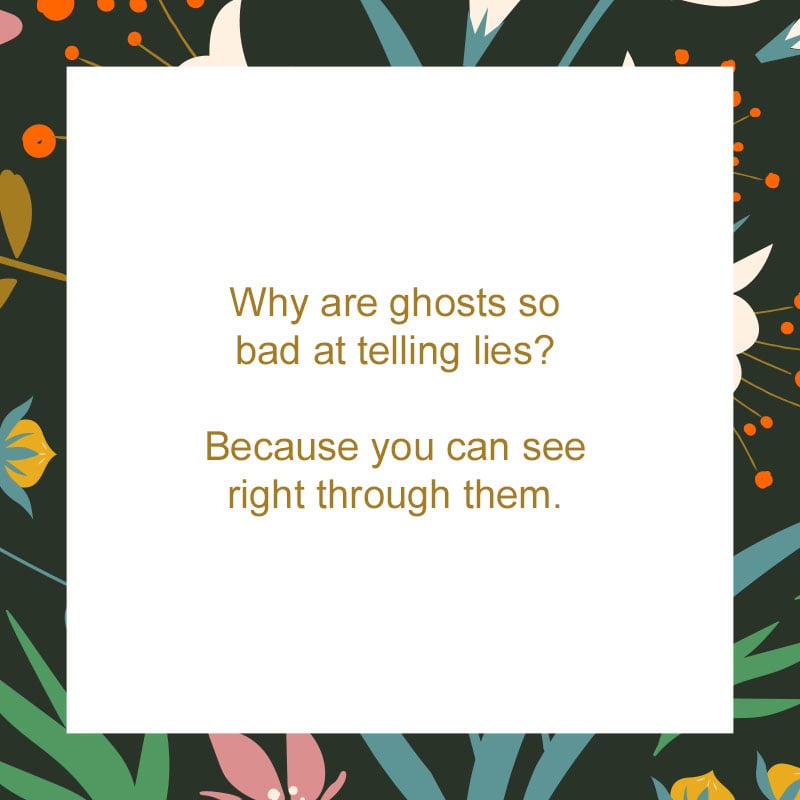 71. "Halloween is the beginning of the holiday shopping season. That's for women. The beginning of the holiday shopping season for men is Christmas Eve."—David Letterman.
72. How do vampires get around on Halloween? On blood vessels.
73. Why didn't the skeleton go to prom? He had nobody to go with.
74. Why are ghosts so bad at telling lies? Because you can see right through them.
75. What do you call two witches sharing an apartment? Broommates.
16.

Funny Senior and Retirement Quotes
Are you ready to bid farewell to the working life, or have you simply reached an age where you couldn't care less? Well, then, these funny quotes are just what you need. Whether you're looking for a message to write in a retirement card or a funny caption, these sayings are guaranteed to bring a smile to your face!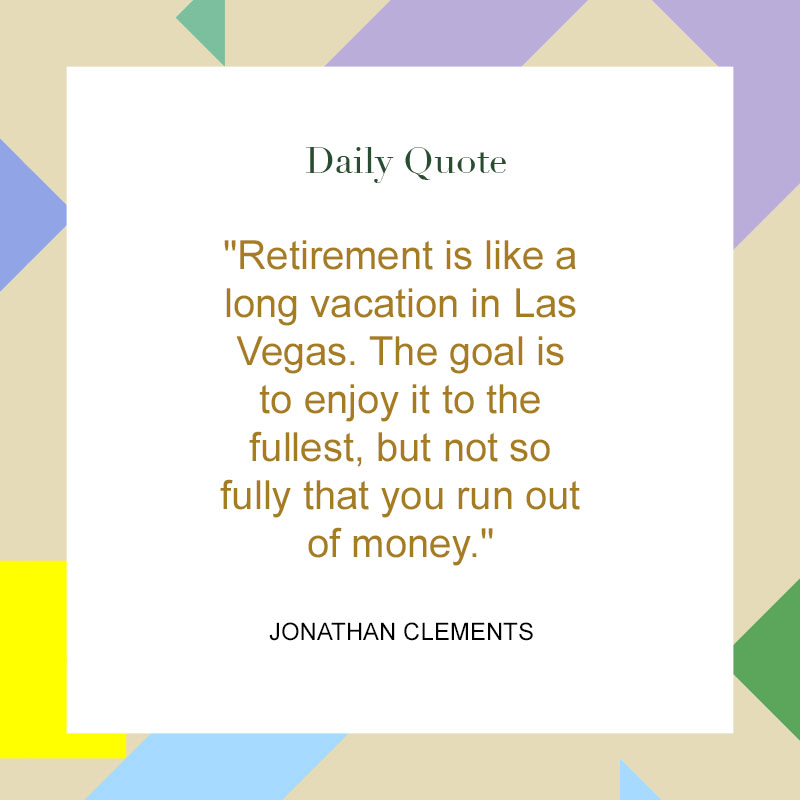 76. "You know you've reached middle age when you're cautioned to slow down by your doctor, instead of by the police."—Joan Rivers.
77. "As you get older, three things happen. The first is your memory goes, and I can't remember the other two."—Sir Norman Wisdom.
78."Middle age is when you're sitting at home on a Saturday night and the telephone rings, and you hope it isn't for you." — Ogden Nash.
79."Retirement is wonderful. It's doing nothing without worrying about getting caught at it." —Unknown.
80."Retirement is like a long vacation in Las Vegas. The goal is to enjoy it the fullest, but not so fully that you run out of money." —Jonathan Clements.
17.

Funny Yearbook Quotes
You'll come across a few tough choices during your high school journey: which college to go to, what to major in, and what to write in your yearbook. While we can't assist with the first two, we've got the last one covered. These timeless and funny quotes are sure to bring a smile to your face. Even years later, when you see your senior photo, you'll chuckle to yourself!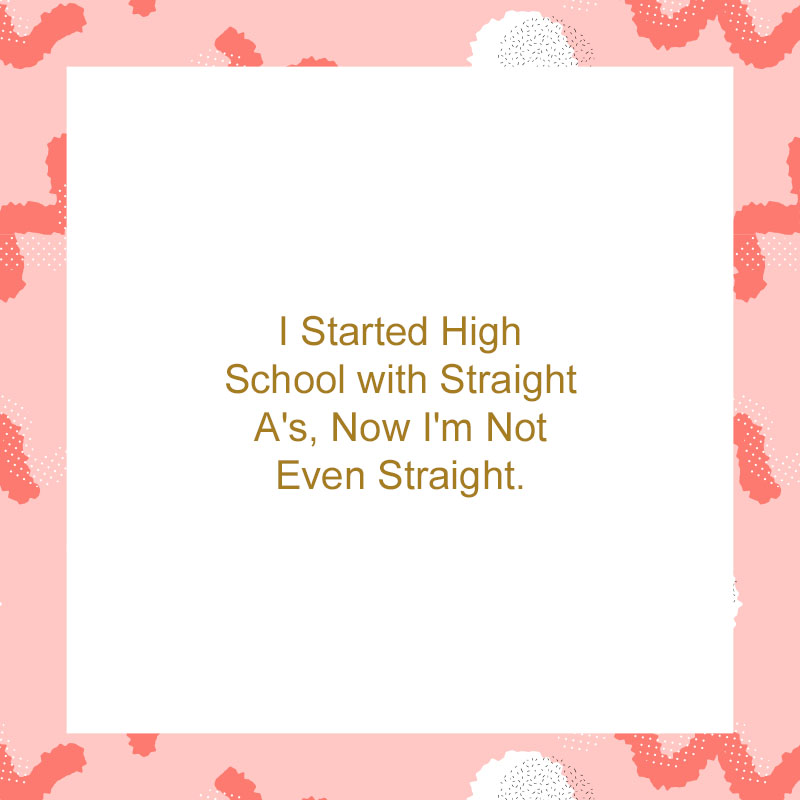 81. "I Had To Put My Grades Up For Adoption Because I Couldn't Raise Them." – Anonymous
82. "I Look Better In Person." – Anonymous
83. "Education Is Important But Big Biceps Are Importanter." – Anonymous
84. "I Started High School With Straight A's, Now I'm Not Even Straight." – Anonymous
85. "Sometimes When My Neighbour Is Gone, I Roll Around In Her Garden And Pretend I'm Carrot." – Anonymous
18.

Funny Coffee Quotes
Coffee is a true delight in life. A lot of people can't function without it and include it in their everyday routine. If this describes you, then you'll probably like these funny quotes. Even if you're not as caffeine-dependent as Lorelai Gilmore, these amusing expressions might strike a chord with you. They make great social media captions or blurbs to share with your barista while they prepare your daily cup.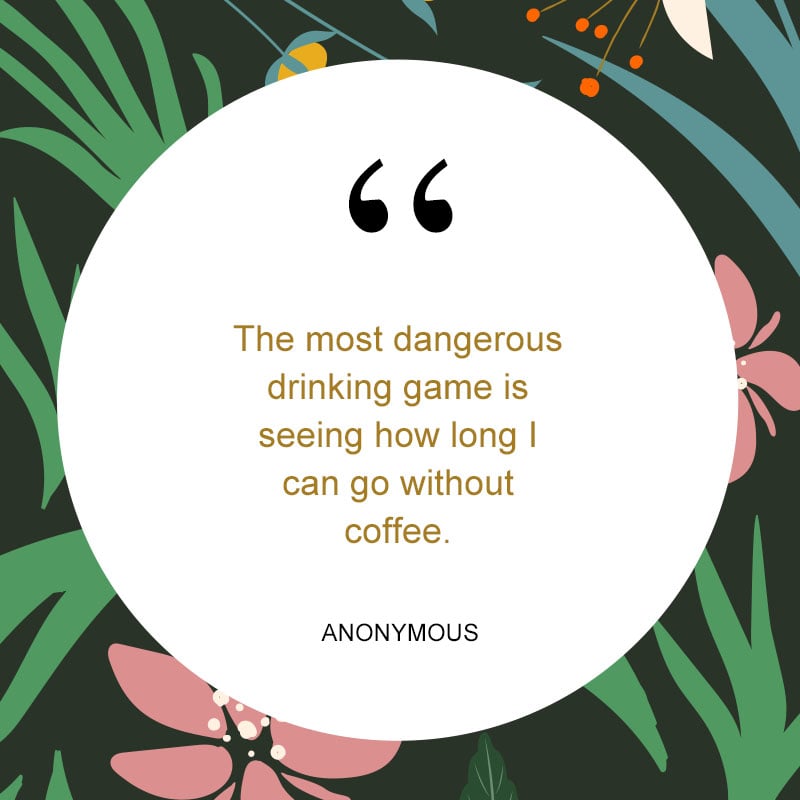 82. "The most dangerous drinking game is seeing how long I can go without coffee."– Anonymous
83. "Maybe she's born with it. Maybe it's caffeine." – Anonymous
84. "Science may never come up with a better office communication system than the coffee break." – Earl Wilson
85. "People don't seem as annoying when I've got coffee." –Tommy Cotton
86. "Do you know how helpless you feel if you have a full cup of coffee in your hand and you start to sneeze?" –Jean Kerr
19.

Funny Family Quotes
You may not always get to pick your family, but you love them no matter what. Every family has its flaws and highs and lows. Embrace the humorous moments with these funny quotes that capture the quirky and occasionally downright strange moments that occur throughout the week. Share these jokes and sayings with your family through a text in the group chat, or use them as captions on social media.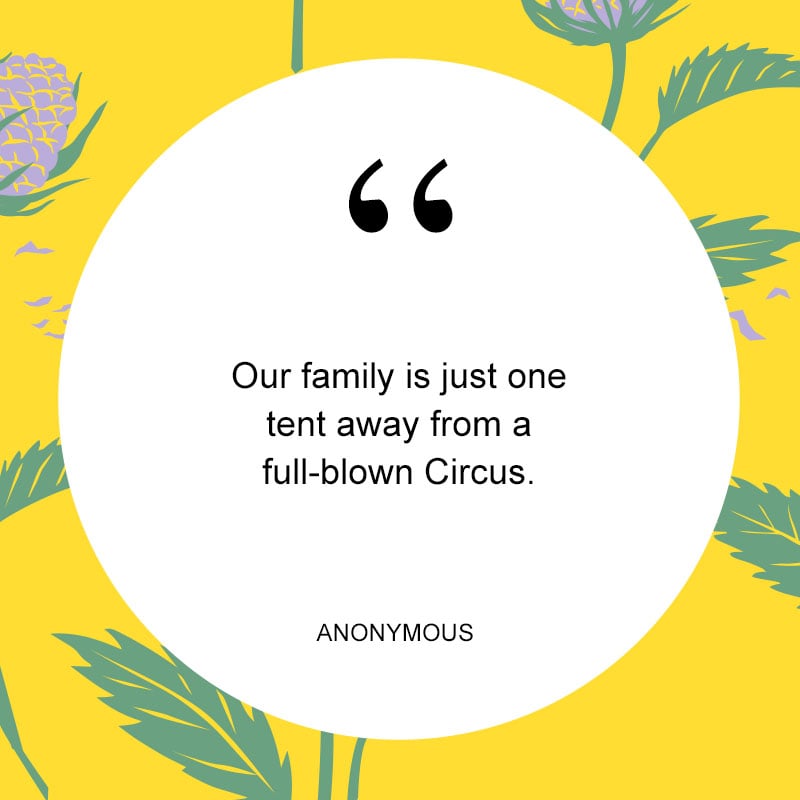 87. "Some family trees bear an enormous crop of nuts."— Wayne Huizenga
88. "Our family is just one tent away from a full-blown Circus." – Anonymous
89. "Having a child makes you a parent; having two, you are a referee." – David Frost
90. "Obviously, if I was serious about having a relationship with someone long-term, the last people I would introduce him to would be my family." – Chelsea Handler
20.

Funny Quotes of the Day
Kickstart your day with a big smile, all thanks to this collection of hilarious quotes of the day. With no particular theme, they capture the funniest aspects of life, ranging from self-discovery to wisdom and everything in between. You'll find side-splitting remarks from renowned comedians and actors like Bill Murray and Lily Tomlin. Take a look, and see if you can keep a straight face – we challenge you!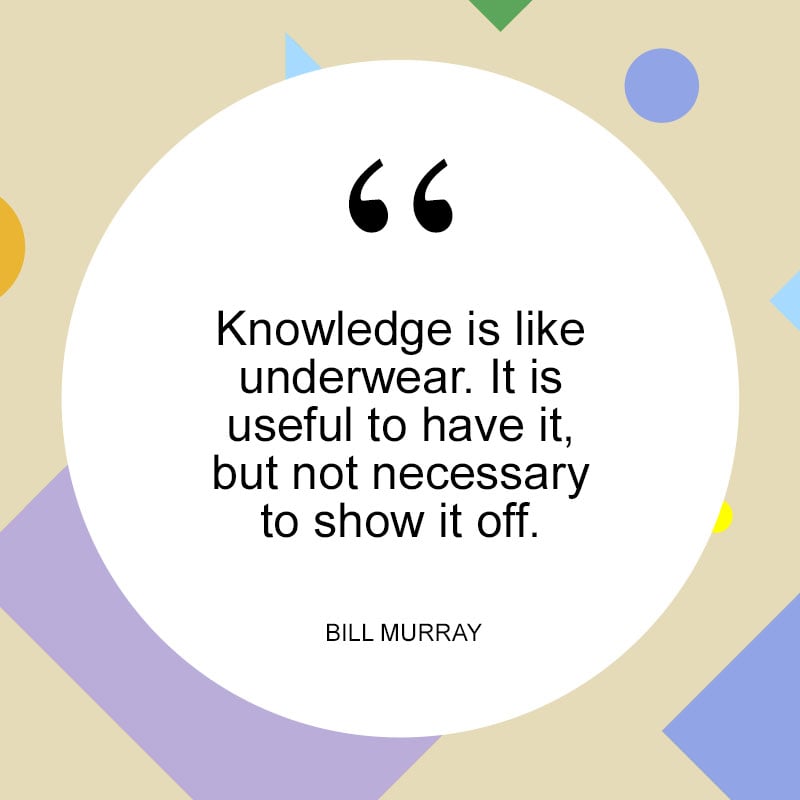 91. "I have always wanted to be somebody, but I see now I should have been more specific." –Lily Tomlin.
92. "Knowledge is like underwear. It is useful to have it, but not necessary to show it off." –Bill Murray.
93. "If a book about failures doesn't sell, is it a success?" –Jerry Seinfeld
94. "When nothing is going right, go left." –Unknown
95. "All generalizations are false, including this one." –Mark Twain.
21.

Funny Monday

Quotes
Mondays can be pretty dreadful, but fear not! These funny quotes might just make them a tad more bearable. If you despise this day, these sayings will sympathize with the struggle of bidding farewell to the weekend and starting a new week. Share them with your pals on Instagram or shoot them a text.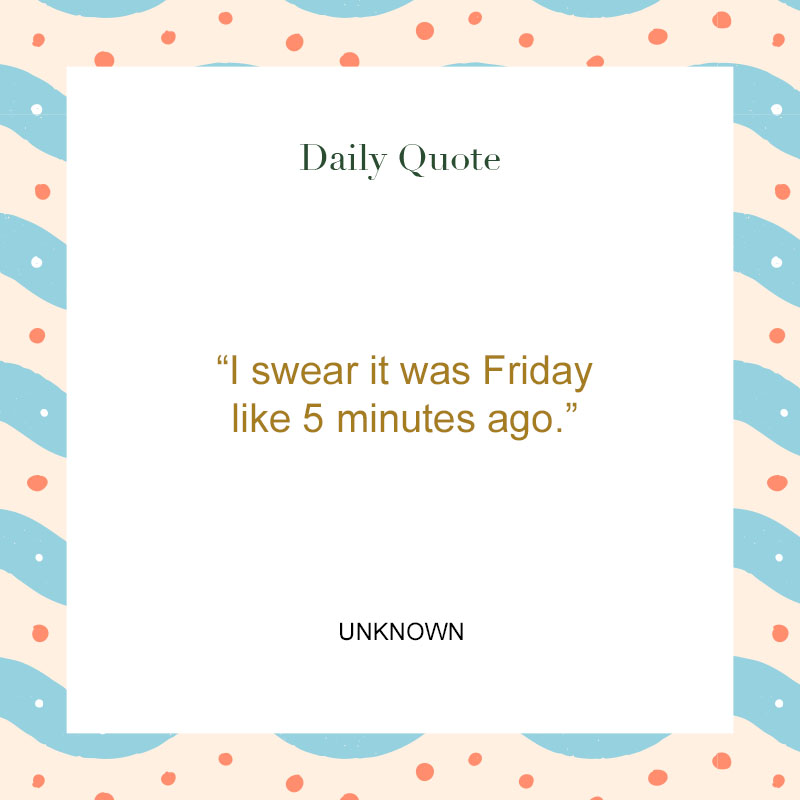 96. "I swear it was Friday like 5 minutes ago." –Unknown
97. "Monday: nothing a bit of shopping can't fix." –Unknown
98. "Maybe Monday doesn't like you either." –Unknown
99. "Even the best weeks start with Monday" –Nice Peter
100. "If each day is a gift, I would like to know where I can return Mondays." –John Wagner
22.

Funny Dog Quotes
Dogs have totally earned their reputation as Man's best buddy. They boost your activity level and are super fun and amazing companions (especially when it comes to giving hugs!). So, how can we not gather funny quotes about dogs? These hilarious expressions perfectly capture the undeniable delight of having a pup and their incredible enthusiasm. All pet parents will totally relate to these!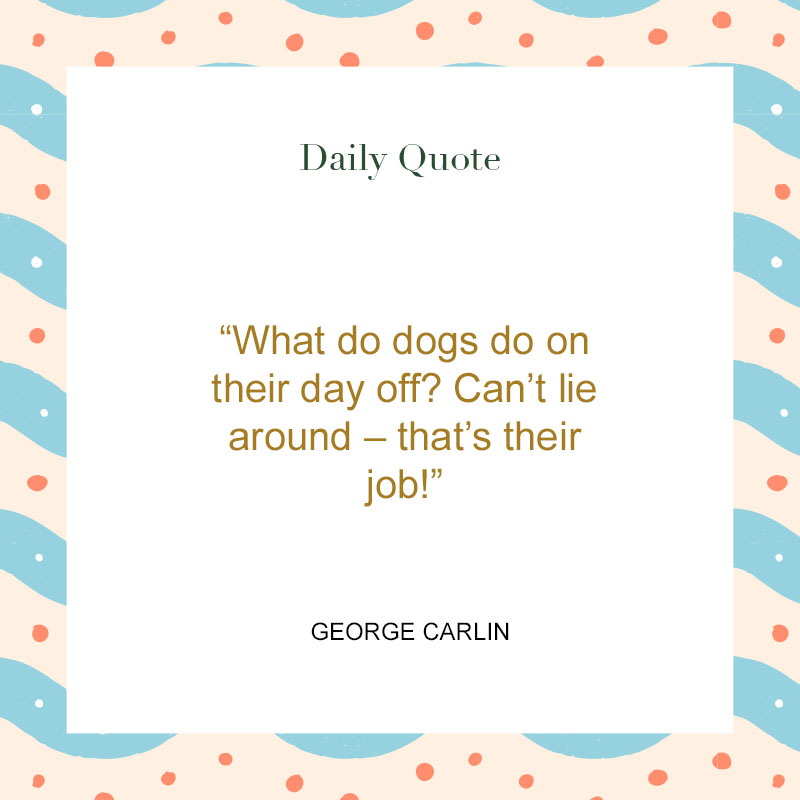 101. "What do dogs do on their day off? Can't lie around – that's their job!"— George Carlin.
102. "If you think dogs can't count, try putting three dog biscuits in your pocket and then give him only two of them." — Phil Pastoret.
103. "You can say any foolish thing to a dog, and the dog will give you a look that says, 'Wow, you're right! I never would've thought of that!' " — Dave Barry
104. "If aliens saw us walking our dogs and picking up their poop, who would they think is in charge?" –Unknown.
105. "The reason a dog has so many friends is that he wags his tail instead of his tongue." –Unknown.
23.

Funny Sister Quotes
There is no love as undying or everlasting as the one you have for a sister. Far more than just siblings, you can share the largest and smallest moments in your lives together and teach each other lessons along the way. So, is there a better way to show your adoration for your sister than with one of these funny quotes? From always sticking together to the unbreakable bond, you will want to share all of these with her!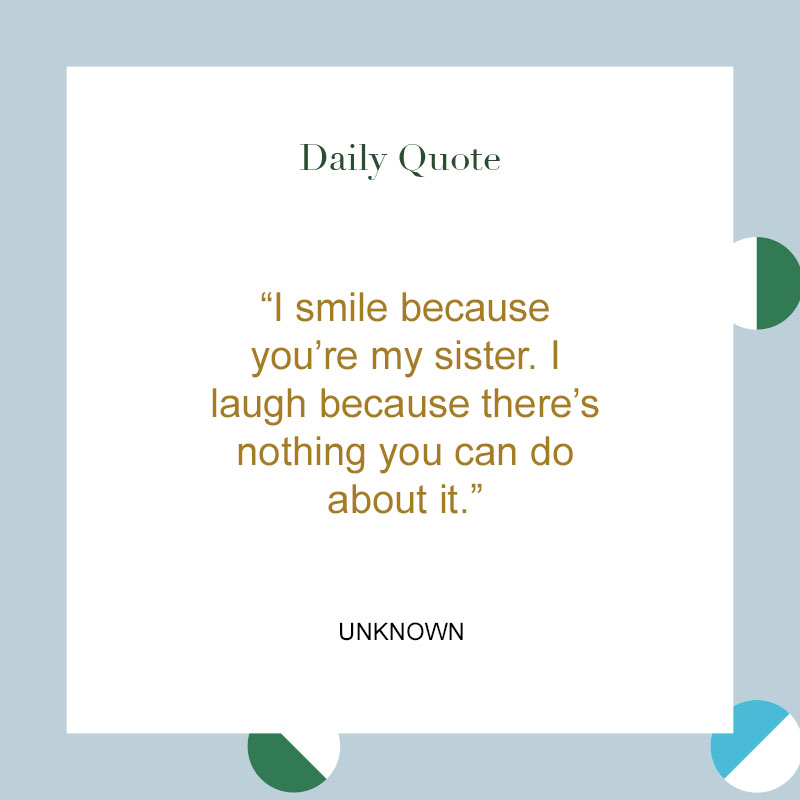 106. "If you don't annoy your big sister for no good reason from time to time, she thinks you don't love her anymore." – Pearl Cleage.
107. "I smile because you're my sister. I laugh because there's nothing you can do about it." – Unknown.
108. "Sisters are like fat thighs… they stick together." – Unknown
109. "You can kid the world, but not your sister." – Charlotte Gray
110. "When I say I won't tell anyone, my sister doesn't count." – Unknown
24.

Funny Thanksgiving Quotes
Thanksgiving is that time of year when you feel grateful for everything around you. It's the perfect opportunity to show appreciation for the things in your life. When you're sharing these moments on social media, using captions like 'Thankful' can get dull over time. Instead, try these funny quotes that will connect with your friends and family and might even get a laugh or two out of them.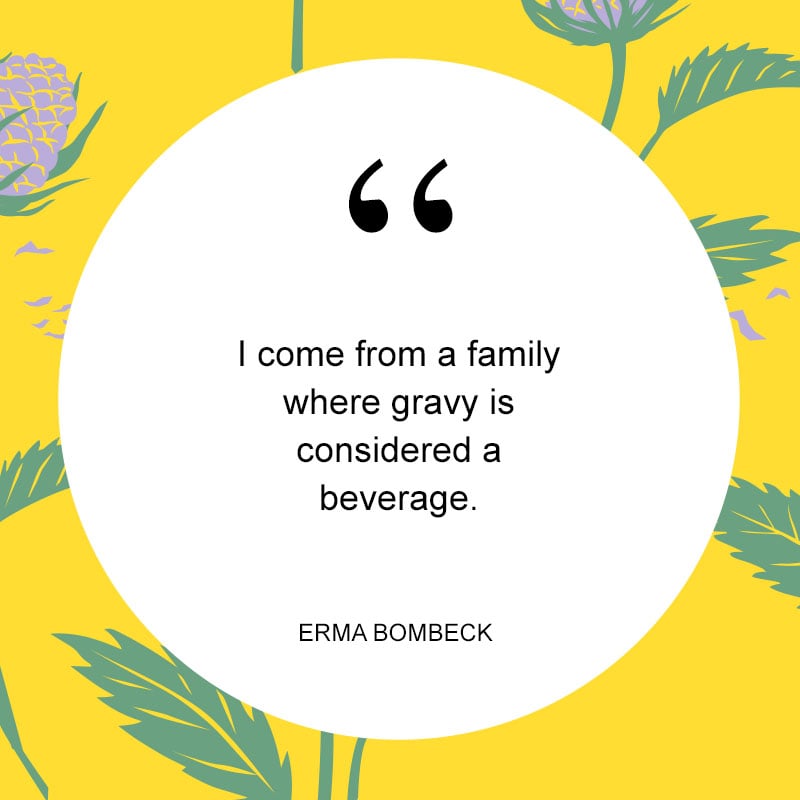 111. "I come from a family where gravy is considered a beverage."–Erma Bombeck
112. "Thanksgiving is so called because we are all so thankful that it only comes once a year." –P.J. O'Rourke
113. "A new survey found that 80 percent of men claim they help cook Thanksgiving dinner. Which makes sense, when you hear them consider saying 'that smells good' to be helping." –Jimmy Fallon
114. "For those of you who cannot be with family this Thanksgiving, please resist the urge to brag." –Andy Borowitz
115. "Thanksgiving is a time to count your blessings, one by one, as each relative goes home." –Melanie White
25.

Funny Easter Quotes
Easter is the most chocolate-filled time of the year and a perfect opportunity to flaunt your egg collection. These hilarious Easter quotes touch on everything from stuffing chocolate bunnies to a fun Easter Egg Hunt. You'll have plenty of material for your upcoming social media post – good luck picking just one.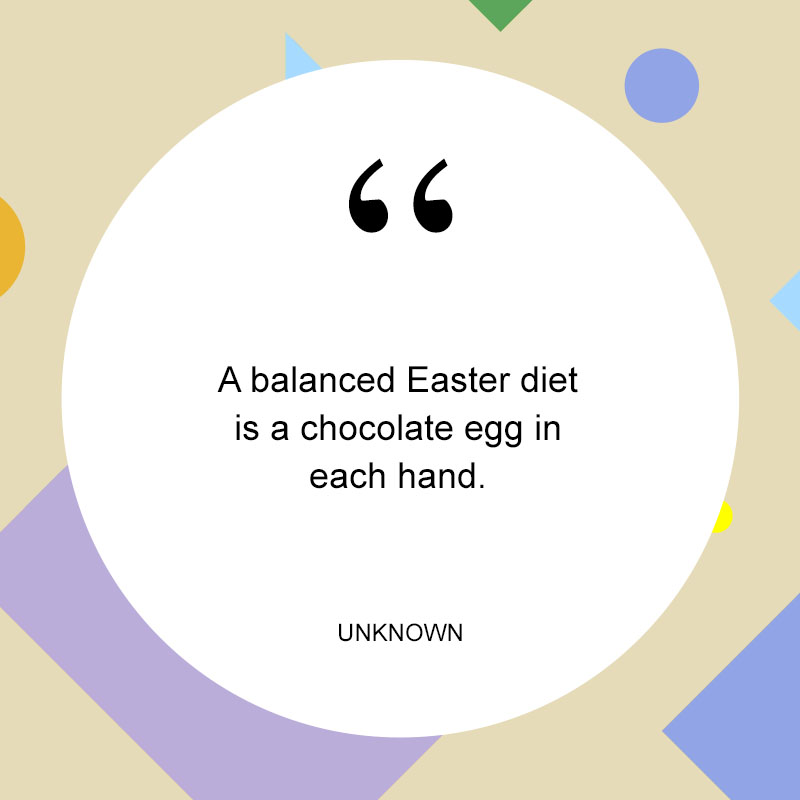 116. "A balanced Easter diet is a chocolate egg in each hand." – Unknown
117. "Golf is just the adult version of an Easter Egg Hunt." – Unknown
118. "Tell the chocolate bunny I'll pass. I have enough men in my life who are hollow and disappointing." —Unknown
119. "If you see a rabbit laying little brown eggs, don't eat them. It's not chocolate!" —Unknown
120. "The Easter bunny ate all of the carrots we left for him. What a pig." —Steve Carell
SUBSCRIBE TO OUR NEWSLETTER
Subscribe to our mailing list and get interesting stuff and updates to your email inbox.