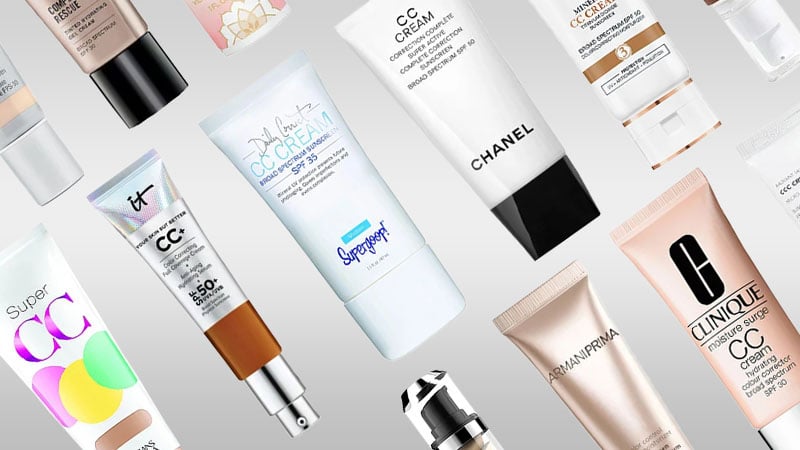 As a makeup enthusiast, I've tried my fair share of foundations and concealers. But sometimes, I just want a lighter, more natural look that still covers up any blemishes or unevenness in my skin tone. That's where CC creams come in. They're like the superhero version of tinted moisturizers, offering up extra benefits like sun protection and hydration. Not to mention, they often have color-correcting technology that helps even out any discoloration on your face. Plus, they're easy to apply and blend, making them perfect for when I'm in a rush but still want to look put together. If you're looking to switch up your makeup routine for a more radiant look, I highly recommend giving one of these best CC creams a try!
What is CC Cream?
CC cream stands for color corrector or complexion corrector cream. It's a lightweight alternative to foundation or can be used in conjunction with it as a primer. It often contains nourishing ingredients to boost hydration, sun protection elements, and color-correcting technology. It's the best of both worlds, combining skincare and makeup into one fantastic product.
What are the Difference BB cream and CC cream?
The BB stands for beauty balm or blemish balm. It's very similar to CC cream in that it combines skincare benefits with makeup to give you light coverage for a simple, natural look or as a primer. You'll enjoy hydrated, illuminated skin with regular use. This most significant difference is that it doesn't provide comprehensive coverage, so if you need more, then a CC cream or foundation will be the better option.
Best CC Creams
Our top picks of the best CC Creams:
Now we've highlighted a few of our favorites, let's check out the complete list.
1. Physicians Formula Super CC
What We Like
SPF 30
Lightweight and buildable texture
Fragrance-free
Non-comedogenic
Affordable
What We Don't Like
Can smear easily
Limited shade range
As someone who's obsessed with skincare and cosmetics, I'm always on the hunt for new products that'll help me achieve a flawless, radiant complexion. Super CC Cream by Physicians Formula not only helps me correct imperfections and even out my skin tone, but it also has anti-aging ingredients that smooth out fine lines and wrinkles. But that's not all – the cream also hydrates my skin, leaving it feeling plump and refreshed. And with SPF 30, I'm protected from the harmful rays of the sun. I mean, what more could I ask for in a product? The lightweight and easy-to-blend formula make it super easy to apply – it's become an essential part of my daily routine!
What Customers Are Saying
"This is one of my favorites CC creams, particularly for its added hydration. Formulated with SPF, it also ensures protective coverage against harmful UV rays. Not only did it look great on my skin, but it also felt like a nourishing skincare product"
2. IT Cosmetics CC+ Cream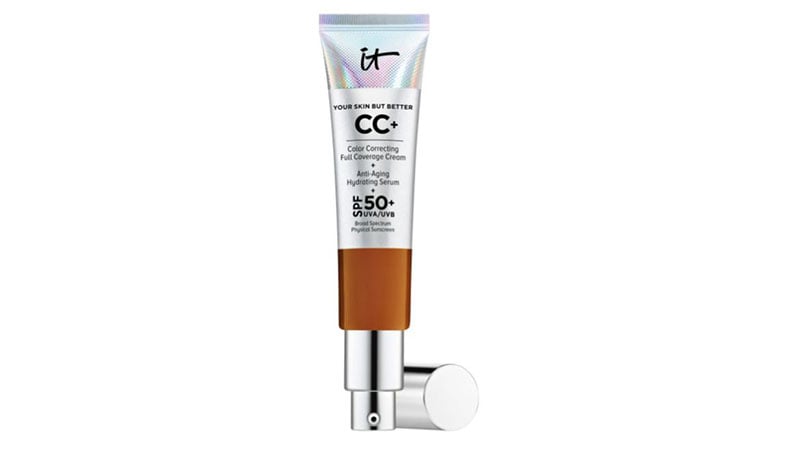 $60 ON ADORE BEAUTY $47 ON SEPHORA $30 ON WALMART
What We Like
Weightless
Non-irritating
Good coverage
SPF 50+
What We Don't Like
I'm absolutely in love with the IT Cosmetics' CC+ Cream range! With eleven different shades to choose from, there's an option for every skin tone. Not only does it correct any color imbalances and pigmentation issues, but it also hydrates and protects your skin from the sun and environmental aggressors. Plus, the fact that it was developed in collaboration with plastic surgeons adds even more assurance that you're getting the best possible product. And the active ingredients! Niacin, peptides, hydrolyzed collagen, hyaluronic acid, antioxidants and minerals – it's like my skin is getting a full-blown skincare routine in just one product.
What Customers Are Saying
"This is my all time favourite foundation, nothing has quite hit the mark like IT cosmetics CC cream, SPF, longevity, it doesn't 'sit' in lines like my other foundations do, and I've been through many! I have re-purchased this 5+ times at least."
3. Supergoop! CC Cream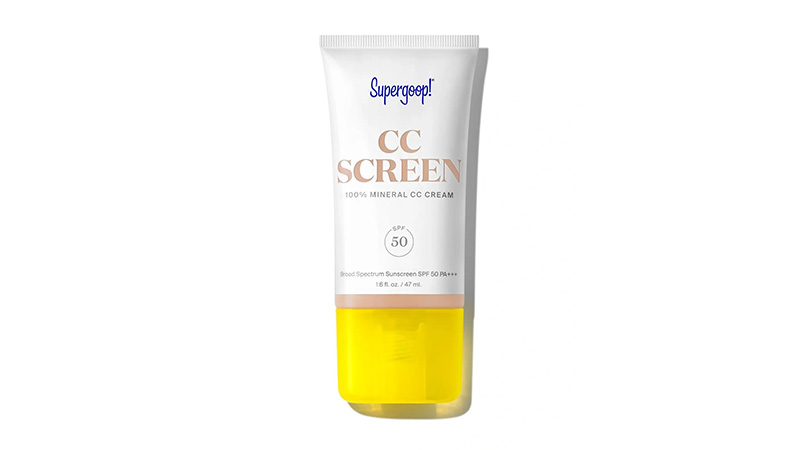 $36 ON WALMART $44 ON IT SUPERGOOP
What We Like
SPF 50+
Great coverage and nongreasy
Great for acne-prone skin
What We Don't Like
It gets cakey if you apply too much
Expensive
As someone who's always on the go, I love a good multi-tasker – and Supergoop's CC Screen is definitely that. Not only does it give me a fresh, bright appearance thanks to the apple extract and mica, but it also works hard to keep my skin smooth and hydrated with with SPF 50 UV protection that's mineral-based instead of chemical, I feel good knowing that my sensitive skin is protected from the sun and contains no D4 and D5 cyclical silicones, PEGs, talc, phenoxyethanol or any potential skin sensitizers.
What Customers Are Saying
" I love this stuff. I have very acne prone skin and this is truly the best face sun screen for me, I never break out from it. It goes on a little thick but then blends and creates a dewy finished and it's lovely!"
4. Chanel CC Cream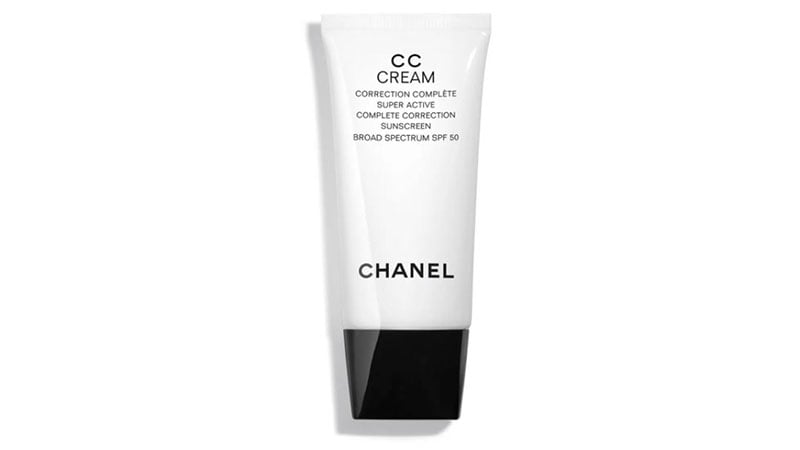 $69 ON STRAWBERRYNET $50 ON SELFRIDGES
What We Like
SPF 50+
Long Lasting
Natural look
It has an anti-aging effect
What We Don't Like
The texture is thick
Not many shades on available
Expensive
I can't get enough of Chanel's incredible CC cream! This product really packs a punch when it comes to correcting signs of aging while providing a beautifully light coverage. Infused with extracts from the murunga plum, a native Australian superfruit jam-packed with antioxidants and Vitamin C. The SPF 50 broad-spectrum sunscreen also provides protection from UVA and UVB damage to ensure that my skin always remains healthy. The addition of hyaluronic acid is the cherry on top! My skin feels more plump and youthful with each use. I'm so happy to have finally found a product that delivers on all its promises.
What Customers Are Saying
"Chanel CC cream is one of my go-to CC cream products. It contains a new form of hyaluronic acid, making it a great combination for anyone with dry skin. Surprisingly enough, I have oily skin and still enjoy the creamy texture that keeps my skin hydrated. The product has a very thick texture, which takes some effort to spread on my face. Nevertheless, it effortlessly conceals my pores, dark circles, and redness, giving me that natural look."
5. Giorgio Armani Prima Color Control Glow Moisturizer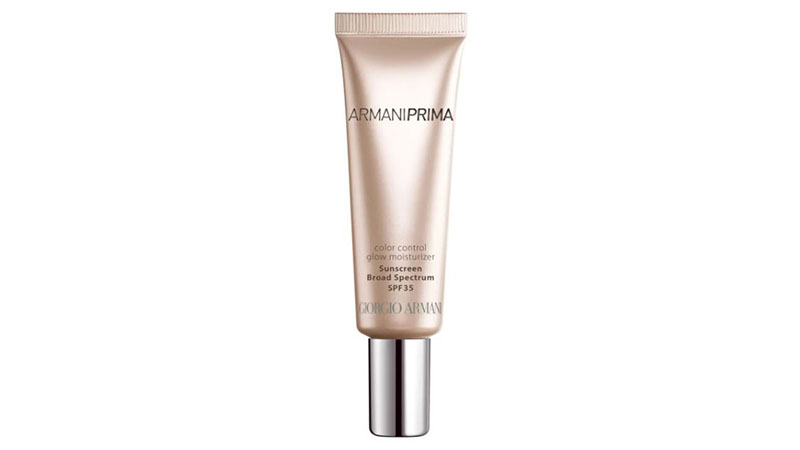 What We Like
Feels light on the skin
Fast absorbent
No greasy residue
Does not block pores
Light and natural look
Does not smudge, rub or fade
SPF 35
What We Don't Like
Coverage could be better
Expensive
As a self-proclaimed beauty junkie, I can confidently say that Giorgio Armani's Prima Color Control Glow Moisturizer is one of the best CC creams out there. Not only does it provide long-lasting hydration with vitamin E, moringa oleifera extract, and adenosine, but the five adaptable shades work wonders in enhancing my skin's natural luminosity while hiding any pesky blemishes or fine lines. And can we talk about the menthol-based ingredients? They give me a refreshing boost, making me feel and look awake even in the early mornings.
What Customers Are Saying
"My favorite cc cream so far, leaves my skin nice and smooth. Love the glow that it gives my skin, so very natural and beautiful. Feels luxurious…and heavenly"
6. Bare Minerals Complexion Rescue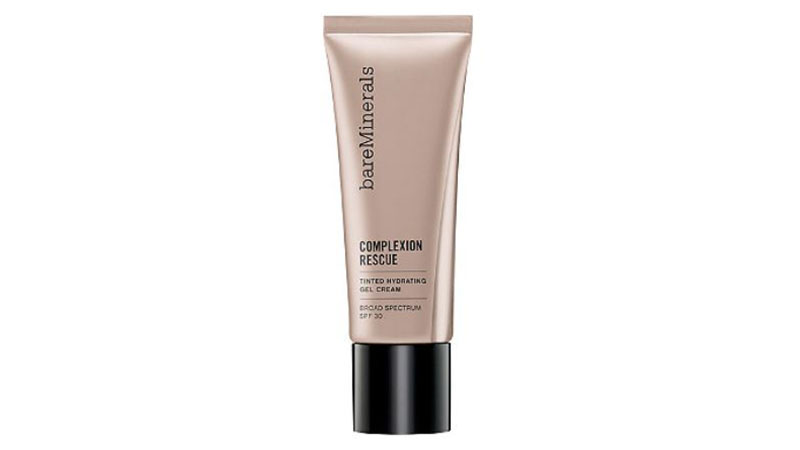 $35 ON bAREMINERALS $37 ON ULTA
What We Like
Full-coverage but not too thick
Improves skin texture
Good for acne and sensitive skin
20 colors to choose from
SPF30
Affordable
What We Don't Like
Can pill on skin
Can look shiny
When it comes to finding the best CC creams, the Bare Minerals Complexion Rescue is my top choice. Not only does it provide radiant coverage and sun protection, but it also delivers long-lasting skincare benefits that keep my skin hydrated for up to 12 hours. I love that the oil-free, water-infused formula feels light and smooth on my skin, and the fact that it's made with 97% naturally derived ingredients gives me peace of mind knowing I'm not applying harmful chemicals to my face. Plus, with 20 flexible shades to choose from, I can always find the perfect match for my skin tone.
What Customers Are Saying
"I was looking for an every day makeup that was light weight and contained SPF. This is the perfect solution. It is easy to match your shade and lays perfectly with all my other make up. I highly recommend this product for an easy every day look!! Go get it!."
7. Olay Total Effects Tone Correcting CC Cream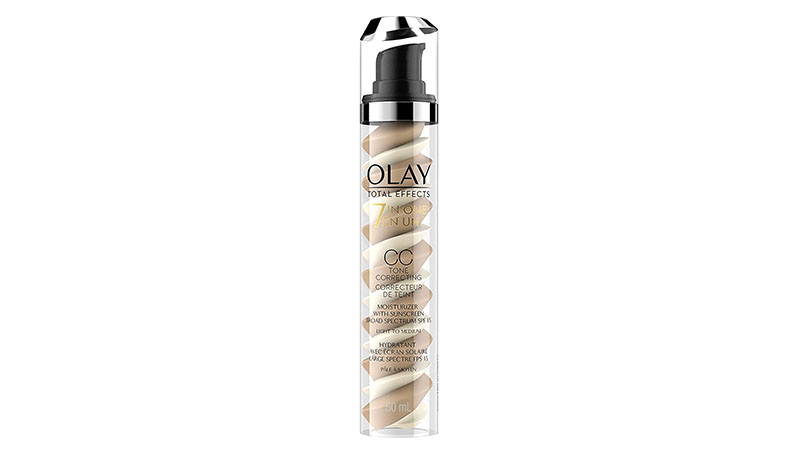 What We Like
Nice texture and consistency
Easy to apply
Contains vitamins
Affordable
What We Don't Like
Limited shade range
Can pill when layered with too much product
SPF 15
Nourish, hydrate, and protect your skin all in one step by using Olay's lightweight Total Effects Tone Correcting CC Cream. It feels light on your skin while still providing a heavy dose of beneficial ingredients. There are seven vitamins and antioxidants for extra protection, including vitamin B3 and VitaNiacin Complex II, which improve the skin's appearance and repair the barrier. It also corrects your skin tone, diminishes fine lines, and minimizes the pores. You can use this product in place of both your moisturizer and foundation, as well as sunscreen, thanks to the SPF 15.
What Customers Are Saying
"I've been using Olay Total Effects CC cream, and the coverage is excellent! It's so smooth and velvety; it glides right on and covers so well that most of the time. My only gripe with this product is the SPF. It's just 15, and I prefer to have at least 30 (and even higher in the summer). I used a broad-spectrum sun protection product first and let the CC Cream function as my base coverage with an extra boost of sun protection."
8. Juice Beauty Stem Cellular CC Cream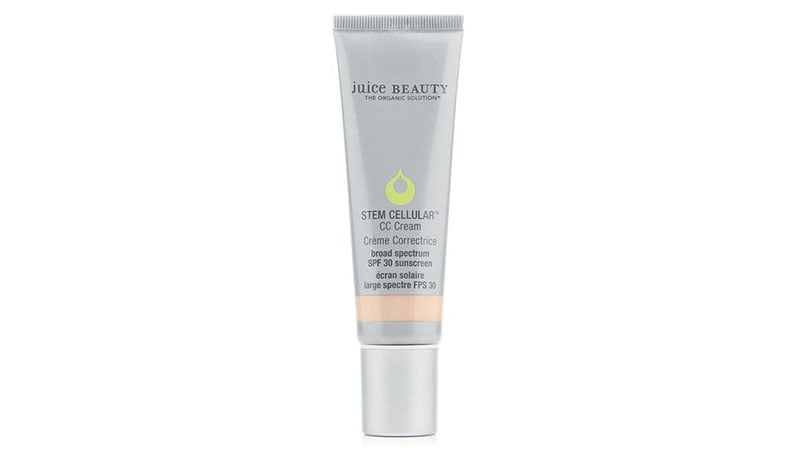 $39 ON AMAZON $39 ON JUICE BEAUTY
What We Like
Creamy and lightweight formula
Easy application
Subtle, fruity scent
Vegan and cruelty-free
SPF30
Affordable
What We Don't Like
Limited Color Range
Can feel a bit tacky
As someone who loves to maintain a natural look while still feeling confident in my own skin, I've tried my fair share of CC creams. But, I have to say, this little gem takes the cake. Infused with fruit stem cells and vitamin C, it does wonders for my complexion. Not only does it offer lightweight coverage, but it also tackles fine lines and uneven skin tone. And the cherry on top? Broad-spectrum SPF 30 protection from harmful rays! With a range of shades to choose from (Natural Glow is my go-to), I truly believe this is one of the best CC creams out there.
What Customers Are Saying
"I love this cc cream! it makes my skin look healthy and glowy. I can wear it by itself and just put some concealer where i need it and i'm done! It also has sSPF so really, I can go out and enjoy the day!."
When to Use CC Cream?
You can use CC cream on the days when you're not vibing a full face of makeup but still want some coverage. It's great when you're running behind schedule or just a bit time-poor. You can also use it as a primer under your regular foundation. CC Cream eliminates steps in your makeup routine, such as using a separate sunscreen, color corrector, and foundation, saving you time in the morning.
How to Use CC Cream?
CC cream stands for color corrector or complexion corrector cream. It's lighter weight than foundation but provides more coverage than BB cream. All you need to do is substitute it for your foundation in your makeup routine or use it as a primer. Start with a cleansed, toned, and moisturized face. Then, applying the liquid all over your face using a beauty blender or your fingertips ensures you're fully smoothed out around the edges, building up the coverage you desire.
Best CC Creams FAQs
What is the best CC cream?
The best CC cream will combine high levels of hydration and protection, as well as match your skin tone. You want both sun protection in the form of sunscreen and protection from environmental aggressors by including vitamins and antioxidants. Look for brands like Physicians Formula, Supergoop!, and IT Cosmetics. If you have darker skin, look for inclusive brands such as IT Cosmetics, black Up, and Cle Cosmetics.
Do you use a primer with CC cream?
You can use a primer in addition to CC cream, but it's not always necessary. Primer acts to fill in and smooth out imperfections but doesn't necessarily provide additional benefits such as moisturizing or sun protection. Meanwhile, CC cream corrects discoloration and smooths out the skin, while giving that extra protection. If you have heavy acne scarring or deeper wrinkles, a primer will still be beneficial. However, if you're looking to even out your complexion and increase hydration, the CC cream will be sufficient by itself.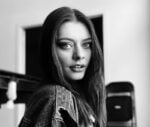 Alexandra Feiam is an experienced fashion writer who holds a degree in journalism. She has an impressive portfolio and expertise working as the Editor at Power Retail and Commercial Content Editor at Newscorp. Ally has been writing for The TrendSpotter since 2018, and her work has been featured in notable publications such as The Herald Sun, Arirang TV South Korea, Kidspot, The House of Wellness, and The Daily Telegraph.
SUBSCRIBE TO OUR NEWSLETTER
Subscribe to our mailing list and get interesting stuff and updates to your email inbox.