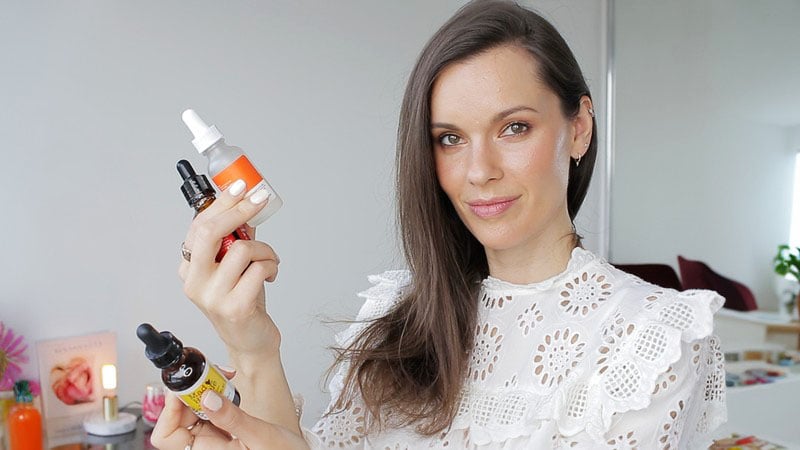 Vitamin C is a wonderful addition to your skincare routine, and I'm personally a huge fan of this amazing ingredient. It's been a staple in my morning skincare lineup for years, thanks to its ability to tackle dark spots and pigmentation caused by sun exposure. I've even noticed a significant improvement in my skin's overall tone and texture. With so much research backing up its effectiveness, vitamin C is an ingredient that everyone should consider including in their skincare routine. Here are my top picks for the best vitamin C serums that meet all my criteria.
Best Vitamin C Serums
1. Timeless Skin Care 20% Vitamin C+E Ferulic Acid Serum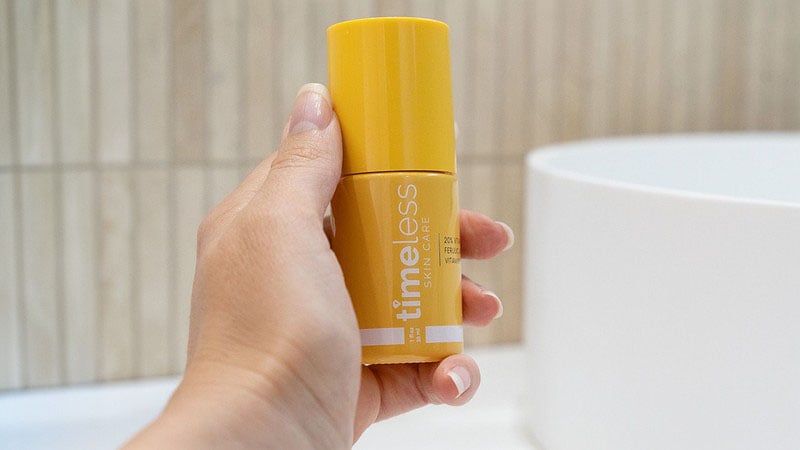 SHOP: THE FORMULA SHOP AT AMAZON
What we Like
Highly popular and a bestseller
Great pineapple scent
Long-lasting scent
What we Don't Like
Low pH and high concentration can cause some tingling and potential sensitivity for some people
Pump packaging can sometimes leak and does not always travel well
I have been using Timeless Skin Care 20% Vitamin C Serum for over a decade, and it has always been my go-to product. Although I test other serums from time to time, I eventually come back to this one because of its consistent effectiveness in improving my sun damage and pigmentation. This product is everything I could ask for, and it is scientifically formulated with an active 20% concentration of vitamin C it is also dermatologist
Dr Dray's
favorite also. The light texture of the serum allows it to sink beautifully into my skin without leaving any shiny residue. As a megadose of vitamin C serum, it is capable of promoting the formation of beneficial 'skin firming' collagen. This product is precisely what I would recommend to those who wish to target signs of aging and reduce environmental damage to their skin. It is important to note that the serum may sting as it is formulated with a low pH for maximum stability, and it might not be suitable for sensitive skin. Overall, it is my trusted serum that never disappoints.
Price at time of publish: $18 USD
What Customers Are Saying
"Finding a skincare product that really works can be frustrating. I've tried several brands from various price points and all have failed to impress me until I discovered Timeless Skin Care 20% Vitamin C E Ferulic Acid Serum. My skin loves it and I can say the search is over coz I've found "The One"!"
2. Geek & Gorgeous C-Glow – Vitamin C Serum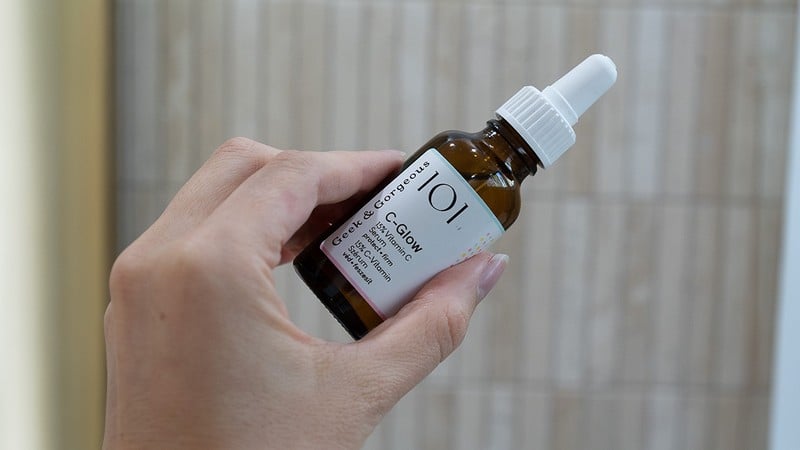 SHOP: THE FORMULA SHOP: GEEK & GORGEOUS
What we Like
Affordable option
Minimal ingredients list
Lightweight consistency
Fungal acne safe
Fragrance and essential oil free
What we Don't Like
Bottle/pipette packaging exposes the product to air and potentially faster oxidization
Best kept refrigerated, and lid closed tightly
Can be difficult to apply due to water-like consistency
When trying out new ingredients, it can take us some time to adjust. That's why I recommend starting with the 10% version of this product, especially if you've never used vitamin C before or have more sensitive skin. It's perfect for brightening, hydrating, and evening out skin tone. Plus, the airless packaging, supportive antioxidants, and effective pH for absorption make this formula a standout. If you're worried about the 'tingle' that often comes with new products, this version is definitely less intense. Although it's not as potent as the 20% version, it's still a great way to give your skin what it needs without overwhelming it. Plus, the 15ml size allows you to try it out and see how your skin reacts. Keep in mind that this version is not as targeted for improving fine lines and wrinkles, but it's still an excellent product to add to your routine for overall skin health.
What Customers Are Saying
"I've tried many Vitamin C serums and this is my favourite! Good percentage of vit C, I love the nice light consistency it soaks right in and I always feel like my skin looks brighter after using it! Plus the price point, such good value for money. I have been through about 5 bottles so far and will continue to re-purchase!"
3. Timeless Skin Care 10% Vitamin C+E Ferulic Acid Serum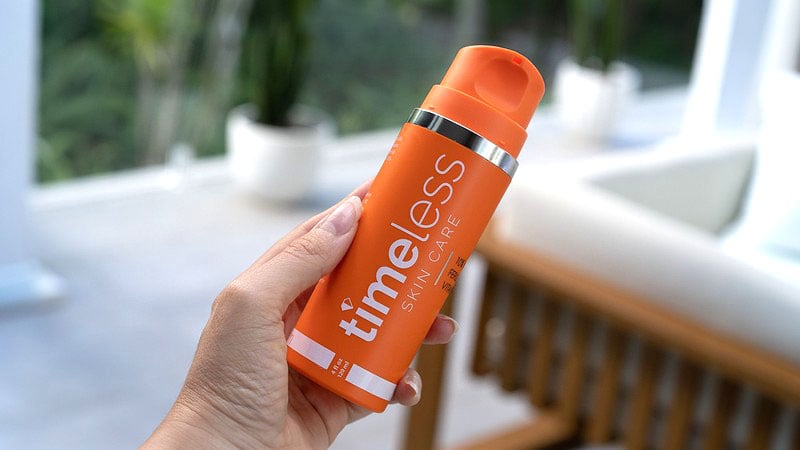 SHOP: THE FORMULA SHOP AT AMAZON
What we Like
More sensitive-skin friendly than the 20% version
Available in a smaller 15ml size for trial purposes
Slightly higher pH means less tingling upon application
What we Don't Like
Not as effective at reducing fine lines and wrinkles as higher concentrations
At 10% concentration, it is unlikely to aid in the collagen formation process within the skin
I've found that it can take some time to adjust to one skincare ingredient in particular. That's why I like to introduce new products slowly, to build up tolerance. This is where the Timeless Skin Care 10% Vitamin C serum really stands out; it's perfect for those starting out or with more sensitive skin. It can help to brighten, hydrate, and even out skin tone, with airless packaging, antioxidants, and an effective pH for absorption all supporting its effectiveness. It even comes in a 15ml size, which makes it a great option to test out and see if it's a good fit for your skin. I've noticed that there's less of a tingling sensation with this version. However, unlike the 20% version, the 10% formula is unable to boast collagen-building benefits targeted at fine lines and wrinkles. Despite this, incorporating this product into your routine could lead to improved skin appearance and a boost in confidence!
Price at time of publish: $29 USD
What Customers Are Saying
"I have nearly finished my first bottle of 10% Timeless Vit C and everyone is telling me how great my skin is looking. Would highly recommend it."
4. Regimen Lab Vitamin X – Vitamin C Serum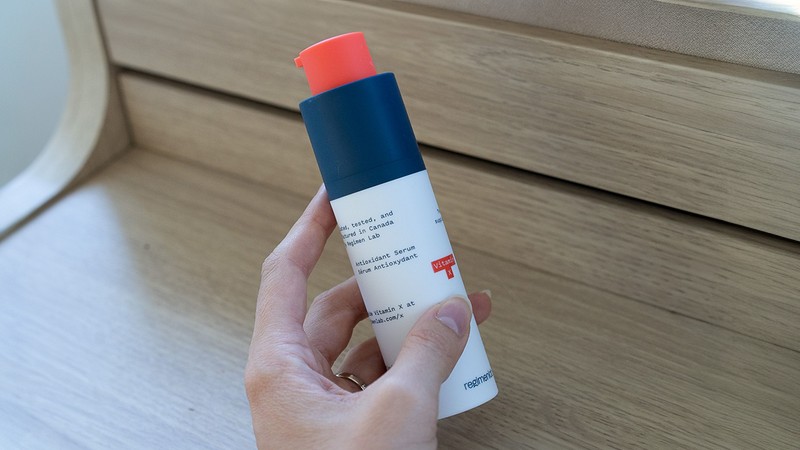 SHOP: THE FORMULA SHOP AT REGIMEN LAB
What we Like
Contains several extra antioxidants that help maintain the stability of vitamin C.
Boasts the highest clinically proven percentages of active ingredients
Great 'all in one' serum for your morning skincare routine
Scavenges free radicals to protect that precious collagen
What we Don't Like
I have a new obsession: Vitamin X. It's a powerful serum that promises to help reduce the appearance of age spots and hyperpigmentation. What I love about Vitamin X is that it contains 11 antioxidants, including 15% ascorbic acid, in a powerfully preventative serum. It gives an instant glow with a more viscous but still lightweight texture. For someone who loves skincare routines, this serum is an excellent investment in my skin's future. It's a complete 'one and done' serum for my morning routine. What makes this serum even more impressive is that it boasts the highest clinically proven percentages of the active ingredients it contains. This serum means business and is the most expensive option, but in my opinion, it's well worth it.
Price at time of publish: $55 USD
What Customers Are Saying
"My skin looks glowy and redness calms down very quickly. The texture of my skin has also improved and overall I am seeing a lot less pigmentation. Amazing serum and highly recommend."
5. The Ordinary Ethylated Ascorbic Acid 15% Solution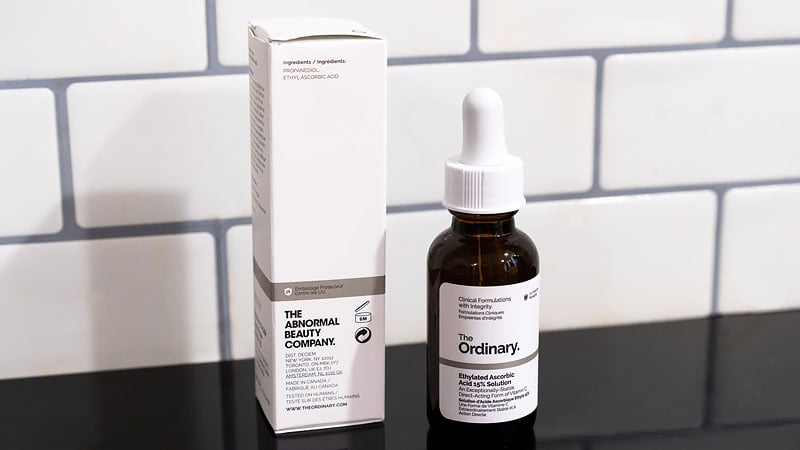 SHOP: THE FORMULA SHOP AT THE ORDINARY
What we Like
Stabilised form of vitamin C that has a longer shelf life and is less prone to oxidation
Suitable for those who can't tolerate active vitamin C (ascorbic acid)
Best for sensitive or reactive skin types
What we Don't Like
Although oil-free, some find the texture to have an oily feel upon initial application
Less clinical data is available on the efficacy of this form of vitamin C derivative compared to ascorbic acid
This serum is perhaps one of my favorites because although it may be considered 'the odd one out', it nonetheless delivers on its promise. Its unique formula, which contains a vitamin C derivative, is specially designed for those with sensitive skin who cannot tolerate ascorbic acid. It not only helps to brighten the skin and even out skin tone but also helps to visibly reduce signs of aging. Although it may take some time for the results to show, it is worth the wait and is loved by those with normal to dry skin types the most. What makes it even better for me is that it is oil and water-free but has a lovely oil-like feel that sinks in nicely for a dewy finish. Ethylated ascorbic acid is also a stabilized form of vitamin C, meaning it will last much longer on your shelf before oxidizing when compared to the others, making it a wonderful investment. The only downside is the lack of clinical data available on its efficacy when compared to ascorbic acid; however, you can't have everything!
Price at time of publish: $20 USD
What Customers Are Saying
"I had a few darker spots and some redness on my face and décolletage. I have been using this am & pm for about 2 months and wow – what a difference! This is the best product I've used in quite some years. High marks for this serum."
Best Vitamin C Serums Video Review
In my YouTube video, I explain the similarities and differences between the best Vitamin C Serums that I've used and loved for years. You'll find recommendations, comparisons, and specific brands that are excellently formulated and will deliver the best results possible for your skin. You can also view a comprehensive breakdown of each Vitamin C Serum, including the pros and cons and links to buying the products online.
Best Vitamin C Serums FAQs
What does vitamin C serum do for the skin?
Vitamin C can help the body's tissues with development and repair. Using a vitamin C serum on your skin can help with blemishes, reduce hyperpigmentation, and leave you with a luminescent glow.
Which is best vitamin C serum?
There are many great vitamin C serums on the market, each with its appeal. Some of the top picks include Timeless Skin Care 20% Vitamin C+E Ferulic Acid Serum and Regimen Lab Vitamin X – Vitamin C Serum.
Does vitamin C serum really work?
Vitamin C serum is not a miracle formula that can remove all skin problems and the skin's natural aging. It can, however, rejuvenate your skin and help prevent wrinkles caused by sun exposure and sun damage. It can also brighten your complexion and give you a lovely glow.
Do dermatologists recommend vitamin C serum?
Some dermatologists have stated that vitamin C serum is beneficial for the skin; of course, each product and formula differs slightly, and every specialist's opinion will vary. It is thought that the best is one that contains L-ascorbic acid.
Is it bad to use vitamin C serum?
Vitamin C serum can positively affect your skin, helping to prevent the signs of aging and fine lines caused by sun damage and pollution. There are many different formulas and brands to choose from, and some can cause skin irritation. It is therefore always important to read the label of the product that you purchase. You should also use vitamin C serum in the morning, for the most benefit.
What does vitamin C serum do for your face?
Vitamin C serums are designed for use on the face and can have many skin benefits. These include helping with skin tone, texture, problems with discoloration, and fighting the skins of sun damage. You should pick a product with the right vitamin C concentration and formula for your skin type.
SUBSCRIBE TO OUR NEWSLETTER
Subscribe to our mailing list and get interesting stuff and updates to your email inbox.