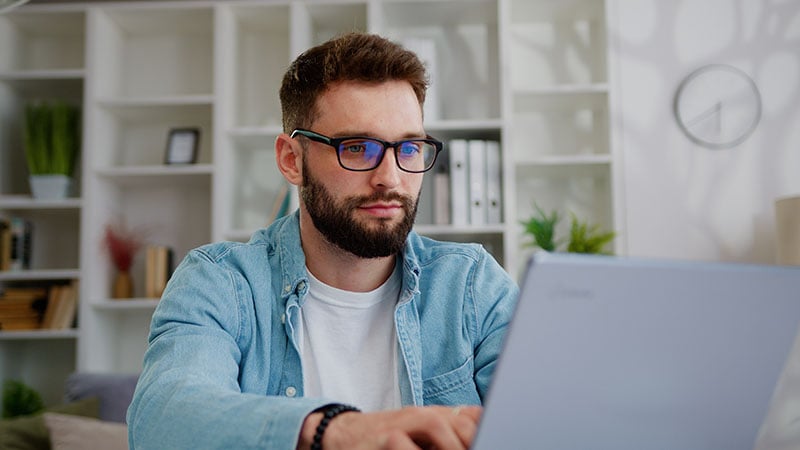 Have you ever heard of an alpha male? It's a term that has been around for quite some time and refers to a strong, assertive personality type who's the leader of the pack. But what about Sigma males? This lesser-known moniker is gaining traction as people explore different personality types and social dynamics. So what is a sigma male, why are they important, and how do they differ from their alpha counterparts? Below, we will delve into all things related to the Sigma male and discuss what the meaning is and how you can harness this powerful personality type to your own advantage.

What is Sigma Male?
In recent years, a new personality type has been added to the social hierarchy dominated by alpha males. Sigma males, as they are called, are introverted alpha males who do not rely on the support of a pack. They are known to be successful, good-looking, dominant, and influential but prefer to operate as lone wolves. This unique personality type has gained popularity in pop culture, with characters like John Wick being iconic examples. So how do sigma males differ from traditional alpha males? Well, unlike alpha males who are assertive and thrive within a pack, sigma males prefer to operate alone and often shun traditional displays of power and status. Despite this, they can still emerge as successful leaders and are known for their intelligence, independence, and unconventional approach to life.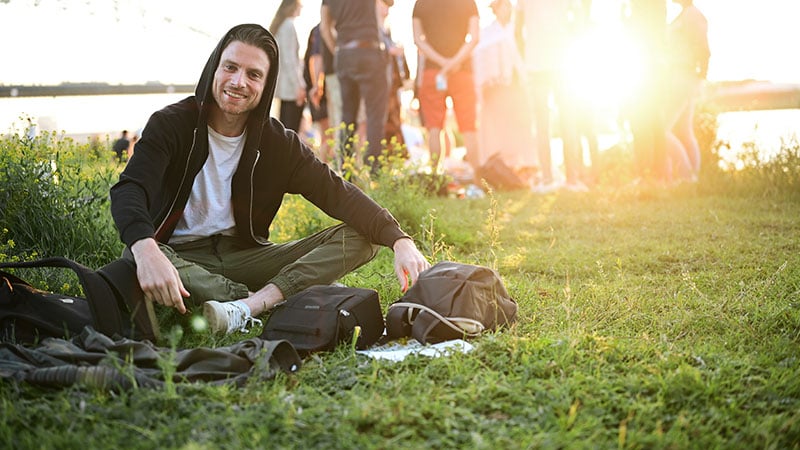 The Wolf Pack Theory
The Wolf Pack Theory, which claimed that alpha wolves lead the pack, became popular in society through Rudolph Schenkel's study called "Expressions Studies on Wolves." However, L. David Mech debunked the theory after studying wolves in the wild and found out that wolves don't have any sense of rank, and the parents are the true "alphas" whom the offspring follow. Even though the theory was proven unlikely, the concept of alpha and sigma males remained popular in society. The popularity of the alpha and sigma male concept grew with popular culture and is considered a way to stereotype men and trigger their insecurities about masculinity. Aldous Huxley, in his book "Brave New World," expressed the necessity for humans to follow a similar social hierarchy as animals. The book classified males into different social ranks, depending on their character traits. While the theory of alpha and sigma males may not be scientifically accurate, it remains an interesting cultural phenomenon.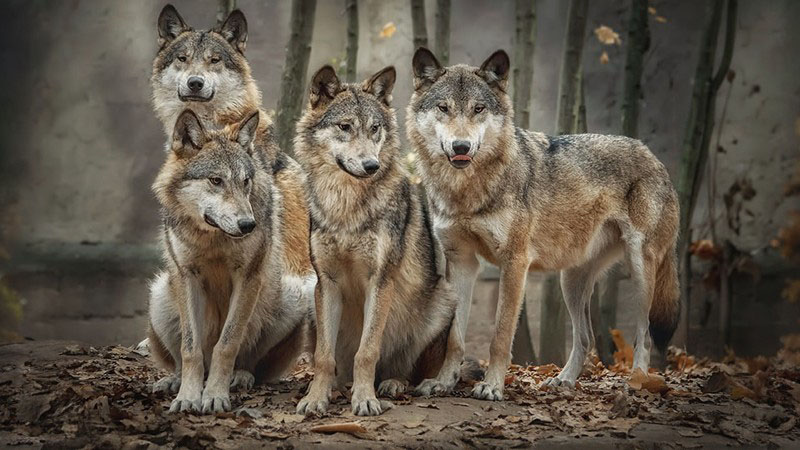 Sigma Male in The Socio-Sexual Hierarchy
The socio-sexual hierarchy is a classification system developed by Theodore Robert Beale, an American far-right activist, and writer who also goes by the name Vox Day. This system categorizes people based on their behavioral patterns and identifies six distinct personality types.
Alphas: They are natural leaders, dominant, extroverted, charismatic, and a tad aggressive.
Sigmas: These individuals are introverted and disregard social norms, equivalent to alphas, but prefer solitude. They are non-aggressive and independent, standing out among other personality types due to their non-conformity.
Betas: They are the seconds-in-command to the alpha. They are passive and follow the alpha's order.
Deltas: They are hardworking men with self-esteem issues. They tend to come across as insecure in relationships.
Gammas: These men are diligent workers but may struggle with self-confidence. As a result, their insecurity may impact their behavior in relationships.
Omegas: Omega males are known to be introspective and intelligent, although they may carry emotional baggage. In relationships, they have a tendency to be overly attached or dependent.
Sigma Males Vs. Alpha Males
| | |
| --- | --- |
| SIGMA MALES | ALPHA MALES |
| Introverted and less gregarious | Sociable and Outgoing |
| Not part of a social hierarchy | Pinnacle of the social hierarchy |
Sigma Male

Character Traits
They Are Introverted: A sigma male generally prefers solitude and may participate in groups, yet he doesn't remain in one place for very long. They tend to be direct communicators and don't typically socialize without reason.
They May Be Dominant: Sigma males exude a commanding presence similar to alpha males, though they differ in their reserved and quiet demeanor. They often hold leadership positions but don't necessarily exhibit overly friendly behavior.
They Are Influential: The sigma male is similar to the alpha in that he holds significant influence in a group, often contributing to goal-setting. Rather than conforming to societal norms, he is adaptable, setting his own rules.
They Are Successful: Sigmas are highly accomplished and independent individuals who tend to operate solo, even within teams. Their determination, self-sufficiency, focus, and driven nature lead them to consistently achieve their goals.
Sigma Male Personality Infographic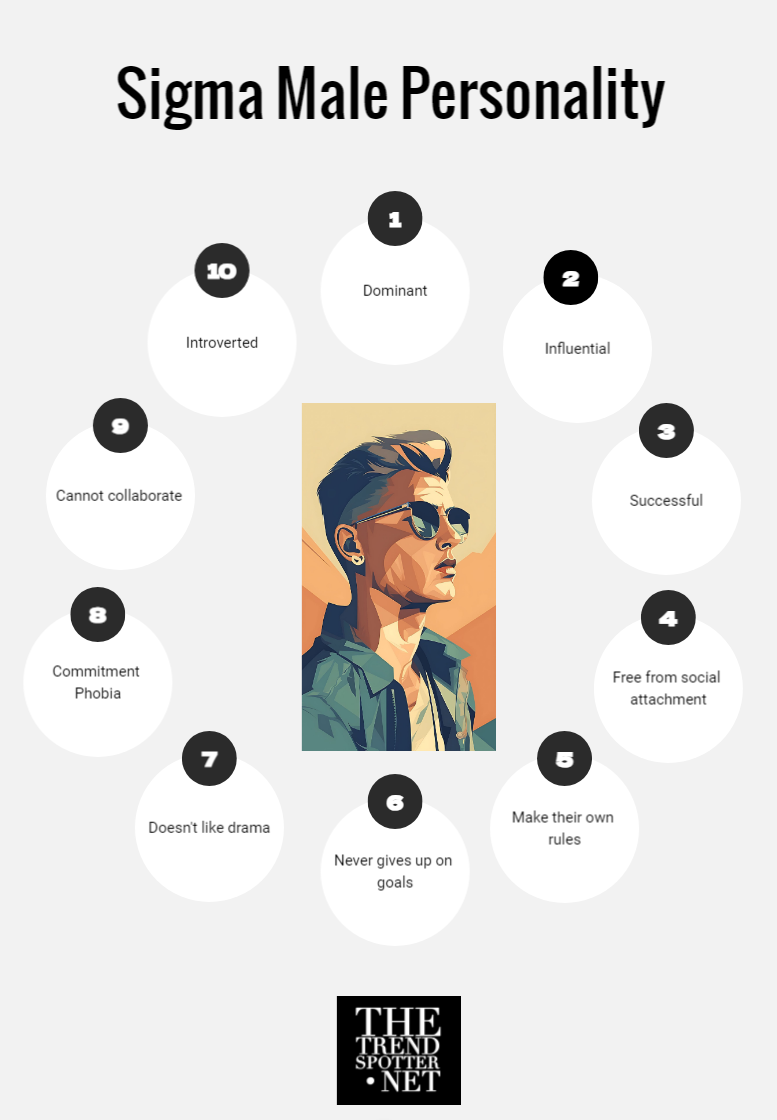 Do Women Prefer Sigma Males?
Sigma males have the edge with women because of their mysterious nature. They don't feel obligated to commit and are honest about their intentions. Women often perceive this as self-confidence and find it attractive. Sigma males are charming loners who are difficult to tie down, preferring to go their own way. They may seem rebellious, but they typically seek only casual relationships as they value their independence. A relationship with a sigma male is unlikely to develop into a strong emotional bond, and they are often compatible with sigma females who share similar goals and personalities.
Famous Sigma Males
| | |
| --- | --- |
| FAMOUS NON-FICTION SIGMA MALES | FAMOUS FICTION MALES |
| Keanu Reeves | John Wick |
| James Dean | James Bond |
| Steve Jobs | Wolverine - Xmen |
| Jimi Hendrix | Han Solo - Starwars |
| Keanu Reeves | Clint Eastwood - Man with No Name |
| Quentin Tarantino | Tony Montana - Scarface |
| Elon Musk | Bruce Wayne - Batman Begins |
| Bruce Lee | Max Rockatansky - Mad Max |
| Harry Styles | Jason Bourne |
| Robert Pattinson | Patrick Batman - Phyco |
Sigma Males FAQ's
How to be a Sigma Male?
Becoming a sigma male requires self-assurance, self-sufficiency, and the ability to manage problems independently. Knowing one's strengths and weaknesses is crucial, as is constantly striving for improvement.
What are the popular zodiac signs of sigma males?
While sigma males are not exclusively associated with any particular zodiac sign, Capricorns, Scorpios, and Aquarians are the signs most commonly associated with this personality type.
What makes a sigma male happy?
Sigma males are said to be self-sufficient in providing for their needs and never requiring external sources to attain happiness. Their ability to make arrangements for themselves before anyone else needs to intervene is noteworthy.
Are sigma males calm?
Sigma males, while calm on the outside, have a heightened sense of awareness and keen observation skills.
What do sigma males look for in a woman?
Sigma males often hesitate to take responsibility for others, but when they seek companionship, they value traits like independence, confidence, and responsibility in their partners. And if they do choose to settle down, they make a serious commitment and expect the same level of commitment from their partner.
SUBSCRIBE TO OUR NEWSLETTER
Subscribe to our mailing list and get interesting stuff and updates to your email inbox.