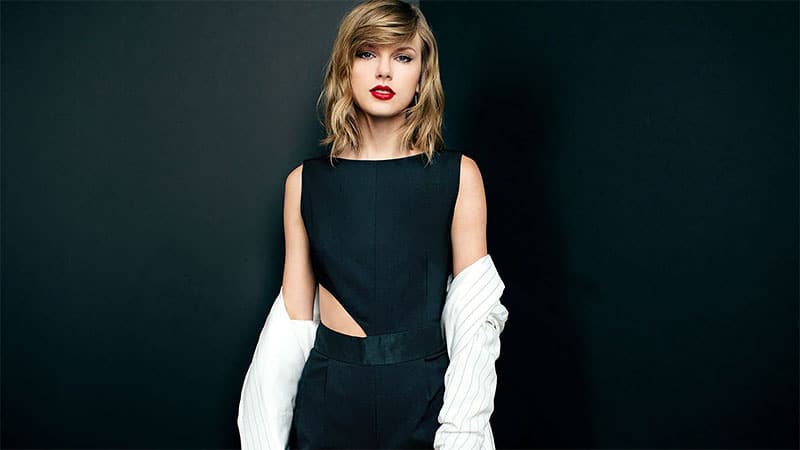 When you think back on Taylor Swift's career, it's hard to believe she's just 26 years old. From her five albums to her world tours and even her incredible ten Grammy awards, Taylor's journey is one that's bursting with accomplishments. Add to that list a well-developed sense of style, and it seems there's nothing this young star can't do. Working hard while always looking good can be a hard task to manage, but Swifty makes it look easy. Whether she's headed to the Met Gala or is out to grab a coffee, Taylor always looks her best by relying on these signature styles.
Taylor Swift's Red Carpet Style
Taylor Swift is no stranger to red-carpet events. Whether it's the Grammy Awards, Met Gala, VMAs, or some other prestigious occasion, Taylor's sure to be in attendance and looking fabulous. Her feminine style translates into looks that range from goddess-like to sexy and smoldering on the red carpet. Polished and pretty with a penchant for daring details, Taylor's style is completely trend-worthy while staying in the realm of wearability.
Mix and Match Separates
While a simple gown is an easy choice for a special event, Taylor does things differently. The star embraces mix-and-match separates when hitting the red carpet to give her look a refreshingly modern appeal. Whether she's wearing pants or a skirt, Miss Swift finishes her look with a separate top (namely a crop top) in either a matching or contrasting hue. Try the look for yourself whenever your stable of dresses feels boring.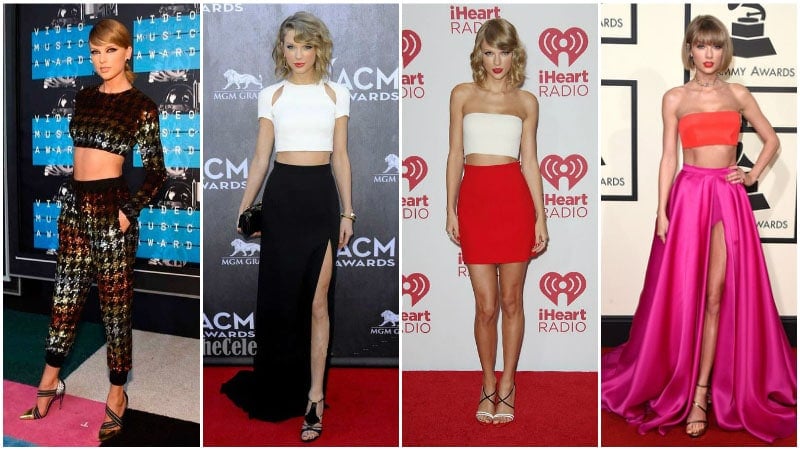 All-Over Sequins
Like any starlet, Tay Tay loves to get glammed up every once in a while, and what's more glam than sequins? The singer rocks the shiny discs whenever an event calls for an extra special look and dazzles in the designs. Taylor wears sequins with sexy, fitted styles ranging from cocktail dresses to gowns and even jumpsuits. No matter which style you choose, the key to pulling this look off is confidence.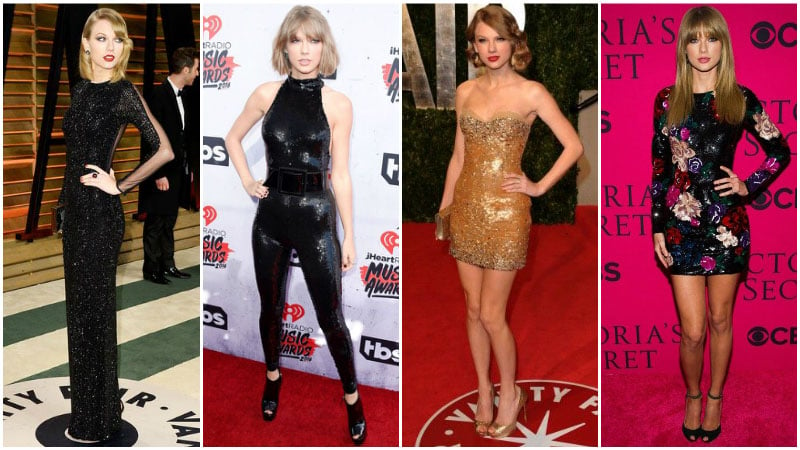 Side Cut-Outs
Balancing between the worlds of classic and contemporary, Taylor Swift's red carpet style relies on straightforward silhouettes mixed with unique details. One such unique detail that Taylor often chooses to wear is side cut-outs. The unexpected flash of skin makes the most basic dress look more stylish. Revealing, but by no means raunchy, simple side cut-outs are a great way to avoid looking dull while remaining proper.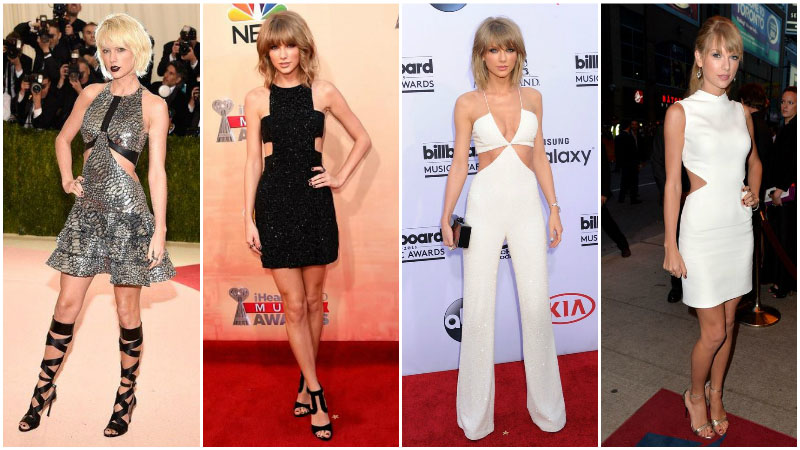 Grecian Goddess Gowns
Staying true to her feminine sense of style, Taylor has no problem wearing a flowy gown when the occasion calls for it. One of her favorite styles to wear is a Grecian goddess gown. Long, white, and perfectly draped, these dresses show off Taylor's ladylike sensibilities in pure style. No longer is a floor-length, white gown just for the wedding. Taylor shows us how to work it for any formal occasion with a chic updo and killer earrings.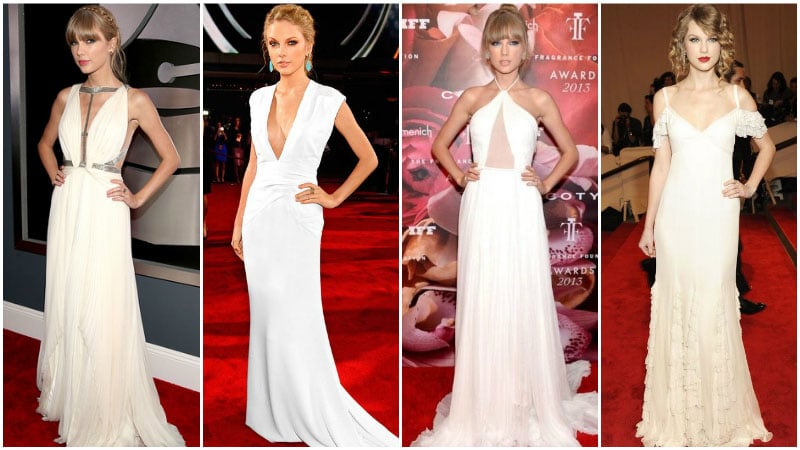 Thigh-High Split
Keeping her red carpet style sexy, Taylor embraces the thigh-high split. Perfect for showing off her long legs, the star looks absolutely smouldering in this style. Whether she chooses a classic side split or opts for the more daring front split, Taylor rocks this look with confidence. A little bit daring, the style partners well with chic, modern designs and sky-high heels.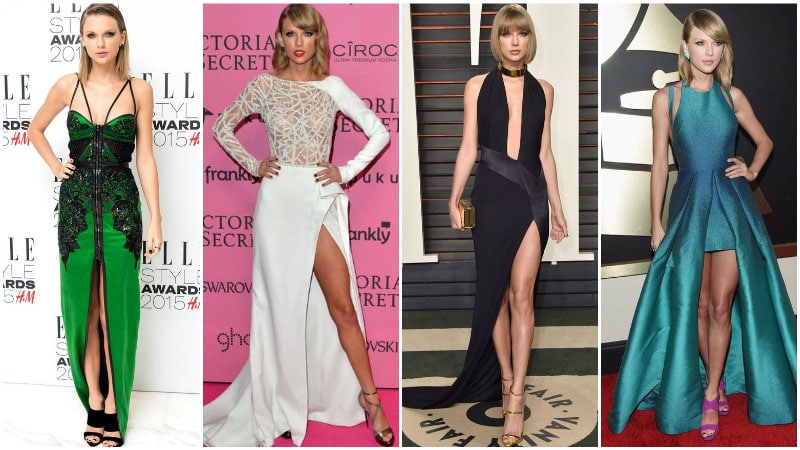 Taylor Swift's Street Style
When hitting the streets, Swifty loves to keep her style feminine and flirty while adding in vintage touches. Despite having some staple garment styles, it's her accessories that she has on constant repeat. Be it her classic wayfarer sunglasses or vintage handbags, Taylor's accessories are the backbone of her street style.
Skater Skirts
Flirty and fun, a skater skirt is an obvious choice to be one of Taylor Swift's staple wardrobe items. The star wears them regularly and must have at least one in every color. Worn up high on her waist, Taylor's skirts show off her svelte figure by being paired with a tucked-in top or something cropped.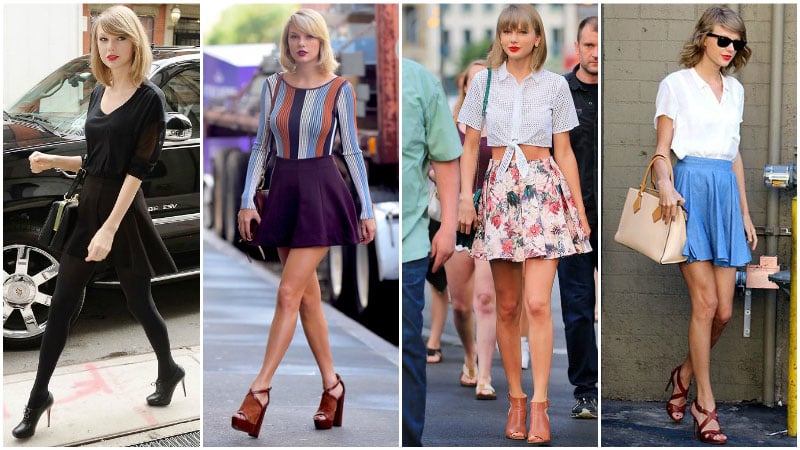 Bowler Hats
As mentioned, T.S. is a big fan of adding vintage details to her street-style wardrobe. While other celebrities jump on the trend train with fedoras and wide-brim hats, Taylor keeps to her signature look with a cute bowler hat. Topping off just about any outfit she wears, the charming hat carries a cool, "muso" vibe.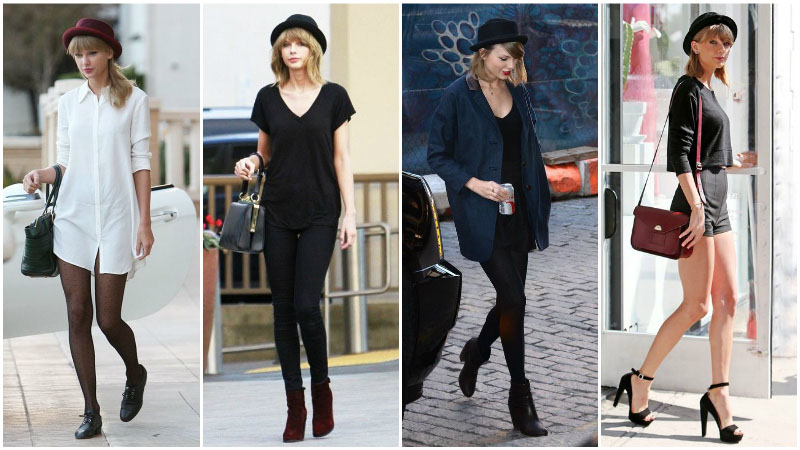 Collared Dresses
If you want to dress like Taylor Swift, you better invest in some collared dresses. Choose sweet styles with vintage or mod vibes to really channel this look. Then, keep the old-world charm coming with some kitten heels and a tote bag.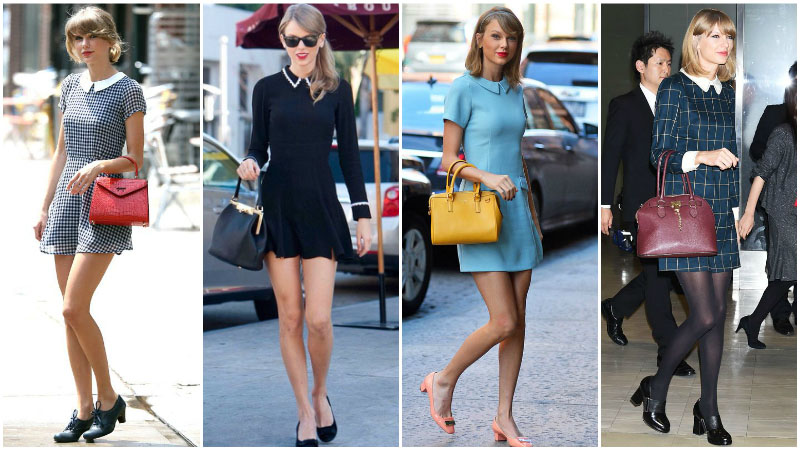 Wayfarers
No signature look would be complete without a signature pair of shades. We all have our favourites, be they aviators, cat-eyes or oversized, and so does Taylor. Tay's favorite shades are wayfarer sunglasses, and they suit her style to a tee. Cool and classic, these are the type of shades that you can wear forever.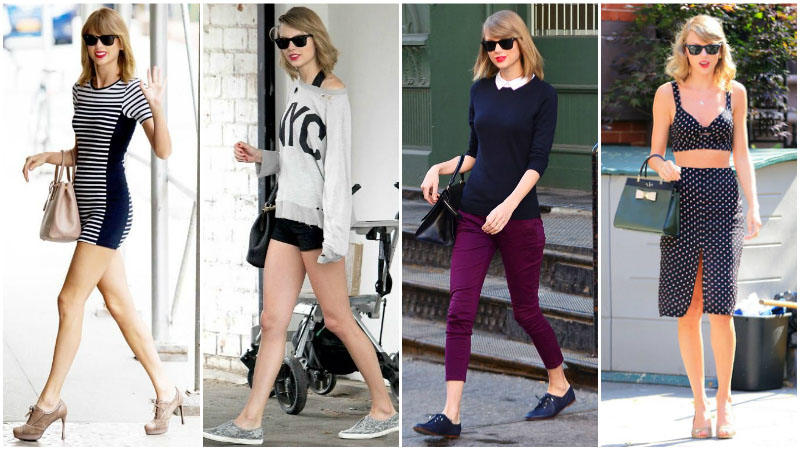 Vintage Style Handbags
One of the key accessory items in Taylor's signature street style is a vintage tote bag. The classic leather bags are T. Swift's favorite; they are handy for carrying all her things in style. Search vintage and thrift stores for your own version of this bag type or buy a brand new one that looks traditional. In particular, look out for top-handle tote bags or satchels.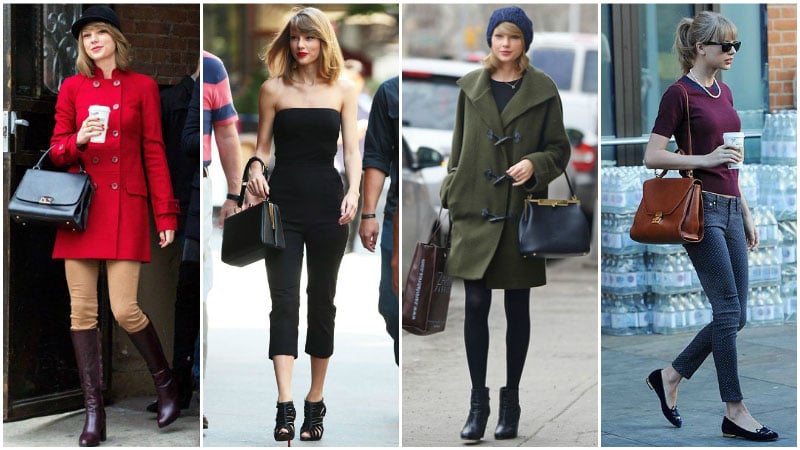 Taylor Swift Hair
Tay's hair has undergone many transformations over the years. Recently it's the bob that has her looking her best, and right now, it's edgier than ever.
Edgy Blonde Bob
This edgy blonde bob is perfect for girls with naturally fine and wavy hair. Just add texturizing spray to damp hair and allow to air dry. If your hair is a little more rebellious, however, you can recreate the look by following these steps.
Start by using your hands to comb a volumizing mousse through damp hair.
Separate damp hair into equal sections and blow-dry using a round barrel brush. Remember that you want the look to be a bit messy, so don't stress about making locks perfectly straight.
Once dry, section the hair again and lightly curl it using a flat iron.
Once all hair is curled, run your fingers through to separate the waves.
Apply a small amount of disrupting cream or paste to the hair, scrunching in with your hands and styling as desired.
Finish with a light spray of workable hairspray.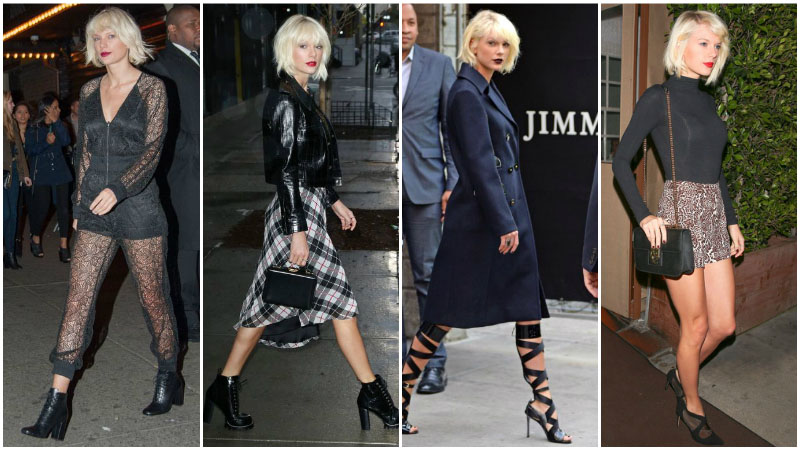 Taylor Swift Beauty
Taylor's timeless beauty finds itself at home with a feline flick of eyeliner and one sexy, statement lip.
Red Lip
In her song called "Style", Taylor Swift sings the line "I got that red lip classic thing that you like," and she's not lying. Tay's signature beauty look is a classic, red lip and we love it. Tying in perfectly with her affection for vintage fashion, Taylor's red lip is the ideal finishing touch to many of her outfits. Try wearing a red lipstick on any regular day and we guarantee that you'll want to be singing about yourself too.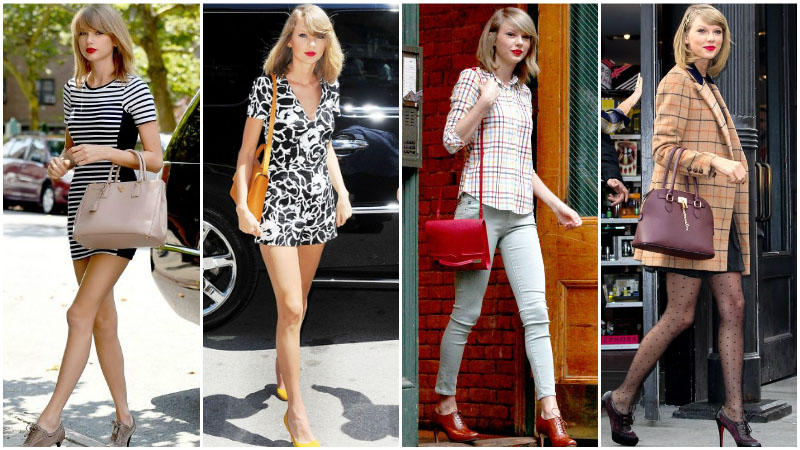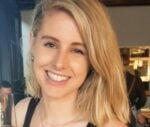 Taylah Brewer holds a bachelor's degree in fashion and business and is a skilled writer with several years of experience in the world of online content creation and copywriting. She is passionate about fashion, beauty, and all things lifestyle-related and has been writing for The Trend Spotter since 2016. She currently works as the Head of Digital & Ecommerce at White & Co.
SUBSCRIBE TO OUR NEWSLETTER
Subscribe to our mailing list and get interesting stuff and updates to your email inbox.