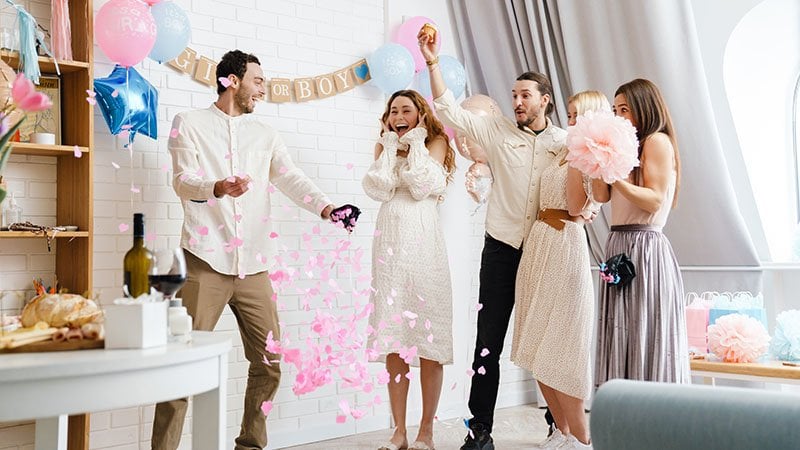 Gender reveals have become a popular part of most pregnancies and are a way for soon-to-be parents to celebrate their baby. There are many creative, fun, and excellent ways to make this day a special moment shared between close family and friends. From standard options like gender reveal cakes which are delicious and simple. To more unique ideas like shooting a paint balloon or opting for a spooky theme. There are many ways to create a celebration that reflects your preferences, and these ideas will help you achieve that. Keep reading to find the inspiration you need.
1. Gender Reveal Balloon
The gender reveals balloon is one of the simplest and most common ways to celebrate whether the mama-to-be is pregnant with a boy or girl. Most people opt for one large balloon that is filled with either blue or pink confetti. The idea is to gather your loved ones around you and pop the balloon, letting the confetti cascade out. For the best results, choose biodegradable confetti or something natural like rose petals, so that if some does get blown away during clean up it is not going to be as harmful to the environment.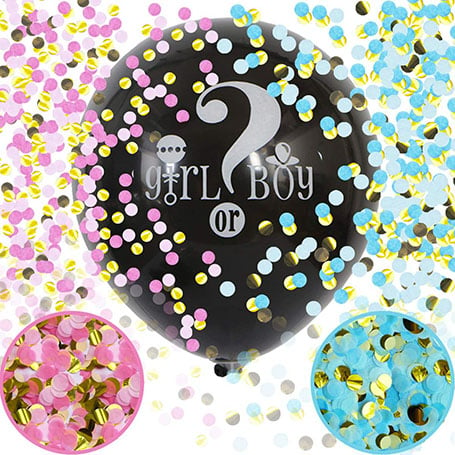 2. Gender Reveal Smoke Bombs
Smoke bombs are another simple but fun way to reveal the gender of your unborn child. There are several products on the market, depending on your preference, and when lit will last for around a minute, letting you get plenty of beautiful photos during this time. The relative ease of using smoke bombs and the powerful impact they make, make them an appealing choice for your gender reveal party. It is important to consider the location you are in when using smoke bombs. You want to take precautions to prevent environmental damage.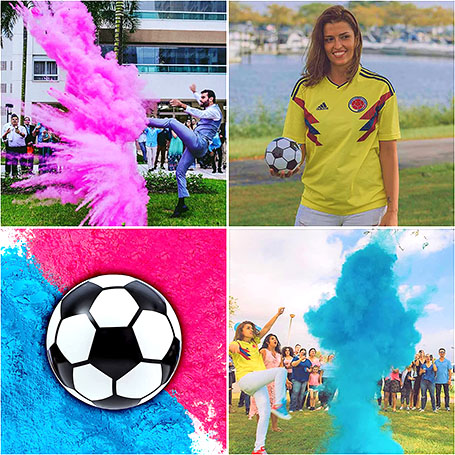 3. Gender Reveal Cake
Delicious and fun, what could be better than a gender reveal cake? There are several cute themes to choose from when designing your cake, including a simple question mark, the doe, and deer design, or opting for one side of the cake to be pink and the other blue. When you cut into your tasty treat, it will either be pink or blue, showing that the unborn baby will be a boy or a girl. You can make the cake yourself and surprise your loved ones with the results, or hire someone to make it for you.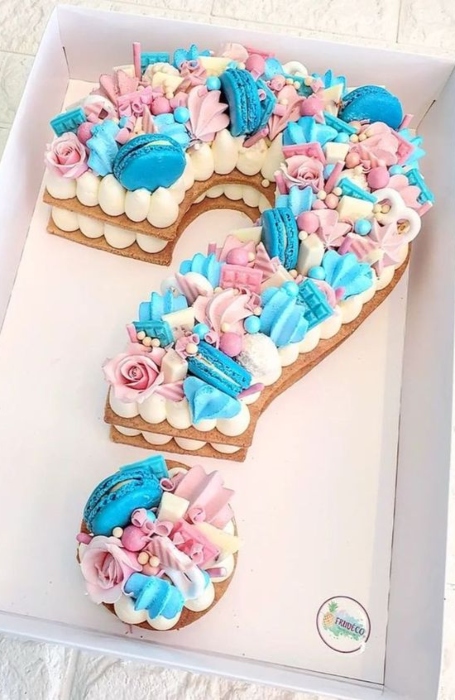 4. Gender Reveal Drinks
You have probably heard of a gender reveal cake, but have you ever seen gender reveal drinks? There are many ways to get creative with this idea, including serving people drinks colored pink or blue. You can achieve this with food coloring, rock candy, and purchase a safe and edible drink bomb. Pouring everyone a drink is also a nice way to include them in the reveal. Or you can opt for different color drinks for the party, asking guests to pick the color they think the gender will be and when you reveal it they will be able to see if they are right or wrong.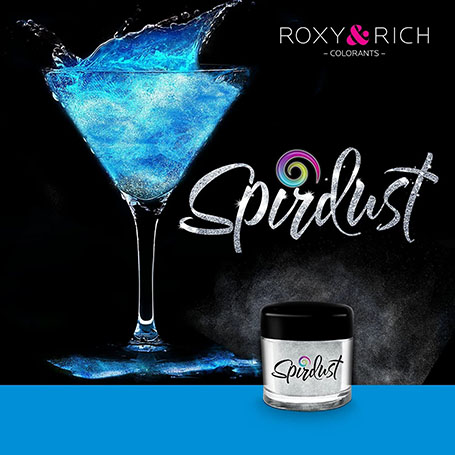 5. Gender Reveal Chocolate
Excellent addition to your gender reveal party is a chocolate with a gender theme. You can go all out, creating chocolate in blue or pink colors, in the shape of boys or girls, or you can get creative with the chocolate wrappers. Hershey's chocolate is an excellent choice. This is because the chocolate has the words He and She in it, and you can color the section you want to highlight.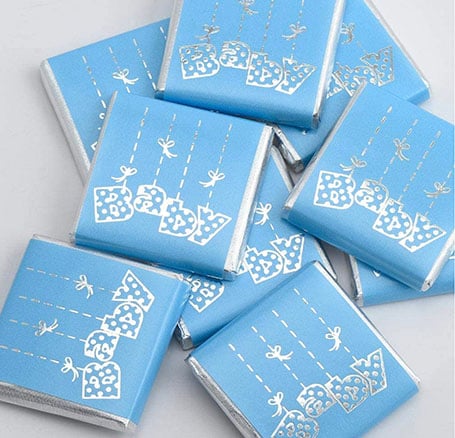 6. Gender Reveal Glitter
What better way to add some sparkle to your life than with a glitter gender reveal? Glitter can be messy but it is a great way to create beautiful photos of the special day that you will cherish forever. You can add glitter to tiny jars, add edible glitter to cupcakes or drinks, or create table and wall decorations covered in glitter; the choice is yours.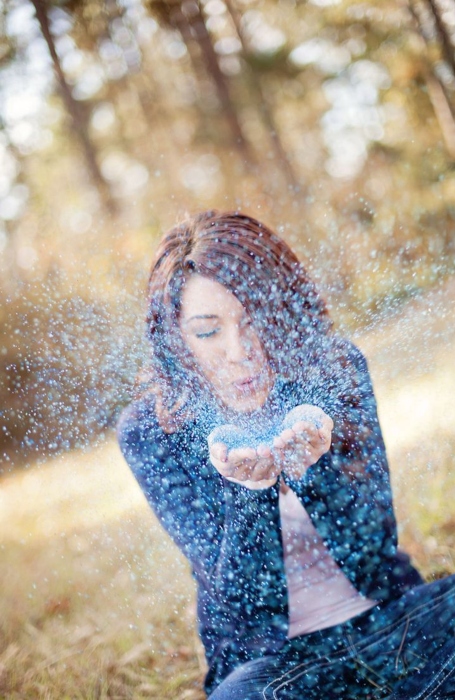 7. Gender Reveal Nails
If you want a gender reveal party but prefer a more low-maintenance approach, why not let your nails make the statement for you?! You can spell out the gender and see who notices. Or you can opt for a more subtle finish by painting your nails with blue or pink polish. Even if you choose to do a bigger reveal, you can still get a cute manicure to celebrate the special event and draw attention to your hands. This is also a sweet way to get into the Team Boy and Team Girl theme.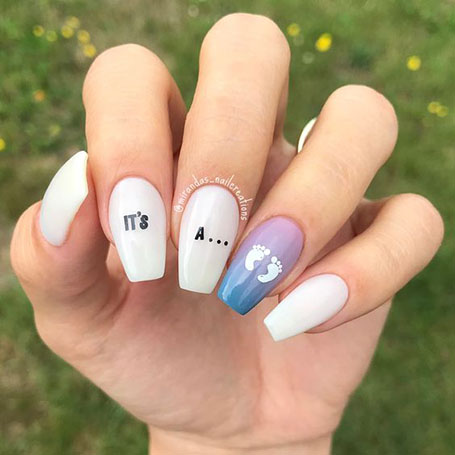 8. Gender Reveal Straws
The little details of a party are sometimes the most memorable. The right decor will leave a lasting impression on you and your guests. For a fun celebration, you can design your straws to be pink or blue or have the words "boy" or "girl" on them. If you are someone who finds gender reveal parties to be a lot of work, then this could be a simple way to get into the theme and make the day fun with minimal effort.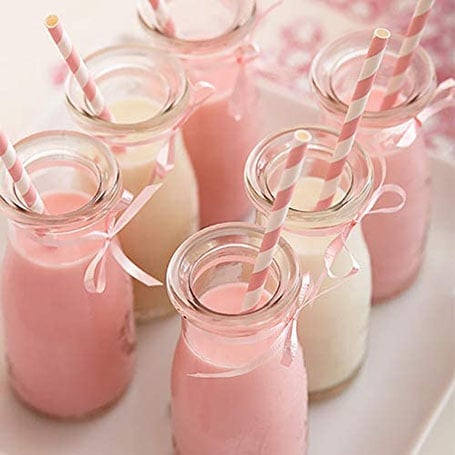 9. Gender Reveal Cupcakes
Baked goods are always a great addition to any party. Gender reveal cupcakes will look great and be part of the decor, but will also keep your guests fed. How simple or detailed you want your cupcakes to be is entirely your choice. You can opt for your chosen colors, which are typically blue and pink, and cover the cupcakes in sprinkles. Or you can select more detailed decor including words, the image of a baby and a bottle, and so much more. The inside of the cupcake can be filled with jam or some other filling that can be dyed pink and blue. This is also a great way to get all the guests involved in the reveal. Let them take a bite out of the cupcakes at the same time.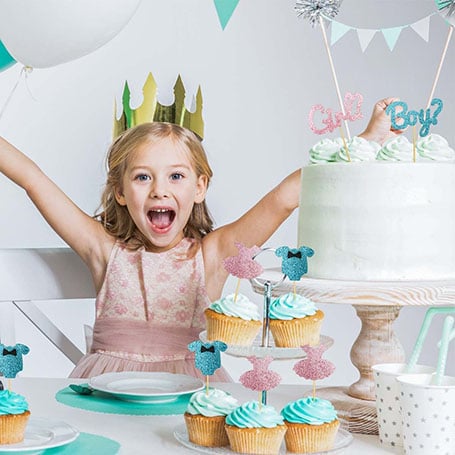 10. Gender Reveal Donut
Donuts have become one of the most popular party foods because they are delicious and versatile. There are many ways to decorate them and can be presented on a donut stand to make the food part of your decor. You can keep it simple with pink and blue icing. Or hire someone to add cute details and images to your donuts. You can also get guests involved by asking them to pick a donut color that they predict the baby's gender will be; just make sure you have enough donuts for every guest to choose.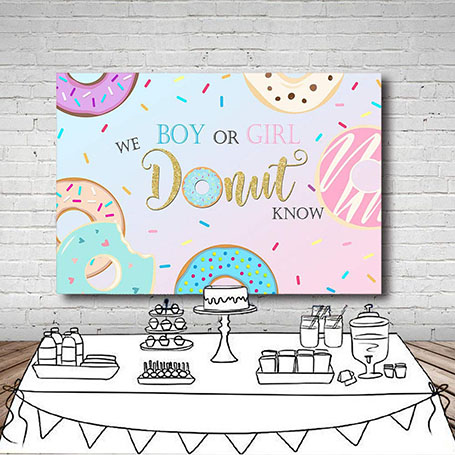 11. Gender Reveal Paint
There are many cute and creative ways to celebrate your gender reveal, including using paint. You can create a painted backdrop, fill a balloon with paint that you intend to pop, or splatter paint against a canvas to reveal the gender but also create a piece of art you can keep for the years to come. The appeal of gender reveal parties is they can be personalized to suit your preference and fit with your budget.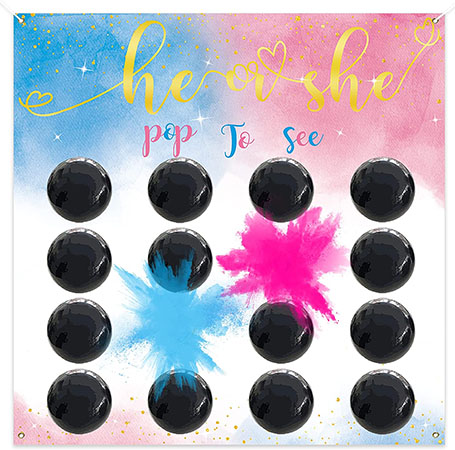 12. Gender Reveal Fireworks
Fireworks have earned a bad reputation with people who have gone above and beyond with their gender reveal. They have caused damage to the environment and resulted in injuries, which is why when considering fireworks you need to take precautions. Consider your location and always hire a professional to deal with fireworks as they can be dangerous. Alternatively, for a much safer and low-key approach, you can create a firework theme gender reveal.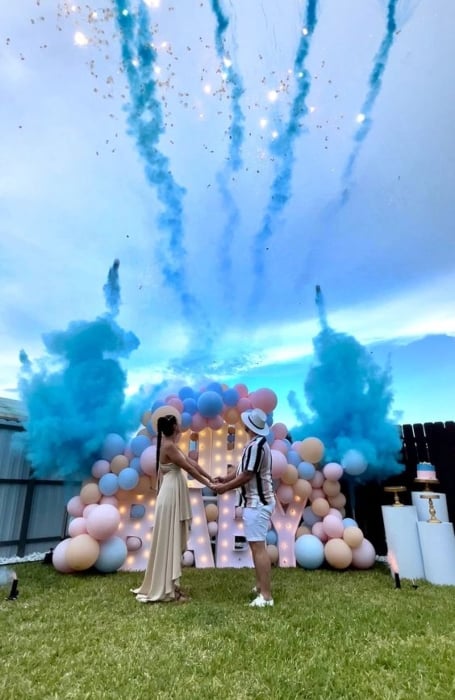 13. Gender Reveal Confetti
Shooting a confetti cannon or releasing confetti from a pinata is a wonderful way to celebrate the gender of your unborn child. It is a simple but effective way to announce your news and can be done with little effort. Confetti is also affordable, making this an excellent option to suit every budget. It is always best to opt for biodegradable confetti or something natural like rose petals so that you will not harm the environment.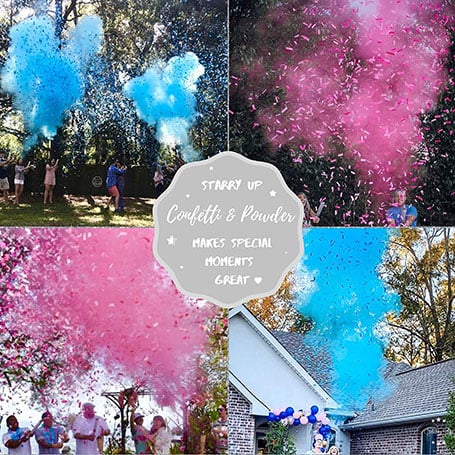 14. Gender Reveal Games
Party games are a fun way to get everyone involved and show off your playful side. They are also the perfect opportunity to get creative, letting you think outside the box and find a game that will be memorable. This could be anything from popping a balloon for a belly to casting your vote on whether you think the unborn child is a boy or a girl. You could also create a fun quiz about the mom-to-be. Or find a way to let guests offer their guidance and support by writing down their thoughts and feelings on cards.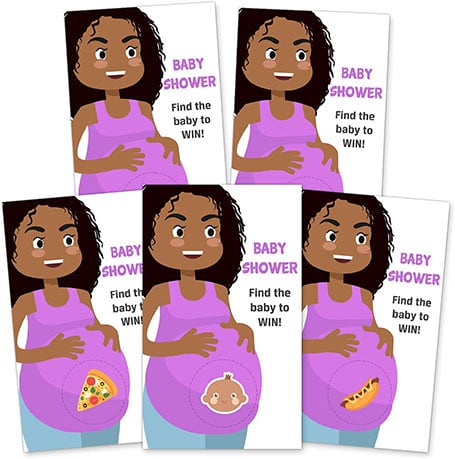 15. Gender Reveal Party Decorations
No celebration is complete without party decorations and the gender reveal gives you a lot of opportunities to get creative. It could be a standard pink and blue theme, a bow and bowtie inspiration, or even something cute like your favorite Disney characters. There are many options, allowing you to tailor your gender reveal party to suit your preference. You can also personalize your gender reveal party with unique games and special guestbooks.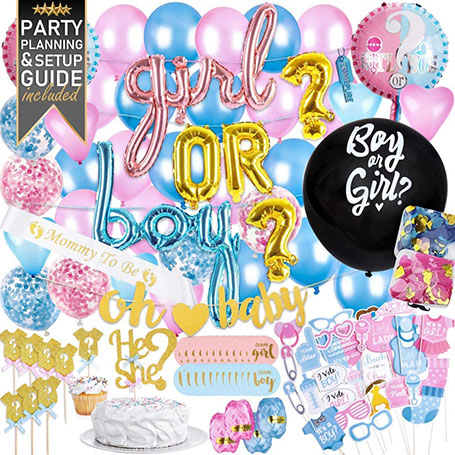 16. Gender Reveal Box
The box is one of the simplest and most affordable options for a gender reveal, but can still make a statement. All you need is a large box, either bought or decorated yourself. Most people choose to fill the box with balloons, which can be pink or blue to show their gender. When the box opens, the balloons will be let go. This is not the only option though, and you can work with your family and friends to create the perfect box with confetti, smoke bombs, sonogram pictures, and so much more.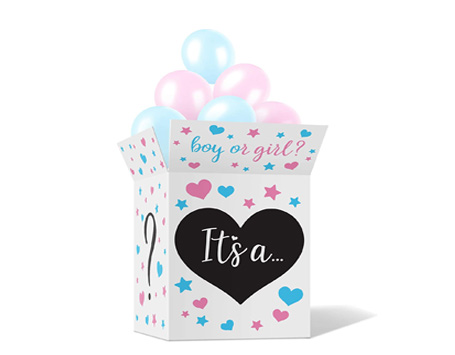 17. Gender Reveal Vote
A great way to get your guests involved in the celebrations is to create a gender reveal vote. This is a prediction of what they think the mama-to-be is pregnant with. Let them cast their vote by writing on cards, which you can collect and read out. Or, for something different you can ask them to tie bowties or bows onto a backdrop. Alternatively, you can choose a colorful drink or treat based on their prediction.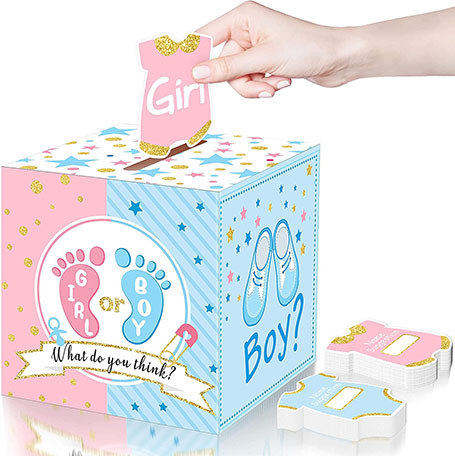 18. Gender Reveal Food Ideas
When it comes to your gender reveal food themes, let your creativity be your limit. You can stick to the standard baby theme or be more adventurous with spooky or monster decor for a more individual take. Your food can include cupcakes, donuts, and cake, but also fruit sticks, finger food, and mini buns. Making the food to be part of the decor is a wonderful idea and will wow your guests.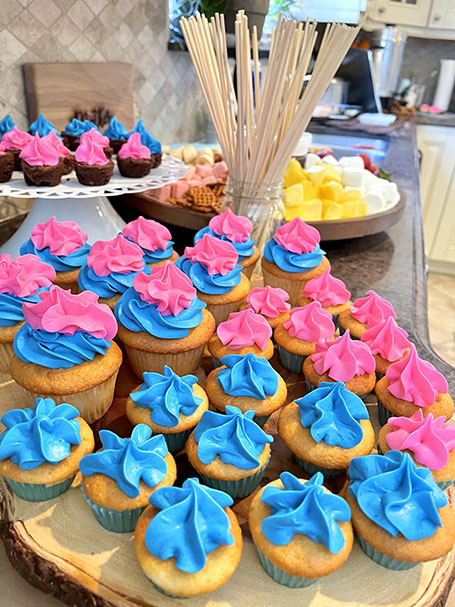 19. Gender Reveal Cookies
Beautifully decorated cookies have become a party favorite and are an excellent way to get into the theme. If you are a baking enthusiast you can make them yourself or hire the help of a professional to create colorful or detailed cookies. There are also different themes to choose from. The cookies can have question marks, different colors, the words boy or girl, and so much more.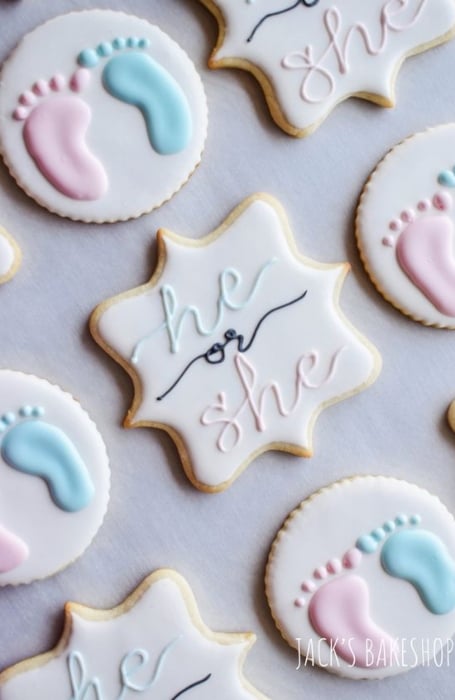 20. Bowtie and Bow Game for Guests
The bowtie and bow theme is a cute option for your gender reveal. The traditional approach is that the bow represents the female and the bow is the male. There are also variations of this game including ties and tutus, or dresses and pants. You can create a fun game asking your loved ones to predict what gender the baby will be by wearing a bow or bowtie. Or they could cast their vote on the bow or bowtie-shaped cards. Another option is asking the soon-to-be mama questions. This could be about how she is carrying, her cravings, and pregnancy symptoms and matching this with what is typically said about pregnancy. These old wives' tales could include cravings for sweet things (a girl), morning sickness (a girl), and pregnancy glow (a boy).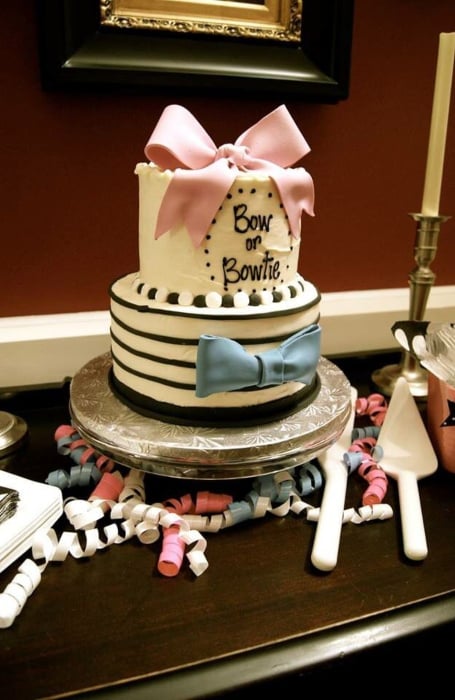 21. Gender Reveal Gifts
Gifts are not common for gender reveals and are usually given at a baby shower or after the birth of the baby. However, that is not to say that you cannot bring a gift, especially if it is a party for a close friend or family member. You may also want to bring something cute or quirky that is in the theme of the gender reveal. Gifts are always appreciated and will show your thoughtfulness.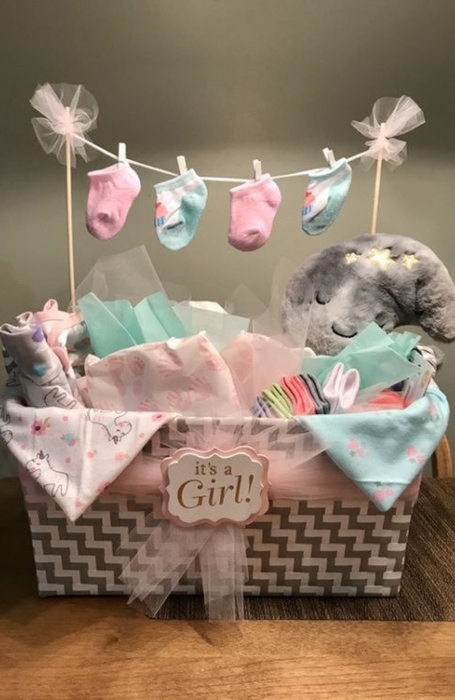 22. Gender Reveal Halloween Theme
Gender reveals can have specific themes and for those who love Halloween, this is a great time to channel the spooky but cute vibes. You can opt for a cauldron with colorful smoke, pumpkin-shaped treats, spider decorations, and a pastel color scheme. This is a super creative way to celebrate your baby's gender and is a theme that is different from the norm, ensuring it will make a lasting impression on you and your guests. It is a popular option for a baby due around October. It could also be a way to include your favorite holiday in your gender reveal.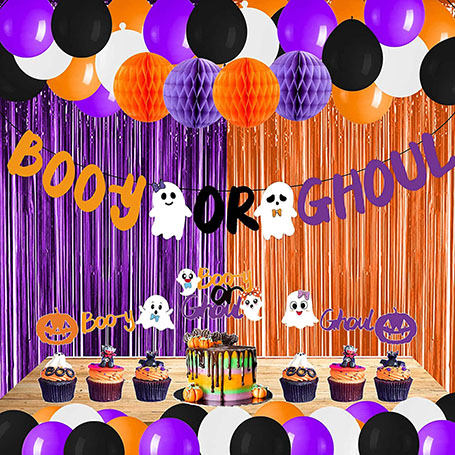 23. Gender Reveal Powder Cannon
The powder cannons designed for gender reveals come in pink and blue, and are shot into the air, releasing a brilliant burst of color. This option makes for gorgeous photos and is a stress-free way to reveal the gender. As always, take consideration of your surroundings and use a product that will not be damaging to the environment.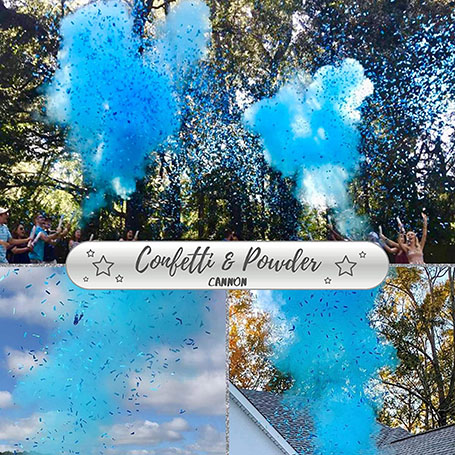 24. Gender Reveal Pinata
A pinata can be created using various materials including card and papier-mâché. It is often filled with candy and broken during a celebration. For your baby shower, you can still fill it with pink or blue candy, but a more popular choice would be to opt for biodegradable confetti. The shape of your pinata can differ. Choose one that best suits your preference including a big gold ball or a question mark. The process of breaking the pinata is also going to get some laughs and will be a fun experience for the couple.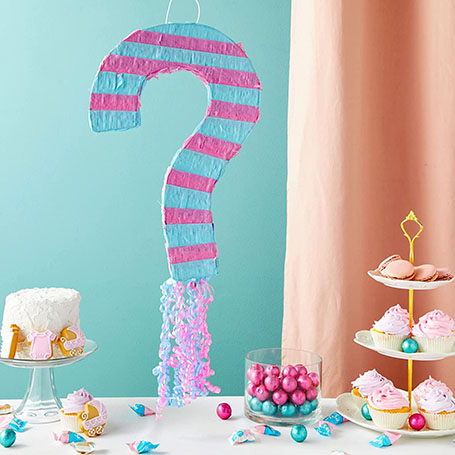 25. Gender Reveal Dress
A gender reveal can also be a time to show off your style. Many women dress in gorgeous, flowy dresses in colors that they think will represent the gender of their unborn child. Blue for a boy and pink for a girl. This is also a guaranteed way to get gorgeous photos. You can also get all of your guests involved by asking them to wear pink or blue, depending on their prediction.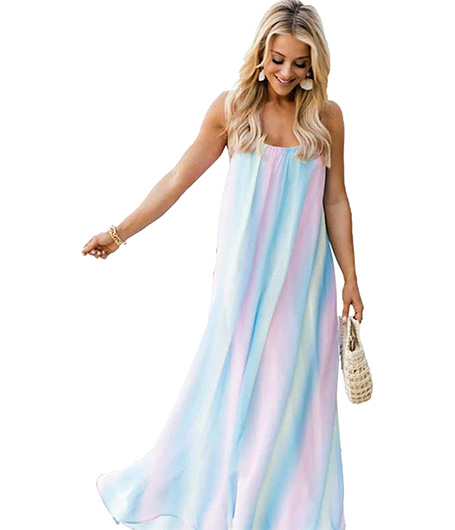 26. Gender Reveal Baby Shower
A gender reveal is done to reveal which gender the unborn child is. This is an exciting time during pregnancy and is usually revealed around 16 weeks or later. A baby shower is a celebration where guests come to bring the mother gifts and celebrate her journey into motherhood. You can combine the two things and can choose a theme that you love.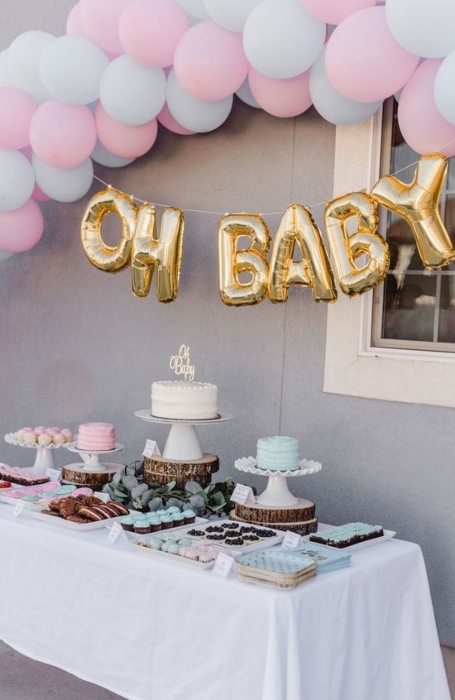 27. Gender Reveal Photoshoot and Post
Gender reveals are a celebration for the parents and are a moment that they will look back on during the pregnancy/adoption/surrogacy journey. It is for this reason that many couples hire a professional photographer to take photos of this special time. And it will be a keepsake that they can treasure forever. You can choose to post these photos to social media afterward to share with friends and family who were not able to join you at the party.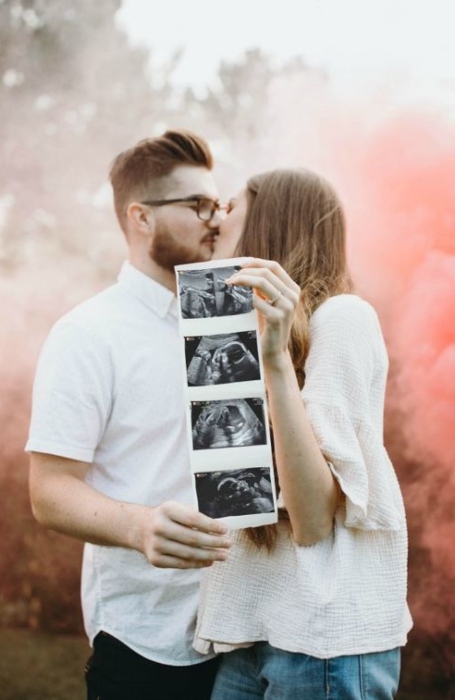 28. Pokemon Gender Reveal Ideas
The line "Pikachu, I choose you" from Pokemon makes excellent inspiration for your gender reveal party. There are so many fun ways to design your gender reveal around a Pokemon theme and you can choose an egg, a Pokeball, or all of your favorite characters. Focus them on a cake or cupcakes, or decorate the entire venue with different Pokemon. This is a lovely way to create a unique and memorable celebration.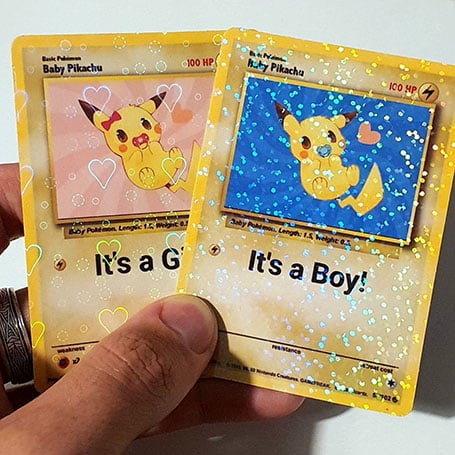 29. Gender Reveal Name Guess
Choosing the right name for your little one is important. You want it to be special and unique but not too different that it would cause trouble later in life. At your gender reveal party you can also use this as an opportunity for guests to guess the name that you and your partner have chosen. The choice will depend on whether you have a boy or a girl. You can make a list of names and then ask attendees to cast their votes. Or, if you are having trouble deciding on a name, the one with the most votes could be your pick. This is a lovely way to get friends and family involved and will make them feel a part of the pregnancy journey.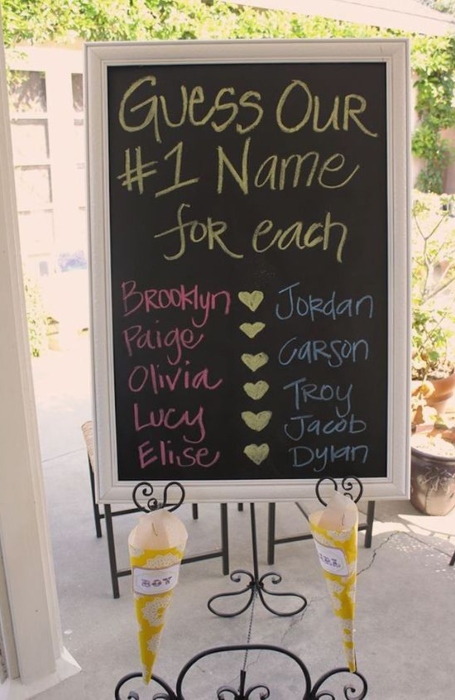 30. Gender Reveal Flowers
Flowers are a great addition to any party and can make it look dreamy and romantic. You can pick your favorite flowers and create them in an interesting arrangement, or you can pick specific colors to add to your theme. Flowers are also symbolic and are associated with growth and new beginnings. This lets you make a powerful statement about the life that you will be bringing into the world.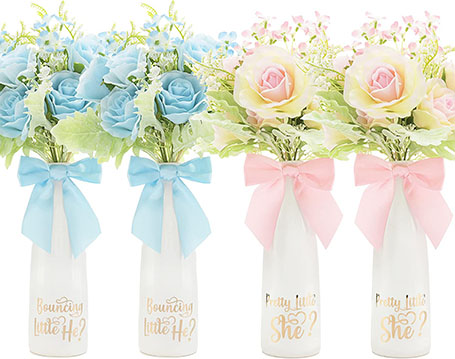 31. Gender Reveal Bath Bombs
If you want an intimate gender reveal between yourself and your partner, then a good choice may be to opt for a gender reveal bath bomb. Several companies design them and you can find them on Etsy or Amazon. Before using any products please ensure that they are pregnancy-safe by familiarizing yourself with the ingredients and asking the company any questions you have. If you are not sure, you can add the bath bomb to the water but do not get into it.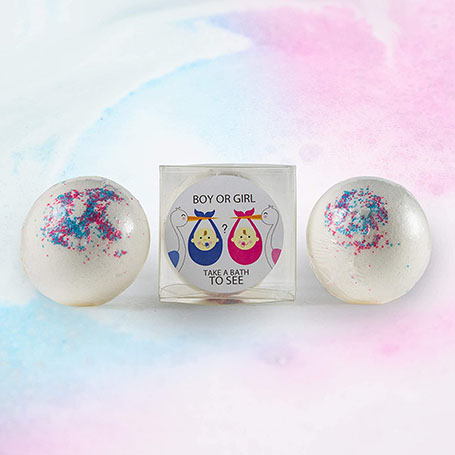 32. Gender Reveal Bubbles
Having a bubble theme, either with actual bubbles or bubble decorations is an excellent choice for gender reveals. This is a simple but effective option for your decor. It is also a great way to get the guests involved, handing them each a bottle of bubbles to unleash their inner child. You can personalize the bubble decorations or bottles by adding the date of the gender reveal and your names.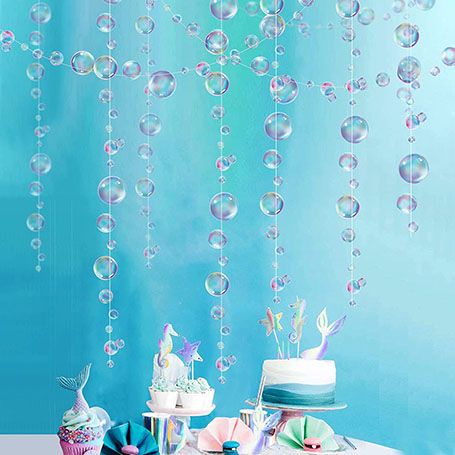 34. Gender Reveal Puzzle
A creative way to reveal your baby's gender is with a puzzle. It can be put together and reveal the message of your choosing. This could be something simple like "It's a boy." Or it could have the name of the child or an image of the sonogram. You could also add the date of the party. If you want your loved ones to be included you can order multiple puzzles and have them put together, racing to see who can find out the gender first.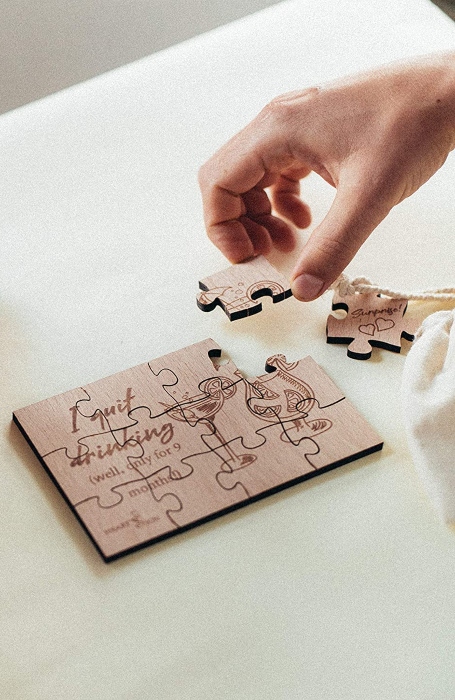 35. Gender Reveal Golf Ball
A gold ball gender reveal is the ideal option for someone who is a golf enthusiast or sports fan. The idea is to hit the ball into the air, revealing a cloud of color into the air. This can also be done with a baseball bat or a tennis racket, letting you personalize it depending on your chosen sport and preference.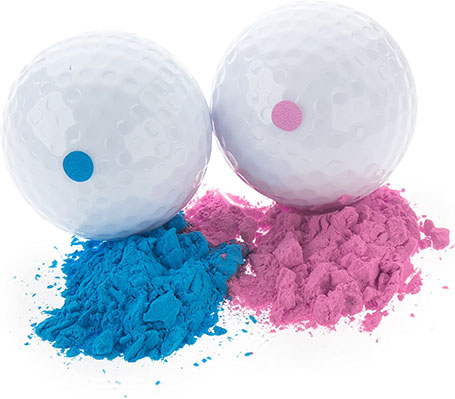 36. Disney Gender Reveal
Disney films and characters bring joy to many people's lives. It can be a way to relive the innocence and happiness of childhood and to show the world the things you love. There are also many characters to choose from, allowing you to personalize your gender reveal to suit your preference. The most commonly used characters would be Minnie and Mickey Mouse, but you can also opt for something different, like Nala and Simba, or Bambi and Faline.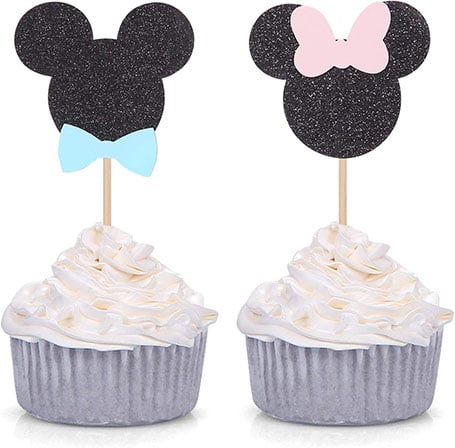 Gender Reveal Ideas FAQs
What can I do for a gender reveal?
There are many great ideas for a gender reveal, letting you easily personalize your celebration to best suit your preference. From cakes filled with pink or blue and popping a balloon, to more unique ideas like sports or Halloween themes. There is an option to suit every budget and you can go over the top or opt for a simple and minimalist approach.
How do you do a simple gender reveal?
A simple gender reveal can be done with close friends and family. You can cut open a cake or hand everyone a cupcake and ask them to take a bite, revealing the color of the baby's gender. Other simple but still fun options are popping a balloon or breaking a pinata with biodegradable confetti in it.
What do you typically do for a gender reveal party?
For a gender reveal party you can pick a theme, the most common of which are blue and pink. You can create your food and decor around the colors and can reveal the gender by cutting into a cake or popping a balloon. You may also wish to get your friends and family involved by asking them to guess the gender or to give their predictions with votes.
How many months should you be to have a gender reveal party?
The gender of your unborn baby can usually be told around 16 weeks but most couples wait around 20 weeks before confirming this and having a gender reveal party.
What kind of food do you serve at a gender reveal?
You can serve whatever you want at your gender reveal party, but the common choices are baked goods and confectionary like donuts, cupcakes, cakes, cake pops, and chocolate-dipped fruit or pretzels. You can also serve chocolate, popcorn, fruit skewers, and mini sandwiches.
Do you bring a gift to the gender reveal party?
You do not have to typically bring a gift to a gender reveal party, but gifts are always appreciated. A gender reveal party is also sometimes combined with a baby shower, which is celebration where gifts are often given.
SUBSCRIBE TO OUR NEWSLETTER
Subscribe to our mailing list and get interesting stuff and updates to your email inbox.