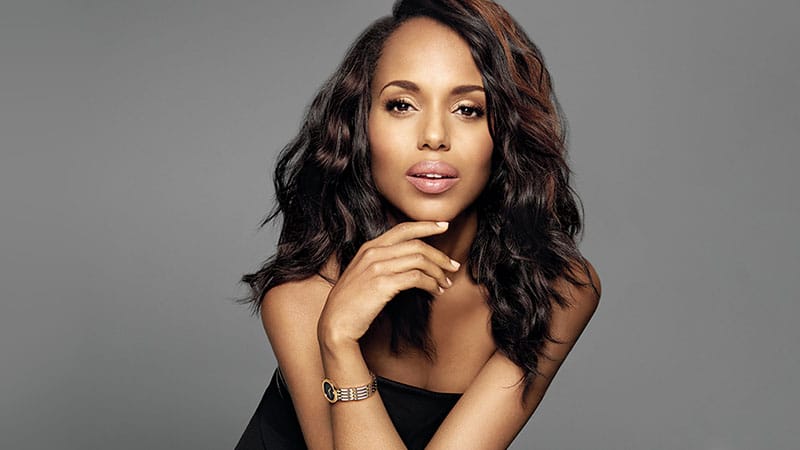 Since its founding in 1881, Movado has continued to grow, developing an incredible legacy during the process. Today, the reputable watchmaker is well known for its innovative designs, which blend the worlds of horology and art. Easily recognizable by the brand's signature dot, Movado's designs are sleek, stylish, and incredibly sophisticated. The label's women's watches are particularly striking and often serve as both timepieces and jewelry. As such, if you're a lady who's in need of a new watch, Movado is the name to know. Just look through the brand's top styles to find the right one for you.
1. Movado Women's 604759 Amorosa Stainless Steel Bangle Watch
The Amorosa watch by Movado features a simplistic yet stunning design. The timepiece also boasts a stainless steel bangle bracelet, which makes it the perfect accessory for formal occasions, such as weddings or cocktail parties. Thanks to its sleek, minimalistic appearance and striking black dial, the watch will undoubtedly inject a contemporary and chic aesthetic into any outfit that you wear.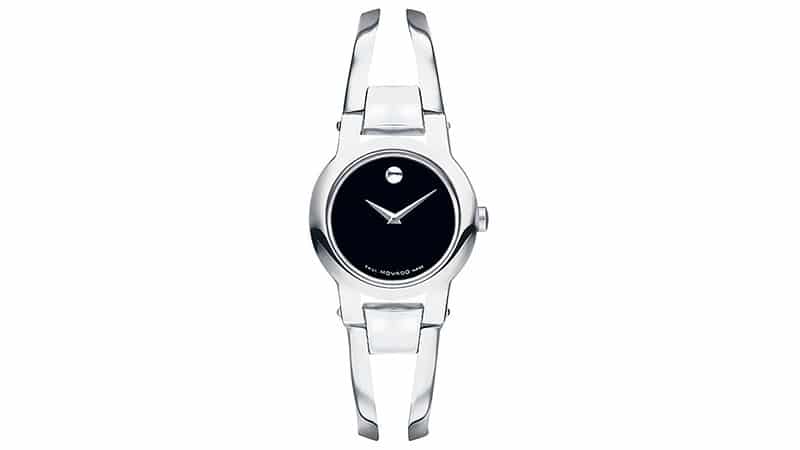 2. Movado Women's 0607054 Esperanza Swiss Quartz and Stainless-Steel Casual Watch
Movado's gorgeous Esperanza design also comes in a cool gold style for those who prefer a gilded look. The chic timepiece boasts a 28mm case and the Esperanza's signature Art-Deco inspired bracelet, both of which are made of yellow gold PVD-finished stainless steel. It also features a white mother-of-pearl Museum dial with a raised, matte-finish outer ring, and gold-toned hands and dot.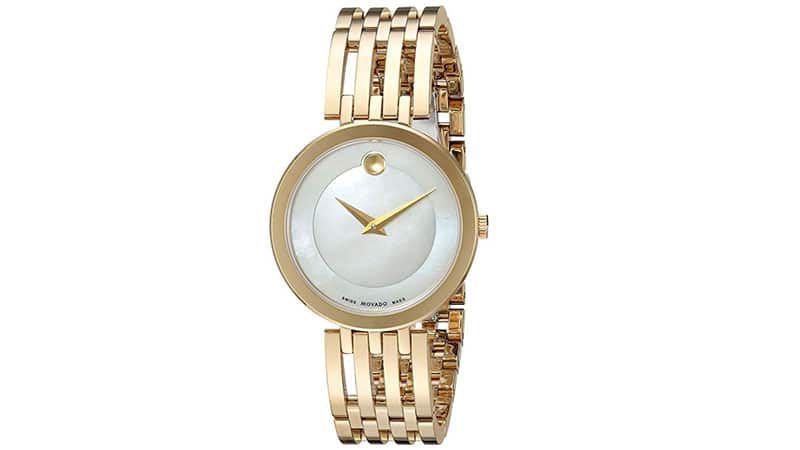 3. Movado Women's 0606421 Concerto Diamond-Accented Stainless Steel Watch
Glitz and glamour meet subtle sophistication in Movado's 0606421 Concerto Watch. The timepiece features a sleek, stainless steel design and contemporary, 30mm round case. However, it also boasts a diamond-set bezel and mother-of-pearl dial. When used together, these opposing elements of luxury and minimalism combine to achieve a perfectly balanced and seriously chic watch design.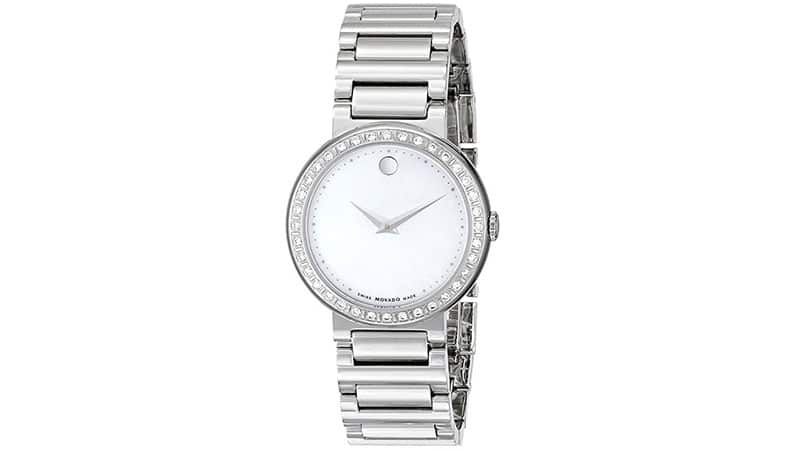 4. Movado Women's 0606596 Bela Stainless Steel Bangle Watch
If you're looking for a feminine wristwatch that'll tell you the time and look great on your arm, then you should consider the Movado Bela your best choice. The stylish timepiece is not only a watch but also a piece of jewelry to wear with pride and show off. The design's chic, stainless steel bangle is delicate and polished while it's lovely pink soleil Museum dial offers a fun and flirty touch.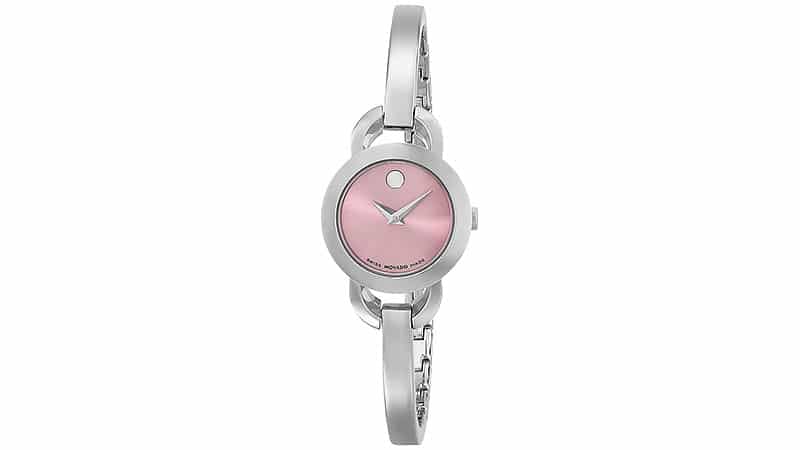 5. Movado Women's 0607052 Esperanza Swiss Quartz Stainless Steel Casual Watch
The Movado 0607052 Esperanza Watch is as beautiful as it is practical. The luxurious, silver-tone, stainless steel design features a 28mm case with a black dial and silver-toned dot and hands. The timepiece's bezel is where the real wow-factor lies, however. Boasting an impressive 63 diamonds, the Esperanza's bezel is a glittering ring of glamour. The watch's Art-Deco inspired bracelet is also a notable feature, as is its Swiss quartz movement and 30m water resistance.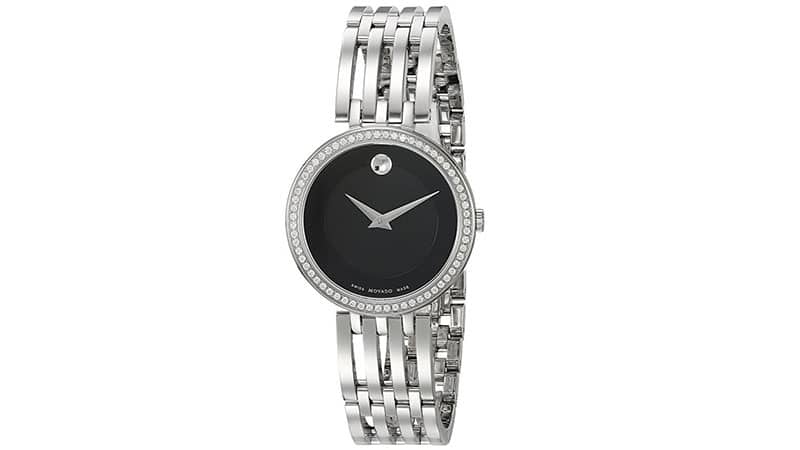 6. Movado Women's 3600256 Bold Analog Display Swiss Quartz Two-Tone Watch
A crystal pave dial makes the Movado Women's 3600256 Bold Watch stand out as an extraordinary timepiece. The watch's two-tone design also adds to its stunning appearance and unique style. While other, lesser brands often fail when mixing a combination of gold, silver, and crystals, Movado has achieved great success with the 3600256. Far from seeming tacky or excessive, this timepiece features the perfect amounts of polish and personality.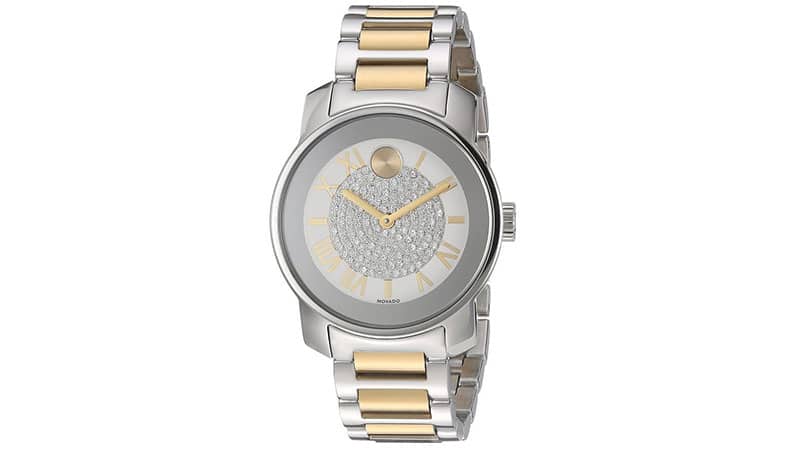 7. Movado Women's 3600194 Bold Analog Display Swiss Quartz Silver Watch
Movado's 3600194 Bold Silver Watch may be minimalistic, but it'll certainly make a statement on your wrist. The contemporary and chic design features a prominent 34mm case with a contrasting slim bracelet. As such, its simplistic yet striking dial stands out in an amazing way. Whether you wear it daily to the office or save it for special occasions, this lovely timepiece is sure to garner you countless compliments.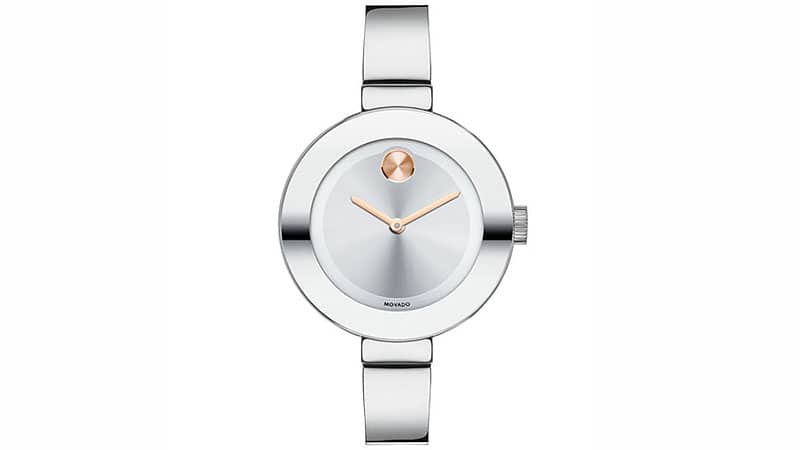 8. Movado Women's 3600085 Bold Gold-Tone Watch
If you prefer an all-gold watch design over silver or two-tone styles, Movado has something for you too. In particular, the brand's 3600085 Bold Gold-Tone Watch is a seriously chic choice. The gold-plated stainless steel watch features a generous 36.4mm case with a tonal dial and hands. The sleek design also features Movado's signature single dot at 12 o'clock and a classically styled, linked bracelet.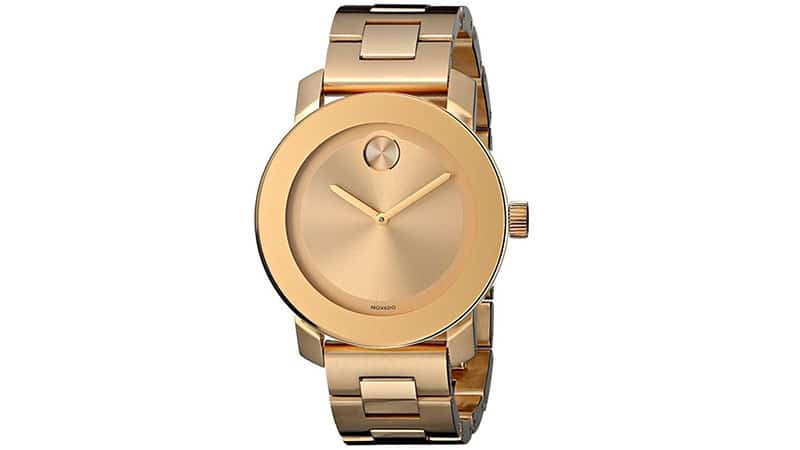 9. Movado Women's 3600245 Two-Tone Stainless Steel Watch
While Movado's women's watches are often delicate, they can also be bold and strong. The 3600245 Two-Tone Stainless Steel Watch is one such design and features a sophisticated yet impactful appearance. The impressive timepiece boasts a 32mm stainless steel case with a round, silver-tone sunray dial. Its dial features stylish and smart Roman numeral indices and the brand's dot logo in a gold-tone finish.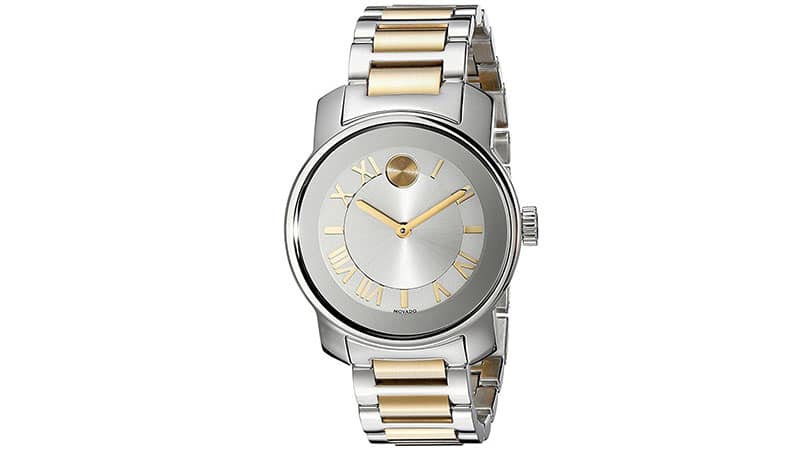 10. Movado Women's 3600334 Swiss Quartz Silver-Tone Stainless Steel Watch
Although Movado's signature dot is usually simplistic, the 3600334 Watch features a much bolder design. As such, ladies who like a minimalistic yet luxurious timepiece will love this style. The watch, which features the standard Movado circle at the 12 o'clock position, has one significant difference. The dot is inset with crystals. These crystals combined with the timepiece's sharp, silver-tone aesthetic results in an understated yet utterly glamorous appearance.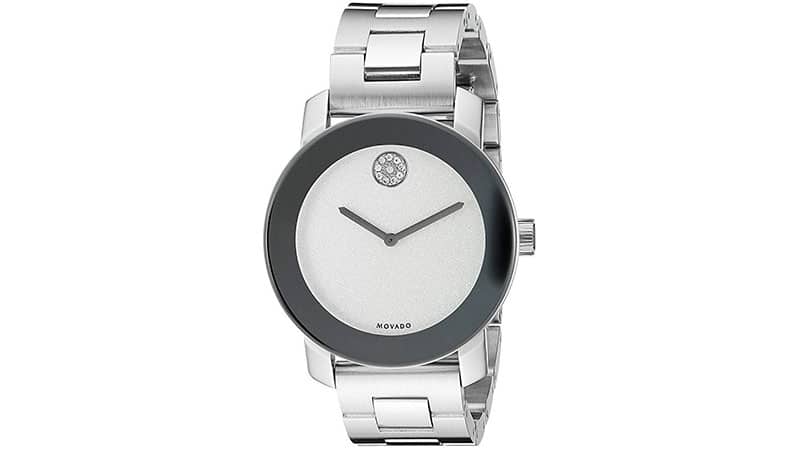 11. Movado Women's 0606609 Miri Gold-Plated Stainless Steel Bracelet Watch
The Movado Miri Watch is as elegant as it is unique. The chic women's timepiece features a polished, 18-karat gold plated stainless steel bracelet and an eye-catching tonneau case. It also boasts diamond accents along with the bezel and a mother-of-pearl dial. It's thanks to these outstanding elements that the Miri is a shining and lust-worthy watch. Add it to your collection today for an injection of brilliant Movado style into your accessories wardrobe.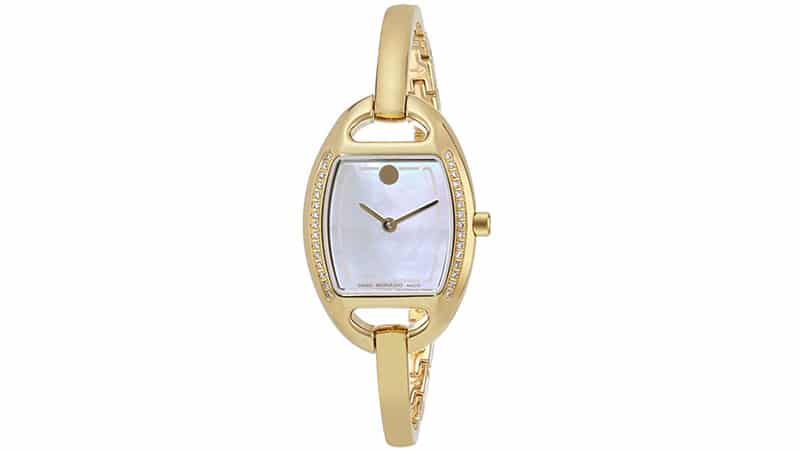 12. Movado Women's 0606877 Museum Classic Analog Display Swiss Quartz Black Watch
If you're looking for a Movado watch that's functional and fashionable, then the 0606877 Museum Classic watch is for you. The stylish design bypasses the bangle and bracelet styles of many other Movado watches and instead features a black calfskin strap. As such, the 0606877 is comfortable to wear on your wrist and can easily partner with both casual and more formal outfits.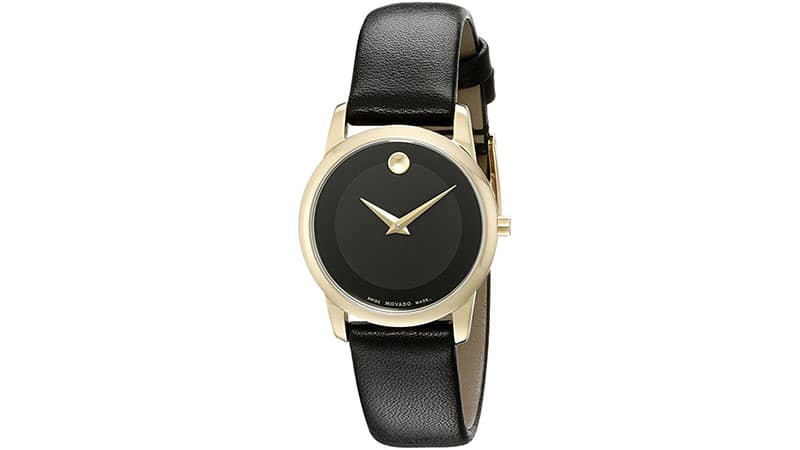 FAQs
Is Movado a luxury watch?
Movado is a luxury watch brand that has been making beautiful Swiss watches of the highest quality since 1881.
Where is the Movado watch made?
The manufacturing facilities for Movado watches are based in Switzerland, while they have head offices in both New Jersey, USA, and Bienne, Switzerland.
What is so special about Movado watches?
Movado watches are special because they're luxury Swiss watches that focus on quality, innovation, and beauty in construction. All their designs feature the signature Movado dot at 12 o'clock and are exceptionally stylish.
Do Movado watches have diamonds?
Some Movado styles do have diamonds as the hour markers, on the bezel, or even on the case.
How can you tell if a Movado is real?
There are a few things to look for to check that a Movado watch is real. The print should be sharp, the logo in capitals, and somewhere on the face it should say "Swiss Made." The watch should also feel heavy for its size and have a logo printed inside the back cover. Look for poor spelling, misplaced logos, and questionable serial numbers. Finally, if the price seems too good to be true, it probably is.
Is Movado waterproof?
Most Movado watches are water-resistant to 3ATM (30 meters), so they can withstand splashes or if you get caught in the rain. However, they should not be purposely worn in the water.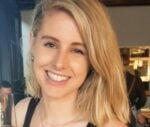 Taylah Brewer holds a bachelor's degree in fashion and business and is a skilled writer with several years of experience in the world of online content creation and copywriting. She is passionate about fashion, beauty, and all things lifestyle-related and has been writing for The Trend Spotter since 2016. She currently works as the Head of Digital & Ecommerce at White & Co.
SUBSCRIBE TO OUR NEWSLETTER
Subscribe to our mailing list and get interesting stuff and updates to your email inbox.