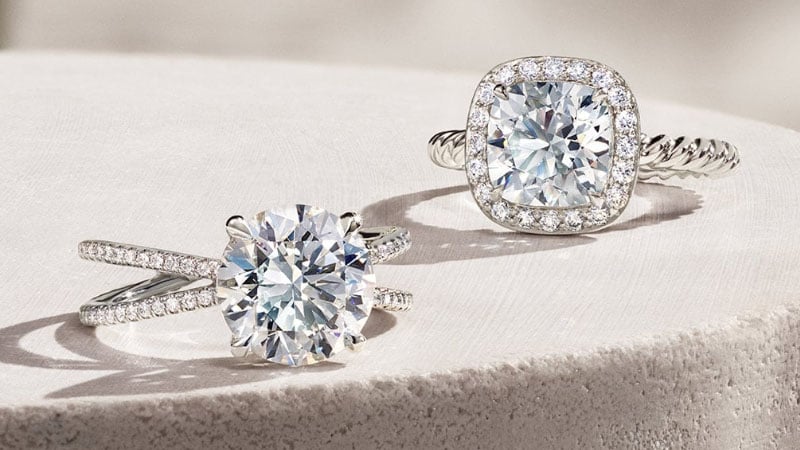 Getting engaged is one of the most special and memorable moments in life. And the perfect ring is the cherry on top! However, with so many styles and designs out there, it can be hard to know what you should choose. The old rules have gone out the window – today, it's all about the individual and the engagement ring that reflects their style, taste, and values. There is also a sparkler out there for every budget. So if you're planning to propose – or need to give your other half some ideas on what to buy – keep reading our guide to every engagement ring styles.
RELATED: 30 Engagement Ring Styles You Need to Know
1. Solitaire
A solitaire is the most classic and traditional engagement ring style. The name solitaire comes from there only being one stone in the design. A solitaire diamond is often mounted on a simple band with a prong or claw setting to show off its beauty. If you have a simple and elegant style, the solitaire is an excellent choice for you. It's also the type of ring that stands the test of time and never goes out of fashion, so you know you'll always love it.
2. Cluster
Cluster settings combine many smaller stones to create the same effect as a larger diamond. For that reason, they are also called 'illusion' rings. That makes them a perfect affordable option for an engagement ring. Cluster diamonds are a great way to maximize the sparkle and brilliance without blowing your budget. It's also a versatile option – choose either a traditional circle cluster or a more unique and modern asymmetrical design.
3. Pavé
A beautiful way to personalize an engagement ring is with a pavé setting. The technique involves embedding tiny diamonds – or other gems – into the ring's band. Doing so means the ring catches more light and seems to glow on your finger. A popular choice is to replace some of the diamonds with your partner or child's birthstone, giving the design a unique twist. Pavé rings have a dainty and feminine look and can easily enhance a simple ring.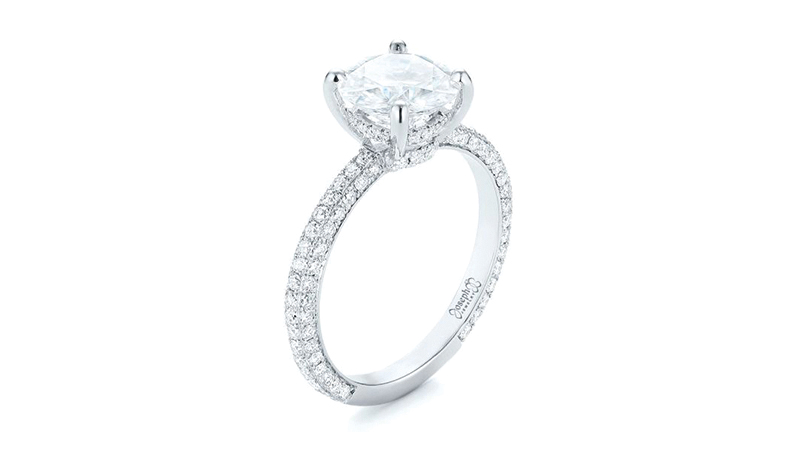 4. Cathedral
The cathedral setting has been popular for decades because of its traditional and elegant style. Its name comes from how the shank and shoulder metal curve up to support the diamond. These curves resemble the arches of a cathedral. They can be set with pavé diamonds for extra sparkle or left plain. Either way, the structure and architectural vibe of the Cathedral style make it a sophisticated choice for an engagement ring.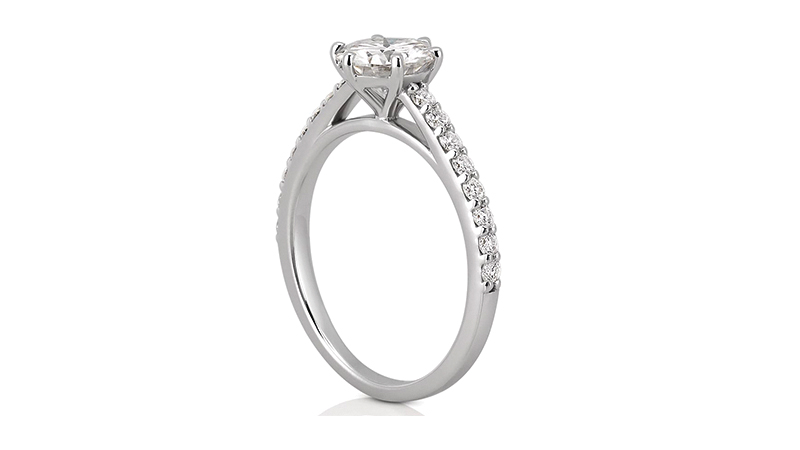 5. Halo
One of the most popular engagement ring styles is the halo. That's because it creates a dazzling shimmer while letting the center stone shine. A row of smaller pavé-set diamonds creates a border or halo around the central stone. The halo stones reflect light onto the center stone, making it seem even more brilliant and sparkly. A halo setting is a gorgeous way to set off a beautiful white diamond or help a more modest stone look larger. It can also provide a stunning contrast if you choose a color gem for the center stone, like a sapphire, ruby, morganite, or pink diamond.
6. Oval Halo
If you want to maximize the size of an engagement ring, the oval halo style is the way to go. Because they are elongated, oval-cut diamonds look bigger than other stones of the same carat weight. Meanwhile, the halo setting provides extra sparkle and adds to the ring's width, again making it appear bigger. However, an oval halo ring won't look too overdone. Instead, it has a regal, vintage look that will make any woman feel like a queen.
7. Shank and Split-Shank Style Ring
One of the easiest ways to customize an engagement ring is by altering the shank – the ring's band. While there are many different designs, the split shank is one of the most popular. The ring's band divides in two on either side of the center stone, leaving a small gap. Where the shank splits can create vastly different designs, a larger division gives a ring an antique feel, especially if it's set with pavé diamonds. Meanwhile, a smaller split is a subtle way to make the center stone look larger.
SHOP: Shank and Split-Shank Rings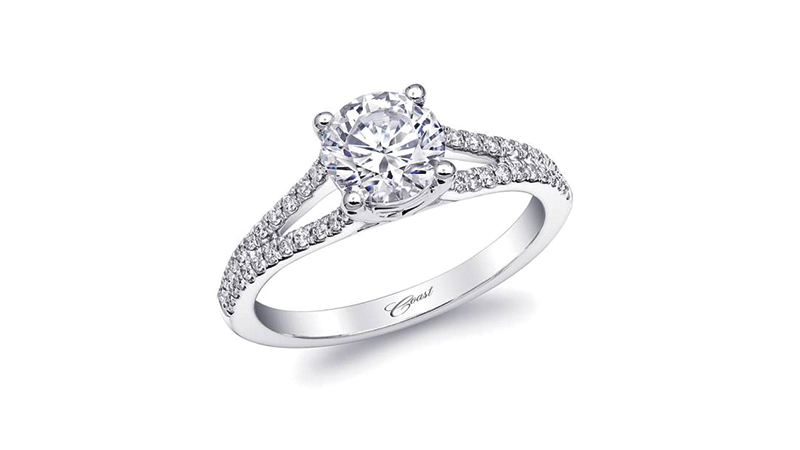 8. Bezel Engagement Ring
The bezel is one of the most secure ring settings. The gem is anchored in place with a metal border instead of raised on prongs. Because there's less risk of the stone being scratched or falling out, the bezel setting is an excellent choice for an engagement ring. While more expensive than prong-set rings, bezel engagement rings don't require as much upkeep. That is because there are no claws that need to be checked or tightened as time goes on. However, less light will be able to penetrate the center stone so it may also appear smaller.
9. Three-Stone Style Ring
Also known as the 'trilogy' style, three-stone engagement rings are an incredibly romantic choice. That's because the three stones are symbolic. They are traditionally said to represent past, present, and future, or you, me, and us. Trilogy rings are very versatile, depending on the stones' size, type, and shape. One popular option is to have a large center diamond with two smaller flanking stones or three mid-size stones of equal size. A modern take on the trilogy style is to use a color gem as the center stone and accent it with diamonds. Whatever you decide, this design is as meaningful as it is beautiful.
10. Double Diamond Ring
What's better than one diamond? Two! The double diamond style has returned to fashion recently due to its popularity with celebrities. The two stones represent you and your partner, joined together for eternity. While the traditional design is two diamonds of the same shape and size, an on-trend and modern take is to choose contrasting stones. Square and pear is a unique combination, as is round and trillion.
11. Eternity Band Engagement Ring
The eternity band is the ultimate symbol of everlasting love. The ring's band is formed from an unbroken chain of diamonds that are connected forever. The diamonds on an eternity band can be pavé, channel or French set, depending on the wearer's style. Traditionally, a separate eternity ring is given either on a significant wedding anniversary or on the birth of a couple's first child. However, some couples choose to put their spin on this gift and upgrade the bride's engagement ring with an eternity band instead.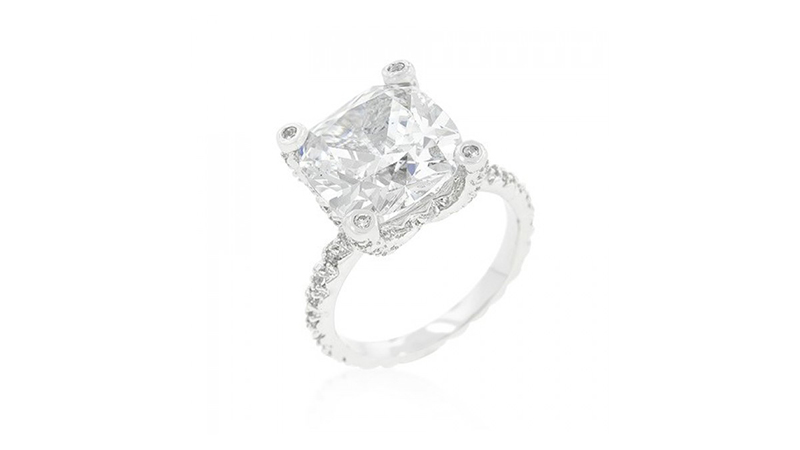 12. Flush Setting Ring
A super sleek engagement ring option is a flush setting. The diamond is set inside the band in this design, so its surface doesn't protrude out. Not only is this a chic and understated ring style, but it's also extremely secure as the diamond is hammered into place. Flush-setting rings are the perfect choice for someone who leads an active lifestyle and has an understated sense of style. The design is also very popular with men, so it could be the ideal choice for when you propose to your Prince Charming.
13. Tension Setting Engagement Ring
A unique engagement ring design is the tension-setting style. Instead of using prongs or a bezel to secure the stone in place, pressure holds it between two halves of the shank. Hidden spring loading and grooves carved into the metal keep the stone still and secure. As a result, it appears to be suspended on its own, giving this ring style a fascinating visual effect. If you love the look of a tension-set engagement ring, remember that the process is only suitable for tough stones like diamond, sapphire, ruby, and moissanite. The tension setting process is also completely customized to each stone, so you must select your gem first and then have the ring custom-made. Resizing is also very difficult in this setting.
SHOP: Tension Setting Engagement Rings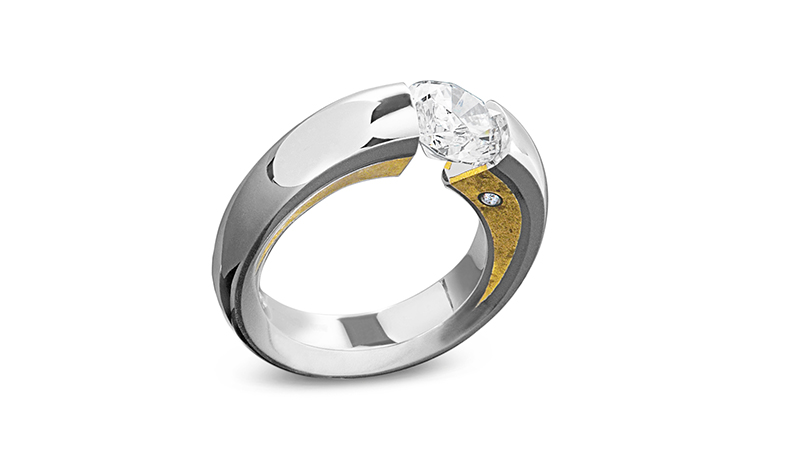 14. Baroque Engagement Ring
Baroque jewelry is known for being elaborate, artistic, and decorative. When it comes to engagement rings, look for unique, nature-inspired patterns and an antique feel with a lot of intricate detail. Micro-pavé and pavé elements combine with larger diamonds, clusters, and halos to create a truly dramatic finish. The Baroque engagement ring is ideal for those with a one-of-a-kind, maximalist style with a passion for all things vintage.
SHOP: Baroque Engagement Rings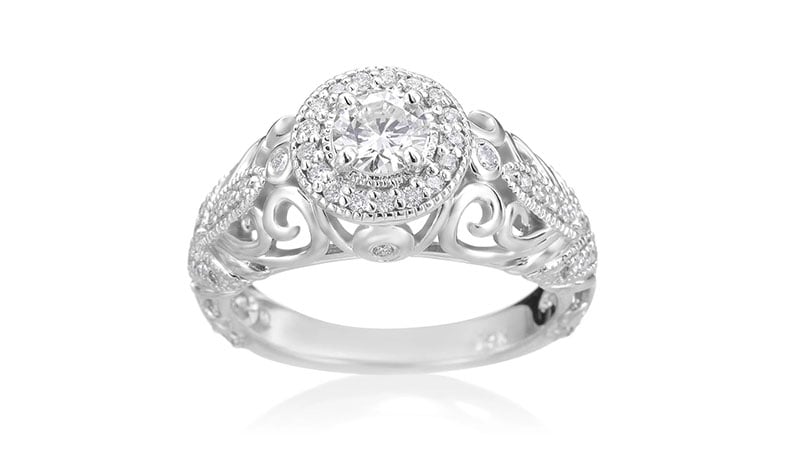 15. Channel Setting Engagement Ring
Similar to pavé setting, channel setting involves decorating the band of an engagement ring with smaller diamonds. However, instead of having each stone set into the metal individually, the jeweler creates a groove. The diamonds are placed next to each other in a row within this channel. The final effect has a classic elegance, and the channels of diamonds draw the eye along the ring toward the center stone. Channel setting is also a very secure technique – although this ring style is a little trickier to clean and repair than other designs.
SHOP: Channel Setting Engagement Rings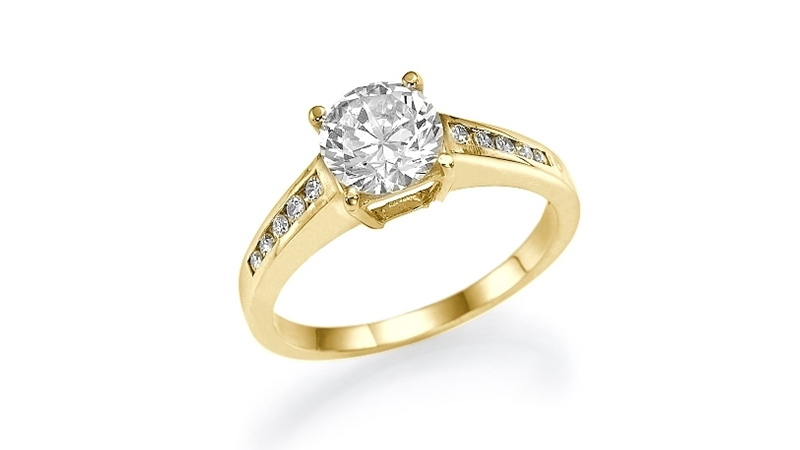 16. Swirl Engagement Ring
A beautiful and unique design is the swirl engagement ring. The design combines a bypass shank with a round-cut center stone to create a fluid effect. Because it looks like the two ends of the shank don't uniformly meet the stone, it seems as though the metal is swirling or flowing around it. The setting can also look like two hands cupping the center stone. As a result, the swirl engagement ring is often said to symbolize two halves becoming whole. A ring of this type has an intriguing movement to it that's not common in other rings and makes it stand out from the crowd.
17. Bombe Engagement Ring
Nothing beats a bombe for those wanting a genuinely unusual and dramatic engagement ring. A curved shape defines this Art Deco style; its name comes from the French word bombée, which means 'domed.' Because they use more metal than other styles, a bombe engagement ring is usually flush or French-set with many stones of different sizes to create a clustered effect. A combination of diamonds and colored gems like sapphires and rubies is a standout choice for a bombe ring.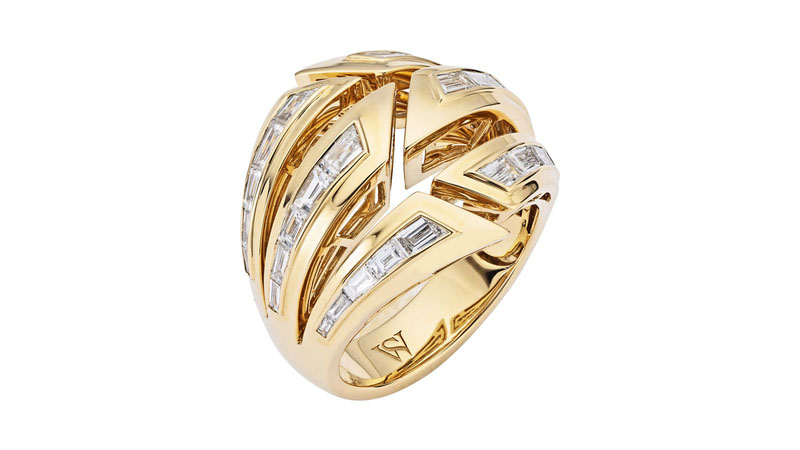 18. Color-Accent Ring
Accent stones are the perfect complement to a diamond engagement ring, giving the piece a unique and personal feel. As pink diamonds are far more expensive than white, many couples choose to accent a white diamond center stone with smaller pinks. The ring then hints at its standout color for a fraction of the price. Meanwhile, others choose to accent a diamond ring with birthstones or gems representing their other half's favorite color to make the engagement more special.
19. Single Coloured Stone Engagement Ring
While many of us see the white diamond as the traditional engagement ring stone, the trend only became common in the 1940s. Before that, it was far more common to propose with colored gems. Today, many people are embracing the older tradition. There are several reasons for this; firstly, colored stones can be far more affordable than diamonds. Secondly, you can create unique and personal designs that fit your sense of style. And finally, you know your ring won't look like anyone else's. Some popular colored stones for engagement rings include blue and teal sapphires, rubies, emeralds, and morganite. Bear in mind that if you do choose a colored stone, it may not be as hard as a diamond so that it could be damaged more easily.
SHOP: Single Coloured Stone Engagement Ring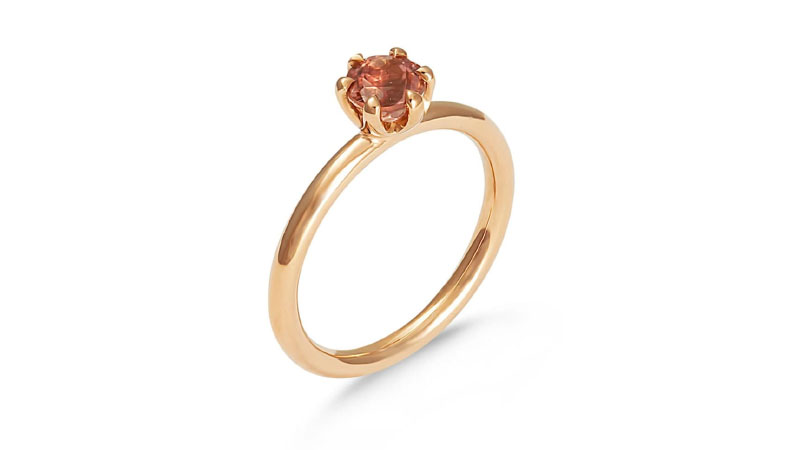 20. Acrostic Engagement Ring
Acrostic jewelry first became popular in the 19th century. Each gem was assigned a letter of the alphabet – amethyst for A, blue topaz for B, and so on. As a result, people could send secret messages to each other just by wearing their jewelry pieces. Therefore, those who desire a meaningful engagement ring could use this secret language to represent their loved one's initials or spell a word like 'love.' Who could resist such a romantic ring?
SHOP: Acrostic Engagement Rings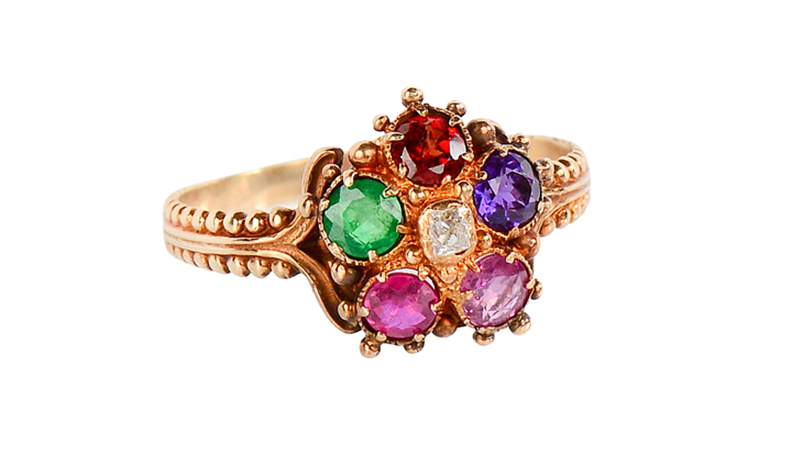 21. Vintage Art Deco Style Engagement Ring
Vintage jewelry is usually defined as being more than 30 years old. Regarding vintage engagement rings, pieces from the Art Deco era – the 1920s and '30s – have become very popular. Not only are these rings beautifully crafted, but they've also stood the test of time. Bold, geometric, and unapologetically dramatic, an Art Deco piece makes a statement. Old-school glamour and fashion lovers will adore a vintage engagement ring from this period.
22. Vintage Edwardian Ring
Edwardian jewelry is all about delicate details, with lacy filigree designs, fine chains, and floral motifs combined to create a very feminine finish. When it comes to vintage engagement rings from 1901 to 1910, you'll find lots of romantic elements. Think flower-inspired clusters and unusual diamond cuts, like rose and old mine, rather than more modern styles like a princess or round brilliant. Colored center stones were also more common in this period, so that you may discover ruby and sapphire engagement rings or even opal, topaz, and zircon.
23. Ballerina Engagement Ring
Inspired by the shape of a tutu, the ballerina is one of the most eye-catching engagement ring styles. A type of cluster ring, the design sees the center stone flanked by a fan of baguette diamonds. To mimic the look of a dancer's costume even more closely, the halo diamonds can also be tapered to create the illusion of a swirling movement. The style dates back to the 1950s and is coming back into fashion due to its striking appearance.
SHOP: Ballerina Engagement Rings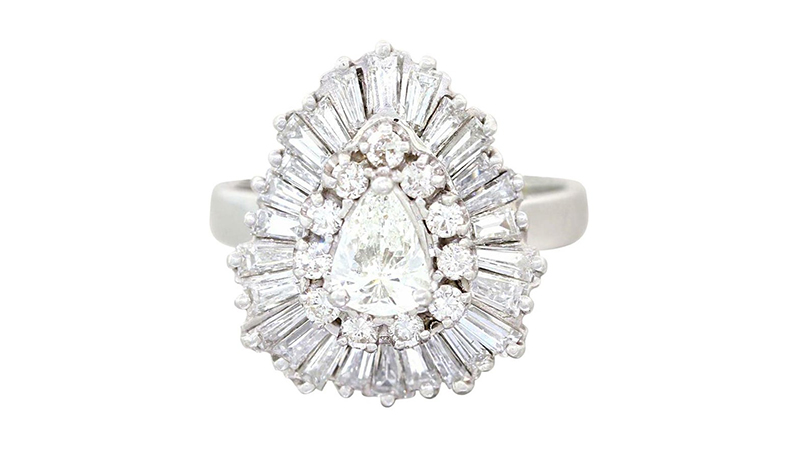 24. Art Nouveau Ring
Art Nouveau was a movement that began at the end of the 19th century. Inspired by nature, artists in this style would use free-flowing, fluid lines and intertwining patterns mimicking plants and animals. Jewelry from this time follows the same principles. Art Nouveau jewelry frequently used gems like moonstone, lapis lazuli, pearl, and opal. While it can be hard to find genuine vintage engagement rings from the period, many jewelers today create beautiful pieces using the same techniques and designs. If you'd prefer a non-traditional stone in your engagement ring, check its hardness to see if it's suitable for everyday wear. Some gems, like pearls, can be easily damaged by perfume and rough surfaces, while opals can't be exposed to water.
25. Etched Engagement Ring
The etching technique is a great way to personalize an engagement ring. It involves using chemicals to selectively wear away the metal of the shank, leaving unique patterns and shapes. Swirls, rope, and leaves are popular design choices, giving the piece a soft and feminine look. Etched engagement rings are also frequently combined with milgrain, which creates a tiny beaded border around the edges of the metal to create a stunning vintage effect.
26. Modern Contemporary Style Ring
For those brides-to-be who are all about fashion, an on-trend, and head-turning engagement ring is a must. Traditional and conventional bands won't suit their style. Instead, an unusual modern and contemporary design – while still being romantic and elegant – is a perfect choice. Wraparound rings (also called serpentine rings), decorated with white diamonds, put a fresh twist on the classic engagement stone by featuring it in a high-fashion setting.
SHOP: Modern Contemporary Style Rings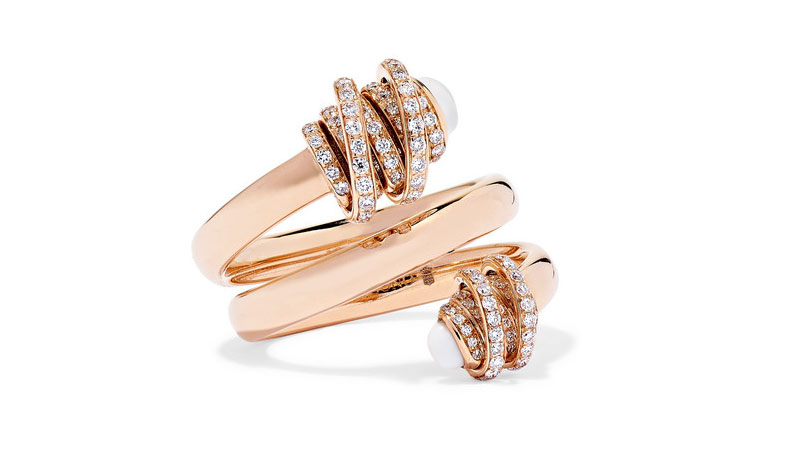 27. Geometric Engagement Ring
Geometric engagement rings feature angular shapes like squares and triangles to create a statement jewelry piece. The style is all about clean lines and sharp edges, enhancing the shine and brilliance of the stone. A geometric design accentuates a diamond's unusual cut or shape, like a trillion. The appeal of a geometric engagement ring is that it's unexpected. The classic ring is soft and round, whereas a geometric one has a bold attitude and isn't afraid to stand out.
SHOP: Geometric Engagement Rings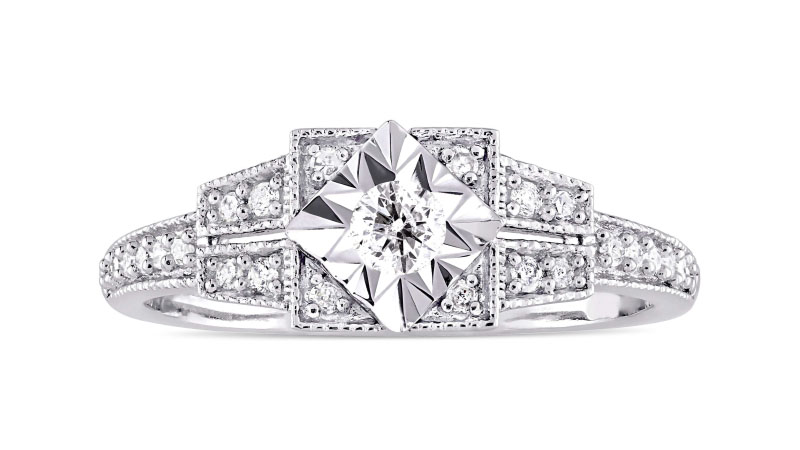 28. Minimalist Engagement Ring
Your engagement ring should be the same if you wear understated, minimalist jewelry daily. A fine, thin band in a classic metal like yellow gold, rose gold or platinum and a solitaire diamond creates a beautifully simple finish. There are many benefits to choosing a minimalist ring. It is perfect for stacking with other dainty jewelry, is easy to clean and repair, and will always be comfortable to wear. Not to mention, minimalist rings never go out of style.
SHOP: Minimalist Engagement Rings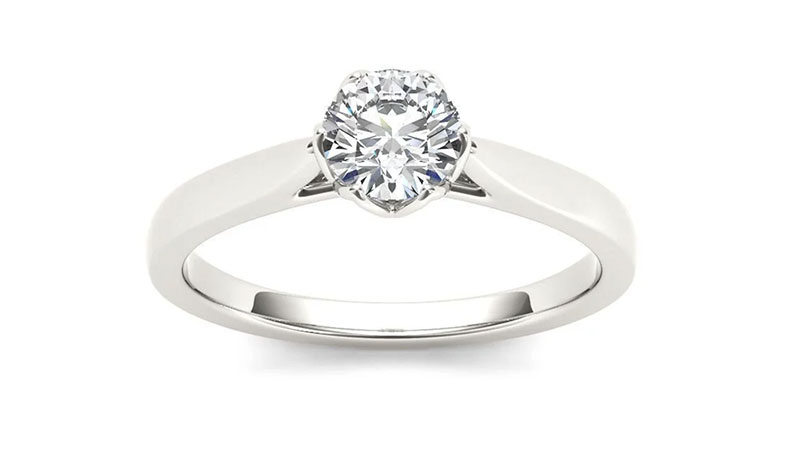 29. Suspended Diamond Ring
Like a tension ring, a suspended diamond ring also gives the illusion of a hovering stone. However, the suspended ring sits above the shank, creating a platform effect rather than being placed between two ends of the shank. A suspended ring is a subtle design, but it creates an intriguing sense of drama when viewed from the side. It's an interesting style that can be combined with a claw setting or cathedral, so it's adaptable.
30. Shaped Band Ring
Shaped bands are currently a big trend in engagement rings. One of the most popular is the chevron style. The shank is formed into a triangular point, with a pear-shaped diamond connected to the tip to create a teardrop effect. The ring style creates harmony between the stone and the band, bringing the two together in symmetry. As a result, some consider it a representation of two people who are a perfect fit for each other. It's also modern and even more striking when paired with a shaped wedding band.
Engagement Ring Styles FAQs
What is the most popular engagement ring style?
There are several popular engagement ring styles, but among them is the solitaire diamond cut ring. This is perhaps the most classic and traditional option and often features a single stone, mounted with a claw setting on a simple band. It is a timeless option and something that can be passed down from generation to generation.
How do I choose an engagement ring style?
When deciding on an engagement style, you want to keep a few things in mind. First, decide on the shape and the stone cut you wish to get. Decide on the metal for the band, such as gold or silver, and how many carats you want your stone to be. Do you want an emerald or a diamond, or perhaps some other gem? Will you be pairing it with a wedding ring, and if so, will the two rings go together? And the most important decision is the size, make sure that it is sized correctly. Your budget will also determine your chosen ring.
How many carats should an engagement ring be?
Your budget will determine how many carats you can afford, and not everyone wants a massive diamond on their finger. In general, an engagement ring is around 1 to 2 carats. The center stone is usually 1 carat and can be accompanied by smaller stones.
What is the latest trend in engagement rings?
Traditional and classic engagement rings are great, but there is also a shift towards more personalized designs. Custom designs and alternative rings are increasing in popularity as people try to tailor their jewelry to suit their loved ones' preferences. Other trends include band-style rings and small side stones. Many people are also shopping online instead of in jewelry boutiques, where they can easily price check items and choose from a wide variety of styles in the comfort of their own homes.
How much should I spend on an engagement ring?
An engagement ring is an expression of love and commitment, and it doesn't have to cost a small fortune to be meaningful. That said, it is often recommended to spend two months' salary on an engagement ring. This price will differ from person to person.
When should you give an engagement ring?
Is there really a right time to give an engagement ring? The decision is based purely on your relationship and what feels right for you. If you and your partner have discussed marriage, and the decision does not come out of anywhere, then there is no set time. As a guideline, though, many people tend to wait around a year to three years before getting engaged.
Do couples pick out engagement rings together?
Traditionally, the engagement ring is picked by the man and is gifted when he proposes. It is usually a surprise and takes a bit of research to ensure he chooses the perfect ring and the correct sizing. You do not have to go the traditional route, though, and many modern couples end up buying rings together. This can take a lot of pressure off the individual purchasing the ring and ensure no unwanted surprises in terms of sizing.
SUBSCRIBE TO OUR NEWSLETTER
Subscribe to our mailing list and get interesting stuff and updates to your email inbox.