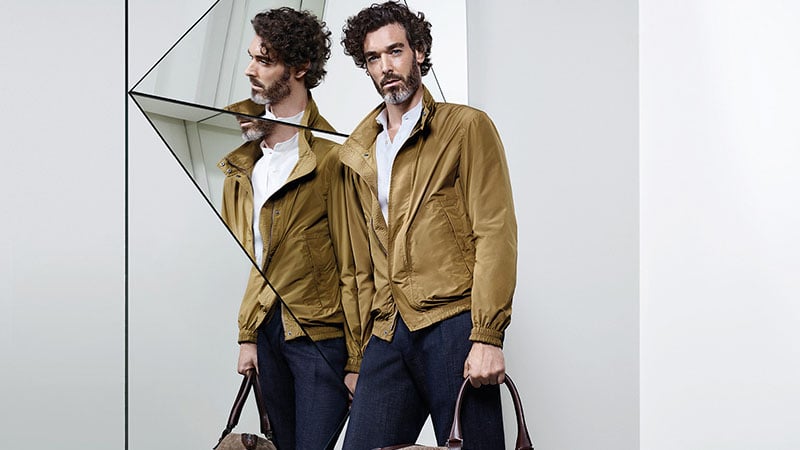 A jacket's purpose may be to keep you warm in cold weather, but that's not all they do. As well as protecting you from the icy air, rain and wind, a jacket can also complete your outfit and showcase your personality. Of course, choosing the right style is essential, which is not an easy task with so many options available. Luckily, we're here to help make your choice simple and straightforward. Here, we've rounded up a selection of the best jackets for men.
1. Bomber Jacket
A bomber jacket is a short and durable jacket featuring a fitted or elastic waist and cuffs. Also known as a flight jacket, the style was initially worn by flight crew members of the US Air Force. Today, however, the bomber is a favorite amongst men of all occupations thanks to its stylish and casual appearance. Pick one up in leather, nylon, or wool for a rugged look that works perfectly on the weekend.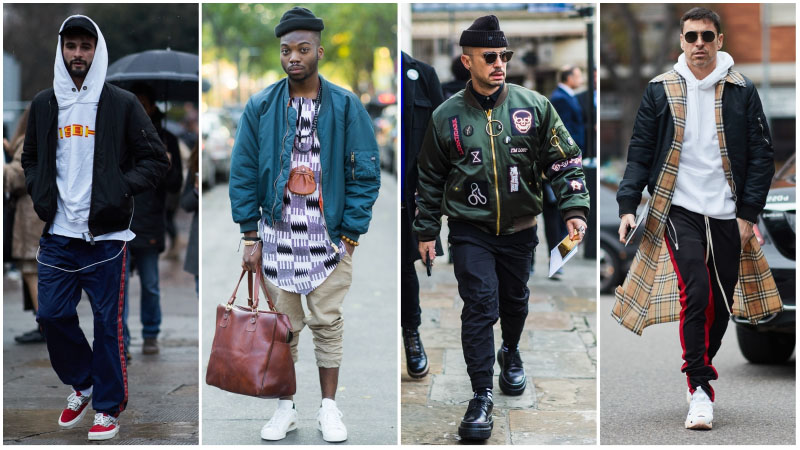 SHOP THE LOOK
2. Biker Jacket
You don't need a motorcycle to rock an awesome biker jacket. You just need the right attitude. So, if you're looking to showcase your rebellious spirit, try swapping you preppy blazer for a rugged biker jacket instead. These short, close-fitting jackets are typically made from black leather and feature silver hardware, such as zips and studs. So, they're perfect for adding a little edge to your look.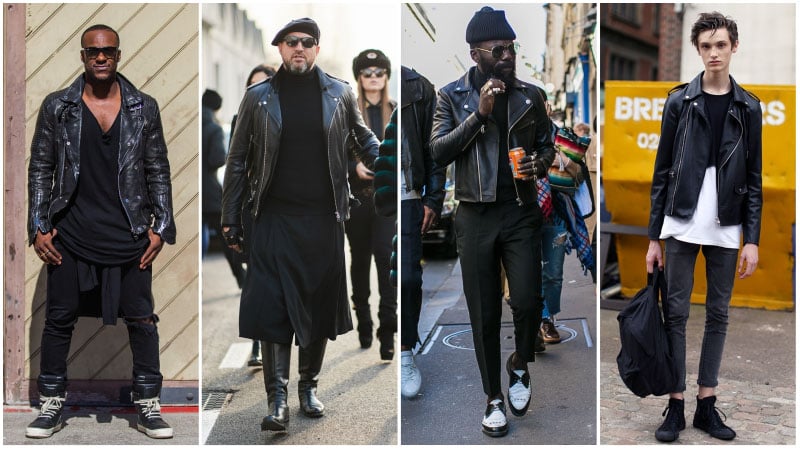 SHOP THE LOOK
3. Trucker Jacket
Made iconic by Levi's, the trucker jacket has long been a favorite amongst men. The style, which is short and fitted, is recognizable by its button front and double chest pockets. It is most commonly featured in blue denim. However, other options do exist, such as different colors like brown and black, suede styles, shearling-trimmed designs, and more. But, no matter which option you choose, the trucker will always make an excellent casual jacket.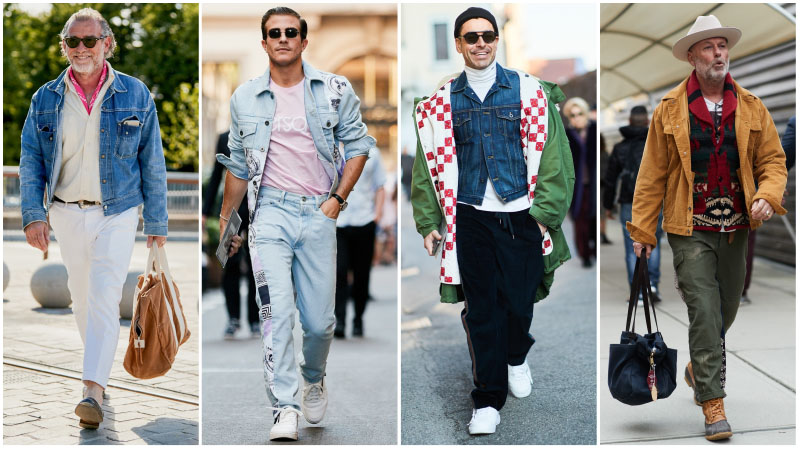 SHOP THE LOOK
4. Denim Jacket
The denim jacket is a timelessly cool style for men. So, if you don't already own one, now's the time to invest. As well as looking great, denim jackets are also durable and versatile. While they are perfect as daytime jackets for spring and autumn, denim designs can also work during summer and winter. In summer, wear one at night with a T-shirt, chinos, and sneakers. In winter, pair one with a rollneck sweater, overcoat, trousers, and boots.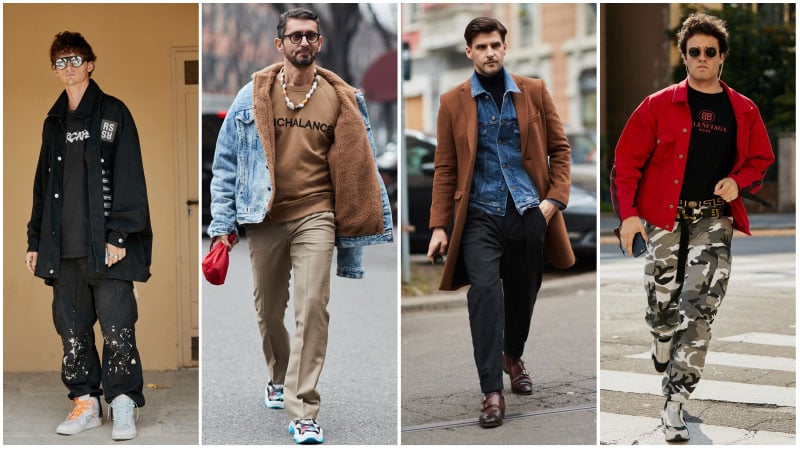 SHOP THE LOOK
5. Track Jacket
There's no denying that athleisure is one of the most significant trends around today. So, it makes sense that the simple track jacket has hit peak fashionability. Designed for sport but ideal for a variety of occasions, a track jacket is a lightweight and comfortable zip-front outerwear garment. The style typically features ribbed cuffs and waistband and often comes with matching track pants. Of course, if you're not ready for the matching set, you can always team your track jacket with a pair of jeans instead.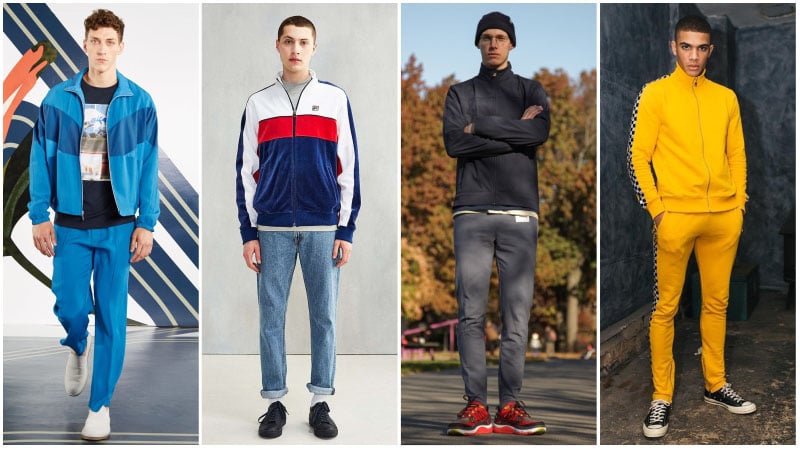 SHOP THE LOOK
6. Blouson Jacket
If you like the look of a bomber jacket, but find the style a little too casual, you should consider opting for a blouson instead. Also known as a Harrington jacket, a blouson is a short outerwear garment with a zip front. The style, which features fitted or elastic cuffs and waistband, is typically more tailored than a bomber and often includes a classic collar. But, like the bomber, it is one of the coolest jackets for men.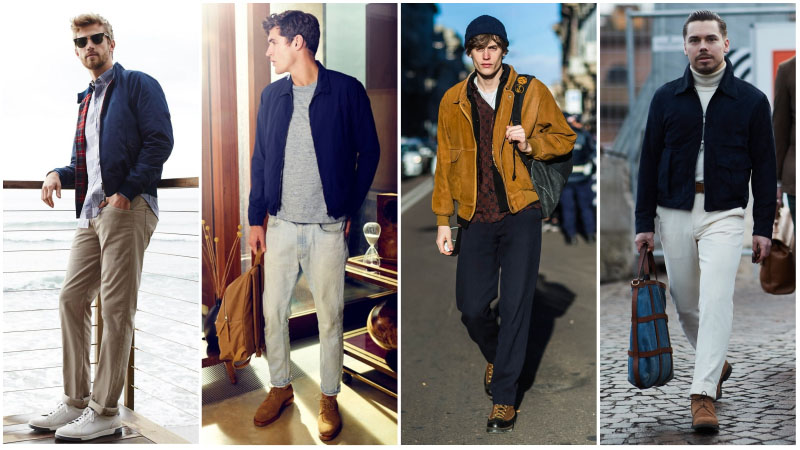 SHOP THE LOOK
7. Hooded Jacket
Hooded jackets are as practical as they are cool. Available in a variety of styles, hooded jackets not only work to keep your hair and face dry when it rains, but also appear casually stylish while doing so. To nail the laid-back look, pick the right type of hoodie for you, be it a simple cotton style, thick puffer, patterned nylon design, or something else.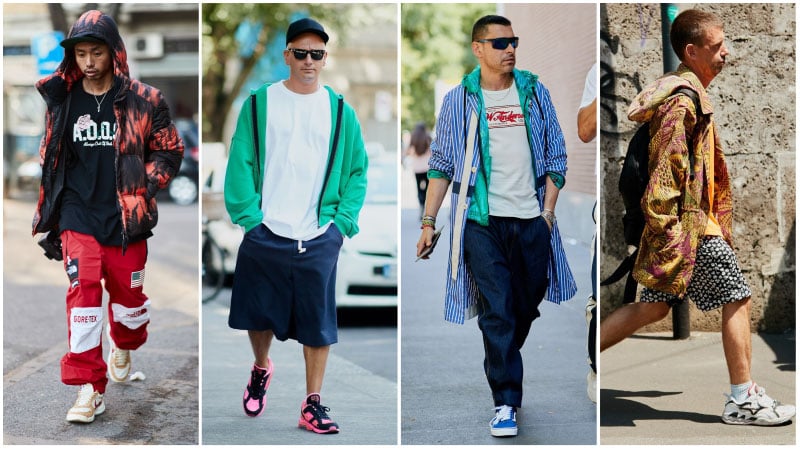 SHOP THE LOOK
8. Overcoat
An overcoat is designed for use over the top of indoor clothing and is a perfect option for staying warm throughout winter. When choosing one, try sticking to timeless shapes and colors as well as thick and warm materials like wool, which will ensure it always gets the job done.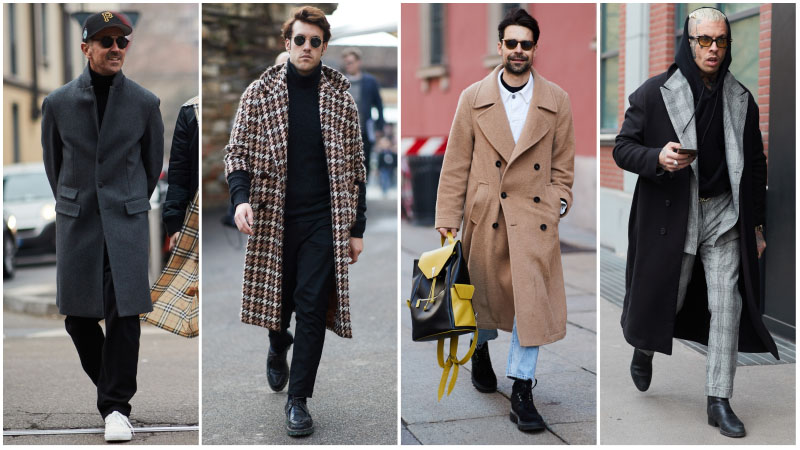 SHOP THE LOOK
9. Parka
Parkas are casual jackets for cold weather. They are often stuffed with down or synthetic fiber and sometimes feature a fur-lined hood. Thanks to their warm and relaxed designs, parkas are perfect for informal winter outings. Just pair one with jeans and sneakers or boots for a stylishly laid-back look.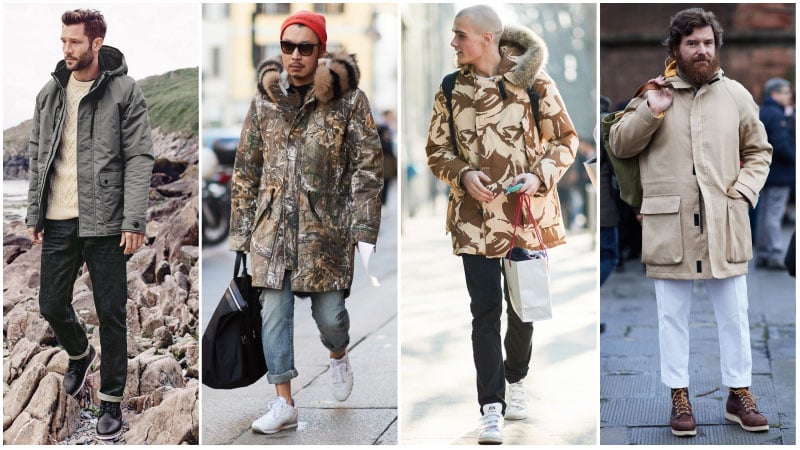 SHOP THE LOOK
10. Peacoat
If you're after a cool and polished appearance, you can't go past a peacoat. Originally worn by sailors but now adopted by men of all sorts, peacoats are short coats with broad lapels and double-breasted fronts. They are traditionally made from heavy, navy wool and feature large buttons and vertical or diagonal pockets.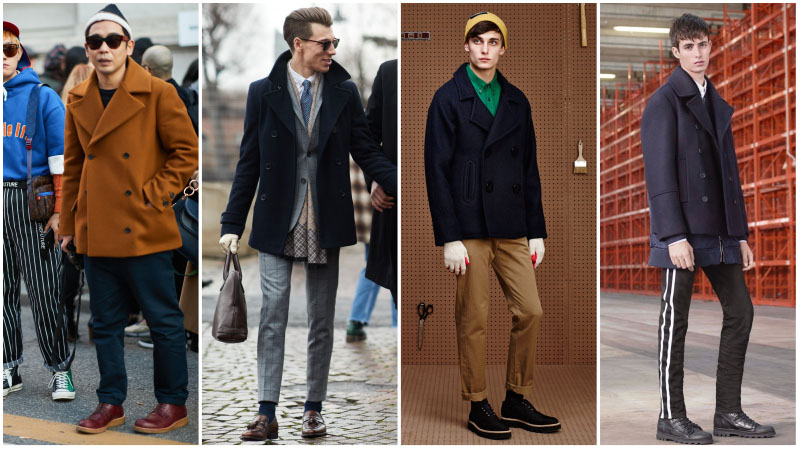 SHOP THE LOOK
11. Trench Coat
Worn by soldiers during the first world war, the trench coat has a rich military history. Today, however, the lightweight yet protective style is a staple for every modern gent. Add one to your wardrobe, and you'll always have a smart coat on hand for brisk autumn days.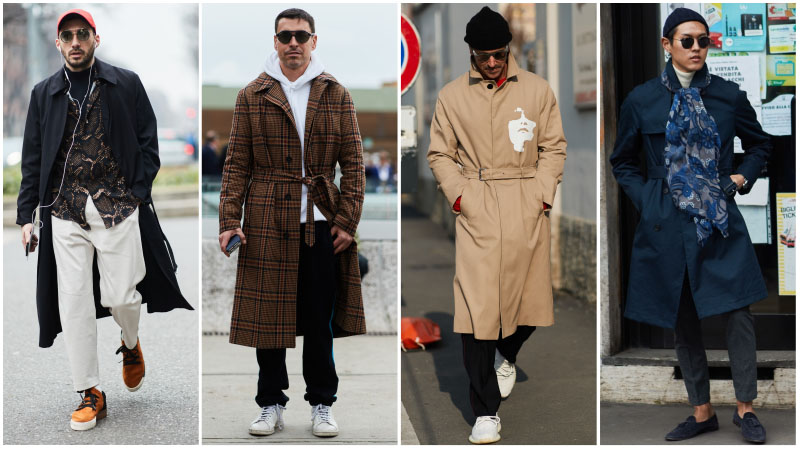 SHOP THE LOOK
12. Raincoat
A raincoat that can withstand wet weather while looking good is essential for every man. All you need to do is select the one that best suits your style. Try sticking to neutral hues and classic collared styles for a polished appearance. Alternatively, for something a little more relaxed and playful, consider a hooded style in a bright color or unique print.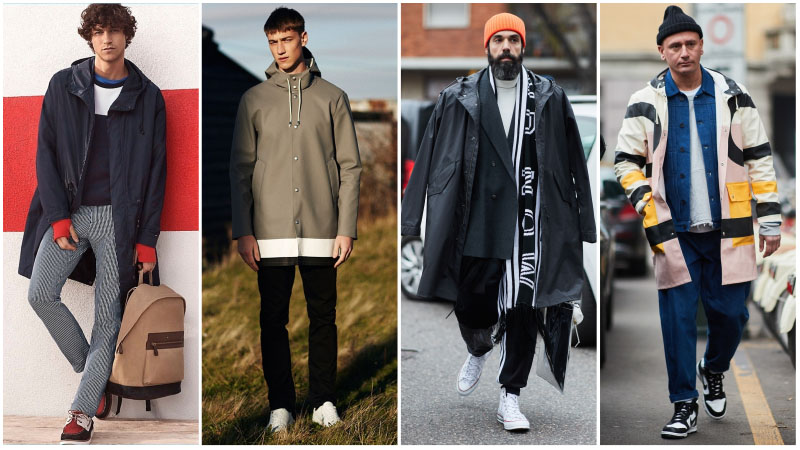 SHOP THE LOOK
13. Shearling Jacket
A shearling jacket is undoubtedly one of the coolest jackets for men. These soft and warm styles feature cozy sheep's wool (either real or synthetic) and are perfect for winter. Pick one up with a brown suede outer for a timeless look you'll love every cold season.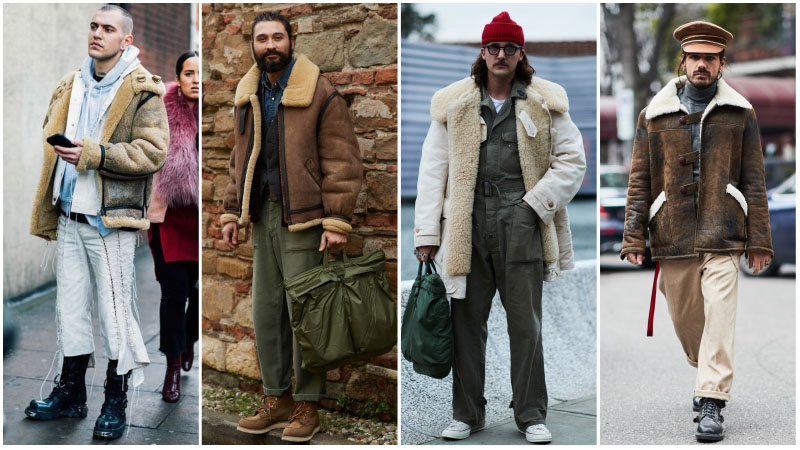 SHOP THE LOOK
14. Anorak
Anoraks and parkas are often confused. However, the two are different. While parkas are typically stuffed and often feature a fur-lined hood, anoraks are lightweight and water-resistant. Generally, anoraks are a pull-over style of jacket with a hood. But there are different options available, including half-zip designs and full-zip styles with a drawstring waist.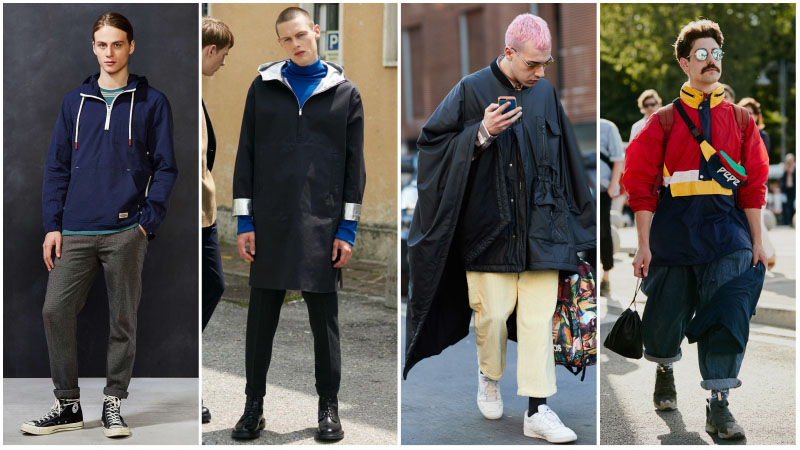 SHOP THE LOOK
15. Crombie Coat
While traditionally, a Crombie coat is a coat from the British brand Crombie, over time, the name has come to encompass any design that resembles the label's iconic three-quarter-length overcoats. In particular, it refers to smart wool coats that feature velvet collars in contrasting colors.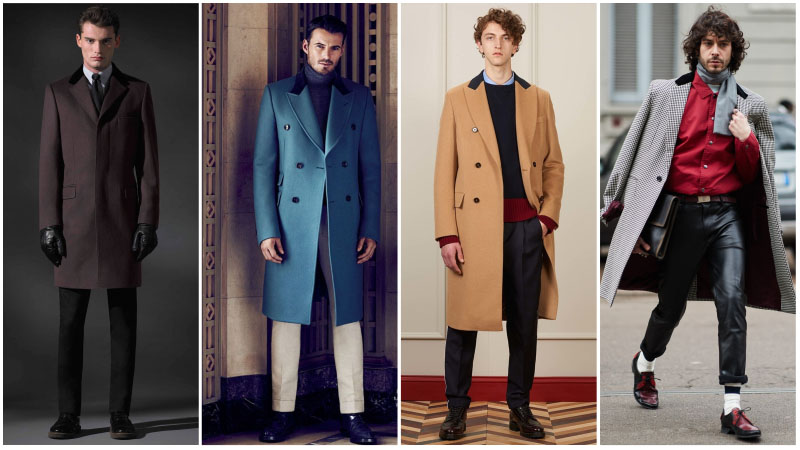 SHOP THE LOOK