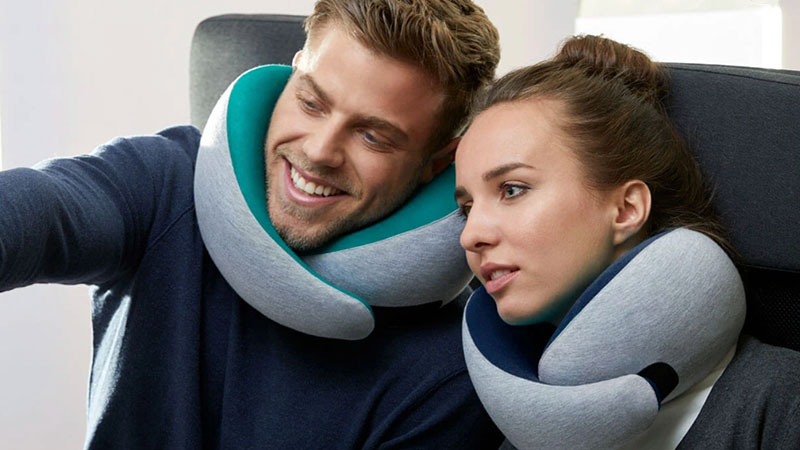 Travel is one of the most rewarding experiences; it is an opportunity to see new places and create lasting memories. That said, many people who have traveled on long-distance economy flights know that these journeys are often uncomfortable and it's almost impossible to get some rest. Falling asleep, only to wake up with a neck cramp because of poor posture, is no joke. Luckily, there are solutions, and travel pillows can help make a flight much more enjoyable. There is a large variety of products on the market, but we've created a list of some of the best to help you get better rest on your next trip.
1. J-Pillow Travel Pillow + Carry Bag
Long-distance travel is not always pleasant, but it can be improved if you have the right travel pillow. The J-Pillow Travel Pillow + Carry Bag is a fantastic invention that has won awards for innovation, including the accolade of best British Invention of the Year 2012/2013. The design will stop the head from dropping forward during sleep, by offering head and chin support, thus making sleep more comfortable on long journeys. Other pros to this product are that it's machine washable and foldable.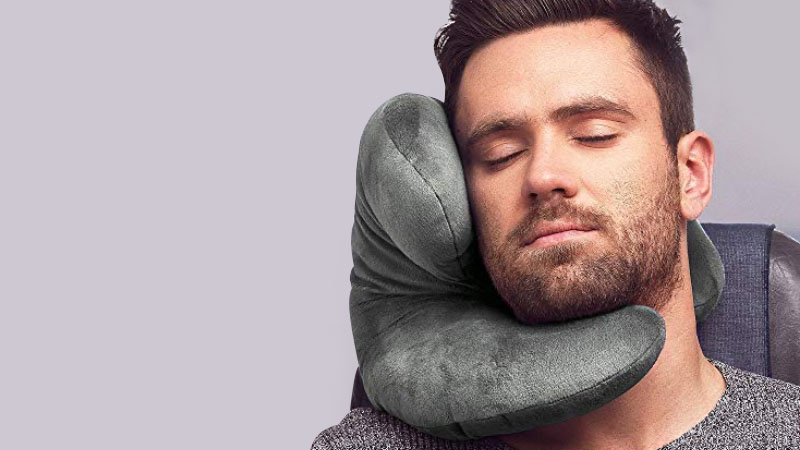 2. Everlasting Comfort Travel Pillow
The Everlasting Comfort Travel Pillow is created using 100 percent pure memory foam without additives. The design focuses on ultimate comfort for the neck, by considering how it often tilts from side to side; therefore, the product has an orthopedic raised lobe which contours on either side. In addition to the smart design, the Everlasting Comfort pillow is also machine washable and super lightweight, making travel more comfortable. Pick from a variety of colors, and benefit from the elastic pocket on the design which can store a cellphone or earbuds.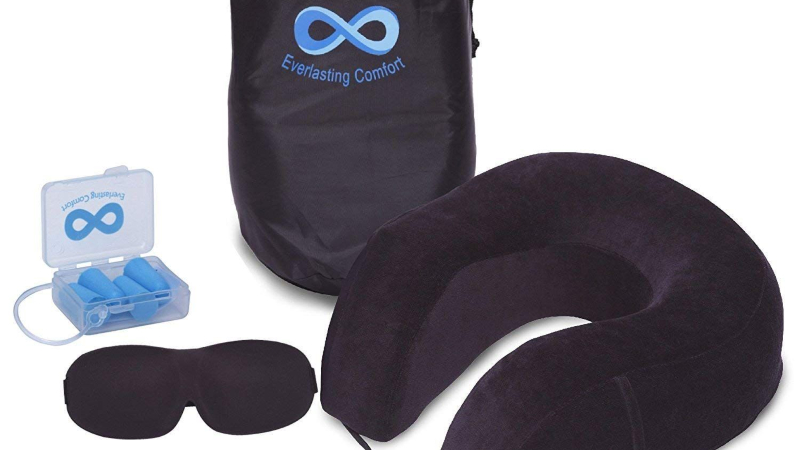 3. Trtl Pillow
Most travel pillows are designed in a U shape, but the Trtl Pillow is not your average product. The design looks more like a scarf, but this is intentional, as the creators feel this shape provides more support, keeping your head in a better position. The Trtl can be adjusted to your comfort, and available in adult or junior sizes. It's super light, weighing only 148 grams, and it can be attached to backpacks for ease of use. Other highlights include the multiple available colors, from your standard black and grey to the more daring aqua and coral shades!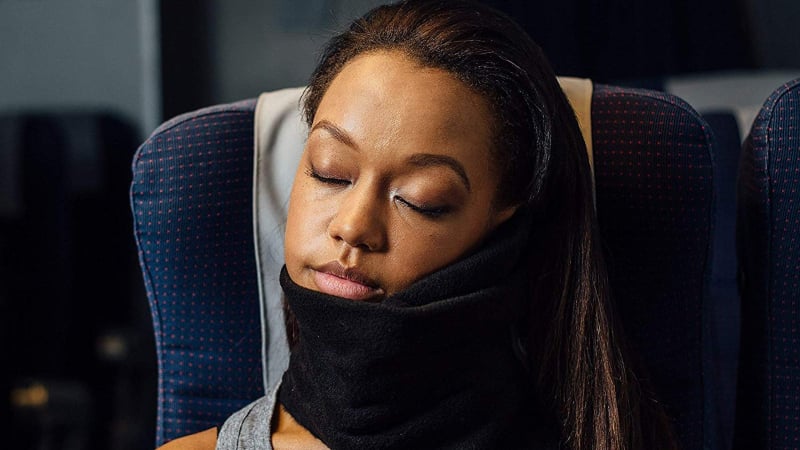 4. BCOZZY Chin Supporting Travel Pillow
When it comes to the BCOZZY Chin Supporting Travel Pillow, the name says it all: you will be cozy! BCOZZY may not look like your standard travel pillow, thanks to the overlapping arms, but the product takes into consideration how our heads tend to fall forward when we sleep, and it is designed to stop this from happening. What makes this one of the best items on the market is that it can be used in multiple ways, depending on your sleeping and comfort preference. It's also super soft, lightweight, and easy to clean!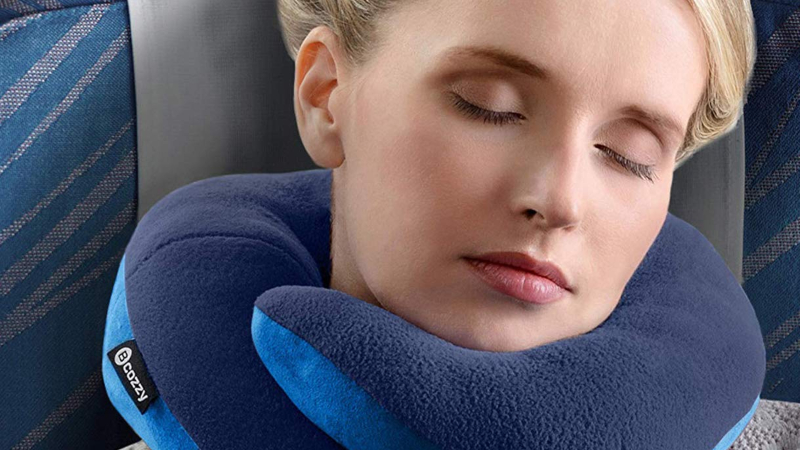 5. Cloudz Dual Comfort Microbead Travel Neck Pillow
Say goodbye to neck cramps with the Cloudz Dual Comfort Microbead Travel Neck Pillow; a product that's been around for more than a decade! The travel cushion is filled with super small polystyrene beads, which can mold to your neck for your comfort. The design is versatile and can also be used for lumbar support, plus it's on the cheaper end of the price range. Let your personality shine with your pattern choice, whether you're a flamingo lover or prefer to show off your patriotism with a national flag design!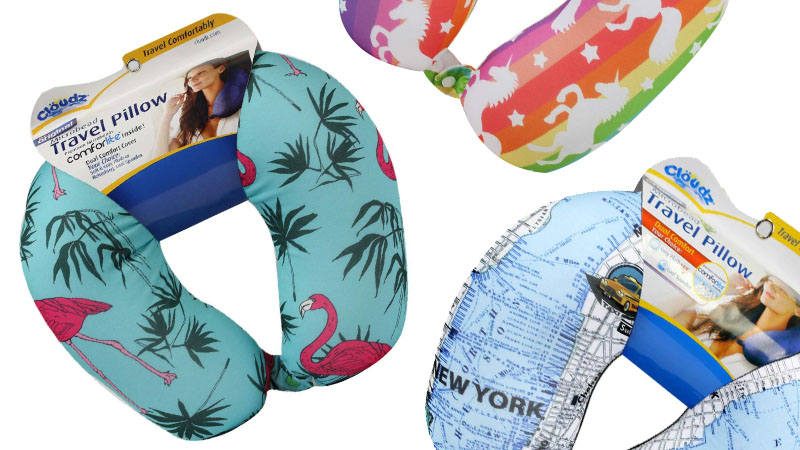 6. Travelrest Ultimate Travel Pillow & Neck Pillow
Most travel pillows are designed around providing head and neck support, but Travelrest Ultimate Travel Pillow & Neck Pillow allows for full lateral support of the upper body. The result is a dramatic increase in the quality of sleep, making you more comfortable and preventing tension and strain in the neck. You can position it across the torso, similar to how you would use a seatbelt. Another pro is that it can deflate, and you need only blow it up with a few breaths; this makes it easy to transport as you don't have to worry about it being bulky or taking up space.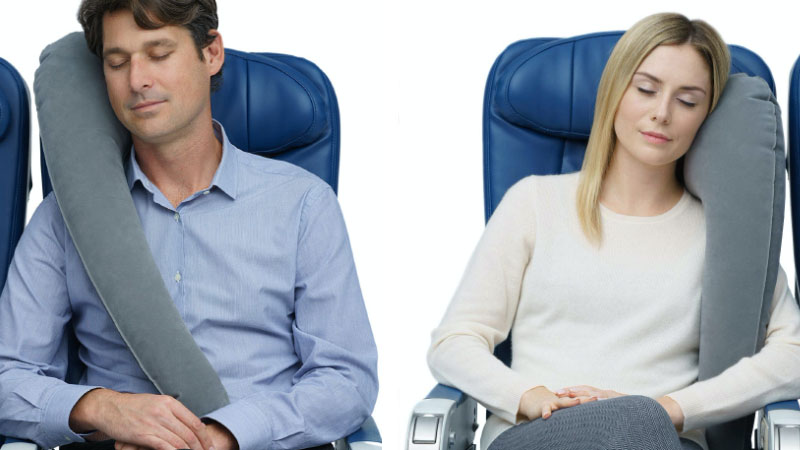 7. Therm-a-Rest Compressible Travel Pillow
Therm-a-Rest Compressible Travel Pillow is the closest design to your standard bed pillow, but it's anything but average. The compressible design makes it very appealing when you are short on space. The Therm-a-Rest is created using soft foam filling that can be packed down and easily transported on your journeys, and when you are ready to use it, the foam filling expands. The product comes in a range of sizes, from small to X-large, as well as many different colors. It is also machine washable and made in the USA.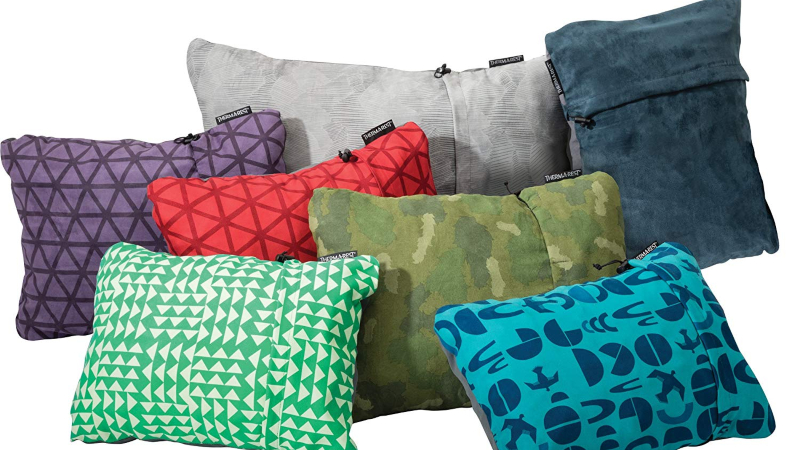 8. Calpak Silk Travel Neck Pillow & Eye Mask Set
You can travel in luxury thanks to the Calpak Silk Travel Neck Pillow & Eye Mask Set. This beautiful set allows you to get some sleep while flying, and wake up looking fresh. How is this possible? Well, because silk is very gentle on the skin and hair. Both the pillow cover and the eye mask are machine washable and close with magnetic closures for ease of use. Another highlight is that it comes with a carrying tote, making it super easy and chic to transport. Choose from five colors, including black, rose gold, and a creamy mustard hue.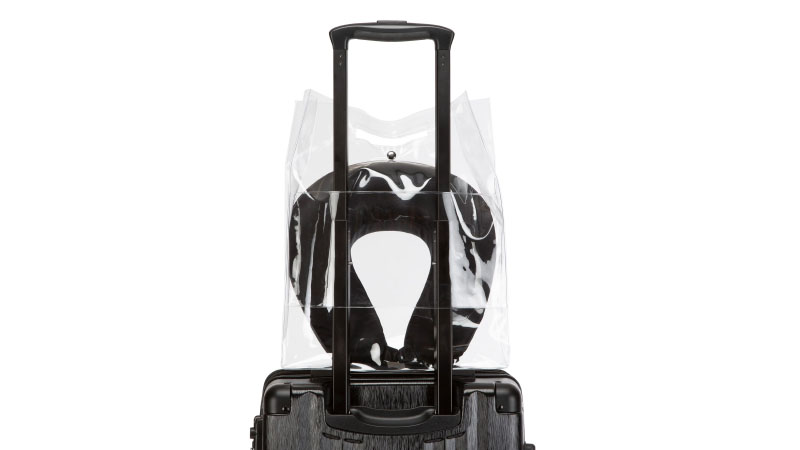 9. Trtl Pillow Plus, Travel Pillow
Trtl is a brand that is dedicated to creating travel pillows that provide the utmost comfort, including the Pillow Plus design. Soft cushioned support allows you to sleep with your neck assisted and ensures it doesn't move downwards or from side to side while trying to get some rest. The product is fully adjustable, allowing you to make changes to the height and to find the best position for your slumber. It is also a lightweight design, making it easy to travel with, and comes in a free waterproof carry bag.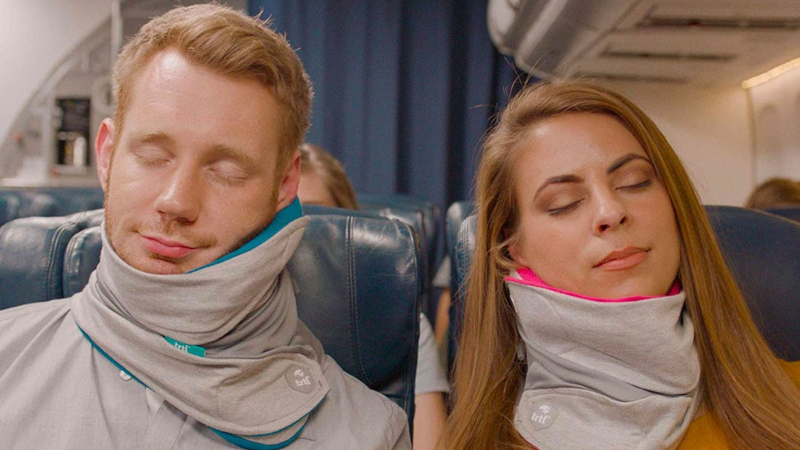 10. AERIS Travel Pillow
If you want a travel pillow that is small, foldable, and easy to wash, then the AERIS Travel Pillow may be what you need. Aeris provides comfort and support to the head, so when you fall asleep, you won't wake up in pain. The compact design makes it easy to take with on all your journeys, and it can even be attached to luggage — so you won't have to walk around with it on your neck. The velour fabric is incredibly soft, adding to the overall comfort, and it's also removable, making it trouble-free to wash.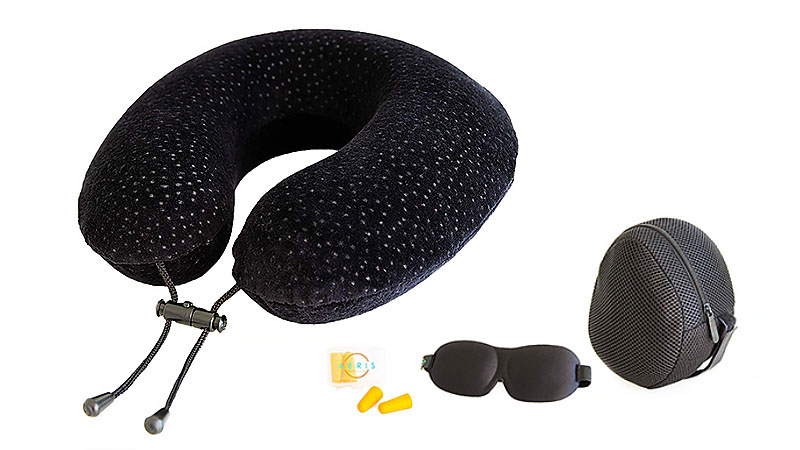 11. AirComfy Inflatable Neck Travel Pillow
The AirComfy Inflatable Neck Pillow is a unique design because it can inflate without you needing to blow into it. Instead, you press the built-in inflation pump, which releases air and fills the pillow within seconds. The product is super convenient for traveling, but also exceptionally lightweight. The outer, micro-velvet pillowcase is very soft and snug, and you don't have to worry about germs or getting it dirty because it is removable and washable.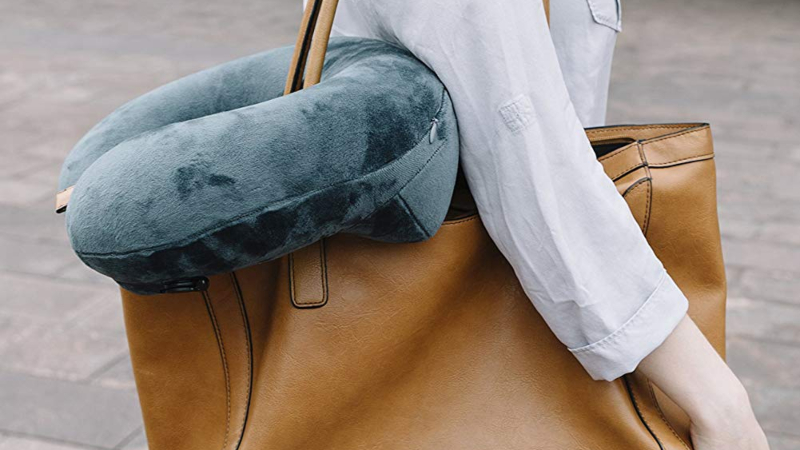 12. MLVOC Travel Pillow
Having a travel pillow that can provide comfort and support can make your journey so much more enjoyable, and the MLVOC memory foam pillow has been created with that in mind. The curve shape stops the neck and head from falling forward during sleep, and the rope lock allows for adjustments in angle and size. The memory foam is durable and helps to cushion the neck and aids relaxation. Another highlight is the cover, a soft magnetic therapy cloth that is sweat-resistant and machine washable.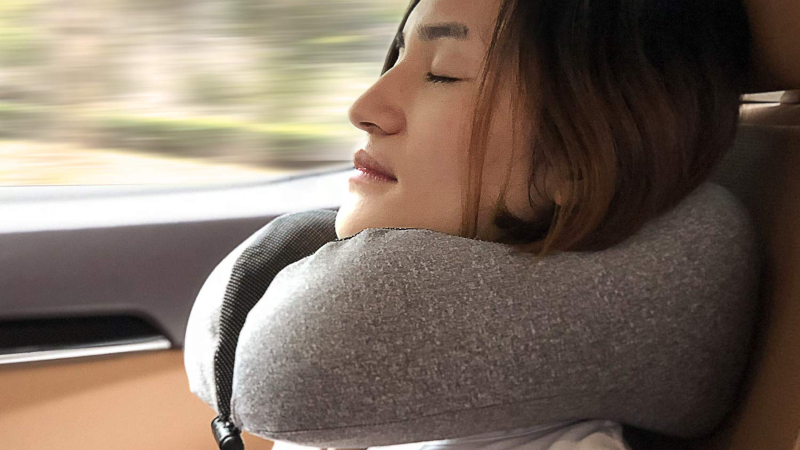 13. Twist Memory Foam Travel Pillow
The standard U-shape design doesn't work for everyone; those who require more flexibility and wish to position their travel pillow in a way that offers them the most pain relief will love the Dot&Dot Twist. The beauty of this device is that it is incredibly versatile; it can be maneuvered into many different positions, offering support to the head, neck, shoulders, and even the back. You don't have to worry about it getting dirty either, because the cotton cover is removable and machine washable — so you can use this product as many times as you want!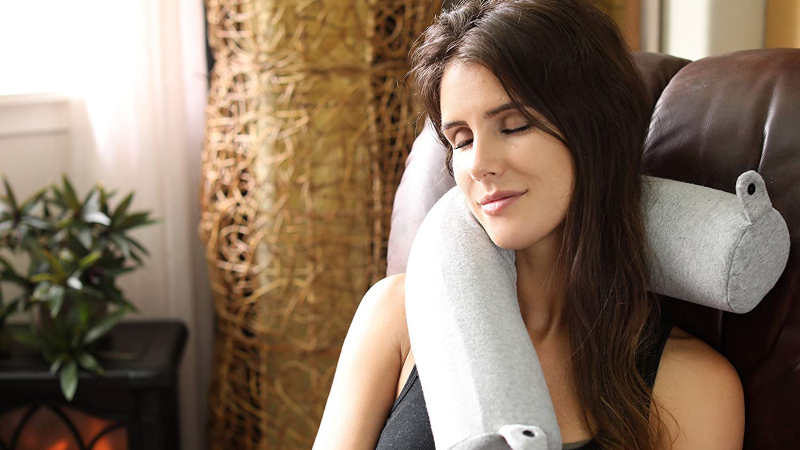 14. Huzi Infinity Pillow
Snug, versatile, and super breathable, what more could you want from a travel pillow? The Huzi Infinity Pillow is a creation different from the more traditional travel pillows because it looks more like a scarf. The design is exceptionally breathable thanks to the high-quality bamboo fabric, and the shape allows the user to wrap it around their neck for support and comfort throughout their flight. The versatility of the design also ensures that you can wear it in many different ways, depending on your seating position and preference. The Infinity Pillow comes in a range of colors, from muted tones to bright shamrock and burgundy shades.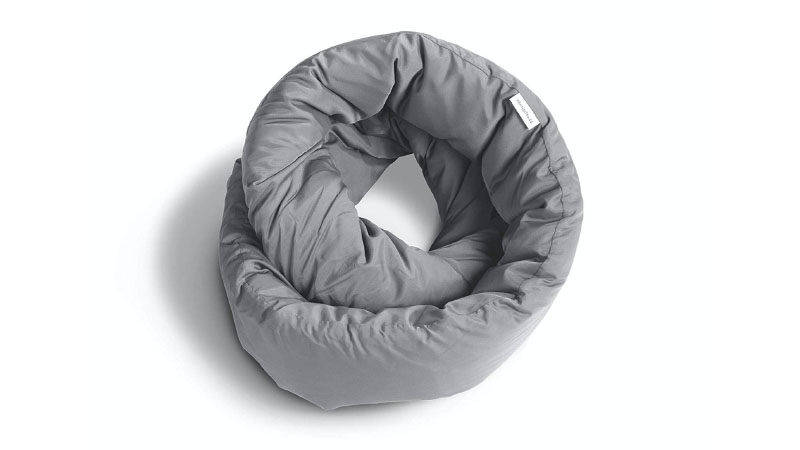 15. Travelrest Ultimate Memory Foam Travel Pillow
The Travelrest Ultimate Memory Foam product is earning itself a reputation as one of the best travel pillows on the market. The company is so serious about the quality of their creation that they have a 100 percent money-back guarantee on Amazon. The design may look like a lot of other pillows on the market, but it is designed from thermosensitive foam, a memory foam that adjusts to your neck for support and comfort. It has been described as a scientifically tested and advisable for chronic pain sufferers. Also, you don't need to worry about lugging it around because it reduces to a quarter of its size!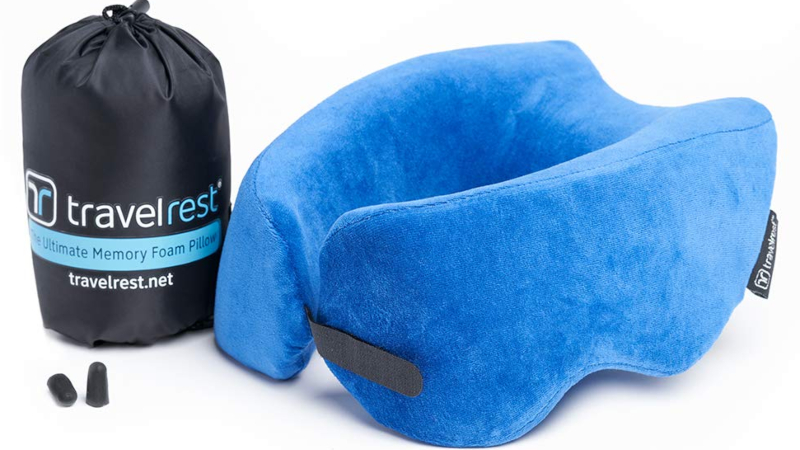 SUBSCRIBE TO OUR NEWSLETTER
Subscribe to our mailing list and get interesting stuff and updates to your email inbox.