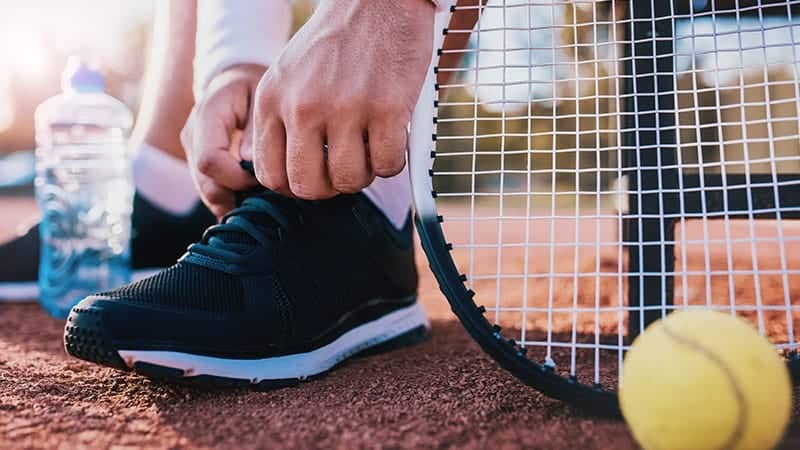 Serve up your best game yet with these best tennis shoes. Not only do they look great, but they're designed to maximize your performance on the court. Whether you're a casual weekend player, part of a club, or keen to enter the professional circuit, quality shoes can make or break your game. These styles are designed for different courts and playing styles, so check out the guide on how to choose the best pair for your sports wardrobe.
Best Tennis Shoes
1. Asics Court FF 2
Hit the court with confidence in a pair of Court FF 2 tennis shoes from Asics. Worn by ATP star Novak Djokovic, you're in good company with these on your feet. They're lightweight yet supportive, with responsive FlyteFoam cushioning. A combination of mesh and TPU materials in the uppers and the mono-sock construction ensures breathability and stability. Meanwhile, the outsole gives excellent slide control when racing across the court to return a serve.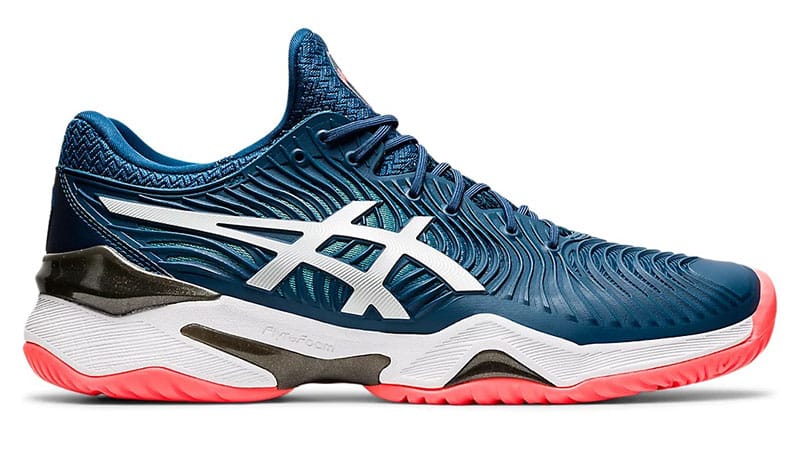 2. Nike Court React Vapor NXT
Enjoy peak performance with a pair of NikeCourt React Vapor NXT tennis shoes. The design is backed by data, creating the best combination of traction and cushioning for even the most ferocious hardcourt matches. A herringbone-patterned outsole offers a balance of grip and slide, while firm foam around the sides and a stiff frame offer support and improved lateral movement. Additionally, soft and firm foam insoles are positioned for optimum take-off, providing better response times to all the intense action on the court.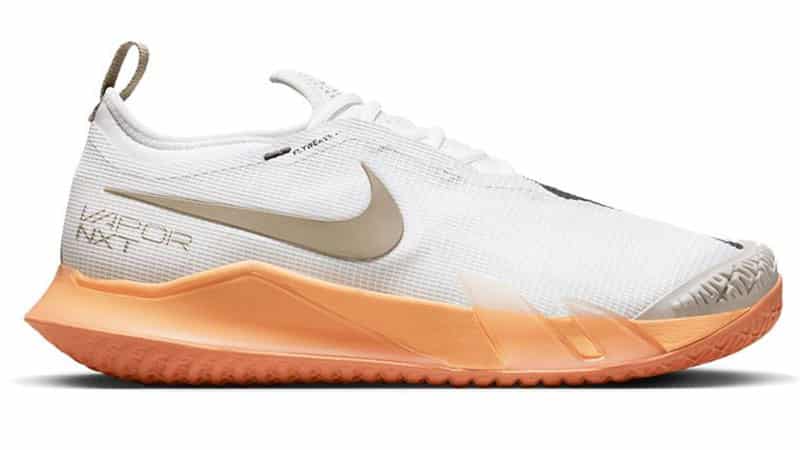 3. Adidas Defiant Speed Tennis Shoe
Play tennis and feel good about it with a pair of Defiant Speed tennis shoes from Adidas. This design is made using at least 50 percent recycled materials in the lightweight mesh uppers as part of the brand's commitment to reducing plastic waste. However, none of that compromises performance. The flexible Bounce midsole is lightweight, with excellent cushioning and flexibility, while the Adituff toe and Adiwear outsole are durable with good traction, making it perfect for hardcourts.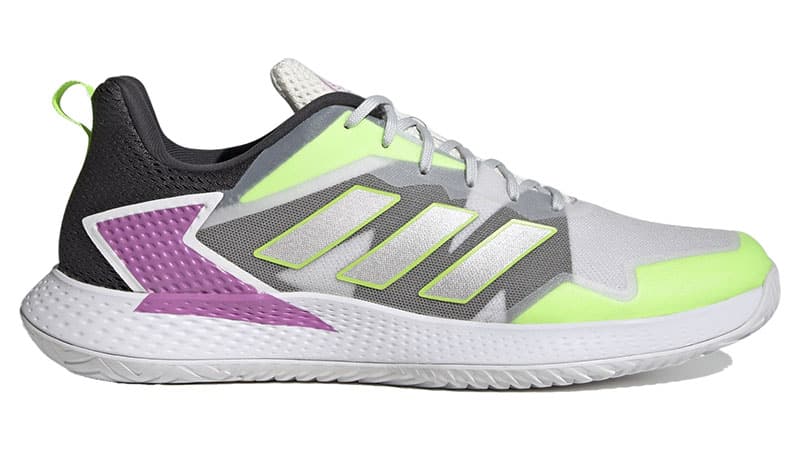 4. Asics Gel-Challenger 13 (Hardcourt)
If you're a hardcourt player, then the Gel-Challenger 13 tennis shoes from Asics are a brilliant investment. Firstly, the GEL™ technology in the rear and forefoot improves shock absorption on hard surfaces. Then, the AHARPLUS™ outsole and PGUARD™ toe protector improve durability, so you don't need to worry about your kicks wearing too fast. When it comes to performance, enjoy better stability for side movements thanks to WINGWALL™ technology. Plus, the supportive uppers keep your foot secure no matter how fast you move across the court. Finally, play for longer with comfortable feet from the OrthoLite™ sock liner.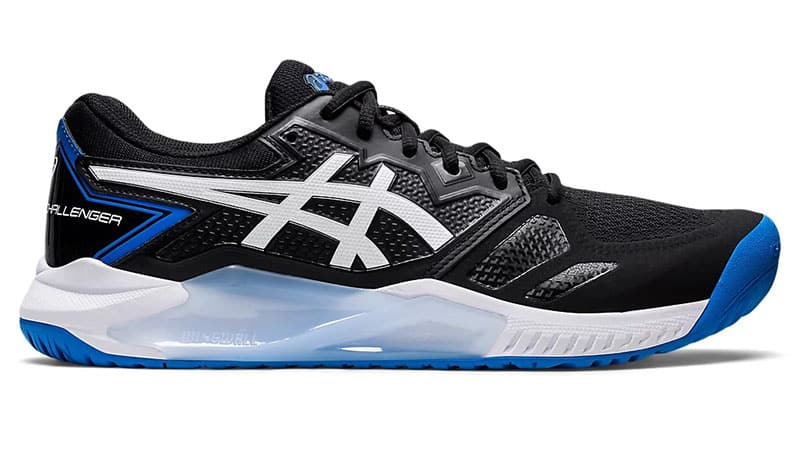 5. K-Swiss Performance Bigshot Light 4 Tennis Shoe
You'll be a winner with a pair of BigShot Light 4 tennis shoes from K-Swiss. Stay cool in all conditions with DRI-LEX sweat-wicking lining and the Flow Cool system for better breathability. In the midsole, enjoy superb comfort with maximum cushioning, arch support, and midfoot stability thanks to the Plantar Support Chassis. The soles are made with high-density Aosta 7.0 rubber compound to suit any court surface. Finally, DragGuard and DuraWrap Light technology combine to increase the shoe's durability for the most demanding training sessions.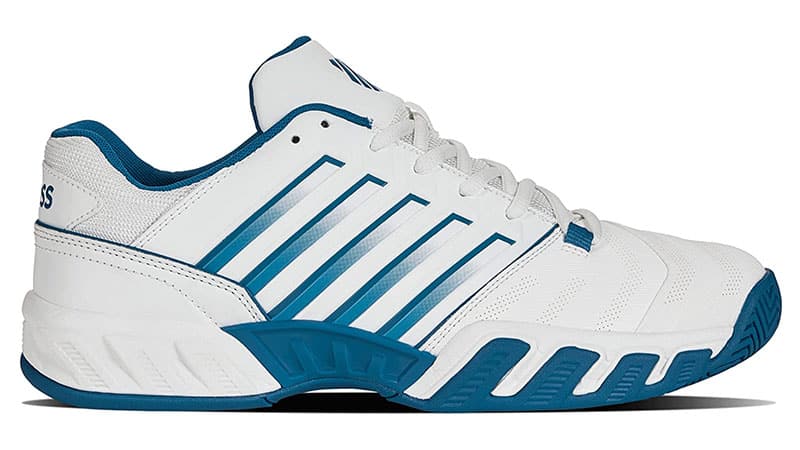 6. Nike Court Zoom Pro
Stay cool under pressure with the NikeCourt Zoom Pro tennis shoes. It offers breathable yet durable uppers that are flexible and comfortable. When it comes to the sole, however, it's a game changer. The Zoom Air unit and full-length plate act like a springboard, giving improved energy return. It's springy, responsive, and will put an extra pep in your step! Meanwhile, the herringbone outsoles provide the ideal amount of grip for games played on a clay court.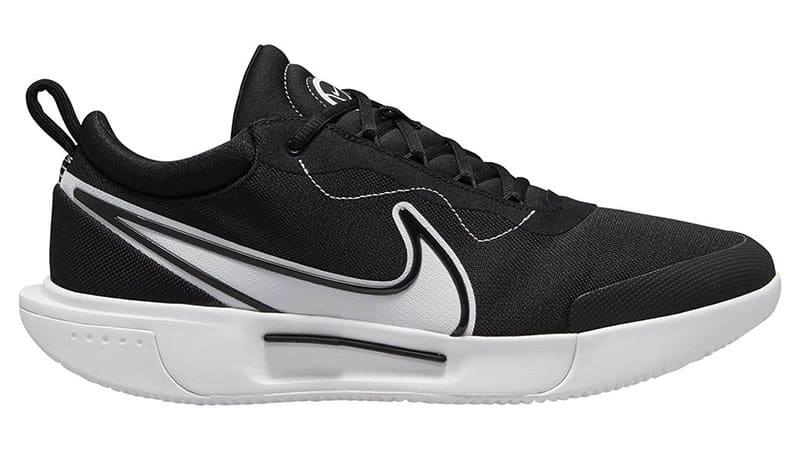 7. New Balance FuelCell 996v4
Bounce around the court as much as the ball does with a pair of New Balance's FuelCell 996v4 tennis shoes. Perfect for hardcourt matches, these shoes will keep you comfortable and active. Propel yourself in any direction with the springy FuelCell midsole, which provides excellent drive. Then, the Hypoknit uppers offer stretch and support in strategic places for a balance of comfort and support. Lastly, when it comes to durability, the NDure uppers and NDurance outsole let you get more wear out of each pair.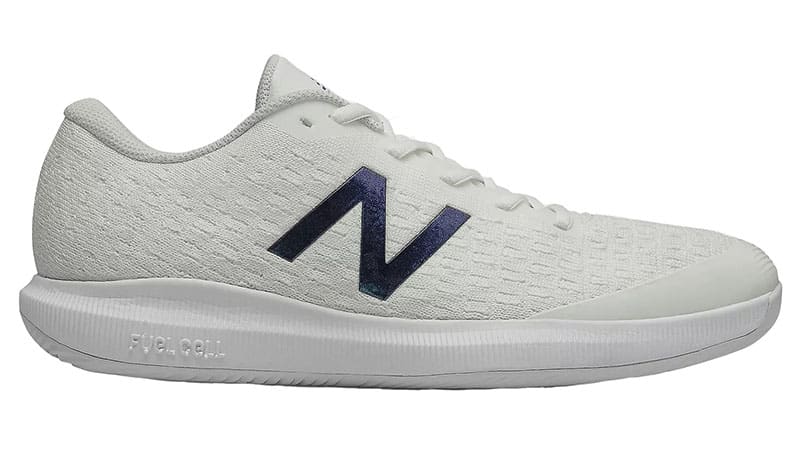 8. New Balance 796v3
Pick from two colors with New Balance's 796v3 hardcourt tennis shoe. There's black with blue, orange, and yellow highlights or white with grey, orange, and yellow. In addition to looking stylish, you'll play like a champ. Enjoy reactive movement thanks to the REVlite midsole cushioning and 8mm drop. The no-sew upper construction is lightweight, keeping you just as light on your feel. However, the Nduance outsoles and NDure uppers ensure the shoe is still durable and able to withstand even the longest marathon match.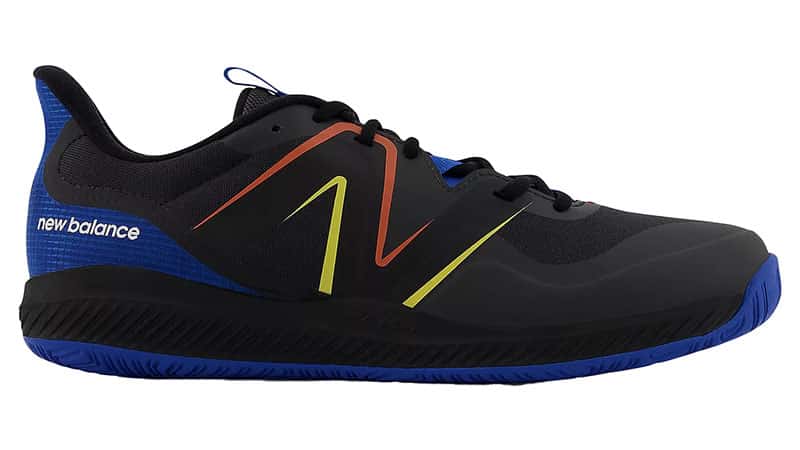 9. Wilson Rush Pro Ace Tennis Shoe
Wilson's Pro Ace tennis shoe is ideal for players with wider feet seeking comfort on the court. The design starts with 2E sizing for a broader fit. Then, it has a 4D Support Chassis that provides excellent support, helps reduce supination, and offers controlled pivoting. Sensifeel upper construction is lightweight yet supportive, while the R-DST+ midsole combines cushioning with rebound for comfortable performance. Lastly, the high-density rubber soles and a medial drag pad ensure long-lasting wear, so you can continue to defeat your opponents.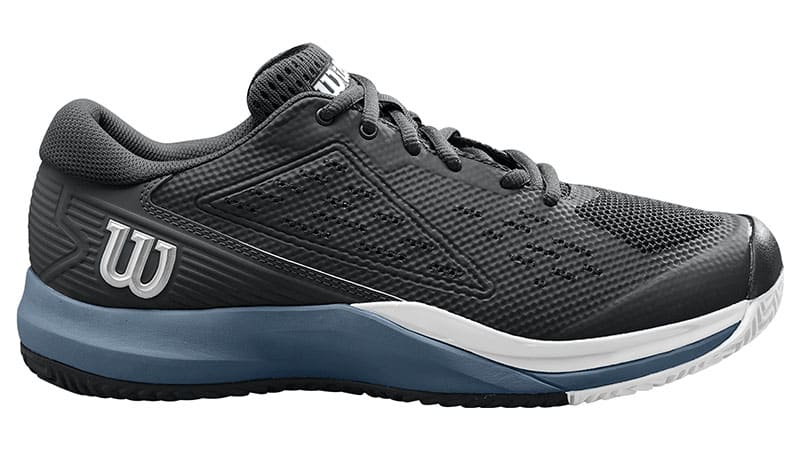 10. K-Swiss Hypercourt Express 2 Tennis Shoes
No matter where your training or tournaments take you, the K-Swiss Hypercourt Express 2 tennis shoes will ensure you play in comfort. The all-court design is lightweight, breathable, and durable. The seam-free construction, which uses heat-welding to mold the layers together, means there is no stitching to cause blisters or rubbing. Meanwhile, the Ortholite sockliner offers better responsiveness, and the Aosta 7.0 rubber outsole has excellent grip and a long lifespan.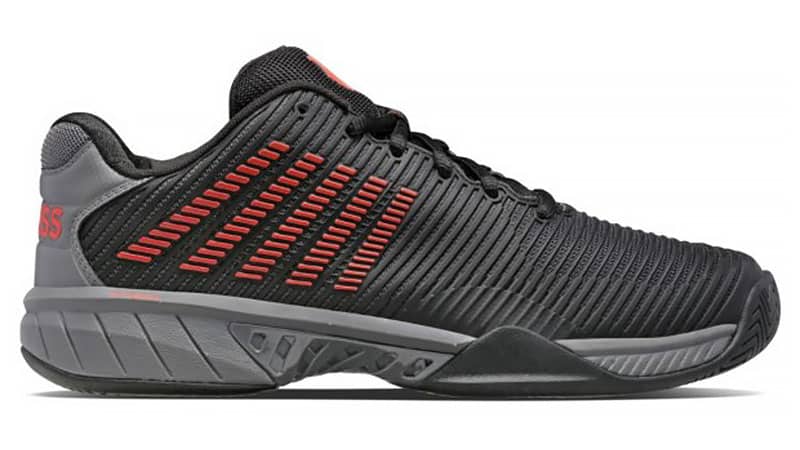 11. Adidas Gamecourt 2.0 Tennis Shoes
Adidas is one of the leading sportswear brands so you can feel confident with a pair of the label's tennis shoes. The Gamecourt 2.0 are built for tough matches on hard courts. It features an Adiwear outsole with herringbone grip patterns for the ideal combination of traction and slide, with excellent durability. Meanwhile, the uppers, which contain at least 50 percent recycled materials, are lightweight but secure through the midfoot. Finally, an EVA midsole will keep you comfortable and supported throughout your game, so matter the results you're still a winner.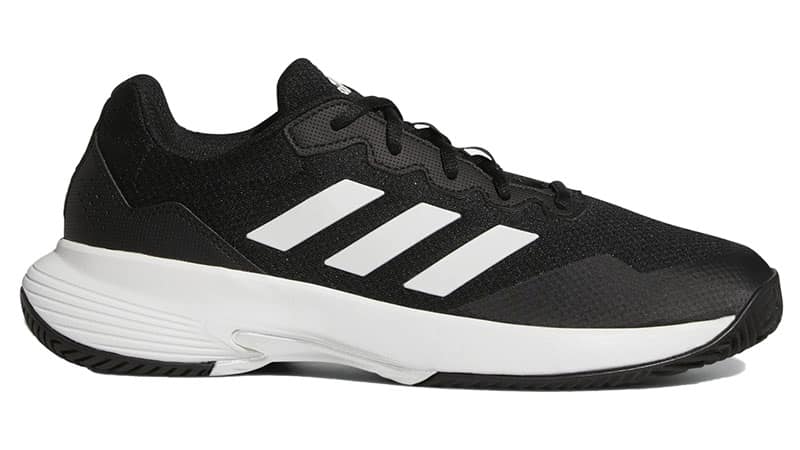 12. Babolat SFX3 Tennis Shoes
Babolat's SFX3 is an all-court tennis shoe that builds on the success of the previous SFX2 design. Kompressor cushioning ensures excellent shock absorption, so even on hard courts, you stay comfortable. Then, the Michelin rubber outsoles are durable with great traction. The design is suitable for players with wider feet as the mesh uppers and spacious toe box don't constrict the foot. Finally, memory foam insoles create the perfect fit in plush comfort.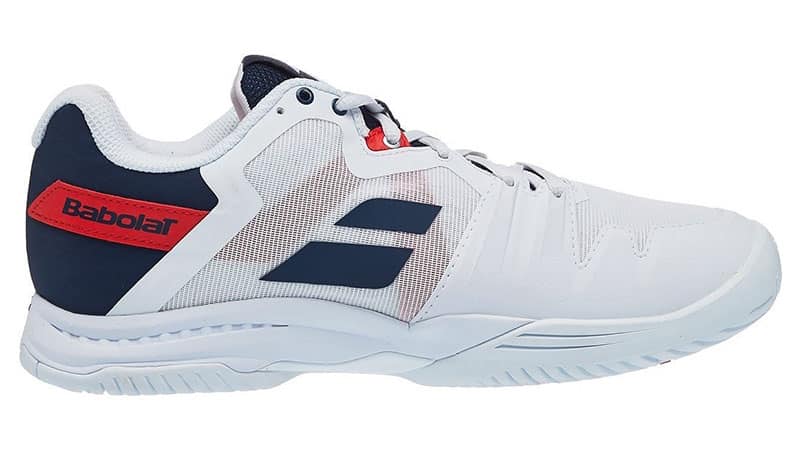 13. K-Swiss Hypercourt Supreme Tennis Shoe
Play your best with the K-Swiss Men's Hypercourt Supreme tennis shoes. It's a durable design, with a high-density rubber outsole and DragGuide protection in high-wear areas. Durawarp also provides another level of protection without compromising flexibility. The midsole uses Surge 7.0, a lightweight cushioning system that provides comfort and maximizes energy return. Plus, there's a range of color options available, so you can choose the pair that works for your tennis aesthetic.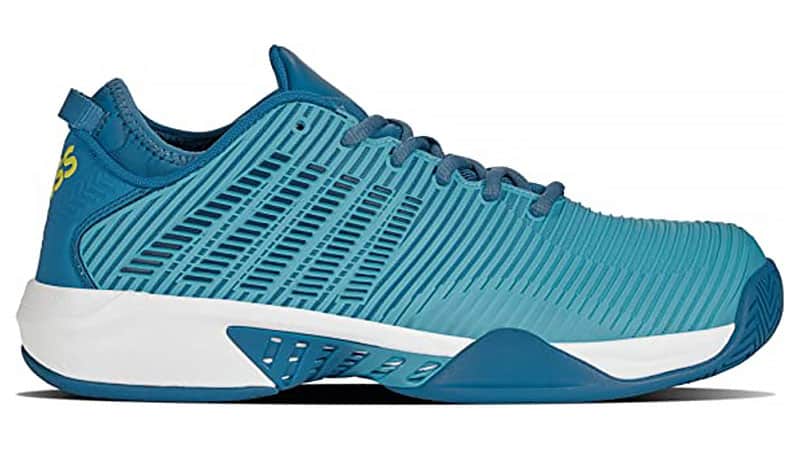 14. New Balance Fresh Foam X Lav V2
There's a lot of data and science behind the design of the New Balance Fresh Foam X Lav V2, which takes design inspiration from the OMNIS basketball shoes. The FRESH FOAMx midsole offers plush underfoot comfort and support just where you need it. Then, in the uppers, the mesh FitWeave is breathable, while the NDure technology provides excellent durability. You won't need to worry about excess wear with NDurance outsoles and a toe drag tip to reinforce high-wear areas. Finally, choose from two colors – a Wimbledon-worthy white or a vibrant orange.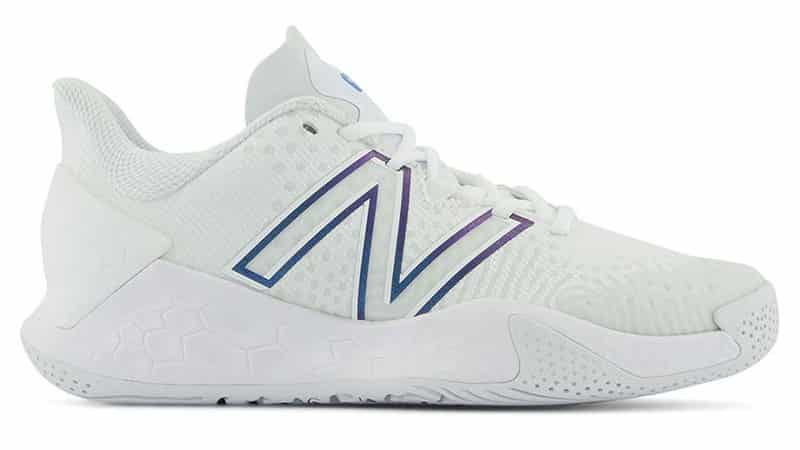 15. Wilson Kaos Mirage Tennis Shoe
If you're looking for a tennis shoe that combines the latest technology with futuristic style, then Wilson's Kaos Mirage is perfect. This lightweight design takes inspiration from jet fighters for speed in your gameplay. Using a two-piece chassis construction, you'll get flexible arch support, increased agility, and enhanced lateral support for stability, so you can go anywhere on the court with ease. Single-strap lacing makes getting them on and off easier, while durable rubber outsoles and drag pads improve durability and provide protection for the most intense on-court action.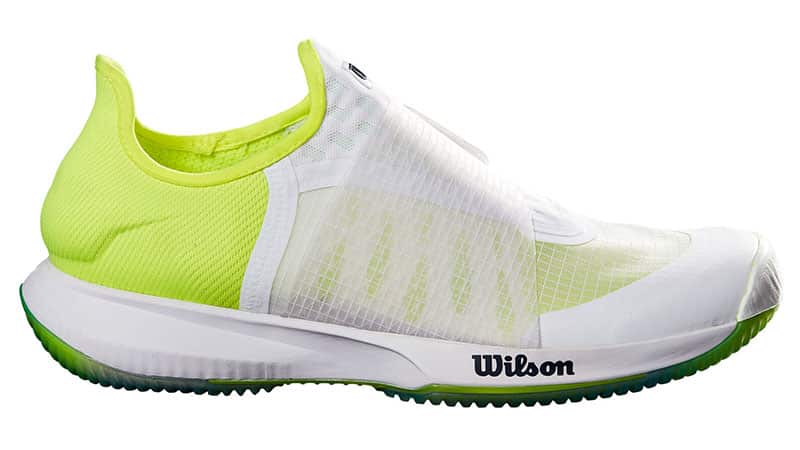 Tennis Shoes Buying Guide
Serve and Volley vs. Baseline Play Style
Most tennis players fall into one of two playing style categories – Serve-and-Volley or Baseline Play. Baseline players tend to play along the back line of the court, hit hard, and need plenty of lateral support and durability. Novak Djokovic and Rafael Nadal both play this style. Conversely, serve-and-volley players, such as John McEnroe, serve while often sliding the back foot and then charging the net to return the ball. This means they need greater reinforcement through high-wear areas.
Hard Court Outsoles
They're the most popular tennis court surface, but hard courts are tough on your shoes. As such, they need stronger, more durable soles. The sole pattern is generally a modified herringbone, as it gives a good combination of grip and flexibility. Internally, there will also be a focus on shock absorption, cushioning, and energy return to help take some of the pressure off your body. Finally, if you know you wear your shoes hard, look for brands that offer a six-month sole guarantee, as you can get them replaced if you wear them out quicker than the guarantee period.
Clay Court Outsoles
If you play primarily on clay, a softer surface, you'll want a tennis shoe with herringbone tread on the sole. This reduces the amount of clay build-up in the tread, so you don't end up sliding around. They also grip better for stopping and sprinting and provide more predictable sliding conditions. Needing less durability compared to hard courts means the tennis shoes will be lighter, giving you an advantage in speed and flexibility.
Grass Court Outsoles
The final court style is grass. Shoes for these conditions aim to minimize damage on the softer surface while getting the most out of your performance. Look for nubby tread on your soles, as these provide a good grip on the slippery grass without tearing it. Similar to clay shoes, these will be much lighter and faster moving, as they don't need such high durability. However, this means they're not suitable for harder surfaces.
Choosing The Right Fit
Size: Getting the correct size shoe is essential. Ideally, you want around a thumb's width of space between your toes and the top of the shoe for a snug fit that won't slip around or crush your toes. If you're shopping online, always check the sizing charts, as sizing can vary between brands. If in doubt, trace your foot on a piece of paper, then measure the length from toe to heel and width across the broadest part, and compare those measurements to the chart.

Width: The standard starting width for men's tennis shoes is a D fitting (compared to a B fitting for women's). If you have wide feet, you'll need to be aware of this and perhaps look for a style designed for a broader foot.
Toe Box: The toe box is the front section of the shoe where your toes go. These can vary in width and depth between styles, even though they're generally a standard size. You'll need to ensure the toe box isn't pressing too much on the side or tops of your toes, as that can cause discomfort and blisters.

Ankles: Another area to pay attention to when trying on tennis shoes is the ankle. Depending on your anatomy and the style (especially if there is a padded collar), some people will find their ankle bones touch the shoe's upper, which can end up rubbing. Make sure to move your feet around a lot when trying on tennis shoes to see if you can identify if the shoe will rub on your ankles.
Other Considerations
Comfort: Due to the requirements of a tennis shoe, most designs will be stiffer than other sports styles, such as running shoes. However, most brands will do their best to make them as comfortable as possible, so look for larger, plusher mid-soles that provide excellent cushioning and shock absorption. Some styles also have removable insoles that you can replace as they wear down.

Stability: Tennis has a lot of movement in different directions, combined with abrupt stops and swift direction changes. As such, stability is a critical factor in tennis shoes. This can come from a few places. The first is the outsole – a wider, more rigid style can feel more stable, especially if it has a plastic shank to prevent twisting. The uppers also play a part as they keep the foot and ankle secure, preventing excessive slippage and movement through your game.

Durability: Tennis shoes play a hard game, so they need to be durable in order to last, especially if you play on a hard court. Look for durable outsoles and reinforced toes. Shoes like this might be a bit heavier but will last much longer.

Weight: There is a delicate balance of weight, speed, durability, and stability in tennis shoes. Generally, the more durable and stable a shoe, the heavier it will be, whereas lighter shoes with fewer components let you run faster and be more agile. Your preferences will come down to your choice of court and playing style.&
Best Tennis Shoes FAQs
What is the best brand of tennis shoes for men?
The best men's tennis shoe brands are Wilson, Nike, Asics, and New Balance. 
What is the best quality tennis shoe?
Most of the large, well-known sporting brands such as Nike, Asics, Adidas, Wilson, and New Balance all make great quality tennis shoes. 
What shoes should I wear to play tennis?
You should always wear shoes specifically made for tennis, as they suit the sport's fast movements, quick stops, and direction changes. However, the exact type will depend on your playing style and choice of court (hard, clay, or grass). 
What is the difference between tennis shoes and regular sneakers?
What is the difference between tennis shoes and regular sneakers?
Is it OK to run in tennis shoes?
Running on a tennis court during a game is fine, but tackling a marathon is not. If running is your sport, you're best off choosing a style designed to cater to forward movement, lighter weight, appropriate cushioning, and relevant energy return to put a pep in your step.
SUBSCRIBE TO OUR NEWSLETTER
Subscribe to our mailing list and get interesting stuff and updates to your email inbox.