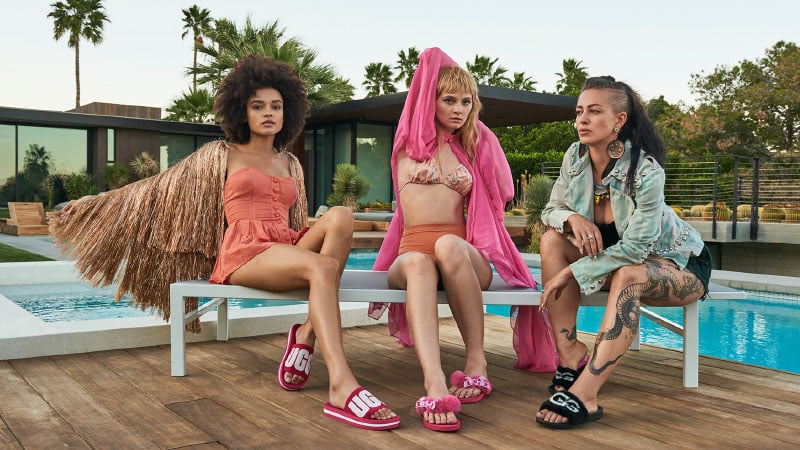 One of the best ways to stay toasty in the colder months is to keep your feet warm. While slippers may not be icons of fashion, there are plenty of designs that are both stylish and comfortable. From UGGs that you can wear in public and slides that are perfect for snack runs to big fluffy booties and pom-poms galore, there's a style for every woman.
1. UGG Women's Fluff Yeah Slide Slipper
Slippers and sandals combine in this unique design from UGG. It features a soft fluffy strap across the forefoot and arch that comfortably secures your foot, with an elastic, UGG-branded strap around the heel. Meanwhile, the rubber soles provide an excellent level of traction and padding, keeping your feet extra cushioned throughout the day. Best of all, you can choose from 43 color combinations, including everything from classic black and shades of pink, to rainbow designs and exotic leopard print.
2. Women's Soft Plush Lightweight House Slippers
If you're looking for a comfy but stylish pair of slippers to wear with your feather robe, then look no further than this lightweight design. The thick, cushiony EVA sole keeps your feet comfortable all day long. Plus, it has a soft, plush lining, arch support, and a grippy sole. It's ideal for wandering around the house or pottering in the front yard, keeping an eye on the comings and goings of the neighborhood. The criss-cross design of the upper panels hugs your feet, so they stay secure and feel good. Finally, you can select from a range of nine stylish colors, including deep emerald green, rich ruby red, soft pastel pink, and delicious, smooth cream.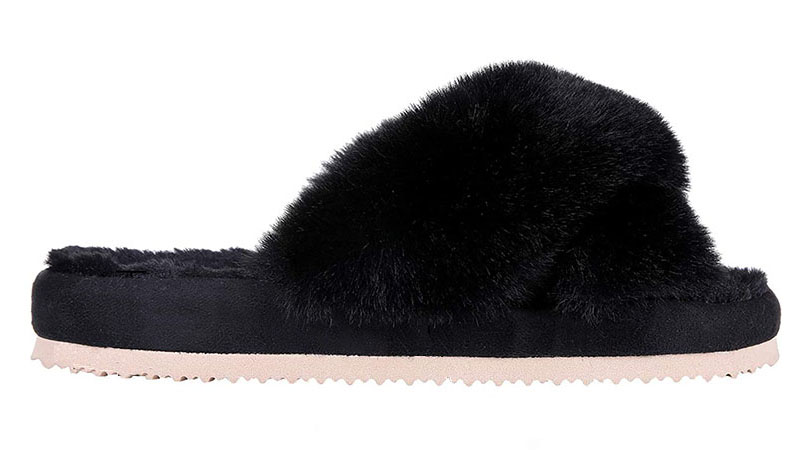 3. HomeTop Women's Cute Comfy Fuzzy Knitted Memory Foam Slip On House Slippers
Enjoy the cozy and homely style of this pair of slippers for women from HomeTop. The ribbed knitted uppers and plush lining contrast well for an alternate take on traditional all-fuzz slippers. Enjoy custom-made comfort thanks to the memory foam insole that molds to your foot with every step. Plus, the breathable lining stops sweat from building up, keeping your feet feeling (and smelling) fresh. Finally, the slip-on shape makes it easy to take them on and off, while the rubber sole provides the ideal amount of grip.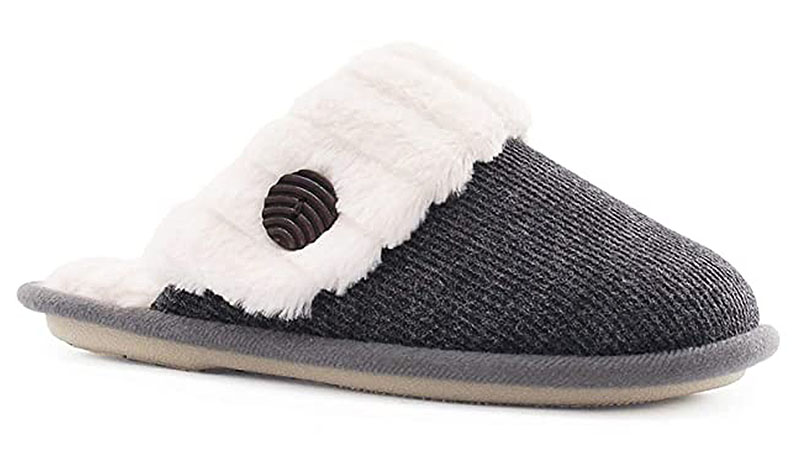 4. Parachute Classic Slippers
Simple and timeless, these Classic Slippers for women from Parachute are an elegant choice for luxury lounging. The terry-toweling fabric is soft and breathable to keep your toes warm without overheating. Meanwhile, the ribbed rubber soles provide traction to keep you secure in your footing and extra cushioning on top of the padded insole. If you're a Parachute fan and already own one of their classic bathrobes, these were designed to match perfectly, coming in both white and grey.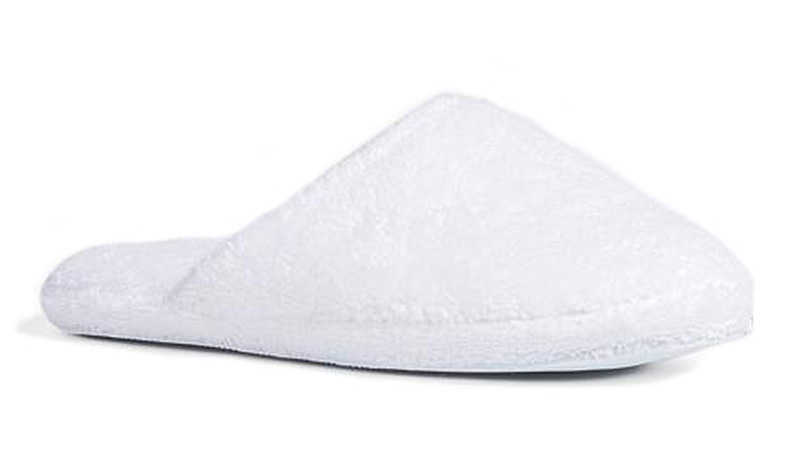 5. Fendi Logo Capsule Slipper
Style-conscious women will love this slipper from Fendi. It's a far cry from common fluffy styles, with its sleek silhouette and refined feel. However, it's made from lambskin with embossed Fendi logos across the uppers, so it's just as soft and comfortable. Wear it as a full-shoe, or make the most of the collapsible heel and rock it as a slide. While it may not be as snuggly as other options, it's far more elegant and the ideal choice to keep your feet protected, even if you're just lounging around at home.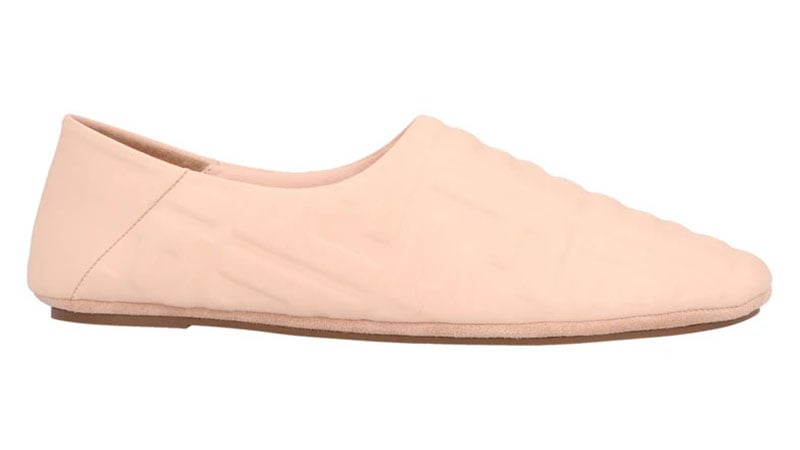 6. Jessica Simpson Women's Plush Open Toe Slide On House Slipper with Bow
This cute slipper with a giant bow from Jessica Simpson is adorable and effervescent, just like the star herself. Its cushiony insole contains memory foam for the ultimate comfort, while the plush lining is warm and soft. There's also rubber on the sole, making them anti-slip, even if you're wearing them on the wet bathroom floor. Slide them on and off with ease, thanks to the backless shape. Plus, you can even throw them in the washing machine on a gentle cycle if they get a bit dirty or too well-loved.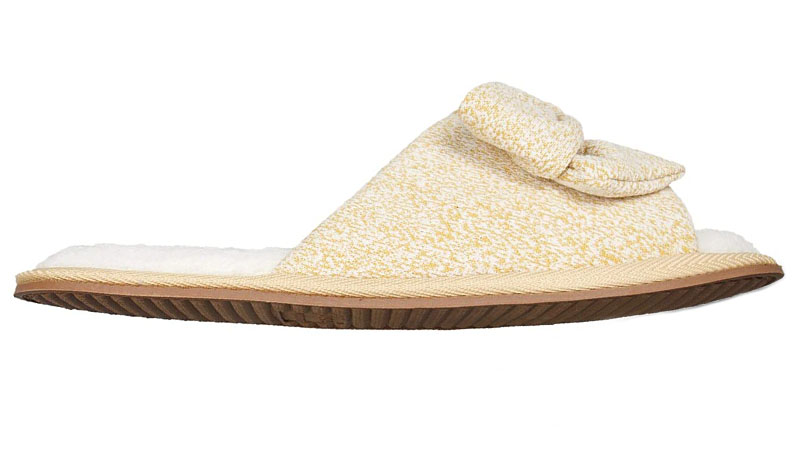 7. Marimekko Rasymatto Slippers
Go for something fun when looking for slippers for women with this option from Marimekko. They're super comfortable thanks to the slip-resistant rubber sole and padded footbed. Plus, the monochromatic dotted uppers are light-hearted and made from super soft terry toweling. This means they're also washable. Simply put them in the washing machine on a gentle cycle and dry them flat in the shade.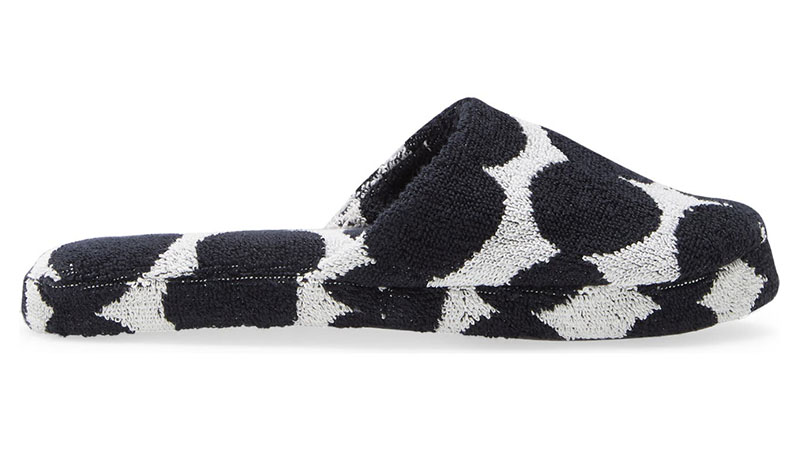 8. Vince Kalina Shearling and Suede Slides
Take a little step into luxury with these women's slippers from Vince. They're cozy, comfy, and oh-so-stylish – you'll want to wear them everywhere. In fact, you can wear them anywhere thanks to the robust design and fashion-forward feel. The uppers and lining both feature soft shearling sheepskin, while the soles are made from durable rubber. An open-toed slide design means that your feet can still breathe, even when staying warm. Match them with skinny-leg pants, an oversized cardigan, and a sleek tote.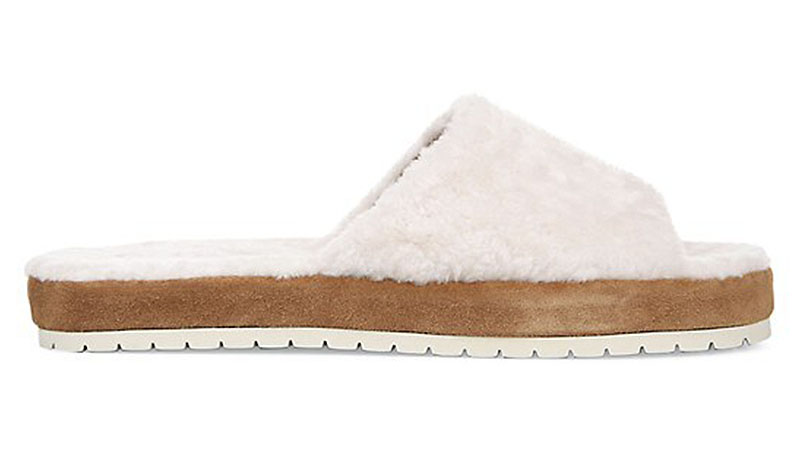 9. Dearfoams Women's Velour Clog Slipper
Nothing says comfortable leisurewear quite like velour. As such, these slippers for women from Dearfoams are the ideal choice for style and comfort. It's breathable materials keep your feet warm but not sweaty, and the memory foam has multi-density zones for extra cushioning. The slip-on clog style is easy to wear, while the synthetic soles mean you can wear them in or out of the house. They're perfect for sitting on the couch watching Netflix or popping out to grab your Sunday morning paper.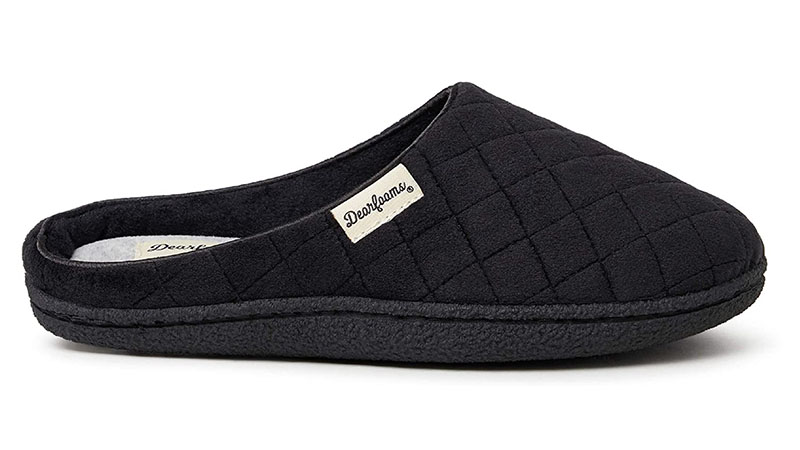 10. Joules Cabin Faux Fur Lined Bootie Slipper
Take your warmth to another level with these whimsical booties from Joules. They have faux fur lining, which is supremely cozy, keeping not only your feet warm, but your ankles too. Next, the light gray jersey exterior features rose gold polka-dots, which brings an element of sparkle and shine to even the dreariest of days. Finally, the sole is also made of rubber, so you don't need to worry about slipping. These booties are the perfect choice for freezing cold mornings and late snowy nights.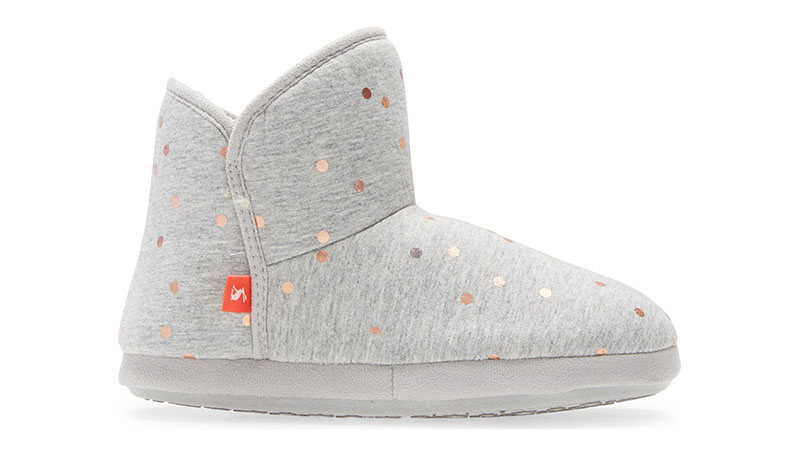 11. SOLLBEAM Fuzzy House Slippers
Women who have broader feet or a higher instep and find other slippers a bit tight will discover that these adjustable slippers from SOLLBEAM are excellent. The fluffy upper band has a velcro closure, so you can alter it for the perfect fit. In addition, the contoured footbed is very deep, especially for a slide, and provides both arch supper and heel stabilization. These slippers are an absolute dream to put on at the end of a long workday.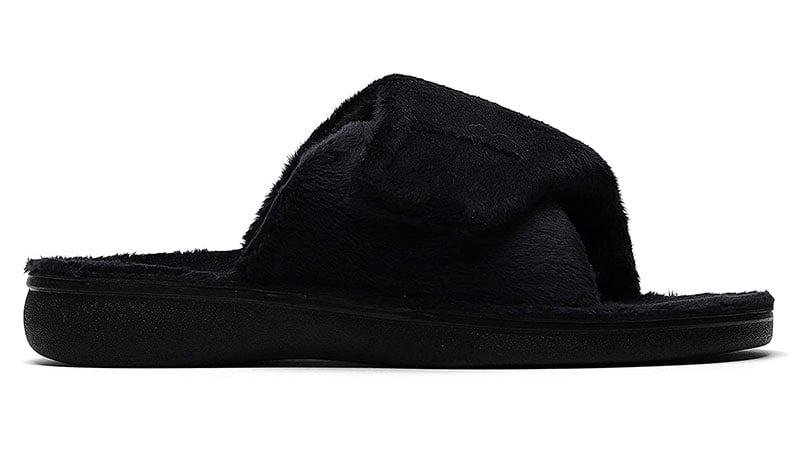 12. Parachute Cozy Bootie
If you feel like enveloping your feet and ankles in a luxurious and delightful cloud, then look no further than these booties from Parachute. The sherpa uppers will keep you toasty warm, whether you're reading a book on the couch or ducking out to check the mail. Its pull-on shape hugs your foot and is easy to wear, while the slip-resistant rubber sole ensures you don't lose your footing. Match these with your favorite trackpants and a loose-fitting sweater for the ultimate loungewear style.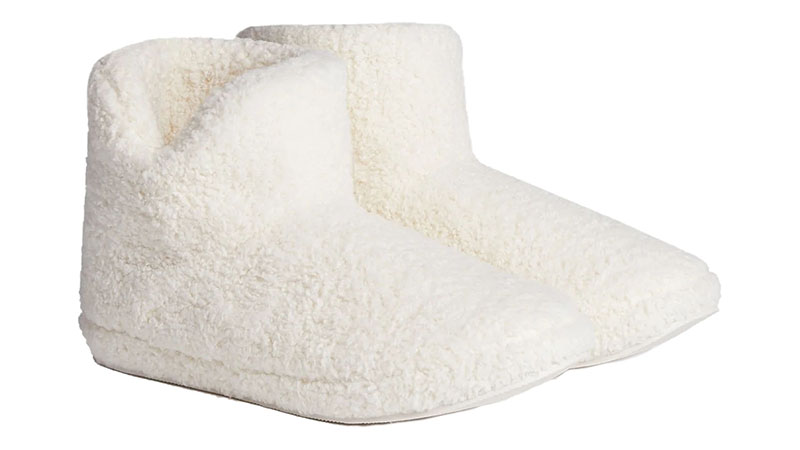 13. Patricia Green Daisy Slipper
Pom-poms are one of those things that makes everything better. In this case, it makes these Daisy Slippers from Patricia Green infinitely more adorable and stylish. Plus, these slippers for women boats a super cushiony footbed, plush lining, and a rubber sole for extra grip and traction. If the black and brown combination is not your cup of tea, there are other color options available. This includes a leopard with a black pom-pom, pale pink, and a neutral sand shade.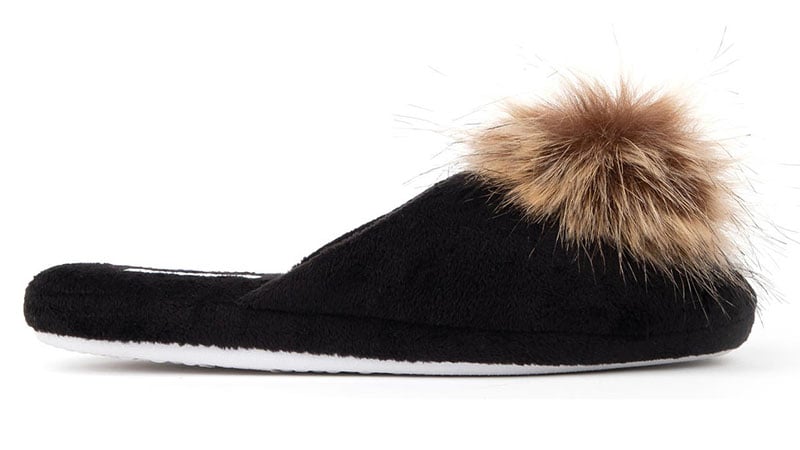 14. PajamaGram Fuzzy Slippers for Women
These slippers for women from PajamaGram are the kind of style that immediately comes to mind when you say "fuzzy slippers." It's just comfy fuzz all over. They're super easy to slide on and off and feature plush, shaggy outers and lining for the ultimate cozy warmth. You'll walk confidently knowing the soles are made from a grippy rubber, so you don't have to stress about slipping. Pair this iconic design with your favorite snuggly pajamas.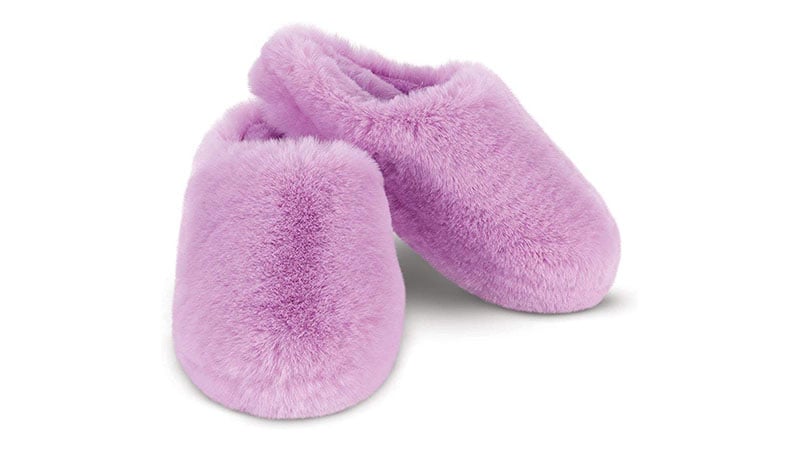 15. Floopi Women's Indoor/Outdoor Basic Memory Foam Moccasin Slipper
Moccasin slippers are the perfect combination of warm comfort and practical wearability. The non-slip rubber soles are great for traction, and the moccasin-style design means the rubber runs up the back of the shoe. As such, you can wear this driving without worrying about the heels wearing through. Faux-fur interiors will keep your toes super warm and protected from cold draughts. While the bright red color is sure to inject some energy into even the greyest of days, there are other colors to select from. These include dusty pink, deep purple, royal blue, warm chestnut, soft grey, and classic black.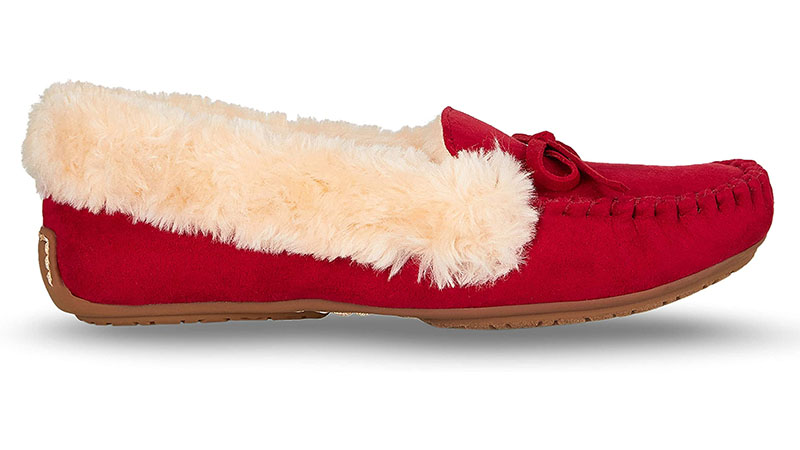 16. Daniel Green Rave II Slipper
Keep it classic and simple with the Rave II Slipper from Danial Green. This all-black design keeps things effortless and carefree with an easy slip-on shape and minimal fuss. The terry-toweling uppers and lining are plush and comfortable, while the padded memory-foam insole provides cushioning. Thanks to the lightweight but durable sole, you can wear them around the house or walk down the driveway to the mailbox. If the all-black is a little too classic, you can also choose from cream, pastel pink, powder blue, and playful cheetah.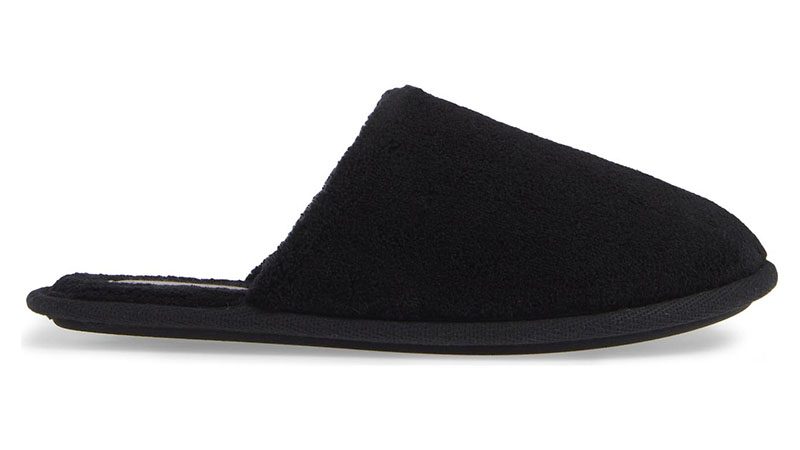 17. RockDove Women's Ruffled Cuff Memory Foam Slipper
These slippers for women from RockDove are sure to remind you of the coziest knitted sweater you own. The warm uppers feature an extra ruffle at the edge for additional detail, while the inside is lined with soft faux fur. With each step, you'll feel the memory foam insoles mold to your feet while the rubber sole grips firmly to the ground. Best of all, the opened-back design is so simple and easy to put on. Select from cozy grey, stylish black, or past pink.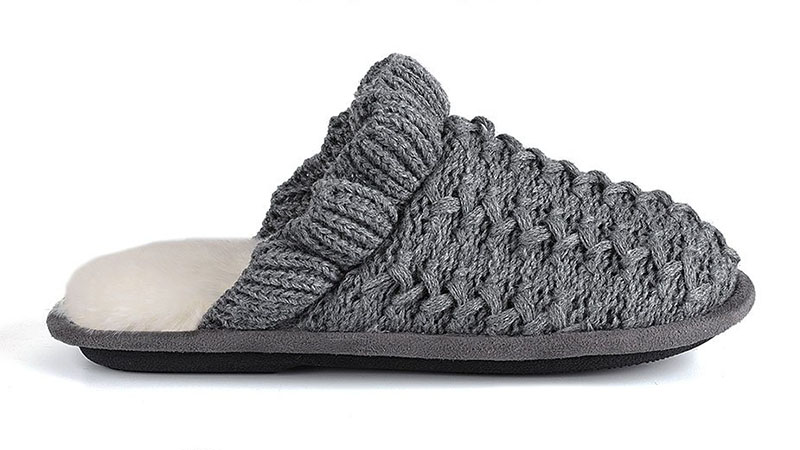 18. Toni Pons Mire Embroidered Slipper
You'd be forgiven for wearing these slippers down to the local shops because they're just so stylish. Espadrille detail around the sole combines with soft grey felt uppers and playful pops of color in the form of embroidered hearts to create a joyful slipper. Not to mention the fact that they're super comfortable with a rubber sole and cushioned footbed for all-day wear. Rock these with a pair of boyfriend jeans and a plain white fleece sweater for the ultimate in relaxation-chic.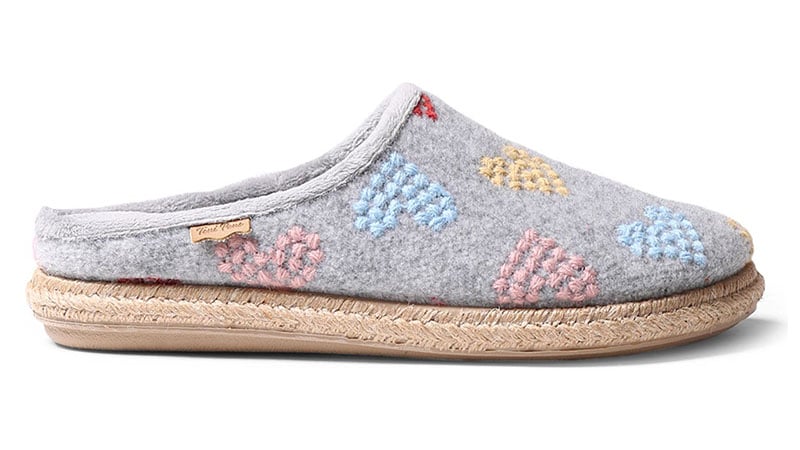 19. Acorn 'Waffle' Spa Slipper
Channel your best spa-day vibes with these 'Waffle' spa slippers from Acorn. Unlike other slipper options, this is a flip-flop style that connects to the base between the toes. This makes it easy and comfortable to wear. Indulge in a super comfortable footbed lined with plush fabric for warmth. Meanwhile, the waffle knit across the band provides an extra level of sophisticated detail. Select from a range of lovely colors, including pale blue, pastel pink, cream, grey and black.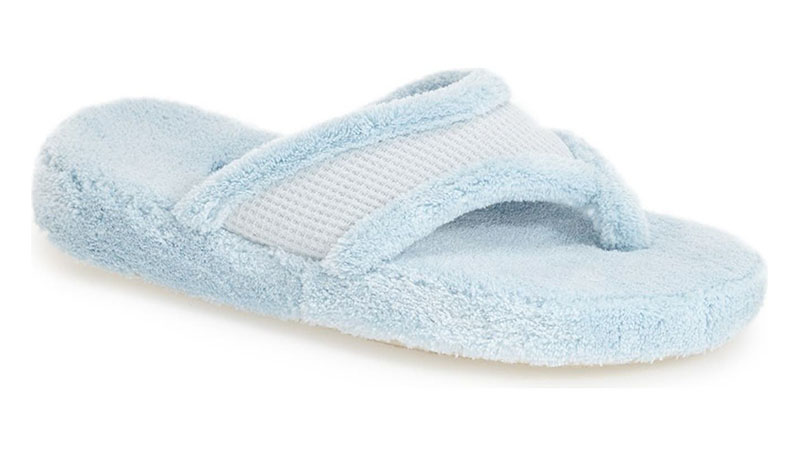 20. Haflinger Olivia Owl Slippers
Choose slippers with a character with Haflinger's Olivia. They're made from pure wool, so they're both exceptionally warm and breathable. The rim of the shoe is knitted, while the main section is felt, which gives a nice contrast effect. Plus, there are whimsical applique owls on each shoe, which are quaint and adorable. You'll also enjoy lots of comfort thanks to the cushioned and contoured footbed that provides arch support. Choose these if you're looking for slippers that are just a bit different.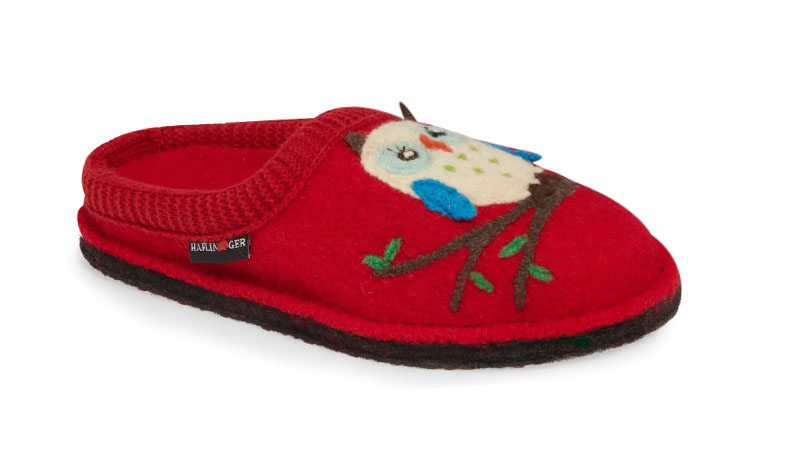 21. Minnetonka Flurry Scuff Faux Fur Slipper
If you're looking for a slipper that's a little bit more robust and rugged, then look no further than this furry scuff from Minnetonka. It has a sturdy sole and footbed, which features a rubber sole and EVA cushioning. The uppers and lining are both super soft and warm shearling, with additional padding around the collar. It's topped off with a faux-leather bow across the forefoot for that extra special detail.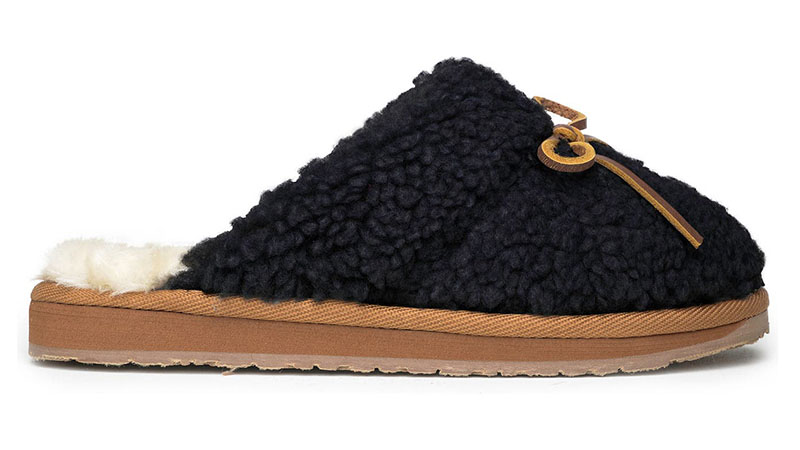 22. Laura Ashley Ladies Terry Scuff Slipper with Bow
Laura Ashley has always been an icon of feminine styling, and these slippers are no exception. They come in an array of colors, from hot pinks and sage greens to classic black and shades of blue. The micro-terry lining is super soft and feels lovely on. Plus, there's a cushioned insole for extra under-foot softness and padding. The contrast between the cream collar and primary color creates a striking look that is complemented well by the grosgrain bow. With a pair of these slippers for women in your wardrobe, you'll be both comfortable and stylish.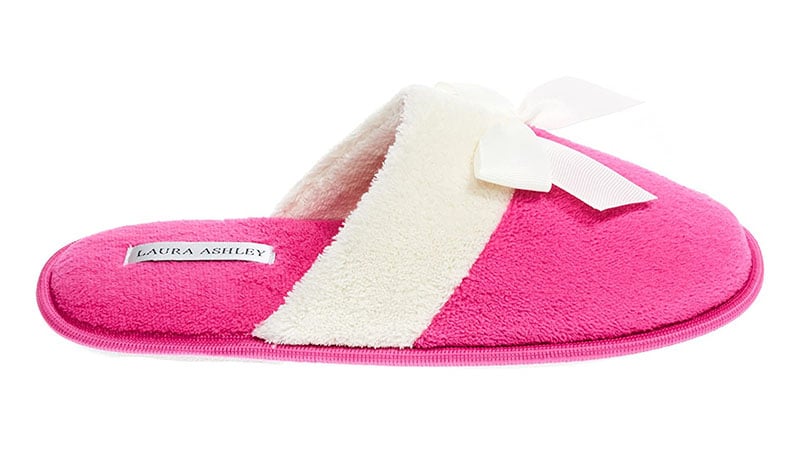 23. Sam Edelman Women's Jaley Cross Band Slippers
Crossband slippers are super comfortable because of the way the straps hug your feet. This design from Sam Edelman is extra comfy thanks to the plush fluffy fabric that makes up the uppers and lining. The thick sole also provides padding to keep you cushioned all day long. Best of all, the color combination of pale blue and grey is particularly alluring. However, if warm colors are more your vibe, there is also a pink variation that features two different shades of the fun hue.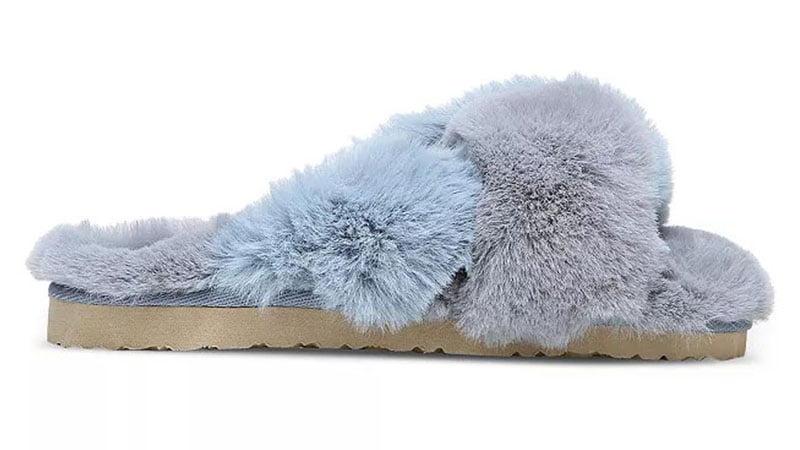 24. NineCiFun Women's Slip on Fuzzy Slippers
These sweet slippers for women are the perfect investment for your winter wardrobe. The rubber sole provides grip and cushioning, while the memory foam footbed molds itself to your every step. Each pair features fluffy white lining, with colored knitted uppers and a matching button. Select from pale pink, baby blue, warm brown, coffee, light grey, lavender purple, or even bright red. Rock these around the house with a long-john style pajama set and a cup of hot cocoa.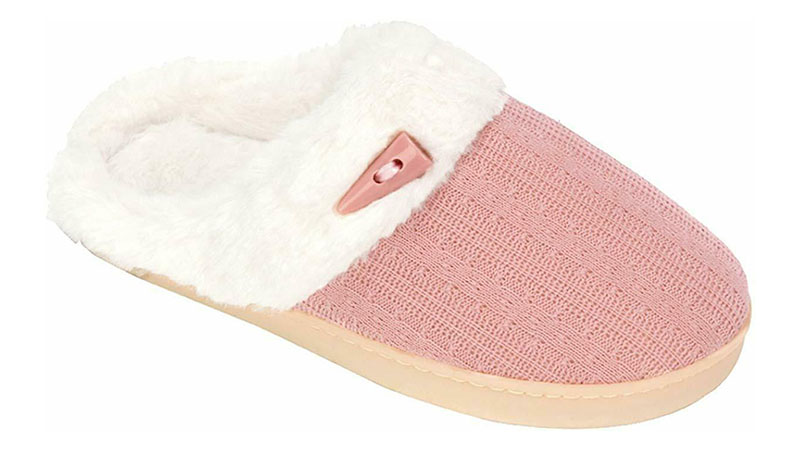 25. UGG Women's Tasman Slipper
Warm sheepskin features in this classic Tasman Slipper design from UGG. It's warm, durable, and natural, meaning it breathes much better than synthetic options, so you don't end up with sweaty or stinky feet. The detail around the top is an embroidered braid that adds an element of interest, making it even more visually appealing. An extra durable sole made from Treadlite means you can rock it around your home or wear it out of the house, even down to the shops to stock up on movie snacks. Pair it with some boyfriend jeans, and simple knit sweater, and your favorite beanie for a cozy but street-ready look.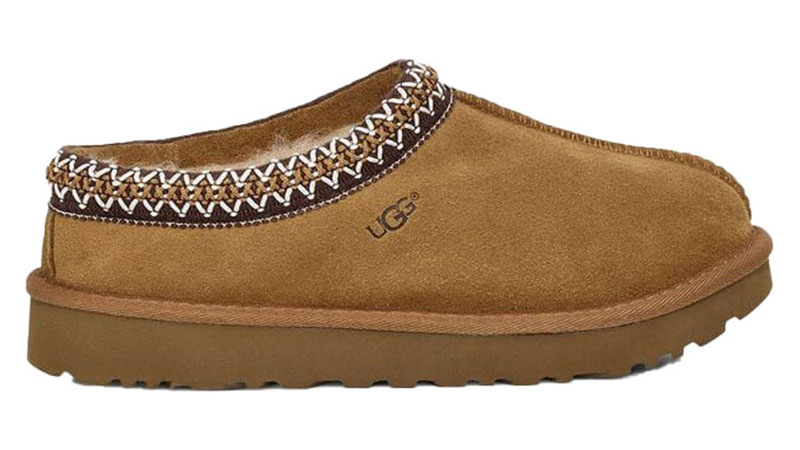 26. ULTRAIDEAS Women's Cozy Memory Foam Slippers
If you're into more traditional vibes when it comes to slippers, these ones from ULTRAIDEAS are a brilliant selection. They feature a deluxe fleece lining, which is warm and toasty. Then the outers are a textured knit that gives dimension and interest through the multi-shade finish. Select from black or black blended with grey, blue, purple, or red. You can feel secure with each step knowing that the rubber soles are anti-slip, as well as durable, so you can wear them outside to water the plants or collect the mail. Best of all, you can throw them in a gentle wash and dry them in the shade, and they'll feel good as new.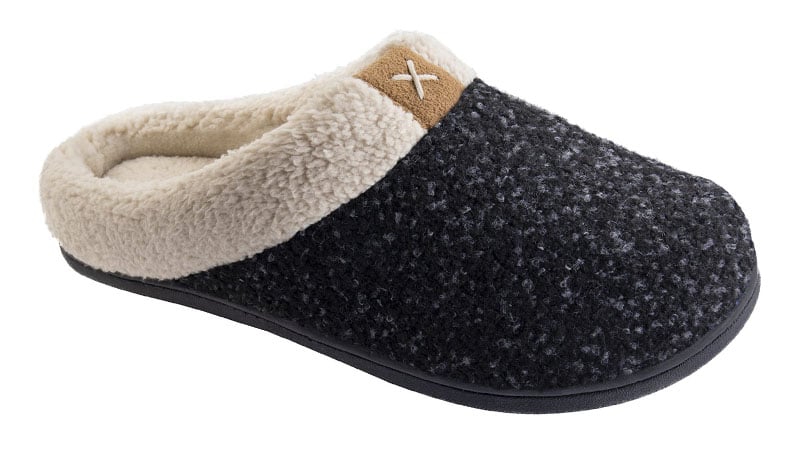 27. UGG Women's Coquette Slipper
Choose more robust slippers for women with the UGG Coquette design. The uppers are made from UGG's iconic sheepskin and come in an array of shades, including beige, black, pink, purple, grey, and chestnut, among others. That means there's undoubtedly a color to suit your winter loungewear aesthetic. Then, the soles are made from Treadlite by UGG, which means they're durable so that you can wear them out of the house. Of course, they're also exceptionally comfortable. The benefits of wearing real sheepskin are that the natural materials breathe a lot better than synthetic alternatives and are far more hard-wearing, meaning your investment will last much longer.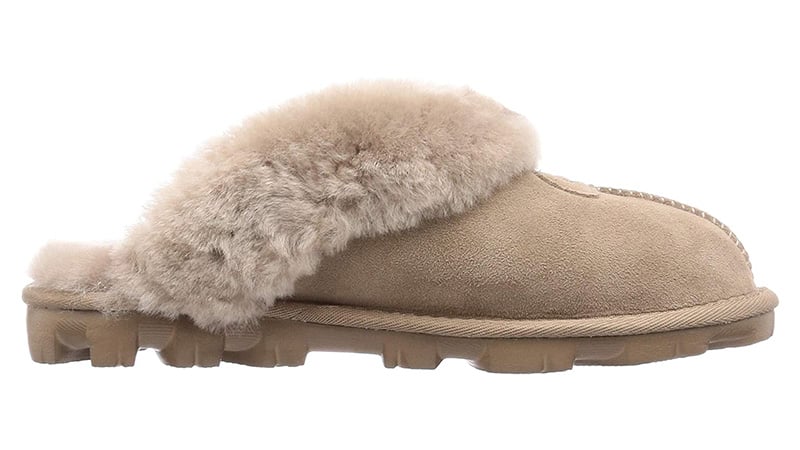 28. RockDove Women's Original Two-Tone Memory Foam Slipper
Cotton and spandex combine to give you the ultimate comfort in these slippers for women from RockDove. They're super easy to slip on and off, and the waffle knit uppers are warm yet breathable. Enjoy a memory foam footbed that conforms to each step while the rubber sole is durable and robust, so you can head outside without changing shoes. Select from various two-tone color combinations, including grey and black, grey and pink, and a vibrant red and black.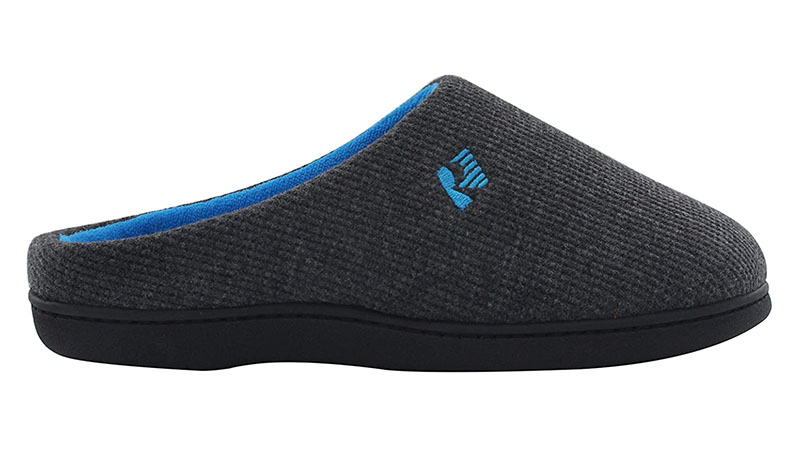 FAQs
What are the best ladies' slippers?
Some of the best slippers for women include anything from UGG, such as the Fluff Yeah Slide, Coquette Slipper, or Tasman Slipper. Other great options include Toni Pons Mire Embroidered Slippers, Parachute Classic Slippers, and RockDove Women's Ruffled Cuff Memory Foam Slippers.
Which brand is the best for slippers?
The best brand for slippers includes UGG, Laura Ashley, Parachute, RockDove, Joules, Haflinger, and Vince. 
What are the best slippers for sweaty feet?
If you have sweaty feet, you'll want to opt for natural materials such as cotton or wool, as they breathe a lot better than synthetics. While super fluffy interiors might seem amazing, it's best to opt for something less intense such as terry-toweling that will keep you warm but not over-heat. 
Is it bad to wear slippers all day?
On lazy days and weekends, it's fine to wear your slippers all day, as long as you're not doing hours of strenuous walking or housework. The issue that slippers can have is that they provide very little support for the foot. As such, it can lead to poor posture and foot pain. Additionally, fungal or bacterial infections can be a risk if you're sweating a lot in your slippers and not washing them regularly. If you know you're going to be up on your feet a lot, it's better to opt for a different pair of comfy shoes such as sneakers. 
SUBSCRIBE TO OUR NEWSLETTER
Subscribe to our mailing list and get interesting stuff and updates to your email inbox.