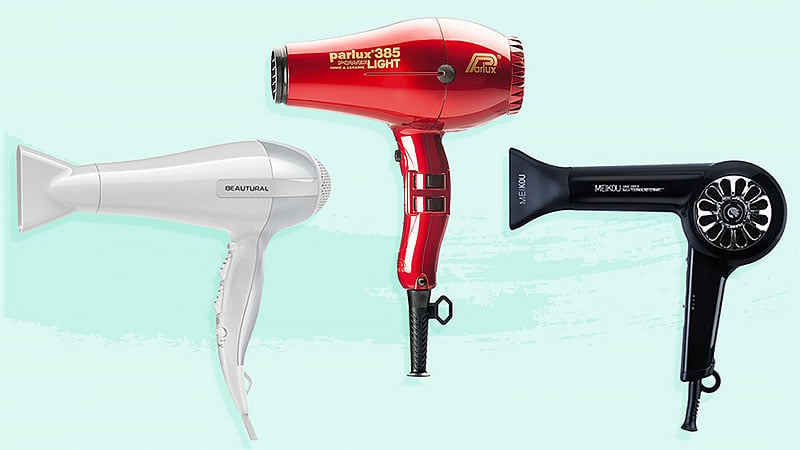 While allowing your curls to dry naturally is ideal, it's not always practical or doable. Whether you've just washed your hair before heading to work or the winter weather means that it's too cold to hang around the house with damp locks, having a hair dryer on hand is essential. Unfortunately, not all dryers are kind to curls, kinks, and waves. So, if you're sick of those subpar blow dryers turning your gorgeous coils into a frizz-filled ball of damage, it's time to invest your money elsewhere, and we know where you should put it. These are the best hair dryers for curly hair that will ensure your natural texture gets the care that it deserves.
RELATED: 15 Best Hair Products for Curly Hair
RELATED: 80 Natural Curly Hairstyles for Women
1. Dyson Supersonic Hair Dryer
Thanks to its highly advanced technology, the Dyson Supersonic Hair Dryer is ideal for all hair types, including curly. The super-lightweight device is incredibly efficient and can aid you in drying your hair faster and easier than ever before. The award-winning dryer will also help save your strands from heat damage as it measures air temperature 20 times per second to keep things expertly under control. Although it will set you back more than your average dryer, the Supersonic is a worthwhile investment. Just don't forget to attach the diffuser nozzle for gorgeous curls, ringlets, or coils.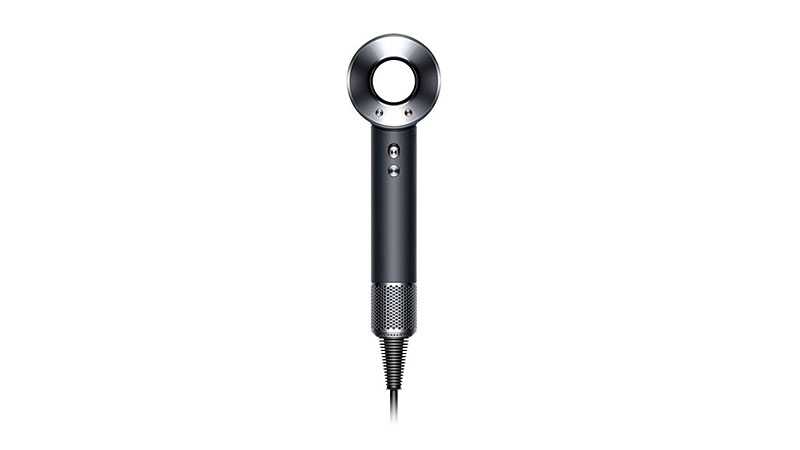 2. BaBylissPRO Porcelain Ceramic 2800 Dryer
If your curls are thick and voluminous, then you need a powerful hair dryer. Luckily, the BaBylissPRO Porcelain Ceramic 2800 Dryer is full of power and strength. The impressive device boasts a 2000-watt motor, meaning that it can quickly and easily dry thick locks. A shorter drying time also means less heat damage caused to your curls and healthier hair. As it is also a ceramic dryer and features ionic technology, the BaBylissPRO 2800 will eliminate static, reduce frizz, and enhance shine. As such, it's an ideal blow dryer for creating salon-quality results from the comfort of your home.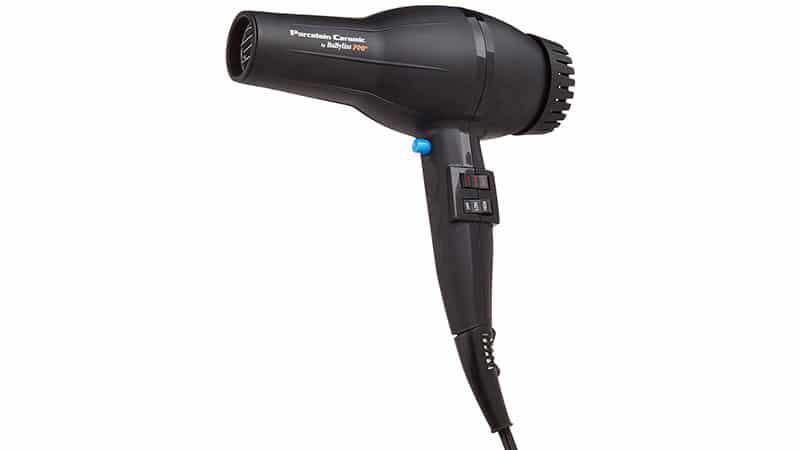 3. Jinri Professional Infrared and Negative Ion Ceramic Hair Dryer
If you have curly hair, investing in a hair dryer with ceramic technology is certainly worthwhile. The technology, which emits non-damaging infrared heat, not only helps to reduce frizz, which is a common problem for curly hair, but is also gentle on strands, making it ideal for hair that takes longer to dry. The Jinri Professional Infrared and Negative Ion Ceramic Hair Dryer includes such ceramic technology and is one of the best options for curly hair. To further reduce frizz, add shine, and provide silky results, the Jinri hair dryer also utilizes negative ions, which lock in moisture throughout the drying process.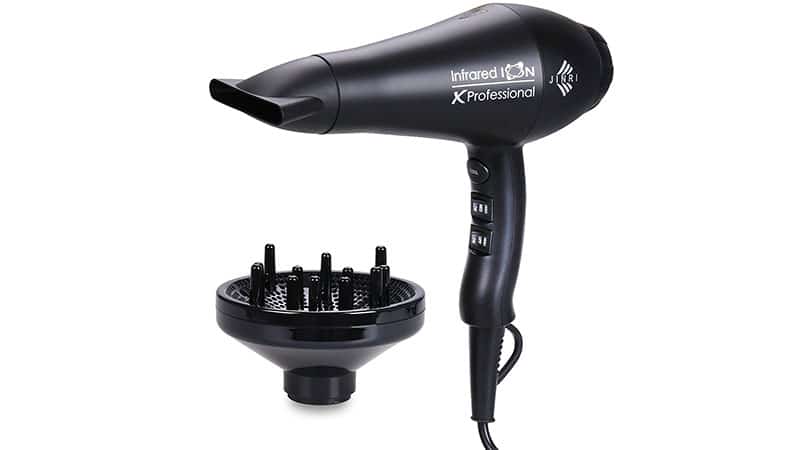 4. Conair 1875 Watt Cord-Keeper 2-in-1 Styler
The Conair 1875 Watt Cord-Keeper 2-in-1 Styler promises a gorgeous blow-dry every time. Don't let the small price tag fool you; this handy hair dryer is one top piece of technology. The professional device features ionic technology to help fight frizz and bring out the natural shine as well as tourmaline ceramic technology, which provides infrared heat to protect hair from damage. As such, it's perfect for maintaining healthy, smooth, and radiant curls. You can also use the diffuser attachment and adjustable settings to easily create your desired style. Then, once finished, just retract the cord and fold the handle for seriously easy storage.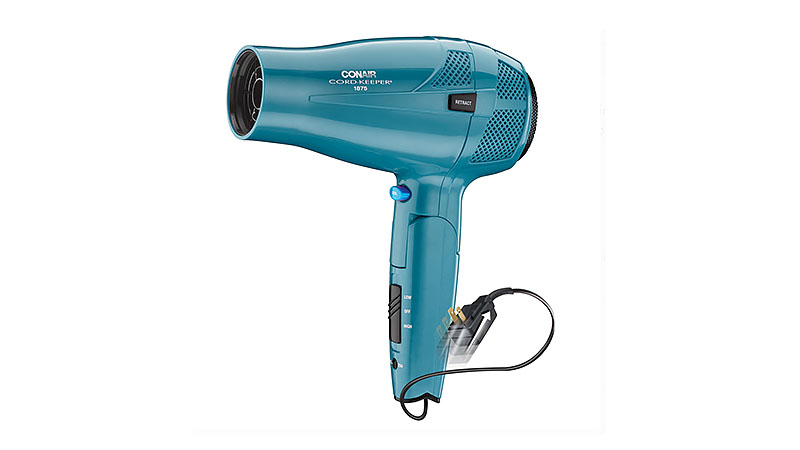 5. Wazor Professional Hair Dryer
Users love the Wazor Professional Hair Dryer, and it's easy to see why. The great device boasts a durable salon-quality AC motor that promises a long lifespan for your dryer. It also provides users with 1875-watts of drying power and airflow speeds of 90km/hr for quick and easy, salon-quality styling and drying. Additionally, this top piece of technology boasts tourmaline ceramic and ionic technologies. In fact, it's said to produce an incredible 100 times more negative ions than any other dryer in its class. So, when you use it, you can be sure you'll receive silky, healthy, and fuzz-free results every time.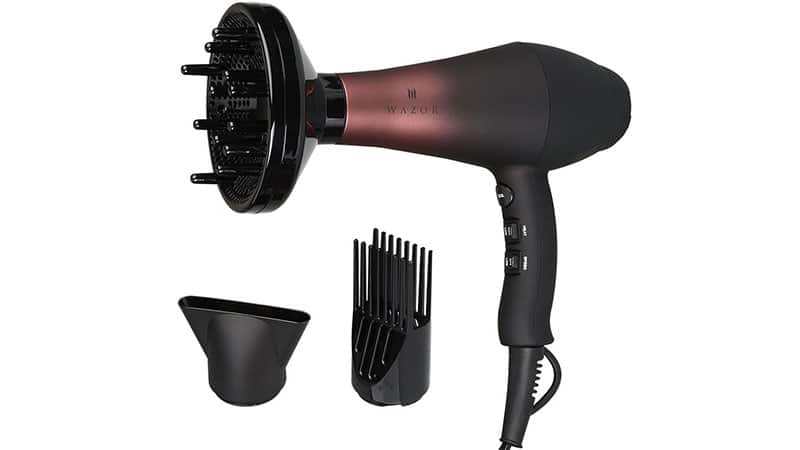 6. Bed Head Curls in Check Diffuser Hair Dryer
The Curls in Check Diffuser Hair Dryer from Bed Head was specifically designed with curly-haired girls in mind. As such, it's ideal for ladies with waves, ringlets, coils, spirals or kinks who are sick of blowing away their enviable texture with regular tools. In particular, the innovative dryer is especially ideal for adding definition and volume to hair. So, if your curls tend to look a little limp, this is the dryer for you. Just use it to inject life back into your locks for an incredibly full and curly look. Thanks to its tourmaline ceramic technology, this affordable dryer also tames frizz and boosts shine for all-around amazing results.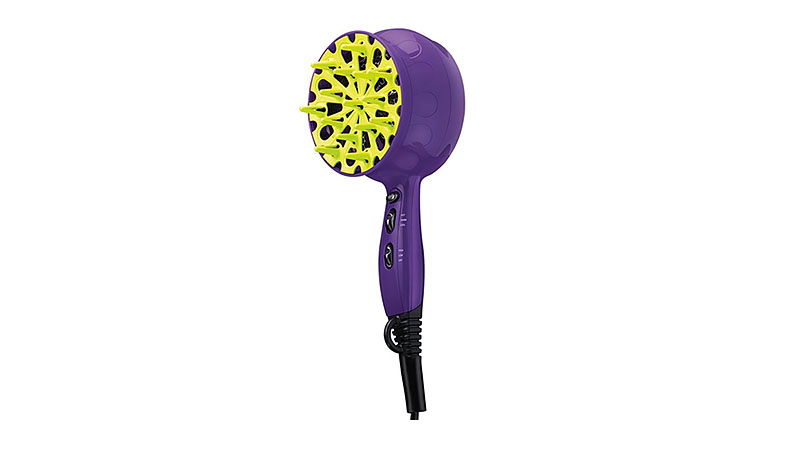 6. Remington D3190A Damage Control Ceramic Hair Dryer
When heat damages curly hair, strands can become frizzy, dull, rough, and brittle. To prevent this issue, a heat protection product is essential, but so too is a high-quality hair dryer. Luckily, the Remington D3190A Damage Control Ceramic Hair Dryer is equipped to keep your strands safe. Thanks to the use of micro-conditioners, the D3190A offers up to three times more protection than other Remington dryers. That isn't the only useful thing about this device, however. Negative ions also reduce frizz while the ceramic-coated grill produces infrared heat for fast drying, and tourmaline technology protects the hair cuticle from over-heating.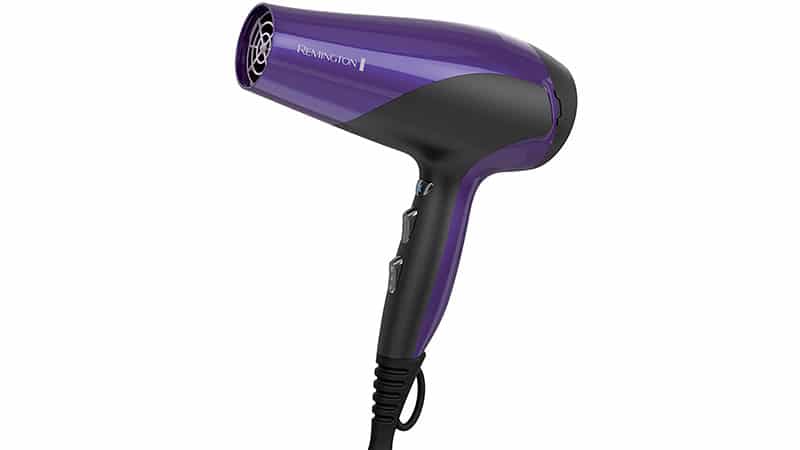 7. John Frieda Full Volume Hair Dryer
If you're looking to pump up your curls with extra volume without adding frizz, look no further than the John Frieda Full Volume Hair Dryer. This 1875-watt dryer features a titanium, ceramic-coated grill to add volume while evenly dispersing heat. As such, it's ideal for boosting your curls without overheating your hair. On top of that, the Full Volume Dryer also boasts a lightweight AC (alternating current) motor and high voltage advanced ionic generator. Therefore, it offers a quick drying time without turning your curls into a ball of frizz. Then, once you're done blow-drying, just use the cold shot button to set your style.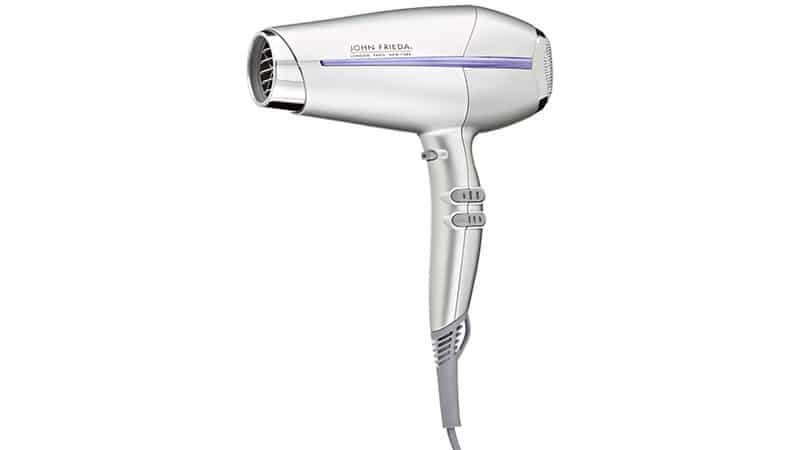 8. DevaCurl Dryer with DevaFuser
It may look a little wacky, but the DevaCurl Dryer with DevaFuser is perfect for ladies with curly or wavy locks. In fact, it was specially designed for them. Unlike your typical, round diffuser, the DevaFuser is innovatively shaped like a hand and features five prongs. It also boasts 50 air vents and delivers 360-degree airflow to surround and gently dry curls while adding more shape and bounce. Although the diffuser is a great reason alone to buy this device, the dryer itself is equally as impressive and features frizz-fighting ionic technology. It also boasts three temperature settings, two different speed settings, and a cool shot button to suit your needs.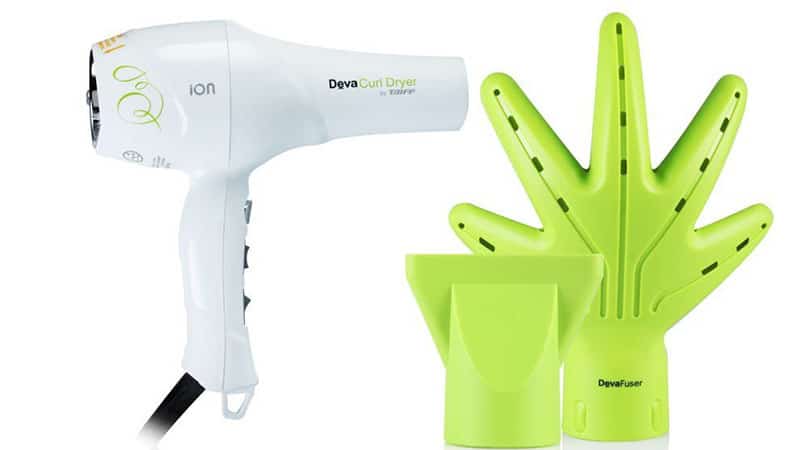 10. Andis 1875-Watt Tourmaline Ceramic Ionic Styling Hair Dryer
Drying your hair and achieving great results in minutes is no longer impossible. Thanks to the Andis 1875-Watt Tourmaline Ceramic Ionic Styling Hair Dryer, taking hair from wet to wonderful has never been easier. The powerful dryer, which features a sleek gold case, contains even-heat ceramic technology. As such, it preserves the natural oils in your hair to seal in moisture and create smooth, frizz-free results. Its ionic technology also works to dry hair faster by breaking up water molecules, meaning that you can dry and style your strands quicker to avoid damaging your natural waves or curls.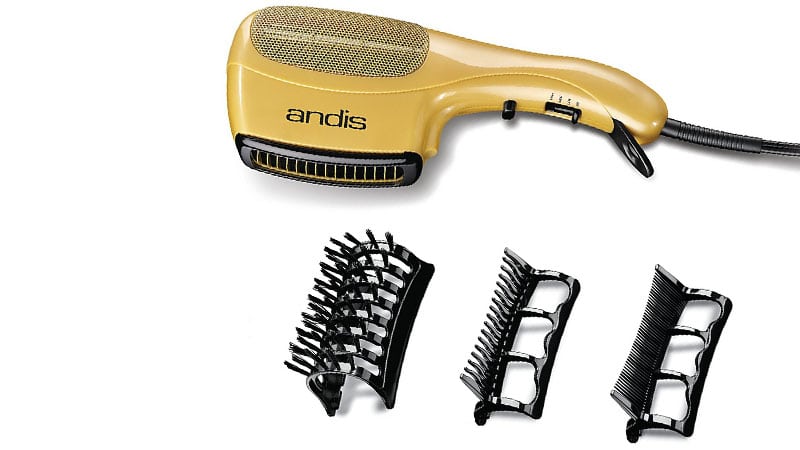 FAQs
How do you use a hairdryer for curly hair?
Ideally, you want to let curly hair air dry due to its tendency to be a bit more fragile and prone to damage. However, that's not always possible, so blow-drying becomes a must. The best way to blow dry your curly locks is to start with wet hair and scrunch through some curl cream that preferably has a heat protection element. Next, set your dryer up with the diffuser at a low speed and heat. Continue with a scrunching motion, pushing the dryer up into the curls, but not concentrating the heat too long in one spot. If you'd like extra volume, flip your hair upside down and dry upwards. Repeat moving around your hair until you're all dry. Once you're done, you finger comb through to break up any clumpy sections and ensure there are no tangles.
How to make curly hair with a hairdryer?
If you're not already blessed with luscious curls, you can create your own with a hairdryer, round brush, and thermal protection hold spray. Work methodically through small sections, applying your spray and dry with the brush as usual. Once it's mostly dry, pull the brush to the very end of the section, and roll the hair around it towards the top. Hold the hot dryer on the rolled hair for a few seconds to set the shape, then give it a blast with cold air. To remove the brush, point the tip towards your head, and unravel around the hair, rather than pulling it out. It should sit in a spiral shape. Let it cool down completely as you continue the rest of your hair. Then, finger comb through to break all the sections up and finish with a hairspray.
Is it better to air dry or diffuse curly hair?
Air drying is going to be the best for the health of your hair, as heat can cause stretching, frizz, and damage. However, it can take much longer; your curls will be less defined and sit flatter. Meanwhile, diffusing is much quicker and will give you better curls, but it can be inconvenient. A good compromise it to partially diffuse your hair from wet, with the product in, to help give a little volume and begin to set the shape before finishing with air drying.
How do you sleep with curly hair?
There are a few methods for sleeping with curly hair that ensure you wake up looking like a goddess, rather than a frizz ball. First is to hydrate your hair by using a leave-in conditioner or treatment. This will help prevent moisture loss and breakage. When it comes to sleepy hairstyles, pineapples, top knots, and braids are popular choices to prevent damage and frizz. Lastly, sleeping on silk is another good tip – you can use either a silk bonnet or pillowcase. The smooth texture won't grab your hair as you snooze like cotton or synthetic options.
SUBSCRIBE TO OUR NEWSLETTER
Subscribe to our mailing list and get interesting stuff and updates to your email inbox.