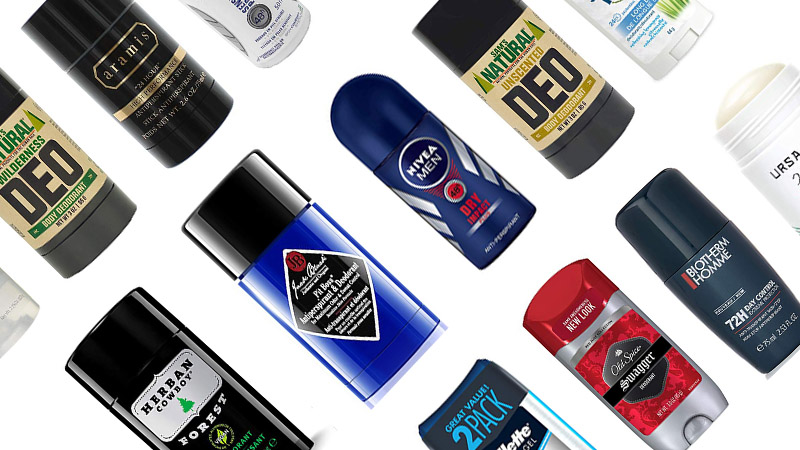 Whether you spend your day cooped up in the office or hit the gym every week, you need to keep your body odor in check. After all, everyone sweats! Luckily for you, today there are more options than ever on the market to help eliminate stink and sweat under the arms. To make things a little easier for you, here we have rounded up the best deodorant for men.
Best Deodorants for Men
1. Helmm Deodorant
Finding a natural deodorant that actually works can be a challenge, but it doesn't have to be with Hemm. This eco-friendly and award-winning product offers a wide variety of scents and formulas to suit your needs. It also features stylish and sleek packaging so that it will look nice on your bathroom counter or in your sports bag. They're also better for the planet – their refillable design helps reduce plastic waste by 70%!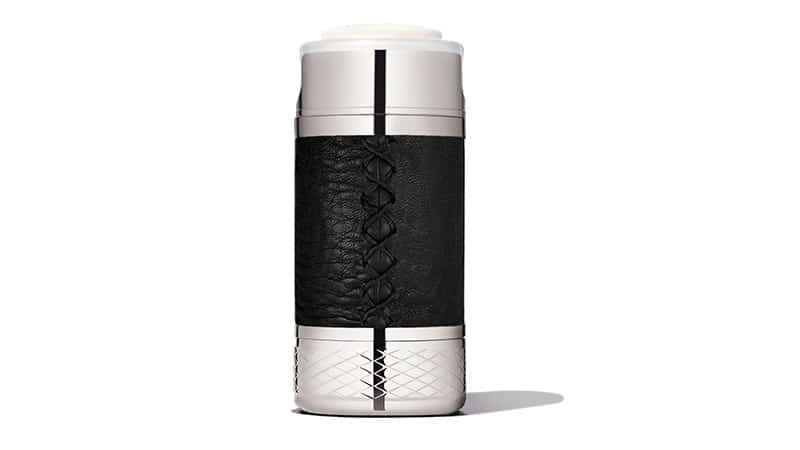 2. Degree Antiperspirant Deodorant
If you're searching for a deodorant that stops feelings of moisture, this is perfect for you. Degree is a trusted brand that offers a huge collection of antiperspirants for all requirements, such as excessive sweating. This super-strong formula keeps your armpits dry and offers up to 72 hours of protection – no need to re-apply several times throughout the day. Plus, the spray doesn't leave any marks on your shirt – it's got everything you need.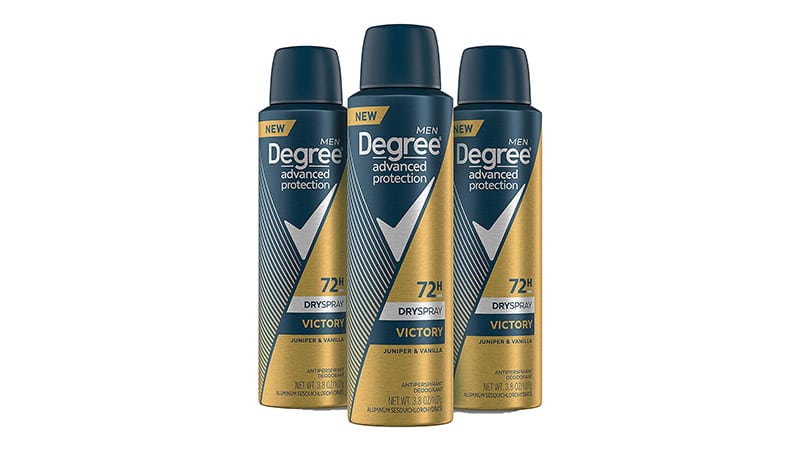 3. Art of Sport Deodorant
This combination of natural ingredients and pro-strength formulas makes Art of Sport deodorants one of the best on the market. It's designed for athletes, featuring natural botanicals like matcha and arrowroot. With no parabens or talc, it's also a kinder option for your skin. Plus, it's pH balanced and has an amazing scent so that you can smell great even after a session at the gym.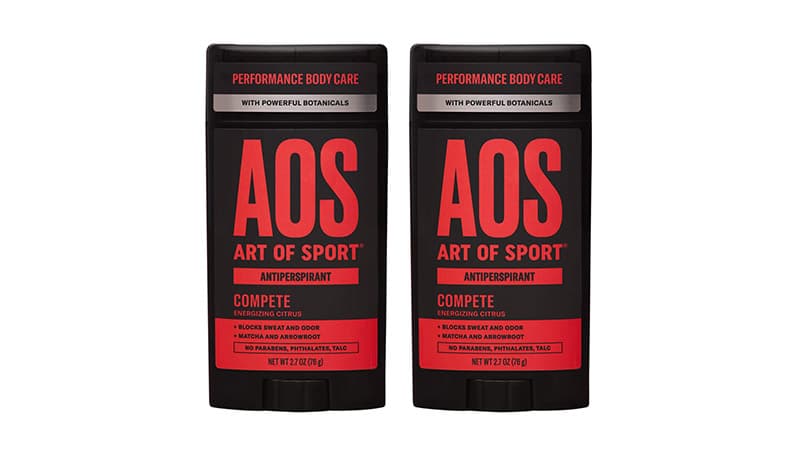 4. Old Spice Red Zone Swagger Deodorant
The classic scent you know and love got an upgrade, and it's here to help you feel fresh all day long. The Swagger deodorant by Old Spice is aluminum-free, so it's better for your skin and provides 24-hour protection, so it's better for your nose, too. With main notes of cedarwood and lime, you'll be ready for anything the day throws at you.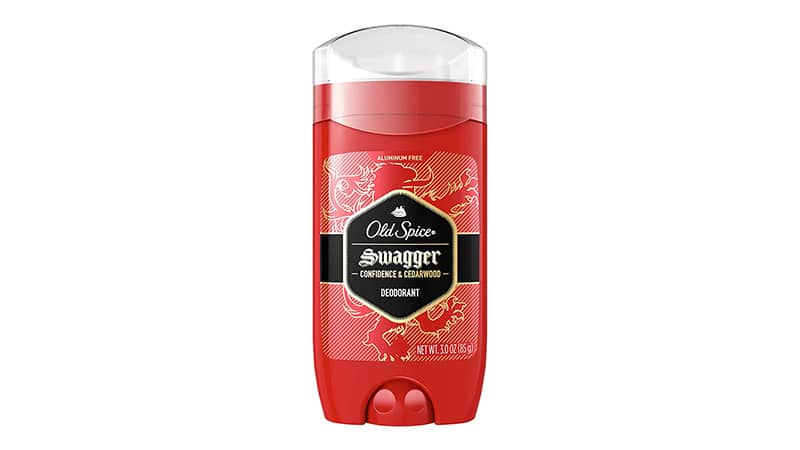 5. Carpe Antiperspirant Deodorant
Soothe your skin as you protect them from sweat with this Carpe antiperspirant. This heavy-duty deodorant has been clinically proven to reduce signs of sweat and features moisturizing ingredients to soften and calm your underarms. Its cream formula won't stain your shirt and is completed with a eucalyptus scent. It's also three times more effective than traditional products, making it a powerful tool to keep with you on the go.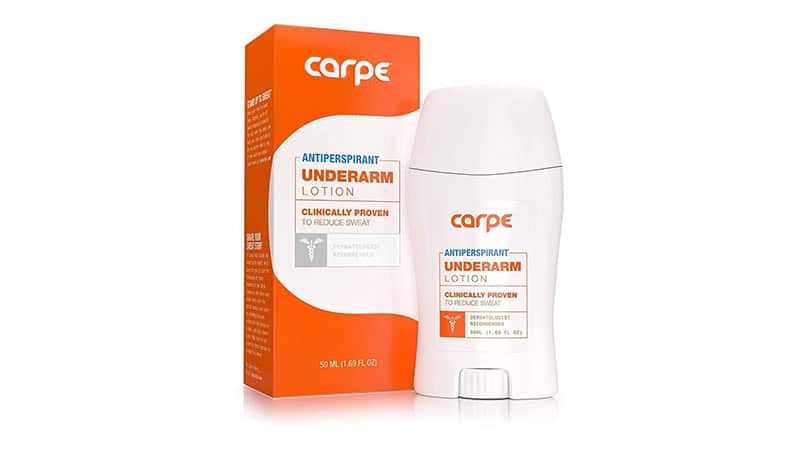 6. Dove 0% Alimunium Deodorant
Aluminum can help you sweat less, but it can also cause some unwanted effects. That's why Dove's 0% aluminum deodorant is the perfect alternative. This plant-based product features natural ingredients that prevent sweat and odor, such as eucalyptus and birch. It's moisturizing, too, and features no parabens or alcohol, leaving your skin feeling soft and dry.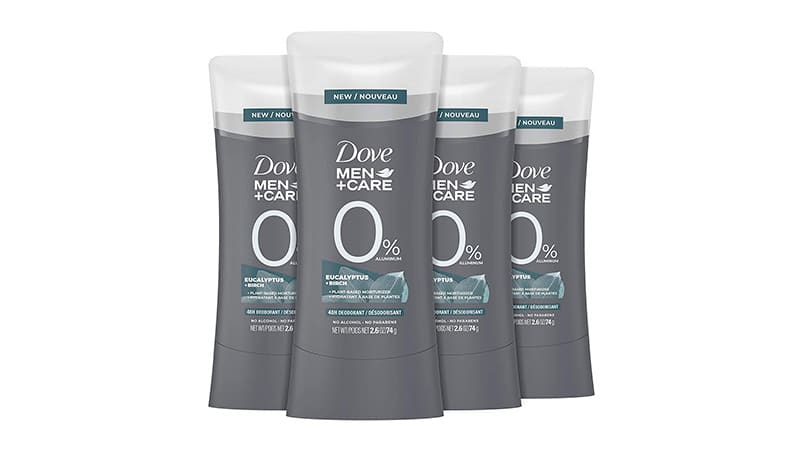 7. Corpus Plant-Based Deodorant
Looking for a vegan and non-toxic deodorant isn't a problem anymore, thanks to this Corpus deodorant. The plant-based product prides itself on its formula to protect all skin types from sweating and odor. It's moisturizing and water-based, without any nasties like parabens or talc. They're also free from aluminum, baking soda, or synthetic fragrances, only certified organic and non-toxic ingredients.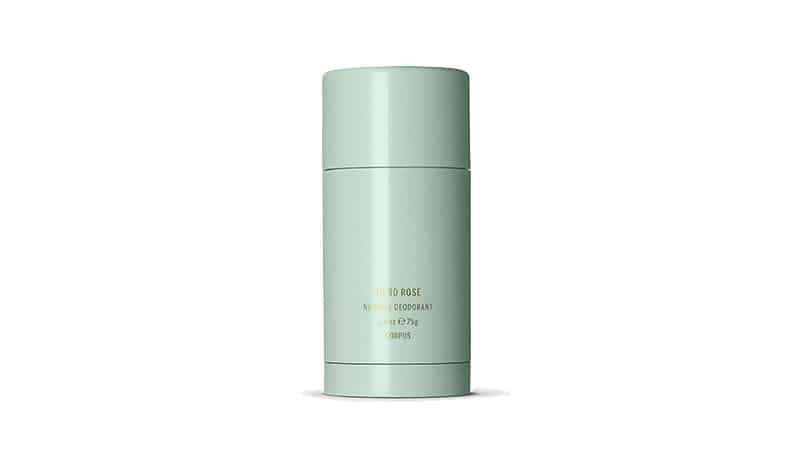 8. Dr. Squatch Natual Deodorant
With a wide range of scents, and a natural formula that packs a punch, the deodorant from Dr. Squatch is sure to impress. With no aluminum or baking soda, it protects you from sweat and odor for hours. You can smell like a breath of fresh air, the rugged woods, or even like a walk along the beach. It's a great way to start your day, and your skin will thank you for it.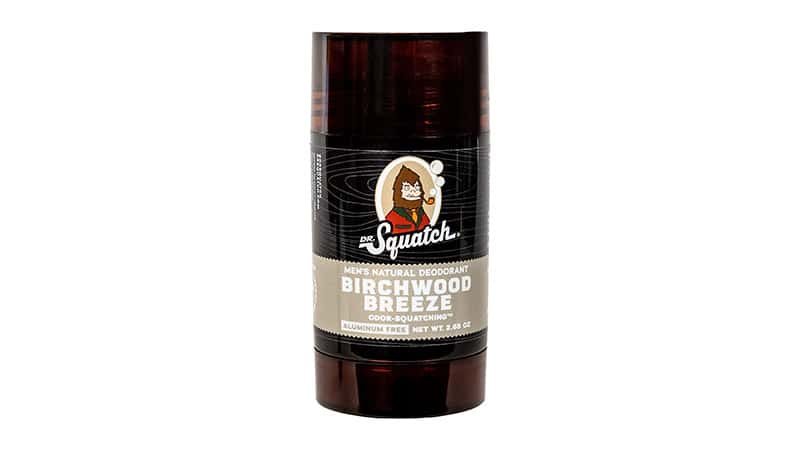 9. Bravo Sierra Natural Deodorant
Whether you're getting ready for a day at the office or about to hit the gym, the Bravo Sierra deodorant will keep you protected. With no nasties like parabens, aluminum, or baking soda, its vegan formula offers a long-lasting defense against odor. N0 matter what you've got planned in your day, you can do it without stressing about your armpits. This brand is tested by the U.S. Military, so you can safely work up a sweat for hours on end without staining your clothes or irritating your skin.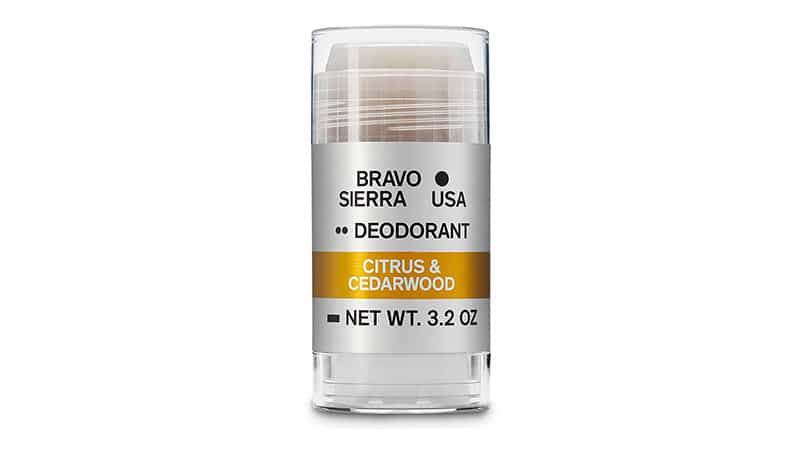 10. Malin + Goetz Eucalyptus Deodorant
Malin + Goetz know a great scent when they smell one, so it's no surprise that they've formulated an effective deodorant to boot. This natural product is free from aluminum, baking soda, alcohol, and parabens, so your skin can feel protected and nourished all at once. It's also residue-free to stop marks on your clothes, with added eucalyptus leaf oil and citronellyl, so you'll smell incredible.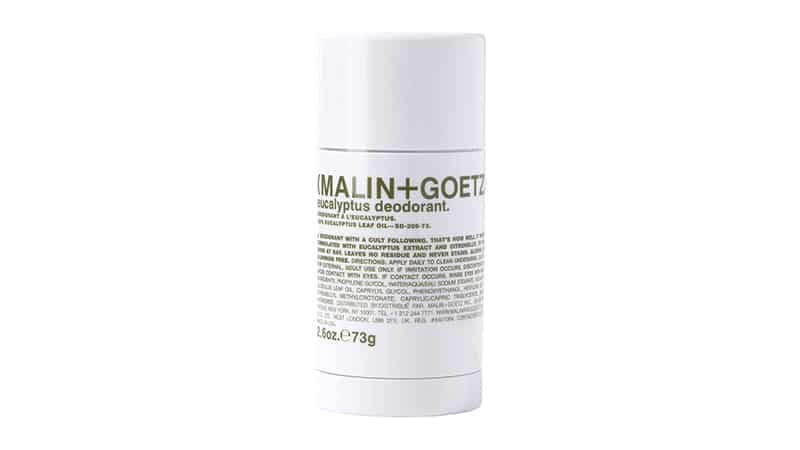 11. Duke Cannon Trench Warfare Antiperspirant
If your current deodorant isn't giving you the strength you need, you should give Duke Cannon a try. This antiperspirant was designed for the working man in mind, featuring an extra-strong formula to prevent wetness and odor all day long. Its ingredients include charcoal to add another layer of protection to your skin and remove toxins that may have built up. From a hike with friends to a 40-hour workweek, you'll be fresher than ever with this by your side.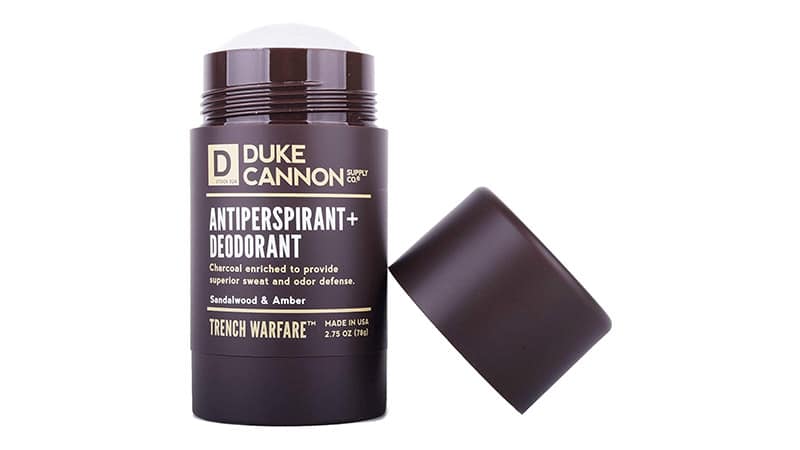 12. Magsol Sandalwood Natural Deodorant
Sometimes you need to get back to basics, and Magsol is the brand to help you there. It's ideal for those with extra sensitive skin – this all-natural deodorant is free from aluminum and baking soda. The company combines beeswax, sweet almond oil, essential oils, and Magnesium to add protection against odor – the first of its kind. You can choose from various scents that suit your taste and defend against sweat with ease.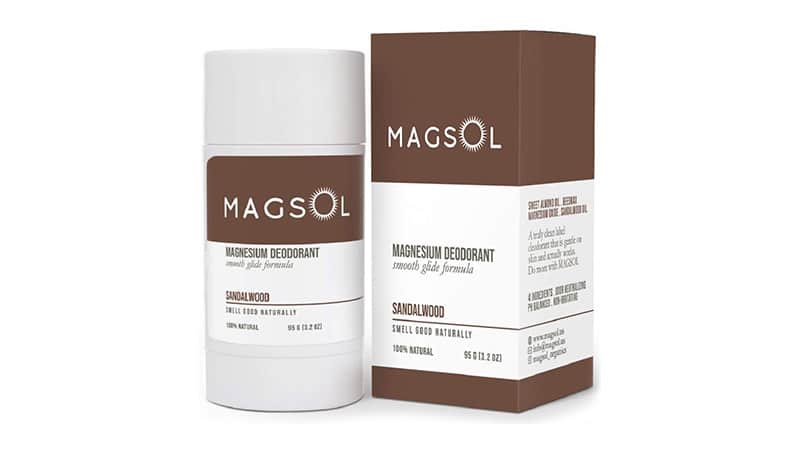 13. AXE Phoenix Antiperspirant
Whether you're playing tennis after a long day at the office or you're gaming all afternoon, it's important to protect yourself from sweat. The Phoenix deodorant and antiperspirant from Axe keep odors at bay and your skin dry for up to 48 hours. The refreshing scent of mint and rosemary is gentle on the skin, plus it smells incredible – what more could you want?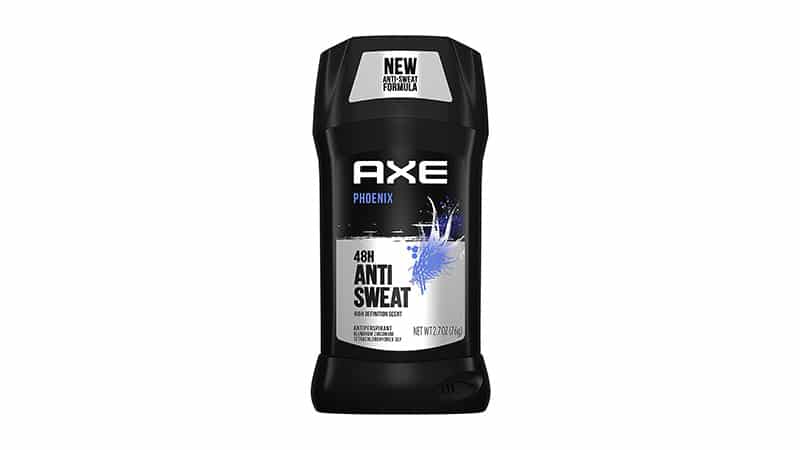 14. Mitchum Ice Fresh Deodorant
Say goodbye to white underarms and say hello to long-lasting protection against sweat. This Mitchum deodorant features Triple Odor Defense, is quick-drying, and leaves no residue saving your clothes from odors and stains. Its alcohol-free antiperspirant formula won't dry out the skin and stop wetness in its tracks, keeping you dry for up to 48 hours.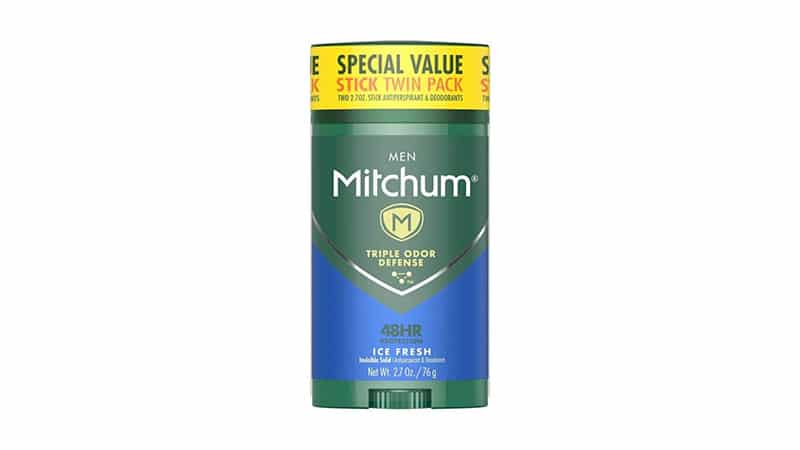 15. Every Man Jack Deodorant
With cotton extract and witch hazel, the deodorant from Every Man Jack certainly does the job. This odor-stopping product is aluminum-free, using natural ingredients to absorb wetness and provide a great scent. From the office to a night out with the lads, this will keep you fresh for hours and leave you smelling better than ever.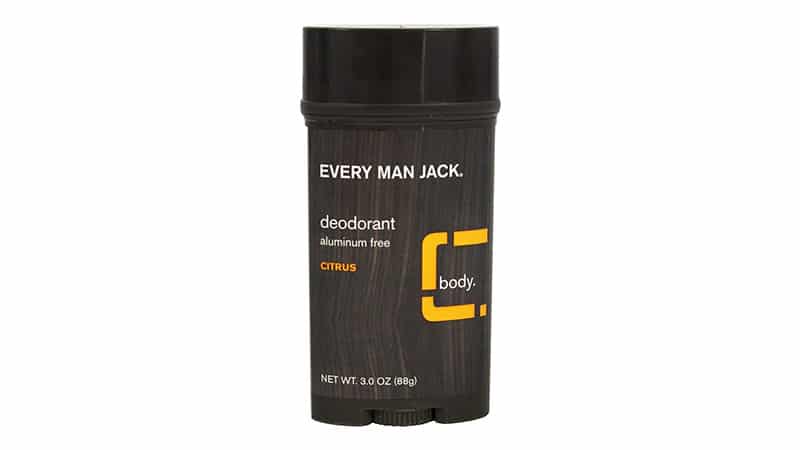 16. Sam's Natural Wilderness Deodorant
Sam's Natural Wilderness Deodorant has an aroma of evergreen forest which comes alive in a blend of rich earth and sharp pine. The long-lasting formula will leave you smelling fresh all day long. It is incredibly effective against odors, without the use of harsh chemicals. It is also free from parabens, aluminum, phthalates, and propylene glycol. Most noteworthy, Sam's Natural Wilderness formula is certified vegan and cruelty-free and packaged in 100% recyclable plastic tubes.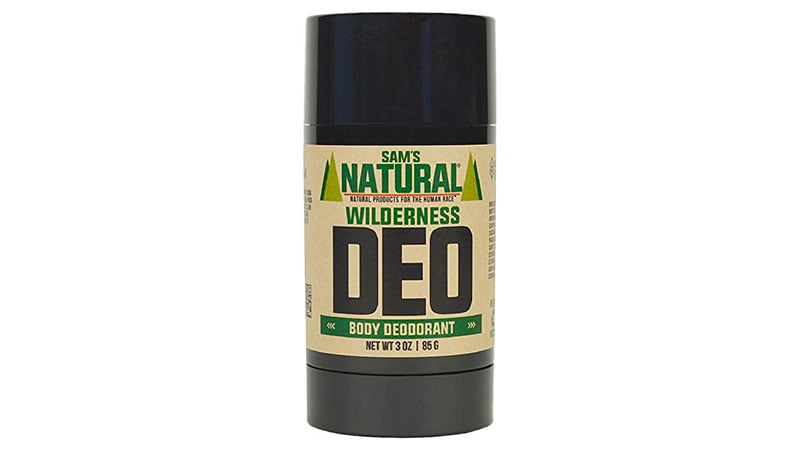 17. Herban Cowboy Forest Deodorant
The Herban Cowboy Forest Deodorant blends rosemary, parsley, and sage extracts for a fresh, forest scent. It goes on clear and dries quickly for a non-greasy finish. Herban Cowboy uses vegan ingredients to create a formula that is free from dyes, parabens, and sulfates as well as phthalates and triclosan. The long-lasting, maximum strength formula certainly provides all-day protection against odors.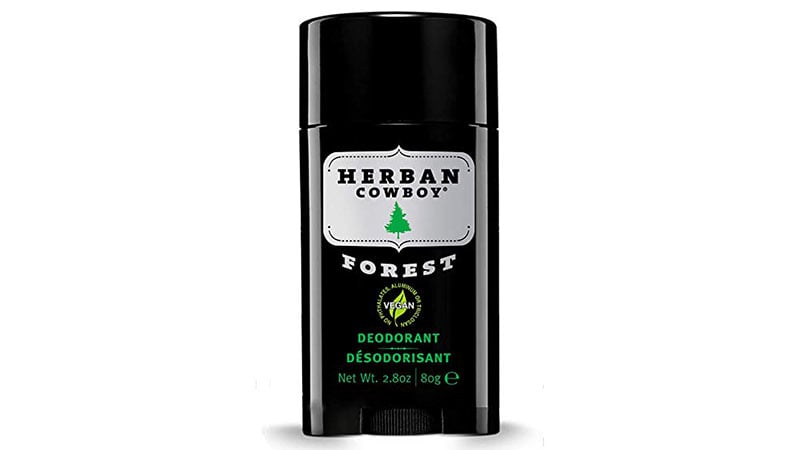 18. Schmidts Charcoal and Magnesium Natural Deodorant
Schmidts Charcoal and Magnesium Natural Deodorant use only natural, vegan and cruelty-free ingredients. The formula contains mineral-derived ingredients and plant-based powders to neutralize odors for day-long freshness effectively. Formulated with baking soda to kill odor-causing bacteria, and arrowroot powder, which works to absorb moisture, this deodorant is non-greasy and non-sticky. It also contains magnesium and charcoal which have recognized detoxification properties.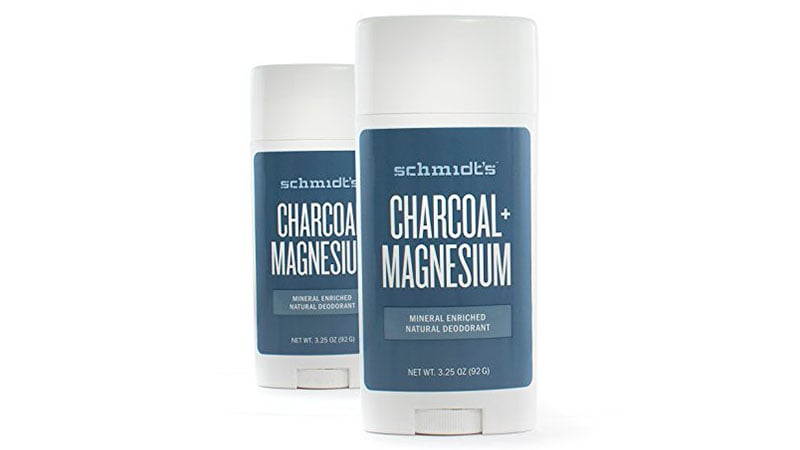 19. Ursa Major Hoppin' Fresh Deodorant
Ursa Major Hoppin' Fresh Deodorant is a natural deodorant suitable for both men and women. It works to eliminate underarm odor while simultaneously calming sensitive skin and absorbing excess moisture. Its healthy, reliable formula and intoxicating aroma will certainly protect you from stink and sweat all day long. Formulated with various natural ingredients including kaolin clay, baking soda, and aloe vera, the formula is aluminum, fragrance, paraben, and cruelty-free. Its silky smooth texture glides on the skin, providing a crisp, unscented aroma.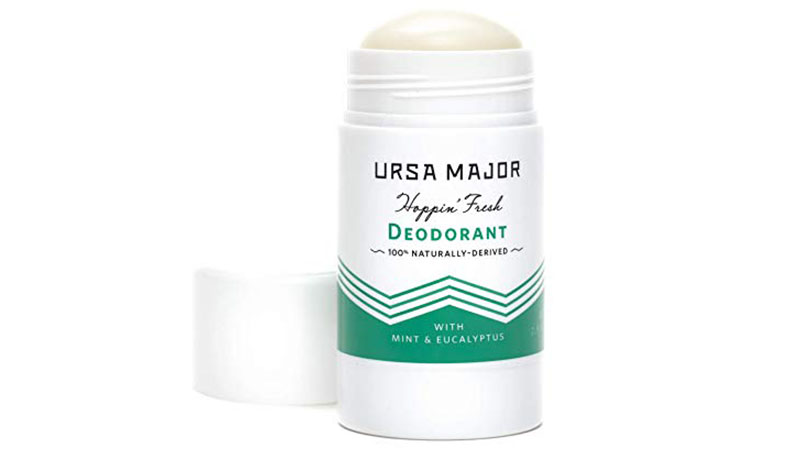 20. Biotherm Homme Antiperspirant
The Biotherm Homme Antiperspirant is an extremely long-lasting roll-on deodorant for men. Developed with new smart protect technology, the antiperspirant provides 72 hours of protection against sweat. The formula contains aluminum salts to reduce underarm moisture and bacteria as well as allantois for soothing, repairing, and moisturizing properties. Biotherm Homme Antiperspirant banishes wetness, consequently leaving the skin feeling calm and fresh.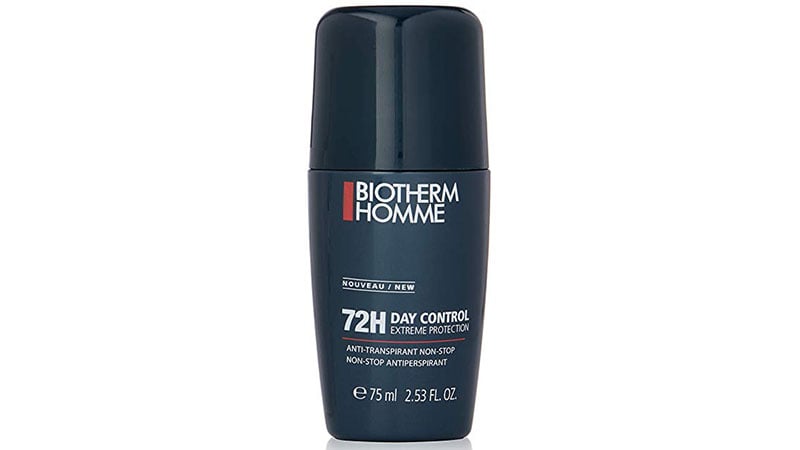 21. Aramis Antiperspirant Stick
Aramis Antiperspirant Stick is an intensive deodorant that provides maximum, long-lasting defense against wetness and odor. Its body heat-activated formula releases fragrance as soon as your temperature rises. Characterized by a warm, earthy scent strengthened with herbs, citrus, and rich spices, Aramis is a classic fragrance that is distinctively manly, seductive, and warm.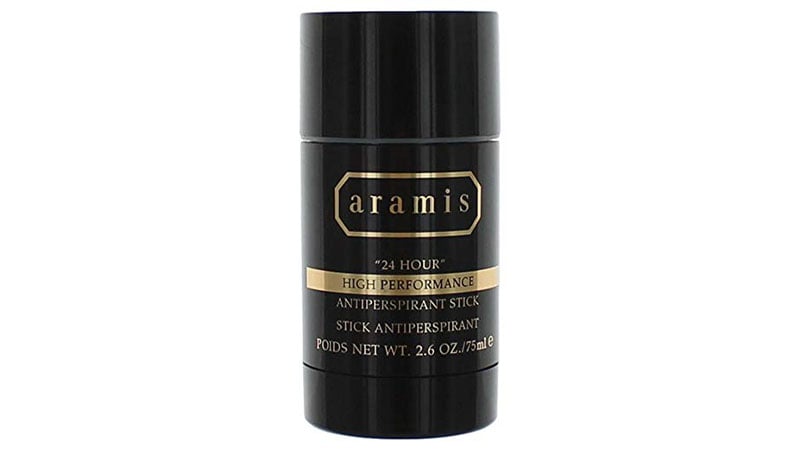 22. Jack Black Pit Boss Antiperspirant
Jack Black Pit Boss Antiperspirant is an invisible deodorant that offers superior protection from odor and wetness. Its gentle, non-irritating formula glides on smoothly, leaving no white marks on the skin or your clothes. This roll-on antiperspirant features Jack Black's popular scent, ensuring protection from odor and wetness for hours. In addition, its gentle formula is suitable for even the most sensitive skin and is non-irritating on the delicate skin under the arm.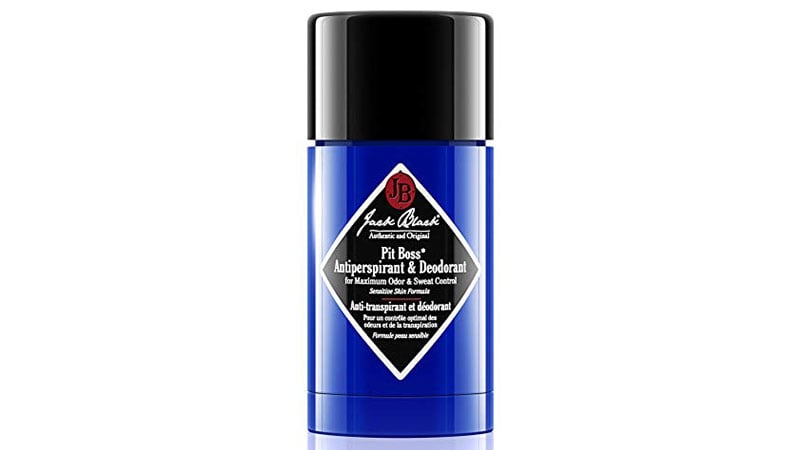 23. Almay Antiperspirant
The Almay Antiperspirant is a long-lasting deodorant that contains the maximum level of active ingredients for all-day wetness protection. Its quick-drying formula is hypoallergenic and subsequently suitable for sensitive skin. Above all, Almay's unscented, non-irritating antiperspirant provides outstanding protection and leaves no white residue.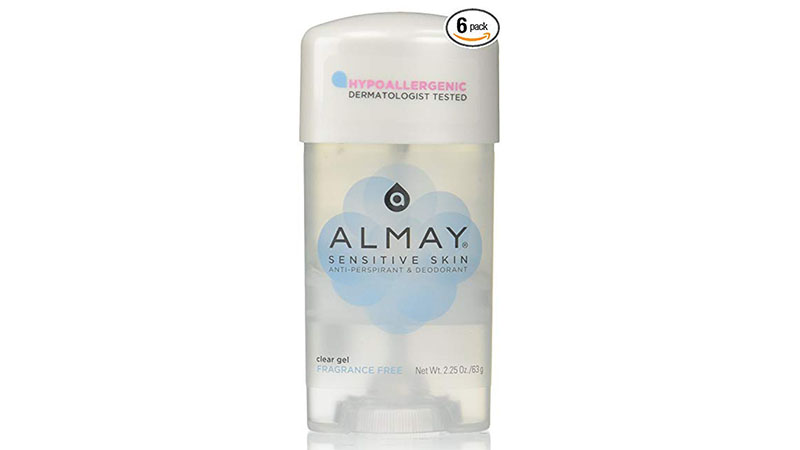 24. Tom's of Maine Lemongrass Deodorant
Tom's of Maine Lemongrass Deodorant combines safe and natural ingredients for a lovely, fresh scent. The long-lasting formula is free from parabens, artificial fragrance, and aluminum and works to fight odor for 24 hours. Above all, Tom's of Maine Lemongrass Deodorant does not test against animals and is halal and kosher certified.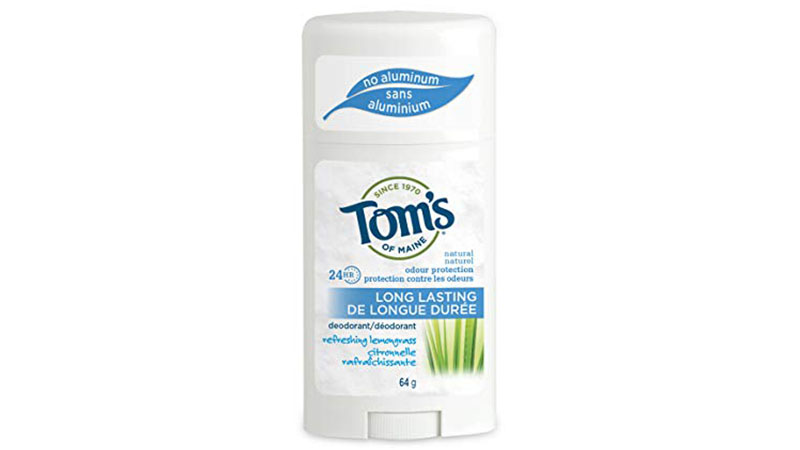 25. Underarmed Active Botanical Luxury Deodorant
The Underarm Active Botanical Luxury Deodorant will have you feeling fresh all day long. Its natural formula is free from aluminum and synthetic fragrance and uses organic ingredients that aim to detox the body and nourish the skin. Lavender and eucalyptus come together to create a subtle yet therapeutic scent that goes on clear. Finally, it is non-toxic and PH balanced, making it safe for the whole family to use.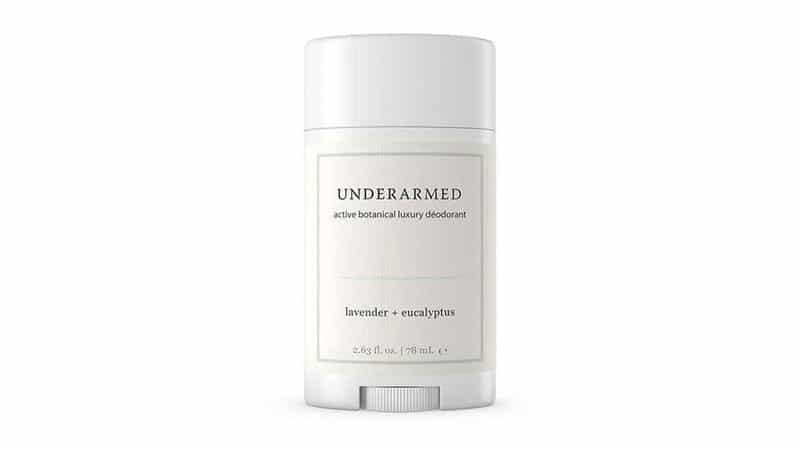 Types of Deodorants
Sprays
Sprays are one of the most common types you'll find and are an easy way to freshen up in a flash. Usually, with an aluminum body and push-down head, they emit the deodorant and give you an instant refresh, making for a perfect addition to your post-gym workout. To use, make sure your armpits are clean – keep the can about 10 inches away from your skin. Once dry, you can re-apply clothes and forget about sweating or odors.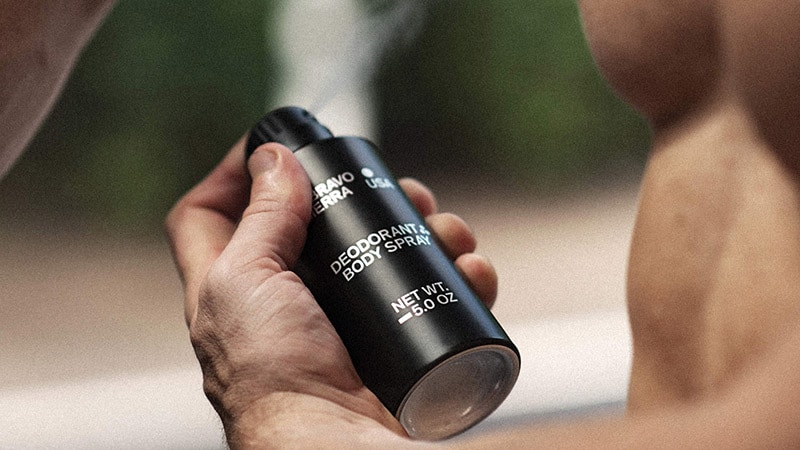 Gels
Gel deodorants are a great option if you need something long-lasting and effective, plus they're cool to the touch. They usually come in sticks that you push from the bottom or a twist dial and only require a small amount for maximum effect. For best results, apply it after a shower and wait until the skin is dry before dressing.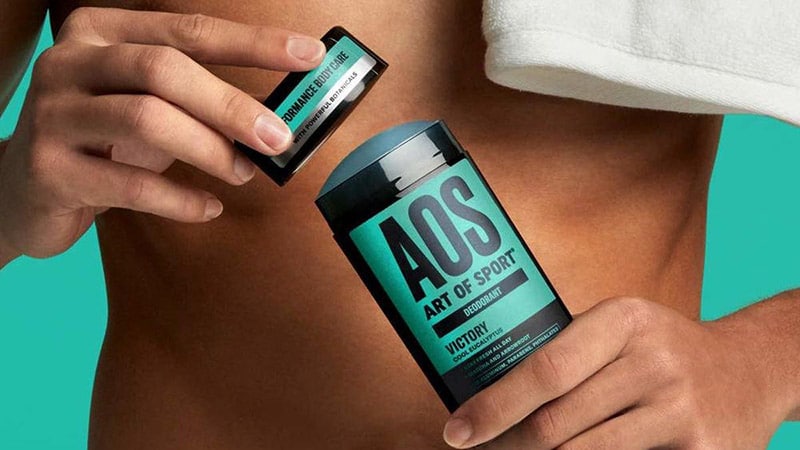 Roll-on Sticks
With a roll-on stick, you can get the best of both worlds. This is a fast-drying and easy option for those who want to quickly freshen up without leaving residue on their clothes. The formulas in these products tend to have strong staying power than aerosols so that you can defend your skin from stink for longer. Plus, they're small enough to take with you everywhere.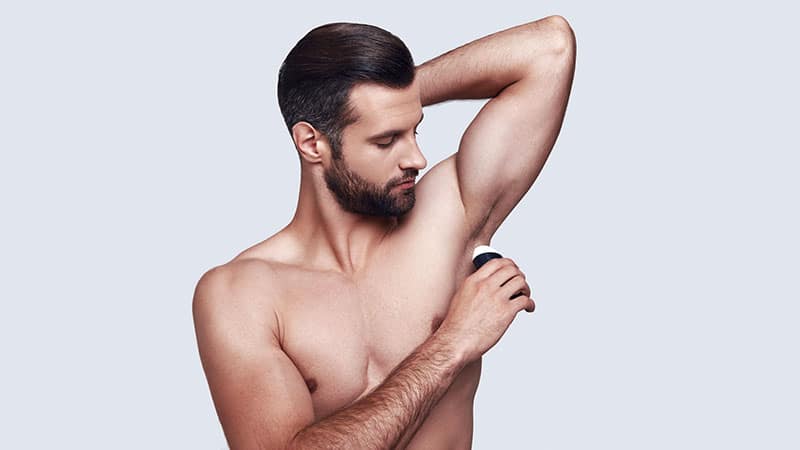 Paste
Deodorant pastes and solid alternatives often feature natural ingredients which protect your skin from damage, odor, and sweat. Unlike traditional options, which are applied using a stick or aerosol, this product requires only your hands. After a shower, collect a small amount on the tips of your fingers and massage it into your skin until fully absorbed. Some will contain more moisturizing formulas than others, so you can choose what is right for your skin type and needs.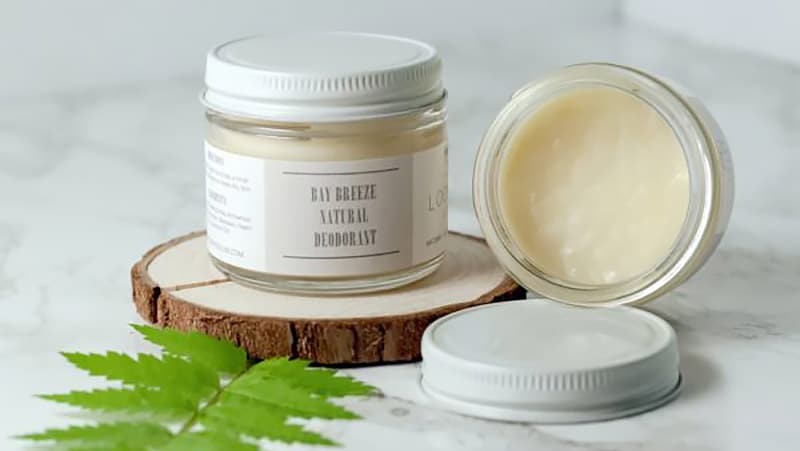 How to Choose a Deodorant
Is it a deodorant or antiperspirant?
There are some distinct differences between a deodorant and an antiperspirant. The former usually features alcohol which prevents smelly bacteria from emerging but will not necessarily prevent sweating. In contrast, the latter includes ingredients like aluminum that block your pores and sweat glands, so you don't get that wet feeling.
Does it contain any unsafe ingredients?
Before purchasing a deodorant, make sure it includes ingredients that you know are safe for your skin. Although there have been no proven studies to suggest that aluminum causes serious side effects, plenty of alternatives exclude these formulas for peace of mind. Other components that users should be aware of include talc, phthalates, and parabens, which some have been linked to infertility, and disruptions in endocrine function.

Are you allergic to any of the ingredients?
There is no one-size-fits-all when it comes to deodorant. Everyone's skin is different and can react to ingredients in unexpected ways. Some products will include a fragrance – natural or synthetics – that can cause adverse reactions. In this case, a fragrance-free option is usually the best bet. For those with sensitive skin, it's best to avoid aluminum, sulfates, and alcohol, as they can dry out the skin and cause a rash.
Is the deodorant sustainably sourced and manufactured?
Sustainability is a really important factor to consider when purchasing regular hygiene products. As we use them daily, it's equally important to think about where the packaging will go once it's finished. Many deodorant brands will offer recycled packaging, natural and ethically-sourced ingredients, and other planet-friendly practices. But if you're unsure, it's best to check for a B Corp certification or choose a plant-based, vegan option that isn't tested on animals.&
Can you afford to buy this deodorant often?
Deodorant is a daily essential, so always consider its price when you start looking for something new. Different brands will offer varying results, and just because an option is more expensive, it doesn't necessarily make it better than a more affordable alternative, and vice versa. Consider how often you will be using and replacing the hygiene products and how it may impact your budget.
How to Use a Deodorant
Clean your body with gentle soap, paying attention to the spots on your body that produce heat, such as the armpit.
Dry the area with a clean towel before applying deodorant.
Apply a small amount of deodorant to your underarms, swiping back and forth two or three times. If using an aerosol spray, apply about 10 inches away from direct skin.
Wait a few minutes for your skin to dry completely before dressing.
Re-apply later in the day if necessary.
Store your deodorant in a cool and dry place out of direct sunlight, such as a bathroom cupboard or gym bag.
FAQs
What is the best deodorant for odor?
Some of the best deodorants for odor are Sam's Natural Wilderness Deodorant, Herban Cowboy Forest Deodorant, and Schmidts Charcoal and Magnesium Natural Deodorant. These are all-natural options that are good for your body and the environment but may take a transition period to adjust.
What deodorant smells the best for guys?
Just like perfume, smell preference in deodorant is very personal. The most popular fragrance styles for men are fresh or earthy smells like pine, citrus, and sandalwood, which are all masculine and refreshing.
What is the most effective men's deodorant?
Deodorants that contain baking soda and kaolin clay are very effective at killing the bacteria that cause smells, while magnesium and charcoal are great for detoxifying. As such, deodorants like Sam's Natural Wilderness Deodorant, Herban Cowboy Forest Deodorant, and Schmidts Charcoal and Magnesium Natural Deodorant are all effective options.
Does men's deodorant work better?
There's not a lot of hard evidence that men's deodorant works better than women's, but there is a lot of anecdotal evidence. The fragrances used in men's deodorants tend to be a bit stronger and can therefore mask smells better. However, the active ingredients between men's and women's products tend to be the same and present in comparable amounts.
SUBSCRIBE TO OUR NEWSLETTER
Subscribe to our mailing list and get interesting stuff and updates to your email inbox.