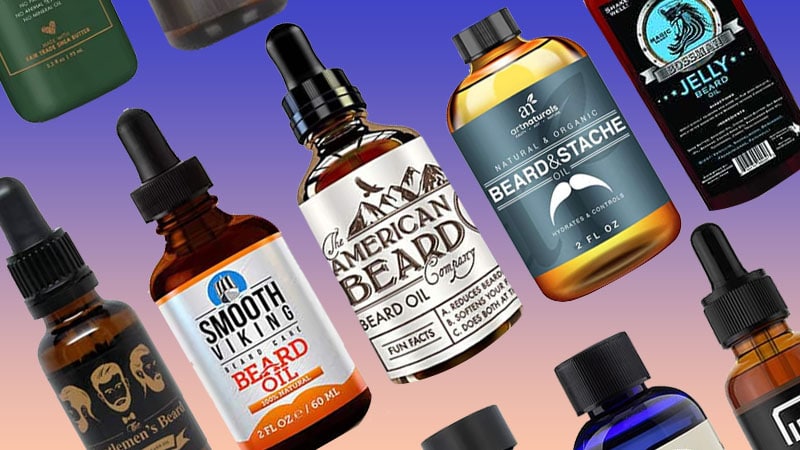 Growing and maintaining a beard takes more than just time and patience. It takes care and grooming. Unless you like a course, itchy, and an unruly mound of hair on your face, your beard will need attention and a little love. To ensure a healthy, hydrated, and gentlemanly beard, you'll need to invest in some beard oil. Designed to smooth your facial hairs and soothe the skin beneath, oil will help turn any rough and rugged bushy beard into a well-groomed and magnificent masterpiece. All you need to know is which beard oils will do as promised and how to use it for maximum results.
RELATED: 10 Best Beard Growth Oils for a Viking Beard
RELATED: 27 Best Beard Styles for Men
Best Beard Oils
1. The Gentlemen's Beard Oil and Conditioner Softener
As well as being 100% natural and organic, the Gentlemen's Beard Oil is also fragrance-free. Perfect for gents who prefer not to fuss about with scents, this product is entirely free of any smell. When it comes to performance, this oil is impressive and promises to reduce beard itch and flaking skin with its vitamin E and evening primrose formula. On top of all that, it also treats split ends and is easy to use.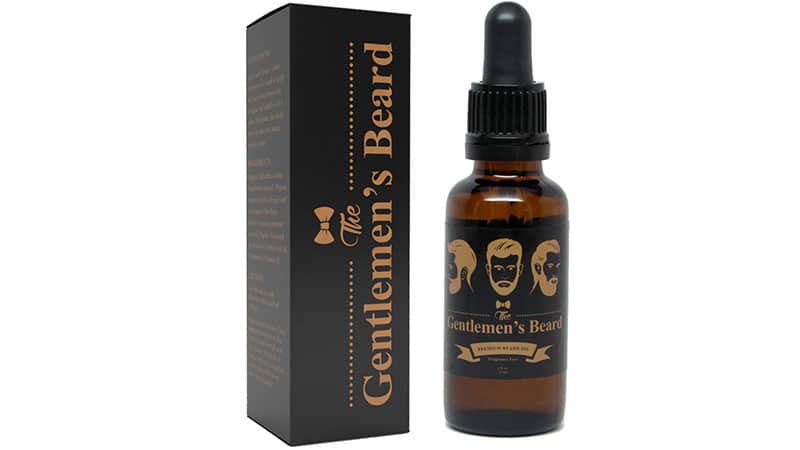 2. Smooth Viking Beard Oil
Need to soften your rough, brittle or unruly beard? Smooth Viking's Beard Oil is the answer. This oil is designed to leave you with soft and manageable facial hair and can tackle even the beastliest of beards. The easy to use formula supports the overall health of your beard and helps stop skin itching. It's also packed with all-natural ingredients to ensure excellent results without any nasty chemicals.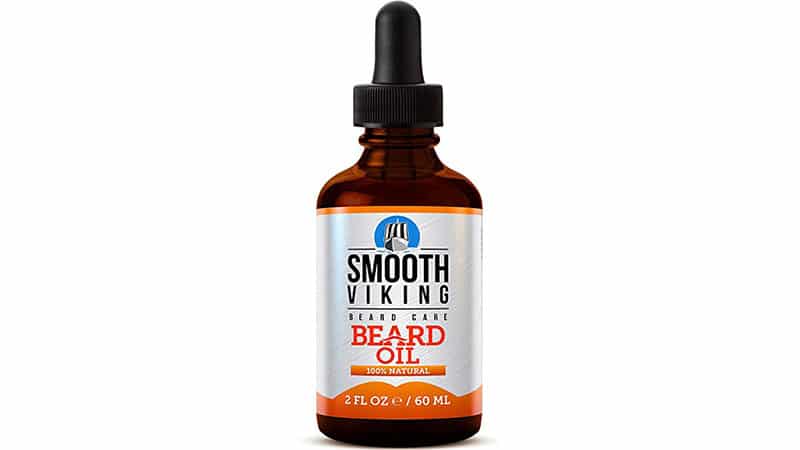 3. Honest Amish Classic Beard Oil
Handcrafted from the finest organic oils, the Honest Amish Classic Beard Oil contains nothing artificial and is vegan-friendly. The made-in-the-USA product features eight premium hydrating oils, including virgin argan oil and golden jojoba oil, and seven essential oils. Described as "better than an oil" this product targets hair growth and beard and skin health to condition, nourish, and relieve any irritation.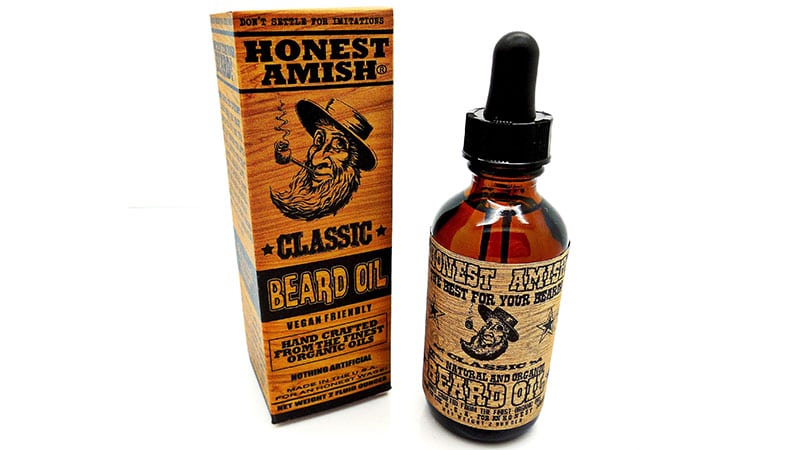 4. Leven Rose Fragrance-Free Beard Oil
Leven Rose's Fragrance-Free Beard Oil moisturises beard hair and skin to create a respectable and kissable beard while eliminating itching and dandruff. The formula, which is not only fragrance-free but free from fillers, additives, parabens, and GMOs, contains only two ingredients. Organic jojoba oil and organic Moroccan argan oil give this simple yet effective formula its incredible calming power.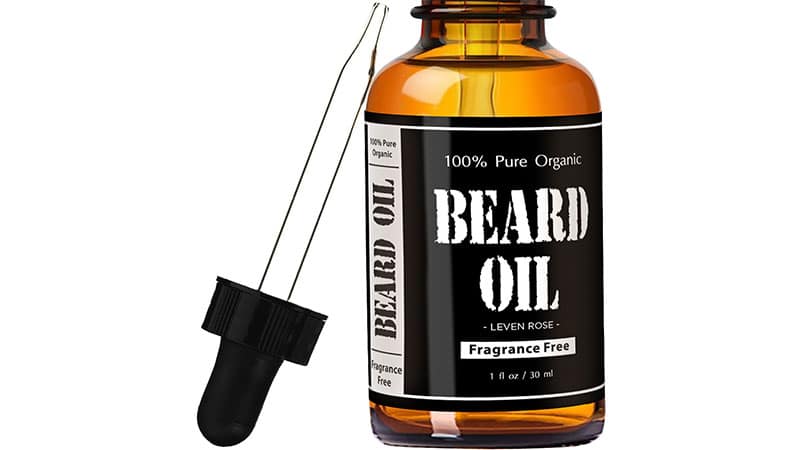 5. The American Beard Company Beard Oil and Conditioner
The American Beard Company claims that its Beard Oil and Conditioner will take you one step closer to having a majestical beard. Just a few drops rubbed thoroughly through your beard, and you'll have facial hair that is soft, tamed, dandruff free, and overall nice and healthy. The oil's scentless formula contains jojoba seed oil and argan kernel oil, both of which have been scientifically proven to help moisturise the hair and skin, stimulate healthy hair growth, and eliminate dry skin that causes flaking and itching.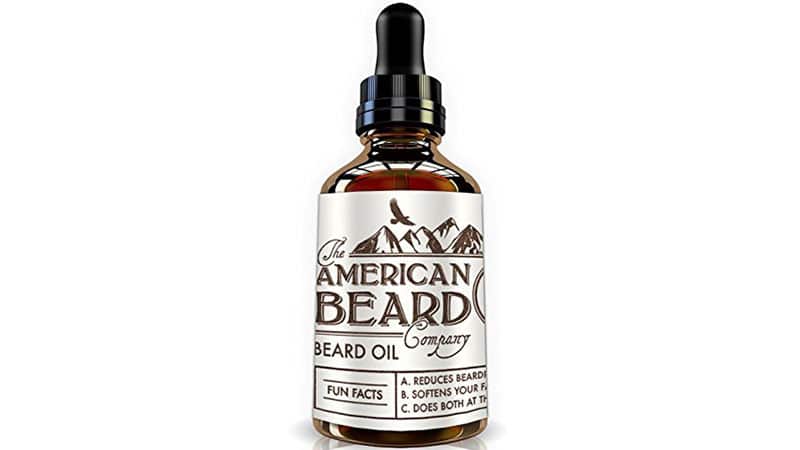 6. Grave Before Shave Bay Rum Beard Oil
This beard oil by Grave Before Shave contains a fantastic and manly Bay Rum scent with soothing coconut afternotes. The brand even claims that the smell will bring out the pirate in any gent! While we're not sure about that, we are confident that its ingredients will bring out the softer side of your beard. Designed to moisturise and strengthen your facial hair as well as condition the skin underneath it, this all-natural formula is adept at helping you grow a healthy beard.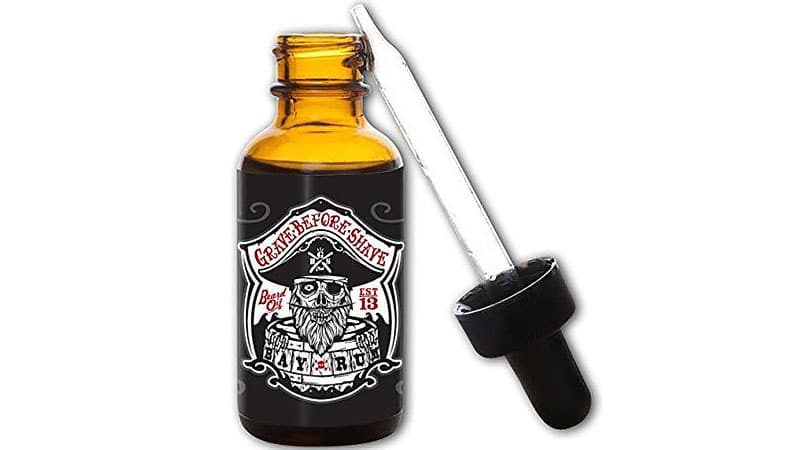 7. Art Naturals Beard and Stache Oil
Organic jojoba, Moroccan argan and vitamin E oils combine in this Beard and Stache Oil by Art Naturals to condition and soften facial hair for better grooming. As well as being designed to eliminate itching and banish skin flaking, this healing and hydrating formula can also fight acne. The 100% natural and paraben-free product contains antioxidant powers to cleanse pores while stimulating healthy hair growth.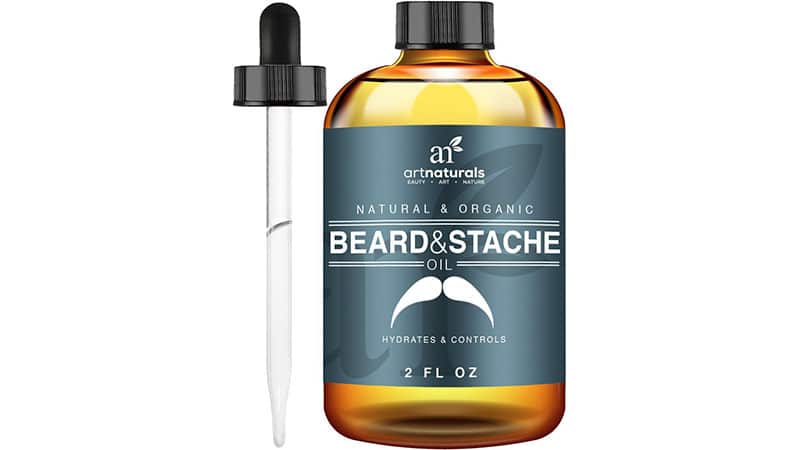 8. Bossman Jelly Beard Oil
As the world's first jelly-based beard oil, Bossman Jelly Beard Oil bonds to beard hairs better than traditional oils. As such, this top product, which contains carefully chosen natural oils, can provide more intense moisturising, taming, and strengthening than conventional products. It also offers longer-lasting results thanks to the jelly's ability to penetrate deeply and hydrate the roots of the hair follicles and pores of the skin. Additionally, this oil's Magic scent is warm and intoxicating, making it perfect for close encounters and special occasions. It boasts a rich blend of sandalwood and vanilla with highlights of bergamot, patchouli and frankincense.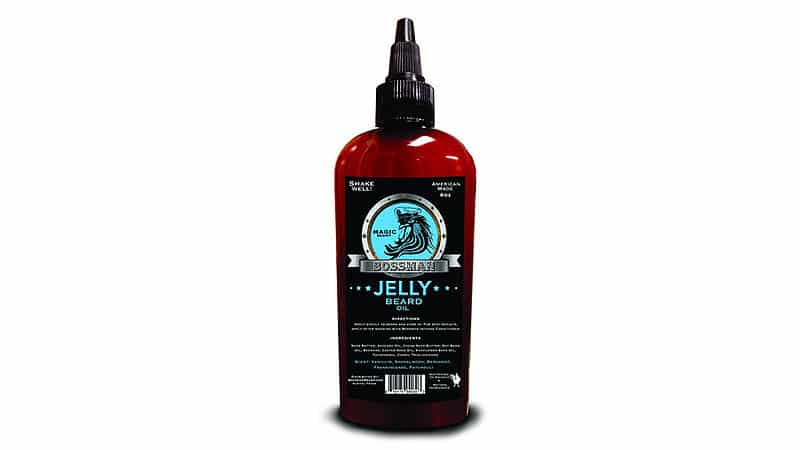 9. Elle and Eve Coconut Rum Beard Oil
After months spent sourcing the U.S. for the finest plant-based oils, Elle and Eve created the Coconut Rum Beard Oil. This high-quality oil, which was made in collaboration with dermatologists, promises to boost your beard's health and vitality. It features premium coconut oil, argan oil, avocado oil, jojoba oil, rosemary oil, grapeseed oil, soybean oil, and olive oil, meaning it's packed with nourishing ingredients. By hydrating your facial hair and the skin beneath, this product will soothe your skin, improve your beard and leave you smelling deliciously like coconut rum. In addition to all this, its lightweight formula can be quickly absorbed without leaving any oily or greasy residue.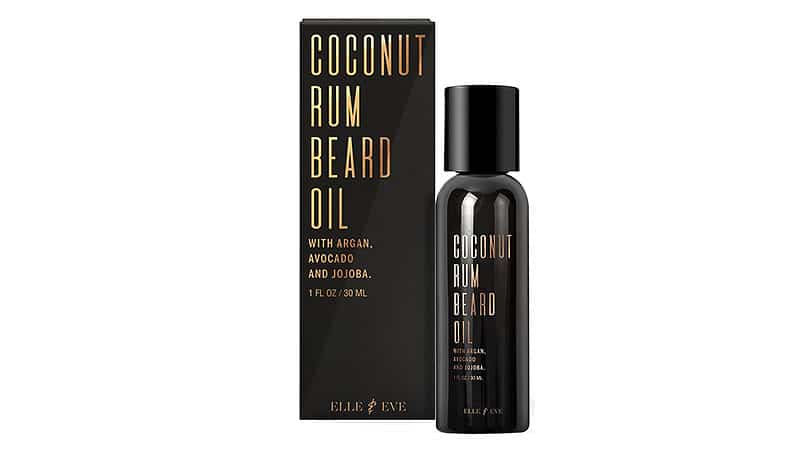 10. Mountaineer Brand WV Timber Beard Oil
If you want to up your beard game, you need Mountaineer Brand WV Timber Beard Oil. Perfect for turning a dull and scruffy beard into a thing of beauty, this oil works to rejuvenate and rehydrate tired facial hair. The 100% natural oil, which contains no dyes, parabens or artificial fragrances, features just three base ingredients along with a couple of essential oils. These essential oils provide the WV Timber Beard Oil with its signature cedarwood and fir needle scent. With just a touch of eucalyptus as well, this oil smells refreshing without being overpowering.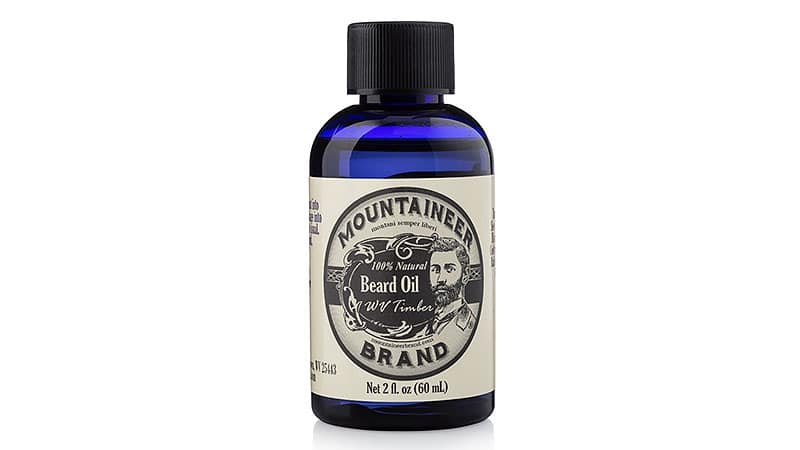 11. Can You Handlebar Wisdom Premium Beard Oil
Do you have a dry, itchy and flaky beard? Don't worry; you can combat your beard woes with a healthy dose of Can You Handlebar's Wisdom Premium Beard Oil. Designed to hydrate both your facial hair and skin, this oil will soften your scruff and tame dry, wild and split hairs. It also promises to encourage new growth without any hidden nasty ingredients. Additionally, its bright and woody scent is perfect for modern gents. Blending warm and masculine notes with fresh hits of cucumber and lemon, Wisdom Beard Oil's smell is contemporary yet classic.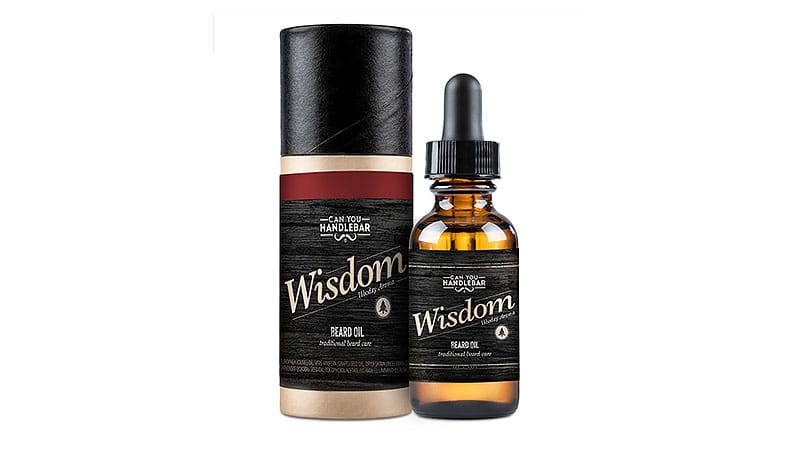 12. Prophet and Tools Beard Oil
Fueling your beard just got a whole lot easier thanks to Prophet and Tools Beard Oil. Designed to restore, protect and bring your hairs back to life, this oil is like a dose of TLC for your facial fuzz. So, if your beard is dry, thin or even falling out, this nourishing and hydrating product promises to give it the boost it needs. As such, you can say goodbye to split ends, painful irritation, unsightly flakes, and tangled strands, and hello to healthy, fast-growing hairs and glorious shine. Best of all, no beard has to miss out with this nut-free formula that's also suitable for vegans and those that practice Halal and Kosher.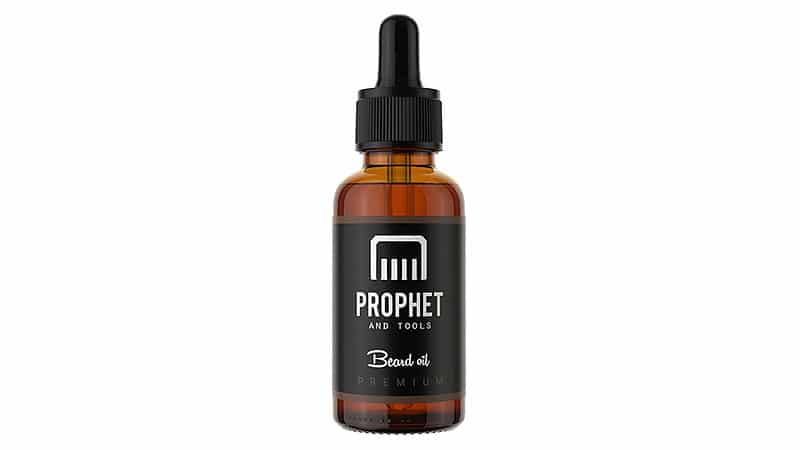 13. Live Bearded- Gunslinger Beard Oil
Renowned as the 'premium handcrafted blend' of beard oil, Gunslinger by Live Bearded is the all-natural grooming product for men seeking to grow their facial hair and nourish their mug. Made from sweet tobacco, cedar, argan oil, jojoba oil and grapeseed oil, the Gunslinger cinches to keep a man's beard in trim all while oozing a fragrant smell. Once, applied, it'll be absorbed by the skin to optimise beard growth and skin hydration. The product addedly provides relief from itchiness, irritation and is formulated to tame kinky hairs, making your beard silkier and more fetching.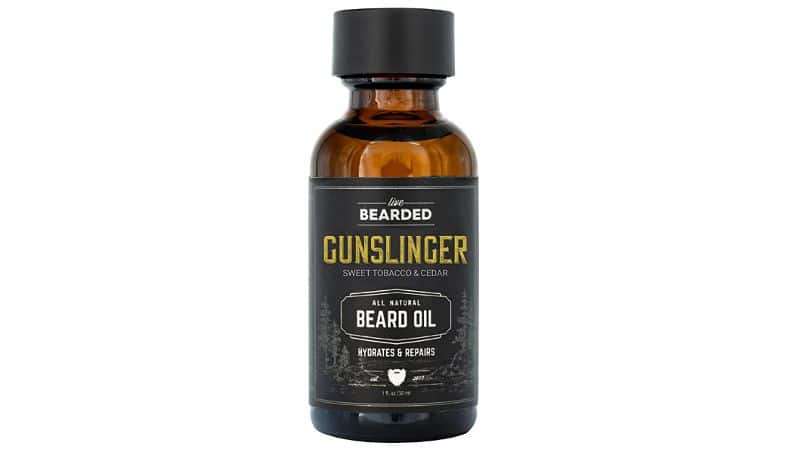 14. Striking Viking Vanilla Beard Oil
The all-natural, easy to use Vanilla scented beard oil from Striking Viking is a surefire grooming product. Prized for its non-greasiness and enchanting vanilla fragrance, the oil softens and conditions facial hair. Comprising of sweet vanilla bean, lavender, tea tree and natural oils, the oil ensures to enhance your beard's appearance and texture. When applied, it'll stimulate growth by effectively restoring the natural moisture to the root of your beard, tame kinky hairs and eliminate dandruff and itching; making your beard thicker, fuller and softer.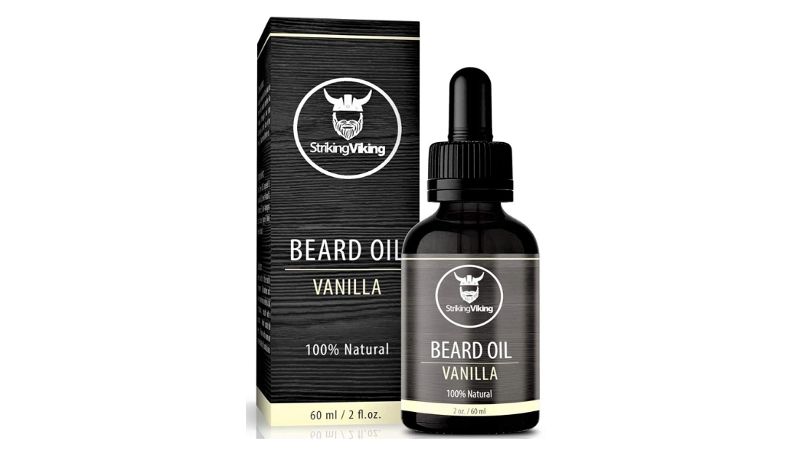 15. SheaMoisture Beard Conditioning Oil
Practice premium beard care, all day, every day with the SheaMoisture. Made from maracuja oil and shea butter, the conditioning oil carries an invigorating scent and promises a deep cleanse for a better looking and feeling beard. After washing and drying your mug, apply a few drops onto your beard (from root to ends) and skin and allow it to nourish your facial hair and skin. The premium product also rejuvenates skin cells, promotes cell growth and bears a non-greasy formula that's deft at smoothening frizzy hair.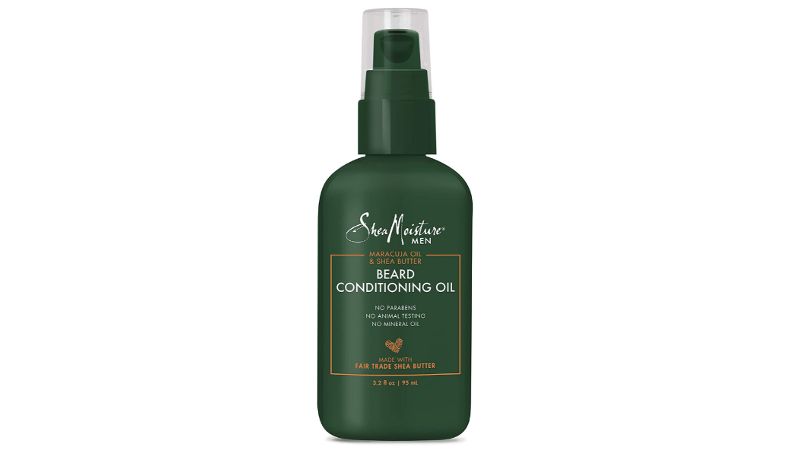 16. JB Beard Oil
Keep your beard in good trim with the Jack Black (JB) beard oil. Forged for beards of all types, the oil is exhilarating to apply and leaves your beard and skin looking and feeling sublime. The product helps condition, straighten and enhance the appearance of one's facial hair as well as put an end to flaky, itchy skin. Housed in a one-of-a-kind bottle, that oozes a minimally scented botanical citrus aroma, the Jack Black give users a naturally dazzling look that's non-greasy and leaves your beard feeling sleek and healthy.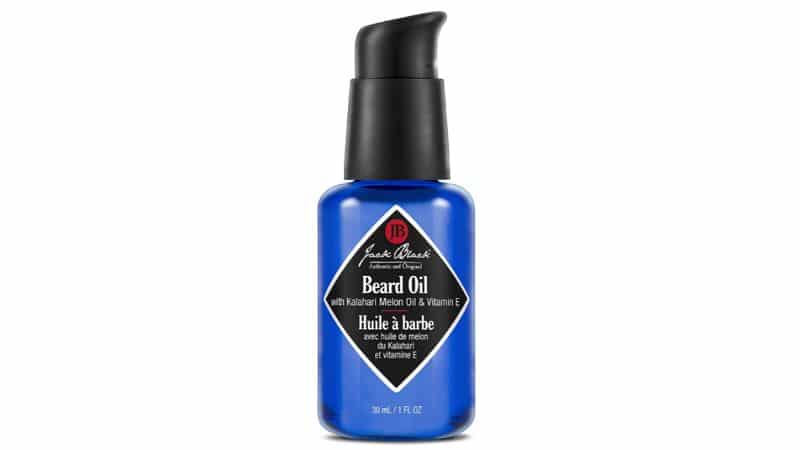 17. Every Man Jack – Hydrating Beard Oil Cedarwood
Every Man Jack is fashioned for men of culture. The premium beard oil is specially formulated from a cocktail of natural oils to soften & condition facial hair and soothe the skin. Chiefly comprised of shea butter, safflower oil, rosemary and sage refresh, the oils work to diminish dryness of the skin and get that beard silkier and itch & dandruff free. With its tantalising outdoor-inspired scent of rugged cedarwood, all you'll need to do is rub a couple of drops onto your beard (from root to ends) and it'll crank up your confidence.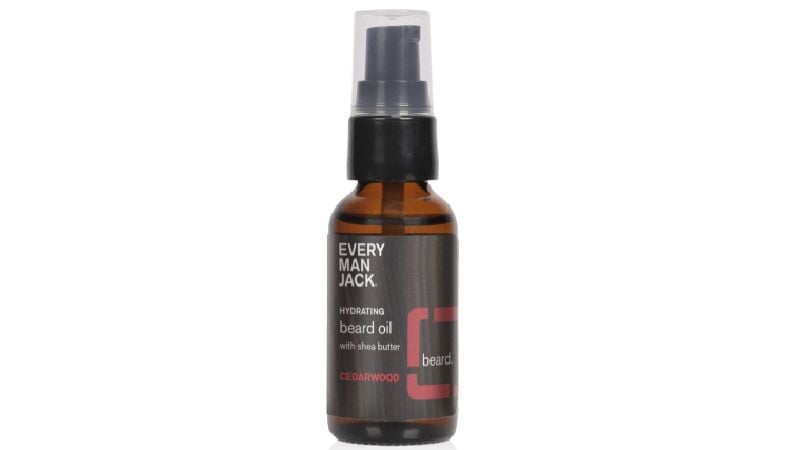 18. Northern Fir Quality Beard Oil
Northern Fir is more than a scented beard oil; it's meant for men who value the care of their beard. The product's tempting aroma is a whiff of an exciting woodsy-type scent with an undercurrent of pepper and spice. The supreme beard candy has been carefully crafted to ensure your beard smells, feel and looks sensational. The black pepper oil activates blood flow and promotes hair growth, its cedarwood oil is a natural astringent that cleans out your pores to prevent in-grown hairs and folliculitis, and its sandalwood oil soothes and calms irritated or itchy skin. You've got the whole kit and caboodle with Northern Fir.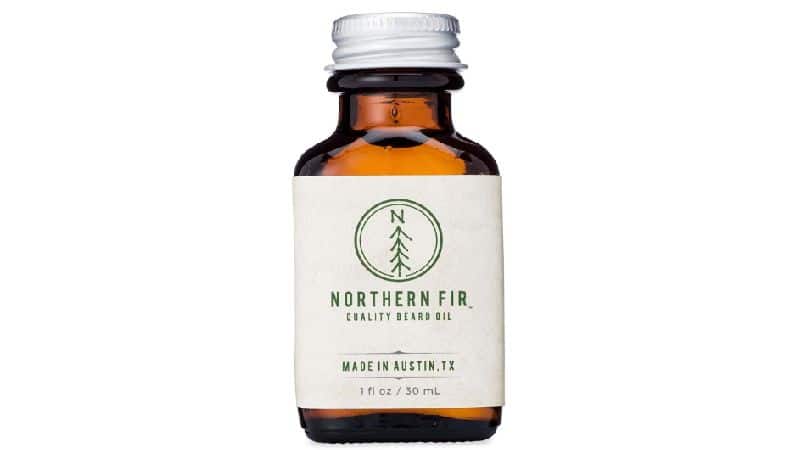 19. Cremo Revitalising Beard Oil
Cremo Beard Oil has become the bread and butter of many men's daily grooming routine. The product is recognised for its finesse to restore natural restore and stimulate your facial hair growth and moisturise the skin. The moderately wood-scented oil relieves itchiness and dryness, leaving your beard and skin looking vigour and reeking of freshness. Regardless of the length of your facial hair, amount of skin irritation or flakiness, the unique formula of the oil contains the finest argan and jojoba oils (as well as other fine ingredients), that work in unison to rejuvenate and condition your beard and skin.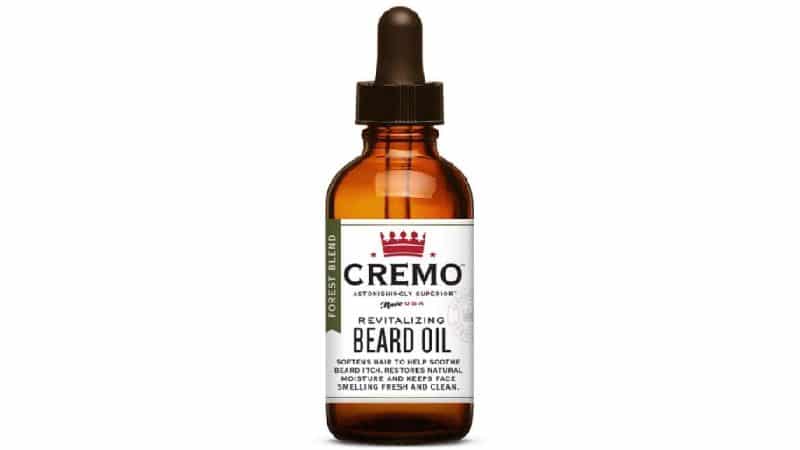 20. Rich By Rick Ross Luxury Beard
The luxury beard oil of the legendary Rick Ross has lived up to the hype. The product hydrates your beard, the skin under the beard and amplifies its shine. A part of the collection of luxe grooming products made with premium ingredients that provide "The Boss Experience," the beard oil consists of jojoba oil; that hydrates the beard and the skin. The easy to apply, fast-absorbing, non-greasy product revitalises the hair and skin and eliminates any irritation and flaking. The beard oil bears a fragrant scent, once applied, you'll feel like you've gotten a clean-cut.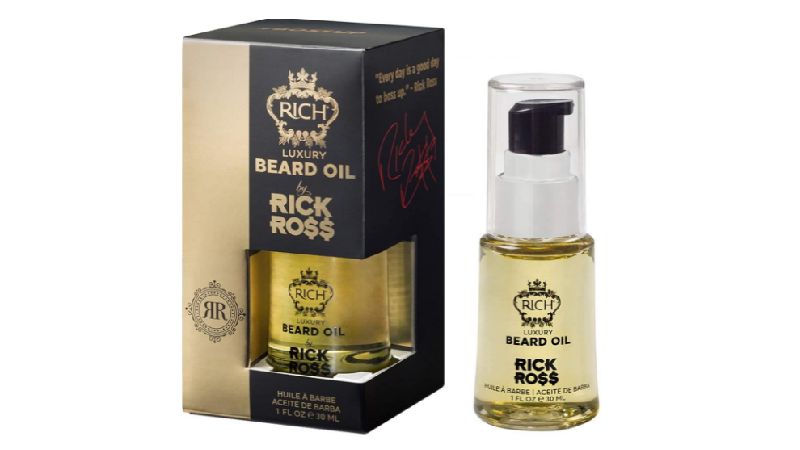 21. Bulldog Skincare Original Beard Oil
It's specially formulated to soften, tame and hydrate one's beard. The Bulldog beard oil improves the shine of the beard without making it look greasy. This fast-absorbing beard oil contains aloe vera, camelina oil and green tea and is carefully made from a unique blend of 8 essential oils to leave your beard aromatic and enhance its shine. The product is also vegetarian and vegan friendly and the brand boasts an impressive range of ingredients.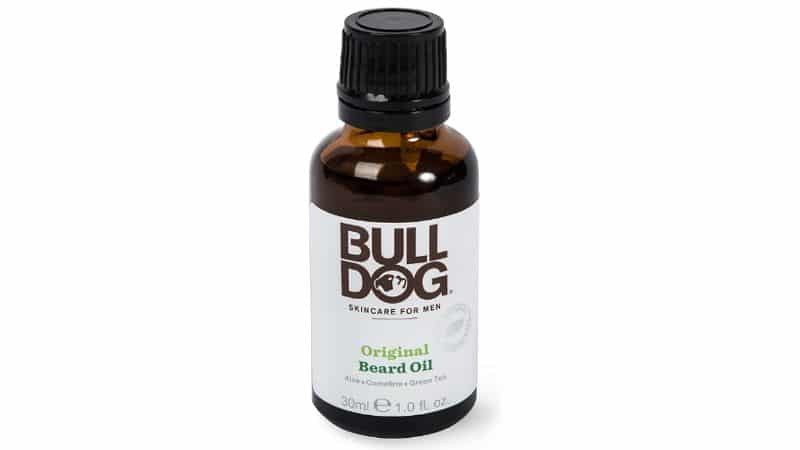 22. Viking Revolution Pre-Shave Oil for Men
When it comes to shaving, most men romanticise about getting through the tribulation with their skin unscathed. Formulated with the highest quality all-natural ingredients, the Viking Revolution's sandalwood scented pre-shave oil prevents stubbles, ingrown hairs and helps improve your shaving routine, giving you a smooth shave and freshly fragrant skin. Apply their pre-shave oil before your shaving regimen to leave your skin incredibly soft. The Viking Revolution pre-shave oil is of the finest quality ingredients that leave your skin irritation-free.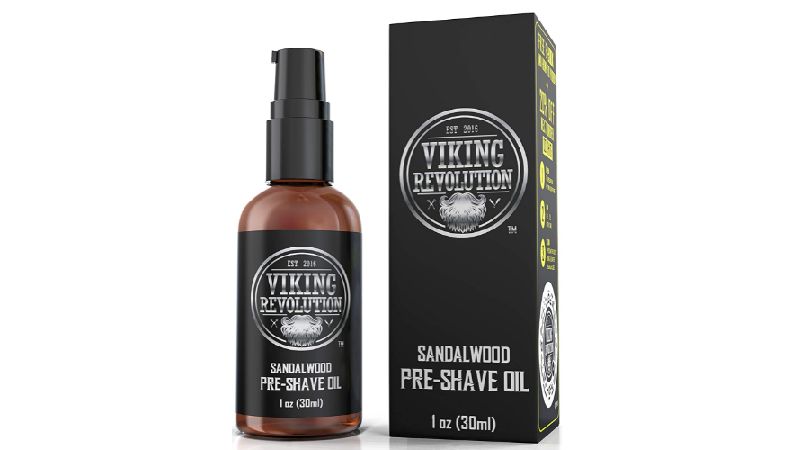 23. Proraso Beard Oil
One of the top-of-the-line beard oils that doesn't leave your beard greasy, softens its texture and leaves a brilliant lasting smell is from Proraso. The Proraso beard oil wood & spice is a promising lubricant that softens and straightens facial hair, all while hydrating the skin beneath and guaranteeing a shine. Freshly scented with cedarwood and Mediterranean citrus, the oil helps reduce breakage, dandruff and itching. Proraso also aids in conditioning the thickest of beards by dint of its four chief ingredients; Omega 3, Omega 6, walnut oil, and sunflower oil. It's perfect for men with stubble and a short beard.
24. Benjamin Bernard's Beard Oil
A man's mane product crafted from the finest essential ingredients; argan oil, jojoba oil, castor oil and almond oil. Benjamin Bernard's beard oil revitalises and provides nutrients to soften a coarse beard, detangle unruly hairs, moisturise facial skin and eliminate dandruff, itching to make your beard thicker, fuller and softer. Benjamin Bernard's products are made with high-quality ingredients to ensure superior beard care for men of culture. Proudly made using vegan and cruelty-free ingredients, the oil provides the bearded gent with confidence and class.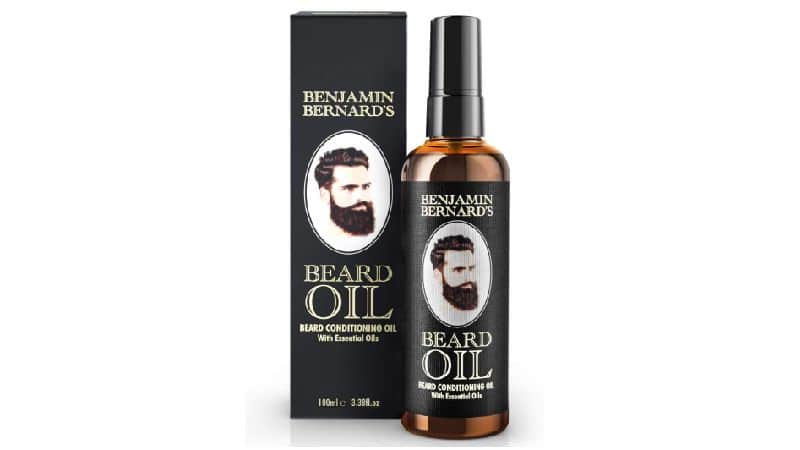 25. Ustraa Beard Growth Oil
Formulated to optimise beard growth, the Ustraa oil works superbly on the more unyielding part of the face to amplify hair growth. It has DHT boosters that enhance facial hair growth and redensyl that works on follicles to heighten their development. Ustraa's oil will surely keep your facial hair healthy as well as nourish and regulate surroundings areas. The oil is completely silicone, paraben, mineral oil, petrolatum and sulphate free. It's easy to absorb, non-greasy and delivers shine once applied.
26. Dr. Squatch Beard Oil Lakeside Bourbon
One of the only whisky-inspired scent beard oils on our list is a supreme blend of sandalwood scent. The Dr. Squatch beard oil is one of the best in the biz and comprises all-natural oils that hydrate and nourish your beard and mug. Apply Dr. Squatch beard oils after a shower or rinsing your face and beard and comb it through your beard to see the striking difference — silky, conditioned and healthy.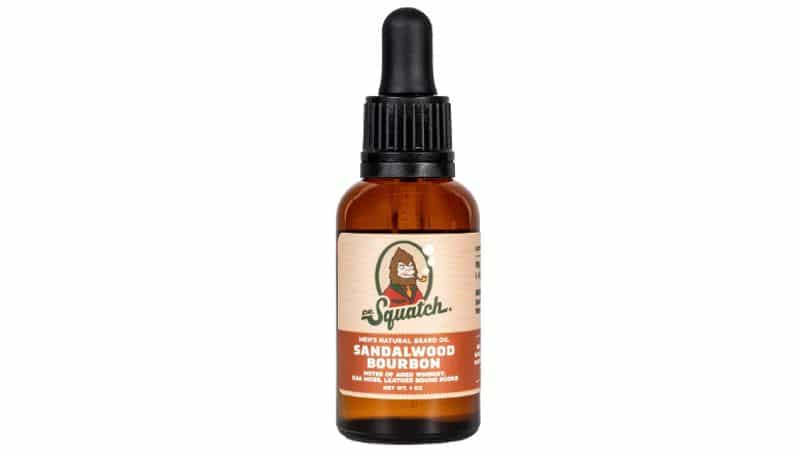 27. Spartans Den Premium Beard Oil
Made with the finest ingredients, Vitamin E and jojoba oil, to enhance beard and skin health, Spartans Den premium beard oil revitalises and enriches the shine of one's beard without the hitch of the greasy residue. Bearing a mild and classic fragrance, the oil is the perfect addition to any beard grooming routine. The formula also soothes the skin to ease itching and dryness and provides the benefits of multiple beard oils and balms, making a man's mane care super simple. It addedly assists in taming wild hairs.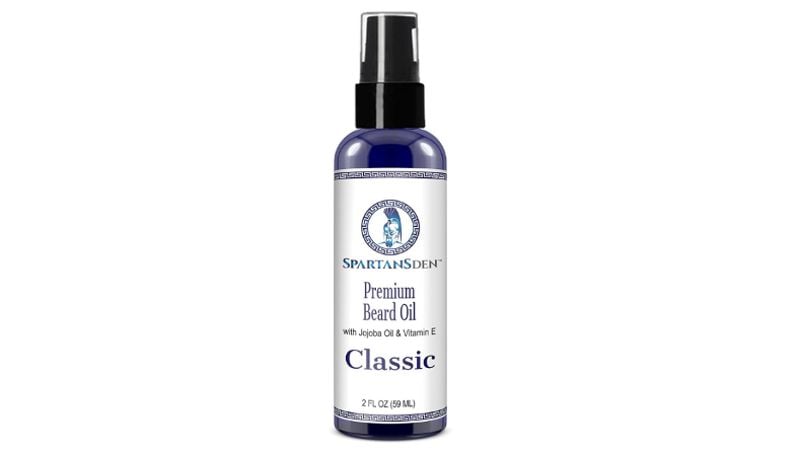 28. Zeus Beard Oil for Men
The Zeus beard oil is an all-natural product for men housing ingredients like safflower seed oil, argan seed oil, Vitamin E & grape seed oil; turning the trick on all your facial hair woes. The 8 fine ingredients in the oil work to condition and straighten your beard all while preventing the itchiness and flakiness of your skin. The oil adds slight shine to your dry facial hair without that greasy feeling and smells exceptional. Once you switched to Zeus, you'll never look back.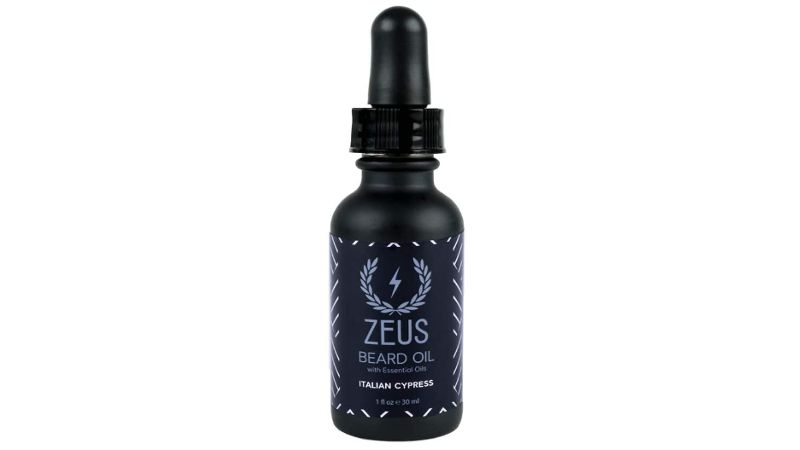 How to Use Beard Oil
Despite being an essential product for creating killer facial hair, beard oil is surprisingly easy to use. The quick and straightforward process can be integrated into your regular grooming routine without causing any fuss or bother.
Use the eyedropper to place 2-3 drops of oil in the palm of your hand.
Rub hands together to spread the oil over fingers and palms.
Brush palms along the sides of your beard and down the front.
Use fingers to massage the product through the bottom of your facial hair and into your moustache.
Comb through to finish.
How to Grow a Beard Faster
Although it may seem like all it takes to grow a beard is some patience, the process can be much more complicated than that. In reality, growing a long and healthy beard requires plenty of TLC. While oils and conditioners will keep your beard soft and in good shape, vitamins will help it become longer and stronger. A proper diet with plenty of iron-rich foods, vitamin C, omega-3 fatty acids, vitamin A, and biotin is the best option for achieving optimum beard growth. If you're finding that you're not getting enough of these, supplements can provide the answer but speak to your GP first.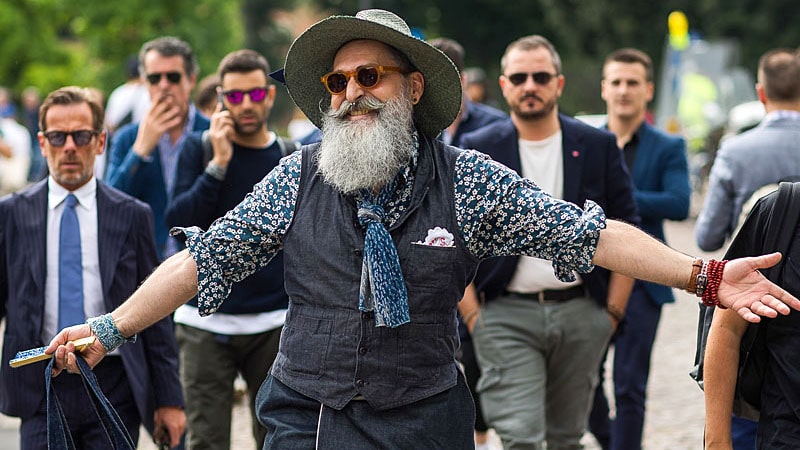 How to Make Homemade Beard Oil
FAQs
What do beard oils do?
Beard oils are designed to hydrate and add moisture to the hair in your beard, as well as the skin. By keeping your facial fuzz moisturized, it will be softer, less prone to tangles and breakage, and be easier to style. Plus, your face will be less itchy.
Which beard oil is best?
Some of the best beard oils are The Gentlemen's Beard Oil and Conditioner Softener, Smooth Viking Beard Oil, and Honest Amish Classic Beard Oil.
Should I use Beard Oil every day?
Yes, you should use beard oil every day. In fact, you should use it twice a day. First, after washing your face in the morning, so it's soft and supple throughout the day. Then, a night before bed to ensure your skin and hair stays hydrated, especially because your pillow can draw moisture out.
How can I grow a beard fast?
The best way to improve the growth of your beard is to nurture it from within. Embrace a balanced diet full of protein, iron, omega-3 fatty acids, vitamin A and biotin. Plus, reducing your stress, increasing your sleep, and getting more exercise will also help produce and replenish testosterone, which can improve beard growth. Finally, if that's not enough, topical treatments such as Minoxidil is a great way to stimulate beard growth, though it still takes time.
How can I stimulate my beard to grow? 
If you want some extra help growing your beard, you can try topical treatments such as Minoxidil. Just remember, though, that Minoxidil is only FDA-approved for use on the head; however, there is lots of anecdotal evidence that shows it works on beards. Start with a low concentration, around 3%, to limit the amount of skin irritation you might experience.
SUBSCRIBE TO OUR NEWSLETTER
Subscribe to our mailing list and get interesting stuff and updates to your email inbox.