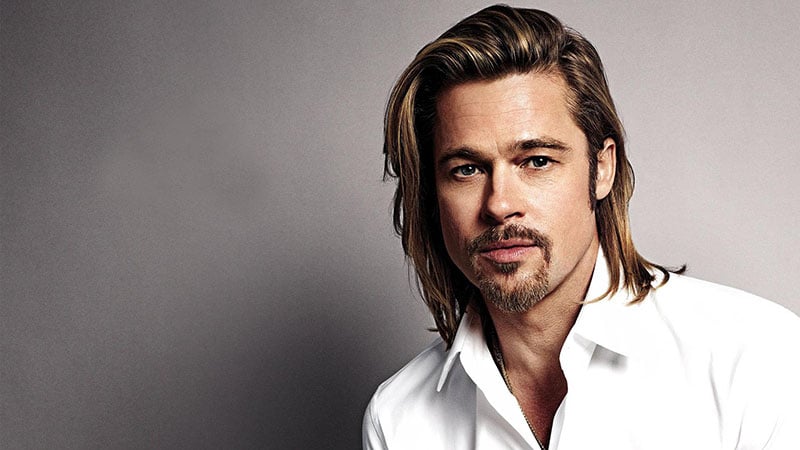 Brad Pitt is indeed a chameleon when it comes to hairstyles. His hair seems to change so often it's hard to keep up! There isn't a style that he hasn't tried. Of course, we can't all look like Brad Pitt himself, but we can emulate his famous locks. Here is a definitive list of Brad Pitt's best haircuts and how you can style them into your routine!

Fury Haircut
Paying homage to the 1940s, Brad Pitt's military haircut in Fury features a disconnected undercut. This look is tailored, classic and flattering with a twist to the refined style. It's particularly popular with those who wish to keep their hair on trend. If you're looking for a slicked-back top, be sure to get yourself a hairdryer, a small, round brush and some pomade for styling.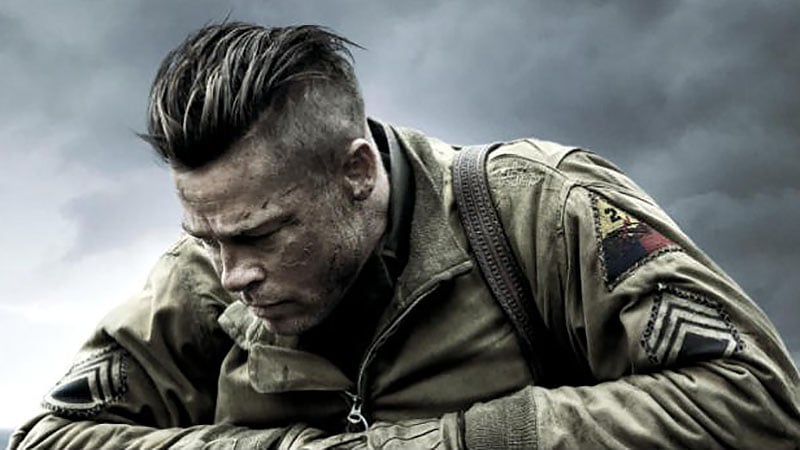 Inglourious Basterds Haircut
Another 1940s inspired style, Brad Pitt rocks a hard part in Inglourious Basterds. Featuring a long combover, this hairstyle is ideal for men who want to keep their hair tidy, but still a little wild. For an extra bit of oomph, work some styling clay into your hair to keep it textured. With the added touch of a Clark Gable-esque moustache, people might stop you on the street and ask for an autograph!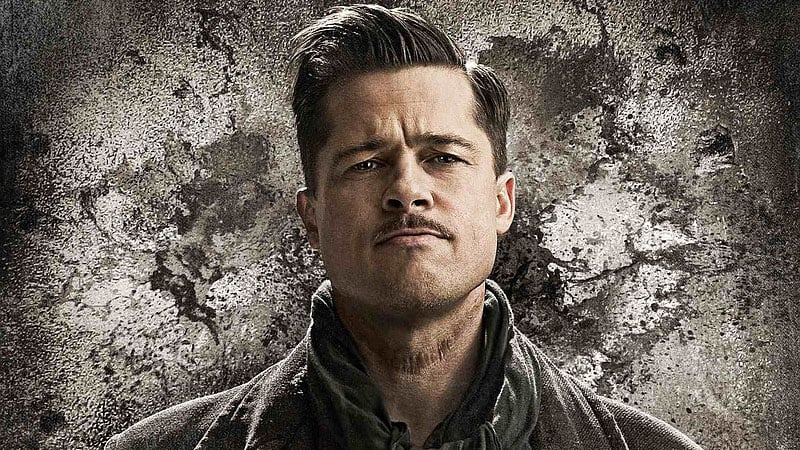 Tree of Life Haircut
Continuing the vintage hair trend, Brad keeps it short and simple with a crew cut in the Tree of Life. The 1950s inspired crew cut features a simple fade on the sides with a short length on top. Super easy to maintain, it requires minimal styling and products. Keep your hair trim by keeping it short on the sides with a tidy length on top. With this precise cut, you'll be the sexiest man in any setting!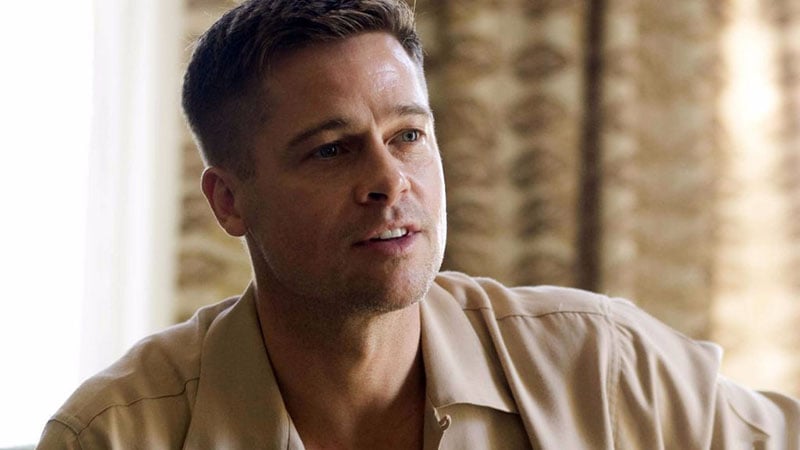 Brad Pitt Troy Haircut
Take it all the way back to 1194 BCE with Brad Pitt's famous locks in Troy. Brad's long and beachy slicked-back hair is arguably one of his most sought-after hairstyles. Of course, not everyone suits this style; it requires a naturally thick head of hair. To get this look, grow your hair out to your shoulders; you can easily keep it off your face by slicking the top parts of your hair for a full-on Troy look.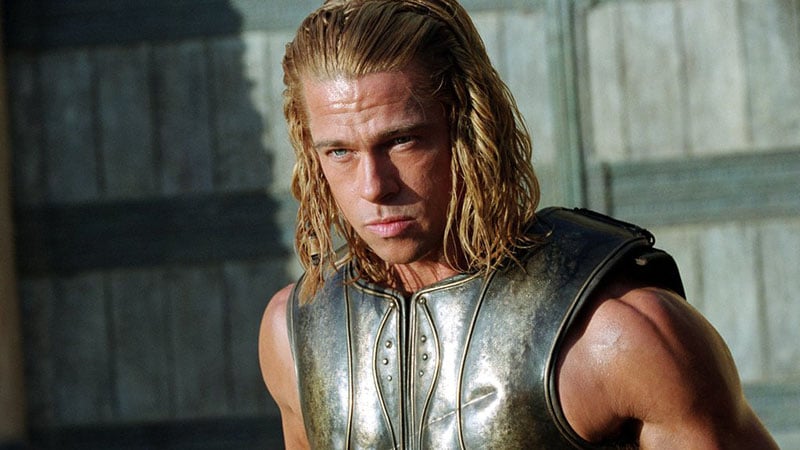 Brad Pitt Mr and Mrs Smith Haircut
For those who are into a super low maintenance haircut, keep it simple with a buzz cut. This haircut requires no products or styling, so you can roll out of bed and face the day looking bold and ready for action. If your hair grows fast, you may find yourself at the barber more often to keep it looking even. Pair this hair with a classic suit, and you'll look just as sexy as Mr Pitt (or in this case, Mr Smith) himself!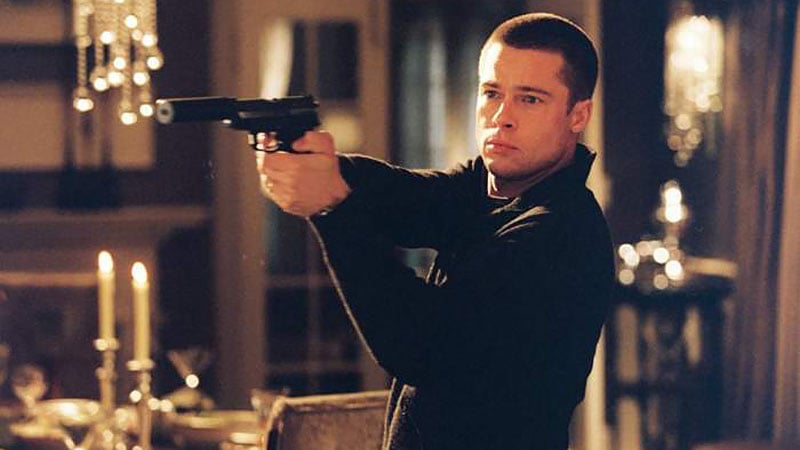 Brad Pit Long Haircut
Brad Pitt has often rocked long hair. This haircut is versatile enough for any occasion, although it's a real commitment. It's perfect for any weather too, as you can keep it down around your ears during winter and up in a fresh bun in summer. If you're lucky enough to have blonde or light brown hair, you'll instantly look like you're ready to hang ten or hang with mates. Make sure you keep it looking healthy by regularly using conditioner, so it looks its best!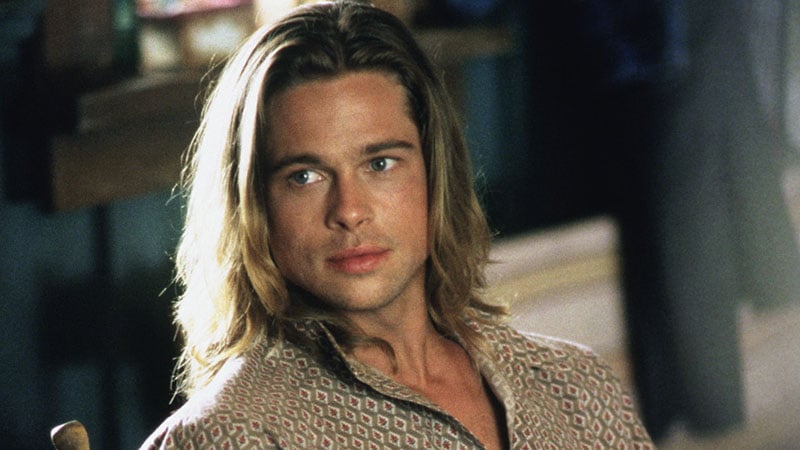 Brad Pitt Short Hair
Shorter hair is typically easy to maintain, and they can be rocked in many different styles, as Brad Pitt has demonstrated throughout the years. Whether you're a fan of his fade and taper at the 2009 Oscars, his choppy and dishevelled hair or his close shave military buzz cut, there are so many short hairstyles that any man can rock. For styles that aren't a close shave, add some texture to your hair with gel or clay.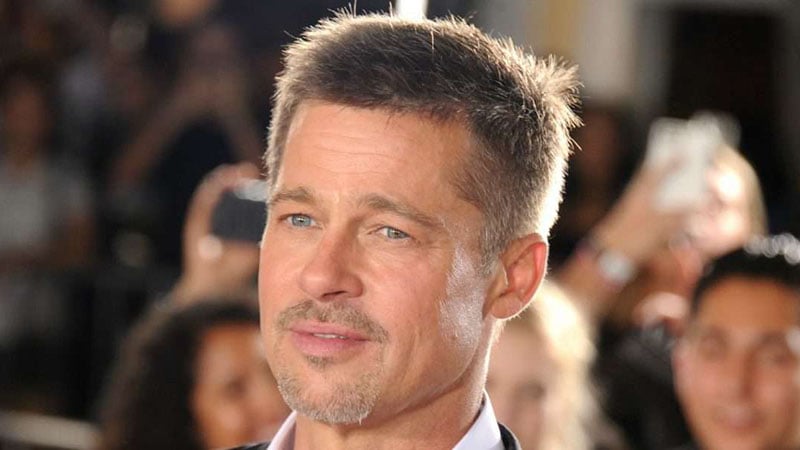 Brad Pitt Medium Hair
Medium hairstyles are the perfect blend between long locks and shorter styles. Brad Pitt has often worn his hair at a medium length between films, and it's a great length to keep your looks fresh and exciting. It's ideal for any hair type – straight hair, wavy and curly hair alike. You can stick to a middle part, or throw on a cowboy hat and replicate Brad Pitt in Thelma and Louise. For the days where you need to get some serious work done, just pull back your hair into a half bun or pony.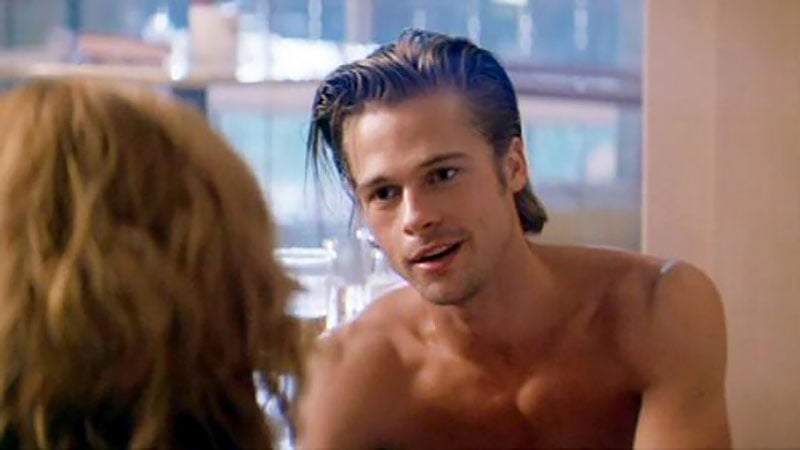 Slick Back
Timeless and classy, Brad Pitt has often given a slicked-back look the rounds, as it's flattering and perfect for men of any age. He's been rocking this hairstyle with an undercut, medium length hair and short back and sides, which proves how versatile this style can be! Grab yourself a comb and some styling gel, and slick your hair back for a 1950s style, or keep it modern with a small amount of product. Whichever way you wish to rock it, you'll look like the coolest man in the room.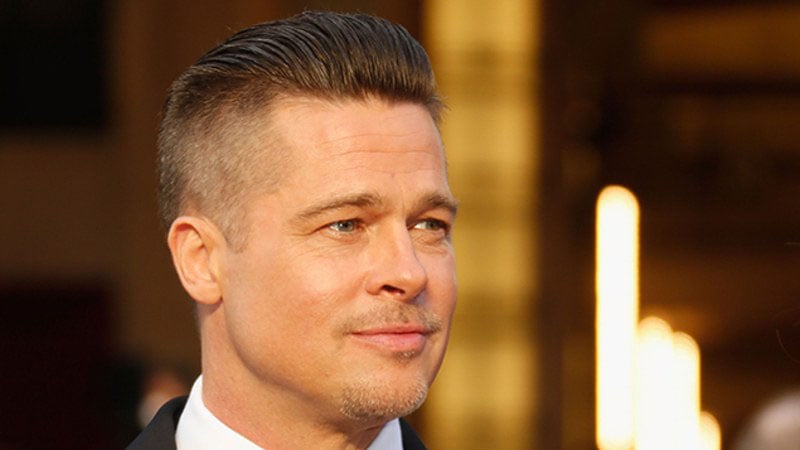 Fade Haircut
A classic and stylish style, the fade haircut is a neat and tidy way to keep your hair. You can style the fade in many ways, depending on your hair length and texture. You can choose to fade and taper, keeping it shorter gradually as the hair moves down towards the ears and neck. This haircut is handsome, classic and effortless; it's the perfect hair for the man with style.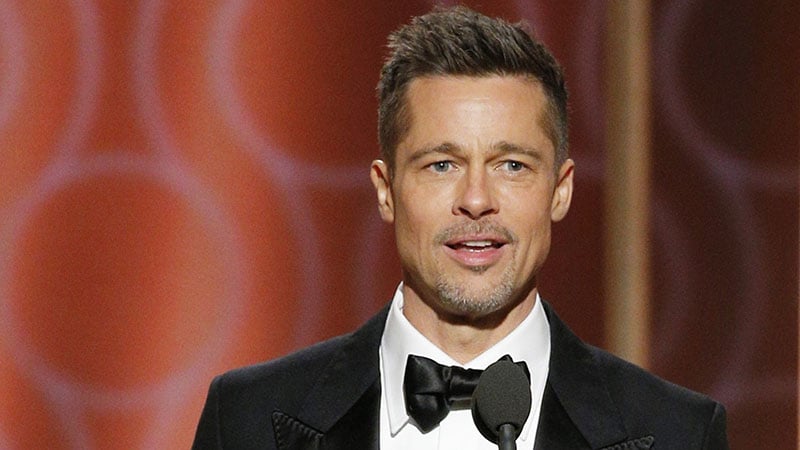 Undercut
In more recent years, Brad Pitt has gone with a bold undercut, often paired with slicked-back hair on top. His hair in Fury is best described as a disconnected undercut, as there is no fade between the length on top and the sides. The disconnected undercut keeps your hair military-esque, or you can master the modern mop by adding some matte pomade for a textured appearance.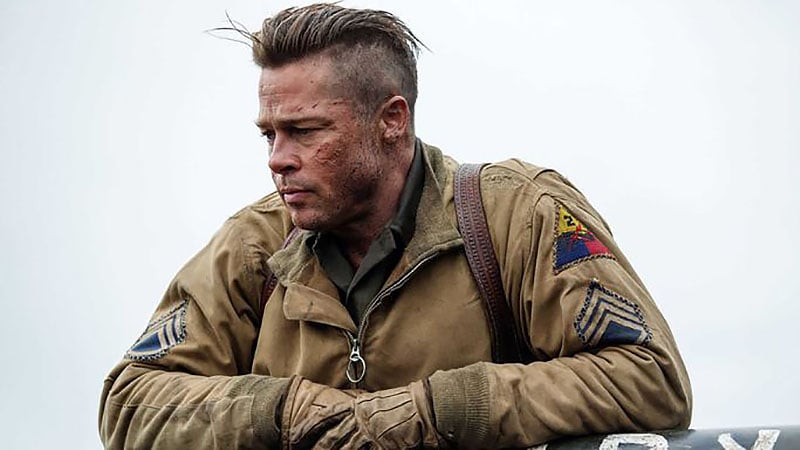 Combover
Keep your hair looking timeless by opting for a combover. This style is perfect for those whose hair is starting to thin, or who are wishing to replicate Brad Pitt's look. Create a side part in your hair and comb your hair over to one side, with the help of some gel or wax. This hair is best suited to shorter lengths, and flatters almost anyone!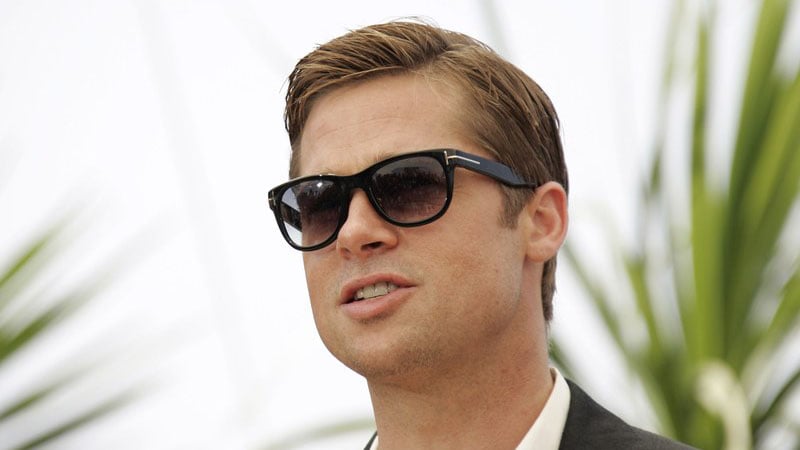 Bleached hair
Made for the bold, bleached hair is a sure way to get some attention. Brad's choice to go platinum wasn't too much a stretch from his naturally sandy hair, but it certainly made an impact. He has styled platinum in many different ways, from a super close buzz cut to shoulder-length locks. Be sure to keep your hair healthy, as bleaching requires lots of maintenance.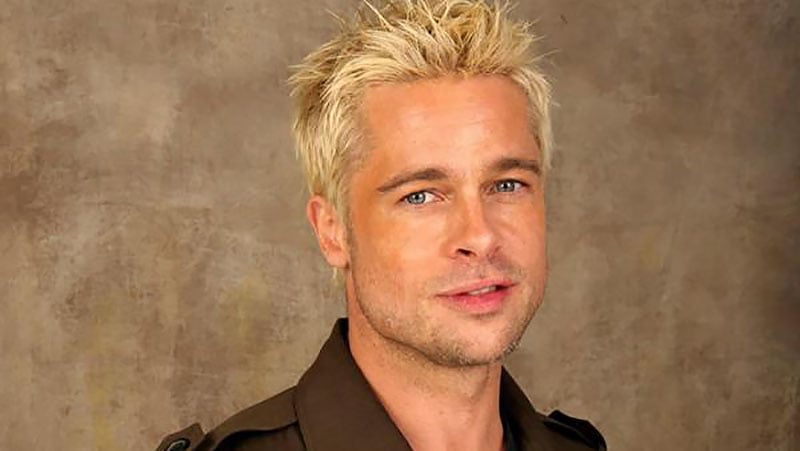 Ponytail
Brad often keeps his hair off his face with the help of a low ponytail. A little bit different to the man bun, this hairstyle is low-maintenance for men with mid-length to long hair. Sweep the hair back into a pony, resting at the neck for a more masculine look. This style is perfect for the man on the go, plus it is great for days when you haven't washed your hair!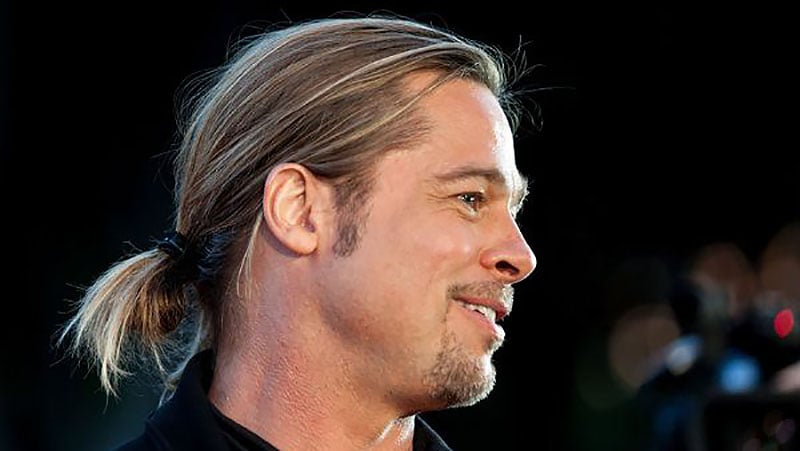 Silver Fox
Brad Pitt is lucky enough to have the ability to rock any hairstyle and colour. As the years go on, he's chosen to embrace his role as the silver fox with a salt and pepper beard. While Brad's hair on top has stayed his natural colour, he has let the grey run through his beard. Don't shy away from the grey, keep your hair neat and tidy, especially facial hair. There is a fine line between fox and wizard!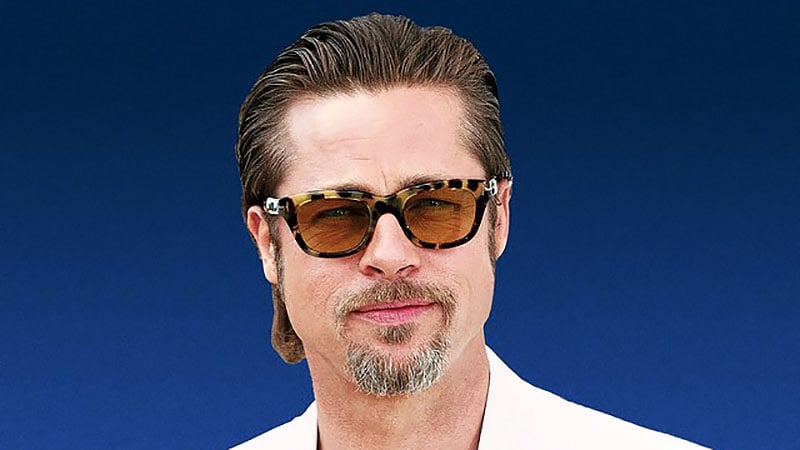 Buzz Cut
This haircut has been seen on Brad Pitt a lot over the years, proving that the buzz cut is a style that is timeless and never goes out of fashion. Whether you're keen to buzz your hair with the number 1 blade or you'd prefer to stick to a cut that is a little longer, there are so many styles to choose. Seen with a bleach blonde buzz cut in 2005, or the burr buzz cut in Mr & Mrs Smith, this style is also an excellent option for those with receding hairlines.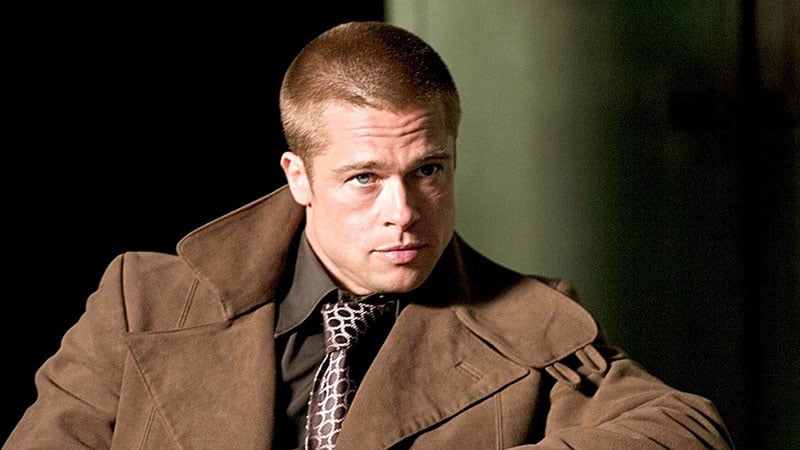 Crew Cut
A cut that it's a little different from the former, a crew cut is one that Brad has rocked quite a bit. Shorter on the back and sides, it features a tidy cut on top. This style is easy to maintain and looks attractive on anyone! It's also great for men in business who want to keep their hair looking tidy and sexy all at once.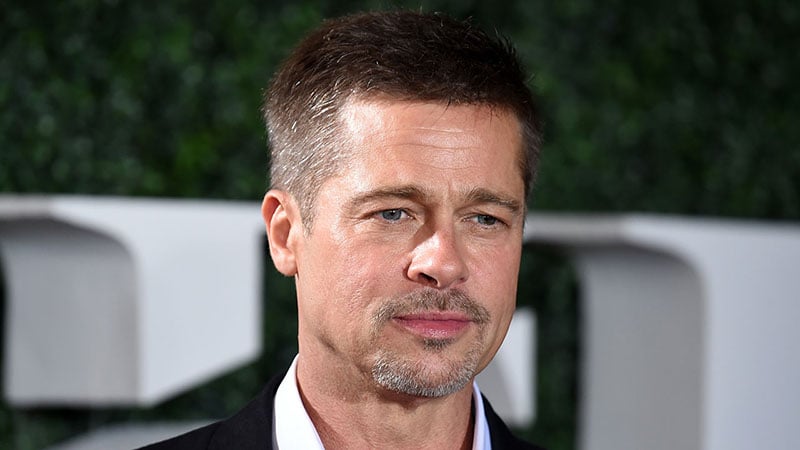 Pompadour
Dating all the way back to the 18th century, the pompadour is one of Brad Pitt's most flattering hairstyles to date. Keep your hairdo a little longer on top with tapered sides. Of course, you don't have to go as high as Brad's hair in Johnny Suede, but a bit of height never hurt! For those with thick hair, stick to a gel balm, and for those with thinner hair, your go-to should be a pomade or wax. The pompadour is a timeless hairstyle, and it's something that everyone should try at least once!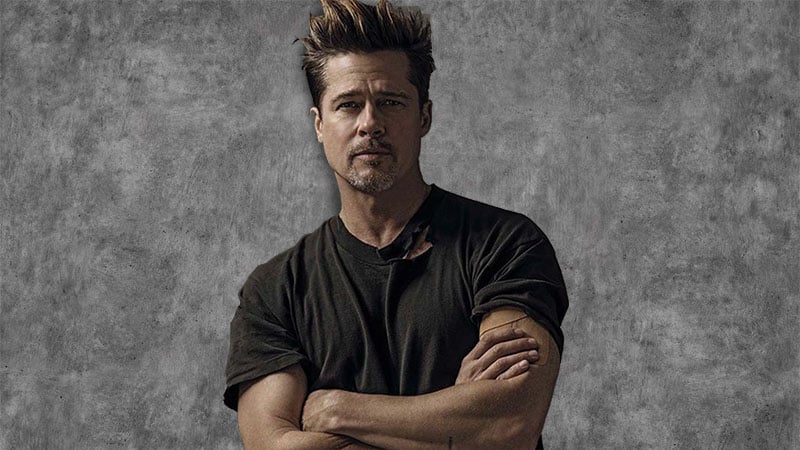 Brad Pitt Beard
Brad Pitt is no stranger to a beard, and he has pretty much tried them all. From a neat and tidy designer stubble to full beard, there are so many choices that you can replicate to achieve his look. Not everyone can grow a full beard, so for those with thinner hair on their chin, keep it tidy and neat. For those who want to go all out, keep it a bit longer but make sure you trim it and use beard oil, so you can keep it presentable and soft.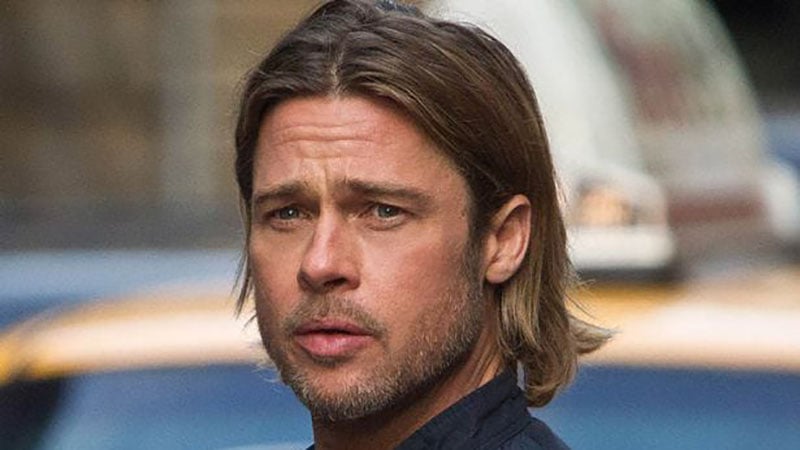 Brad Pitt Goatee
Brad's goatee game is pretty strong, and he knows how to rock one effortlessly. His choices tend to include a moustache and a neat goatee. He also likes to style facial hair with either a sleek pony or short back and sides. This beard style is great for men of any age, as it's timeless and goes with almost any hairstyle.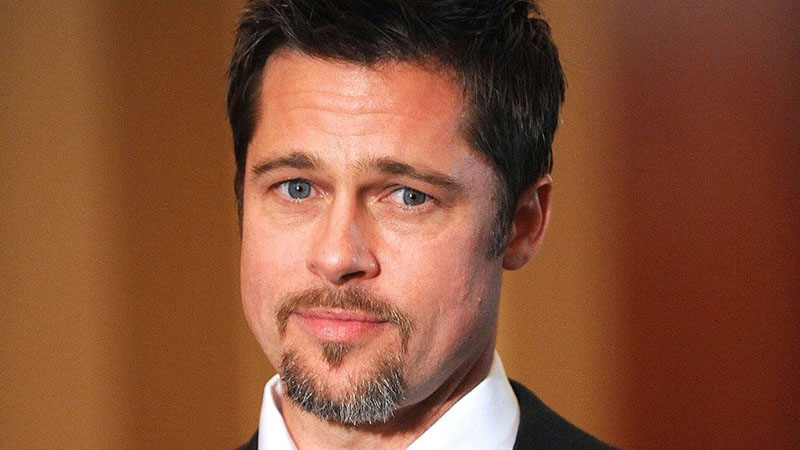 Brad Pitt Latest Haircut
Recently, Brad has gone back to his medium length hair combined with a comb over. This hair is a classic Brad Pitt go-to and will feature in his new film, Once Upon A Time in Hollywood.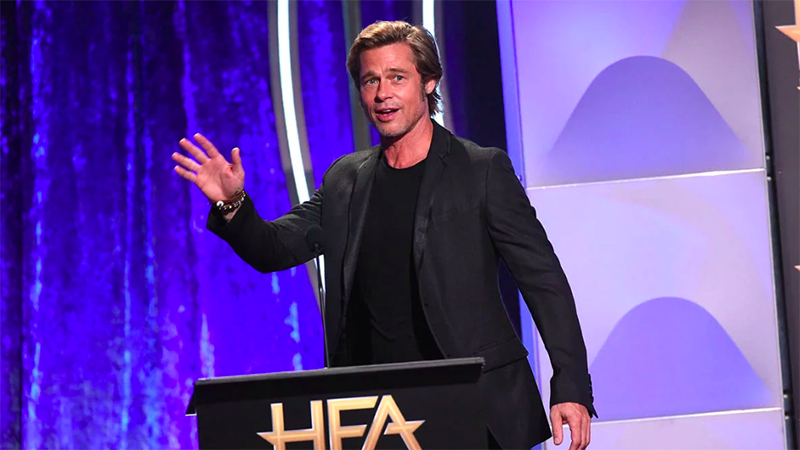 How to Get Brad Pitt's Haircuts
Keep your hair conditioned. Longer hair requires some TLC, so make sure you treat it regularly.
Make friends with hair gels and products. It helps add texture to your hair and keeps your locks in place.
Wash your hair often, so you don't have a build up of products in your hair.
Don't be afraid to try new things. If you usually stick to shorter hair, grow it out a bit and see how you feel!
SUBSCRIBE TO OUR NEWSLETTER
Subscribe to our mailing list and get interesting stuff and updates to your email inbox.