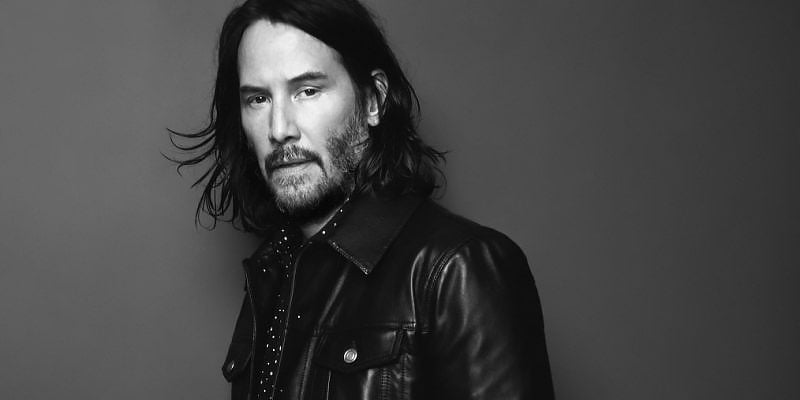 Long hair for men is one of those hairstyle trends that never seems to fade. Opinions on man buns aside, there is something about a full head of trailing tresses that will have people doing a double take in your direction. So where better to get your style inspiration from than some of the best looking guys gracing our screens. Whether you've been thinking about growing out your hair or are already rocking a longer style, take a cue from these A-listers who make luscious long locks cool.
RELATED: 15 Sexy Long Hairstyles for Men
1. Jason Momoa
Jason Momoa's perfectly messy mane is the envy of all of Hollywood right now. The Hawaiian hunk embraces his natural curls for an effortlessly-tousled result that has been deemed worthy of Khal Drogo and Aquaman status. His more recent addition of bleached-blonde ends adds a sun-kissed touch to his otherwise edgy look.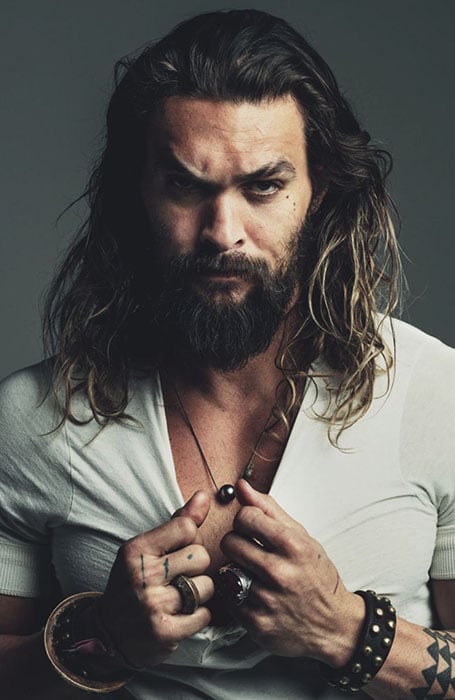 2. Keanu Reeves
Despite flitting between various long and short styles throughout his lengthy career, Keanu Reeves is probably best-known for his shoulder-length shaggy do. Made famous during the 90s, his take on the grungy look is the perfect low-maintenance hairstyle for guys with naturally straight hair.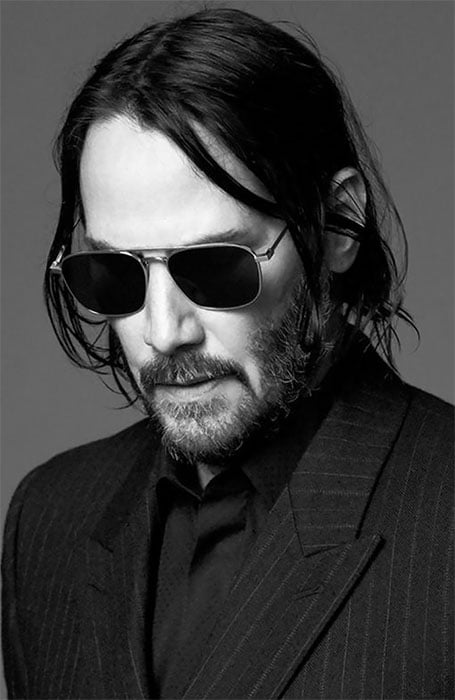 3. Chris Hemsworth
In his role as Norse God Thor, Chris Hemsworth's blonde hair serves as a reminder of why we love long hair on guys so much. Off-screen, Hemsworth likes to keep things simple with a classic shoulder-length cut with a middle part. His sun-kissed locks are usually worn hanging loose around his face or slicked back with gel for more formal occasions.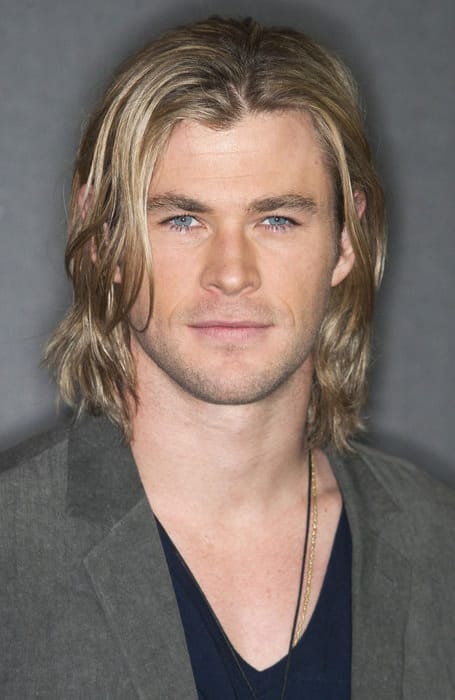 4. Kit Harrington
With a contract prohibiting him from cutting his hair while filming for HBO's Game of Thrones, Kit Harrington's bouncy curls are a big deal. Igniting a global love affair when he first appeared on our screens as Jon Snow in 2011, the world's obsession with his wild locks only grew from there. Whether worn loose or in his signature half-up man bun, it seems that Harrington has uncovered the secret to managing thick curls. Perhaps Jon Snow does know something, after all?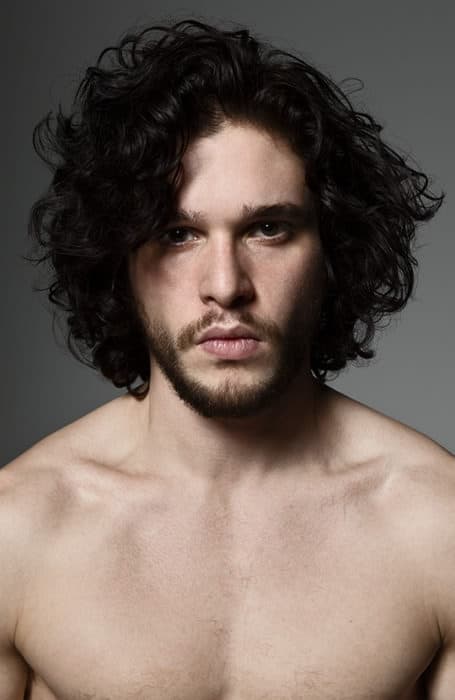 5. Brad Pitt
Brad Pitt has long inspired men all over the world to replicate whatever hairstyle he is currently sporting. Although he has proved he can pull off just about anything when it comes to his mane, Pitt is arguably best known for his longer hairstyles. From gnarly bleached-blonde waves in the 90s to that epic shoulder-length Greek warrior look in Troy, Pitt is a lesson in long hair styling to us all.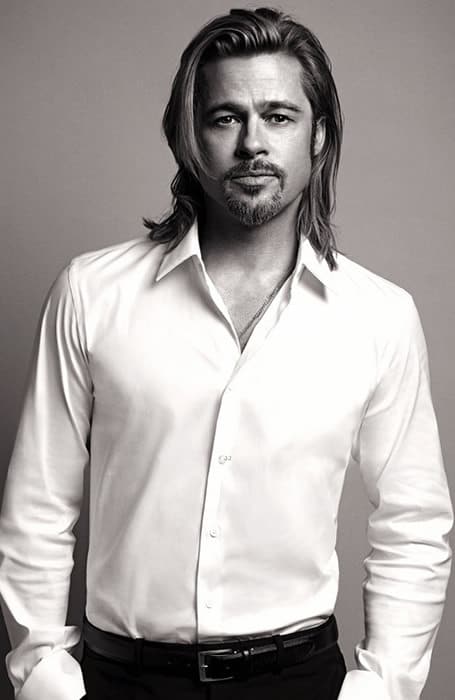 6. Orlando Bloom
While he might not sport a longer hairstyle anymore, we have to applaud Orlando Bloom for his longer looks in the past. Bloom somehow managed to make the often impossible task of managing long curls look effortless. On the days where the job was maybe too much for even Bloom himself, a classy low bun was his saving grace. Hollywood's OG curly man bun.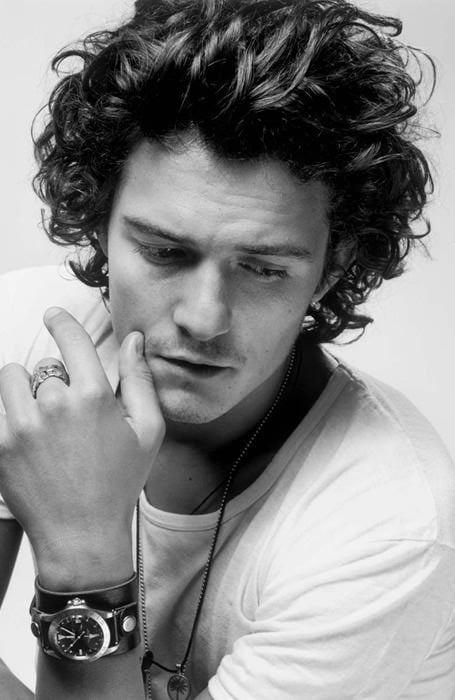 7. Russell Brand
Russell brand is best known for his lewd jokes and eccentric hair. While his back-combed look might be a little too bold to replicate, his moody waves make our list. His signature dishevelled style, worn with a side of confidence, is the ultimate example of bed hair chic.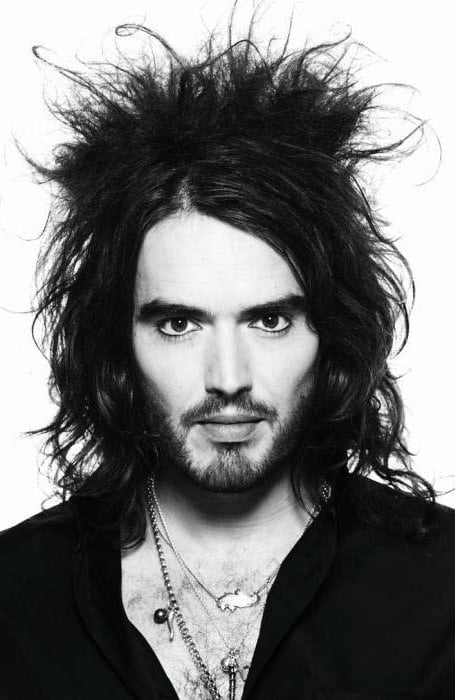 8. Tom Cruise
Tom Cruise's most iconic look has to be his perfectly manicured long bob. The kind of hair we can only dream of. While he is gifted with naturally thick strands, a good conditioner and a textured chop keep Cruise's mane looking permanently shiny and effortlessly styled all year round.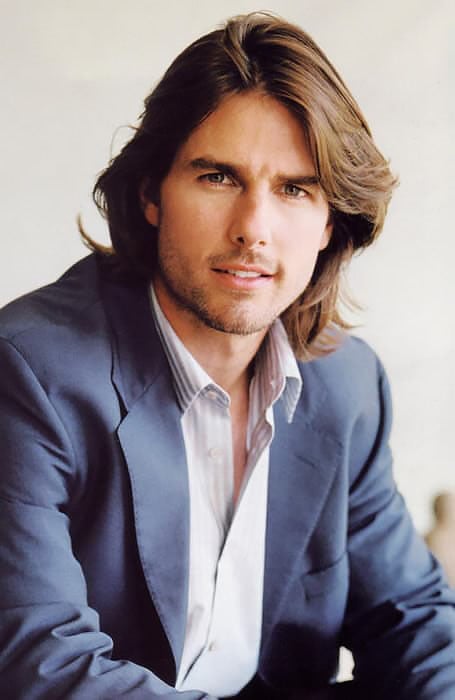 9. Harry Styles
If there's one thing guaranteed to leave a trail of screaming teenage girls in its wake, it is Harry Styles' hair. Sporting many different hairstyles throughout his boyband years, Styles cemented his solo status by growing out his natural curls to rockstar worthy lengths. His eu-natural rocker look has even earned him the title, the modern Mick Jagger.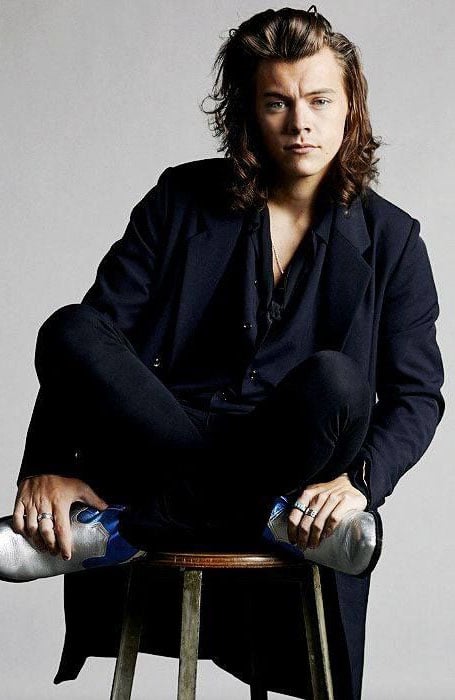 10. Jeff Bridges
Jeff Bridges' lush silver tresses prove that it is never too late to grow out your hair – and if you're lucky enough to still be sporting a full head of hair at Bridges' age, why not flaunt it! His classy thrown-back curls, complemented by bushy facial hair, give off major silver fox vibes.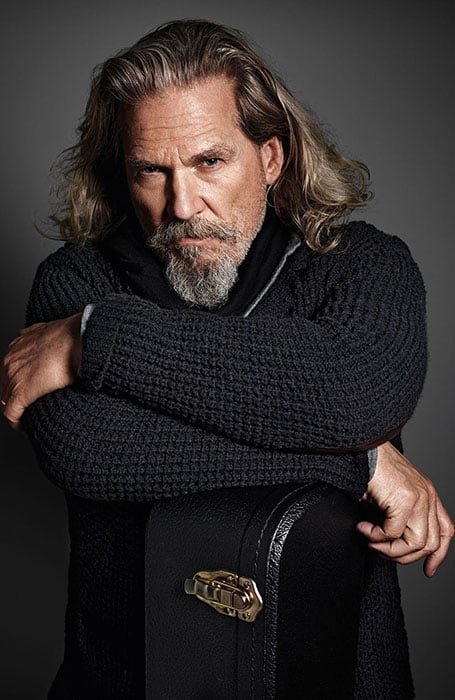 11. Jared Leto
Jared Leto's signature silky strands have both men and women around the world dying to know what conditioner he uses. Whether worn long and flowing, or in a sleek bun, Leto's glossy bohemian waves perfectly demonstrate that long locks are not just for ladies.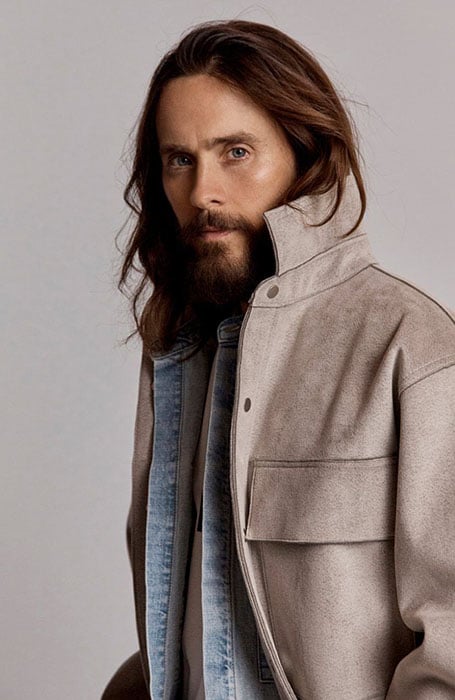 12. Austin Butler
Austin Butler's move to grow out his short blonde do saw him go from cute to cool. Ditching his polished image, Butler's moody long blonde bob manages to look effortlessly sophisticated yet ultra cool at the same time.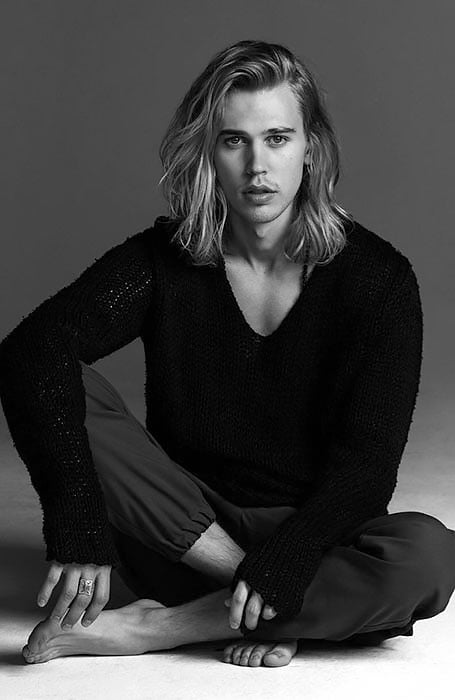 13. Brock O'Hurn
Brock O'Hurn rose to instant heart-throb status when he uploaded a video putting his hair into a bun, and then taking it out again. Aptly crowned the King of Man Buns, O'Hurn's thick, voluminous mane is here to give you major hair envy.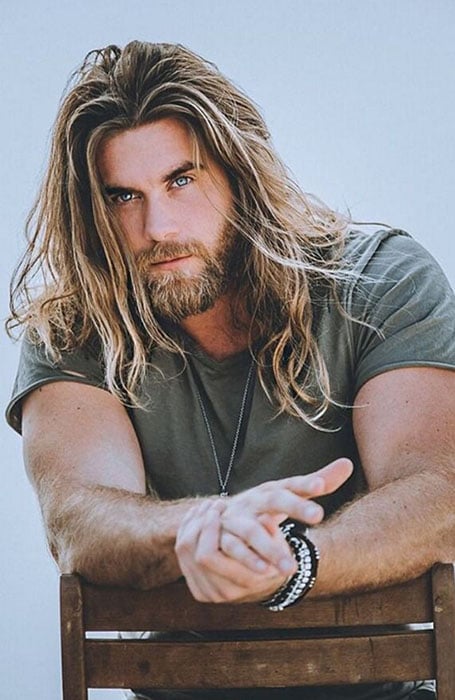 14. Johnny Depp
As one of Hollywood's most talented actors, Johnny Depp's hair has transitioned between many different lengths and styles. From a 90s grunge era shoulder-length cut to his more recent chin-length messy bob, Depp's longer styles have remained his most iconic.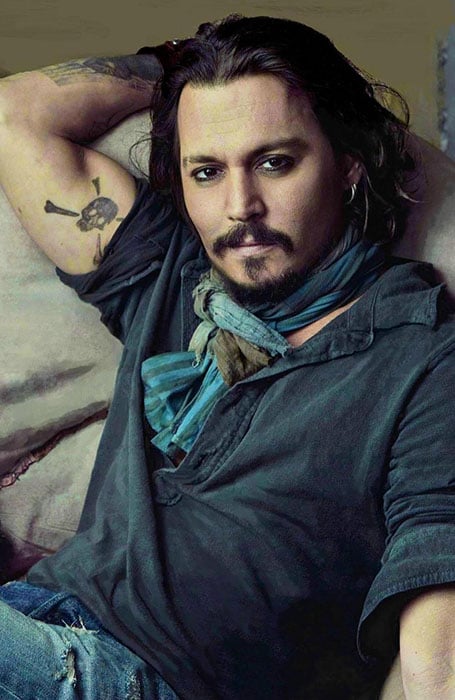 15. Christian Bale
With the help of a layered cut, Christian Bale's lush head of hair always appears full of life. His natural waves, paired with well-groomed facial hair, achieve a look that is equal parts rugged and old-school gentleman.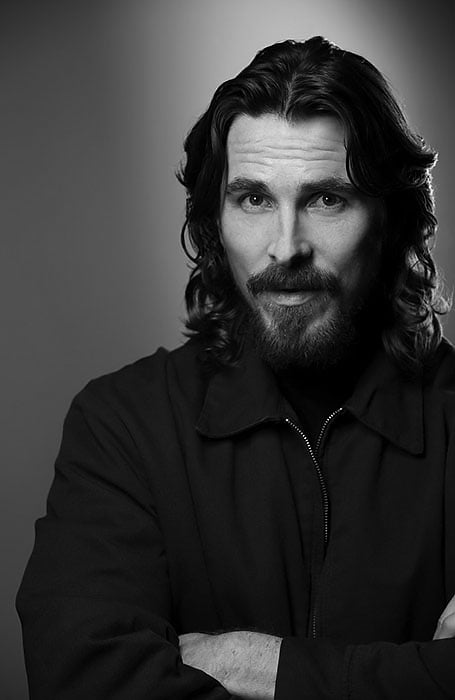 SUBSCRIBE TO OUR NEWSLETTER
Subscribe to our mailing list and get interesting stuff and updates to your email inbox.