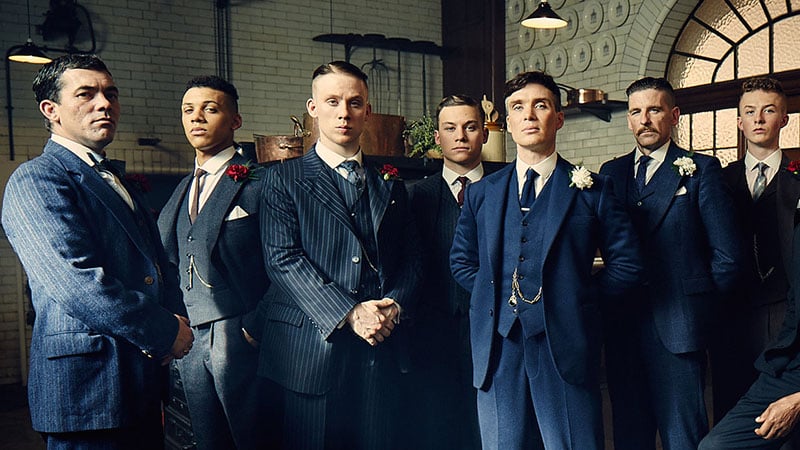 There's certainly a lot to love about Peaky Blinders. Along with the excellent cast and thrilling plot lines, this popular crime drama also provides plenty of style inspiration for gents. Set in England in the aftermath of World War I, the show features an array of fantastic 1920s gangster looks. Of course, while the costumes are undoubtedly impressive, there's another feature we love even more: the hair. So, if you're in need of a new cut, why not look to Tommy and the gang for inspiration? Here, we've rounded up the boys' iconic looks so that you can get the perfect Peaky Blinders haircut.
1. Tom Shelby Haircut
Played by Cillian Murphy, Tom Shelby is a crime boss with style. Although the character often wears a hat, when he's not rocking a classic and cool newsboy cap, his awesome haircut is on full display. His cut, which looks just as good now as a hundred years ago, is a short crop with shaved sides and back. The undercut hairstyle does leave a little length on the bottom, but the top is still significantly longer. Up top, Shelby wears his hair textured with layers and a natural wave. His style is swept forwards and to the side, creating a short fringe that swoops across his forehead.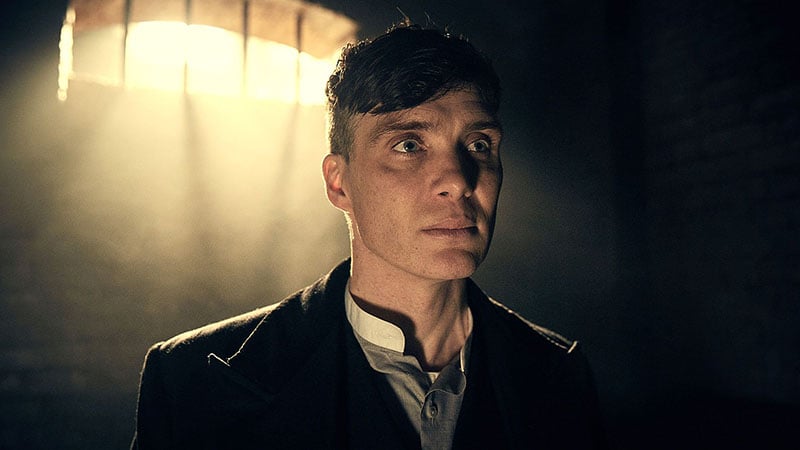 Tom Shelby's hairstyle is easy to achieve and can look seriously stylish, so long as you have the face for it. In particular, the style best suits gents with oval faces or defined cheekbones, such as Cillian Murphy. However, if your face is a different shape, you can experiment with proportions and texture to better tailor the cut to your looks. For the original Tom Shelby look, ask your barber for a number three on the back and sides. Up top, request a cropped, textured cut with some extra length left at the front. Then, when styling your hair, brush and blow-dry it forward and sweep your fringe to one side.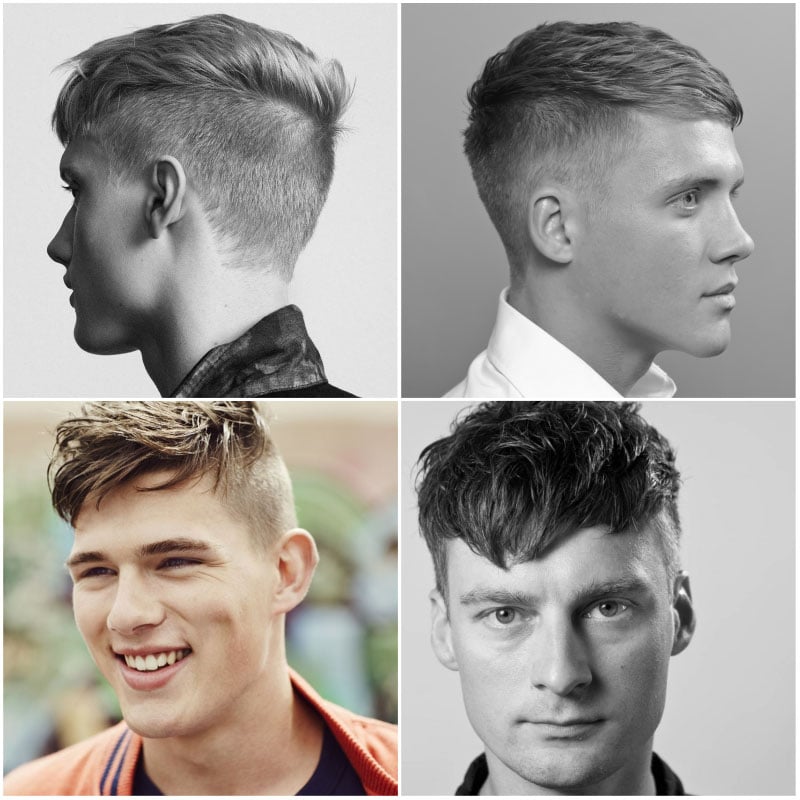 2. Arthur Shelby Haircut
Like his brother Tom, Arthur Shelby, who is played by Paul Anderson, also rocks an undercut. However, Arthur's hair is shaved significantly shorter on the sides and back, making it a more contrasting and striking style. Additionally, the two men also style the top of their hair in different directions. While Tom's is swept toward the front, Arthur's is slicked back, which is easily achievable thanks to his length and straight strands. Overall, Arthur's hairstyle appears polished with an edgy attitude. So, it's no wonder why the look has seen a serious resurgence in recent years.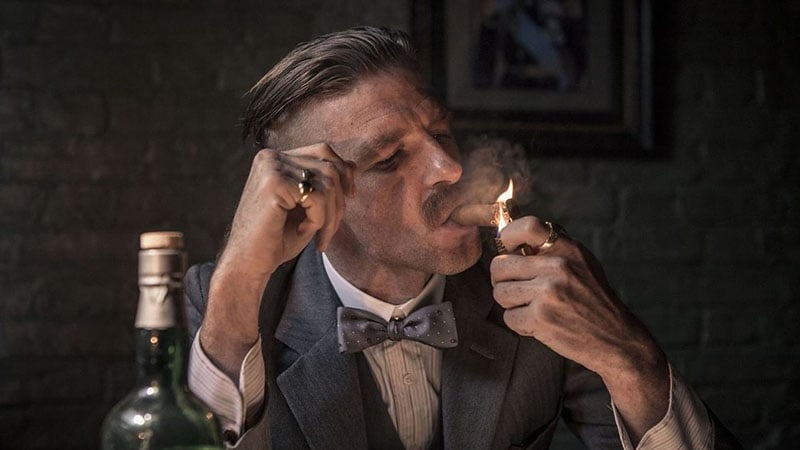 If you want to rock Arthur Shelby's cool hairstyle, ask your barber for a disconnected undercut with the sides and back shaved to a grade one. But, ensure the top is left long enough for you to slick back. When it comes to doing so, make sure your style will stay in place all day by blow-drying the roots of your hair toward the back of your head after washing. Then, use your hands to apply a small amount of pomade or wax to the top of your hair. Finally, finish by combing it back into the sleek style. The result should be secure but maintain a natural, soft feel.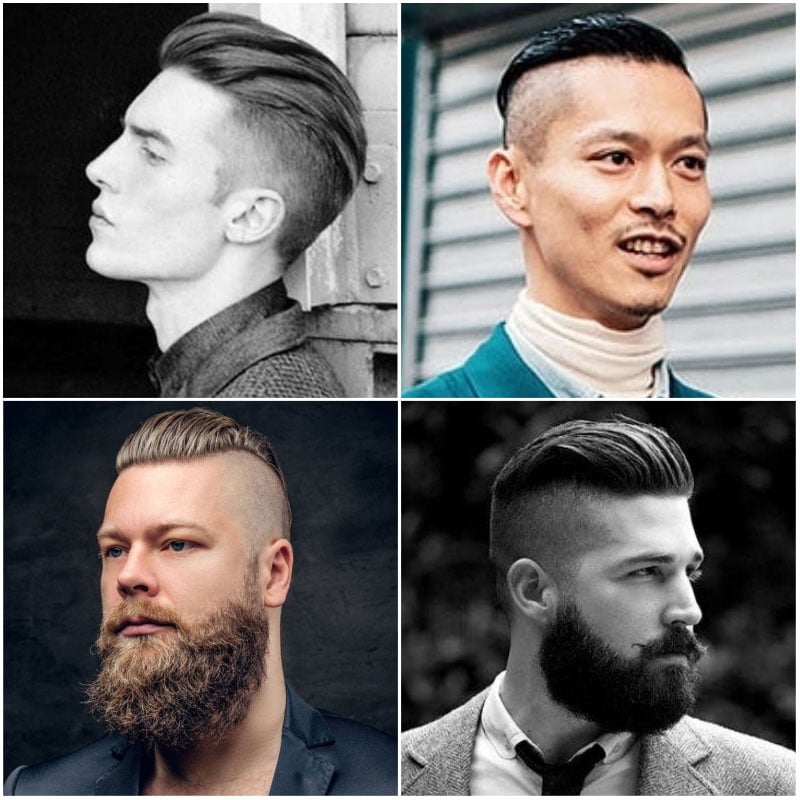 3. John Shelby Haircut
John Shelby's haircut is similar in many ways to both Tom's and Arthur's. The cut, which is a disconnected undercut style, features sides shaved right down to the skin. Up top, his hair is straight like Arthur's but cropped quite a bit shorter. As such, the style appears neat, tidy and low-maintenance. In other words, it requires little styling, which undoubtedly makes it an appealing option for many men today. Of course, be sure to note that if you do choose this Peaky Blinders haircut, you will need to see your barber regularly. Messy, grown-out hair on the sides and back of the head has no place in a sharp John Shelby cut.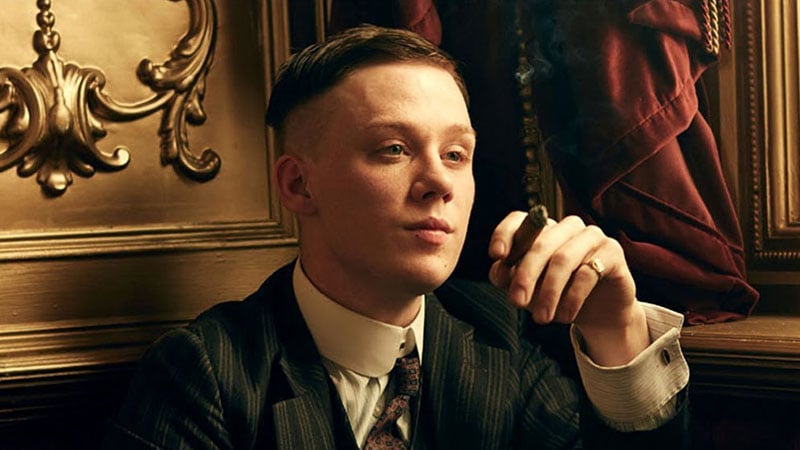 Do want to rock the kind of John Shelby hairstyle that'll make actor Joe Cole proud? Start by getting the sides and back of your hair shaved off to a number zero. The cut should be low enough to reveal plenty of skin but with a little hair color still visible. Up top, ask your barber for a short crop. Here, the length should be short enough for your hair to stay in place without much product but long enough that you can style it to the side. Once you have this cut, you can use a tiny amount of light wax or pomade to smooth your hair either all towards one side or into a deep side part if it is long enough.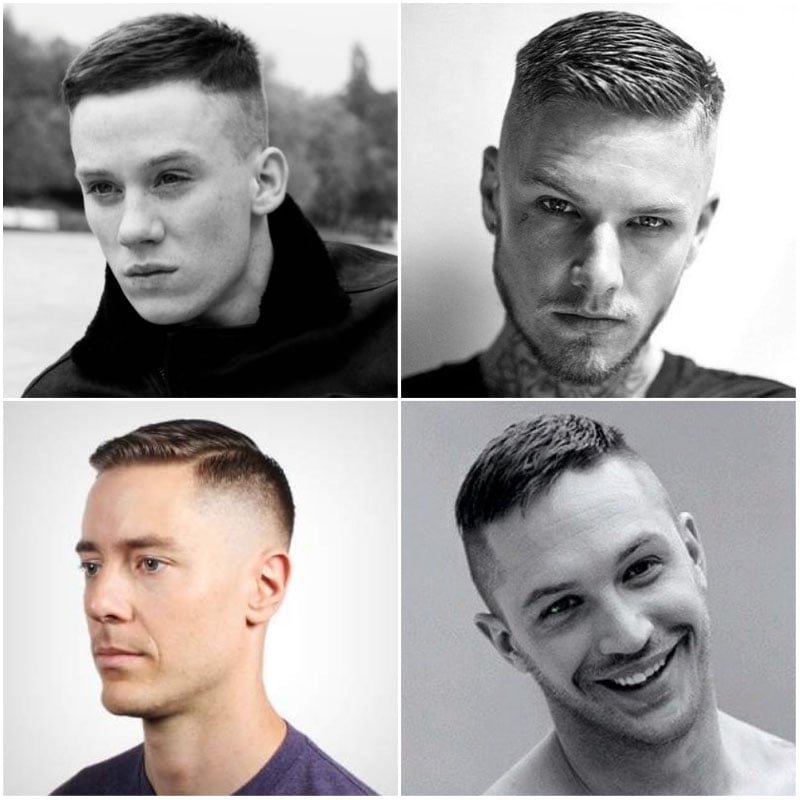 4. Michael Gray Haircut
In Peaky Blinders, Michael Gray is the cousin of the Shelby siblings. But, unlike Tommy, Arthur and John, Michael does not sport an undercut. Instead, Michael's hair is cut and styled into a neat and polished side part. The look features tidily trimmed sides that taper into a longer length on top. As one of the most formal of all the Peaky Blinders haircuts, Michael's look works best for modern gents who appreciate a clean and classic aesthetic. In particular, it looks seriously dapper when paired with a suit or smart casual outfit. Of course, the cut can be worn in a more natural way, if you don't feel like styling it every day.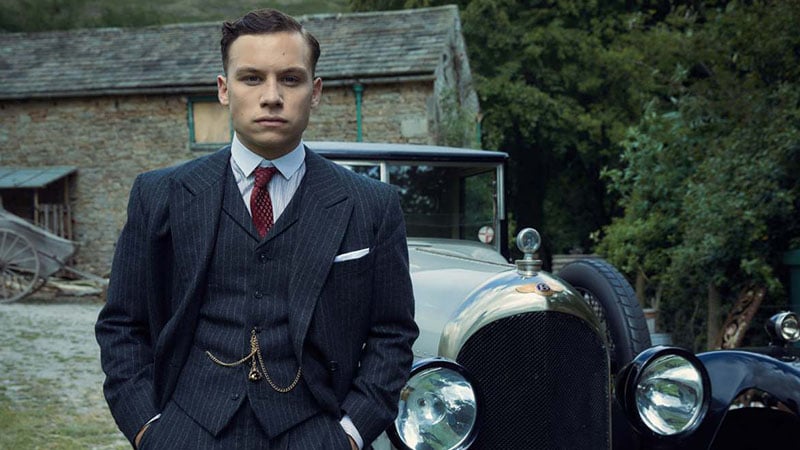 Michael Gray may be John Shelby's cousin, but the two actors who play them are actually brothers. Yes, Finn Cole, who plays Michael Gray, is Joe Cole's younger brother. But no matter their relationship, both characters and actors certainly have great hair. To channel Michael's signature look, ask your barber for a cut with subtly tapered sides and a longer length on top. When it comes to styling, start by creating a deep side part in your freshly washed hair. If your locks are naturally curly, you may be able to work them into Michael's smooth wave on top. If not, you can blow-dry your hair, using a small round barrel brush to twist your locks into a neat curl as you go. Then, gently comb your hair into place and secure with a lightweight hairspray.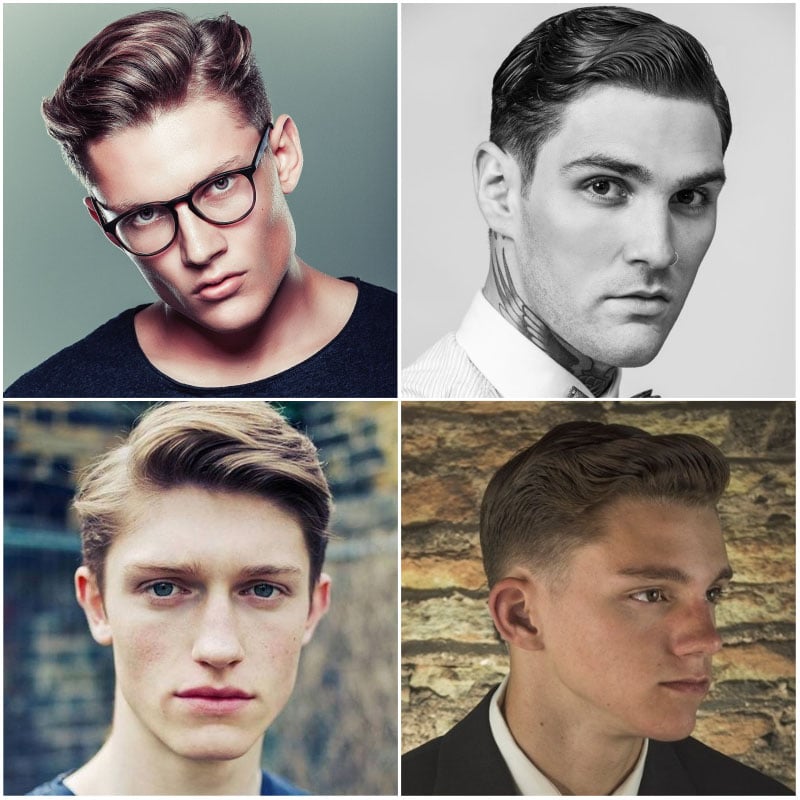 5. Alfie Solomons Haircut
When it comes to Alfie Solomons, it's not the hair on his head that demands the most attention. Instead, it's the beard that truly defines this iconic character's appearance. Solomons, who was played by a very rugged looking Tom Hardy, has a full, unruly beard that may inspire you to grow your own. But, if you're thinking about attempting some epic facial hair, remember to do it in a modern way. While beards are on-trend right now, those that are well-groomed with neatly trimmed edges are best appreciated. Additionally, unlike Solomons, you should keep the hair on your head looking tidy as well to ensure you're not projecting any caveman vibes.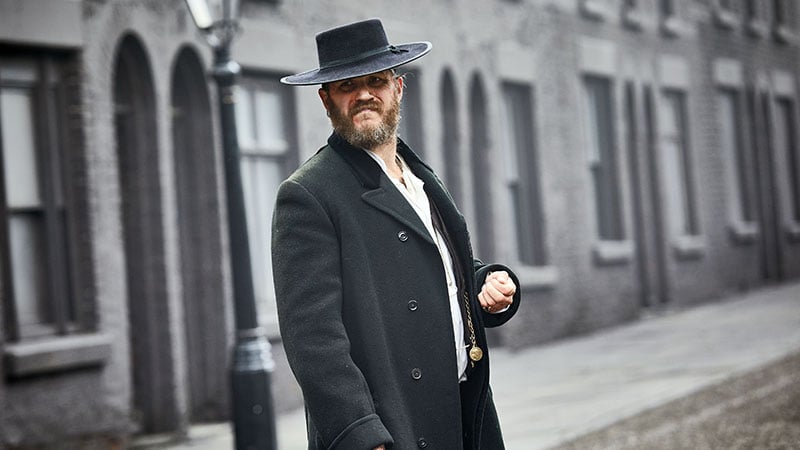 If you're looking to grow a beard fit for a modern-day Alfie, you're going to have to commit to the endeavor. After all, the process demands a lot of patience. Thankfully, once you've reached your desired length and thickness, all you need to worry about is a little maintenance and grooming. To do so, remember to regularly trim your beard around the edges to keep it looking neat and modern. Also, be sure to keep your beard healthy by routinely washing, combing, and conditioning it. Doing so will help maintain a soft and smooth feel without any pesky knots of unsightly dandruff.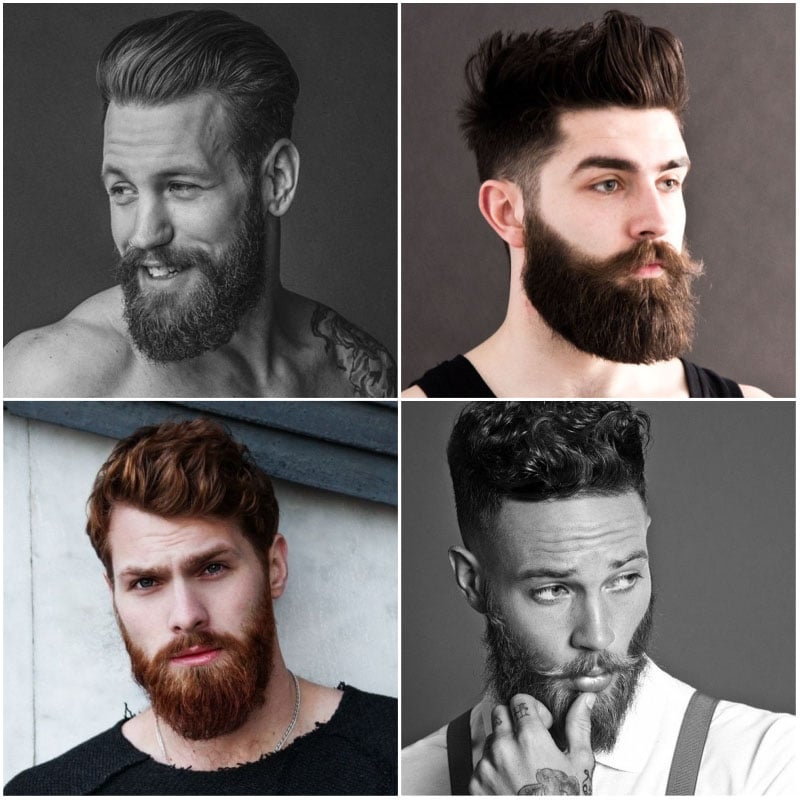 How to Get the Perfect Peaky Blinders Haircut
Tom Shelby: Opt for an undercut with number three sides and a textured top that's long enough to style forward into a short side fringe.
Arthur Shelby: Ask for a disconnected undercut with a number one on the sides and a top you can slick back.
John Shelby: Have the sides of your hair shaved to a zero and the top cropped short with just enough length to style it to the side.
Michael Gray: Achieve this formal side-part style with a cut that gently tapers from a low fade into longer, smooth waves on top.
Alfie Solomons: Grow a full beard but remember to keep it tidy for a more modern appearance.
FAQs
Why do peaky blinders have that haircut?
The Peaky Blinders have an undercut or short crop because longer hair is a significant disadvantage in a street fight. Also, short hair was better for hygiene and preventing the spread of lice in the early 1900s when the show is set.
Is peaky blinders haircut authentic?
The Peaky Blinders' haircut is pretty historically accurate and was popular among other gangs, working-class men, and even the military at the time. The short back and sides were great for hygiene and preventing the spread of lice, while still looking stylish and masculine.
How do you cut a peaky Blinder haircut?
If you head to your barber as ask for a Peaky cut, they'll likely know what you mean. To create it yourself, section the top away from the sides, and set your clippers to one or two to trim around the back and sides. Then, for the top, keep it a bit longer, especially around the fringe, and use scissors to work in small sections from the back to the front, trimming to your preferred length. Style it with some texturizing product if Thomas Shelby is more or vibe, or slick it back with a pomade for a more Arthur look.
SUBSCRIBE TO OUR NEWSLETTER
Subscribe to our mailing list and get interesting stuff and updates to your email inbox.