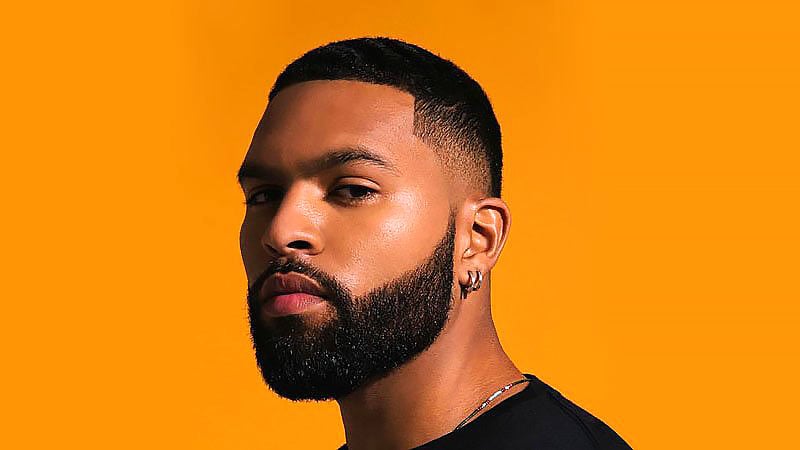 Add some earrings to your daily accessory line to up the ante on your style. Men's earrings are having a fashion resurgence, and it's more acceptable than ever for a guy to be sporting some ear bling. Whether you have your ears pierced already, are contemplating taking the plunge, or are looking for something less permanent, there is an option for you. Choose from studs and hoops to more bold novelty earrings or tunnels. The key to making this trend work is getting the earrings right for your personal style and the occasion. Doing so ensures you look well put together, and not like you're throwing back to your rebellious teenage years.
Best Earrings for Men
Stud Earrings for Men
Studs are the most basic earring type, and it is likely what you'll receive when you first get pierced. The defining feature of stud earrings is that they have a straight post that goes through the ear and a clasp at the back to secure it. As such, it's an excellent choice for beginners. However, just because it's a basic style doesn't mean it's boring. Studs come in all shapes and sizes and are made of any material from white gold and sterling silver to surgical plastic and platinum. Keep it pared back with a simple silver ball or understated triangle, or opt for something dressier like a diamond or sapphire-centered crown.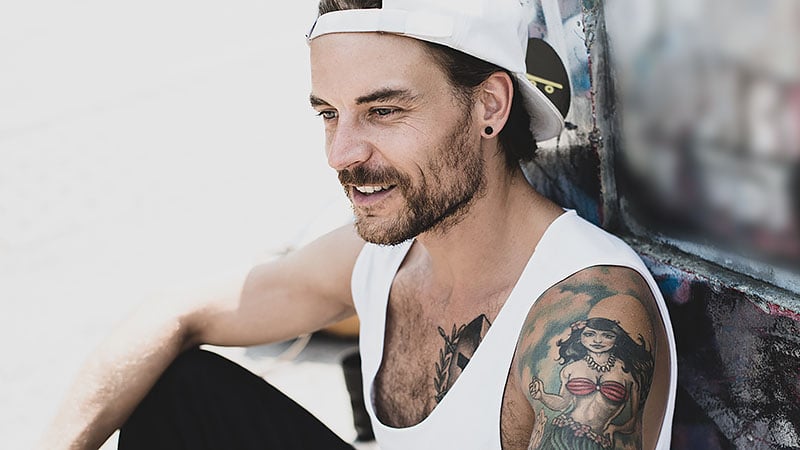 TOP BUYS
Hoop Earrings for Men
Similar to studs, hoops are very wearable and versatile earrings for men. Plus, they can be a little bit more comfortable as they sit flat against your neck. This also means you can sleep in them easier. Regarding styles, go full pirate-life and embrace a big hoop. Alternatively, a mid-size and thickness hoop in gold or silver adds a dash of charming roguishness. Look for earrings called 'Huggies' if you prefer something more subtle. These are smaller and thicker hoops that sit very close to your earlobe. Finally, sleepers are a thin, modest style that doesn't draw too much attention and, as per the name, are great for wearing while you sleep.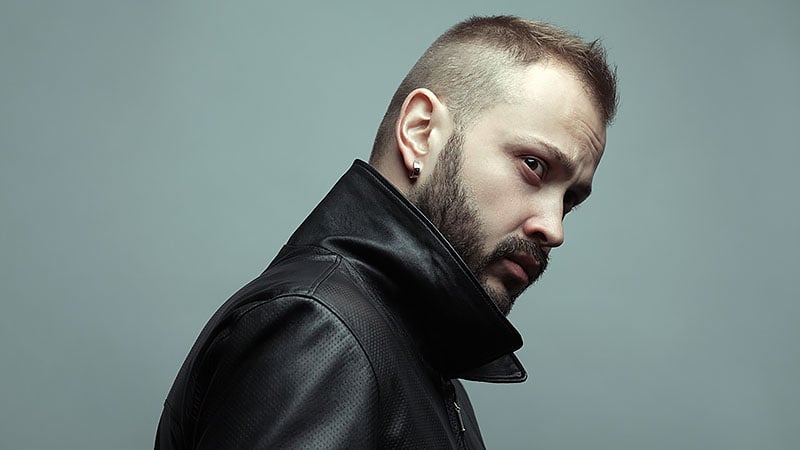 TOP BUYS
Dangly Earrings for Men
Make a big statement with a pair of dangly earrings. This look is far bolder than the simple hoops or studs, but if you're the kind of man who has the confidence to pull this off, it looks fantastic. There are endless styles and options when it comes to dangly earrings. You could choose to wear a simple cross, silver chains, or go full extravagant with feathers and pearls. For inspiration on how to make this style work for you, look to celebrities like Harry Styles, Lil Nas X, or Neymar Jr. However, there are a couple of things to keep in mind when it comes to dangly earrings. The first is that some styles can be heavy. As such, prolonged wear can eventually stretch the hole in your lobe. Additionally, because it's a more embellished look, it may not be appropriate for all situations, such as work.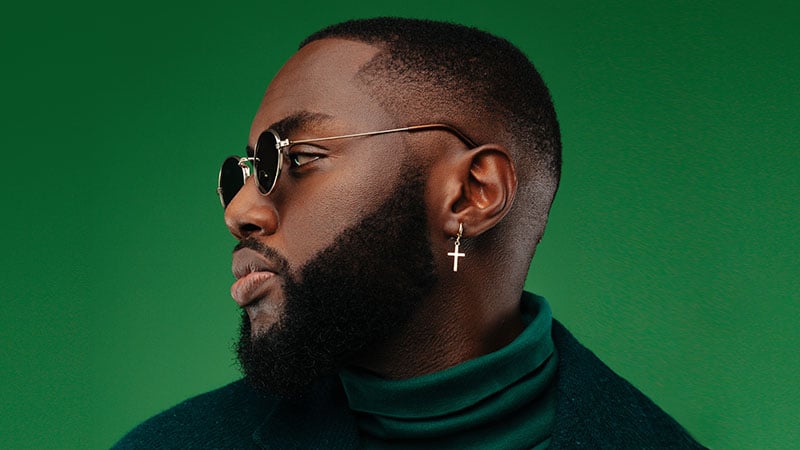 TOP BUYS
Novelty Earrings for Men
Novelty earrings can undoubtedly add an element of fun to your look. With thousands of options available, there's likely to be something that tickles your fancy. Choose a giant safety pin for shock value, or perhaps just select a quirky green dinosaur earring for something charming and silly. What you decide will depend on the occasion and your personality. Keep in mind that novelty accessories aren't always appropriate in situations like professional settings. However, for the weekend, date night, boys' weekends, or casual workplaces, use this as another opportunity to show off your unique character.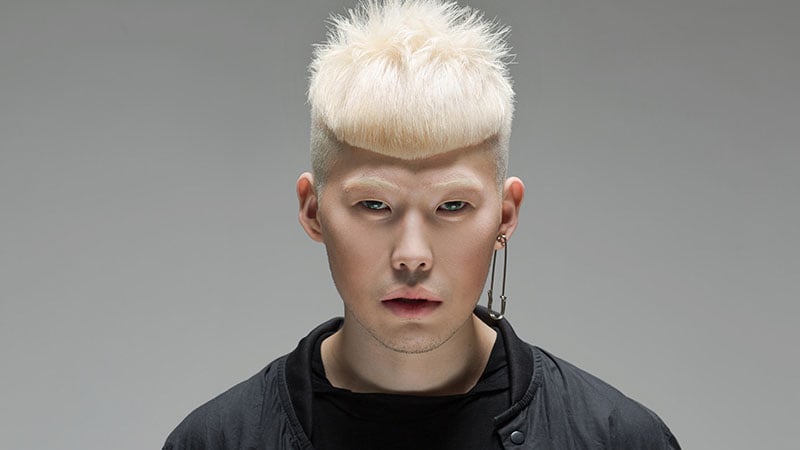 TOP BUYS
Flesh Tunnels for Men
Tunnels are not for the faint of heart. This kind of piercing is the next level up from regular ones. Not only does it require time, patience, and some discomfort to gauge up, but the effects can be irreversible without plastic surgery. Plus, the extreme look is not always accepted in the workplace, so keep that in mind before you commit. However, on the right man, with the right aesthetic, it can look appealing. The process involves stretching out the earlobe over a period of time with progressively larger gauge, or thickness, earrings. There are a few different methods, but all require a high level of hygiene and care to avoid infection, damage, and blowouts. Once you've got them to the size you like, there are many options for hollow tunnels or filled in plugs to wear.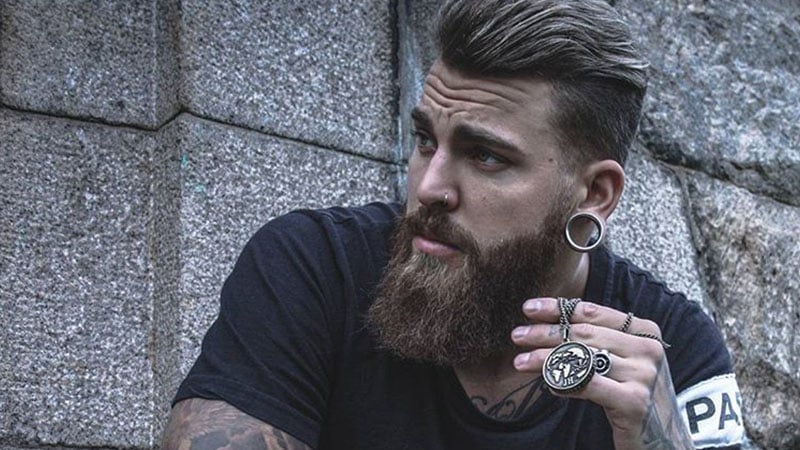 TOP BUYS
Clip-On Earrings for Men
Gentlemen who are keen on wearing earrings, but aren't ready or don't want to commit to an actual piercing will appreciate clip-on earrings. It's also the perfect solution for workplaces that don't allow men to have pierced ears. These products provide an incredible level of versatility and can emulate most other regular earring styles. The first thing to know is that clips and magnets are the two main options when it comes to non-permanent earrings. Secondly, style choices include hoops, studs, dangly earrings, tapers, and you can even mimic plugs to an extent as well. Plus, like regular earrings, they are made in any number of materials. One thing to keep in mind is that clip-on and magnet earrings can't carry as much weight. As such, if you're looking for an extravagant option or heavy material, your choices and success may be limited.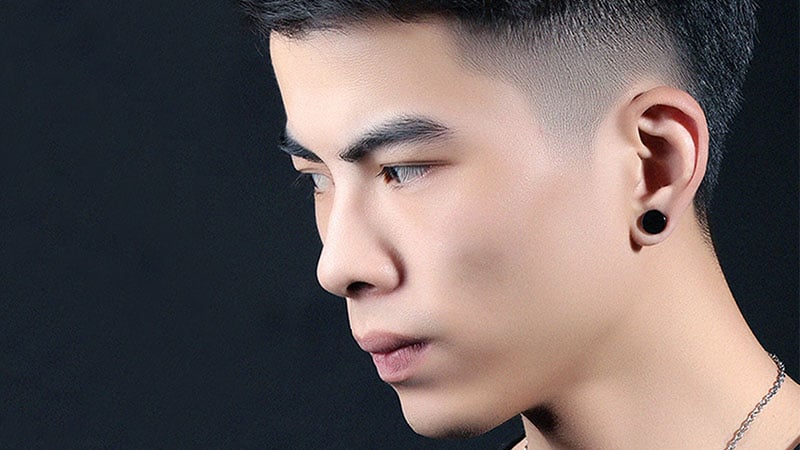 TOP BUYS
Tapers Earrings for Men
Edgier guys will love the look of a taper earring. This style can be either functional or just fashionable. Tapers are one method of stretching out the earlobe to be able to wear tunnels or plugs. However, you can get faux tapers which look just as good, without actually stretching your ear. There are a few different styles available. The most common is a conical shape, which looks a bit like a spike. The next includes curved tapers, such as spirals, circles, and crescents. Finally, you can also get elaborate shapes like anchors, hooks, or birds. Similar to tunnels, tapers are a more extreme look, which won't be to everyone's tastes. Consequently, you may need to be conscious of when and where you're rocking this look to be socially appropriate.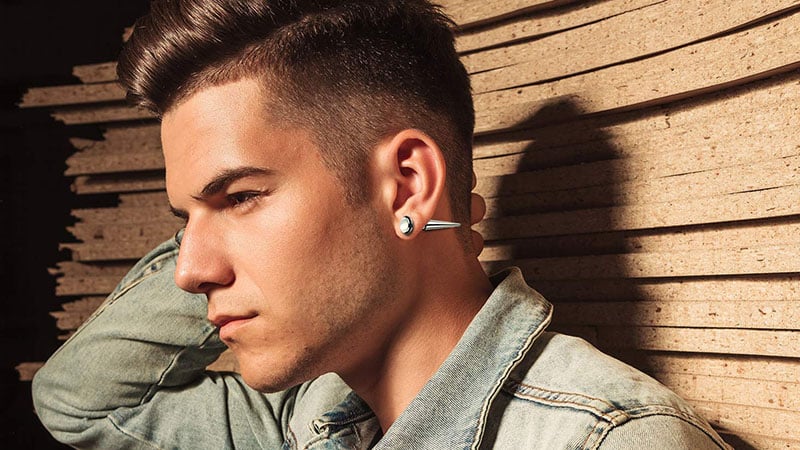 TOP BUYS
Barbell Earrings for Men
Unlike other earring styles, barbells are generally reserved for cartilage piercings. Therefore, they'll often be used in places such as your tragus, rook, helix, or daith. While you can wear them in your lobes, barbell gauges are often larger than regular lobe piercings. Should you choose to get a cartilage piercing done, there are a couple of things to keep in mind. First, these are generally done in specialty studios using a needle, which is safer and less damaging than a piercing gun. However, because the needle passes through cartilage, rather than just flesh, the healing process is a little bit different. Finally, for any modification, you should do your research to make sure you pick a reputable practitioner with experience and positive reviews. Don't be afraid to ask for a consultation appointment before committing to the piercing.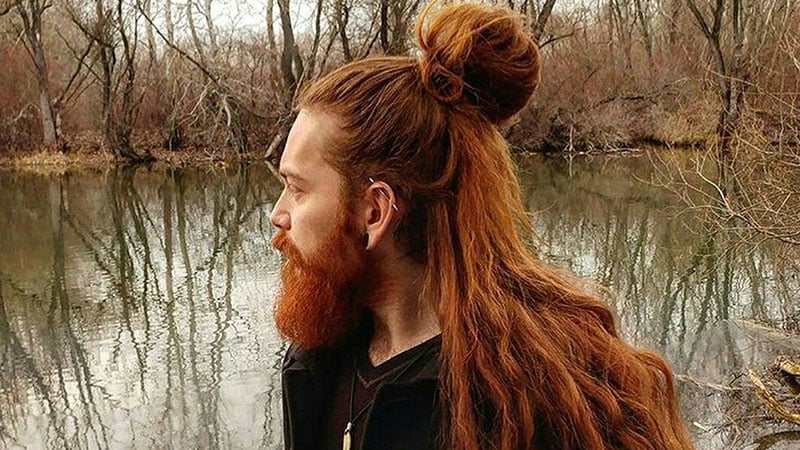 Gold Earrings for Men
Gold earrings appear refined and sophisticated. They look particularly good with olive and dark skin, as it brings out the warmth and vibrancy. Opt for a simple, stylish hoop, or pick a bold, gold stud. Because it's a more regal color, it'll be less commonly found in plugs and tapers, but you'll still be able to find gold novelty earrings if you're looking for something more fun. While it may be more of an investment upfront, the benefits of gold jewelry include the fact that it doesn't rust or tarnish, and it is easier to carve intricate, detailed designs.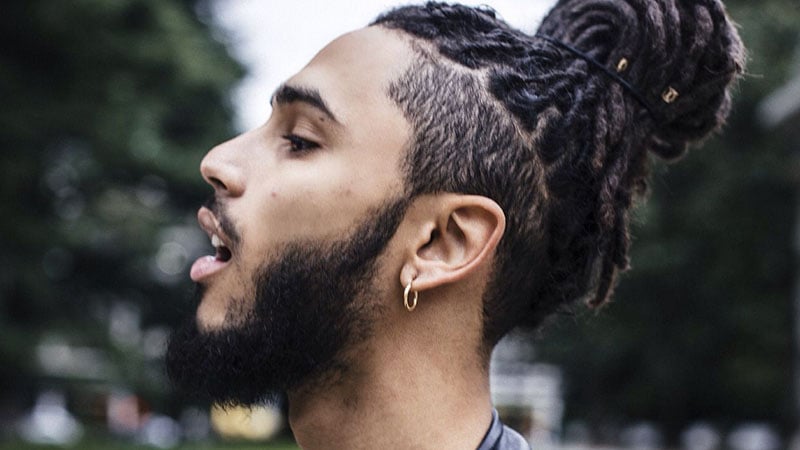 TOP BUYS
Diamond Earrings for Men
Diamond earrings are a great way to bring some bling to your style. Simple diamond studs look great with a suit and for special occasions. Stars like Michael B. Jordan and Cristiano Ronaldo wear this look well. Very special events may even call for big diamond-encrusted hoops or snakes, similar to Lil Nas X's outfit at the 2019 MTV Video Mu­sic Awards. However, like any frosting, diamonds can become very extravagant, very quickly. Therefore, it's essential to consider the occasion, your overall outfit, and your personal style. Your boss may not appreciate the look, but it will be right at home for a date night at a high-end restaurant.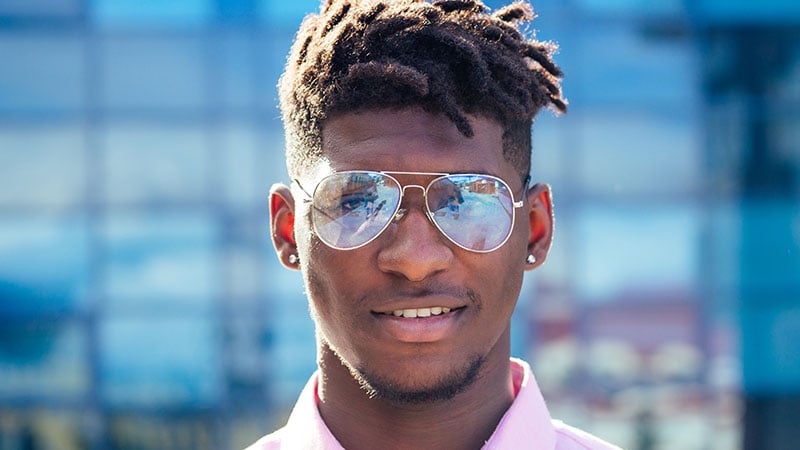 When to Wear an Earring
Just like any accessory, you need to consider both the occasion and your outfit when wearing earrings. They can be appropriate in most situations, so long as you've chosen the right kind. Novelty earrings may not be suitable in the office, but a simple stud might be. Of course, this depends on the dress code. On the other hand, your most expensive diamond earrings might not be the best choice to take on your backpacking holiday, but they'd be perfect at a wedding. Apart from the occasion, your outfit matters too. If you're already rocking pierced ears, then you're probably somewhat fashion-conscious. As such, matching earring styles to your clothes will be a breeze. If you want an all-rounder earring, a simple stud or small hoop will cover you for pretty much every outfit and event.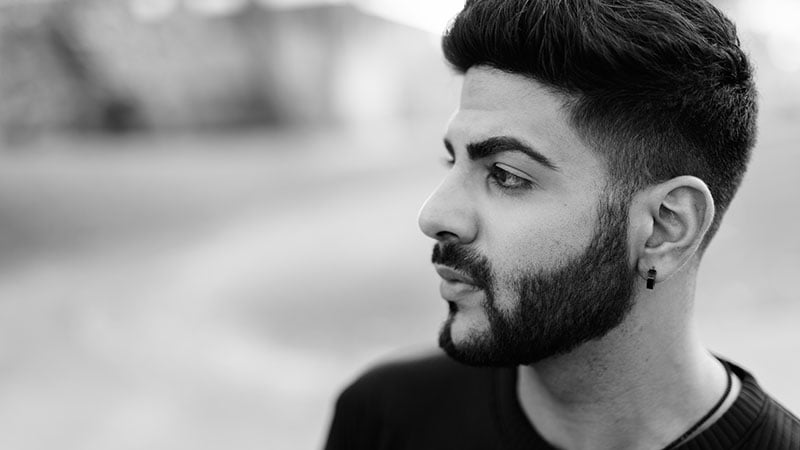 How to Wear an Earring
Work out what earrings best suit your skin tone and face shape.
Keep them small for everyday wear. Big earrings, if you want to wear them, are best for special events.
Coordinate it to your outfit theme.
Match the metal of your earring to other metal accents in your outfit.
The number of earrings you wear is up to you. Choose what you're comfortable with.
Take your earrings out, or wear small studs when at the gym or playing sports.
Keep your new piercing clean, and always sterilize your earrings when you change them.
Earrings for Men FAQs
Are earrings attractive on guys?
Earrings are attractive on guys, as they can show confidence, style, and even a rebellious edge. There's such a large variety of earring styles that rocking pierced ears can look good on most guys, regardless of aesthetic.
What kind of earrings should guys wear?
Guys can wear any kind of earring. Try classic options such as studs, hoops, dangly or novelty styles, gold or diamond earrings. If you're into a more extreme look, opt for flesh tunnels, tapers, and barbells. Lastly, if you're unsure about getting your ears pierced, you can always wear a pair of clip-on earrings to get a taste of what it would look like on you.
Are male earrings unprofessional?
Whether or not an earring is considered unprofessional will depend on the workplace and industry in which you are employed. Generally, most workplaces won't mind if you have pierced ears but might require you to keep the look subtle with simple jewelry such as studs or small hoops. Of course, there may also be occupational health and safety reasons where earrings are not permitted.
Do straight guys wear earrings?
There are no rules about sexual orientation and getting your ears pierced. As such, any guy, regardless of sexual identity, can wear earrings and look fantastic.
Which side do straight guys wear earrings?
Which side you choose to wear an earring does not correlate with sexual orientation. Historically, meaning may have been associated with different ears, but this notion is entirely irrelevant in a modern era. You can wear an earring in whichever ear you like, or even in both ears.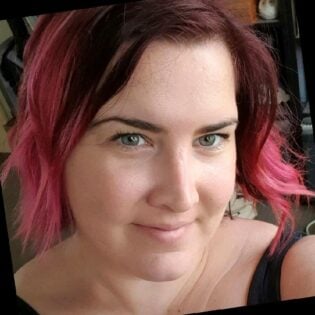 Alexandra Linde is an experienced writer holding a bachelor's degree in Journalism. She is the owner of Alexandra McKiterick Creative and has expertise in travel, fashion, fitness and lifestyle. Alex has previously written for Flightcenter, Travello, and Backpacker Deals.
SUBSCRIBE TO OUR NEWSLETTER
Subscribe to our mailing list and get interesting stuff and updates to your email inbox.