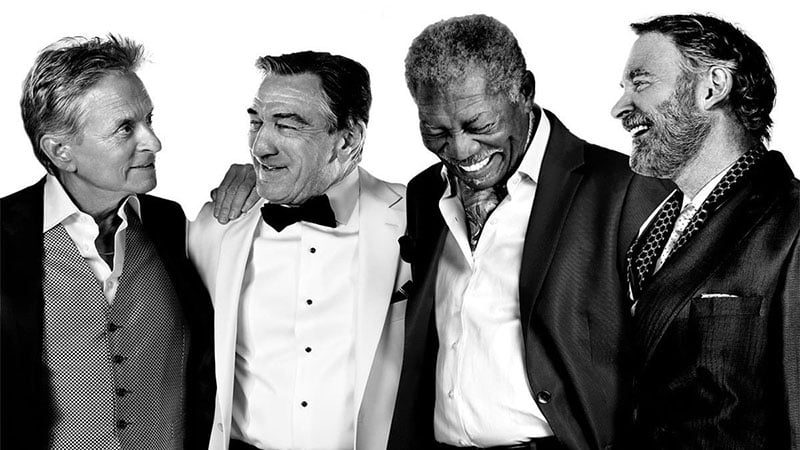 A distinguished man needs a distinguished hairstyle, and these do the trick. From classic and timeless looks like the slick back and Ivy League to a masculine and low-maintenance buzz cut, there are hairstyles for every type of older man. Keep reading to find the perfect way to style your hair and look your best at any age.
RELATED: 15 Grey Hairstyles for Men That Ooze Cool
1. Quiff + Beard
The quiff is a classic men's hairstyle that has remained popular for decades. Not only does the versatile look suit men of all ages, but it also suits many different face shapes. Best of all, it pairs extremely well with a long or short beard. For men who are blessed with a full beard and a head of hair, the quiff with beard style is ideal.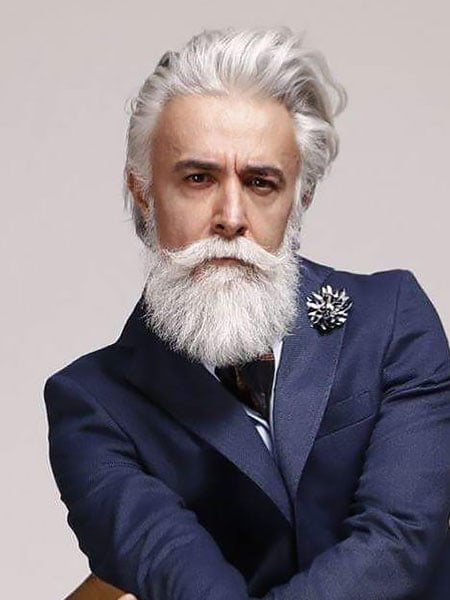 2. Hair Twists
Men with Afro-textured hair have been turning to twists for decades. It's no wonder the hairstyle is so iconic; twists not only look great but also take less time than dreadlocks or braids. Plus, they suit almost any hair length, from short to long. Try a short twist-out for a more subtle look – or give your hair a modern update by pairing twists with a temp fade. After all, there's no age limit on style!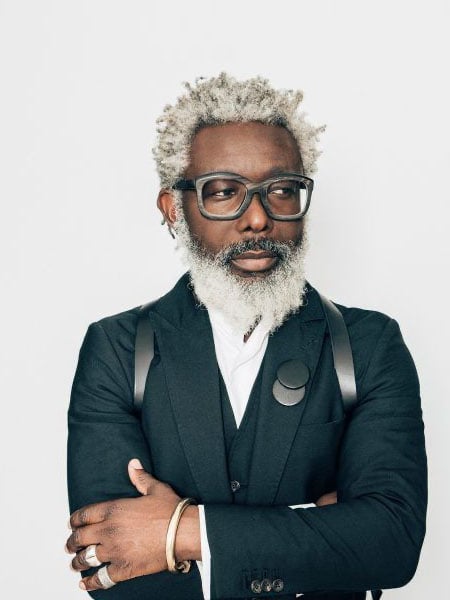 3. Medium Length Comb Over
One of the best men's hairstyles – and one of the simplest – is the comb over. While the traditional comb over of the '50s and '60s is worn short, a more modern and casual take is the medium length comb over. Charming and rugged, yet refined enough to wear to a formal event, the comb over is one of the best styles for medium length hair. It also takes just seconds to create, with only a comb and a little styling product needed.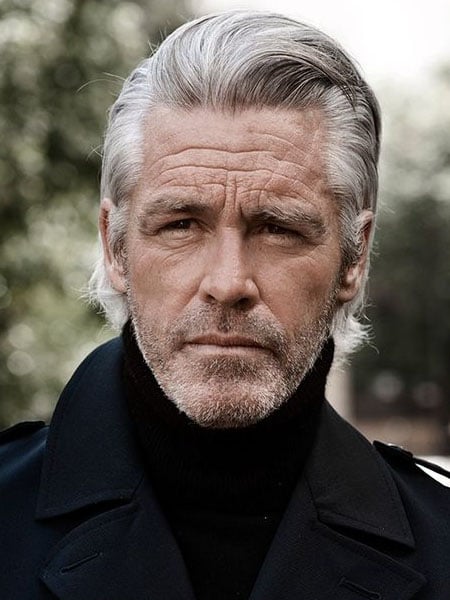 4. Ivy League
For men who like to keep things dapper, the Ivy League haircut is an ideal choice. While short and neat, the cut is still long enough on top to allow you some room for styling. It is traditionally combed to the side, with a little texture added. Polished and understated, the Ivy League looks excellent with a clean-shaven face, a well-kept beard, or a waxed mustache.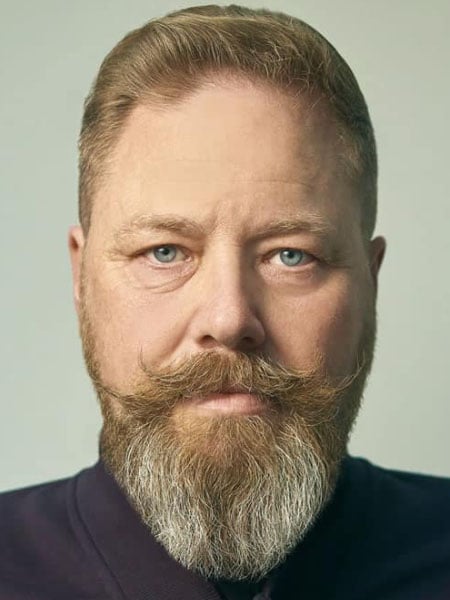 5. Dreadlocks in a Bun Hairstyle
There are few hairstyles more iconic – or attention-grabbing – than dreadlocks. For men with Afro-textured hair, there are hundreds of different styling options – one of which is the bun hairstyle. The twist up-do is ideally suited if you have spent years growing out your locs and looks even better on grey hair. Pair it with faded sides or a neatly trimmed beard for a fresh and stylish finish.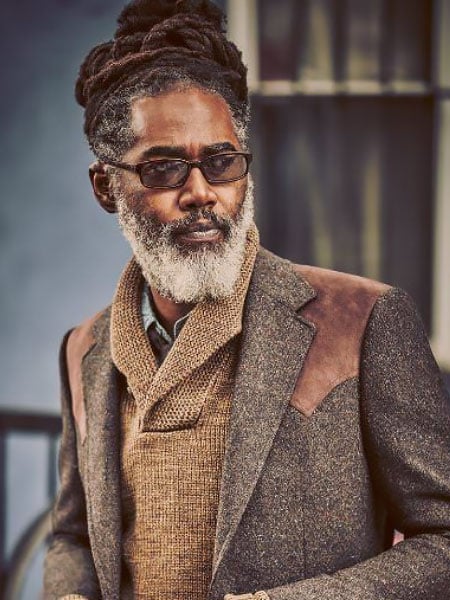 6. Wavy Quiff Haircut
A wavy quiff hairstyle is a bold and effective choice for older men who want to show off their fun-loving personality and sense of style. Because the wavy quiff has plenty of movement, texture, and volume, it is also ideal for disguising thinning hair, a receding hairline, or a widow's peak. Use a styling cream or pomade to create the quiff and blowdry to add volume at the roots of your hair.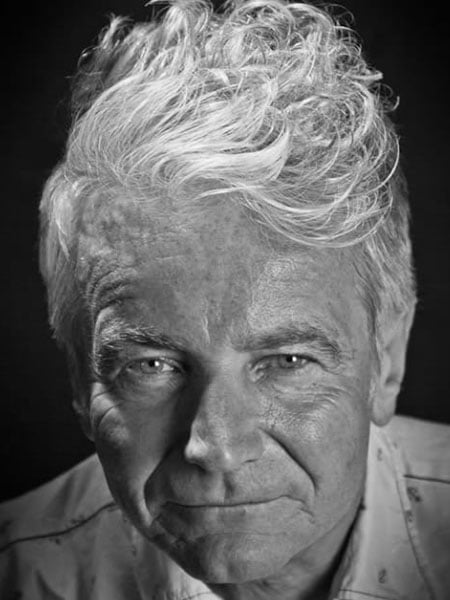 7. Natural Hairstyle + Beard
Keep your look simple and dignified by embracing your hair's natural texture and growing out your beard. It is one of the most low-maintenance looks for men in terms of styling. Your barber will focus on keeping the overall look of your hair and beard neat, as well as keep your hairline looking sharp and defined. To give yourself a new look, why not try a different type of beard? Consider your face shape and the way your facial hair grows in before choosing one of the many fantastic beard styles for black men.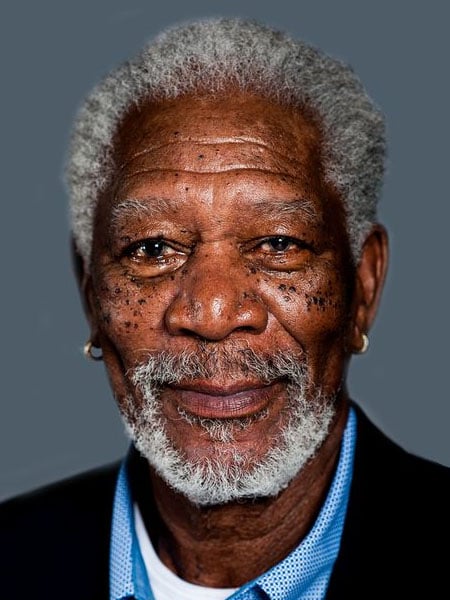 8. Long Curly Hairstyle
There are many different styling options for men with long curly or wavy hair. However, the most straightforward hairstyles are often the best as they let your hair's natural texture do all the talking. Try a curly comb over for a final look that's suave and sophisticated, yet still approachable. It's the type of hairstyle you can wear out to dinner, on the golf course, or for a casual drink.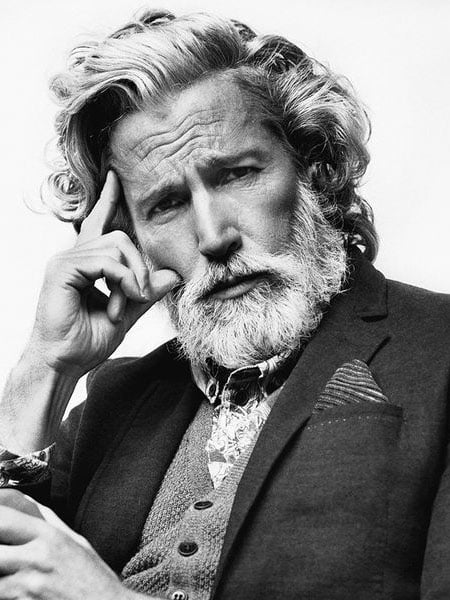 9. Modern Textured Quiff
While the quiff is considered one of the more classic hairstyles, you can update it with a modern twist. The key is to create more volume and height at the front of your head to give the hairstyle some impact. Then use hair products with a matte finish, such as a pomade to create a natural windswept texture. The modern textured quiff is an excellent choice if you're an active guy or want that 'just stepped off the yacht' look.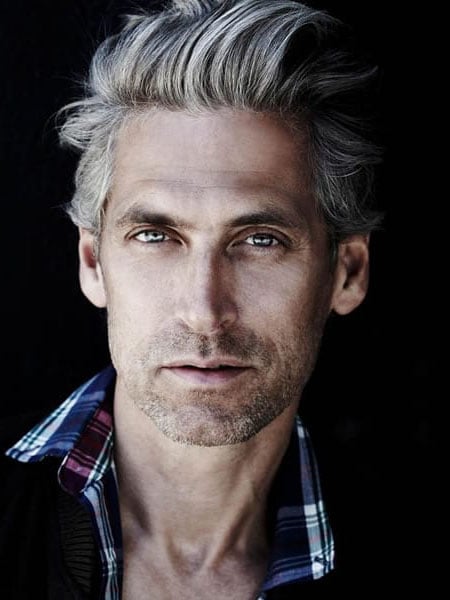 10. Buzz Cut
There is a reason the buzz cut is a favorite style for men of all ages. One of the most low-maintenance and masculine hairstyles out there, the buzz cut suits guys who are straight shooters that don't like to spend too long in front of the mirror. It's also ideal if your hair is thinning a little on top. While buzz cuts are a very short style, your barber can still shape the hair to suit your face shape and hide any scars.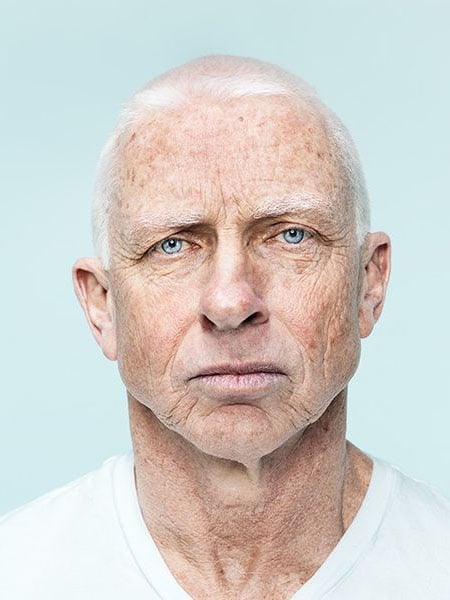 11. Clean Shave Hairstyle
It's a topic most men don't want to discuss, yet it's always on their mind: losing their hair. Instead of fighting nature, why not lean into the bald look with a clean shave? Smooth and sophisticated, the clean shave is for bold guys who are comfortable in their skin. To balance your facial features with your shaved head, have your barber trim, and shape your beard to suit your face shape. Additionally, remember to use sunscreen or wear a hat to protect your scalp from the sun.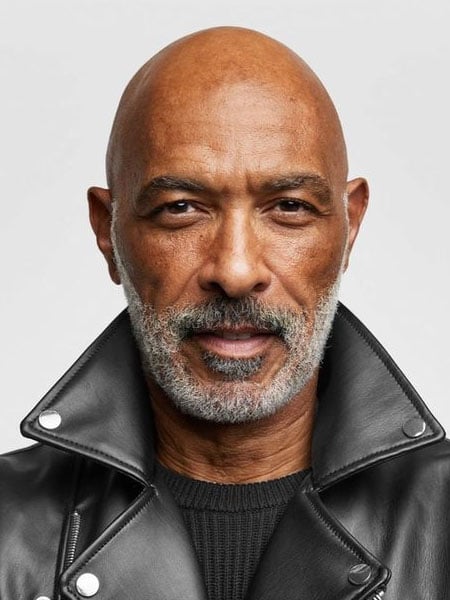 12. Slick Back
The slick back has a vintage appeal and a sophisticated appearance that makes it a favorite for older men. It looks equally good when paired with a beard, stubble, or clean-shaven face, and is also flattering if you have a widow's peak or a receding hairline. While the full 1980s slick back can be a little too out-there for most guys, it's possible to create a softer and less wet-look version of the style. Use a styling product like a weightless water-based pomade, which will give a more natural effect while still holding your hair in place.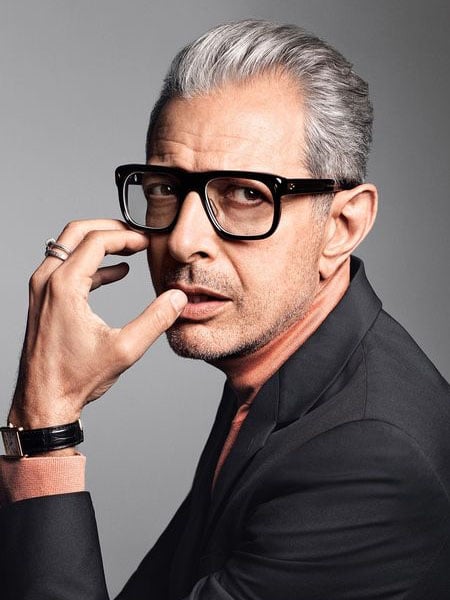 13. Short Afro
Afro-textured hair tends to break more easily than other hair types, so it's ideally suited to shorter styles. By keeping the length the same all over, you can cut down on visits to the barber as there's no fade or line-up to maintain. Neat, clean, and dignified, short Afro hair is a low-maintenance and classic look that never goes out of style. However, even short hair needs to be cared for; use a moisturizing product that is designed specifically for your hair type regularly.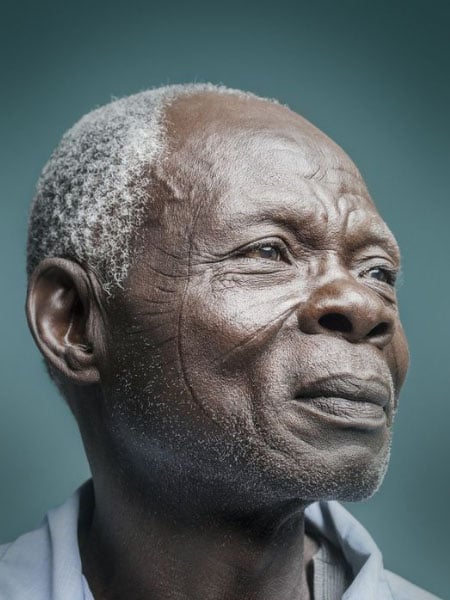 14. Faux Hawk
You don't lose your edge just because you get older. For guys who have always enjoyed a walk on the wild side of life – or love to stand out from the crowd – a faux hawk is an ideal hairstyle. It has a youthful and cool appeal without being too over-the-top and looks even better when paired with a beard or mustache. Plus, women consider it one of the sexiest hairstyles for men, so it's great for older guys who are back on the dating scene or looking to surprise and impress their other half.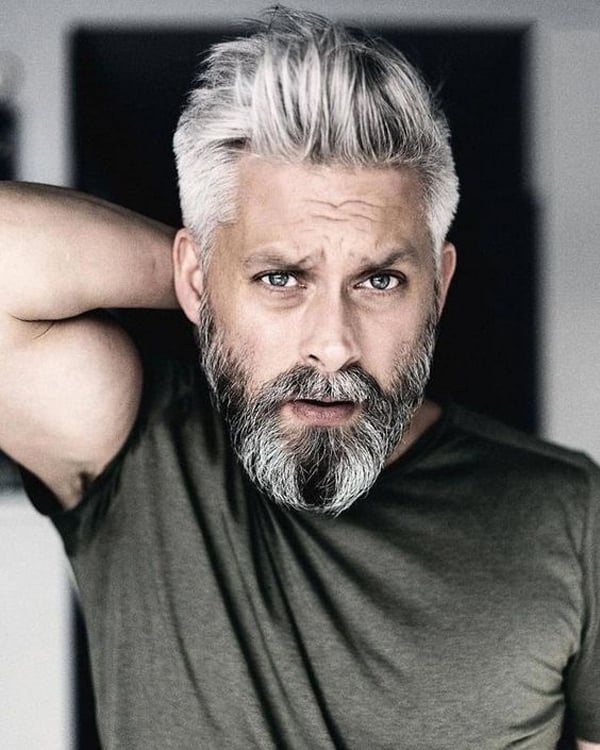 15. Half Up Half Down
Easy to style yet eye-catching, a half-up, half-down hairstyle works for every occasion – and it gives you the best of both worlds. You get the clean finish and cool attitude of a man bun combined with the head-turning capabilities of long hair. Plus, it will give you a rugged, Viking-inspired look. While it is ideal for those who have thick or curly hair, a half-up, half-down style in a medium length is an option for guys with fine hair.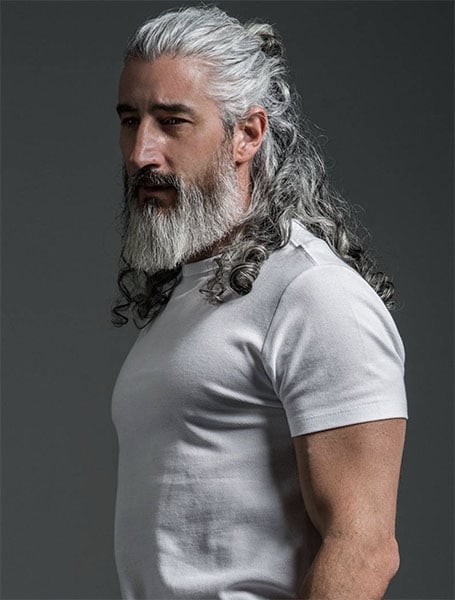 FAQs
What haircut makes you look younger?
Like a haircut at any age, you'll want your style to suit your face shape. However, you may also need to contend with thinning hair, as well as greys. Generally speaking, a style such as a crew cut, with short back and sides, and more length and volume on top will lift your face, giving you a more youthful look. This can also help to hide thinning patches. Variations of this include the Ivy League, quiff, side part, undercut, and a faux hawk. 
What is the best hairstyle for over 70?
Keep it low maintenance and easy to style with haircuts that have short sides but volume on top. Style it by slicking the front back, opting for a quiff, or parting on the side. Doing this will lift your face and stop your hair from sitting around your eyes, drawing attention to wrinkles.
What is the best hairstyle for over 60?
Your sixties is when the grey may be out in full force, so it's time to embrace the silver fox in you. Keep it high and tight to give your look a youthful facelift, but keep some length on top so you can still have fun. Undercuts are a great option, as are Ivy Leagues for something a bit more conservative. Keep the length on top swept back or to the side. If you want really low maintenance, or your hair is thinning, opt for a buzz cut.
What is the best hairstyle for over 50?
While men in their fifties may be starting to experience some signs of aging, such as hair loss and greys, the hairstyle world is still their oyster. If you still have a full head of luscious locks, don't be afraid to wear it long and free, or dreadlocked for men with Afro-textured hair. Thinning hair can be disguised with a buzz cut, clean shave, or side part. Alternatively, keep things classy and stylish with a crew cut, Ivy League, quiff, pompadour, or short crop.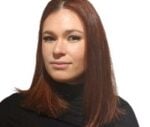 Arabella Roden is a skilled writer and sub-editor with over ten years of experience across print, digital, and B2B. She holds a Bachelor's Degree in Journalism and specializes in beauty, hairstyles, fashion, tattoos, and lifestyle topics. Arabella is currently the Chief Sub Editor at Mecca Brands and has been writing for The Trend Spotter since 2019.
SUBSCRIBE TO OUR NEWSLETTER
Subscribe to our mailing list and get interesting stuff and updates to your email inbox.