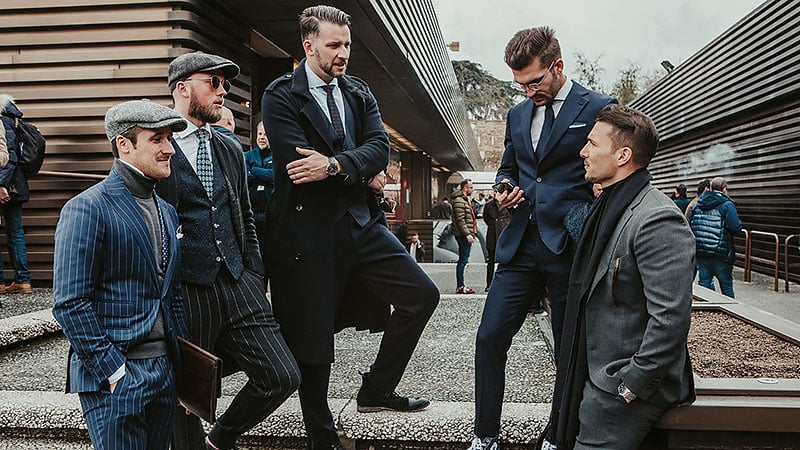 As every season comes and goes, what you wear is incredibly important. Winter is a beautiful time of the year, albeit chilly. When it comes to dressing for the weather, certain items are considered absolute must-haves, so you can stay warm and look incredibly stylish. If you're in search of style inspiration in the icy temperature, look no further. Here are some toasty and trendy wardrobe essentials for every man.
RELATED: 15 Best Men's Winter Jackets and Coats To Keep You Warm
1. Leather Jacket
A leather jacket is one of the most versatile pieces of clothing that every man should have in his wardrobe. There are so many ways you can wear them with almost anything. When temperature drops, rug up in a hoodie or roll neck or keep it casual with a t-shirt underneath. This is a classic and timeless look that's fantastic on anyone!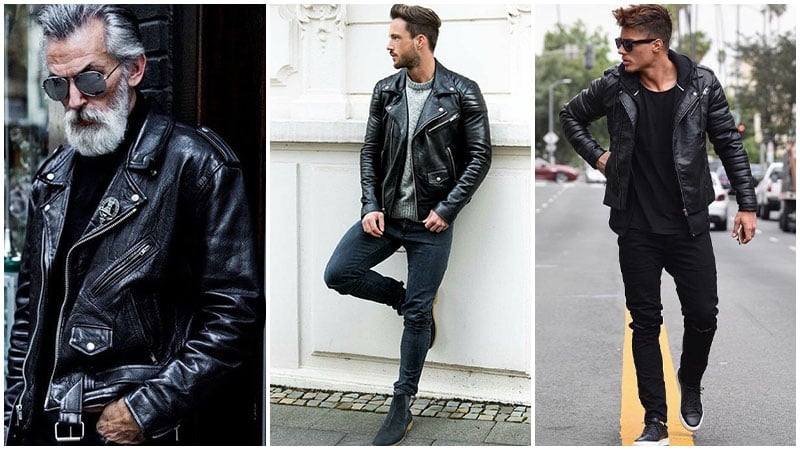 TOP BUYS
2. Pea Coat
The double-breasted overcoat is essential for any man during the colder months. Whether you're in the office or on a date, the peat coat is a classic option for a myriad of occasions. Opt for a navy jacket with jeans for a smart casual look, or elevate your outfit in a suit, paired with light-colored outerwear. No matter how you style this, it's a timeless piece that will attract compliments everywhere you go.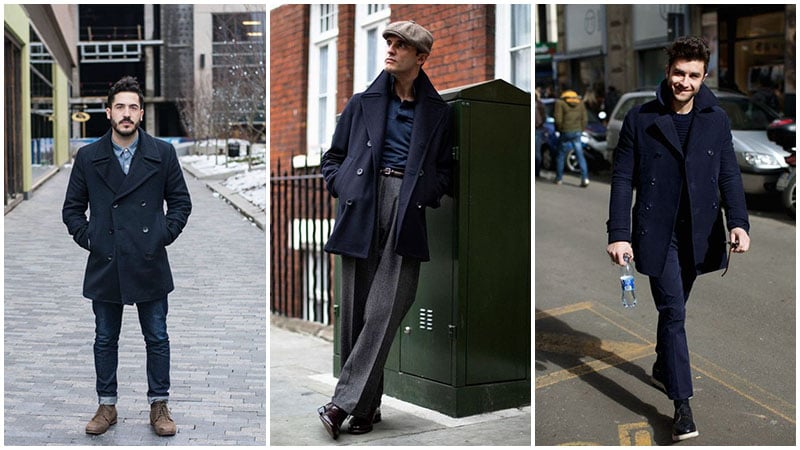 TOP BUYS
3. Black Jeans
Sometimes you just can't go wrong with the basics. Although plain, black jeans are a staple that every wardrobe should feature. No matter if your style is rebellious, boho, or business, you can rock this dark denim with ease. Brighten up your outfit with a bold suit jacket, or keep it muted with a leather jacket, scarf, and a slick pair of boots. From semi formal to casual, you can work this essential piece of clothing into your closet.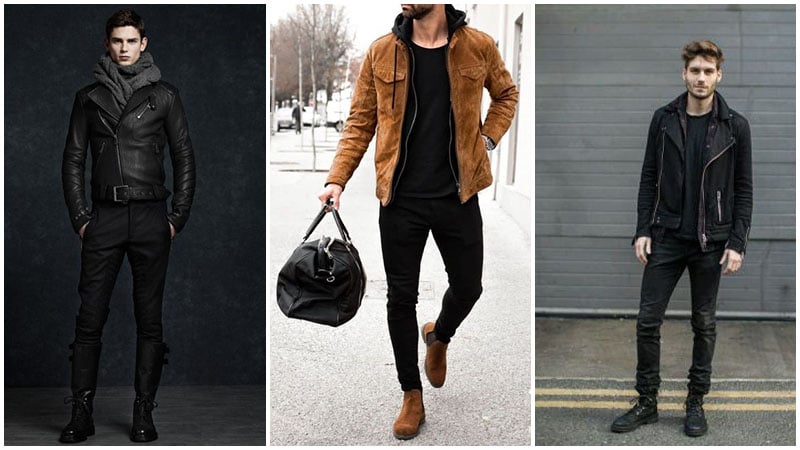 TOP BUYS
4. A Wool Overcoat
When the temperature drops, take out a warm and stylish wool overcoat. Although it may cost you a pretty penny, this outerwear is an absolute must for any well-dressed man. Available in an array of colors and lengths, this coat is a great way to dress up an outfit and feel snug at the same time. To match the rest of your wardrobe, stick to bold colors such as navy, charcoal, or camel – they flatter a myriad of pieces and offer a timeless appeal. Watch as all eyes turn to you in this handsome wardrobe essential!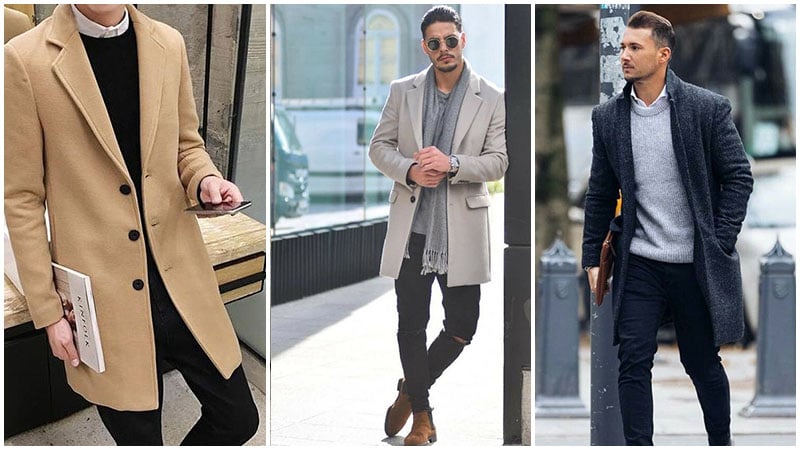 TOP BUYS
5. Boots
The ultimate winter staple is boots. There's a lot to love for this sturdy footwear, but their real winning quality is the style and comfort they provide. From Chelsea to desert, there are so many designs that you can incorporate into an outfit, and look super sophisticated while in them. What's terrific about these shoes is the number of ways you can work them into your wardrobe, so nothing is stopping you.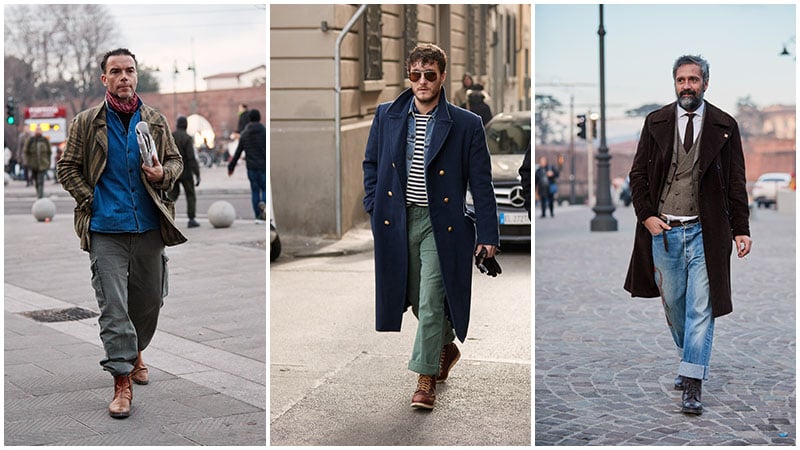 TOP BUYS
6. Selvedge Denim Jeans
Nothing says badass like a pair of raw-edge jeans. The denser and firmer denim is a great way to put a casual twist on any outfit while remaining sophisticated and well-kept. Selvedge is considered one of the higher-quality pairs of pants, so it's worth wearing, no matter where you're headed. Pair them with a shirt and blazer or an overcoat for days when it's a bit crisp outside.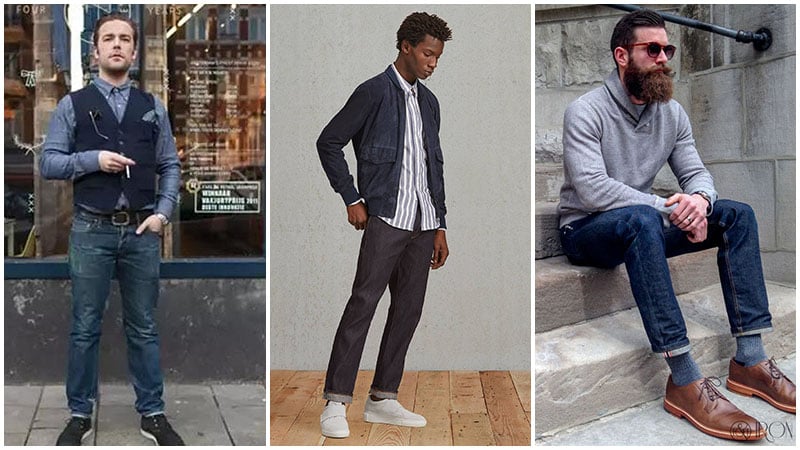 TOP BUYS
7. Denim Jacket
For the guy who's a fan of looking casual and fresh, the denim jacket is perfect for you. Although it may not be appropriate for sub-zero weather conditions, it's certainly an excellent piece of clothing to wear when it starts to get a little chilly outside. Adaptable and timeless, this outerwear makes a great layer to finish off an outfit. Pair it with a slick set of chinos or dark jeans for a smart casual feel, or rock it with a roll neck and trousers for something a little bit elevated. If it's a little brisk around your neck, why not check out the shearling design? It will keep you warm and on-trend all at once!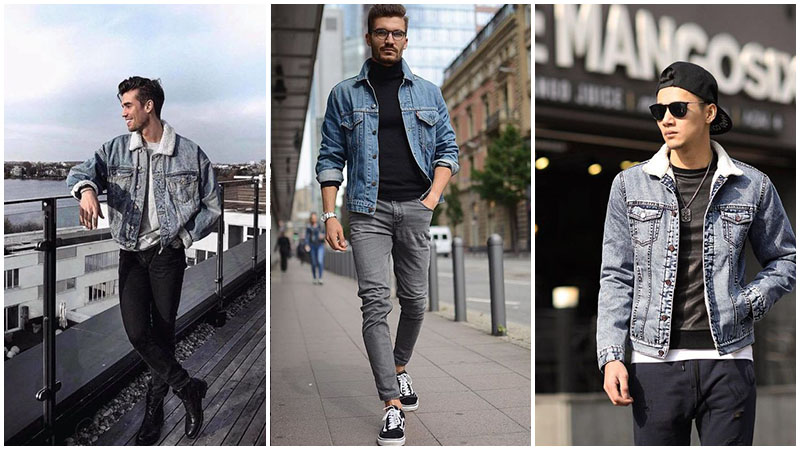 TOP BUYS
8. Wool Blazer
For the days where you're blending casual with sophisticated, the wool blazer is for you. Ideally worn in semi formal occasions, this jacket is a winter essential for every wardrobe, and will keep you feeling warm while looking oh-so-cool. Pair this with a button-down shirt for fancier events or a roll neck for those chilly nights. When the temperature starts to warm up again, you can keep this classic piece within arm's reach – it's light enough to wear throughout the entire year!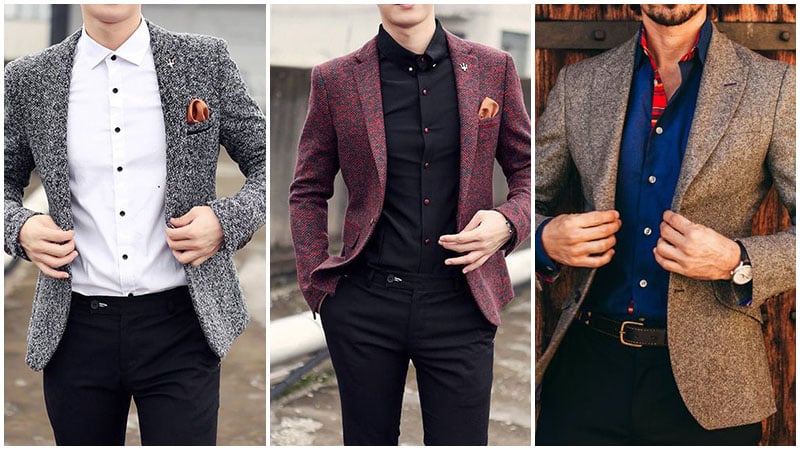 TOP BUYS
9. Trench Coat
For the ultimate tailored look, opt for the classic trench coat. This layer is a great way to polish off a stylish outfit, and it's sure to keep you warm and dry when it's pouring outside. These styles come in an array of neutral shades, so they are easy to pair with staple pieces, such as a button-down shirt or roll neck. The Burberry-style outerwear is a traditional design to choose, but if you want to step outside of the box, why not try something bold and colorful? You can't go wrong with this outerwear, so what are you waiting for?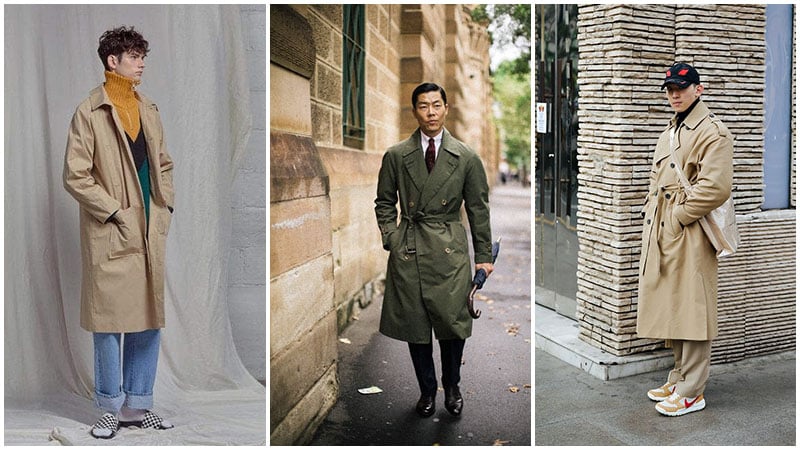 TOP BUYS
10. Wool Suit
Much like the wool blazer, this suit is a great option to rock any time of the year. The soft-touch of the ensemble is heavy enough to keep you feeling warm during the chilly months but lightweight enough to keep you breathing. Opt for a smart casual look by pairing this set with a t-shirt or a roll neck, or keep it looking fresh and formal in a classic button-down and tie. If you're feeling extra chilly, throw an overcoat on top, and you'll be ready to make an entrance anywhere you go!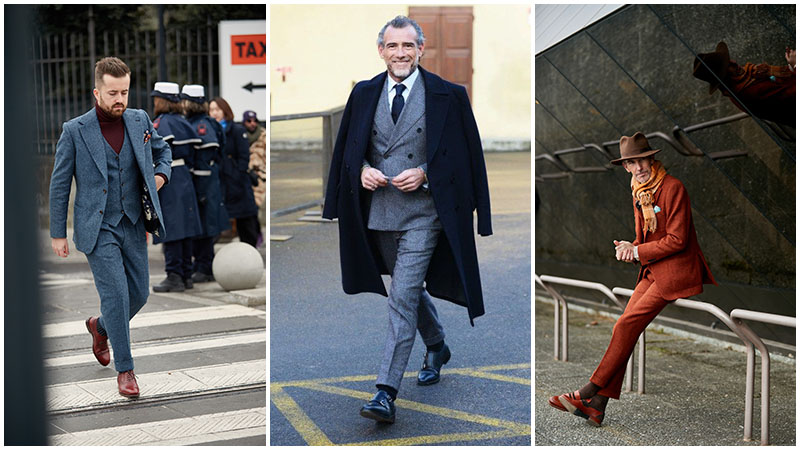 TOP BUYS
11. Scarf
Fight the frostbite with a chunky scarf. Contrary to belief, this accessory is a masculine and stylish way to complete a winter outfit. Whether you choose to wrap it around your neck or let it hang loose, you can't go wrong with one of these handy pieces. There are so many ways you can style these, you'll want to try something new every day of the week.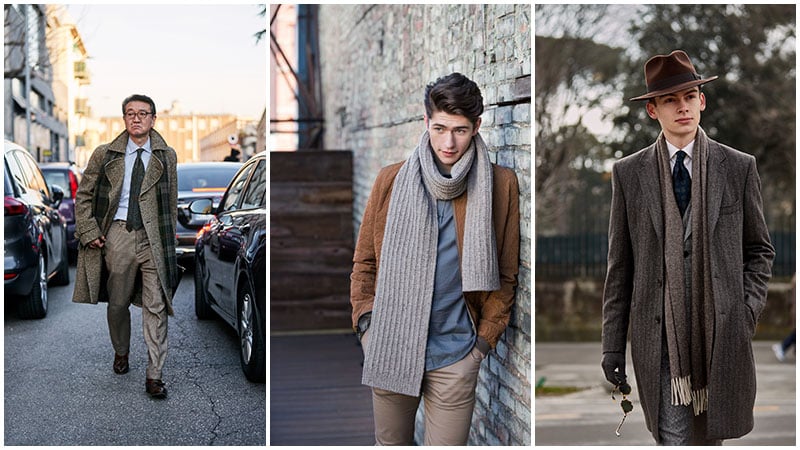 TOP BUYS
12. Cable Knit Crew Neck
One of the more traditional options on this list, the cable knit crew neck is a stylish way to keep yourself warm this winter.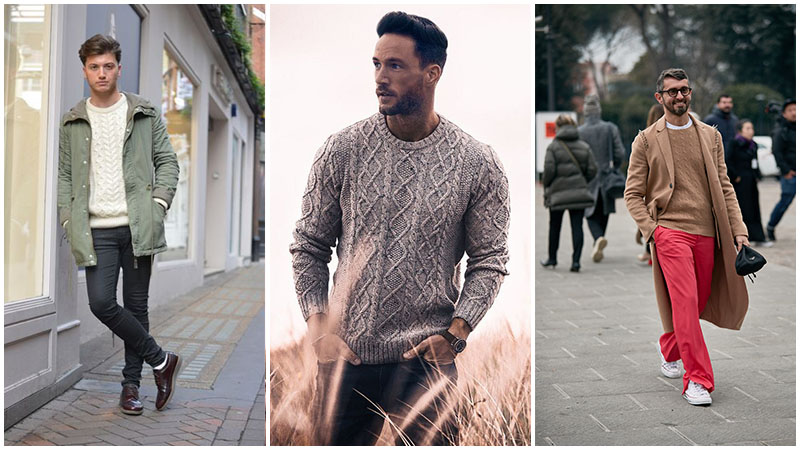 TOP BUYS
13. Zip-Up Sweater
Stay warm and stylish in a zip-up sweater. They're a great way to layer up during the colder months, and they suit an extensive range of outfits. Opt for a light-colored top and dark wool blazer for the perfect office-to-bar look, or step out in something navy or black with a pair of jeans for a casual feel. These jumpers are styled best with a button-down shirt or roll neck underneath, so switch things up and watch as the compliments fly in.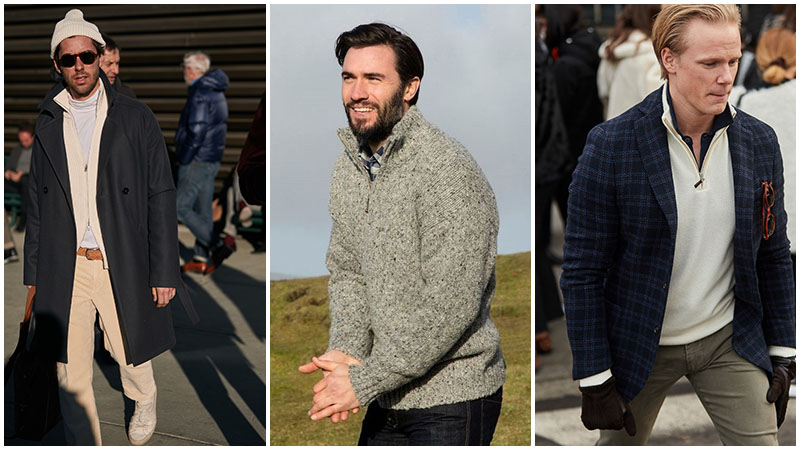 TOP PICKS
14. Oversize Jumper
Nothing says relaxed and on-trend as an oversized jumper. Whether it hits your hips or your knees, these sweaters provide comfort and style for any occasion. A chunky knit looks fantastic when paired with a classic office shirt and jeans, or keep it casual with a large pastel-colored pullover and tight-fit chinos. Layer up for the colder months with a scarf, gloves, or a large overcoat, and you'll rule every room you walk into!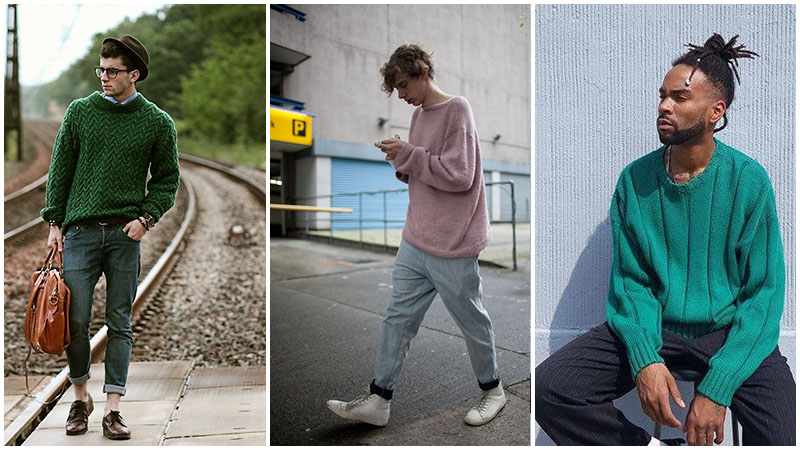 TOP BUYS
15. Cardigan
Nothing keeps you warm like a chunky knit cardigan. There are so many ways you can rock this style, without looking like a grandpa or dated. On semi-formal occasions, swap out a blazer or jacket for the knitwear – be sure that it's fitted. If you're after a more casual feel, opt for a t-shirt and button-down sweater, worn underneath a coat or other outerwear. This is an excellent piece of clothing to layer, and to switch things up a bit. Let loose!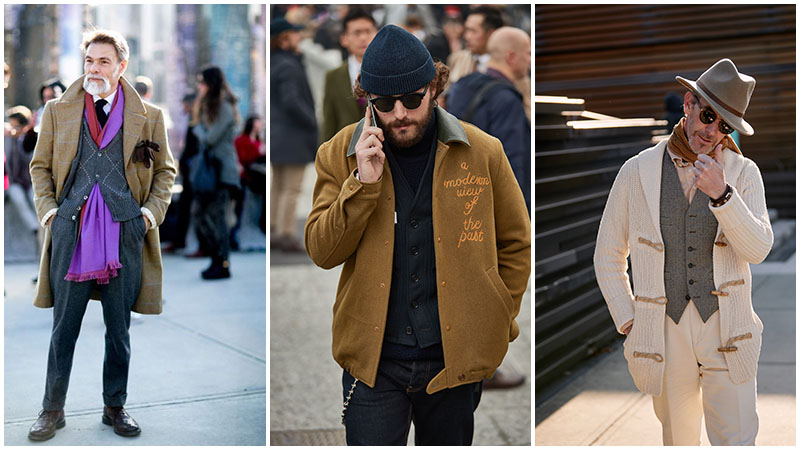 TOP BUYS
16. Turtleneck
Instantly add sophistication to your outfit with a roll neck. This staple piece of clothing looks fantastic with a shirt, blazer, or even a denim jacket, so let your inner creativity shine through. If you're feeling like channeling old-school classic style, opt for a pair of trousers, a dark skivvy, and slicked back hair. Select a few of these in various colors so that you can swap them out during warmer and colder months. You can't go wrong with this iconic attire, so make sure you have a couple of them in your wardrobe!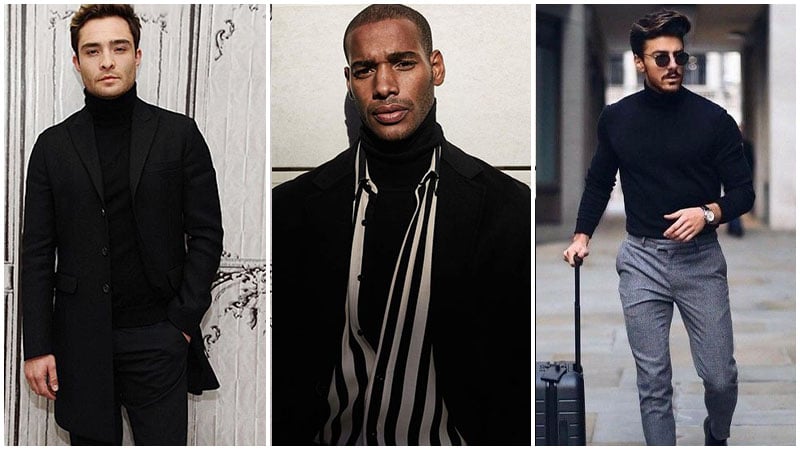 TOP BUYS
17. Leather Gloves
Avoid frostbite while wearing soft leather gloves. These are a versatile and stylish way to keep your hands toasty warm, and they look fantastic with any outfit that you own. Dark colors such as brown and black are the best option to blend with the rest of your wardrobe but don't be afraid to stand out in a pair of bright pairs of mitts. These are subtle but bold statements that you can make to amplify your ensemble.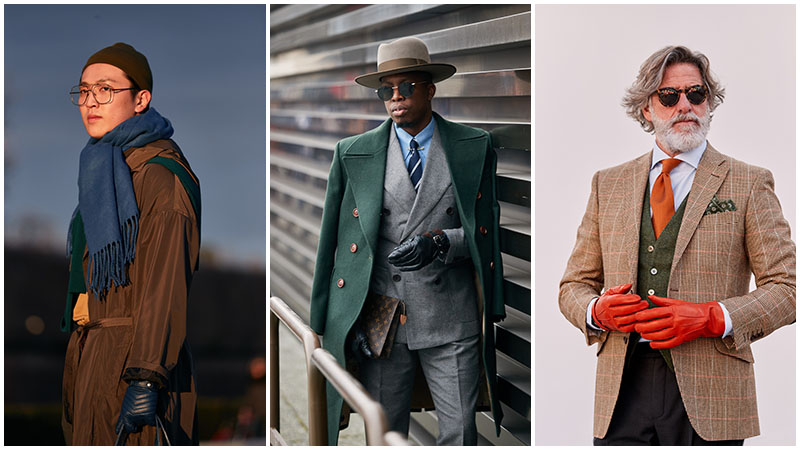 TOP BUYS
18. Beanie
Trap the heat from escaping the top of your head in one of these beanies. The simple headwear can totally change your outfit, and leave you looking sophisticated and suave. When dressing with a beanie, try not to style your outfit to appear too casual, as you may end up looking sloppy. Tighter-fitting hats are a traditional option, which flatters semi formal attire, whereas hipster designs suit laid-back ensembles. This accessory is an easy way to complete an outfit, so what are you waiting for?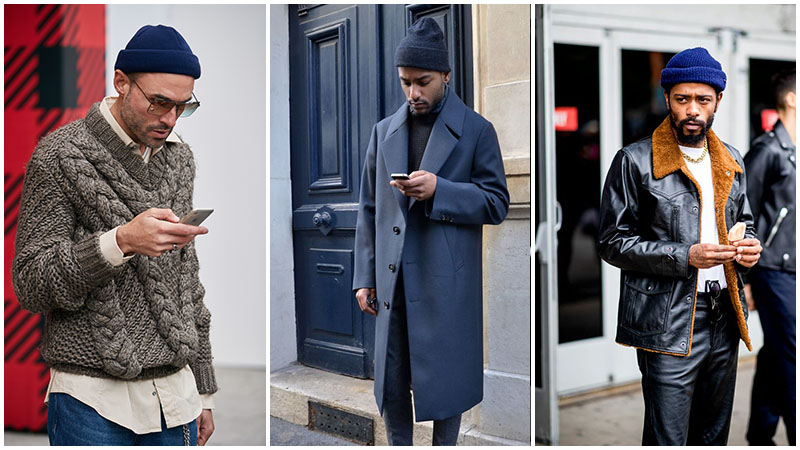 TOP BUYS
19. Wool Socks
Keep your feet warm all winter long with the help of wool socks. Fluffy and cozy, these provide a great pop of color to any outfit. When the mercury drops, regular foot coverings just won't cut it. Pair them with chunky boots and rolled up jeans or chinos for the ultimate casual look, or keep the color dark and neutral to wear with your office attire. Remember, your feet are important parts of the body, keep them snug!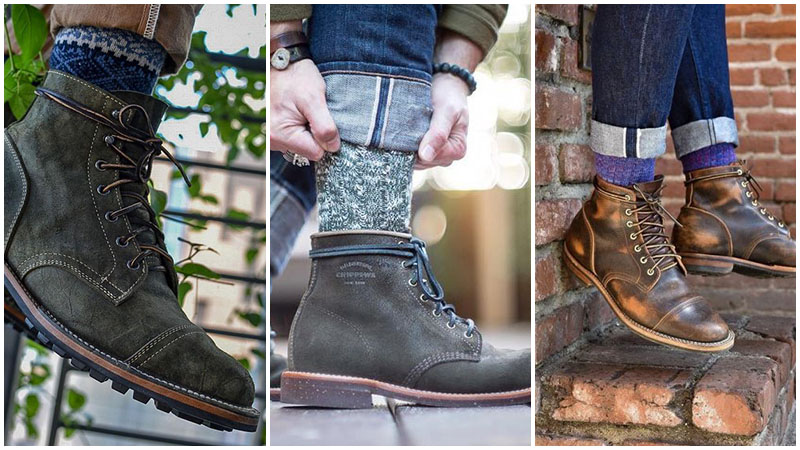 TOP BUYS
20. Flannel Shirt
For a more casual approach to layering, opt for a flannel shirt. This is essential for every wardrobe and flatters a myriad of outfits. Wear this with a T-shirt and jeans for the ultimate laidback approach, or rock it with a rollneck, chinos, and a dark coat to elevate the ensemble. Great colors to try are the classic red, cool blue, or even a bottle green, which all look fantastic when paired with denim or leather. To avoid looking like a lumberjack, keep the buttons undone and combine it with something plain underneath and you'll be the hottest guy in any room.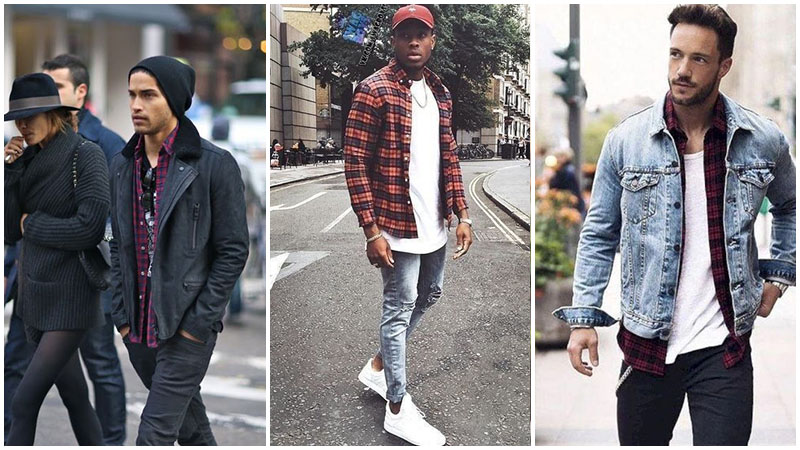 TOP BUYS