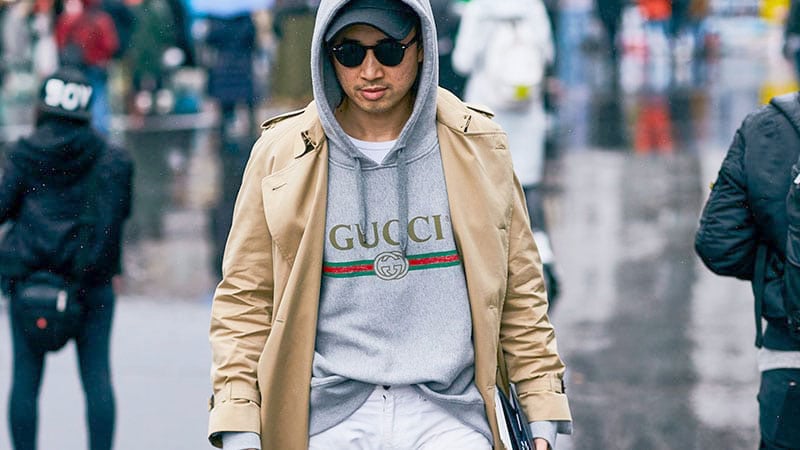 The humble hoodie may not be the most fashion-forward item in your wardrobe, but it is one of the most comfortable and practical. As such, the warm and loose-fitting garment is a modern menswear staple that every gent should own. While you can, of course, easily rock a hoodie around the house, you can also wear one as part of a cool, casual weekend outfit if you partner it with the right pieces. So, before you head out the door in your hooded jumper and sweat pants, be sure to read this guide. It can show you how to wear a hoodie the right way for a look that's as stylish as it is snug.
What is a Hoodie?
A hoodie is a type of sweatshirt, jumper, or jacket that features a hood. The style is typically worn for casual wear or sportswear, for which people often partner it with sweat pants. The garment is a protective piece of outerwear that is both comfortable and warm with a fitted waistband and cuffs to trap heat. As hoodies are loose and made of cotton, they are also cozy and unrestrictive. Additionally, the hood can be used to keep the wearer's head warm during cold weather or protected from the rain. Many hoodies also feature a large pocket or pockets at the front that the wearer can use to carry things or as a place to put their hands.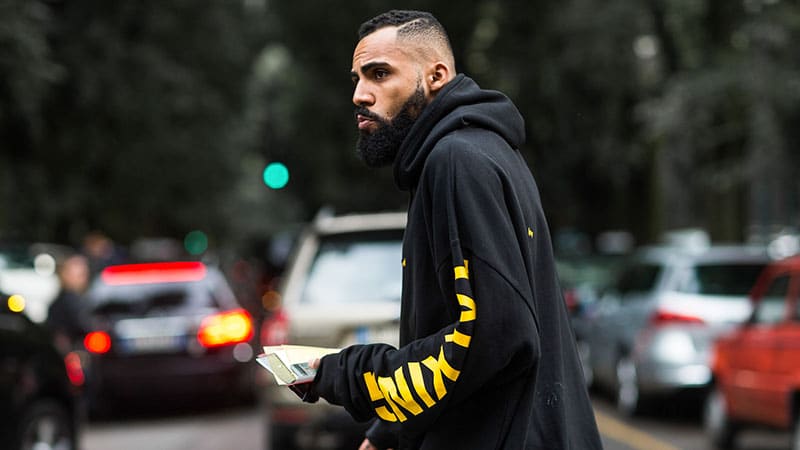 Hoodie Outfits
Bomber Jacket with Hoodie
For a contemporary urban outfit, consider pairing a hoodie with a bomber jacket. While the combination isn't as classic as other partnerships, it can work just as well thanks to bomber's current popularity and the hoodie's basic design. To nail the look, select a zip-up hoodie in a classic color, such as grey, black or navy. Then, pair it with your favorite type of bomber, be it nylon, wool or leather-sleeved. To complete your casual urban look, just add some black or dark blue jeans and a pair of stylish sneakers. The result will be a modern inner-city style with subtle athleisure influences.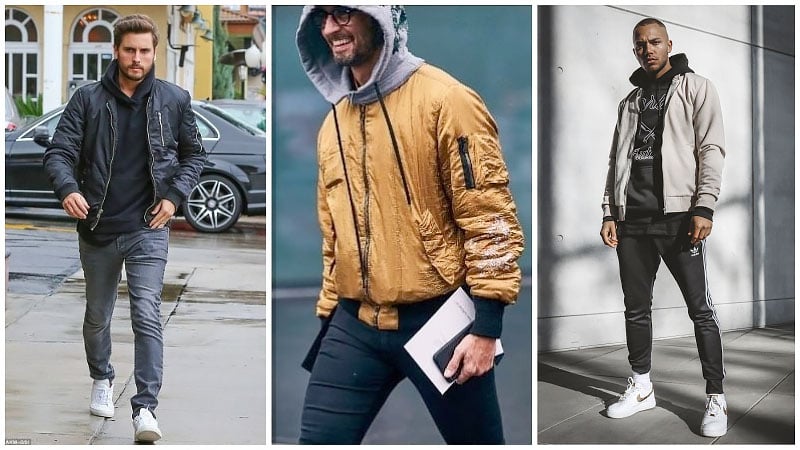 GET THE LOOK
Coat With Hoodie
When it comes to staying warm while looking stylish, a coat is always an excellent choice. As such, it's a style that most gents have in their wardrobe. But, while many men know how to wear their coat for formal occasions and functions, not many know how to make it work for casual looks. Although sharp and sophisticated in appearance, this double-breasted coat can work surprisingly well for a relaxed weekend look. All it requires is a hoodie to help loosen it up. Try partnering a white hoodie underneath a black or brown coat on your next chilly Sunday for a casually cool look. Just remember to finish the outfit off with other relaxed pieces, such as loose-fit pants and sneakers.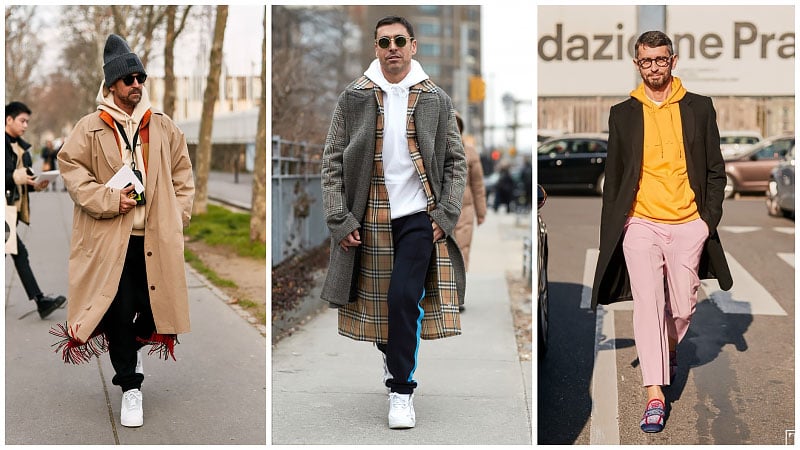 GET THE LOOK
Parka Jacket With Hoodie
Protect yourself from the wind, rain, and cold in style this winter by pairing a hoodie with a parka jacket. Not only is the combination warm and practical, but it can also appear stylish and modern. To nail the look, just remember to keep things contemporary and clean. For an understated vibe, pair a black hoodie with a black parka. Complete the outfit with some drawstring pants or opt for some tailored trousers for a smart casual look.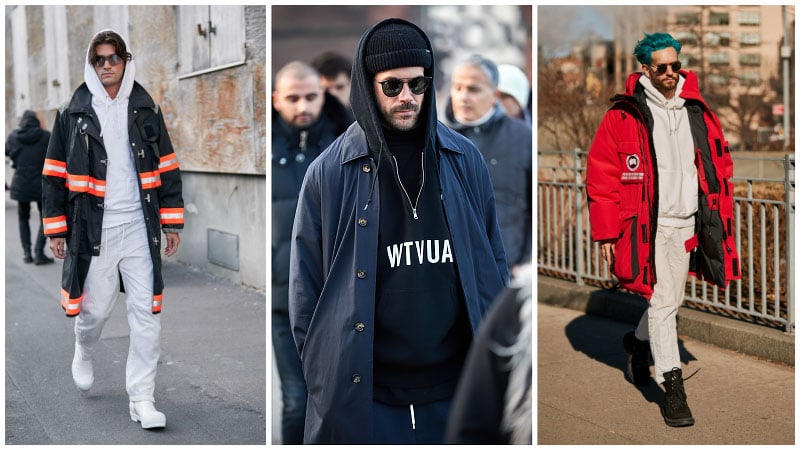 GET THE LOOK
Denim Jacket With Hoodie
Pairing a hoodie with a denim jacket is an excellent way to achieve a look that's casual and cool. Although you can choose from many types of denim jackets for the outfit, a blue option works extremely well and can suit a range of styles. Try partnering the jacket with a white or grey hooded sweatshirt for a stylish casual look. Then, finish your outfit with some skinny jeans and some sneakers.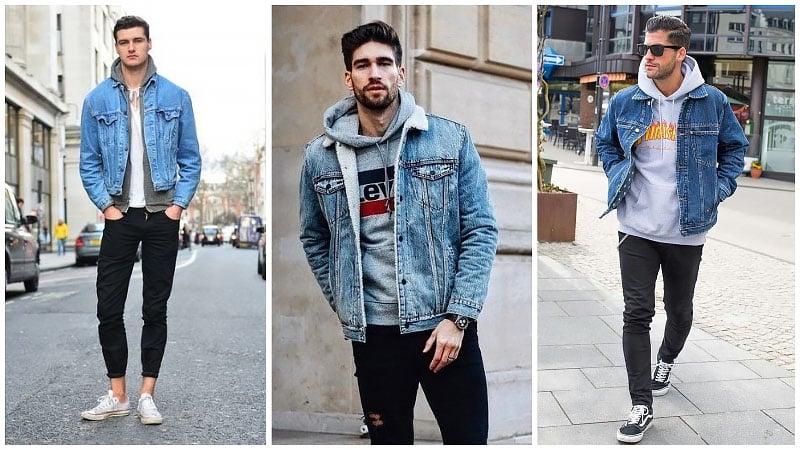 GET THE LOOK
Leather Jacket With Hoodie
One of the best ways to keep warm in winter is to layer a hoodie underneath a leather jacket. As well as offering plenty of warmth, the combination is also stylish and sleek. To keep the look tough and edgy, opt for a black biker jacket and pair it with a black zip-up hoodie. Then, add slim-cut jeans in black for a rocker aesthetic or blue for a more urban feel. If you want to wear black jeans but fear that the outfit appears too dark, try breaking it up by wearing a light grey T-shirt with a placement print underneath your open jackets.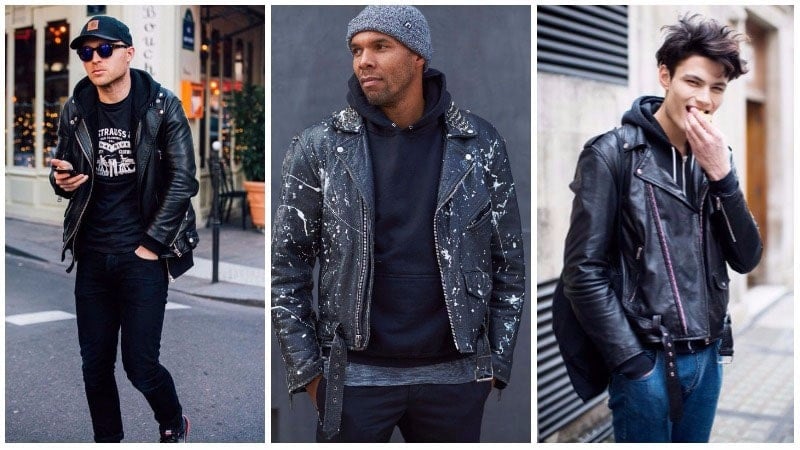 GET THE LOOK
Shearling Jacket With Hoodie
For a warm and wintery look, you can partner a hoodie with a shearling jacket. To nail the outfit, you just need to find the right balance. As both the jacket and the hoodie are thick and heavy in appearance, it's best to steer clear of black and lighten the look with softer shades. A brown leather or denim jacket can make an excellent choice and add some warmth to your outfit. As for your hoodie, a light grey sweatshirt makes a good versatile option. Pair your jacket and hoodie with pants in an opposite texture to further soften the look while adding a complementary vibe.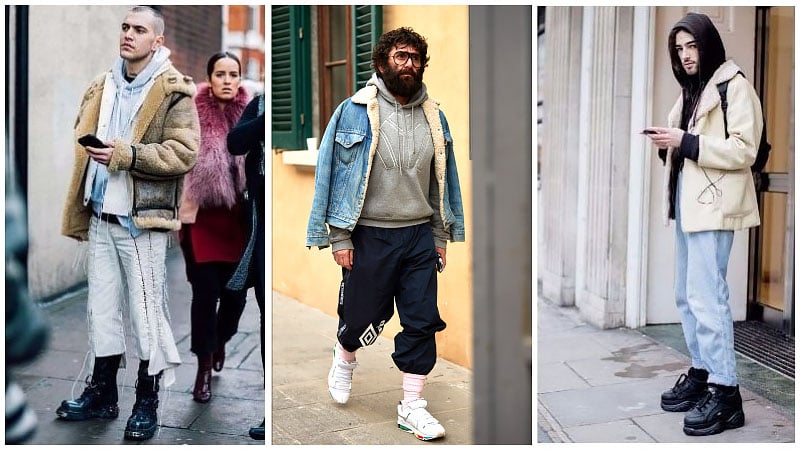 GET THE LOOK
How to Wear Hoodie
Make a hoodie your go-to piece for staying warm during winter.
Layer the simple style with other pieces of outerwear to make it appear more fashionable.
Select a zip-up hoodie for a slim-fitting style or a pullover hoodie for something more loose and comfortable.
Partner a hoodie with a leather or denim jacket for an edgy and stylish outfit.
Wear a hoodie with a bomber jacket, parka or peacoat for a contemporary, urban look.
Quickly complete a hoodie outfit with a pair of jeans and sneakers or boots.
Car FAQs
How are you supposed to wear a hoodie?
Hoodies are a very practical item designed to keep you warm. If you want to up the fashion stakes a little, then rock your hoodie with long trousers and a t-shirt, then layer over a more fashion-forward coat such as a leather or denim jacket, bomber, parker, or overcoat.
Is it illegal to wear a hoodie?
It's not illegal to wear a hoodie, but it's recommended in some places to only wear the hood up if it's raining or very cold. Wearing the hood in other circumstances can make you seem suspicious, particularly if you're also wearing sunglasses. It can also make people cautious of your intentions, as you may look like you're trying to hide your identity or conceal a weapon. Oklahoma tried to make them illegal, but it was denied, while police in the UK have also attempted to ban youths from wearing hoodies as it makes them harder to identify.
Should hoodies be tight or loose?
Hoodies can be either slimmer-fitting or loose. Generally, if it's a pullover, it'll be a looser fit so you can get into it. On the other hand, zip-up styles are perfect for a cut that fits closer to your body. What you choose will depend on your preference and styles. A tighter hoodie can be better for layering under a different jacket, so there's no excess bulk, but looser styles are more comfortable.
SUBSCRIBE TO OUR NEWSLETTER
Subscribe to our mailing list and get interesting stuff and updates to your email inbox.