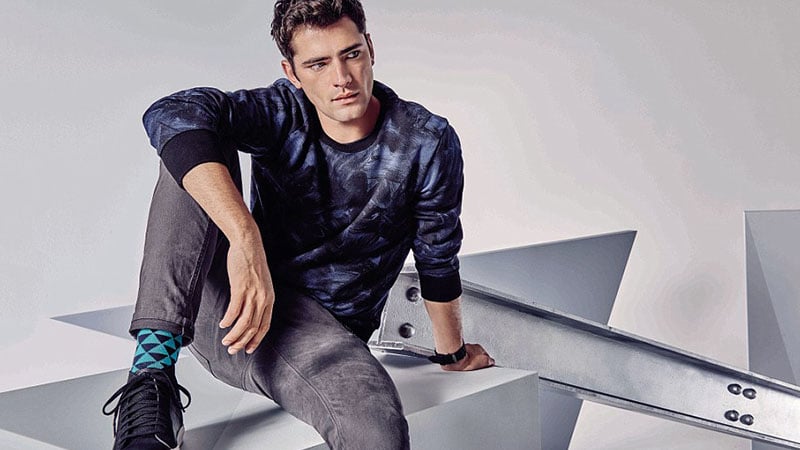 You may be off the clock, but your sense of style should never take a break. Sure, you may not need to put on your finest suit just to run errands on a Saturday, but presenting yourself well is always a good idea. After all, you never know who you'll run into. As such, knowing how to dress both casually and fashionably is a skill that all gents should master. So, if you're guilty of rocking the same old sweat pants every Sunday, it's time to up your game. Luckily, we can show you how to take your casual wardrobe from sloppy to sleek without sacrificing comfort.
Men's Casual Outfits
Daytime Errands
For those days when you need to run errands, an outfit that is comfortable is essential. So, if you know that you're going to be busy shopping for groceries and picking up the dry cleaning, you should plan to wear something practical. Jeans and chinos are both great trouser options that are easy to run around in. Likewise, shorts are also an easy-to-wear choice and are ideal for summer. As for your top half, stick to a simple T-shirt and an unrestrictive jacket, such as a bomber. When it comes to footwear, nothing beats sneakers.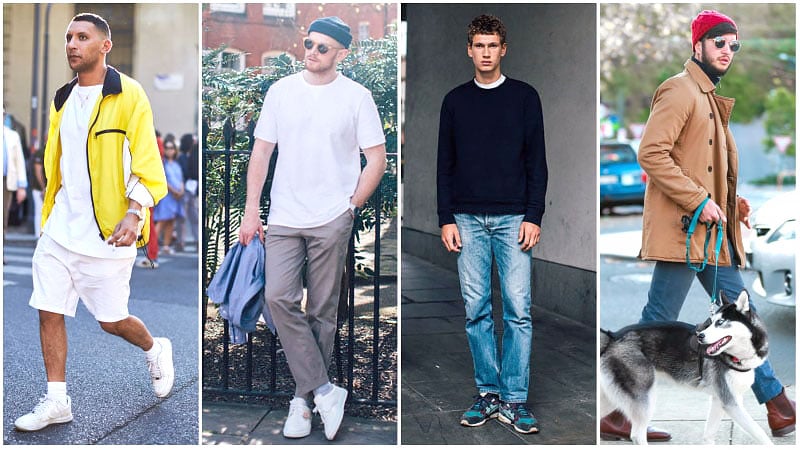 GET THE LOOK
Evening Events
If you're heading out for casual weekend drinks or a relaxed dinner, there's no need to break out your finest formal wear. Instead, all you need is an awesome outfit that's simple yet sleek. As such, jeans are a great option and look great in either black or blue. Partner them with a minimal shirt or T-shirt and a blazer or leather jacket for an excellent ensemble that's sure to impress without trying too hard.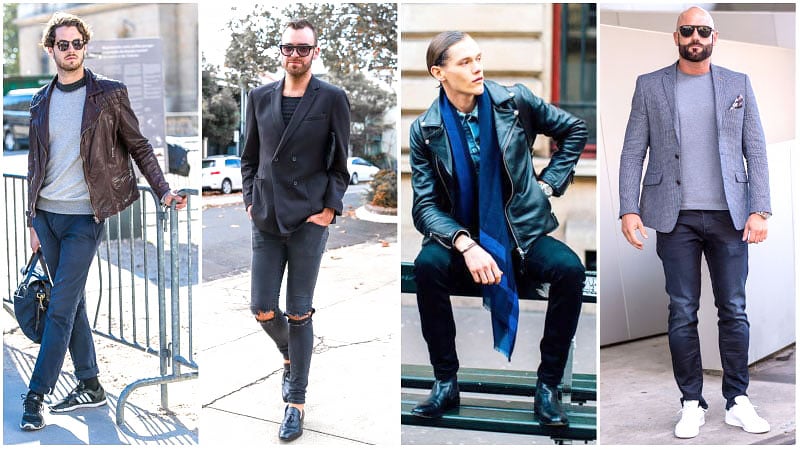 GET THE LOOK
Date Night
When dressing for a date, you want to impress, but you also don't want to appear overdressed. So, if you plan to take your date somewhere casual, you should keep your outfit simple and sleek. Slim, dark jeans or chinos will appear sophisticated without seeming stuffy. On your top half, strike a balance by either rocking a T-shirt and blazer or a collared shirt and jumper. Depending on how formal your outfit is, you can then select either smart sneakers or dress shoes to complete your look.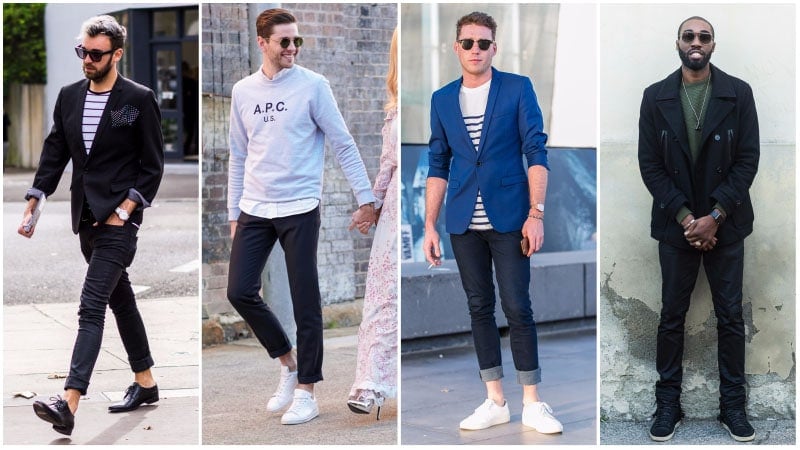 TOP PICKS
Casual Outfits for Men
Casual T-shirts
T-shirts are an essential part of any man's casual wardrobe. Not only are they comfortable and easy to wear, but they're also subtly stylish and versatile. Invest in a range of classic, crew-neck, cotton T-shirts in a variety of colours to make getting dressed seriously simple.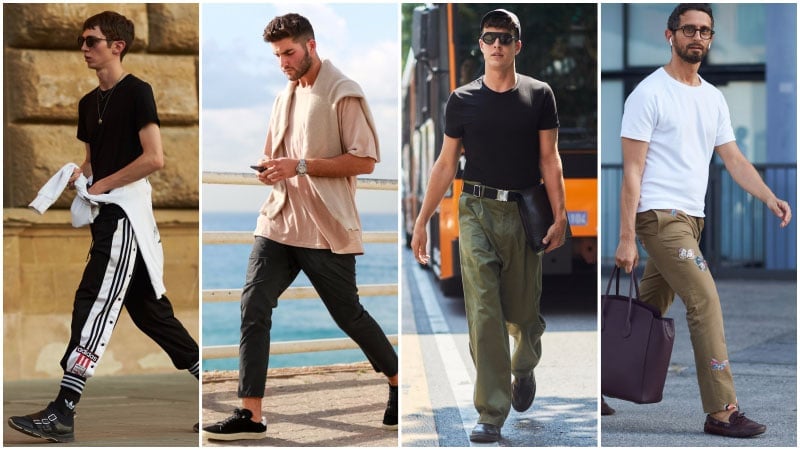 Casual Shirts
For the occasions when you want to look a little sharper, swap your T-shirt for a casual shirt. One in lightweight cotton will look appropriately relaxed and easy-going. Alternatively, try a short-sleeved, denim, or printed style to achieve the same level of laid-back sophistication.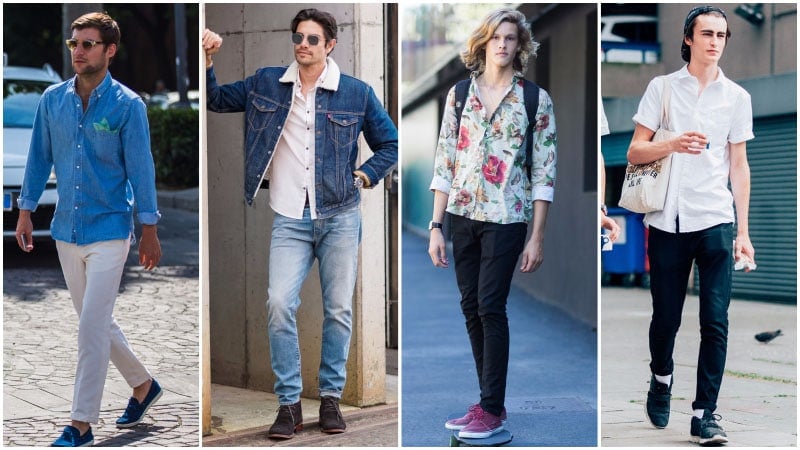 Jeans
Jeans are inherently casual and can work for many relaxed looks. All you need to do is find the perfect design for your outfit. While slim and straight-leg styles in a dark wash will project a polished appearance, looser cuts in lighter hues will look more laid-back.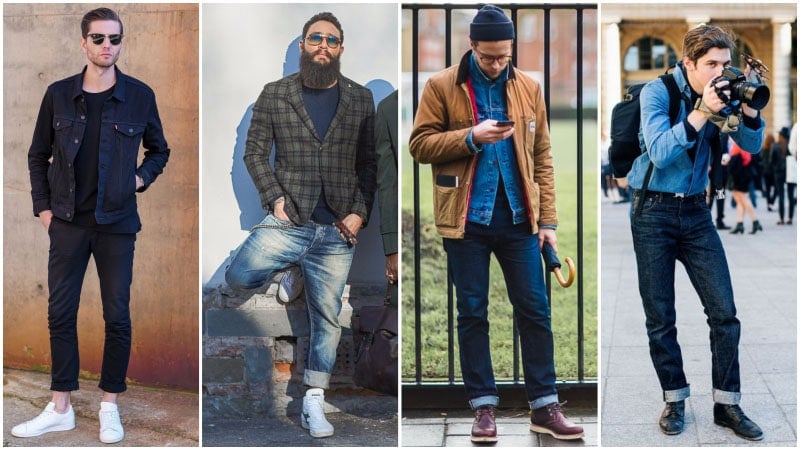 Casual Trousers
When you're not rocking jeans, chinos can be an excellent choice. They are both comfortable and stylish and can work well for a smart casual style. Alternatively, joggers are another cool and relaxed trouser option to try and can create a great athleisure aesthetic.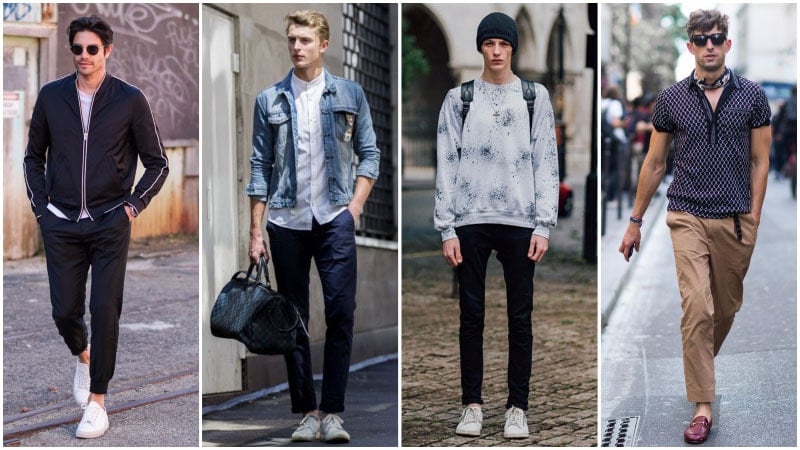 Hoodies
The humble hoodie is a savior when it comes to looking awesome and keeping warm. The streetwear staple is perfect for layering in winter and adding an edgy attitude to outfits. Just remember to keep your hoodie from appearing sloppy by pairing it with something sleek, like a pea coat or skinny black jeans.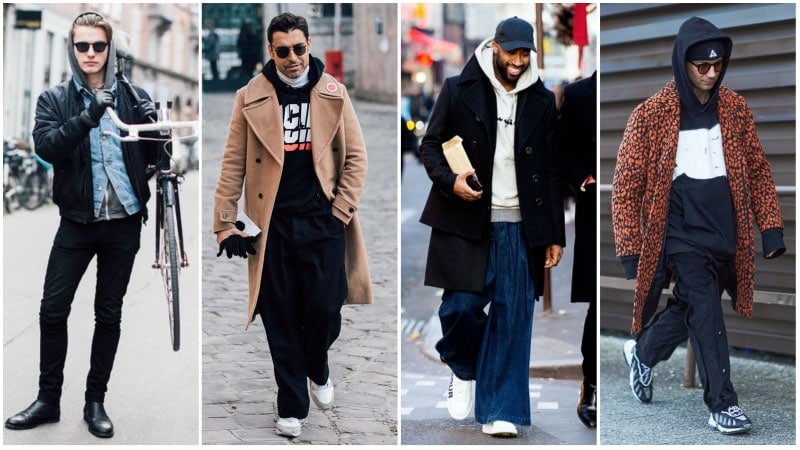 Casual Footwear
These days, there's no shortage of casual and comfortable shoes that look great. So, whether you want to rock your favourite sneakers or a pair of basic brown boots, you can do so and look great. Just make sure that your shoes are neat, clean and scuff-free to avoid appearing dishevelled.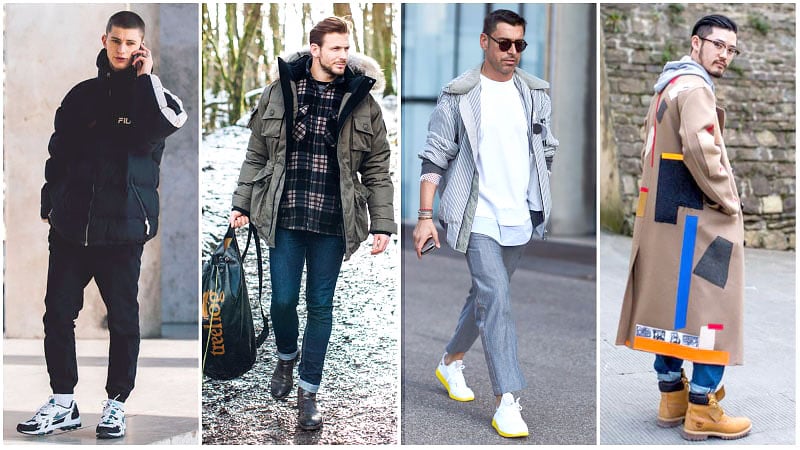 Casual Knitwear
When completing your casual wardrobe, don't forget to add a couple of pieces of knitwear. Knitwear is easy to throw on, perfect for keeping you warm, and ideal for achieving a smart casual style. In particular, crew-neck and roll-neck jumper will always come in handy throughout autumn and winter.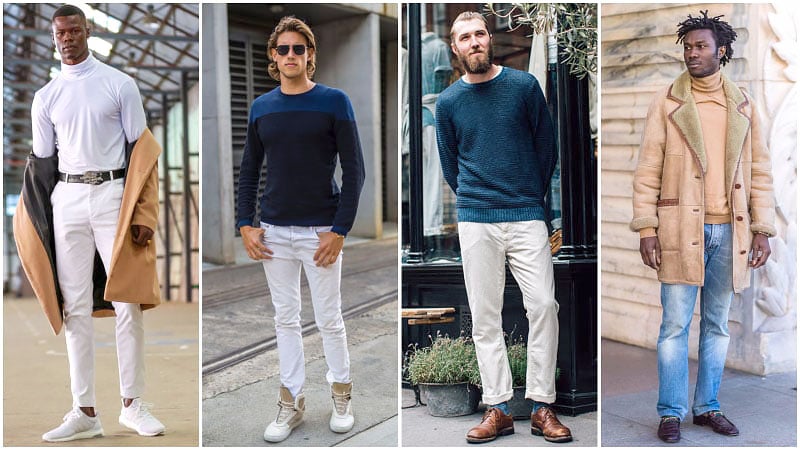 Casual Jackets
When it comes to choosing the perfect jacket to go with your casual outfit, you have three main options from which to select. Bomber, leather and denim jackets can all pair well with a relaxed outfit and can easily suit a range of looks. Just pick the one that best suits your style for a fashionable finishing touch.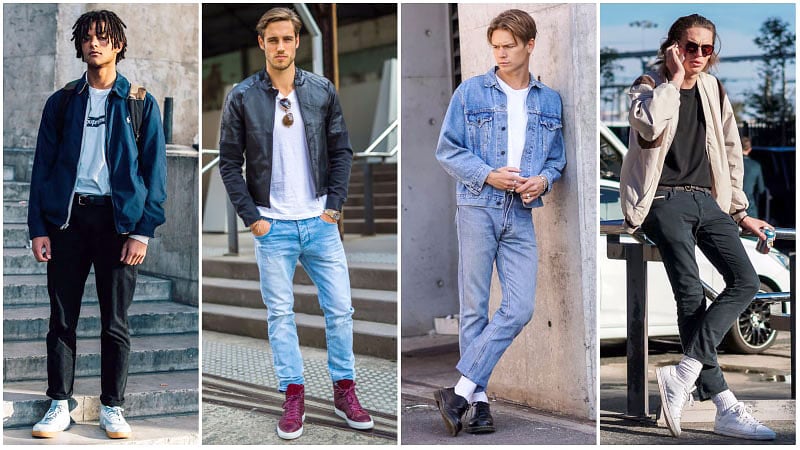 How to Dress Business Casual
Whether your office is consistently relaxed or has one day a week for you to dress down, nailing a business casual outfit is always tricky. The key to pulling off a stylish, casual ensemble for the office is to strike the perfect balance between business and leisure. To do so, start by ditching the suit. Instead, opt for chinos and a simple button-down for a relaxed yet smart style. Then, complete your look with a casual blazer, such as one made from linen, and a pair of loafers or brogues.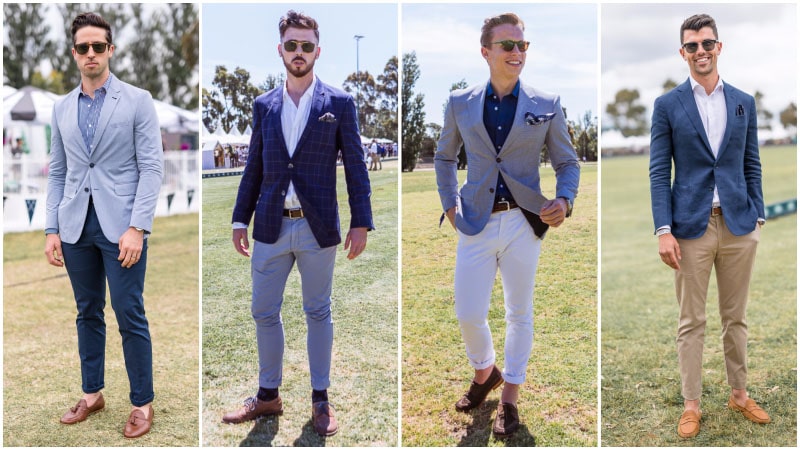 Casual Style for Men Tips
The Fit
Casual wear tends to have a more relaxed fit than formal pieces, and tailoring isn't usually necessary. However, casual clothes shouldn't look loose and baggy. Think about your body type and aim for the sweet spot of close-fit but not tight, such as straight-leg jeans or slim-fit trousers. If you prefer a boxier cut, choose structured pieces that won't swamp your frame.
Details
As with any style of dressing, the details are crucial in elevating your casual look. Because casual clothing tends to be simple, rolling your sleeves, half-tucking your shirt, or cuffing your trousers makes all the difference. Simultaneously, other details, such as your belt, sunglasses, and watch, are equally important. These accessories accent your outfit and make it look more refined and put-together, even if it's just jeans and a shirt.
Dress Accordingly
One of the best ways to save time and effort is by developing a casual 'uniform.' This should include a top, bottom, shoe, and jacket, and with a quick change of accessories, it can take you from day into night.
Dressing for the Occasion
Various events fall under the 'casual' umbrella, from daytime errands to date nights. As a general rule, your evening attire should include dark jeans or trousers and smarter shoes, and a blazer or leather jacket for a more sophisticated feel. For daytime wear, shorts, sneakers, and hoodies are appropriate.
Invest in a Few Key Items
There are a few essentials when it comes to building a casual closet. Start with denim – a pair of classic jeans and a jacket – and a pair of cuffed or cropped trousers, as well as some T-shirts, polos, and button-ups. A jacket – whether it be a lightweight bomber or leather – is next on the list. Finally, a few pairs of casual shoes are well worth the investment. White sneakers, loafers, and boots are some of the best options. For winter layering, add a sweater, hoodie, or knit.
5 Best Casual Fashion Brands
Rag & Bone
New York brand Rag & Bone is all about effortless style with an urban edge, combining classic British tailoring elements with a casual American flair. High-quality materials and expert craftsmanship meet simple, wearable silhouettes that you can wear all day, every day. When it comes to premium basics – think slub tees, henleys, sweaters, and denim – Rag & Bone should be at the top of your list.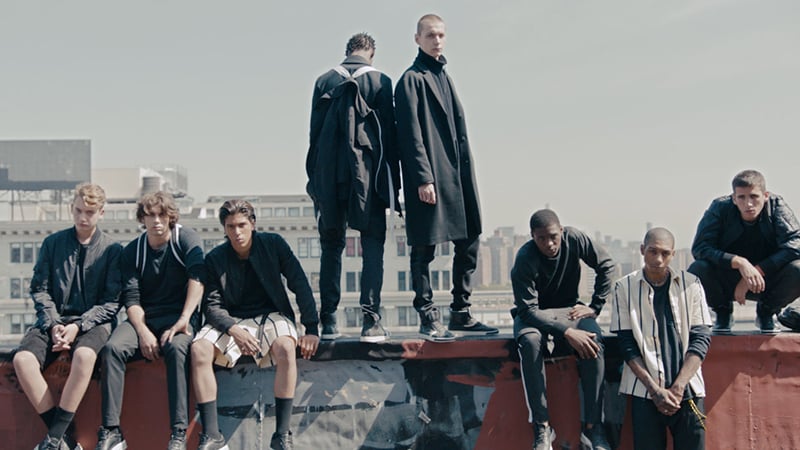 Stone Island
Italian luxury menswear brand Stone Island has developed a devoted following since it was founded in 1982, all the way from the streets of Milan to England's football subculture to rapper Drake. Known for its iconic compass patch as well as high-performance fabrics and functional, military-inspired silhouettes, it's the ideal addition to the casual wardrobe for guys who prefer a more masculine, no-frills look.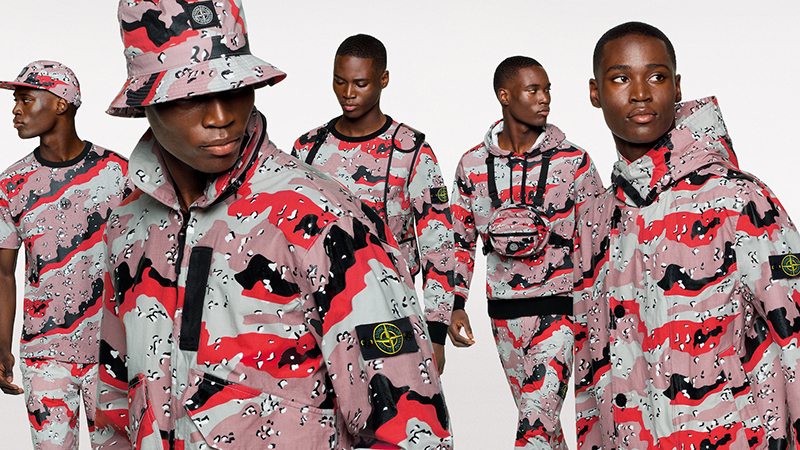 Nike
Beyond the gym or the field, Nike's fashion apparel and footwear are perfect if you like your casual outfits with an athletic, streetwear vibe. Go retro with the Nike Re-Issue range and classic Air Jordans, or keep it minimalist and cool with the Jumpman range. Fans of the puffer jacket should also consider the Drake x Nike Nocta collection. Nike's standard sweaters, fleeces, and hoodies are also great for mixing and matching with other casual wear in your closet.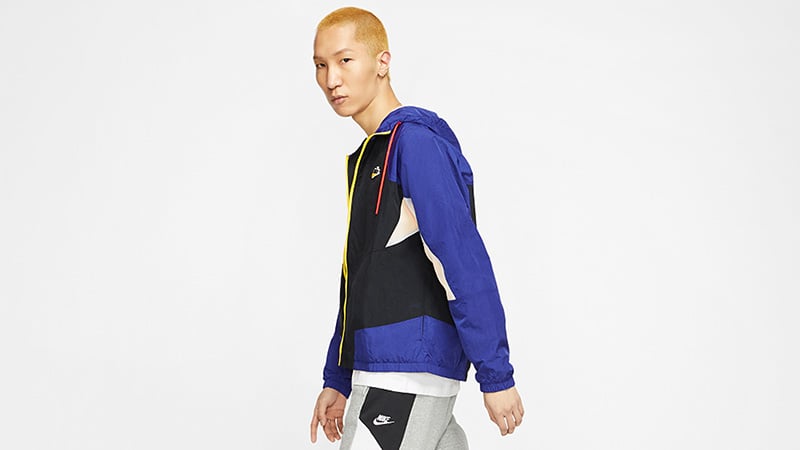 Adidas
Adidas earned its fashion stripes with its bestselling Originals range and its numerous collaborations – most recently, with the likes of Palace, Jonah Hill, and Wales Bonner. Relaxed, affordable separates in bold prints and bright colors and classic sportswear to mix and match are just some of the reasons it is one of the best casual brands on the market.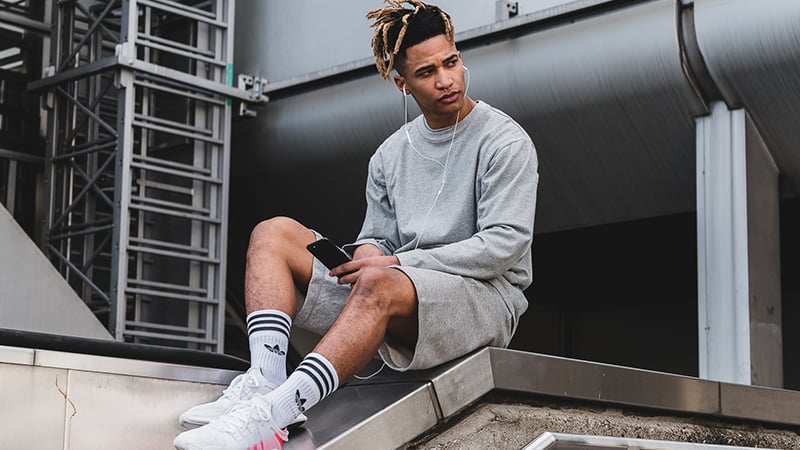 Supreme
Perhaps the most exclusive streetwear brand on the planet, Supreme takes skater fashion to new heights, even releasing collaboration ranges with Louis Vuitton and The North Face. The New York brand is so in-demand, limited-edition items re-sell for many times their original price. Give your casual closet an upgrade with a piece from Supreme – particularly one of their statement T-shirts, beanies, and bags.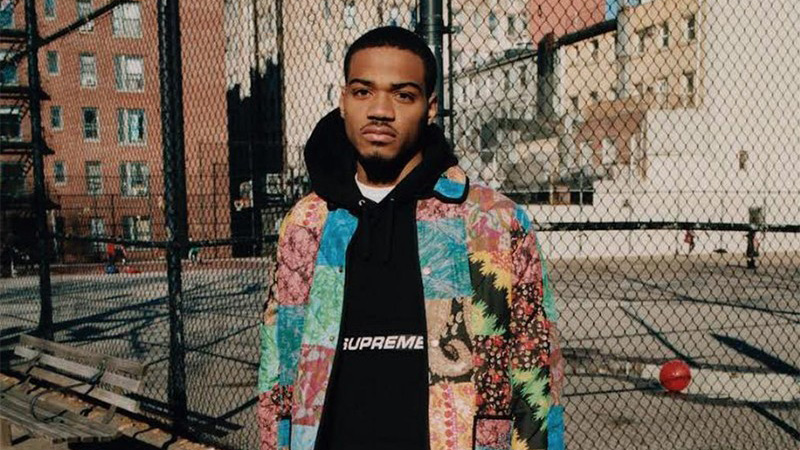 Stussy
One of the most popular surf and skate apparel brands globally, Stussy, was founded in California in the early 1980s – and it has maintained its reputation for laidback Cali-cool ever since. Its iconic logo and prints have earned fans worldwide, but it's the brand's commitment to bold design that keeps it always on-trend. Stussy is a great brand to shop for low-key stylish T-shirts and Cuban shirts.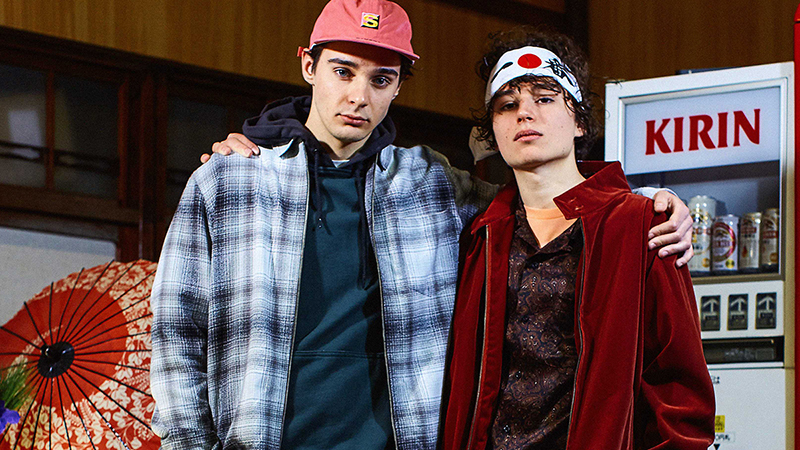 Belstaff
For premium casual clothing that can withstand the elements, you can't go past Belstaff. With a history steeped in motorcycle racing, the iconic British brand is best known for its leather and waxed waterproof jackets. Also, look to Belstaff for sleek puffer jackets, knitwear, and the new range of dark indigo selvage and organic raw denim, designed in collaboration with East London's Blackhorse Lane Ateliers.&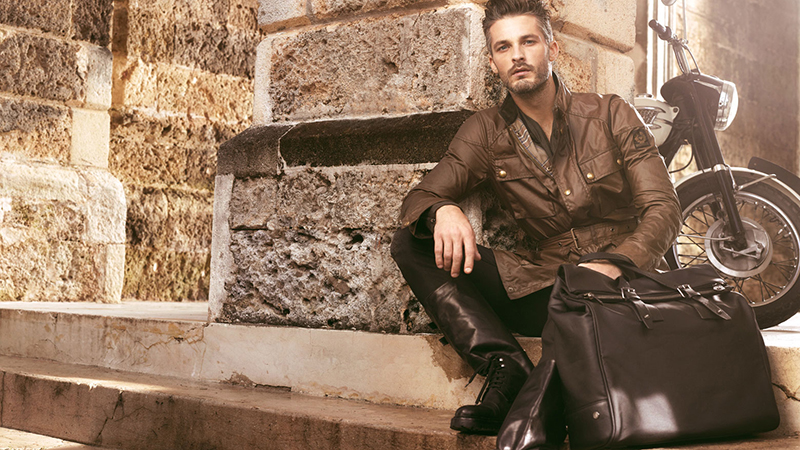 Tom Ford
While iconic American fashion designer Tom Ford is perhaps best known for dressing A-listers in awards-season ready tuxedos, his ready-to-wear line also includes elevated casualwear. For guys who demand only the best – and are willing to pay top dollar for it – you can't go past Ford's jackets, blazers, trousers, and super-soft knits. Think silk grosgrain shell hoodies, cashmere crewnecks, and shearling coats. For those who want a touch of Tom Ford luxury without breaking the bank, a pair of sunglasses from his Eyewear collection will take your accessories game to the next level.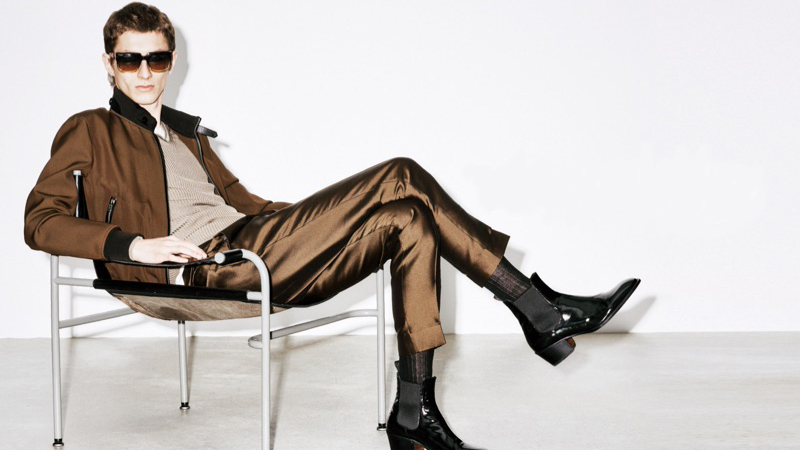 Frame
Founded in Los Angeles in 2012, Frame began as a premium hand-crafted denim brand. Today, its range has expanded into staple casual pieces made from high-quality natural materials cotton, leather, and cashmere. Simple, classic, and minimal, turn to Frame for denim – naturally – as well as T-shirts, hoodies, and long-sleeve shirts perfect for layering.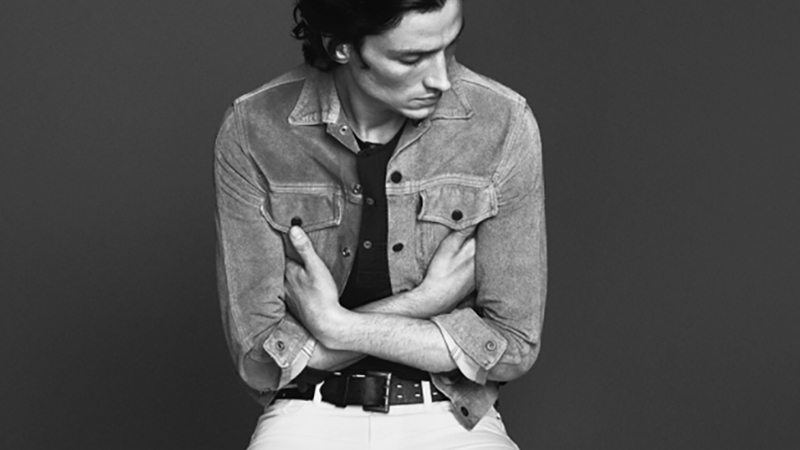 Saturdays NYC
Clothing and lifestyle brand Saturdays NYC was originally founded as a surf shop on Manhattan's trendy Crosby Street in 2009. Even after leaving its beachy roots behind, it's still all about the laid-back vibes. Acclaimed collaborations with the likes of Barbour and GAP have won the brand fans worldwide, and today there are boutiques across Japan and Australia, and New York. Seek out Saturdays NYC for stylish-yet-street-ready outerwear, the best 'non-logo' logo tees, and premium sweats you can't possibly keep to the gym.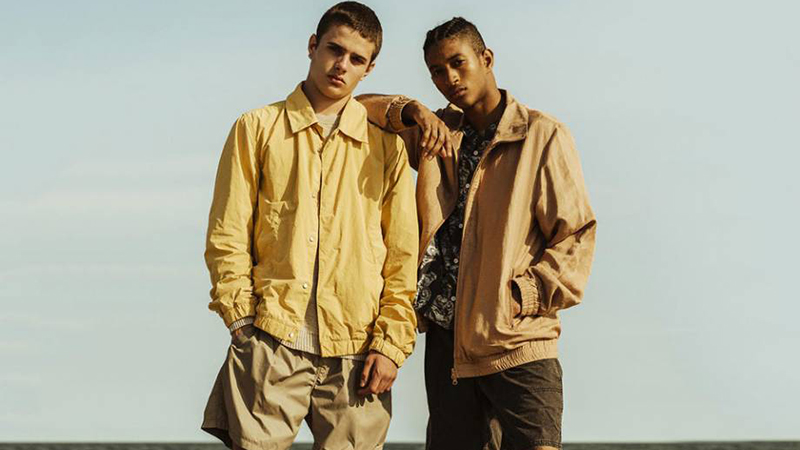 FAQs
What is casual wear for a man?
The casual dress code is a relaxed fit and offers you many more opportunities to express your style with fun details and colors than formal wear does. These clothes should still fit well, but a typical casual wardrobe consists of jeans, a dress shirt with rolled-up sleeves, chinos, or a polo shirt. Presenting yourself well is important, and casual does not mean sloppy.
How do men dress casually?
When dressing casually, you have a lot more freedom with what you choose to wear, and you can mix and match various pieces, including jeans and T-shirts. The idea is to dress simply, comfortably and choose a fit that complements your body shape. Dark jeans are a fantastic staple and can be dressed up or down. Use layers for a transitional outfit, and play around with textures, patterns, and prints to express yourself. That said, owning solid, neutral colors is ideal for creating a capsule wardrobe.
What is a casual dress code for work?
Working in a work environment with a casual dress code can be ideal because you are comfortable and relaxed. Business casual tends to be smarter than a casual outfit would be during your downtime. A few examples of what makes a perfect casual work outfit include chinos with a polo shirt or dark jeans with a button-down shirt. Wear closed shoes, such as loafers or brogues. It is also best to stick to a wardrobe of neutral colors, which have a more stylish appearance and are easier to mix and match. Clothing must still be appropriate for the workplace.
Are polo shirts smart casual?
Polo shirts are considered smart casual, and they are great to wear with tailored trousers, slim-fitted chinos, and even dark jeans. The focus should be on choosing a shirt that fits well and is made from a good-quality fabric. It is also important to stick to solid, neutral colors and avoid bright prints and patterns.
Are ripped jeans casual?
Jeans are considered casual, and ripped jeans also fit into this category, but they are harder to wear. Although ripped jeans can be stylish and on-trend, you are limited to where and when you can wear them. They are not appropriate for the office but can be worn during the day, on weekends, or when hanging out with friends or running errands. Pay attention to the fit and the color of your jeans. Wear them with smarter shoes to dress up your look, and pair them with a leather jacket and a T-shirt.
What is comfortable casual attire?
Casual clothing is, in general, considered comfortable, and there is a more relaxed approach for what you can wear. Although presenting yourself well is important, you also want to wear things you feel and look good in. This could be a good pair of well-fitted jeans, sneakers, and a T-shirt. You can also wear slim-fit trousers, hoodies, and polo shirts. During the warmer months, shorts are also appropriate. Your outfit can be dressed up or down with accessories and details.
SUBSCRIBE TO OUR NEWSLETTER
Subscribe to our mailing list and get interesting stuff and updates to your email inbox.