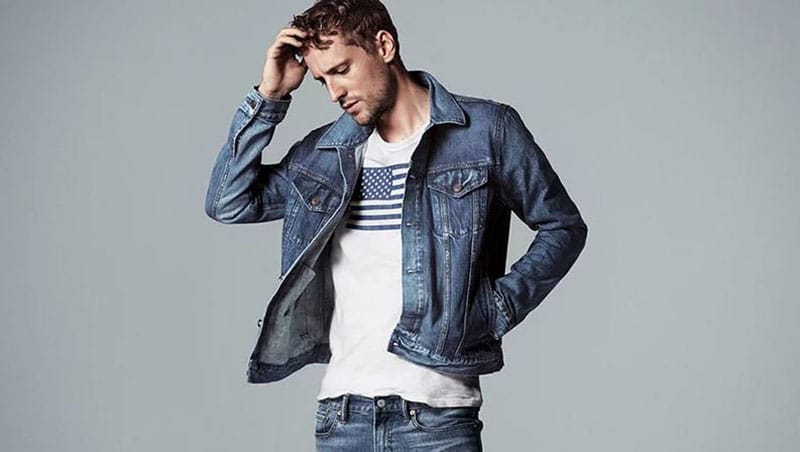 When it comes to casual dressing, denim is king. But, jeans aren't the only way to incorporate this cool and carefree material into your weekend wardrobe. A denim jacket is an excellent option for many outfits. The garment is perfect for adding a simple yet stylish finishing touch to an array of looks. To find out how to rock this menswear staple the right way, just follow this useful style guide on what to wear with a denim jacket for an impressive appearance.
RELATED: The Best Jeans for Men (A Guide to Men's Denim)
Choosing the Right Fit
If you don't yet own a denim jacket, it's time to invest. While that means deciding upon the colour you want, it also means selecting the fit. Today, denim jackets are available in many shapes and silhouettes, meaning that you have a lot of choices. While loose and oversized designs are excellent for creating a relaxed appearance, fitted and cropped styles look sharper. For a classic cut, opt for a denim jacket that finishes on your hips. It should also feel snug but not too tight when the buttons are done up.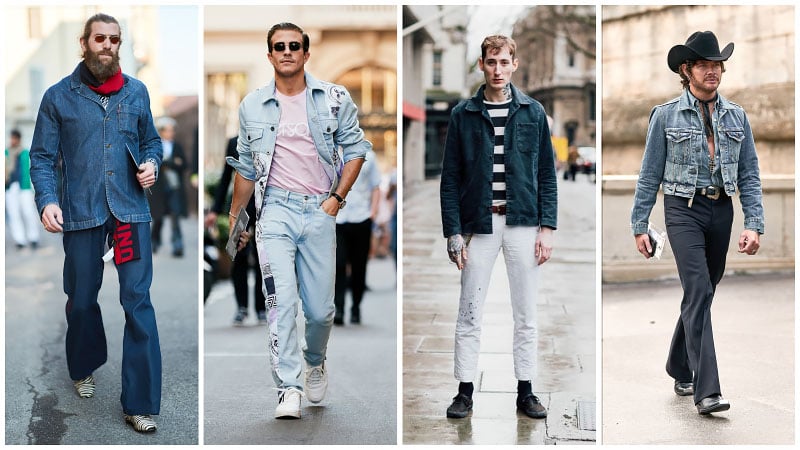 Denim Jacket Colors
Blue Denim Jacket
When it comes to selecting a blue denim jacket, it's essential to consider the shade. If you're looking for the ultimate casual design or something to wear in summer, try opting for a light blue hue. Alternatively, if you aim to create a smart aesthetic or are dressing for the colder months, dark blue is appropriate.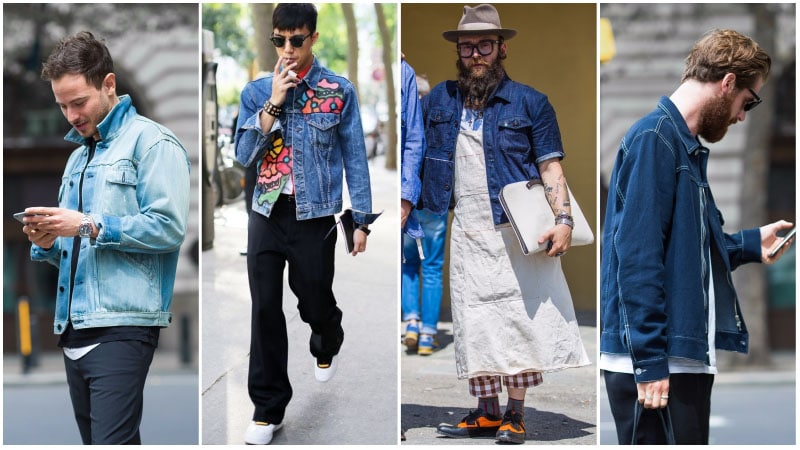 Black Denim Jacket
A black denim jacket is a stylish option for gents and an excellent alternative to a leather jacket. It can suit both casual and smart casual outfits and can be paired with just about anything in your wardrobe. But, while this jacket is versatile, it undoubtedly appears best as part of an all-black outfit.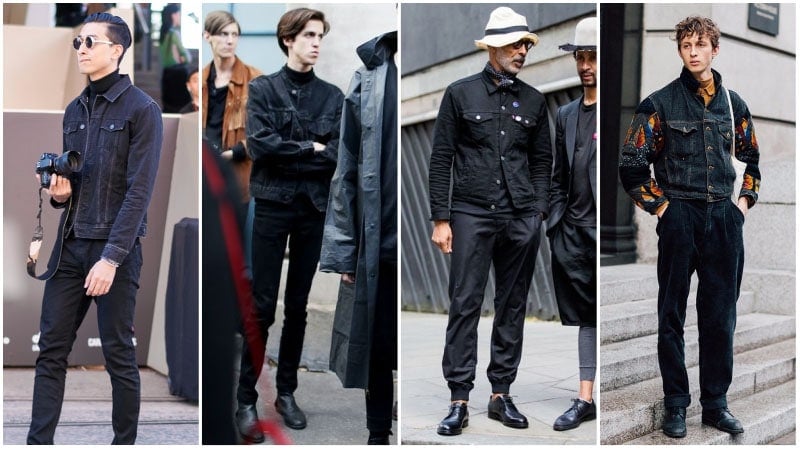 White and Grey Denim Jackets
They may not be as common as blue and black denim jackets, but white and grey designs can appear just as stylish and cool. Consider investing in one of these hues when you want a look that's fresh, contemporary, and unique.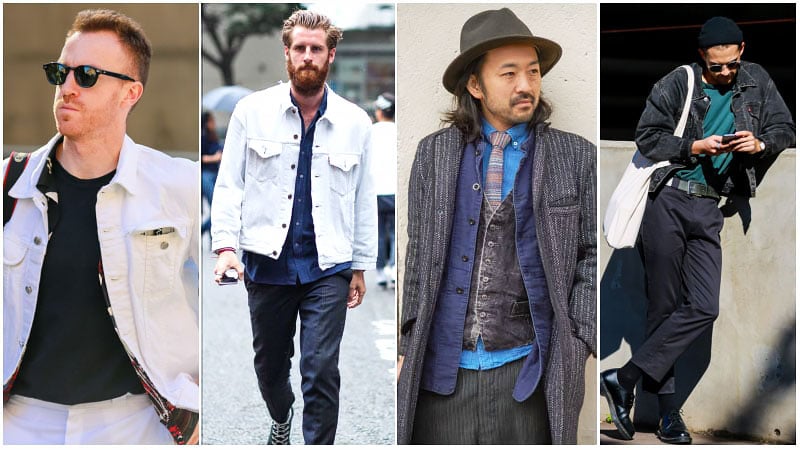 TOP BUYS
Jeans and Denim Jacket
When you're rocking a denim jacket, don't be afraid to wear jeans. The combination is surprisingly stylish and perfect for casual outings. For the most flattering take on this look, try partnering a blue denim jacket with a pair of slim black jeans.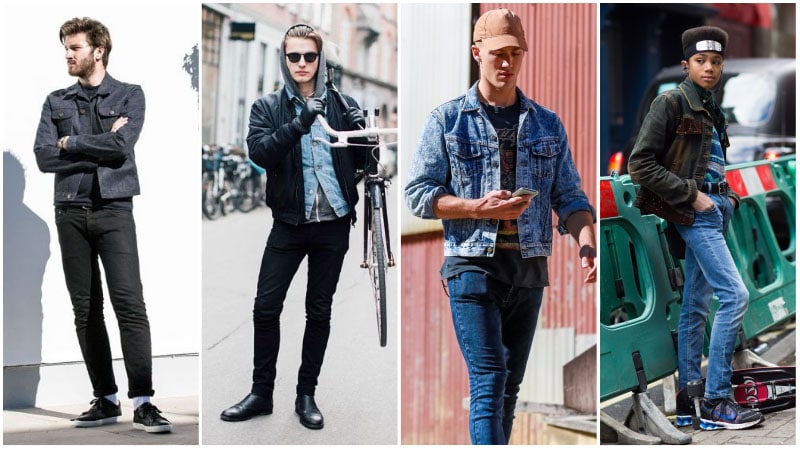 TOP BUYS
Trousers and Denim Jacket
Denim jackets can look good with a range of trousers. For a simple yet smart look, consider partnering your jean jacket with a pair of chinos. The combination is an excellent alternative to double denim outfits and can suit almost any style.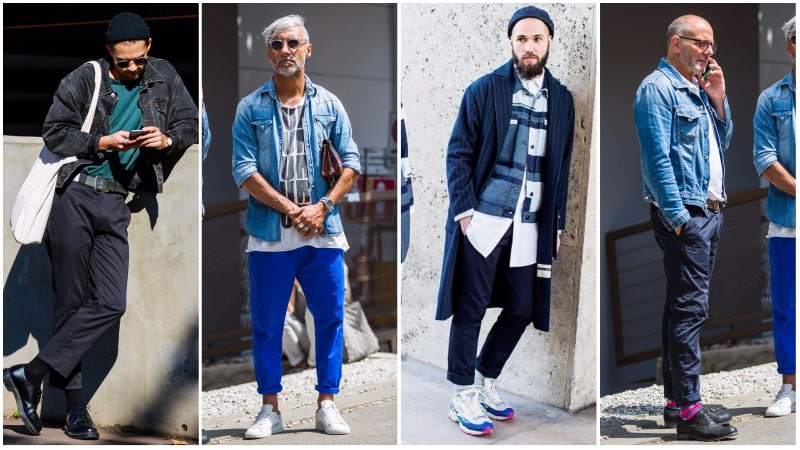 TOP BUYS
T-Shirt and Denim Jacket
Rocking a T-shirt with a denim jacket is a no-brainer. The relaxed combination always looks great together and can be paired with a variety of pants and shoe styles. While plain tees look stylishly minimal with denim jackets, striped and printed designs add more interest to outfits.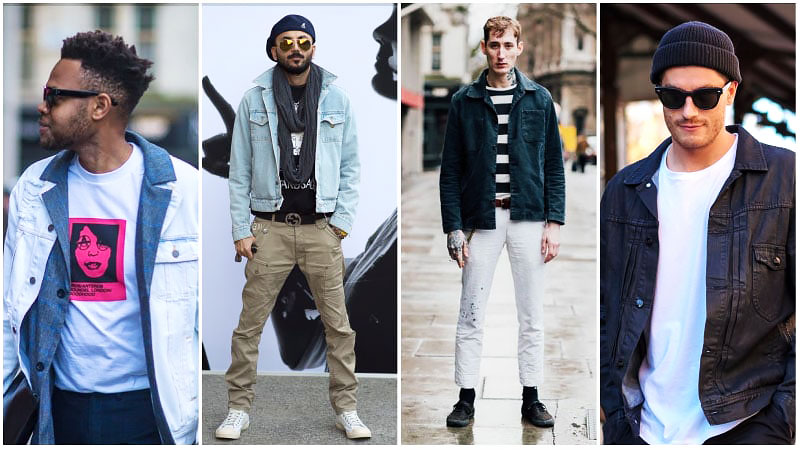 TOP BUYS
Hats and Denim Jacket
If you want to add more interest to a casual denim jacket outfit, a hat is a perfect option. In particular, a beanie can make a stylish choice and is ideal for relaxed winter looks. For something a little different, you can consider a woollen fedora or flat cap instead.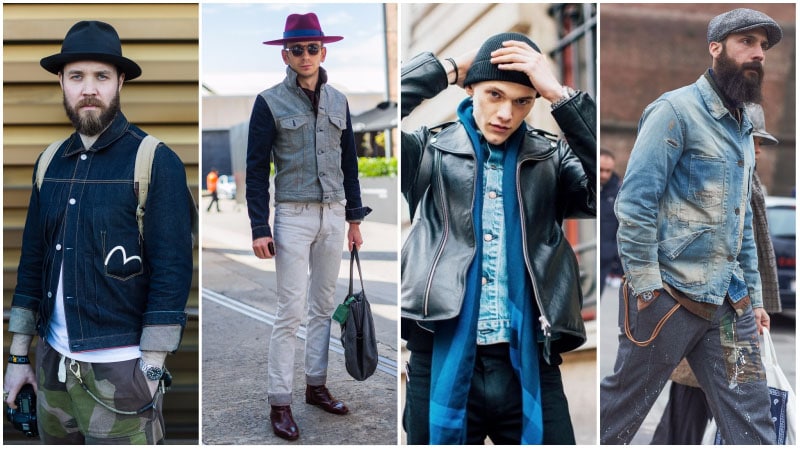 TOP BUYS
Shoes and Denim Jacket
When it comes to footwear to wear with your denim jacket, sneakers are always an excellent choice. However, there are other options. For an edgy look, boots are a good alternative. If you prefer a smarter style, on the other hand, consider leather or suede brogues, chukkas, loafers, derby shoes or Oxfords instead.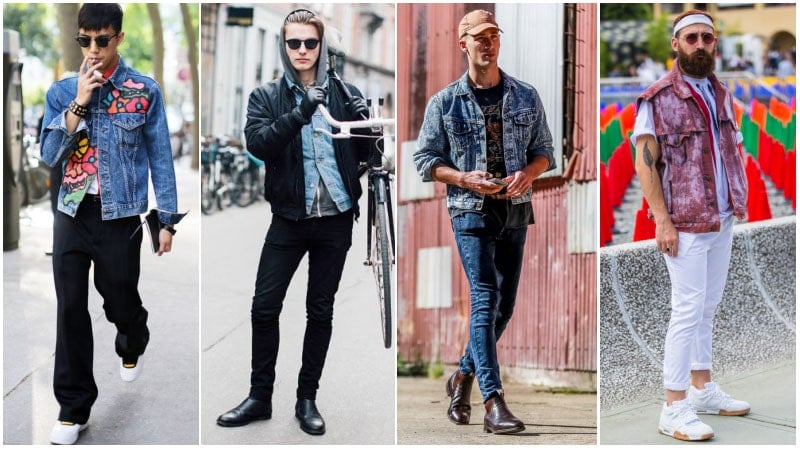 TOP BUYS
Shirt and Denim Jacket
To make your denim jacket seem sleek and smart, you should try pairing it with a white shirt. The look is a good alternative to the usual shirt and blazer combination and appears both chic and cool. Just add a pair of trousers and brogues or chinos and sneakers to complete the outfit in style.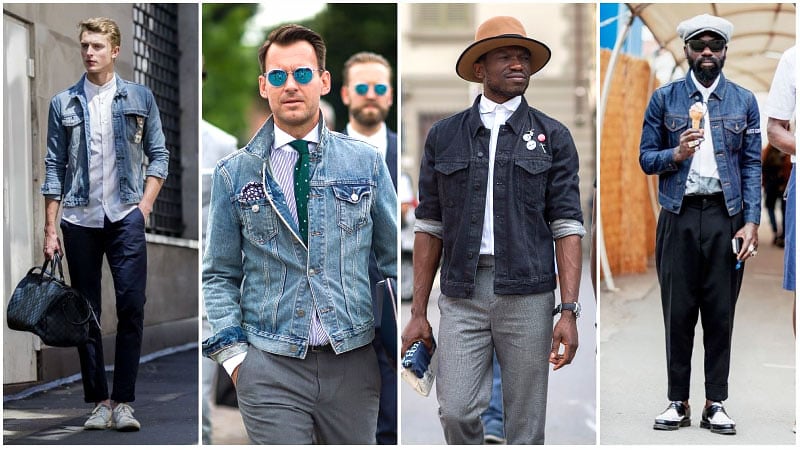 TOP BUYS
Jumper and Denim Jacket
A denim jacket is ideal for layering and can even be worn with a jumper. To nail the look, just add a simple sweatshirt or hoodie underneath your denim jacket. Not only will this combination keep you feeling warm during winter, but it'll also ensure that you project a stylish urban appearance.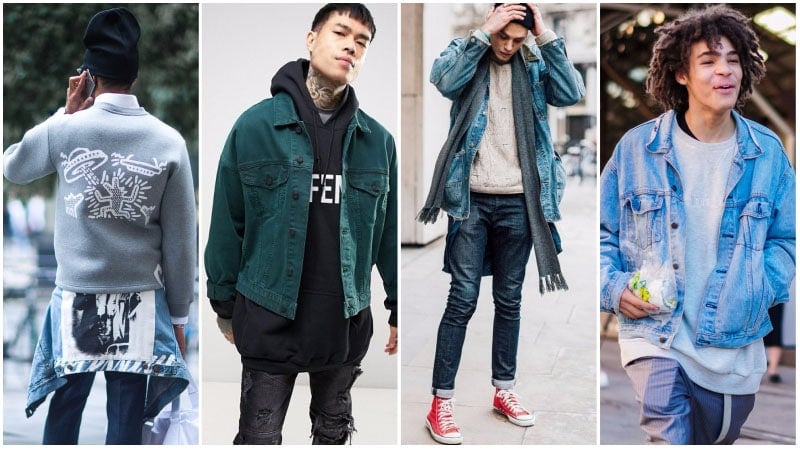 TOP BUYS
Denim Jacket Outfits
Double Denim
Double denim is cool once again and a perfect choice for the weekend. To rock the look, you can either decide to go bold or try a more subtle style. For a bold take, pair matching shades of blue for an eye-catching outfit. Alternatively, opt for a jacket and jeans in different hues for a softer appearance.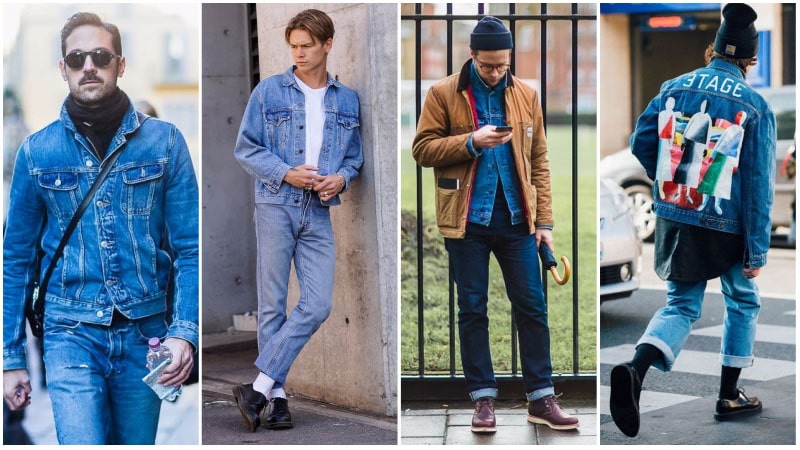 TOP BUYS
Denim Vest
For a smarter take on the traditional denim jacket, a denim vest or waistcoat is an excellent option. Simply wear the unique garment with a casual collared shirt and pair of trousers for a sleek and stylish outfit. To complete the look, just add comfortable dress shoes, such as a pair of loafers.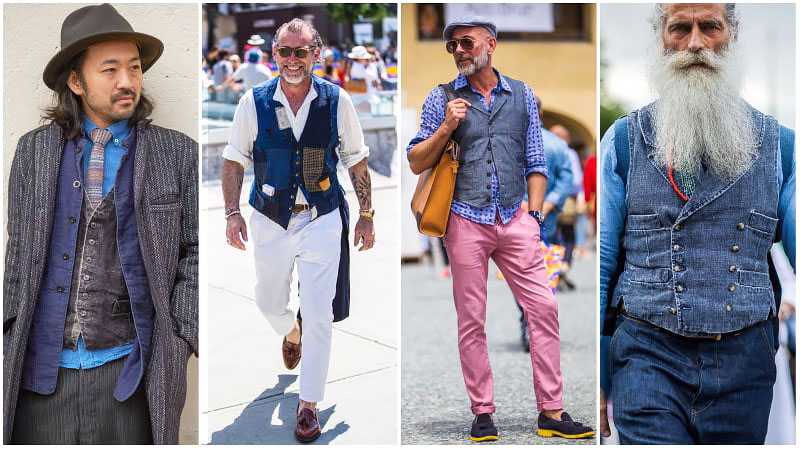 GET THE LOOK
Denim Jacket Logos
For an on-trend denim jacket outfit, select a style with logos or patches. The unique design will instantly create a statement item that draws plenty of attention. As such, be sure to partner your jacket with simple pieces, such as a white short-sleeved shirt and grey chinos to ensure that your ensemble doesn't clash.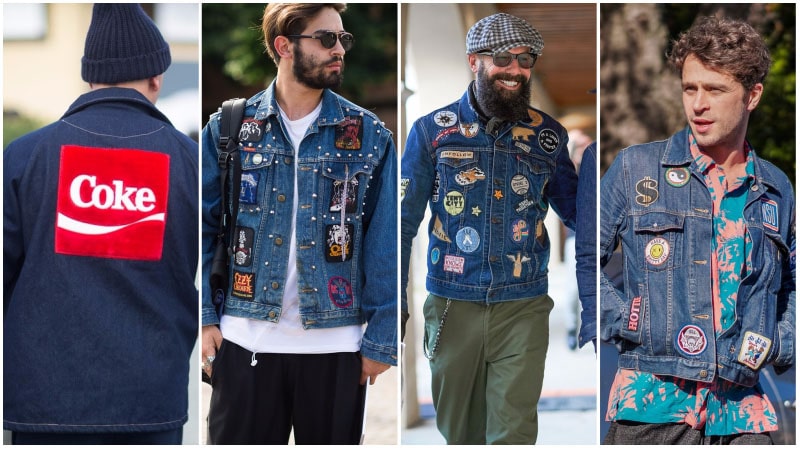 TOP BUYS
Shearling Denim Jacket
Not only is a shearling denim jacket perfect for a laidback look, but it'll also help to keep you warm. Wear one during winter with jeans and a flannel shirt to appear stylishly rugged while beating the cold. To complete the outfit, just add boots and a scarf.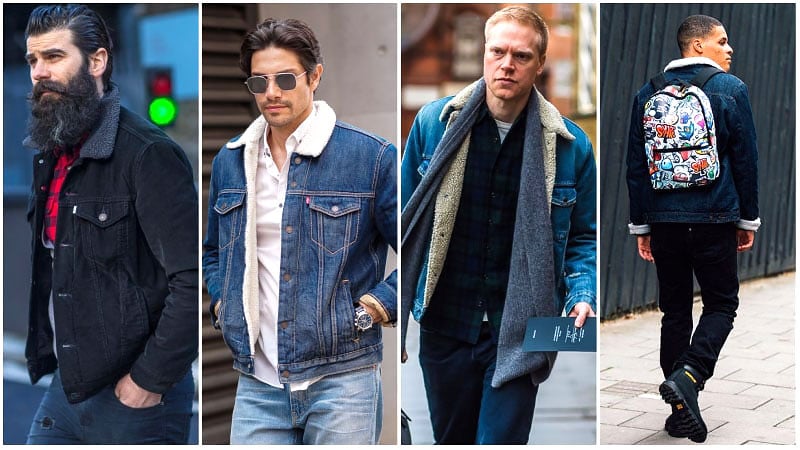 TOP BUYS
How to Layer a Denim Jacket
To wear your denim jacket in new and exciting ways, try layering it with different pieces. Items such as shirts, rollneck sweaters, vests, and even some lightweight jackets can look awesome under a denim jacket while thick coats work perfectly over the top.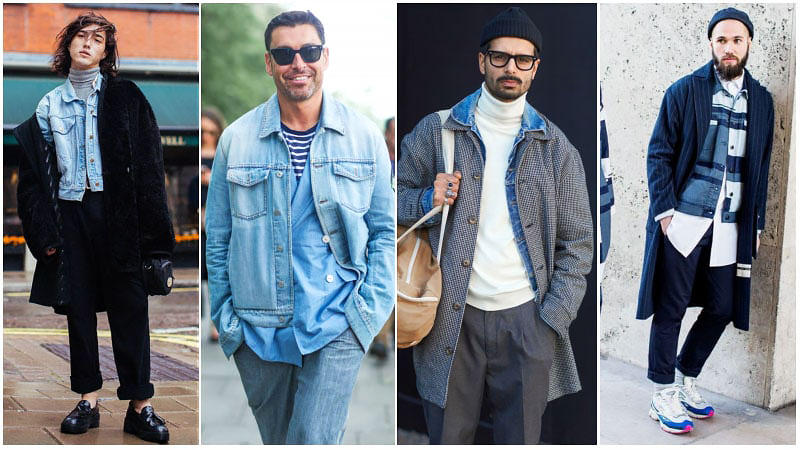 GET THE LOOK
When to Wear a Denim Jacket
Casual
When it comes to creating a killer casual outfit, the denim jacket is a winning choice. The classic style can be partnered with almost any item in your weekend wardrobe and take you from brunch in the morning to a bar in the evening with ease.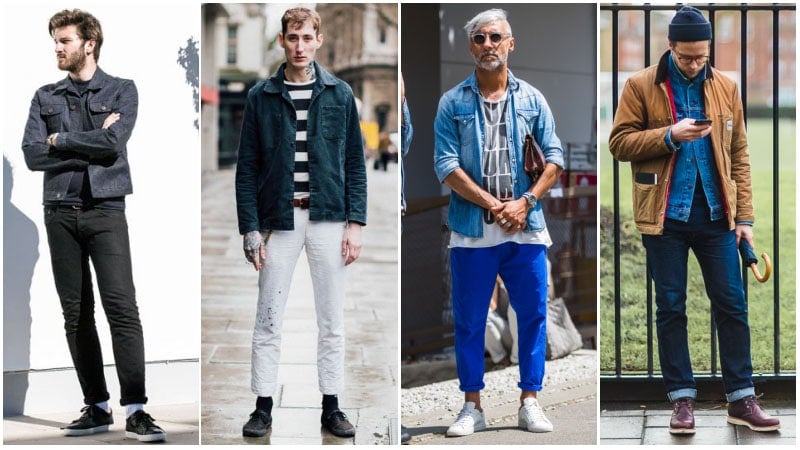 GET THE LOOK
Smart Casual
As well as looking great with casual outfits, a denim jacket can also look good for smart casual occasions. To nail the look, just ensure that you choose a neat, fitted denim jacket with no tears or rips. Then, pair it with more polished pieces, such as an Oxford shirt and chinos.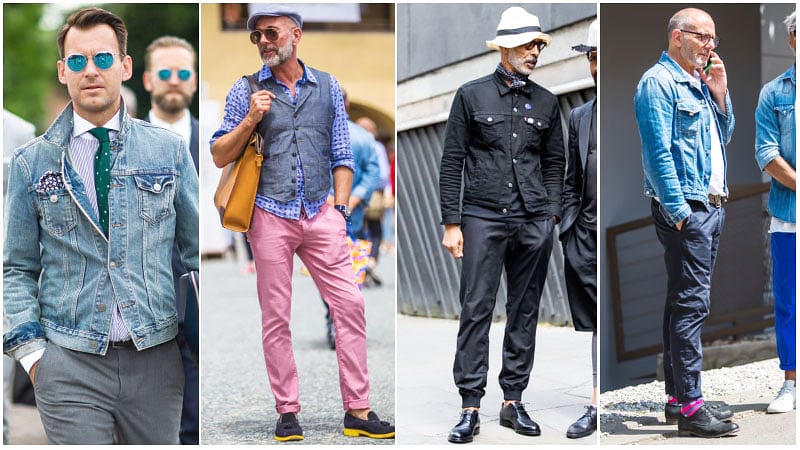 GET THE LOOK
How to Wear a Denim Jacket
Find your perfect denim jacket fit based on your style.
For the colour of your denim jacket, choose between classic blue, edgy black, or contemporary white or grey.
Partner a denim jacket with a T-shirt, black jeans, and sneakers for a cool casual look.
Try rocking your denim jacket with chinos, an Oxford shirt, and loafers for a smart casual style.
Accessorise your denim jacket look with scarves and beanies in winter and fedora hats and jewellery in summer.
For a cool, statement look, consider a double denim outfit.