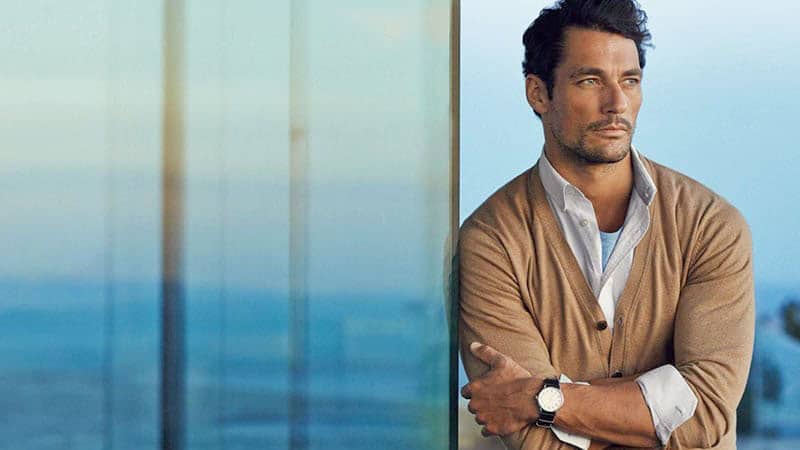 A cardigan is a great fashion item to own due to its versatility and ability to suit a wide variety of looks. Whether you're going for an elegant and formal outfit, a cool and casual style or even something office-appropriate, a cardigan can make an excellent option. All you need to know is how to rock one the right way so that you don't end up looking like a grandpa. From when to don one to what to pair it with, here's exactly how to wear a cardigan in style.
What is a Cardigan?
While the term "cardigan" can cover many styles, it essentially refers to a knitted jumper that opens at the front. Perfect as an easy jacket in autumn or a layering essential in winter, cardigans are designed to provide warmth while still appearing refined. The classical style comes in many varieties, making this wardrobe staple ideal for almost every occasion. Although the garment may not be considered modern or exciting, it is adept at adding a polished and stylish touch to outfits.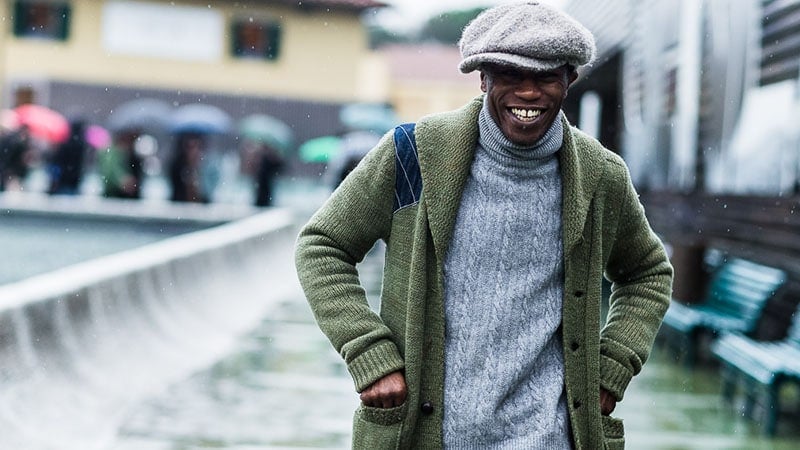 How Should a Cardigan Fit?
Finding the right fit for your cardigan depends greatly on the look you're trying to achieve. If you want to create a relaxed or casual appearance, try a loose style. If you're after an outfit that appears more polished, consider fitted cardigans that lightly hug your body. No matter which style you're going for, you should only ever choose cardigans that fit your size, or the proportions may appear awkward.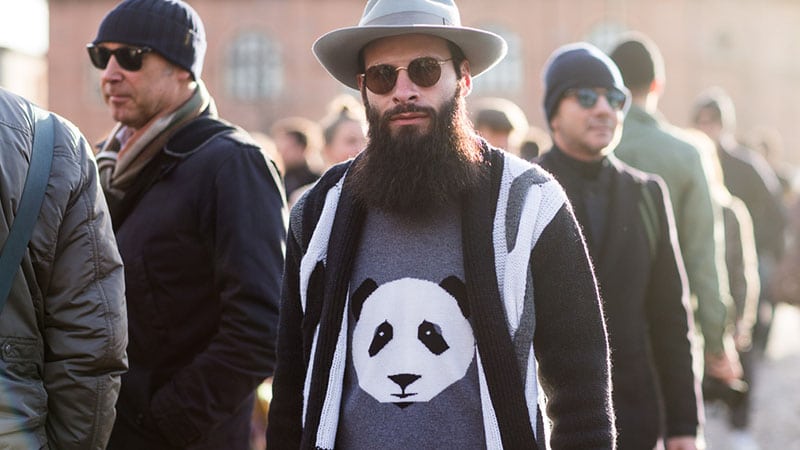 Types of Cardigans
As mentioned, a cardigan can refer to many unique styles. From loose longline silhouettes and chunky cable knits to dapper button-ups and sophisticated shawl collar styles, the seemingly simple cardigan comes in countless varieties. While all these styles may fall under the same category, each is unique and will contribute a different aesthetic to your overall outfit. So, what type of cardigan you choose to wear is an important decision that will undoubtedly affect the rest of your look.
Longline Cardigan
A longline cardigan is an ideal option for casual occasions. The elongated silhouette of a longline cardigan gives it a relaxed aesthetic that works perfectly for weekend looks. As the style is most commonly available in lightweight knitted fabrics, it also makes a great transitional piece for spring and autumn. Try one for yourself with a pair of skinny black jeans and a relaxed T-shirt.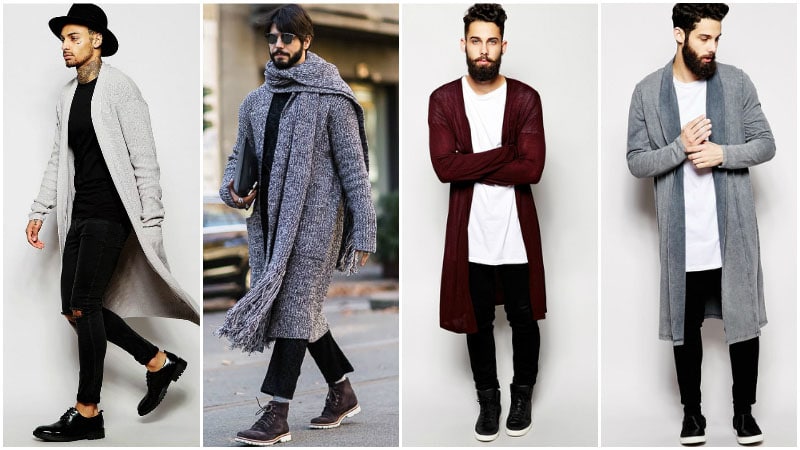 SHOP THE LOOK
Shawl Collar Cardigan
A shawl collar is a rounded turned-down collar that commonly appears on cardigans. In general, styles that feature a shawl collar tend to be thicker and chunkier than other cardigans, making them perfect for chilly days. Due to this added weight and the structure of the collar, these cardigans often appear polished and sophisticated. Try one with some dark denim and a relaxed button-up for a smart casual style.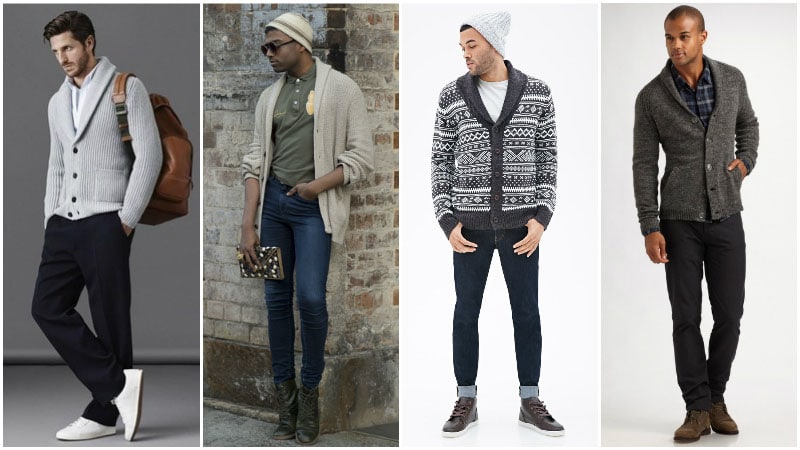 SHOP THE LOOK
Button-Up Cardigan
A button-up cardigan is one of the most common types available. When styled right, a button-up cardigan can appear sophisticated and suave. To keep things modern and masculine, choose a slim, well-fitted style with simple buttons. As such a cardigan will appear more formal, you can even try wearing it with a suit.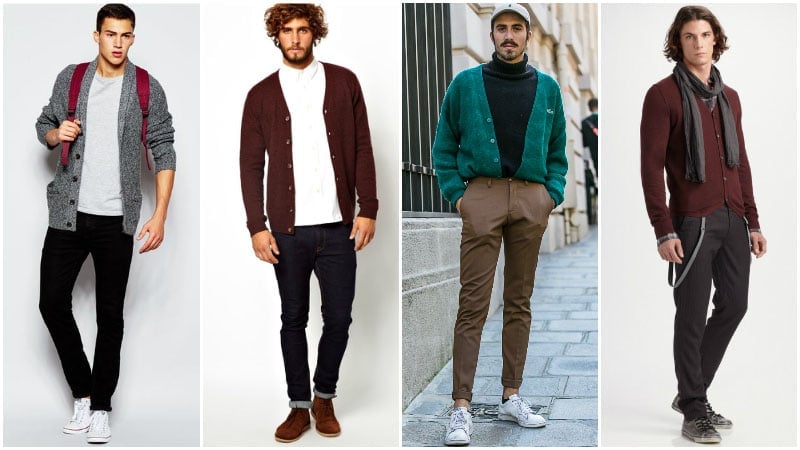 SHOP THE LOOK
Chunky Knit Cardigan
As well as keeping you warm, a chunky knit cardigan is also perfect for creating a stylish casual look. Simply throw one on with items from your usual weekend wardrobe, and you'll instantly have a fashionable outfit. When choosing a chunky cardigan, don't be afraid to choose styles that make a statement. Cable knit designs, longline styles, and unique fastenings are all something to consider.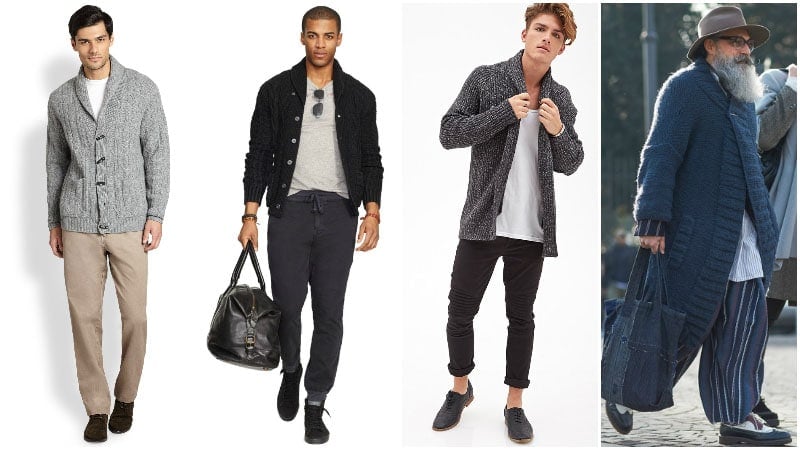 SHOP THE LOOK
What to Wear with a Cardigan
Thanks to their versatile design, cardigans can be styled in numerous ways. From casual to more formal outfits, you can use your cardigan to help create some killer looks. Just be sure to pair it with the right companion pieces to ensure a cohesive and fashionable appearance.
Casual Occasions
The relaxed structure of a cardigan makes it a great option for casual outfits. Best of all, you can easily find one to suit your personal style that will blend seamlessly into your weekend wardrobe. If you're after a versatile piece, try a simple black style. Then, whenever you're in need of a quick casual outfit, just pair it with a T-shirt, jeans or chinos, and sneakers.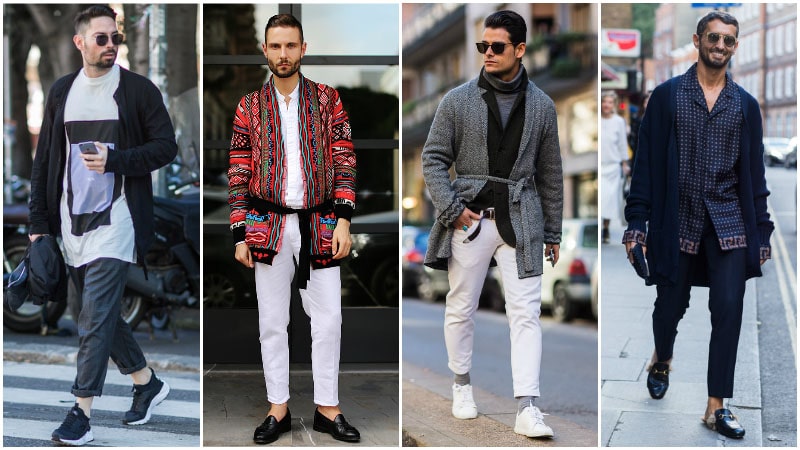 SHOP THE LOOK
Semi-Formal Occasions
While a cardigan may be an excellent casual item, it also makes a wonderful addition to smart casual and semi-formal styles. To nail this look, start by choosing a fitted cardigan. Then, pair it with a button-up shirt, some smart trousers, and dress shoes. Also, remember to keep the colour palette clean and neutral for the perfect amount of polish.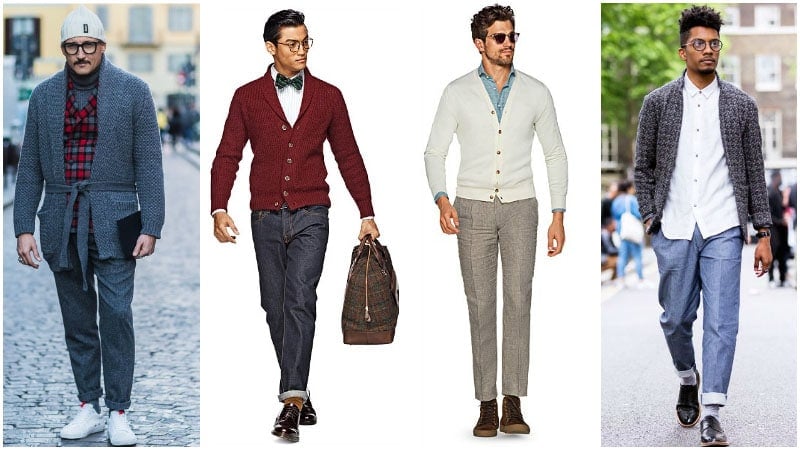 SHOP THE LOOK
Formal Occasions
While a cardigan doesn't typically scream formal wear, it can make a surprisingly good suit companion. All you need is swap out the vest or waistcoat in your three-piece suit for a fitted button-up cardigan. Ideal for times when your winter calendar is filled with formal events, this look is both stylish and cosy.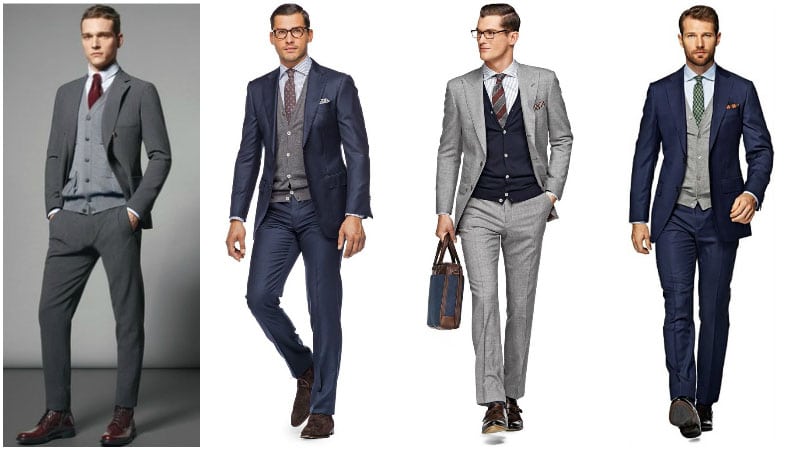 SHOP THE LOOK
Business Casual Occasions
The versatile cardigan can also easily be transitioned into your work wardrobe for a great business casual look. Try using it as a replacement for your blazer on days when you need something more relaxed but still office-appropriate. Just pair it with an oxford shirt, some trousers or chinos, and a tie for smart yet relaxed appearance. You can also opt for loafers over traditional lace-up shoes to prevent the look from becoming too formal.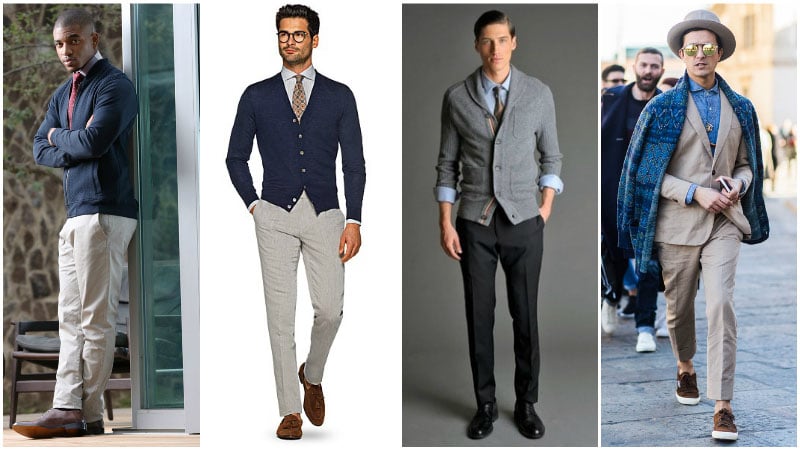 SHOP THE LOOK
What to Wear Under a Cardigan
A major part of pulling off a cardigan is wearing the right clothes underneath. While you can try turtlenecks and any number of tops, it's best to stick to button-up shirts and T-shirts. These styles will look the best and have you covered for any occasion. (You can even add a tie under your cardigan for an extra smart look.) Just remember to button up your shirts and choose crew-neck T-shirts, as anything too open may appear awkward. Also, keep in mind that outfits tend to look best when the shirt is a lighter colour than the cardigan.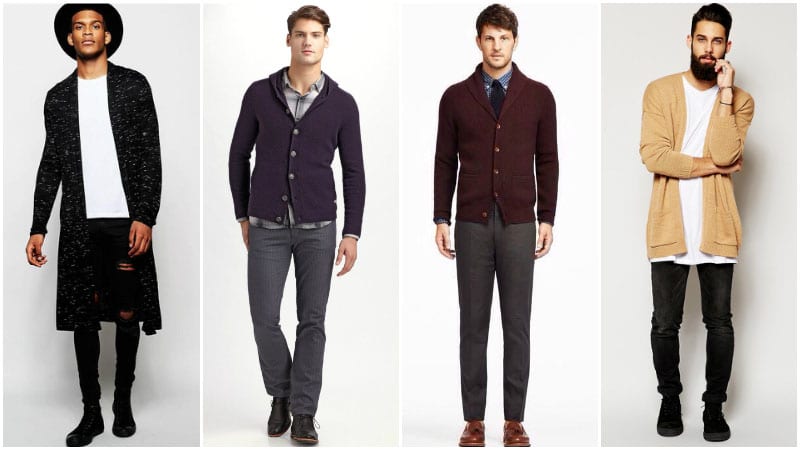 SHOP THE LOOK
How to Wear a Cardigan
Choose from fitted styles of cardigans for a smart appearance and loose designs for a relaxed feel.
Select either a longline shape, shawl collar, button-up or chunky knit cardigan to best suit your style.
Try a cardigan with a T-shirt, jeans or chinos, and sneakers for a quick weekend look.
Consider swapping the vest or waistcoat of your three-piece suit for a button-up cardigan during winter.
Wear either a T-shirt or shirt beneath your cardigan depending on whether you want a casual or formal outfit.
Always remember to fold your cardigans instead of hanging them as the hanger can cause stretching, particularly at the shoulders.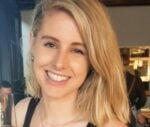 Taylah Brewer holds a bachelor's degree in fashion and business and is a skilled writer with several years of experience in the world of online content creation and copywriting. She is passionate about fashion, beauty, and all things lifestyle-related and has been writing for The Trend Spotter since 2016. She currently works as the Head of Digital & Ecommerce at White & Co.
SUBSCRIBE TO OUR NEWSLETTER
Subscribe to our mailing list and get interesting stuff and updates to your email inbox.