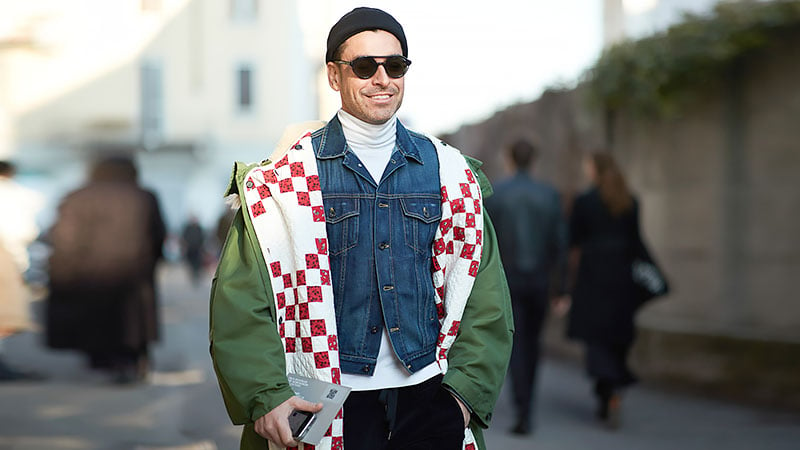 If you've excluded the roll neck from your sartorial vernacular thus far, you're not alone. The roll neck remains one of the most underrated components of the modern man's wardrobe. However, the humble roll neck is an essential base garment, providing a versatile option that can be dressed up or down. A roll neck shirt or jumper is characterized by its high, close-fitting neck which is worn folded over. This feature differentiates it from the turtleneck which features a high neck that doesn't fold. The roll neck makes for a seasonally and sartorially transitional garment, as they can be worn from Autumn through to Spring and take you from drinks with the boys to the boardroom.

History of the Roll Neck
Also referred to as a 'polo neck' or 'skivvy' for the Aussies, the exact origin of the roll neck is dubious. However, the general consensus is that roll necks have been around in some form since the 15th century. Initially worn as a functional item, skivvies were popular with athletes, sailors, naval officers, and menial workers from the late 19th century onwards. However, it was playwright Noël Coward's adoption of the polo neck in the 1920s which set the garment on its path to notoriety. Since then, high-necked tops have been sported by the likes of Steve Jobs, Steven Hawking, Andy Warhol, The Beatles, Steve McQueen, and many others.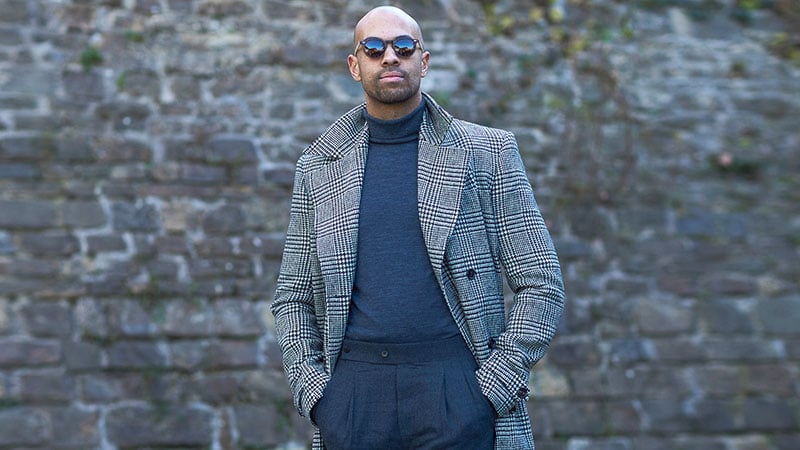 Roll Neck Materials
Fine
Despite typically being seen as a heftier item, polo necks aren't just sweaters and jumpers. Form-fitting polo necks in light materials like temperature-regulating merino wool and fine cotton are the perfect base for layering on winter wear or can be worn by themselves in the warmer months as a sharper alternative to a long-sleeved T-shirt. Roll necks in fine materials allow for more experimentation with brighter, on-trend color palettes.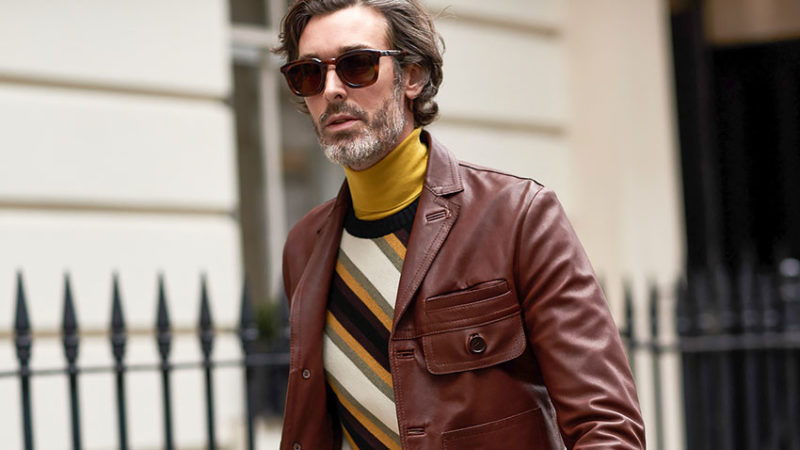 Mid-Weight
A mid-weight high neck is perfect for navigating those not too hot, not too cold days. Thicker cotton and soft cashmere make comfortable staples that can be worn atop chinos for a casual look or with a suit for business occasions.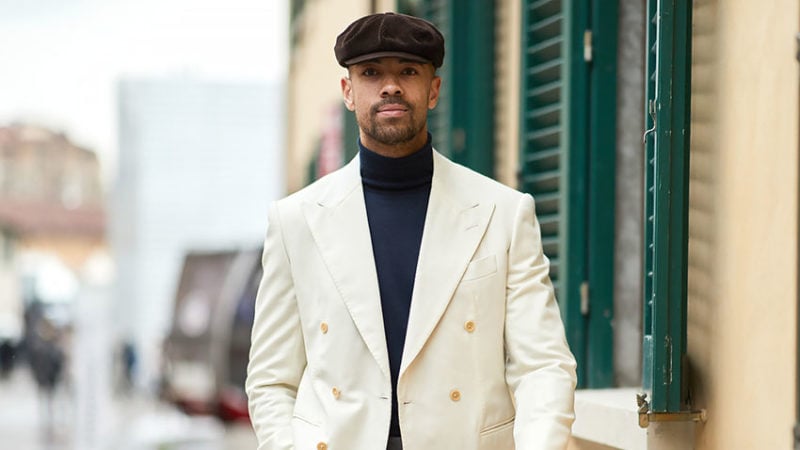 Heavy
The archetypal roll neck in a heavy wool knit provides the perfect winter solution. You can dress a heavyweight polo neck up or down. An oversized woolen knit high neck worn with slim-fitting chinos and Chelsea boots make an easy casual outfit. Meanwhile, a thick cream high neck worn under a navy suit with brogues provides an apt business formal sartorial choice.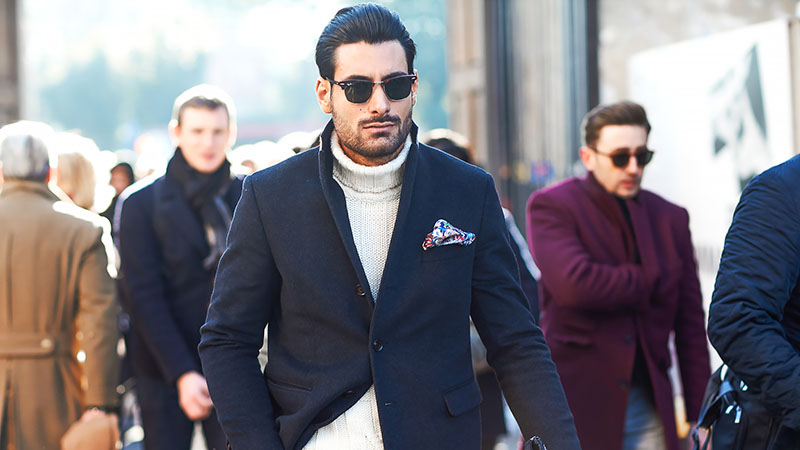 Roll Neck Outfits
Roll Neck and Suit
For business casual or a twist on cocktail attire, ditch the traditional button-down shirt. Choose a roll neck shirt instead, as a skivvy worn tucked into a suit forms a sleek silhouette and makes for the perfect tie-less office getup. In order to avoid wrinkling under your suit, select a roll neck in fine merino wool. Stick to a neutral color palette as this works best with formal tailoring. Roll necks work particularly well under double-breasted suits. Try color combinations like a grey double-breasted suit with a black skivvy or a tan skivvy worn under a dark brown pinstripe suit.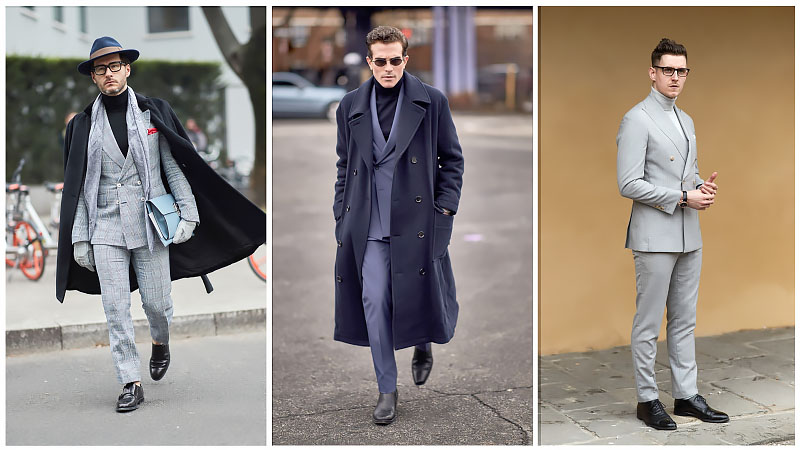 Get The Look
All Black Roll Neck Outfit
All black is consistently an effortless way to style almost any garment; the roll neck is no exception. As the color palette is a given, feel free to experiment with textures and layers. Try pairing a black cashmere polo neck with a slim-fitting woolen suit, and rounding it off with an overcoat and tassel penny loafers for an effortless, yet chic smart casual winter look. For a more relaxed vibe, opt for black sweatpants and leather sneakers with a lightweight skivvy.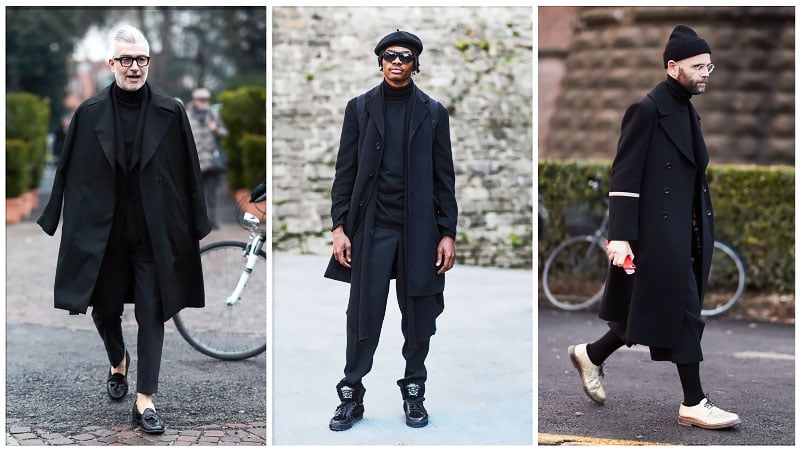 Get The Look
Roll Neck and Jeans
Pair the versatile roll neck with everyone's favorite wardrobe staple – jeans. Pinroll your jeans and team dark denim with a camel or tan roll neck, brown boots, and a white teddy coat. Or, pair a simple neutral skivvy with a jewel-toned blazer and jeans to nail that street style look.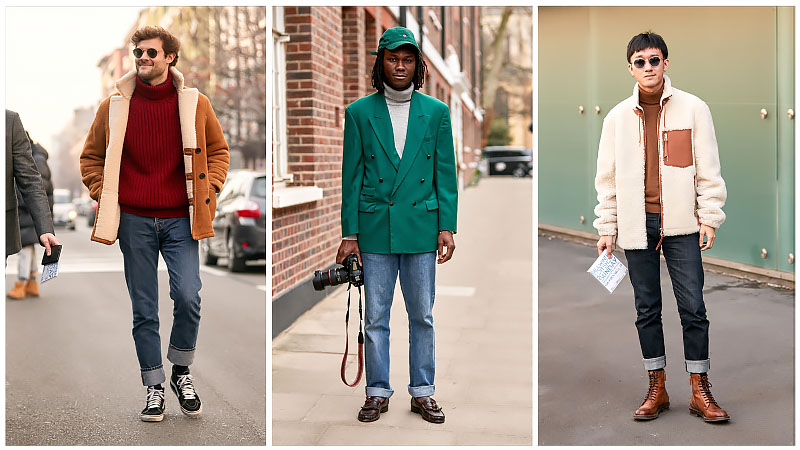 Get The Look
Roll Neck and Coat
Statement outerwear can elevate any outfit. Pair a roll neck and slim-fitting trousers with a structured knee-skimming coat in a neutral shade of camel or beige. Alternatively, try a patterned variety like checked houndstooth or tartan. For an edgier look, indulge in logomania by wearing a designer hoodie over your polo neck and rounding the outfit off with an unstructured teddy style coat.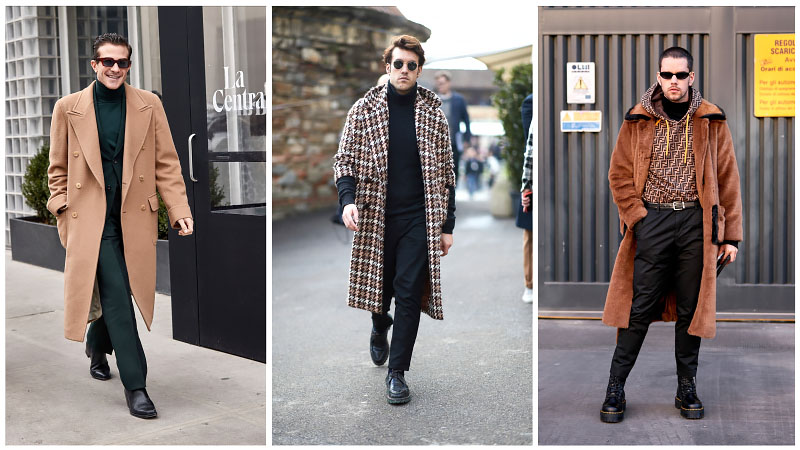 Get The Look
Colorful Roll Neck Outfit
Don't get stuck in a rut of only playing it safe with a neutral color palette. A colorful roll neck can easily be incorporated into a relaxed or smart casual outfit. Team a baby blue polo neck with black Chelsea boots, black trousers, and a structured grey coat for a cool Friday outfit for the office. To achieve a stylish casual look, opt for a mustard yellow polo neck worn under a loose-fitting pinstripe suit paired with dad sneakers.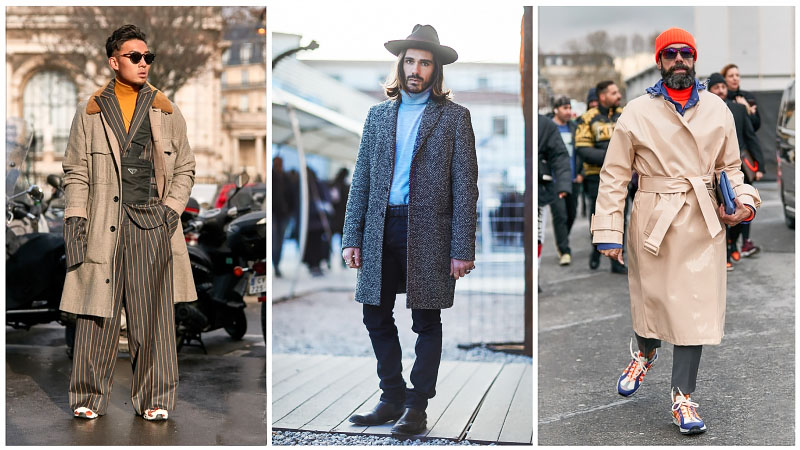 Get The Look
Oversized Roll Neck
Outsized, heavyweight roll necks in classic shades like cream, tan, camel, grey, and white are perfect for smart winter layering. Oversized roll necks work particularly well on men with slimmer builds, as they balance out your proportions. Just ensure you don't go too oversized to avoid looking cartoonish! Go back to basics with an all beige polo neck and loose woolen trousers look broken up by a brown leather belt and an overcoat. Alternatively, opt for a loose-fitting oversized white knit high neck teamed with slim-fitting black chinos, and an oversized black coat.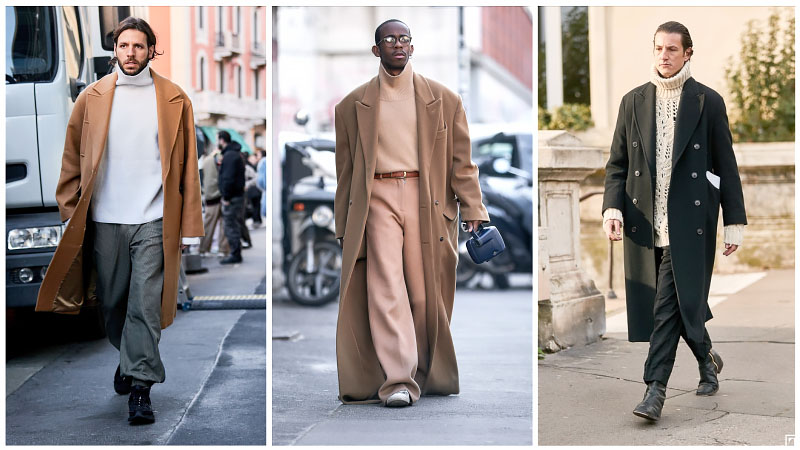 Get The Look
When to Wear a Roll Neck
Casual
You can easily incorporate roll necks into casual attire due to their versatile nature. In the warmer months, keep it simple by pairing a colorful skivvy with plain trousers and sneakers, or wear a high neck under a loose, unbuttoned shirt. During the cooler part of the year, try a heavy loose-knit woolen polo neck worn with jeans, a warm overcoat, and boots.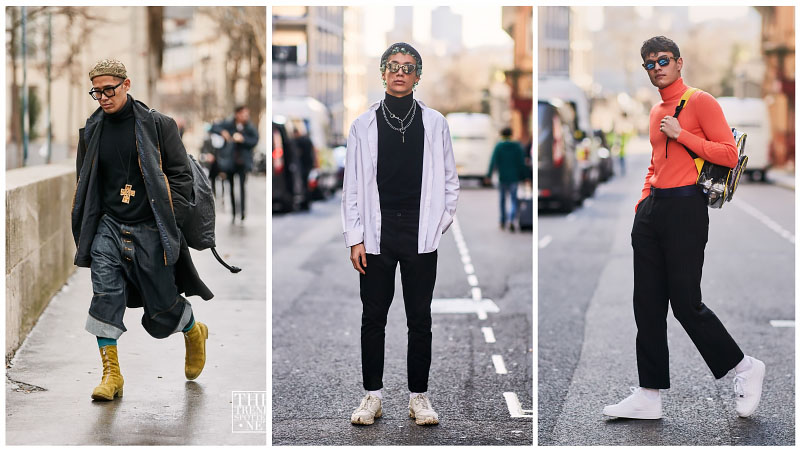 Get The Look
Smart Casual
Whether it's relaxed office attire on Fridays or Saturday afternoon drinks on the harbor, the smart casual dress code can be challenging to navigate. Fortunately, the roll neck provides the ideal base for a variety of situational outfits. Tuck a fine, lightweight skivvy into suiting trousers and wear with a padded nylon vest and Chelsea boots for an outdoorsy, yet office appropriate take on smart casual. Or, opt for a striking white look with a loose-knit high neck worn over slim-fitting white chinos with brown boots.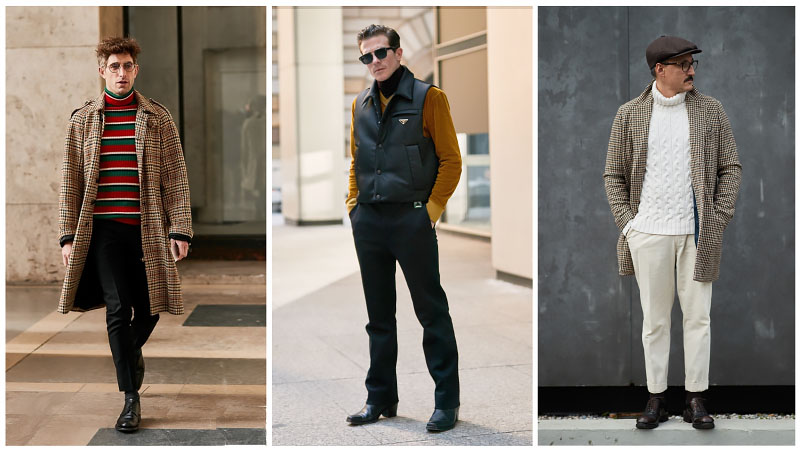 Get The Look
Business Casual
Structured or tailored elements allow you to wear a polo neck in a business environment with savoir-faire. Suiting separates, a waistcoat or a structured overcoat serve to elevate the polo neck to business casual status. Pair with smart leather Oxfords, Derbys, Chelsea boots or brogues.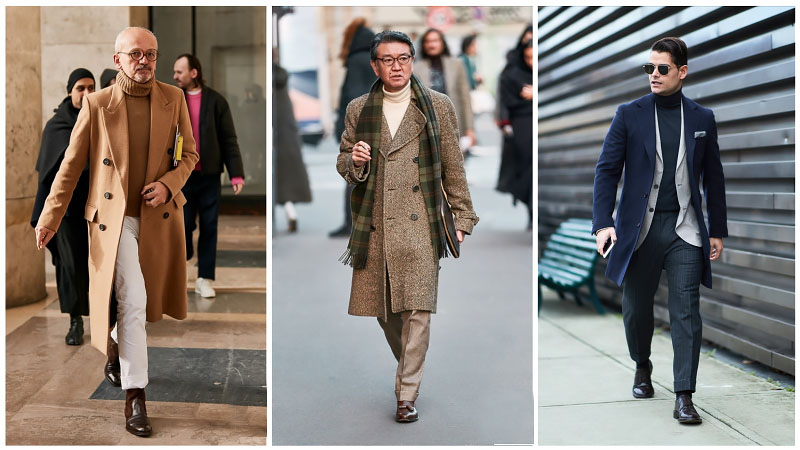 Get The Look
How to Wear a Roll Neck
For formal attire, opt for a fine merino wool high neck worn with a double-breasted suit.
Balance out a slimmer frame with an oversized, heavyweight polo neck.
Experiment with different color palettes to mix up your look – try baby blue, mustard, burnt orange, and red skivvies.
Use polo necks as a transeasonal layering piece. Wear your high neck as a standalone piece in the warmer months and with a blazer or overcoat during the colder months.
Don't be afraid to incorporate a polo neck into street style looks – team with colorful outerwear and chunky sneakers.
FAQs
What's the difference between a roll neck and a turtleneck?
The terms 'roll neck' and 'turtleneck' are usually used interchangeably, and are sometimes called a 'polo neck' or 'skivvy'. These tops have a high, close-fitting collar that folds over itself, and are almost always long-sleeved.
What do you wear under a roll neck?
What you wear under your roll neck depends on its thickness. The key is to create a slim silhouette without any chunky, bulky, or folded layers underneath – or visible buttons. Fine gauge rollnecks can be worn alone, while thicker, heavier knits can be layered over a fitted undershirt or thermal T-shirt for extra warmth in winter.
Are turtlenecks flattering?
Because they are a form-fitting style, turtlenecks tend to look best on guys with a long torso and square shoulders. As a general rule, the slimmer you are, the chunkier a turtleneck you can wear as the thicker material will add some bulk to your physique. 
Should you tuck in a turtleneck?
If you have a flat stomach, feel free to tuck a fine-gauge turtleneck into trousers. However, make sure the turtleneck still has some give – you don't want it to look too fitted.
Can you wear a roll neck to a wedding?
The short answer is: it depends on the season and dress code. If you are attending semi-formal nuptials in the colder months, a turtleneck with a smart suit is a sharp and stylish option. However, a turtleneck is too casual for a black-tie dress code.
SUBSCRIBE TO OUR NEWSLETTER
Subscribe to our mailing list and get interesting stuff and updates to your email inbox.