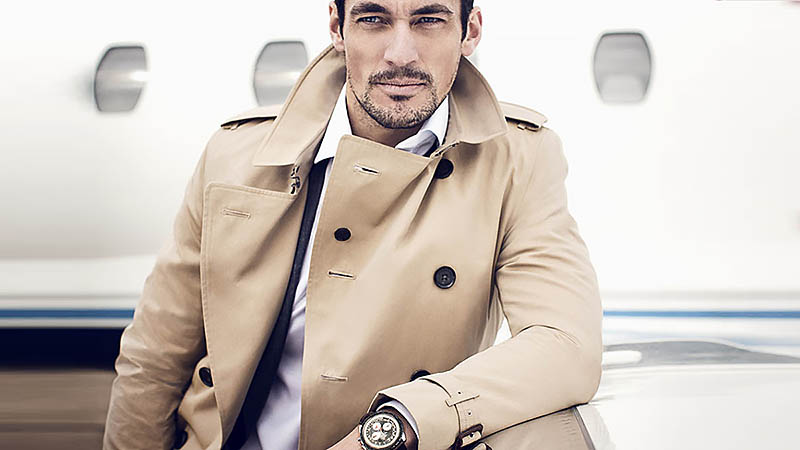 Trench coats are an excellent investment for not only a winter wardrobe but a trans-seasonal one as well. Initially designed as a military garment, modern styles are the perfect balance of functionality and form. They keep the wind and rain out, so you stay dry and warm. Plus, thanks to Hollywood heartthrobs like Steve McQueen and Humphrey Bogart, they have an extra glamorous allure that makes them a timeless staple in any well-dressed gent's coat collection.
RELATED: The Best Jacket & Coat Brands for Men
Trench Coats for Men
1. Alexander McQueen
British designer Alexander McQueen was known as an industry disruptor, earning the title "l'enfant terrible." His eponymous luxury brand, which he founded in 1992, continues his innovative and provocative legacy under Creative Director Sarah Burton, who designed Kate Middleton's wedding dress. When it comes to men's trench coats, the unbridled creativity shows in unique silhouettes, beautiful fabrics, and quality finishes, all with an unmistakable British touch.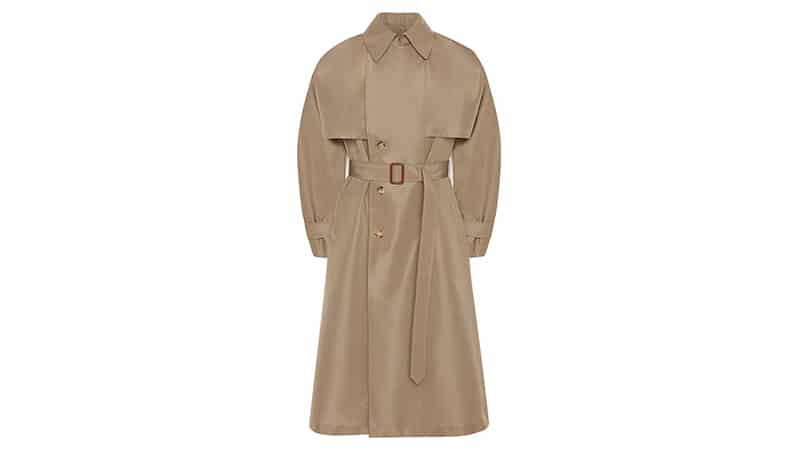 2. A-COLD-WALL
Streetwear brand A-COLD-WALL started as an examination of modern menswear in contemporary British society and its role in class, community, and globalization. Samuel Ross launched the brand in 2015 and focuses on fabrics and materials, with timeless, minimalist designs that discourage overconsumption while embracing artisan techniques. Social consciousness combines with material innovation for the collection of men's trench coats.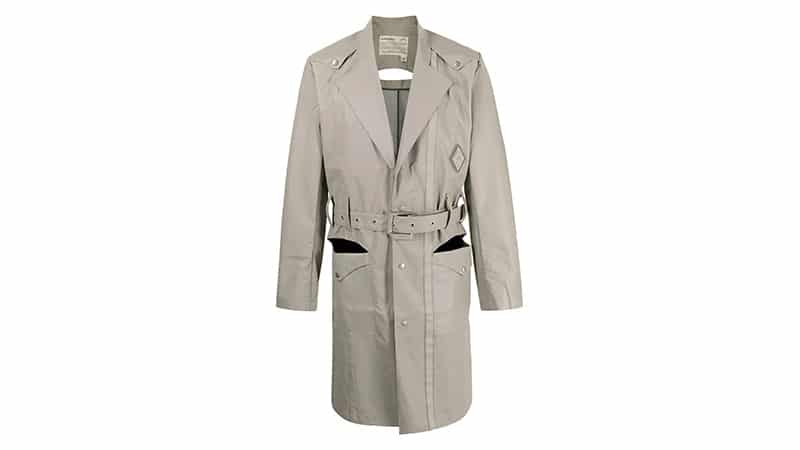 3. ASOS
If you like to shop online, then UK-based retailer, ASOS, is your one-stop site for men's trench coats. Choose from close to 100 styles from varying brands, including in-house label ASOS DESIGN. Other brands that the website stocks include Lyle & Scott, Harry Brown, Selected Homme, Only & Sons, and Tommy Hilfiger. Make shopping online easier by using the fit assistant tool, and enjoy free delivery and returns if it's not quite right.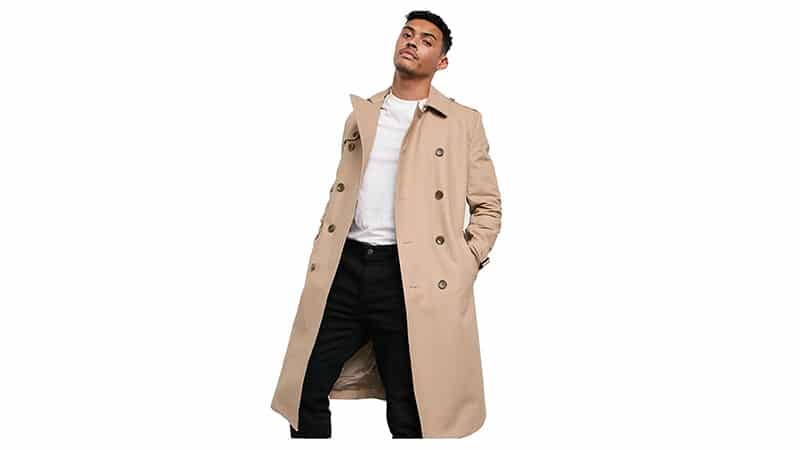 4. Balenciaga
Demna Gvasalia, of former Vetements fame, is the current creative director behind Spanish-founded, Paris-based luxury brand Balenciaga. The brand is best known for its creative footwear, including the Triple S and Speed Sock sneakers. When it comes to men's trench coats, expect to find unique silhouettes combined with traditional features such as storm flaps, wrist cuffs, and removable belts. Of course, each piece is made in Italy, employing the highest level of craftsmanship that you'd expect from this luxury label.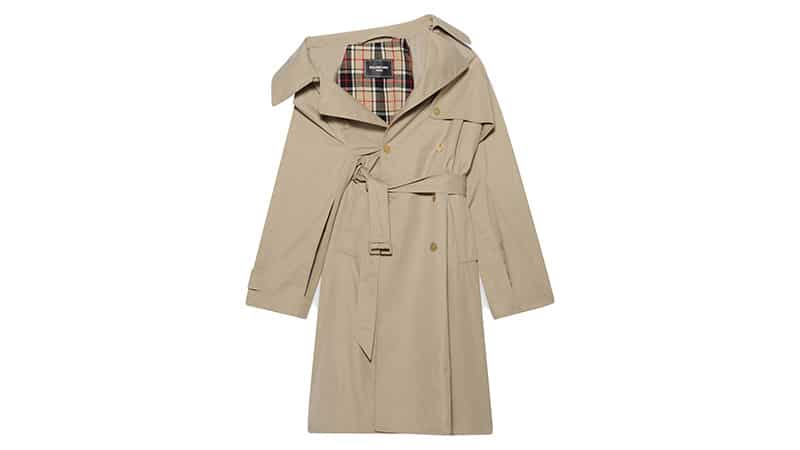 5. Bottega Veneta
Style, innovation, and luxury are the core tenets of the luxury Italian fashion house, Bottega Veneta. Michele Taddei and Renzo Zengiaro started the company in Vicenza in 1966. It's known not only for its ready-to-wear men's and women's lines, but also its intrecciato leather, handbags, and shoes. Among the collection of men's trench coats, expect to find waterproof cotton, signature hardware such as triangular buckles, and horn button fastenings. There are both single and double-breasted styles to best suit your aesthetic.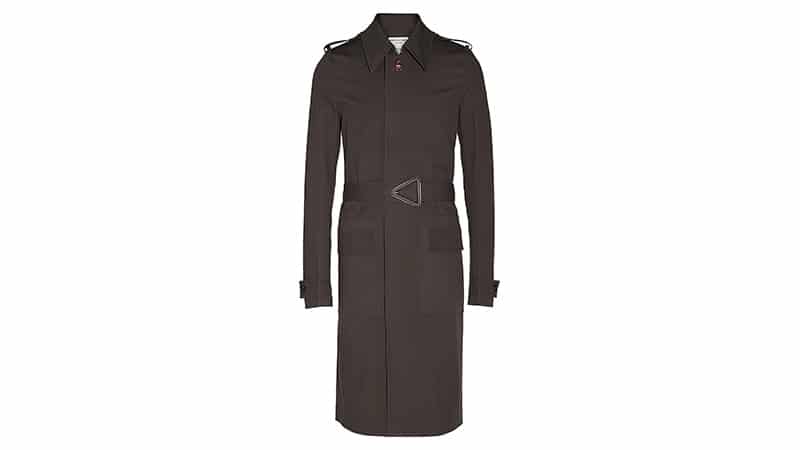 6. Burberry
Burberry seems an obvious choice for men's trench coats, given it's one of the brands that claims it created the iconic garment. The British luxury brand has been an industry leader for over 160 years and was the first to patent gabardine. This innovative waterproof fabric gives trench coats much of their utilitarian appeal. Pick from Heritage designs like the Westminster, Chelsea, or Kensington trench coats. Each features classic elements like English-woven cotton gabardine, double-breasted cuts, storm flaps, wide lapels, and, of course, Burberry's signature check lining.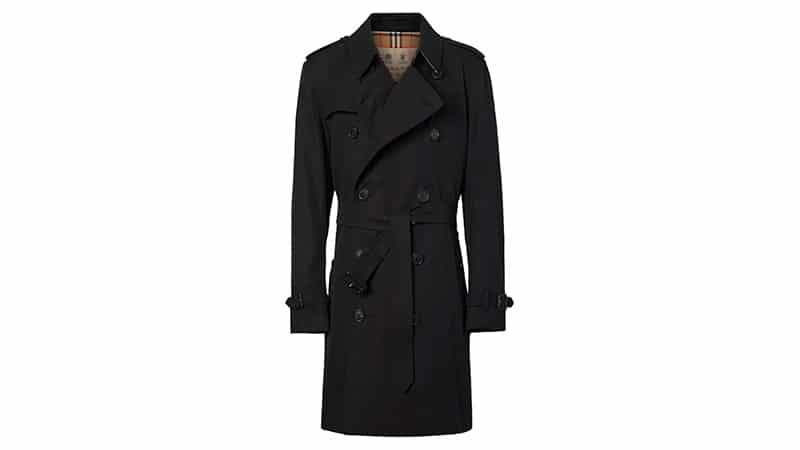 7. Canada Goose
If you're looking for a more modern, outdoorsy vibe with your trench coat, Canada Goose is the ideal option. Designs like the Crew Trench feature high-tech fabrics such as Dura-Force Light that are ready for high winds and rugged conditions, with water and windproof outers. Stay extra warm with a removable hood, adjustable cuffs, and drawcord hem. It's the perfect combination of function and luxury that suits the needs of gents who enjoy both the outdoors and the finer things in life.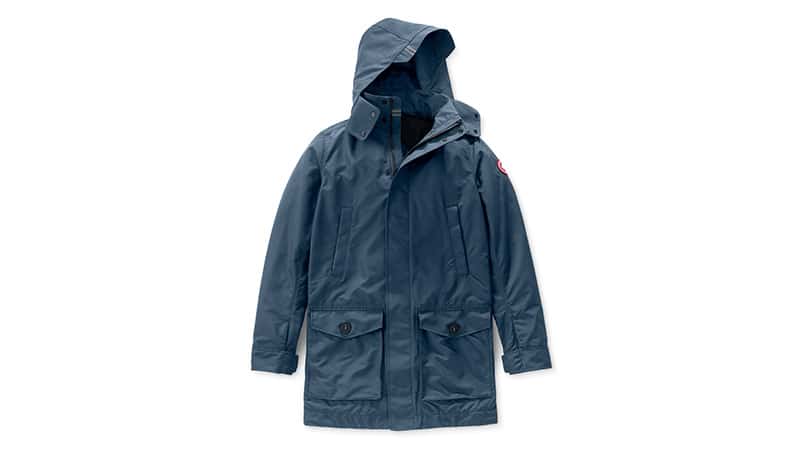 8. Comme Des Garcons
Enjoy the fresh aesthetics from the ultra-modern Japanese label, Commes Des Garcons. Under the guidance of Rei Kawakubo, the brand challenges the status quo with offbeat accents, asymmetrical shapes, sharp tailoring, and an abstract approach to fashion. The brand debuted in Paris in 1981 and now has signature boutiques in strategically stylish locations worldwide. The men's trench coats from Commes Des Garcons feature elements such as long lines, dropped waists, expert tailoring, and double-breasted front fastenings.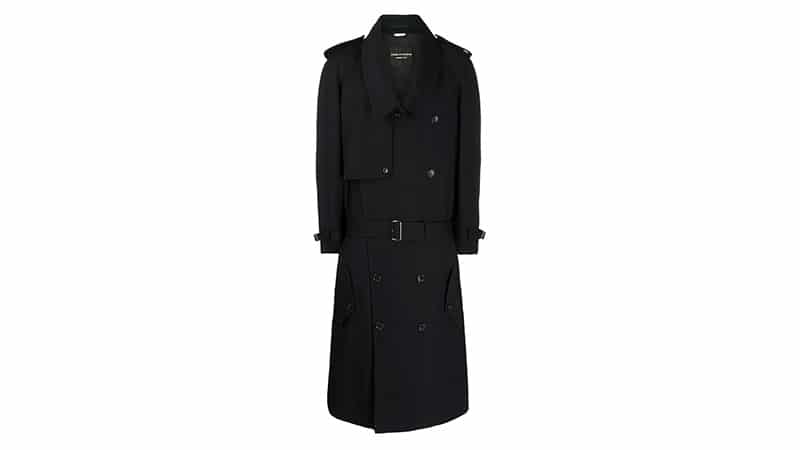 9. Gucci
Among the men's trench coats from Gucci, you can expect to find opulent fabrics, expert craftsmanship, and timeless styling. Opt for a classic style, with a double-breasted front, soft camel-colored wool, shoulder epaulets, and cuffed wrists. It's a quintessential style with new-age refinement. The Italian brand has long been a powerhouse in the world of luxury, high-end fashion and is currently under the guidance of creative director Alessandro Michele.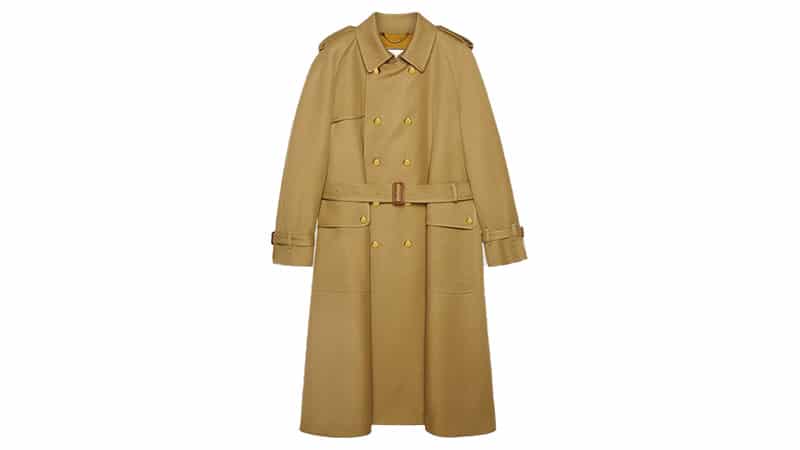 10. Fendi
Fendi is the perfect choice for modern and contemporary life. As another luxury Italian brand, it sets itself apart with both its daring creativity and tradition. The selection of men's trench coats is definitely more about form than function but is the perfect addition to a stylish gent's wardrobe. One option includes a remarkable grey and white organza design with a Hortensia motif, while another has the Fendi motif appear in a bold replicated pattern all over. It also boasts a striking button back, with side pockets and a matching belt.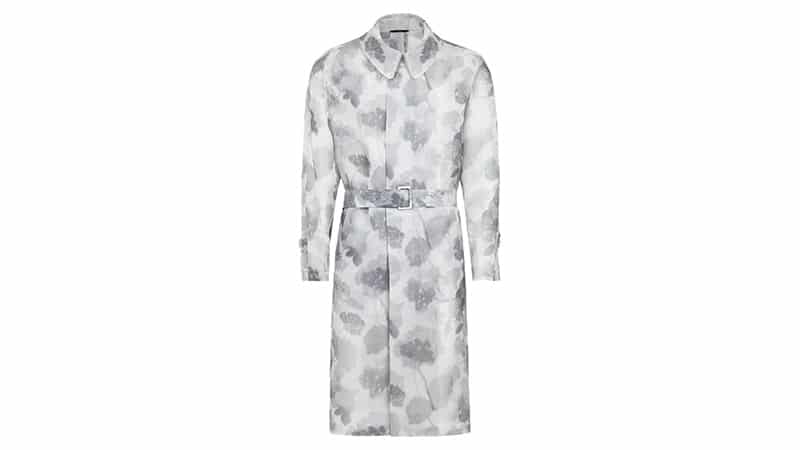 11. Hugo Boss
Hugo Boss is known for its masculine and sartorial style. As such, a trench coat from the label is an excellent investment for refined men. Between the Hugo and Boss labels, there's a good collection. Opt for a fun color like rust in a double-breasted style made from organic cotton, or stay protected from the elements with a water-repellant style that will keep you dry and warm. In the dead of winter, a wool-blend slim-fit trench will keep you both toasty and stylish.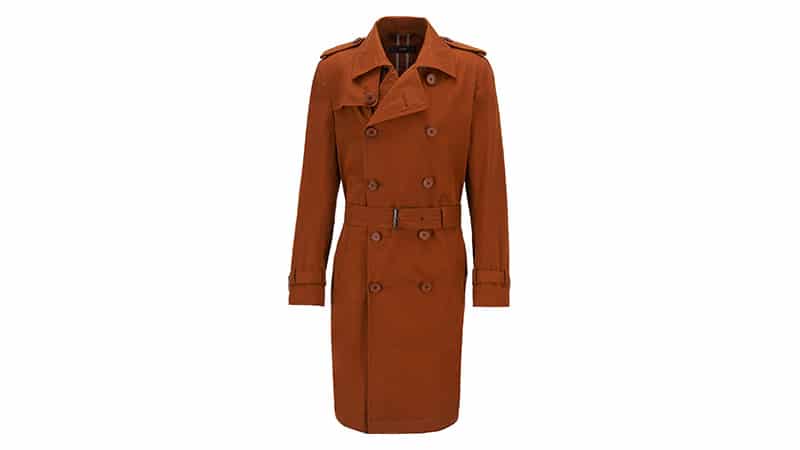 12. Jil Sander
If minimalist is your vibe, then Jil Sander is the brand for you. The namesake label from the German designer was founded in 1968 in Hamburg, Germany. Today it's based in Milan, Italy, and under the guidance of husband-and-wife duo Luke and Lucie Meier. The label epitomizes the use of clean lines, a neutral palette, and understated elegance. Stay warm with a wool military coat featuring a double-breasted design with metal details.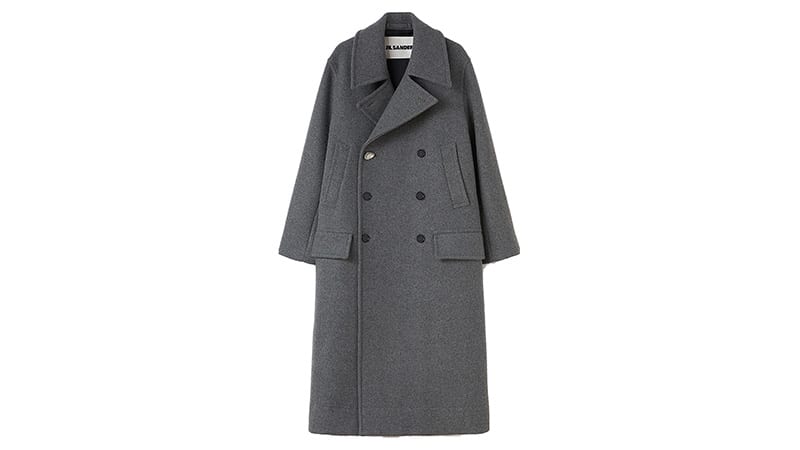 13. Maison Margiela
Stand out from the crowd with a men's trench coat from Maison Margiela. The French luxury brand offers both ready-to-wear clothing and haute couture-inspired artisanal collections. It's all about creativity, deconstruction, and pushing the boundaries and limitations of gender and expression. The Décortiqué trench coat is the perfect example of this approach. It boasts traditional elements like a double-breasted cut, gabardine fabric, epaulets, and cuffed wrists. However, it also has detached sleeves, visible lining, and a wet-look design with drips from the top.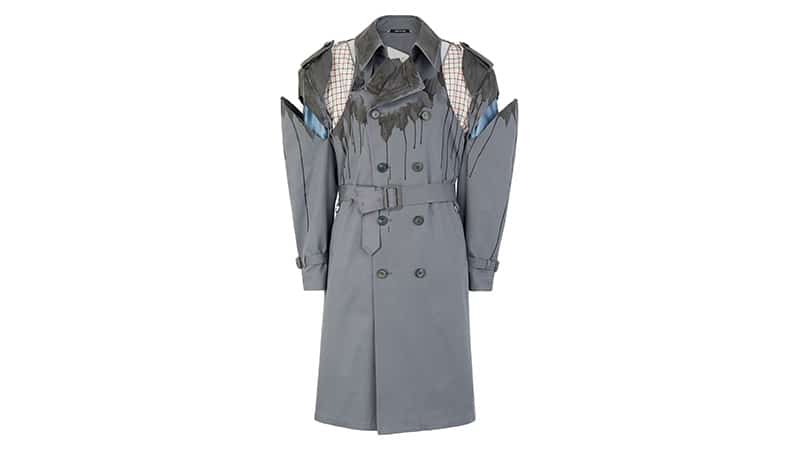 14. Mackintosh
Mackintosh revolutionized the clothing industry with the brand's launch of rubberized cotton and the Mackintosh coat or "Mac." This design was one of the precursors to the modern trench coat. The current selection of trench coats boasts a range of both traditional styles and modern, minimalist looks. The double-breasted St Andrew's design fuses water-repellent cotton gabardine, with classic elements like a point collar and adjustable belt. Meanwhile, the shorter Dunoon bonded cotton coat offers a more simple design that's completely waterproof and made by hand in Scotland.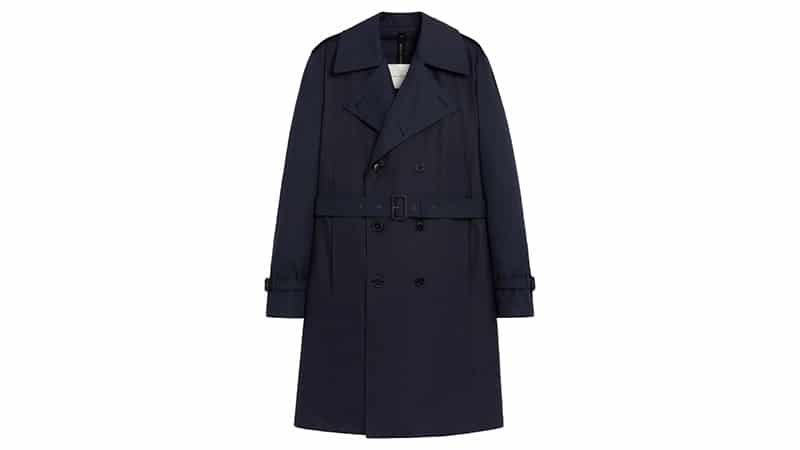 15. Nanushka
Nanushka is for the modern bohemian. It's at the forefront of sustainability, with eco-conscious production the focus of the brand since its launch in 2006 by Sandra Sandor. The minimalist chic designs are timeless, modern, and versatile, taking the wearer from day through to night with ease. Gents looking for trench coats will find a couple of styles. The first being the Herb Tencel trench coat made locally to Nanushka's headquarters in Budapest, using cellulose fibers sourced from sustainably managed forest. Choose from the vibrant Marsala shade or a more subdued Straw. The second option is the Kane, made using tech-canvas with a casual silhouette accented by black leather panels.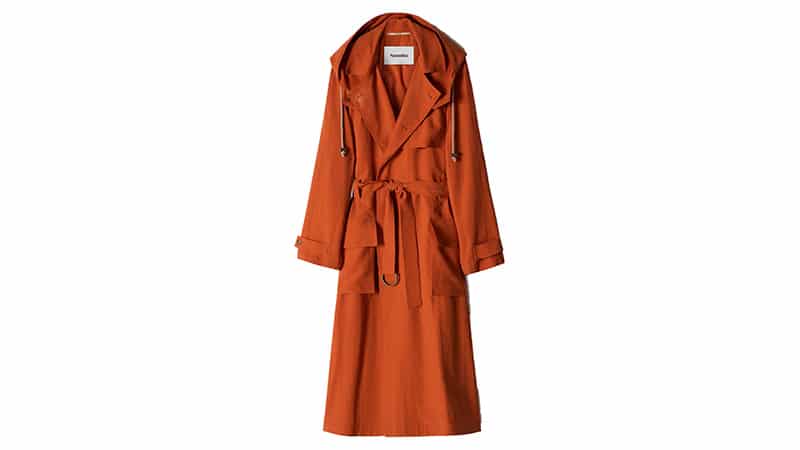 16. Neil Barrett
English-born designer Neil Barrett is not only the man behind his eponymous label but also worked at both Gucci and Prada, even launching the Prada Menswear line. As such, he's well equipped to dress stylish men in flattering and refined trench coats. The collection is pared back and modern, with simple, clean lines and a timeless aesthetic. Celebrity fans of the brand include Brad Pitt, Orlando Bloom, Jamie Dornan, and Mark Ruffalo, putting you up there with some of Hollywood's most stylish and esteemed men.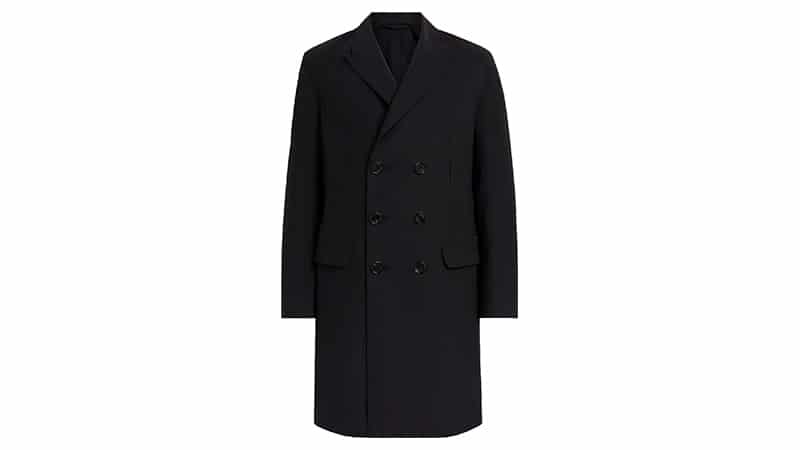 17. Neighborhood
Neighborhood is for the rockers, rebels, and bikers. The pioneering Japanese streetwear brand was founded in 1994 by Shinsuke Takizawa and formed part of the 'Ura-Harajuku' movement that created the famous Tokyo aesthetic. Despite local popularity in Japan, it wasn't until mainstream collaborations with brands like Adidas and Supreme that the brand found acclaim in the Western market. When it comes to jackets and trench coats, look for relaxed silhouettes and high-density cotton blends. However, if you see something you like, get in quick, as the releases often sell out exceptionally fast!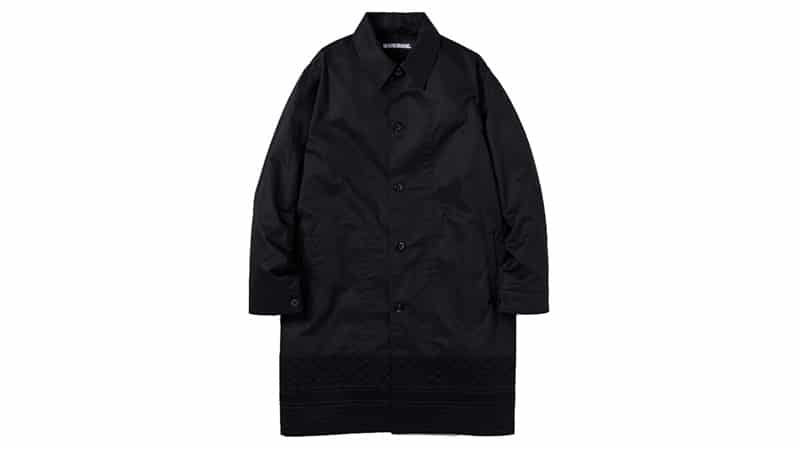 18. Off White
Just because you're buying a trench coat doesn't mean you need to forfeit street-style. The collection from the mind of Off White creator Virgil Abloh takes quality fabrics and blends them with a signature streetwear feel and bold styling. Look for features like patch and sequin logos and eye-catching hardware. The brand developed a cult-like following soon after its launch in 2012 and now collaborates with global brands like Nike, Levi, and IKEA.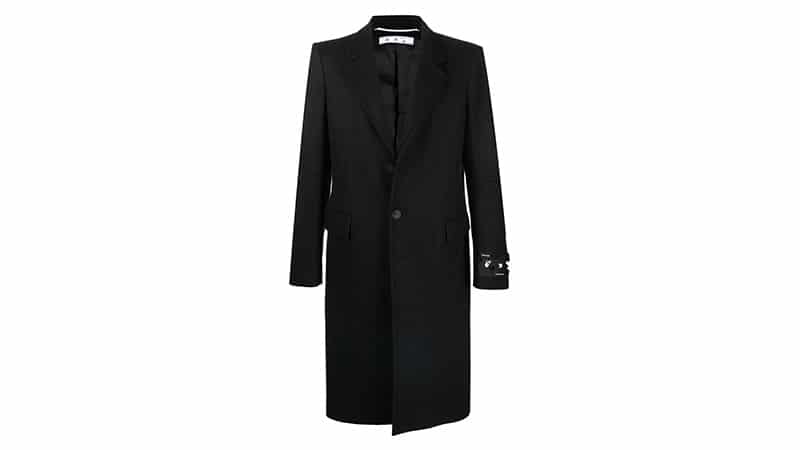 19. Reiss
Suave and sophisticated gents will love the refined look from British brand Reiss. David Reiss founded the brand in 1971 in London and now has 160 stores in 15 countries. The label's philosophy centers on design-led menswear, combining exceptional quality, value, and creativity. When it comes to men's trench coats, look for Mac-style dry coats with waterproof outers and unrivaled versatility or handsome wool-blend creations that are soft, lightweight, and perfect for layering over both smart and casual outfits.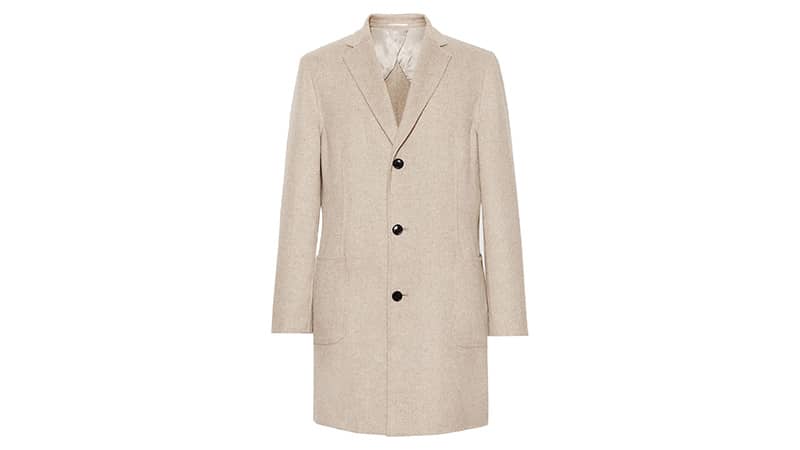 20. Rick Owens
Advocates of the adage that Black is the New Black will appreciate Rick Owen's prolific use of the midnight hue. Also known as the Lord of Darkness, his collections are characterized by post-apocalyptic grunge mixed with 1930s Hollywood glamour. Opt for a glossy black calf leather trench that sits below the knee and has oversized lapels and off-center buttoning. Alternatively, there's also a water-repellant bomber satin coat with a more traditional silhouette that's a dressier alternative and ideal for evening wear with a twist.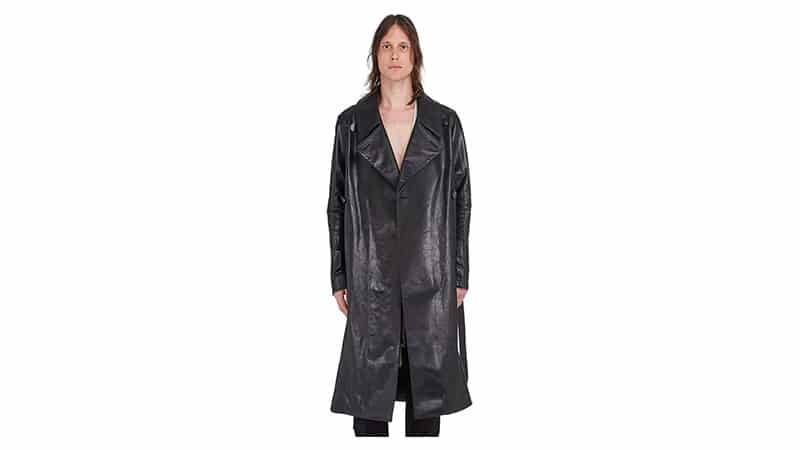 21. Saint Laurent
Headquartered in Paris, France, Saint Laurent revolutionized fashion by producing high-end clothes on a larger scale. This revolutionary spirit is a fundamental part of the brand's DNA and sets it apart from other luxury competitors in the industry. Under the leadership of Creative Director Anthony Vaccarello, the label maintains it's status as a leading fashion house. The trench coat offering features classic, timeless styles made from waterproof gabardine that will keep the wet and rain out, helping you stay both stylish and dry.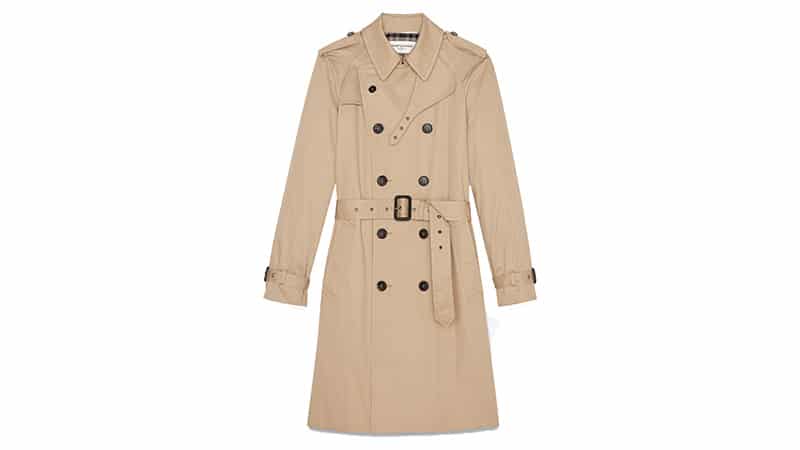 22. Stella McCartney
Stella McCartney is a British fashion designer known for exquisite tailoring and the non-use of any fur or leather in her designs. Sustainability is also a core value of the brand and shapes the company's business model and policies. Menswear is one of the newer additions to the label, only launching in 2017, with a unisex collection launched in 2020. The 23 OBS Trench Coat is part of the latter collection and a great addition to stylish gents' wardrobes. It's made with an organic cotton blend in a neutral sand shade with contrast white stripes at the hems and cuffs.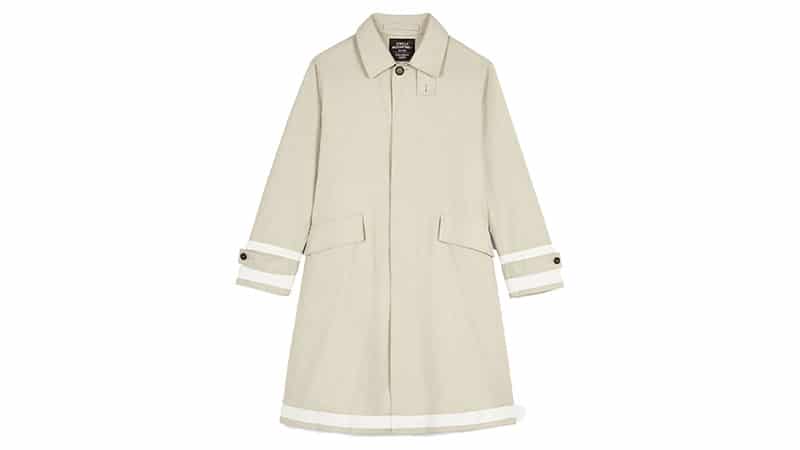 23. Valentino
Pierpaolo Piccioli is the current Creative Director of Valentino, the luxury fashion house established by Valentino Garavani in 1960. The label produces an excellent range of Haute Couture as well as ready-to-wear men's and womenswear. When it comes to trench coats, the designs are well suited to the jet-set, with classic styling and a timeless, refined feel. However, each piece still embraces Valentino's love of texture through combination materials and stylish embellishments.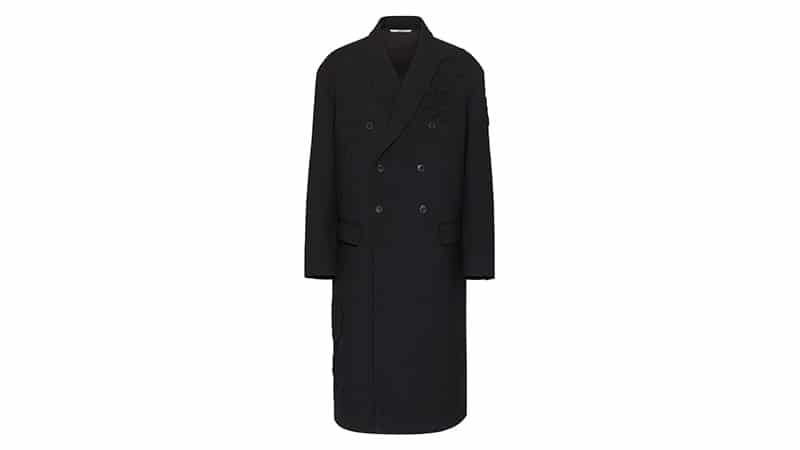 24. Uniqlo
High-quality fabrics underpin every garment from Japaned brand Uniqlo. The company started as a textile manufacturer, evolving into a clothing brand, taking the drive and passion for innovative materials with it. The U Trench Coat is an updated version of a traditional style that meets the needs of a modern man without compromising on the classic aesthetic. It features an A-line shape for maximum movement, with double-breasted six-button closure, cuff sleeves, and an adjustable belt.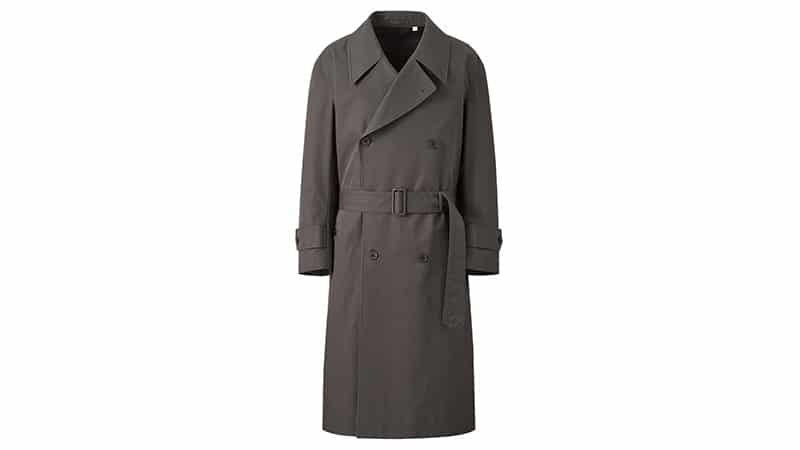 25. Zegna
Ermenegildo Zegna founded his fashion brand in 1910 in the Northern Italian town of Trivero. It's known as one of Italy's most dynamic family businesses, with four generations running and working for the brand. Luxury fabrics are the cornerstone, with a strong focus on the highest quality materials and craftsmanship. Choose from a range of refined wool trench coats. Centoventimila wool is one type used and boasts 120,000 meters of yarn per kilo of wool — the equivalent distance between Milan and Trivero. The result is a lightweight and silky material. Other fabric options include silk and polyester microfibre, or 12MILMIL12, a specially bred Australian wool with a fineness that exceeds Vicuna and cashmere.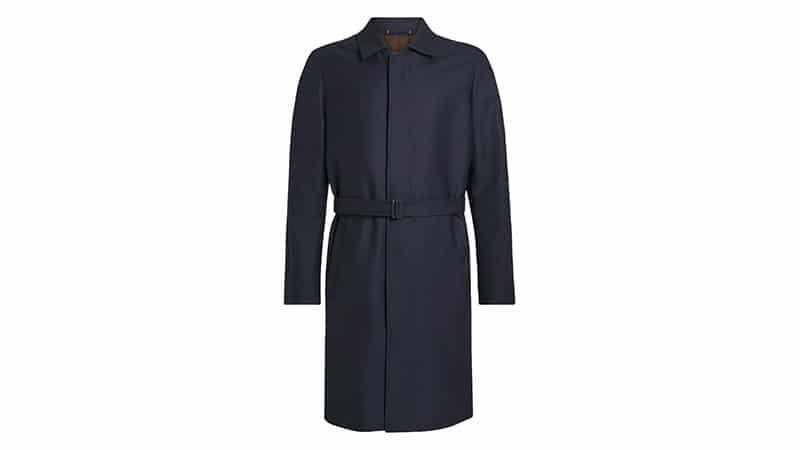 Trench Coat History
The trench coat has a long and storied history. The earliest incarnations of trench-style coat came from Scotland in the early 1800s, with the Macintosh raincoat, made from rubberized cotton. Then, in 1853, John Emary released an improved raincoat under the Aquascutum brand. He produced this double-breasted, ankle-length garment for British soldiers during the Crimean, Boer, and Russo-Japanese Wars. Thomas Burberry also released a trench coat. He pioneered Gabardine in 1879 — waterproof cotton that was lightweight as well as waterproof, providing flexibility. Both proved popular among officers and solider in the Boer Wars and World War I, keeping soldiers warm and dry in the trenches. By the 1940s, it had shed some of its militaristic overtones when Hollywood stars such as Humphrey Bogart and Steve McQueen brought romanticism, adventure, and mystery to the style by wearing it on the silver screen.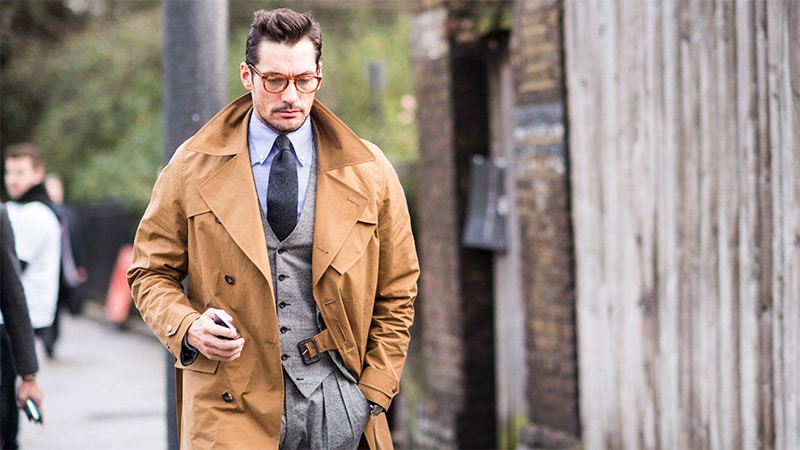 Trench Coat Fabric
Modern trench coats come in a variety of different materials. Some designs embrace the old-school technology of fabrics like gabardine, which hasn't changed much since its inception. Others make use of the newest advancements in waterproof and heat technology. Meanwhile, some styles are less about function and more about fashion, using materials better suited for the catwalk than the trenches.
Cotton Gabardine
Cotton gabardine was one of the original materials used in trench coats. Thomas Burberry invented it in 1879, using tough, tightly woven cotton that was waterproofed both before and after construction. The benefits of the fabric are that it's durable, lightweight, breathable, waterproof, and more comfortable than the rubberized fabrics in production when it first came out.
Modern Fabrics
Modern fabrics incorporate the latest technology and advancements in both natural and synthetic fibers. They boast benefits like waterproof outers, breathability, sweat-wicking properties, wind resistance and can lend themselves well to more creative and contemporary designs. These kinds of materials include Gore-tex, Tencel, and recycled polyester.
Leather
Leather is a more controversial fabric choice for a trench coat. While leather is exceptionally durable, wears well, and is water-resistant, it's also heavier and warmer, which might be more than you need depending on the environment you live in. Black leather jackets also have an association with German Officers in WWII and with the henchmen of organized crime. Consequently, some people can find the style off-putting. If you're looking for a leather trench coat, opt for lighter colors such as rich browns or deep olives.
Trench Coat Styles
Trench coats can vary a lot in style. However, some of the more standard features include a double-breasted cut with a belt, vented back, storm flap, and wrist straps. The most common length sits around the knee, which balances the practicality of length versus coverage, ensuring the best of both worlds. Nevertheless, modern interpretations of the trench coat can include all or none of these design elements, depending on the brand, season, and style.
Double Breasted
The original military-style cut of the trench coat was double-breasted with ten buttons. It was not only a masculine cut that added breadth to a man's physique; it also protected the wearer better from the weather and helped seal in warmth. Plus, it allowed more room for features like the storm flap and oversized lapels to add extra protection. Modern double-breasted trench coats come in varying lengths with different amounts of buttons to match. It's the ideal choice if you want a really classic look.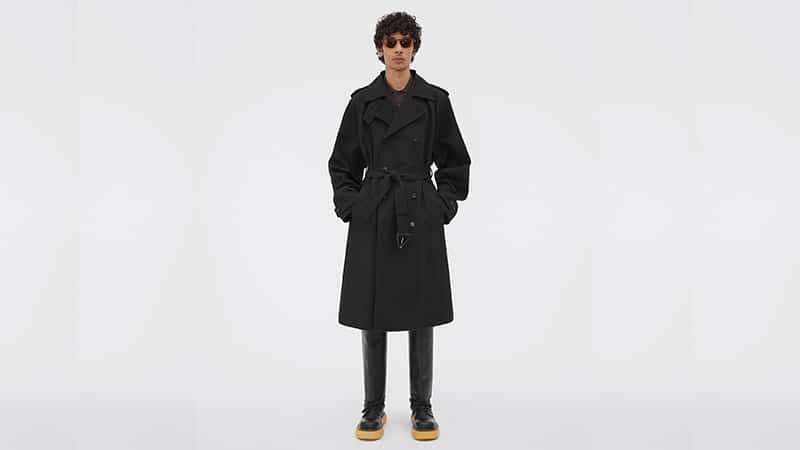 Single Back Vent
The original purpose of the back vent was to give soldiers the flexibility to move and run across a battlefield without inhibited leg movement. Yet, it still kept the wearer warm, dry, and protected from the winds. Modern styles have kept this practical feature, but thankfully nowadays, most wearers will only be running for the bus, not into battle.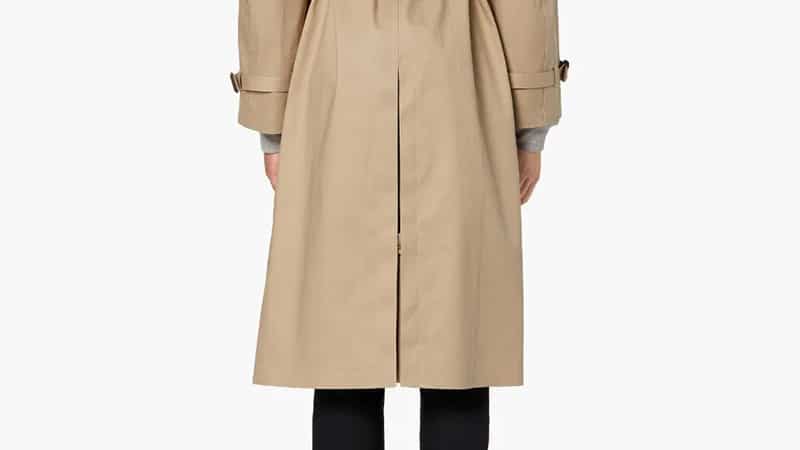 Raglan Sleeves
Raglan sleeves are less common in trench coats but do provide increased movement and flexibility through the upper arms and shoulders. The raglan sleeve extends in one piece from the arm up to the collar rather than attaching at the edge of the shoulder. While it does have benefits, it does give the end product a slightly more casual look and feel.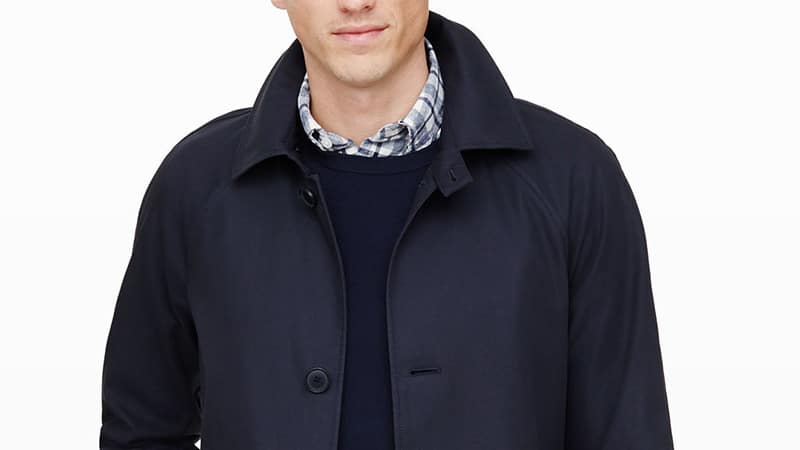 Epaulets (Shoulder Tabs)
In the military, epaulets are used to attach insignia that denotes an officer's rank without damaging the garment. During wartime, they were also used to attach equipment such as gas masks or gloves. However, in modern designs, they're purely for aesthetics, adding another element of detail and enhancing the militaristic feel of the coat.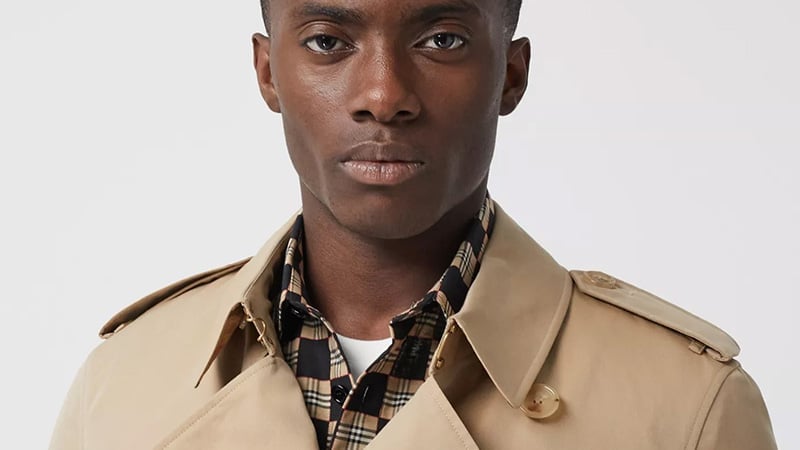 Storm (Gun) Flaps
The storm, or gun, flaps prevent water from running into the jacket when it's raining. The flap sits over the button join, creating a smooth area for the water to run off rather than in. Men's jackets feature this on the right-hand side, as that's how the coat buttons, while it's the opposite for women's coats. In terms of the gun part – some say that it acted as padding or held extra padding to soften the recoil of a rifle.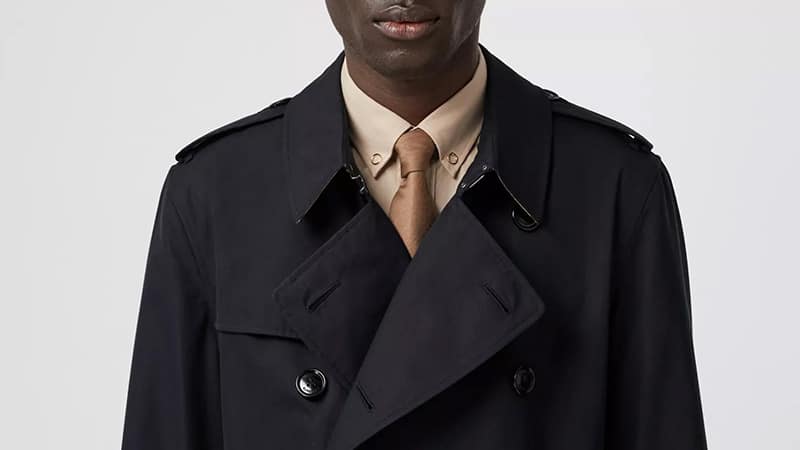 Detachable D-Ring Belt
A detachable D-ring belt serves a couple of purposes. The first is to adjust the fit of the waist and torso of the jacket, just like a regular belt. Then the second purpose lies with the D-rings that allow the wearer to attach extra gear such as a utility pouch, grenades, or firearm. Of course, in modern trench coats, it's more a legacy detail rather than a practical one.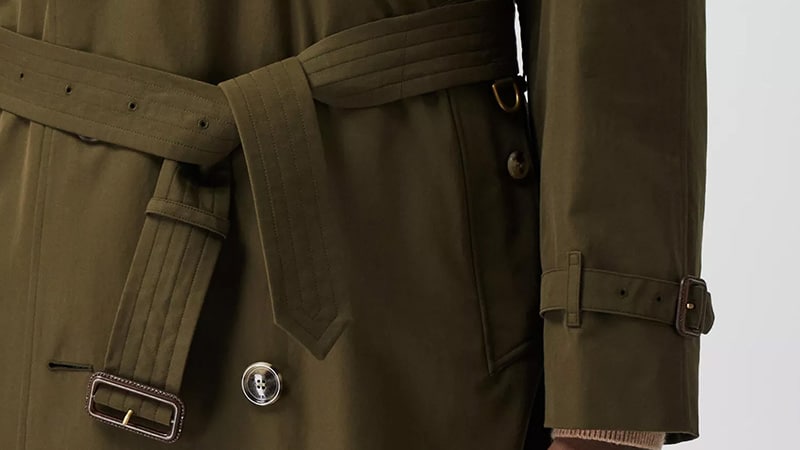 Cuff Straps
Another practical feature, cuff straps help keep the elements out. You can adjust them to sit tighter around your wrist to prevent rain or snow from getting in at the arms. This is particularly useful if you're doing a lot of lifting or hard labor.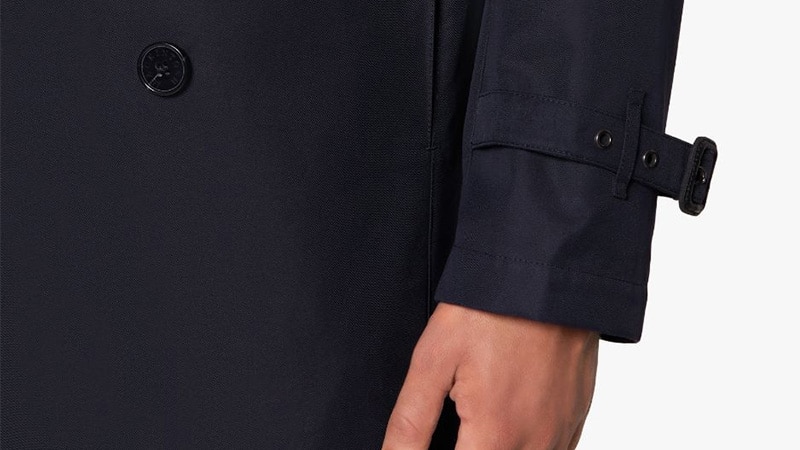 Burberry Trench Coat
Trench coat aficionados will tell you that Thomas Burberry invented the original trench coat (although it's probably best not to get into any conversation with somebody who introduces themselves as a 'trench coat aficionado'). He invented them as an alternative for French and British soldiers to the heavy serge coats they were wearing at the time. Originally only made available to Army officers, they grew in popularity when veterans returned and began wearing them as part of their everyday getup. This combined with the fact that the British Army ordered far too many, interest in the style piqued and the big surplus was made available to the public. Today, Burberry still makes the classic double-breasted style although they also sell a range of single-breasted coats.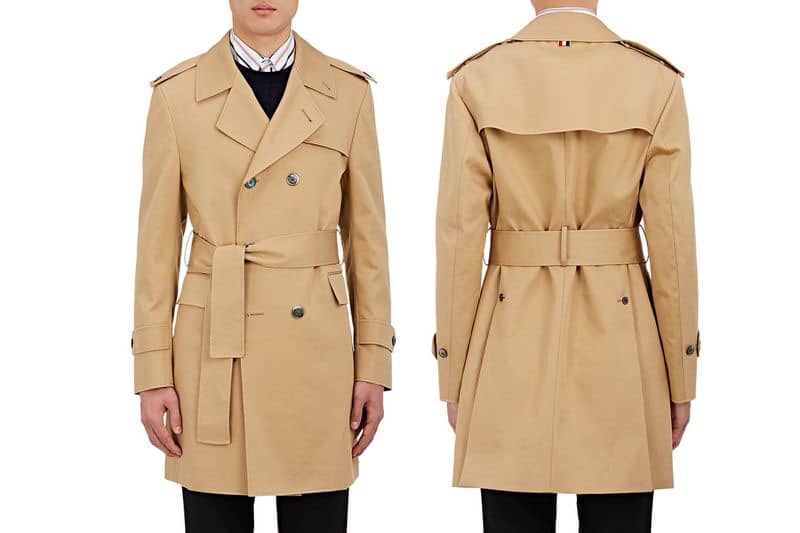 Double-Breasted Trench Coat
The heritage choice, a double-breasted coat with between six and ten buttons and wide lapels. Many double-breasted designs come with a waist belt which can make the coat appear a better fit. It is important to consider the fit of any trench coat you buy, especially if you plan on wearing the coat buttoned up and with fewer layers underneath. If you're someone who likes to wear lots of layers beneath a coat, a more relaxed fit could be a good choice. As with any coat, you may need to have adjustments made to ensure you're looking your best. The double-breasted design epitomizes a classic look while sending the message that the wearer is a little more elegant.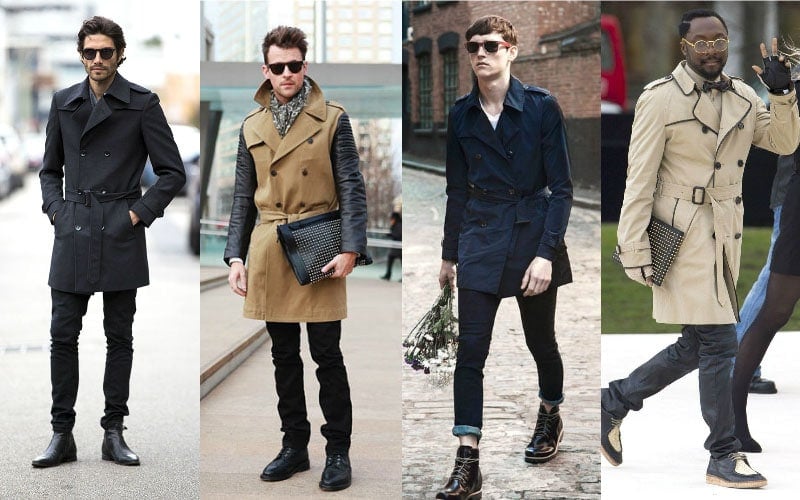 Casual Trench Coat
If you plan on having just one trench coat in your wardrobe's rotation, then choosing a versatile, classic look is a better option for both casual and formal looks. That being said, there are some trench coats that work well for a dressed-down style. Even when buying a casual trench coat, flexibility is still important; you may be wearing the coat with jeans one day and a tie the next. For a casual style look for a thigh-length trench coat in beige, stone, navy, or khaki. Single-breasted coats that are left unbuttoned will appear more laid back.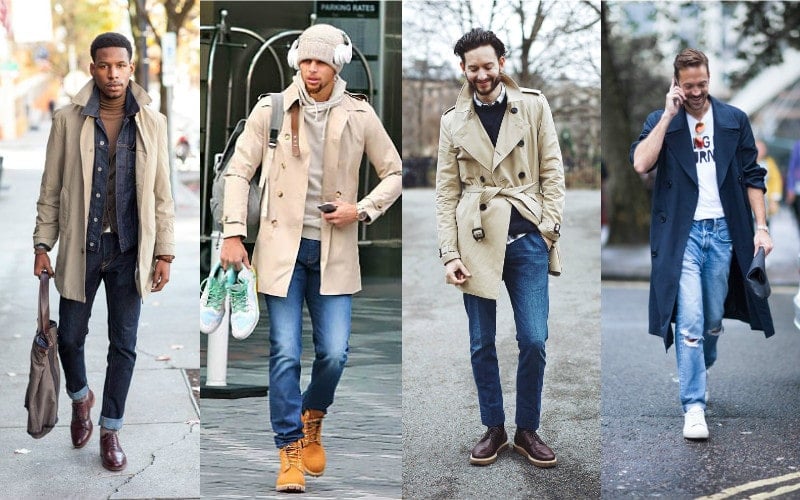 Office Trench Coat
An open trench coat is a terrific item of clothing to add to your winter office rotation. Able to walk the line between stylish and practical and complementary to a tie, suit, sweater vest or open shirt. Choose a more conservative style and color, with beige, tan and black the best choices for office wear. By choosing a design without the waist belt gives you more options when styling.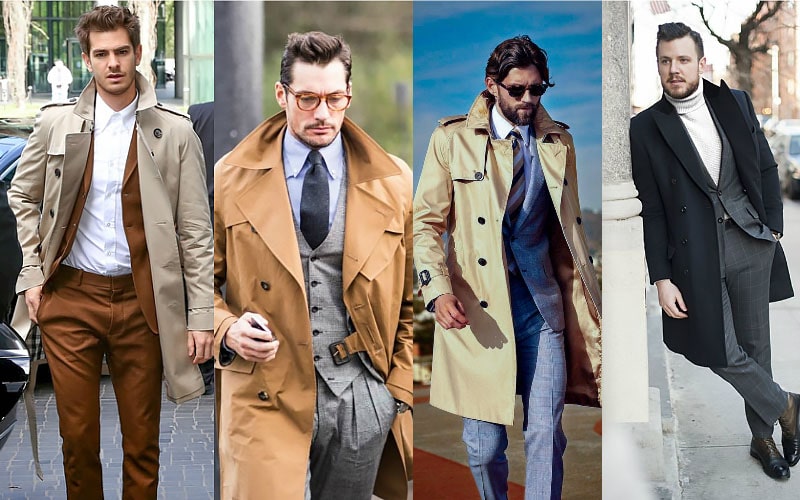 Military Green Trench Coat
Considering the trench coat's origins in the military, it makes sense that the coats were originally all khaki. The color was chosen so that soldiers would remain camouflaged amidst similarly colored landscapes. But if you're wanting to put a twist on the original khaki, while still giving a nod to its military roots, military green is a head-turner. The color is at once contemporary and classic in style and sympathetic to many of the neutral tones in your wardrobe.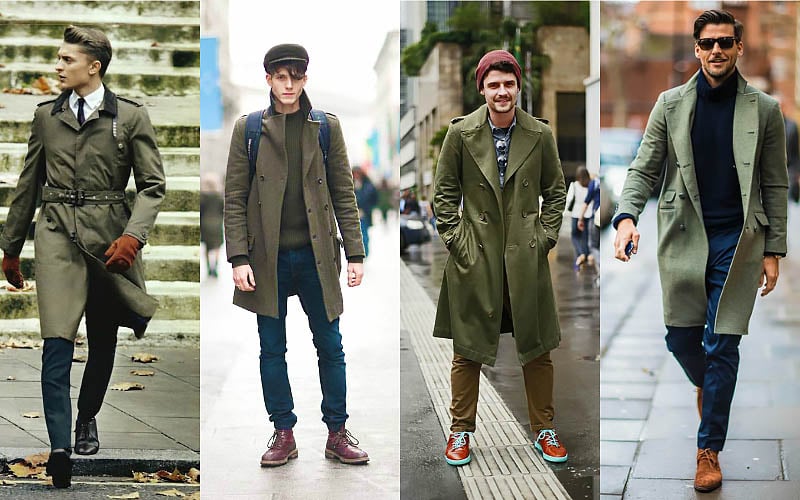 Cropped Trench Coat
While the classic style's length drops down to at least the knees, cropped versions of the trench coat are becoming increasingly popular. A cropped trench coat will fall just below the beltline, making something that's less cumbersome and a bit less of a statement. Having the coat cut off at around the thigh can make you appear taller while drawing more attention to the lower half of your body. Simplicity is the key with a shorter-length trench coat, avoid waist belts and too much detail. Keep in mind with any smaller coat, any embellishment looks bigger and more exaggerated. The shorter coat is a great autumn option, or for anytime when you're wearing fewer layers.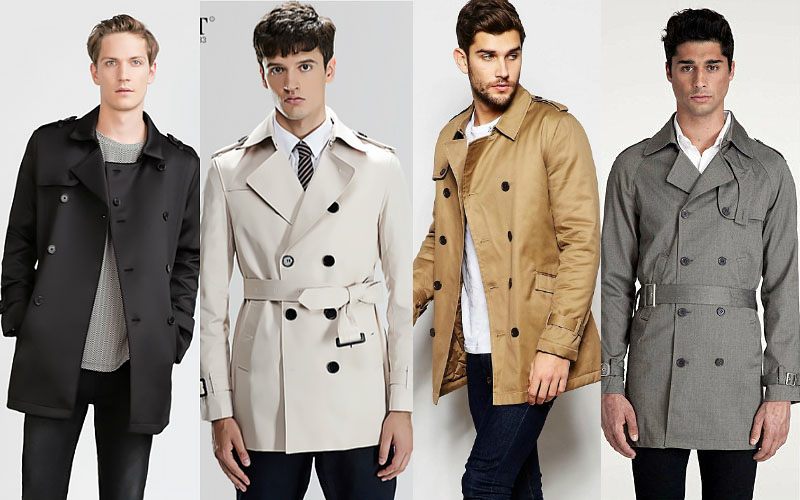 Bold Colour Trench Coat
At one point, the trench coat was available in a wide range of khaki options. Nowadays, you're afforded a little more choice, although most colors available sit at the conservative end of the pool. Think navy, grey, black and beige. Those sartorial mavericks out there might want a little more than these boring choices, and with eye-catching tones now gracing the racks, there is some excitement to be had. Obviously, choosing a trench coat in a bold color is not going to give you the kind of versatility you get from a more conservative option. Trench coats in bold colors become the focal point of your outfit, so pay close attention to how your colors coordinate and complement it.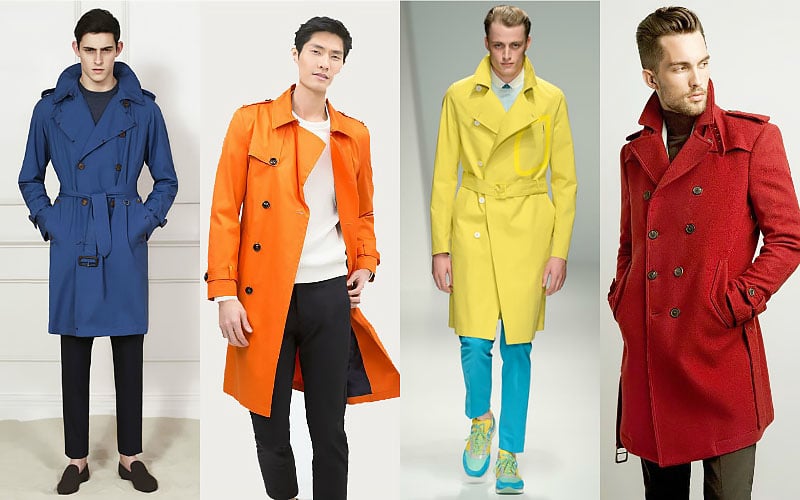 How Should a Trench Coat Fit?
Trench coats are designed to fit more loosely, as they're intended as outerwear to be worn over a suit, uniform, or another outfit. As such, it's essential to take (or wear) the clothes you'll wear your jacket with you when you shop to ensure a good fit. The sleeves of your trench should be long enough to completely cover the sleeves of your shirt without engulfing your hands. About an inch longer than your wrist joint is ideal. Finally, the most common and versatile length of trench coat sits around the knee. However, longer options that reach mid-calf or ankle are also available.
Short Men
Shorter gents are best to look at knee-length or above options. These will both elongate your legs and prevent you from feeling and looking swamped by too much fabric. However, choose a style that feels right for you.
Tall Men
On the flip side, tall men are better off choosing a below-knee design that won't add the illusion of extra length to your legs. Again though, you're the one wearing it, so pick what feels best for you.
FAQs
What is a Trench Coat?
A trench coat is a style of overcoat characterized by durable waterproof outers, often made from gabardine, poplin, or leather. Common and practical features include a double-breasted style, large lapels, a storm flap, vented back, adjustable wrist cuffs, and a belt. All are designed for practicality and to keep rain and snow out. It was a regularly used coat in the military during the early and mid-1900s and gained popularity in Hollywood during the 1940s.
What is the best trench coat brand?
Some of the best trench coat brands include Burberry, Mackintosh, and Zegna.
What is the difference between a trench coat and an overcoat?
An overcoat is designed to be worn over your regular street clothes as an extra layer of warmth. However, a trench coat, also a style of overcoat, is essentially a luxury raincoat. It's designed to be worn over your regular street clothes to keep the rain and snow out, letting you stay dry. They're stylish, formal, lightweight, and easy to wear, without feeling bulky and stiff like regular raincoats. Many can also come with a detachable, warm lining for those extra cold, wet days.
What is the best color for a trench coat?
The best color for a trench coat is a neutral such as black, beige, or navy. These options fit easily into any existing wardrobe and look effortlessly stylish.
When should you wear a trench coat?
Trench coats are excellent for the transitional seasons of spring and fall in that they provide enough warmth and protection without needing extra layers. However, they're also great in the winter, when it is snowing or drizzling, keeping the wet from soaking in. You can layer them over other sweaters or shirts for extra warmth or invest in one that has a removable insulating layer.
Are trench coats still in style?
Trench coats are such a classic wardrobe staple that they never really go out of style. Choose one in a neutral shade such as black or beige for the most timeless investment.
SUBSCRIBE TO OUR NEWSLETTER
Subscribe to our mailing list and get interesting stuff and updates to your email inbox.