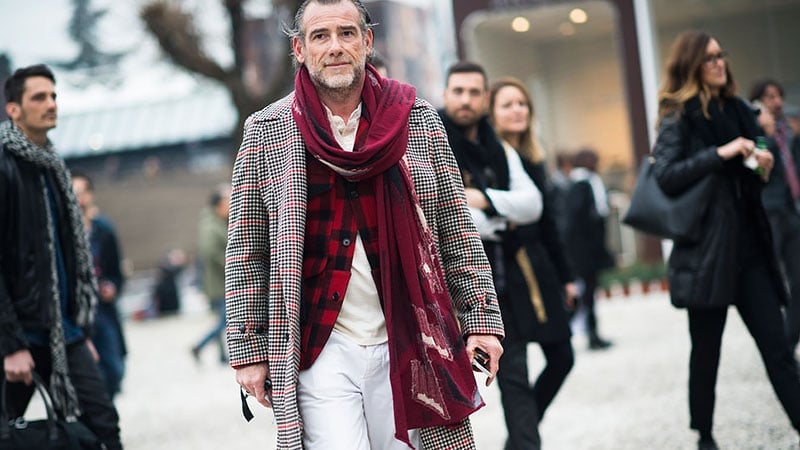 A scarf is an ideal defense for a gentleman looking to fight off the cold. Not only will it protect you from the cool wind and icy air, but it promises to make you look good while doing so. All you need is the right scarf and the right knot and you'll be both dapper and toasty warm in no time. So, if you must slug out those long winter months, why not look good while doing it? Here's how to look stylish and suave with your scarf this chilly season.
RELATED: The Best Winter Scarves for Men
How to Wear a Scarf
Drape
Although the Drape is quite possibly the simplest way to wear a scarf, it also carries a great deal of style. Formal and sleek with an edge of nonchalance, the Drape allows your scarf to become a great accent piece, upgrading the rest of your outfit with it. Despite not keeping you all that warm, this scarf style is a useful and versatile option to keep in your arsenal. A perfect addition to business and semi-formal looks, the Drape can be worn over or undercoats, blazers, and jackets. As you may want to wear it on the outside, be sure to choose a medium or long-length scarf to stop it from blowing off your shoulders. Also be sure, however, to choose a style that isn't too thick to fit under your lapel when needed.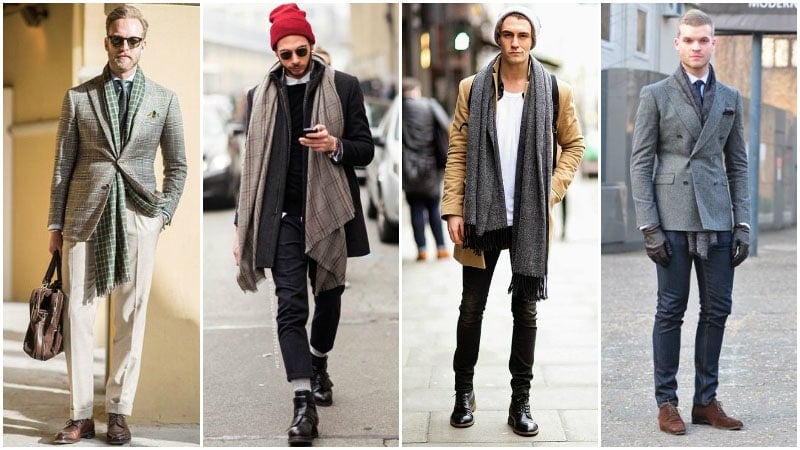 How to Wear the Drape
Once/Twice Around
Both the Once and Twice Around offers a great balance between polished and relaxed styles. Looking superb with anything from a winter coat to a tee and cardigan, these two ways to wear a scarf can quickly and easily up the fashionability of any outfit. Although the style can be prone to unraveling, it is effective at keeping your neck warm during cold weather. If one end starts to become longer than the other, don't stress. This style looks just as great messy as it does neat and tidy. Just remember to choose a medium length and weight scarf for the Once Around and a longer and slightly thinner style for the Twice Around.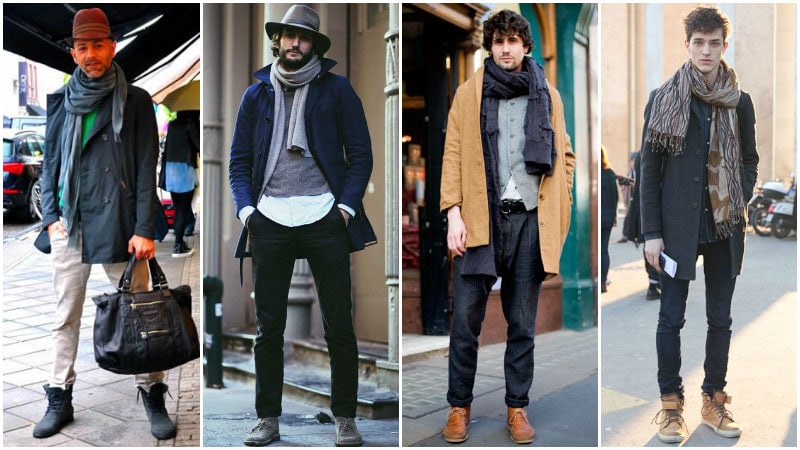 How to Wear the Once/Twice Around
Over Hand/Wrap Around
The Over Hand and the Wrap Around are two more formal ways to wear a scarf. Also known as an Ascot and a Double Ascot, these two knots are perfect to wear tucked into a blazer. Both functional and stylish, they'll each provide you with some warmth and a whole lot of sophistication. While both the Over Hand and the Wrap Around look good with subdued patterned designs, the former will call for a medium length scarf while the latter requires a long length. Also, be aware that by choosing a thinner scarf you can instantly transform this look from polished to bohemian.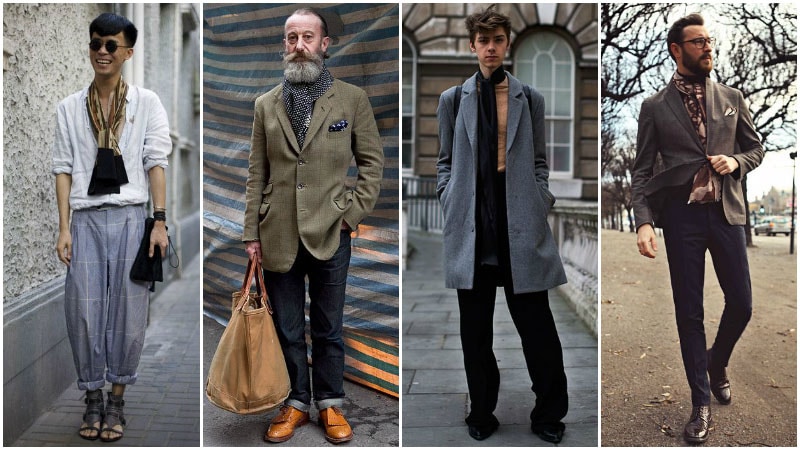 How to Wear the Over Hand/Wrap Around
Parisian/French/European Knot Scarf
Despite having different names, the Parisian, French, and European knots are all the same when it comes to tying a scarf. Perfect for a night out, this easy knot is adept at providing essential warmth while looking stylish. Appropriately masculine and polished, the Parisian knot is ideal for turning casual outfits into well put together looks. To pull off this look, however, you will need a seriously long scarf as a medium length just won't cut it. Also, be sure to choose a scarf that isn't too thick or bulky. As you will be doubling up the fabric, a thick scarf can quickly make your look appear disproportionate when wrapped around your neck.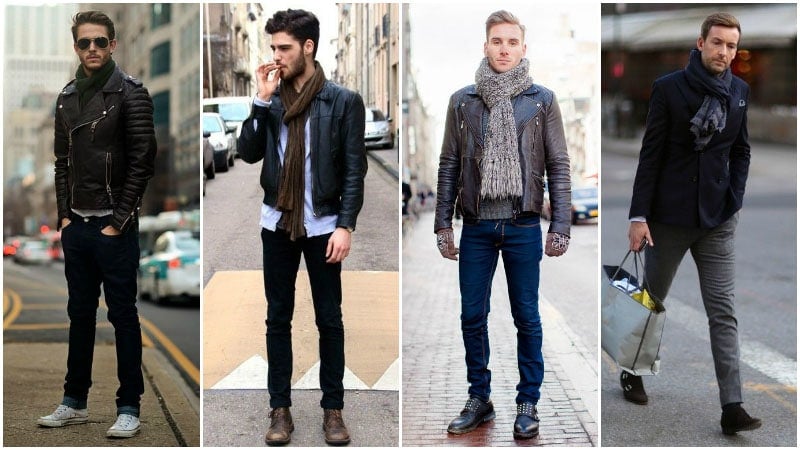 How to Wear the Parisian/French/European Knot
Fake Knot
The Fake Knot is a handy technique for when you want to make a statement without looking too done up. Not too difficult to create, the look is perfect to pull out every weekend in autumn and spring. It won't keep you all that warm, but it will stay in place and keep you looking suave. Wearing this knot is also the perfect opportunity to try out daring patterned and silk scarves. While these scarves may look over the top with Once Around and Parisian Knot styles, they'll look perfect slung around your neck with a fake knot. If it's a bit cold, however, you can also opt for slightly bulkier options such as cashmere or lightweight wool scarves. Just remember, though, the bulkier the fabric, the longer you will need your scarf to be.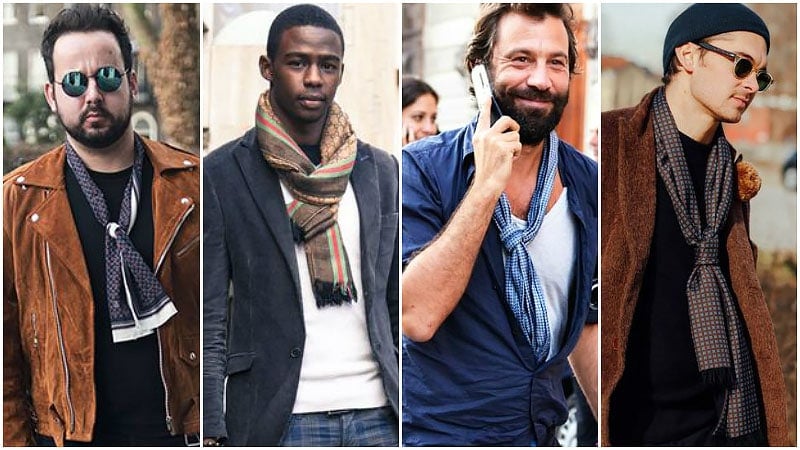 How to Wear the Fake Knot
FAQs
How do you properly wear a scarf?
The great thing about scarves is they are actually an incredibly practical and versatile accessory, and there are multiple ways to wear them. A few of the most popular options include draping the scarf around your neck, which becomes a great accent piece, or using the Once and Twice Around method, which adds warmth to your neck but is also very relaxed and creates a laid-back aesthetic. If you prefer a more formal way to wear a scarf, you can try The Over Hand and the Wrap Around methods, which look stylish but are also functional. There is also the fake knot, which uses the scarf to create a suave look. It won't keep you warm, but it will look great!
How do you tie a neck scarf?
Neck scarves are one of the chicest accessories you can try out and have a very European feel about them. To tie them, you first want to fold the material diagonally to create a triangle. When you tie the knot, you can make it to the side or in front.
Are scarves out of style?
Scarves remain one of the most popular fashion accessories you can own. They are a timeless and classic piece that has the ability to update your outfit while also keeping you warm. There are so many different styles, textures, and colors to choose from that owning a scarf is never boring, and it will mix and match well with various outfits.
What is a small neck scarf called?
A small neck scarf can also be referred to as a neckerchief or a bandana. These scarves are usually little and square in shape and are made from high-quality natural fabric such as silk or sometimes cotton. They come in various colors and patterns and can be worn by both men and women for a stylish appearance. They are a fantastic addition to almost any outfit and create a very polished look.
Should your hat match your scarf?
If you want to coordinate your look, one of the easiest ways to do so is to match your hat and scarf. This creates a uniform appearance, and it is also more versatile. There is nothing wrong with matching items!
SUBSCRIBE TO OUR NEWSLETTER
Subscribe to our mailing list and get interesting stuff and updates to your email inbox.