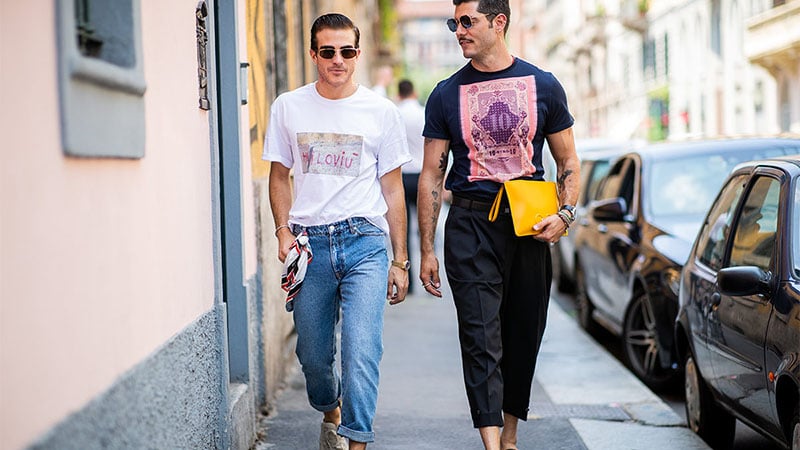 The humble T-shirt is perhaps the most important staple in any man's wardrobe. Simple, stylish, and iconic, you would be hard-pressed to find a wardrobe without one. The quintessential item has stood the test of time, and for good reason. The incredibly versatile piece can be worn as a base layer for many great outfits, or as a statement on its own. But with so much heavy lifting to do, it is crucial to have a selection of good quality tees in a range of different cuts and styles. Here are the essential T-shirts styles every man should own; because every great wardrobe starts with a solid foundation.
RELATED: How to Wear a White T-Shirt With Style
1. Plain T-Shirt
The most essential T-shirt to have in your repertoire is a plain T-shirt. Although simple, you'd be foolish to underestimate its ability to elevate any outfit; think James Dean in a plain white tee. Originating as an undergarment for military men, and still regularly featuring on runways across the world, the plain T-shirt has transcended all styles and seasons. Whether dressed up with a suit jacket or worn simply with jeans, the plain tee is practically impossible to get wrong.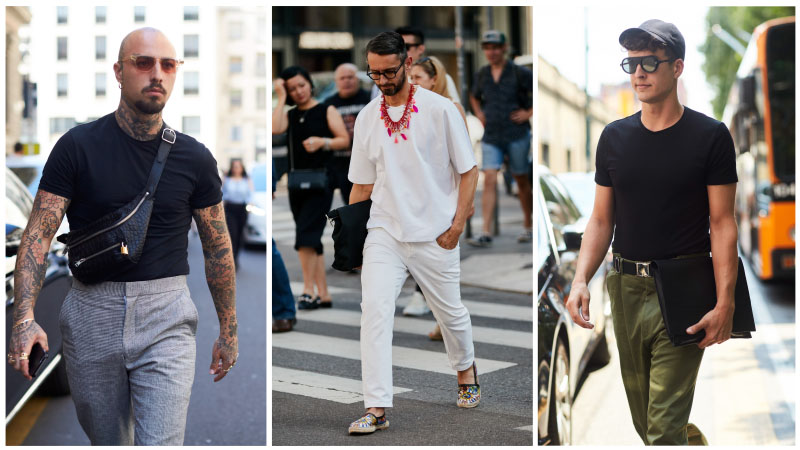 2. Henley T-Shirt
A mix between a basic T-shirt and a polo, a henley tee is a great way to subtly upgrade your look. The addition of buttons but no collar adds a touch of class to your look while still keeping things relaxed. Available in both long and short sleeve, and a wide variety of fabrics, you will be utilizing this style all year round. Pro tip: if you've been hitting the gym, this is the perfect tighter-fitting style to show off those results.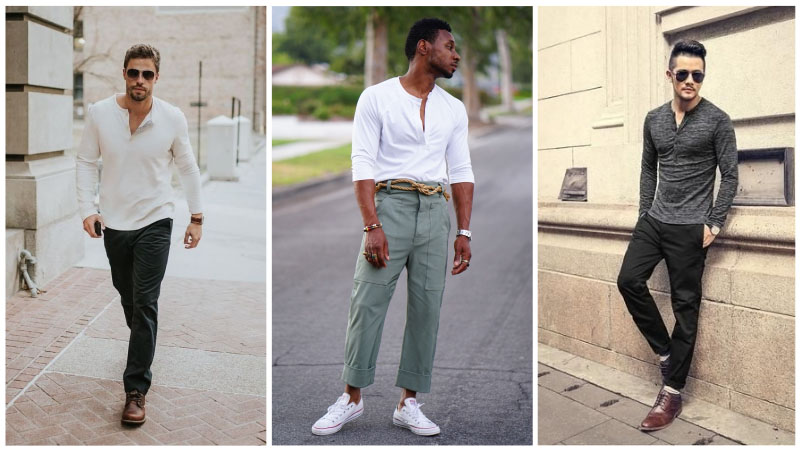 3. Long Sleeve T-Shirt
A long-sleeve T-shirt is a must-have due to its versatility. Wear it as a base layer on extra chilly days or on its own during those transition months. Pair it with jeans or chinos for a casual everyday look, or add a French tuck for elevated style. Oversized or fitted, neutral, striped or printed – the opportunities are endless so play to your style strengths when choosing a long sleeve tee.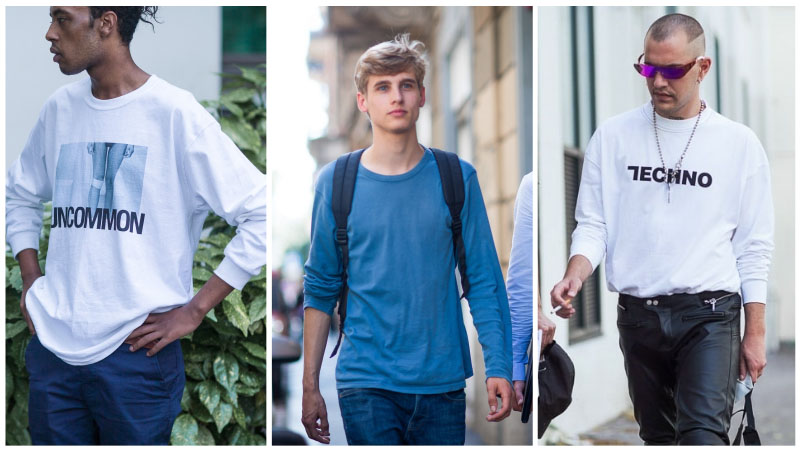 4. Printed T-Shirt
A printed T-shirt is an effective way to make a statement. Whether supporting your favorite label or band, making a political statement or as a form of self-expression – the printed T-shirt can be as loud or as subtle as you desire. They can also be an easy way to add a pop of color to your outfit and draw eyes in your direction. So whatever it is you want to express, say it with a printed tee.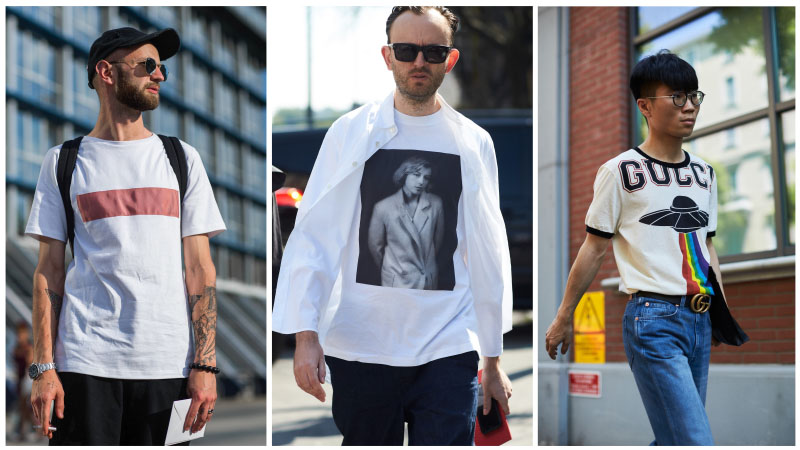 5. Striped T-shirt
The striped tee, originating as a uniform in the French navy, will forever be très chic. If printed tees are a little too loud for your taste, a striped T-shirt is an excellent alternative to tastefully brighten up an outfit. For a classic look, go for a simple Breton stripe in navy, black, or red. Thicker lines and complementary colors will make for a bolder statement. Add a long and short sleeve variation to your wardrobe to enjoy this style all year round.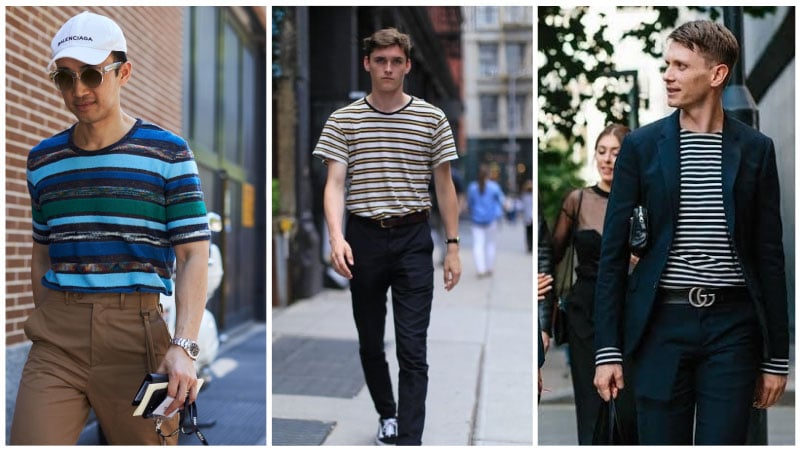 FAQs
What are the different types of T-shirt styles?
There are many different T-shirt styles, classified by the shape of the neckline – v-neck, crew neck, polo, and henley – the fit, the sleeve length, and the design, such as printed or Breton striped.
How many T-shirts should a man have?
The number of T-shirts you own depends on how frequently you wear them. As a general rule, 7 to 10 T-shirts will give you a range of options and versatile basics, without overcrowding your closet.
Which brand has the best T-shirts?
There are high-quality basic T-shirts available from many different brands, at every price-point. Everlane is known for making high-quality, ethically-produced T-shirts – and other clothing – that doesn't break the bank. Meanwhile, J.Crew's mid-priced T-shirts are often touted as the best, while designer James Perse's T-shirts are all about simple luxury.
SUBSCRIBE TO OUR NEWSLETTER
Subscribe to our mailing list and get interesting stuff and updates to your email inbox.