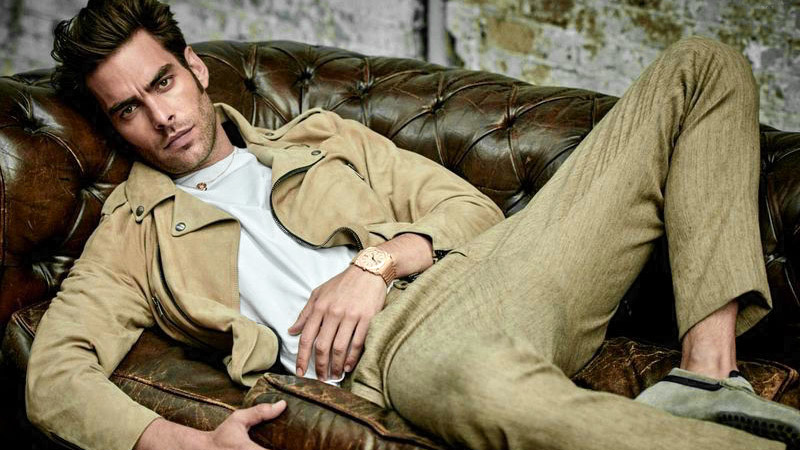 The humble white T-shirt can go a long way, no matter the season of the year or your personal style. From a casual setting to something a bit more formal, you can mix and match this staple piece to compliment any event. Whether you prefer ripped jeans or a double-breasted suit, here are the most stylish ways to rock a white T-Shirt this season.
RELATED: 5 Best T-Shirt Styles Every Man Should Own
What to Wear With a White T-shirt
Printed White T-shirt and Overcoat
You can't go wrong with a classic T-shirt and an overcoat. Perfect for the in-between seasons, this ensemble offers a timeless aesthetic with an unexpected twist. Pair this with jeans or trousers, sunglasses, and you're set. No matter the color of the outer layer, you'll be the most stylish man in the room.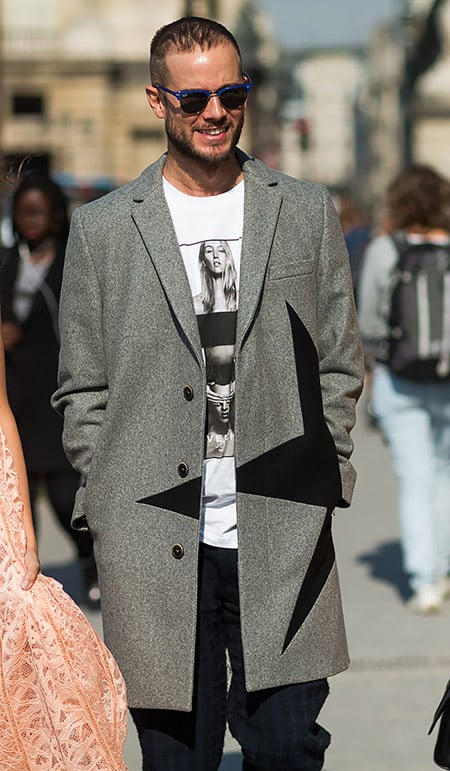 White T-shirt and Vest
Unleash your inner rockstar with a white T-shirt and a vest. Whether it's denim, dark, or something colorful, these are a great way to freshen up an outfit without wearing too much. Opt for a style with buttons made of cashmere or wool, and you're going to look like a million dollars everywhere you go!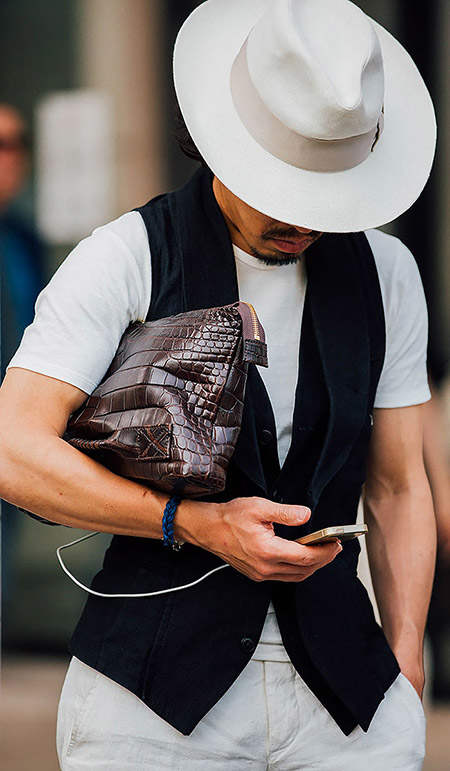 White T-shirt and Baggy Jeans
Keep it casual and fresh in a pair of baggy jeans and a clean white tee. Whether you roll the bottoms up or you let them hang loose, this ensemble is an excellent option for every day. Pair the two with a blazer or an overshirt, and you'll be ready for any event throughout the year.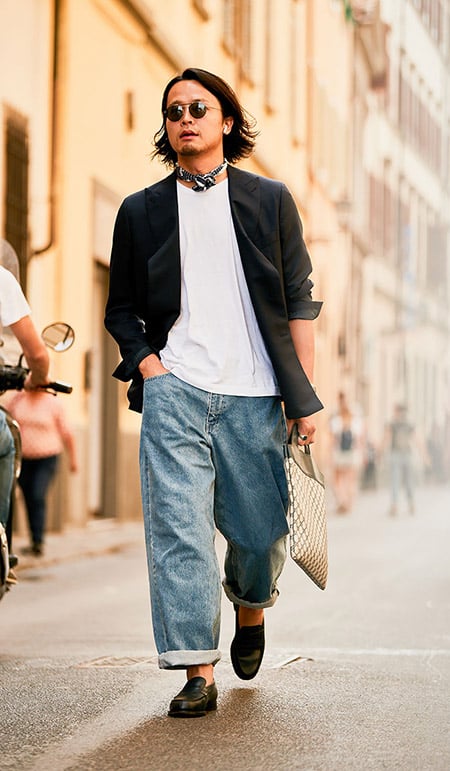 White T-shirt and Black Denim Jeans
Switch things from day to night with ease in a pair of black jeans and a white T-shirt. Unlike blue denim, these pants are easy to flatter a range of events and look great with any layers. Choose from something skinny to loose or cropped, and watch as the compliments fly in!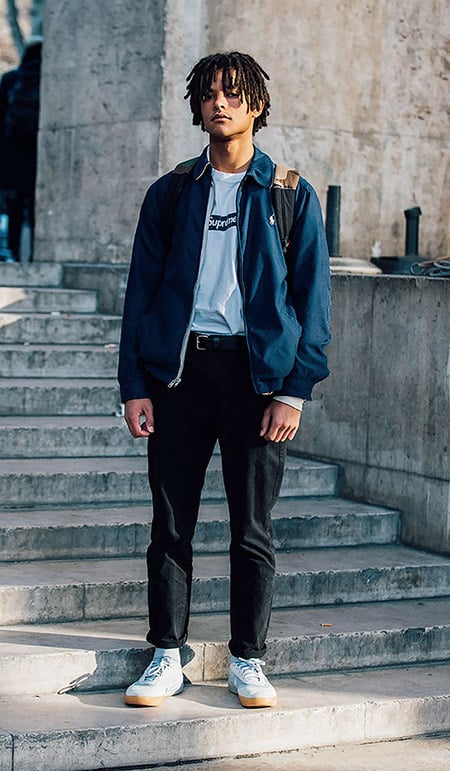 White T-shirt and Black Trousers
For the events where jeans just won't cut it, why not pair a plain T-shirt with some black trousers? Combine the casual appeal of the shirt with the classic suit pants, and you can style the rest to suit the occasion. From a smart casual event to a catch up with friends at a bar, you can't really go wrong in this stylish ensemble!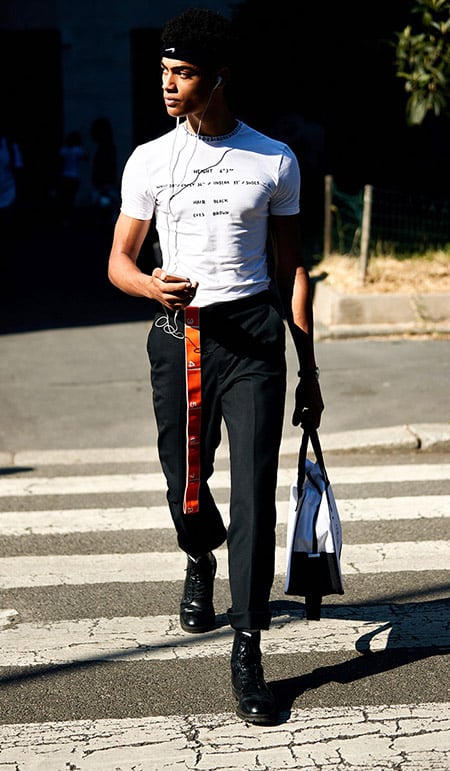 White T-shirt and Cargo Pants
Although these bottoms can sometimes be considered a faux-pas, cargo pants and a white T-shirt are an easy pairing that can look fantastic on anyone. Whether you opt for the classic shade, wear something neon or stick to darker colors, you can easily create a simple, yet stylish outfit.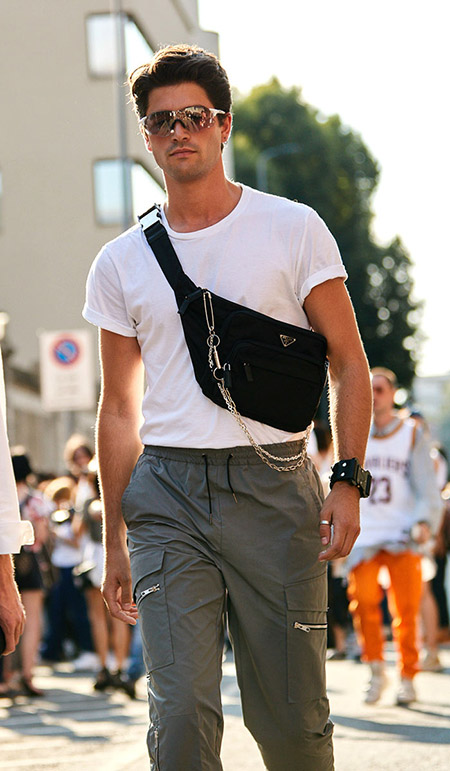 White T-shirt and Cropped Jeans
Show off your ankles with cropped jeans and a white T-shirt. The denim looks great paired with white trainers, boat shoes, or loafers. This look can also be styled with a blazer or leather jacket.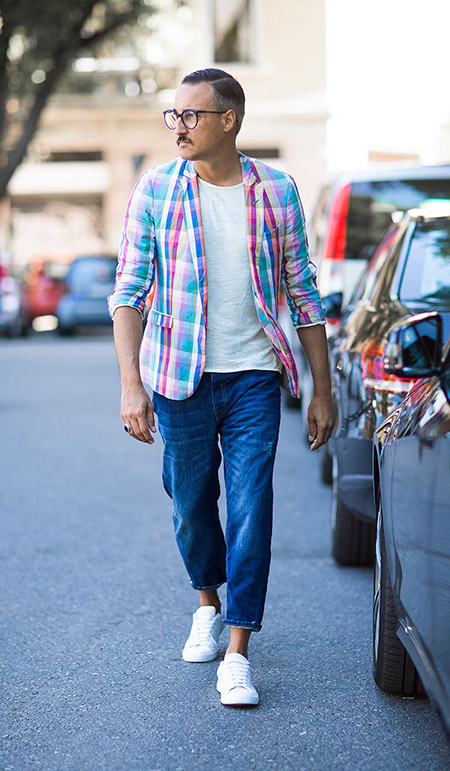 White T-shirt and Double Breasted Suit
Combine a formal design with a laid-back edge in a double-breasted suit and white T-shirt. The contrast of the two styles creates a stylish outfit that can flatter a massive range of occasions. This minimalistic aesthetic works great in smart casual events or if you're headed to a business casual function. For warmer months, light shades of cream or stone look the best. It's an easy way to dress up or down in any place and looks great on everyone.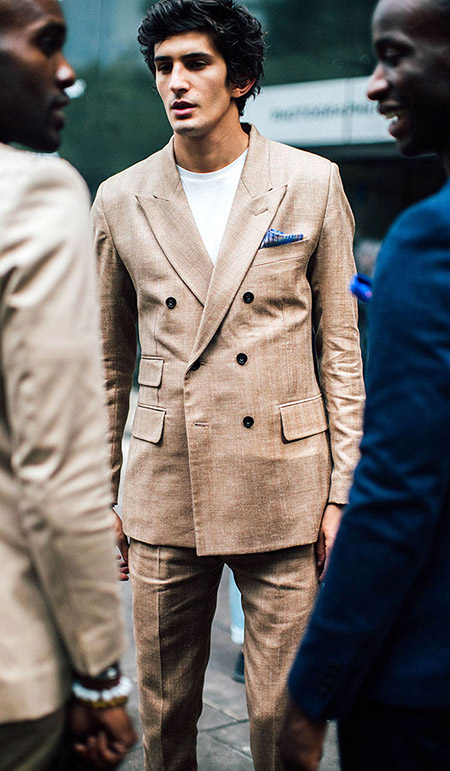 White T-shirt and High Waisted Trousers
Make your legs look a mile long in a pair of high waisted trousers. The increased fly space will elongate your bottom half and keep you feeling like the most stylish guy in the room. For business casual events, opt for a pair in a dark shade with a white T-shirt and a blazer.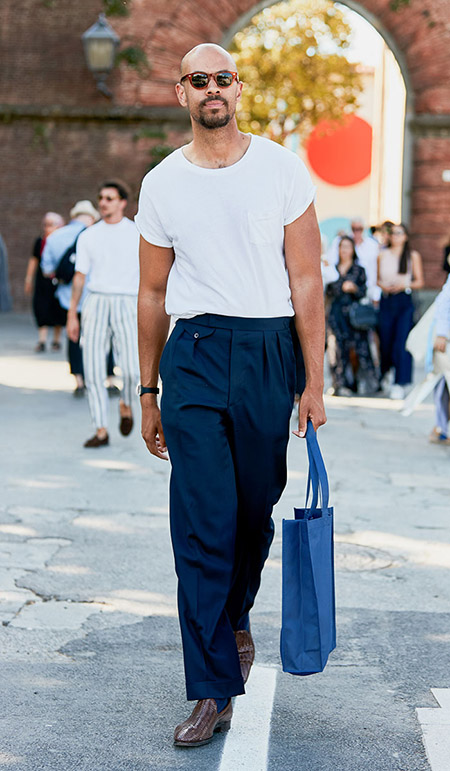 White T-shirt and Layering
Experiment with your style by adding some layering into the mix. You can't go wrong with a white T-shirt, so why not mix things up a bit. A patterned shirt with jeans and a leather jacket creates a retro feel to any outfit. Whatever you choose, let your creativity shine through!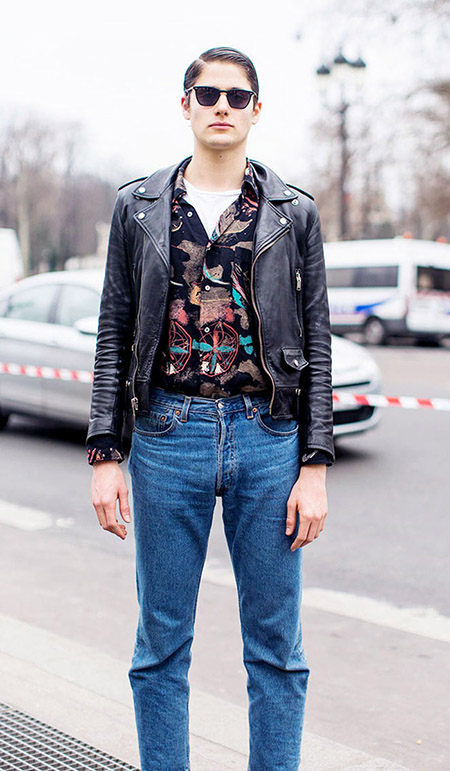 White T-shirt and Overalls
Overalls aren't just for painters, they look great at any casual outing. When paired with a plain white T-shirt, a bandana, and some cool sunglasses you can easily create a badass and laidback aesthetic. This is best suited for the warmer months, and don't have to be worn super tight to the body – the looser, the better!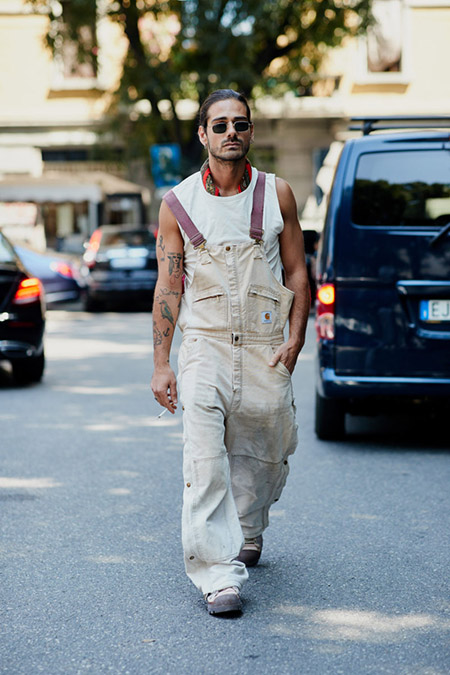 White T-shirt and Overcoat
Create the perfect outfit for transitional weather in a white T-shirt and an overcoat. If you're heading to work or you need something that matches a myriad of clothes, opt for a darker colored coat, such as navy, dar grey, bottle green, or black. Fabrics such as wool and cashmere will keep you warm without the need to layer.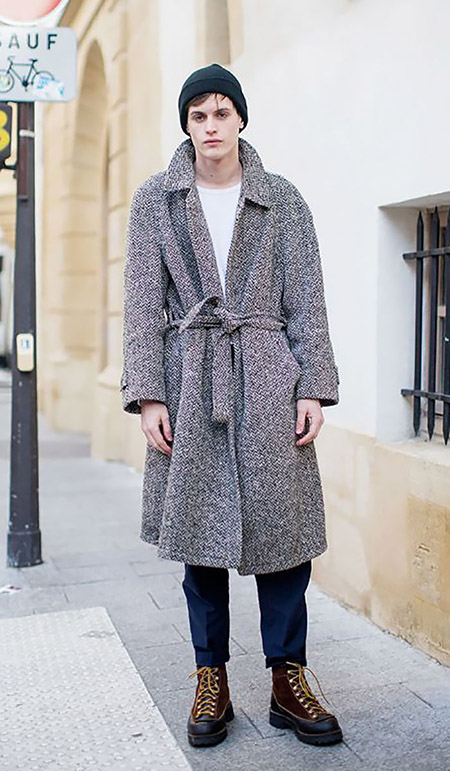 White T-shirt and Scarf
When the mercury drops, and it's time to rug up, why not consider a T-shirt and scarf? From small and thin styles to something chunky and funky, there are so many ways you can rock this look. Use this accessory as a way to spice up or complete an outfit.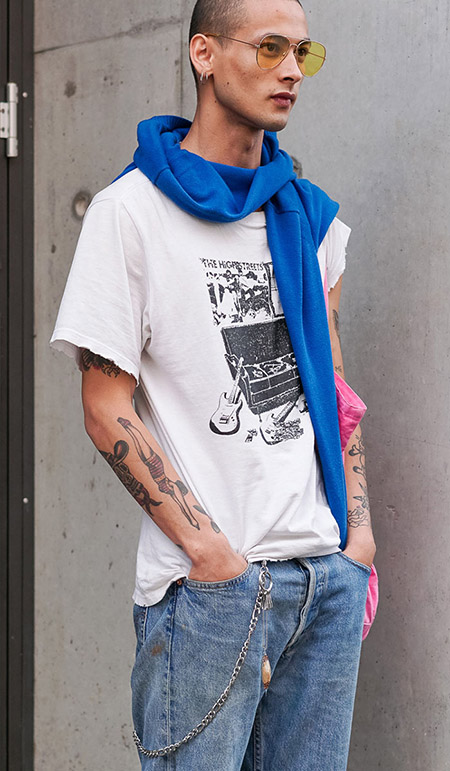 White T-shirt and Stripes
Attract attention everywhere you go in a set of stripes. From a pinstriped suit to Beetlejuice-esque lines, there are many ways you can style it with a white T-shirt. Choose from a number of shades for different feels; blue creates a nautical aesthetic, whereas cream lines look perfect at a summer house party.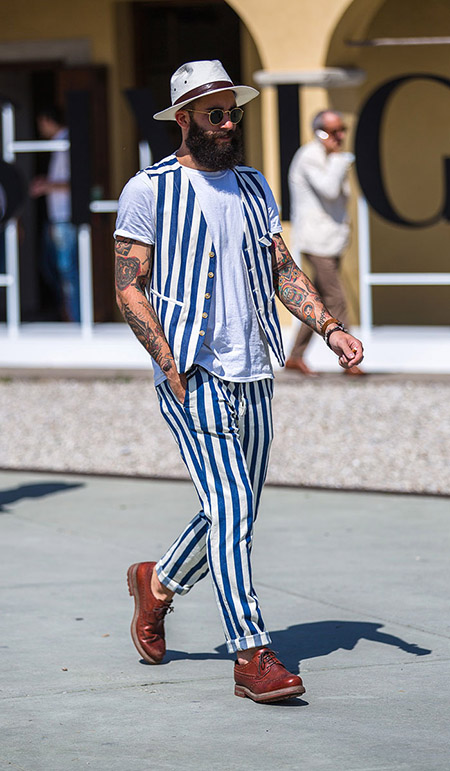 White T-shirt and Suit
If you're heading out after a day at the office, swap out your collared shirt for something more casual, like a white tee. This outfit looks fantastic with any ensemble, but it's best if you keep the T-shirt plain. Unbutton the blazer and wear some hot sunglasses for a seriously cool smart casual look.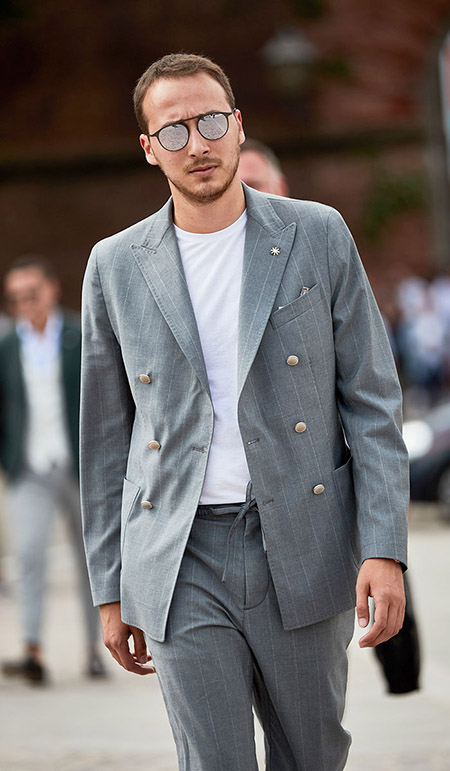 White T-shirt and White Blazer
Unleash your inner nautical style with a white T-shirt and a matching white blazer. The clean and crisp finish will brighten up any room you walk into, and looks fantastic in a myriad of events. Pair this ensemble with blue denim and white sneakers, or rock it with shorts and boat shoes to amplify the maritime aesthetic.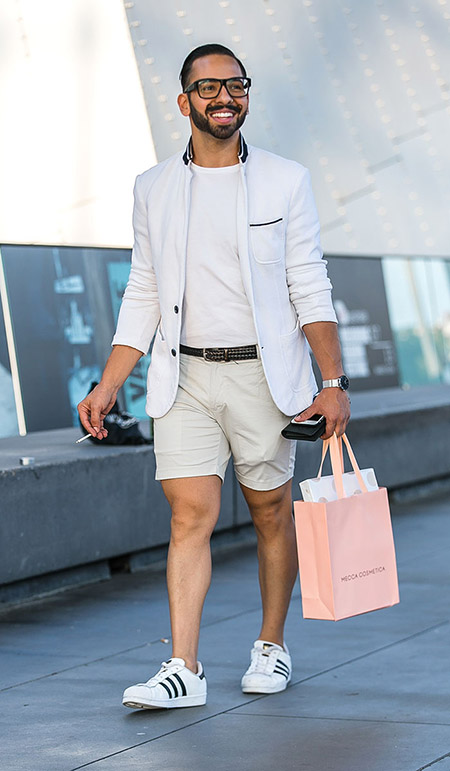 White T-shirt and White Jeans
Create a solid and stylish outfit foundation with a pair of white jeans and T-shirt. This ensemble is easy to style with anything and looks fantastic on men of any age. Rock it with a blazer, boat shoes, and accessories in hot weather, or stay warm and toasty with a camel overcoat and desert boots. No matter how you choose to wear this, you'll be the freshest guy in the room.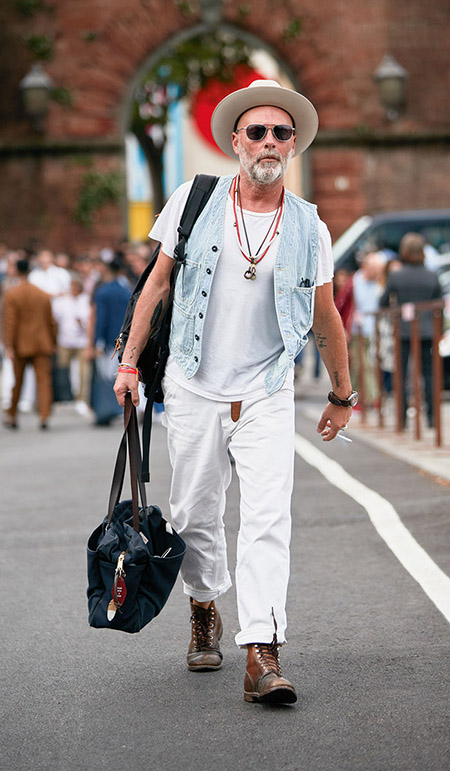 White T-shirt and White Suit
Feel white-hot in this stylish white suit and tee combo. The pale shades are a perfect way to grab attention for all the right reasons. This ensemble is the ideal opportunity to wear colorful accessories, such as a bright scarf, funky socks, or a bold hat. This outfit looks best in smart casual settings but can be dressed up or down easily. If you're ready to stand out, why not give this amazing look a try?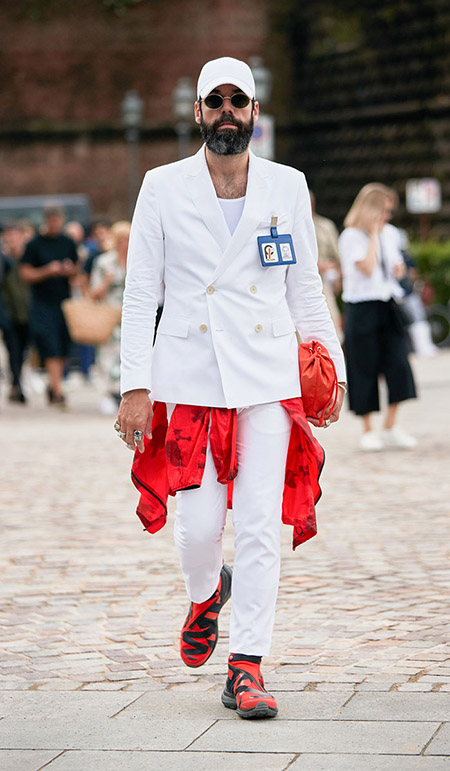 White T-shirt and Tracksuit
For the days where comfort is king, turn to a stylish tracksuit and white tee combo. Whether it's something designer or a mix and match of simple pieces, the ensemble will amplify your style. There's a fine line between a cool aesthetic and looking lazy, so complete the outfit with fresh kicks.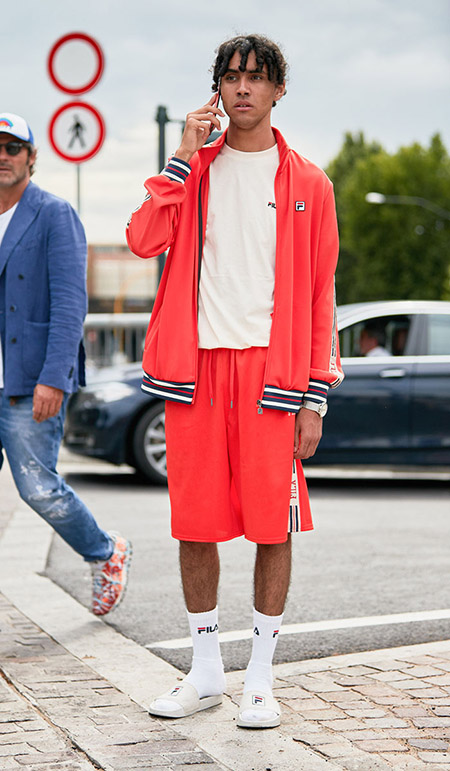 White T-shirt Tucked Into Jeans
Put a zesty twist on a polished outfit by tucking your white T-shirt into jeans. The classic combination looks complete with a leather jacket, an overcoat or just a bold belt buckle. No matter how you dress it, the best thing you can wear is confidence.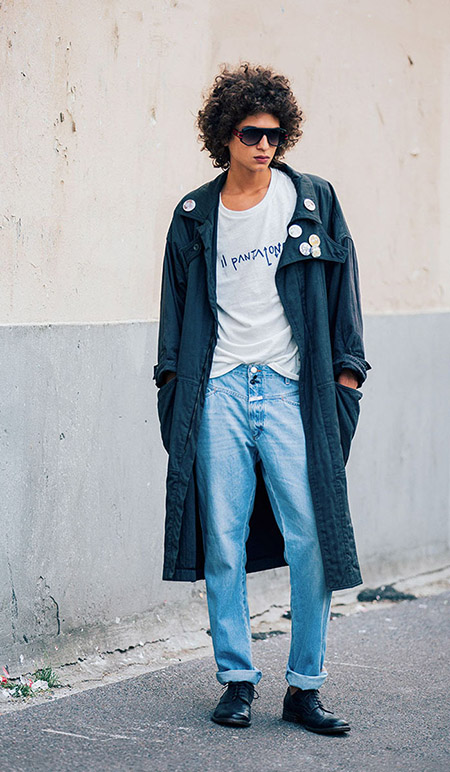 White Tee and Denim Jacket
You can't get more classic than a denim jacket and a white tee. The timeless combination looks great on everyone, and be dressed up or down. Opt for a printed tee, shorts, and trainers for a laidback look, or navy chinos, plain tee, and dress shoes for a smart casual feel. No matter the way you wear it or in which season, you're going to look like you own it.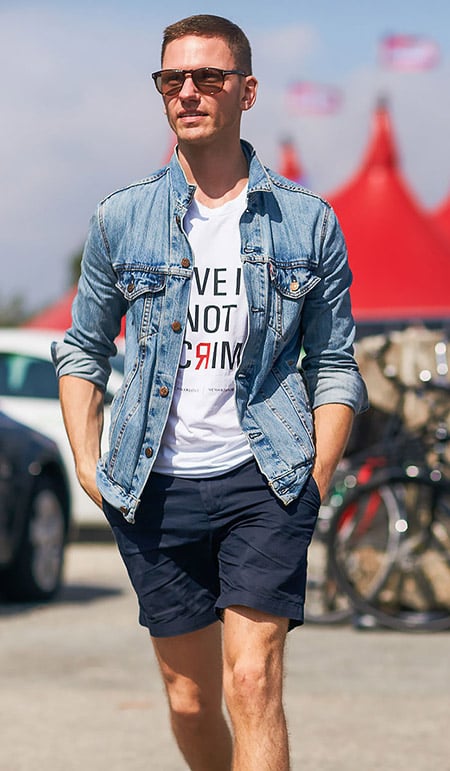 How to Wear a White T-Shirt
Don't be afraid to experiment. A white T-shirt gives you the perfect canvas to try something new
Clean a white T-shirt with other whites to avoid color run.
Layer bold patterns and shades with a white T-shirt to make the outfit pop
Look fresh by pairing a white T-shirt with other pale shades. This looks best in the warmer months.
A classic crew neck should be your go-to basic T-shirt.
FAQs
What are the best white T-shirts?
The white T-shirts that look best on the majority of guys are have a straight cut, slim-fit, and crew neck. Look for a cotton blend like Supima, which is incredibly comfortable, and 'slub', which means the T-shirt will have a soft, slightly worn-in texture.
Is it OK to wear a plain white T-shirt?
A plain white T-shirt is a wardrobe staple for a reason. Not only is it a great basic for everyday casual wear, it is also a versatile layering piece that goes with virtually every type of jacket and pant.
What jeans go with a white shirt?
The beauty of a white shirt is that is goes with almost everything – including jeans. From washed-out Levi's to indigo Selvedge denim and black stovepipes, a white T-shirt ties it all together.
What do you wear with a white shirt?
While some consider a white shirt to be boring, think of it more as a canvas for the rest of your outfit. You can layer it under a summer suit for a casual business meeting or after-work drink, pair it with black trousers, boots, and a bomber jacket for an edgier look, or throw it on over jeans for an effortless and laidback result.
SUBSCRIBE TO OUR NEWSLETTER
Subscribe to our mailing list and get interesting stuff and updates to your email inbox.