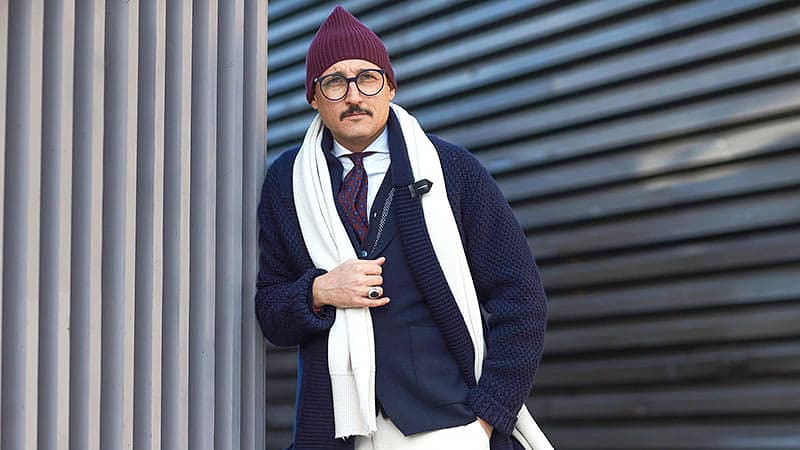 Although there are numerous hat types, none are quite like the beanie. This simple yet stylish accessory is the ultimate winter staple and a must-have item for every gent, no matter what his style. Both functional and fashionable, a beanie can keep your head warm, hide messy hair, and add a cool and casual touch to your outfit all at the same time. While they may seem like a "throw on and go" type of item, beanies require a little effort to get right. As there are so many different styles now available, it can be tricky choosing which one to wear and with what to pair it. Luckily, you now have this go-to guide on how to wear a beanie to help you through all your buying and wearing decisions.
What is a Beanie?
A beanie is a soft and flexible type of brimless hat. The style is typically knitted and designed to help keep its wearer warm during winter and cold weather. Although a beanie is usually worn as a functional item, it is a versatile accessory and can also make a stylish addition to outfits. A beanie's unique and casual look imparts a relaxed edge to outfits that other hats cannot. Today, there are countless different beanie styles available, making the hat perfect for a range of different looks. From long and loose to short and fitted, beanies come in a great variety of sizes, shapes, and materials, each with unique benefits.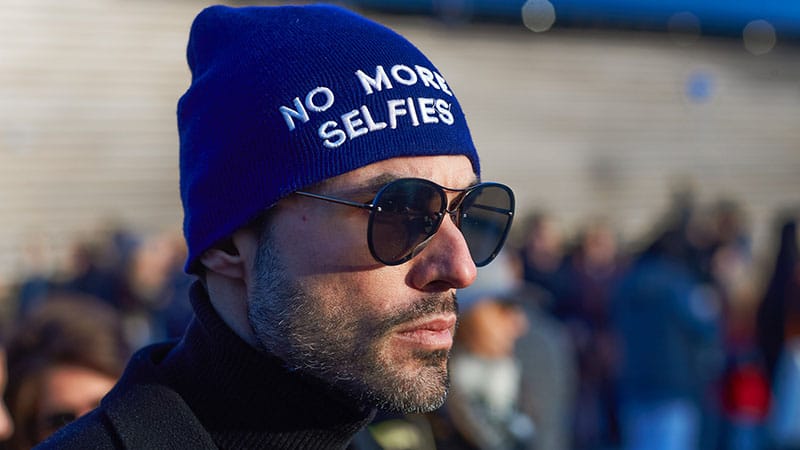 How to Wear a Beanie with Short Hair
Although you may have never thought of it before, the length of your hair and its type can affect how a beanie looks on you. While certain styles of beanies look great on gents with short strands, others can appear odd and inappropriate. If you have short hair, you should try avoiding beanies that are too big or slouchy as they will seem to swamp your head due to a lack of balance. Instead, opt for classic and close-fitting beanies. Likewise, avoid overly chunky knitted styles and choose thin or medium thicknesses instead. In particular, a hipster beanie can work well for gents with short strands thanks to its tight-fitting shape that doesn't overwhelm the face.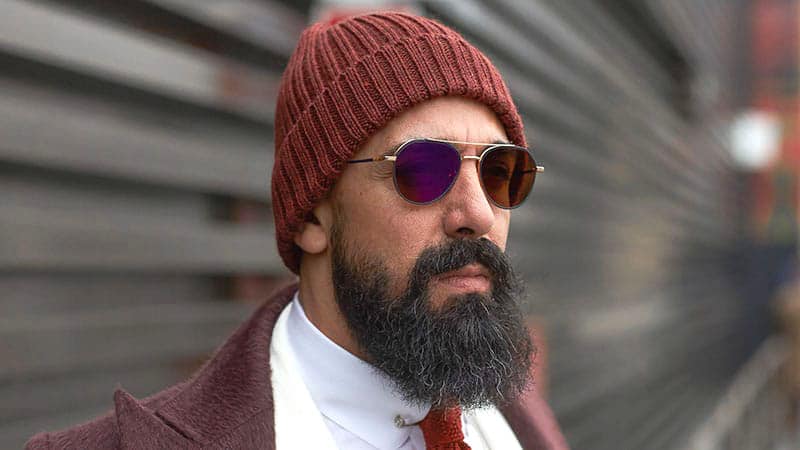 How to Wear a Beanie with Curly Hair
Curly and thick hair types tend to look best with looser styles of beanies. As curly locks can appear bulky underneath thin and tight beanies, it's best to stick to roomier and thicker styles. A slouchy beanie can make a particularly stylish option for curly-haired gents thanks to its elongated shape and additional space. Likewise, a high-top beanie, which is also elongated but stands up tall instead of hanging backward, can also make an appropriate option. While you may be tempted to hide messy curls underneath your beanie, you should try to refrain. Allowing some strands to fall loose at the sides and back will provide you with the most flattering appearance.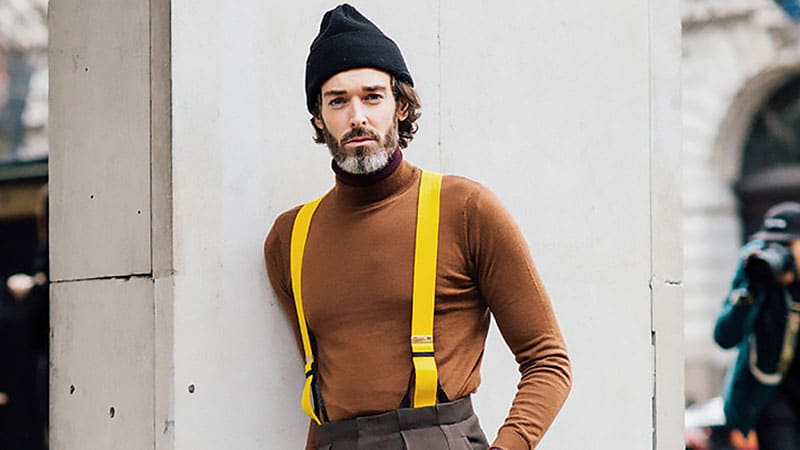 How to Wear a Beanie with Long Hair
Long hair has become an increasingly popular style option for gents and is now often spotted on the streets. Although these long-haired men may generally have warmer heads than their short-haired counterparts, they still have plenty of reasons to wear a beanie. Whether it's for style or those extra chilly days, if you have long hair, you should keep a beanie on hand. As such, it's important to understand how the length of your hair dictates which beanies you should wear. As a rule, slim-fitted styles will work best for you and balance out your long strands. Also, try rolling your beanie back, so it sits higher on your forehead and helps reveal your face.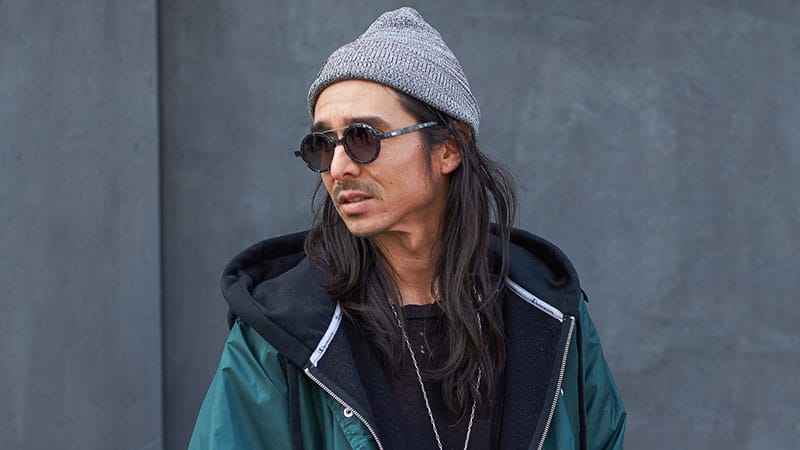 Beanie Outfits
Casual Beanie
A beanie was meant to be worn casually, so pairing it with a comfortable outfit is the easiest and most natural way to pull one-off. All you need to do is choose a simple streetwear look with relaxed fabrics and styles. Just be careful to avoid dressing too casually, or you could end up appearing sloppy instead of stylish. A pair of jeans, a bomber jacket, and lace-up boots will create a fashionable urban outfit when paired with a beanie. Alternatively, you could try some chinos, a crew-neck jumper, and some sneakers, to turn the look into an awesome athleisure outfit. As for the beanie itself, well that can be any style you want it to be.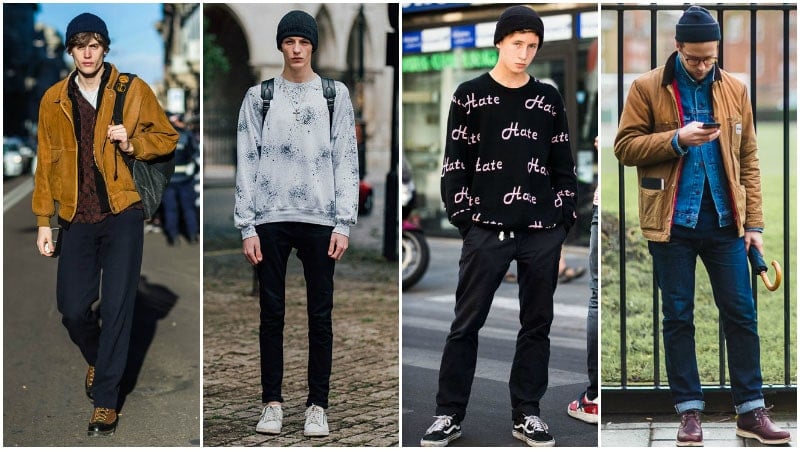 Smart Casual
Although the beanie is undoubtedly a casual style, it can suit plenty of smart outfits. The trick is to choose the right style and pair it with the right items. Try a simple, knitted beanie in a neutral block color to ensure a sophisticated and understated look. Then, pair it with smart casual items also in neutral colors. A pair of wool trousers and a turtleneck sweater can make a seriously stylish outfit when paired with a beanie. Although a beanie is a relaxed style, it can still be worn with business and semi-formal looks when outdoors. Just be sure to add a stylish coat to complete the outfit.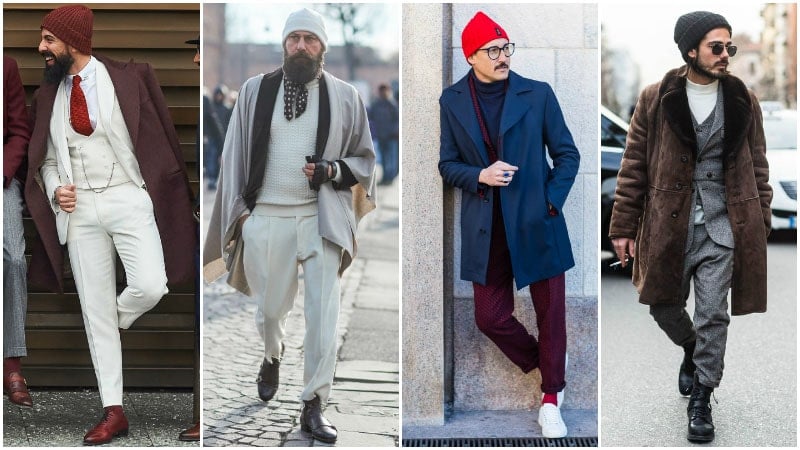 Slouchy Beanie
Slouchy beanies are perfect for creating an effortlessly cool look. The laid-back style easily allows the rest of your outfit to take center stage while complementing your style. When choosing a slouchy beanie, opt for thin and medium knit styles as they will look best and sit with the right amount of slouch. Anything thicker may stick out awkwardly and end up falling off your head due to the extra weight. Once you have chosen your beanie, try wearing it all the way back past your hairline for a relaxed look or pull it down low to add more edge to your outfit. Whichever way you wear it, be sure to partner this casual hat with a casual outfit, such as jeans, sneakers, and a simple jumper or coat.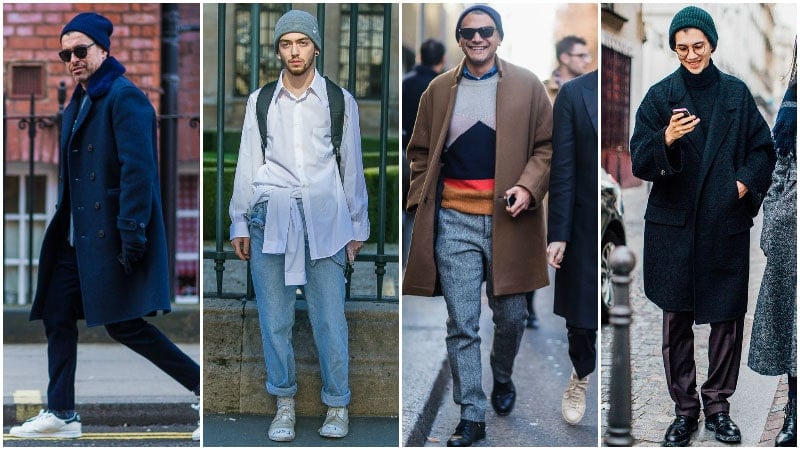 Hipster Beanie
Also known as a fisherman style, the hipster beanie provides a unique and casual look to outfits. This close-fitting beanie is characterized by a thick roll that is worn up high on the forehead. This cuff shortens the beanie and makes it tighter as well as helping to ensure that the hat doesn't slip off your head. Although this style probably won't keep your head particularly warm and will leave your ears out in the cold, it promises to provide a stylish, hipster look. Try it with some cropped trousers, a belt, and a tucked-in shirt or, alternatively, put an individualistic spin on this style and create a unique outfit.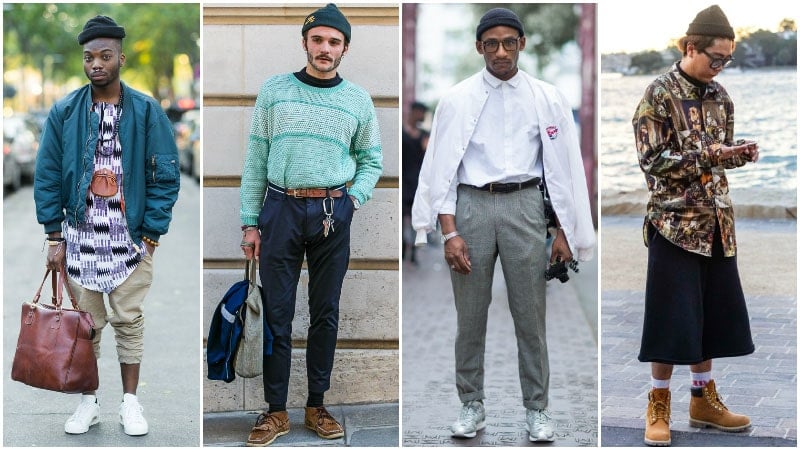 High-Top Beanie
The high-top beanie has become surprisingly popular over recent years. The unusual style is now a regular look for the street style set and is completely on-trend. Although this high style probably won't keep your head all that warm, thanks to the extra room, it will keep you looking bold and fashion-forward. So, if you're more into appearance than practicality, this may be the best beanie for you. Try one with some slouchy trousers, sneakers, a T-shirt, and an oversized coat for a unique, urban outfit. Also, remember to make sure that your beanie is thick enough to stay up or you'll quickly end up with a slouchy style.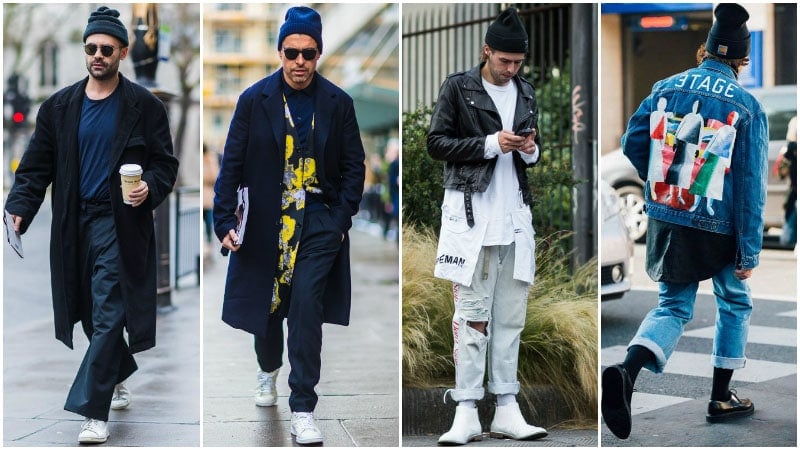 How to Wear a Beanie
Wear a beanie as part of either a casual or smart outfit. It can also be worn with a coat when taking a formal or business outfit outdoors.
Be careful not to dress too casually with a beanie, or you may end up looking sloppy.
Choose which type of beanie to wear based on your hair.
Wear tighter-fitting styles of beanies for a more traditional and clean look and looser styles, such as a slouchy or high-top beanie, for a casual and contemporary appearance.
Try a hipster beanie when you want to add a unique or individualistic touch to an outfit.
FAQs
Should a beanie cover your ears?
Whether a beanie should cover your ears will depend on the style of beanie you choose. Most types are designed to be worn over your ears, adding to the warmth of the headwear. However, styles such as the fisherman beanie are not intended to cover your ears. It will also depend on how cold it is – if it's very chilly, you'll most likely want to cover everything up!
What is the best way to wear a beanie?
The best way to wear a beanie is to choose a style that fits your hair type and outfit style. Classic, close-fitting beanies are great for both short and long hair, as well as smart-casual looks. Curly-haired gents can get away with roomier styles such as high-tops and slouch beanies. For a casual look, you can choose any sort and match it with jeans, a bomber jacket, and lace-up boots. Fisherman beanies look best with cropped trousers and a sweater for a street-savvy style. Finally, high-top beanies look great with oversized jackets.
Is it rude to wear a beanie indoors?
Historically speaking, it's considered rude for men to wear hats indoors, and taking them off upon entry is a sign of respect. However, times are changing. In general, it is rude to wear a hat (including beanies) as a guest at someone's house, at the dining table, at places of worship (unless specifically required), at a restaurant, at the movies, or when a national anthem is being played. Beyond this, perception changes between people and cultures. If you're unsure, ask your host/boss/friend/parent/acquaintance, or just read the room.
How do you wear your hair under a beanie?
How you wear your hair under a beanie will depend on the length. Long-haired guys can choose to put their hair in a low ponytail, man bun, or wear it loose. If your hair is shorter, you'll want to avoid creating cowlicks or flat hair that will show when taking it off. Try sweeping your hair back from your face, and put the beanie on starting at the forehead. Alternatively, style your hair as you want it, and gently place the beanie over the top. Then, when you get to your destination, there should be minimal fixing required. Lastly, never put a beanie on over wet hair.
SUBSCRIBE TO OUR NEWSLETTER
Subscribe to our mailing list and get interesting stuff and updates to your email inbox.