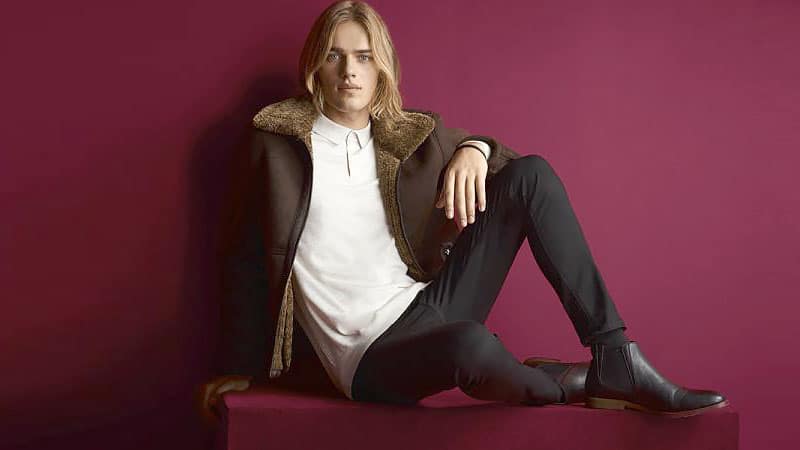 Chelsea boots are a wardrobe staple for every stylish gent. Thanks to their timeless shape and design, these simple yet sophisticated shoes are a must-have for men of all ages and styles. From cool and relaxed suede options to classic leather looks, Chelsea boots are versatile, comfortable, and fashionable. Whether you're rocking a casual weekend look or dressing up for a semi-formal function, these shoes make an excellent choice. To nail your Chelsea boot look, you just need to know which pair to choose and what will work best for them. Luckily, we're here to help with that and can show you how to wear your Chelsea boots in style.
What is a Chelsea Boot?
A Chelsea boot is a footwear style that dates all the way back to the Victorian era. The shoe was invented by J. Sparkes-Hall, who was a bootmaker for Queen Victoria. Chelsea boots, which are designed to slip easily on and off the foot, are laceless and feature an elastic or vulcanized rubber side ankle. Originally made for both men and women, the ankle-high style traditionally features a small heel and tab on the back to make sliding the boot on easier. The boot's current name is thought to stem from its popularity in the Chelsea region of London during the '50s and '60s when mods, the Beatles, and even the Rolling Stones all rocked the shoe style.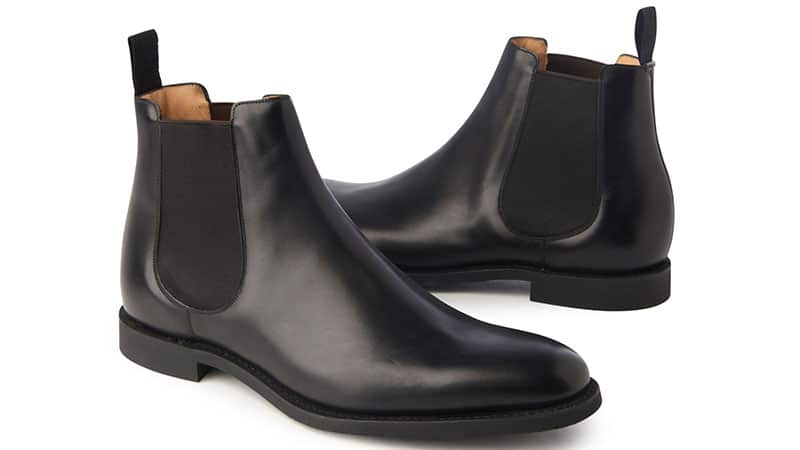 Chelsea Boot Materials
Leather Chelsea Boots
When it comes to rocking Chelsea boots, there are two main styles from which you can choose. The first is the traditional leather Chelsea boot. Thanks to their sleek and smooth aesthetic, leather Chelsea boots appear smart and can easily be worn as dress shoes with many polished outfits. You can even partner the style with a suit for more formal occasions. For such times, black leather Chelsea boots will work best. You can also select a polished or patent style for an extra touch of sophistication. On the other hand, brown leather Chelsea boots also make an excellent footwear style and can suit many semi-formal, smart casual, and business casual looks.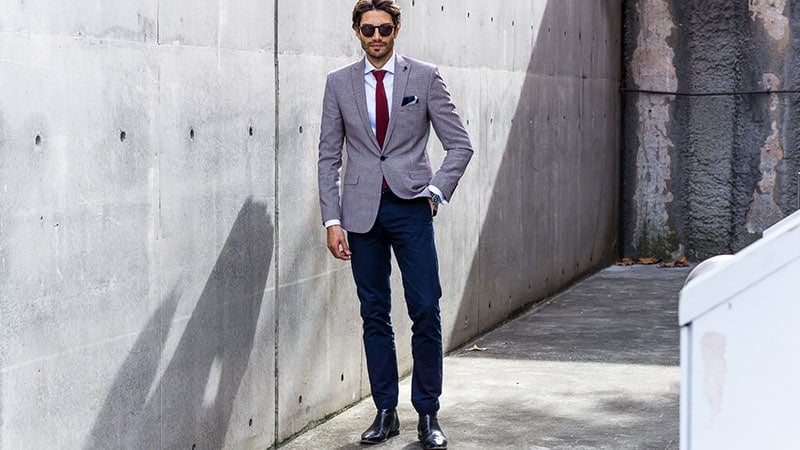 SHOP THE LOOK
Suede Chelsea Boots
The second type of Chelsea boots available is the suede variety. Due to their texture, suede Chelsea boots appear more casual than traditional leather styles and can infuse outfits with a relaxed aesthetic. As such, they can seem a little underdressed for formal looks and tend to pair best with casual and smart casual outfits. Like leather Chelsea boots, suede styles are also typically manufactured in classic black and brown shades. When choosing between the colors, keep in mind that black is best for creating an urban outfit and that brown can offer a relaxed country look. Also, as suede shoes can easily get wet and ruined, remember to coat yours with a water-resistant suede protector to keep them looking sharp even during winter.
RELATED: How to Clean Suede Shoes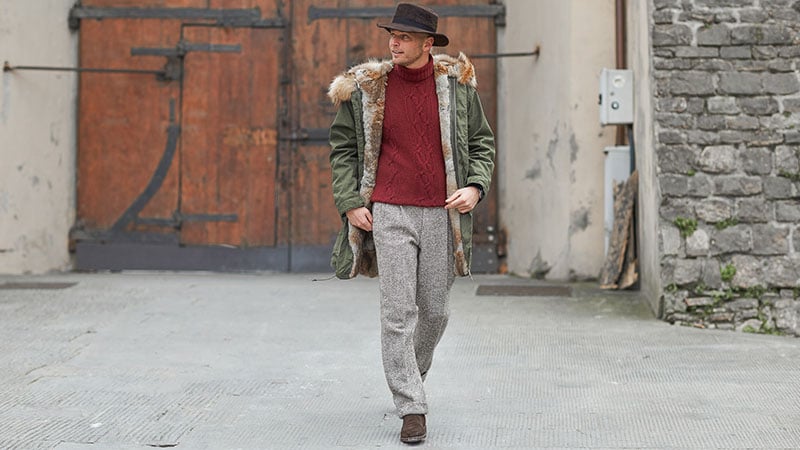 SHOP THE LOOK
Chelsea Boot Outfits
Chelsea boots are extremely versatile and can be successfully worn with both casual and more formal styles. Their straightforward and clean design means that they can complement a range of outfits without clashing or seeming uncoordinated. So, whether you wear them with jeans or a suit, these shoes can look great. Creating a top Chelsea boot outfit comes down to dressing for the occasion and going from there. Whether you're aiming for a casual, smart casual, business casual or semi-formal look will affect which Chelsea boots you should wear and the items that you should wear with them.
Casual
Chelsea boots can easily be dressed down for a casual look and can make a stylish alternative to sneakers. While you can wear either leather or suede Chelsea boots for a casual look, the latter will have a more relaxed appearance. In particular, brown suede Chelsea boots project a cool casual look that pairs perfectly with other essential items from your wardrobe. Try wearing a pair with some skinny jeans, a white T-shirt, and a denim overshirt for a contemporary weekend look.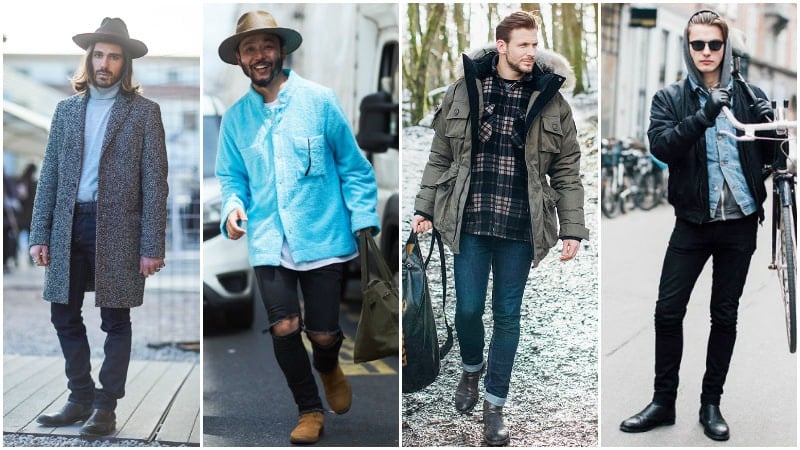 Smart Casual
While Chelsea boots can easily work for casual outfits, they can also suit smart casual styles well. Thanks to their sleek appearance, these boots will help elevate your classic closet pieces to appear more polished. Simple items, such as black jeans, a rollneck sweater, and a double-breasted coat, will all appear seriously suave when worn with Chelsea boots. Although both suede and leather styles can be used to create this smart casual appearance, a black leather pair will be best for achieving a sleek urban vibe.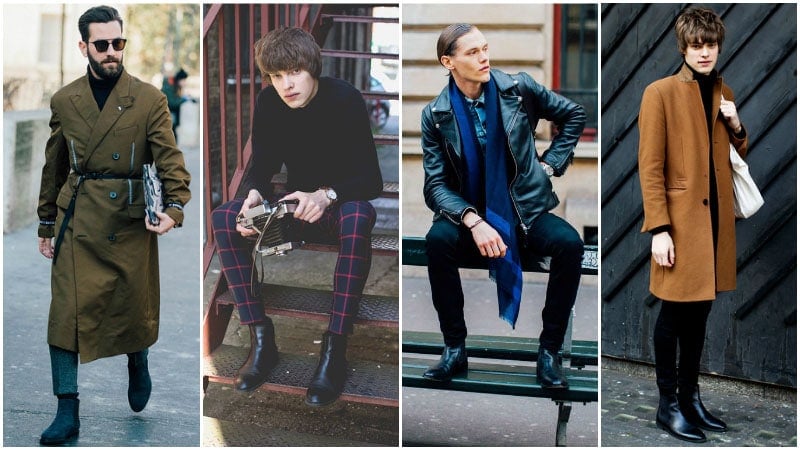 Business Casual
If you think your Chelsea boots are just for after-hours and on the weekend, you should think again. These boots are so versatile that they can also be worn with business casual outfits. The key to achieving the perfect business casual outfit with your boots is to find the right balance. Start by choosing a leather style of boots to keep things sophisticated, but avoid patent options as they may seem overdressed. Then, keep things casual yet office-appropriate with some chinos, an Oxford shirt, and a blazer. Opting for a check or pattern on your blazer or shirt can also help give your look a smart style.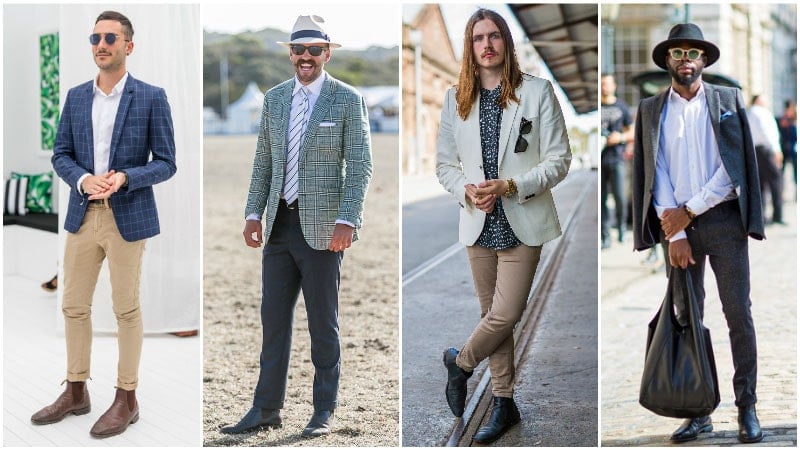 Semi-Formal
Chelsea boots can make a surprisingly good footwear option for semi-formal occasions. An excellent alternative to Oxford shoes, brogues, and loafers, Chelsea boots can match well with a suit. All you need to do is select the perfect pair. If you're wearing a black or grey suit, stick to black boots for a formal feel and consistent color palette. If you're donning a navy or brown suit, you can choose between both black and brown boots to suit your style. Also, don't forget to ensure that your trousers fall neatly just over the tops of your boots for a sleek silhouette.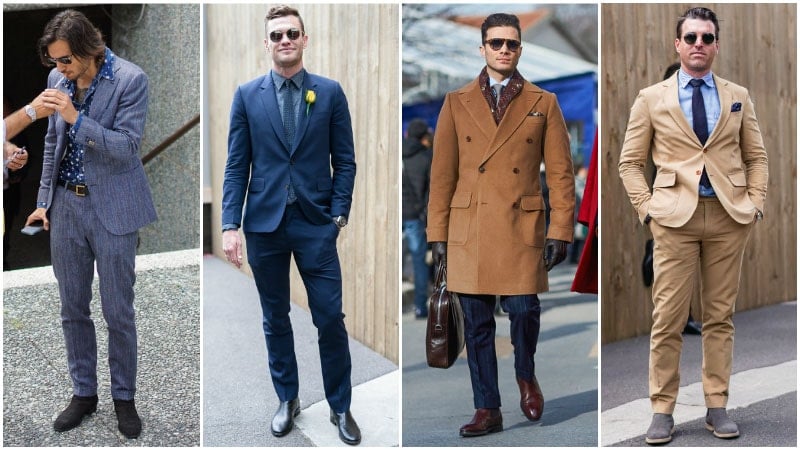 How to Wear Chelsea Boots
Ensure that the leg of your trouser sits just over the top of your boots.
Opt for suede styles for a casual look and leather boots for a smart style.
Coat your suede Chelsea boots with a water-resistant spray to keep them looking sharp during any weather.
Choose either brown or black Chelsea boots depending on what works best for your outfit.
Dress Chelsea boots down with jeans and a T-shirt or up with a suit.
FAQs
Do you tuck jeans into Chelsea boots?
No, you shouldn't tuck your jeans into Chelsea boots. The ideal length of your trouser leg will sit just over the top of your boot. For some looks, you can roll the bottom of your jean leg up, so it sits just above the top of the boot – just make sure you're wearing nice, dark socks.
How should Chelsea boots be worn?
Chelsea boots are one of the most versatile styles you can buy and they work with all kinds of looks. Wear them casually as an alternative to sneakers — pair them with jeans, a white t-shirt, and a denim overshirt. They can be worn smart-causally for a sleek urban vibe with trousers, a roll-neck sweater, and an overcoat. When it comes to business casual, pair them with chinos, an Oxford shirt, and a blazer. Finally, you can also wear them semi-formally with a suit. Black will always be more dressy, while brown or tan works well casually.
What pants do you wear with Chelsea boots?
You can wear most styles of long pants with Chelsea boots. More casual options that look great include jeans and chinos, while they also look excellent with wool trousers or suits.  
Are Chelsea boots easy to put on?
Chelsea boots are designed to be very easy to put on, thanks to the elastic panels on the side. Most designs have a pull-tab at the back to make it even more straightforward. The only exception might be if you have a very high instep or broad foot. In these cases, you might just need the assistance of a shoehorn to slip into the boot.
What is the difference between chukka boots and Chelsea boots?
Chukkas and Chelsea boots are both ankle boots, but that's where the similarities stop. Chelsea boots are a versatile, slip-on style boot that features elastic panels on both sides, a pull-tab at the back, and generally a round toe. You can get them in all kinds of materials, but smooth leather is the most common. On the other hand, Chukka boots are a more casual lace-up boot, with two or three eyelets and open lacing. They're more commonly made with suede, also feature a round toe, and historically, are unlined.
SUBSCRIBE TO OUR NEWSLETTER
Subscribe to our mailing list and get interesting stuff and updates to your email inbox.