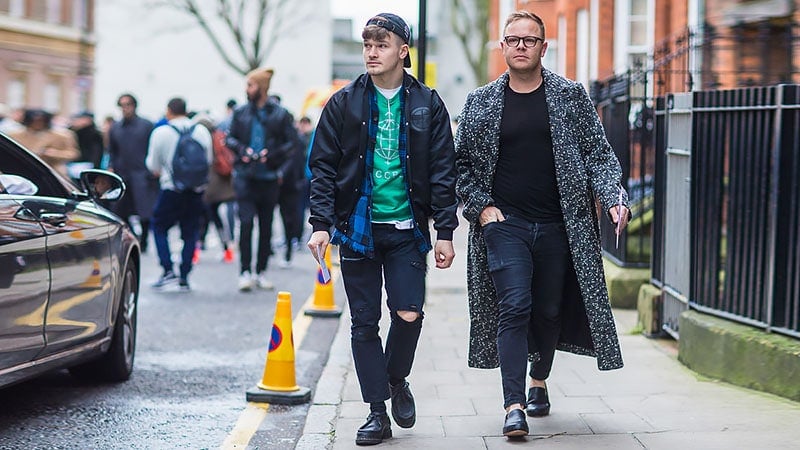 Black jeans are a classic staple that every gent should have in his wardrobe. Highly versatile, these simple and comfortable pants can be worn for many occasions in countless different ways. Whether dressed up for an evening event or dressed down for a casual weekend look, black jeans always look great. Not only because they're simple to wear, but also because they project an effortlessly cool vibe, these pants are an essential item for every man. As such, it's also necessary to know how to wear them.
RELATED: The Best Jean Brands for Men
What Looks Good with Black Jeans
It can be hard to go wrong when creating an outfit with black jeans. Thanks to their versatility and neutral colour, they can look good with just about anything in your wardrobe. As such, you're less restricted when creating an outfit and can tailor it to your personal style. Whether you like an athleisure look, you are a little grunge, have a hipster vibe or are a bohemian bloke, you'll be able to work black jeans into your wardrobe for a cool style.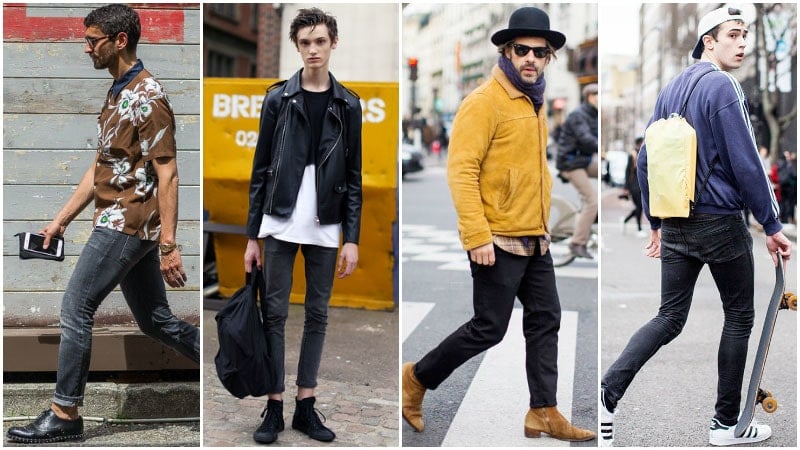 Shirts to Wear with Jeans
If you've only been pairing your black jeans with T-shirts, then you've been missing out on a whole world of outfit opportunities. Not only is a button-up shirt an item that you already have on hand, but it's one that works immensely well with a pair of black jeans. The combination, which dresses the jeans up and the shirt down, creates a great balance that is perfect for smart casual looks. Although the pair is ideal for an elegant yet relaxed style, it can also be tailored to different looks depending on your style. While plain shirts will elevate your black jeans, printed ones will have a different effect. For example, floral and paisley prints will add a bohemian touch while plaid flannel shirts will create a rocker feel.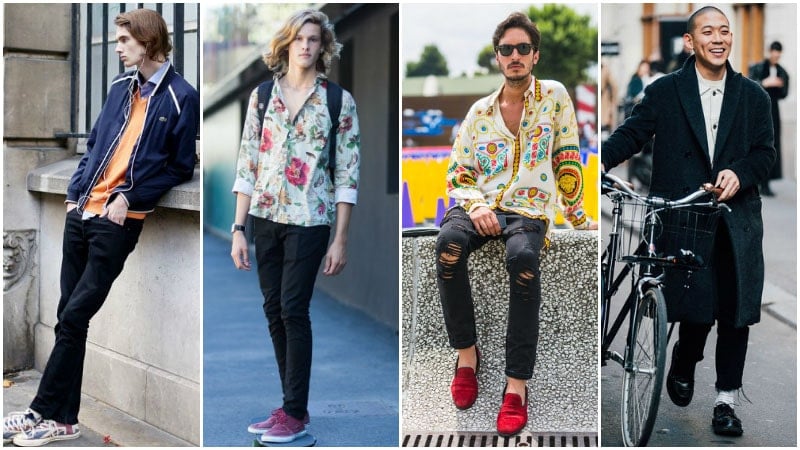 GET THE LOOK
Black Jeans and Black Shirt
Like black jeans, a black shirt is also versatile. When worn alone with nice black jeans, a plain black shirt can create quite a sophisticated appearance thanks to its sharp and clean aesthetic. However, that look can quickly become edgy and bold with just a few changes. Whether it's a print on the shirt, rips in the denim, a dark jacket, or unique accessories, a black shirt and black jeans combination can easily become dramatic. To nail the pair, pick the look you prefer and go from there. Also, be aware that the shoes you wear will have an impact on whether your outfit is polished or a little more rock and roll.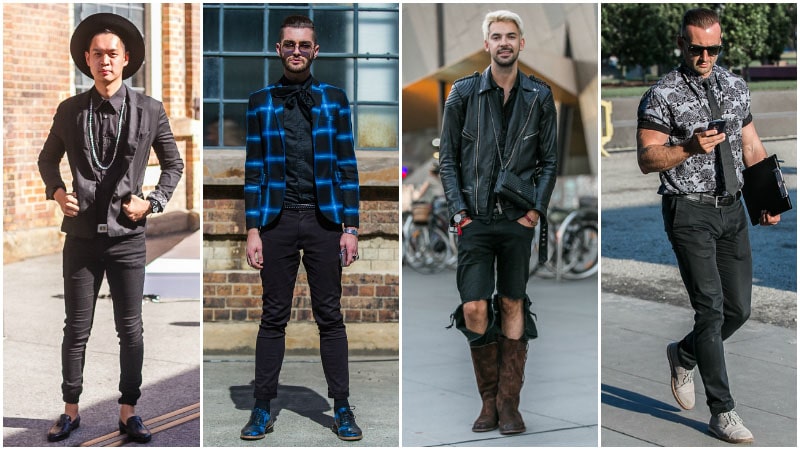 GET THE LOOK
Black Jeans and White Shirt
Thanks to their clean aesthetics and contrasting tones, black jeans and a white shirt make an excellent pair. The colour combination also provides a traditional touch and is ideal for smart casual occasions. If you like a polished aesthetic, you can wear this look with an oxford shirt and slim-leg jeans. Finish your outfit with loafers and a tailored jacket, blazer or a coat. If you prefer a casual and minimal look, on the other hand, opt for a short-sleeved shirt and skinny jeans. Then, add casual accessories like sneakers and a cap.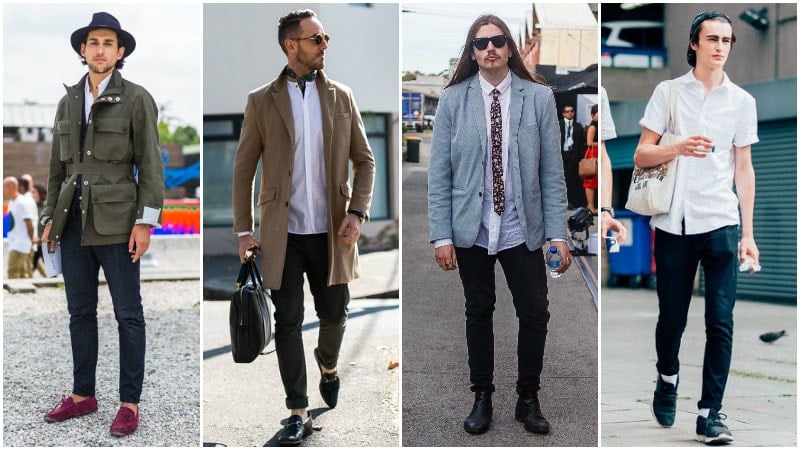 GET THE LOOK
When to Wear Black Jeans
Black jeans can be worn for numerous occasions. Thanks to their versatility and neutral colour, they are ideal not only for casual outfits but also for smart casual and semi-formal styles. As such, you can don your black jeans for events ranging from Sunday brunch to more formal dinners and evening cocktails. All you need to do is ensure that the rest of your look is suited to the type of dress code you are aiming for.
Casual
Black jeans are made for casual looks and can easily be worn in this manner without much effort. While items like blazers and shirts are necessary when trying to make your black jeans appear more polished, there aren't many rules when wearing them casually. You can even choose any style of jeans you like, from skinny to loose and clean to distressed. If you have a pair with interesting details, this is also the time to show them off. Then, all you need to do is avoid overly tailored and structured pieces. Items such as T-shirts, sneakers, and casual jackets like denim, bomber, and leather biker styles, are all great go-to pieces. For an extra contemporary and casual touch, you can also pinroll your jeans to show off your ankles or socks.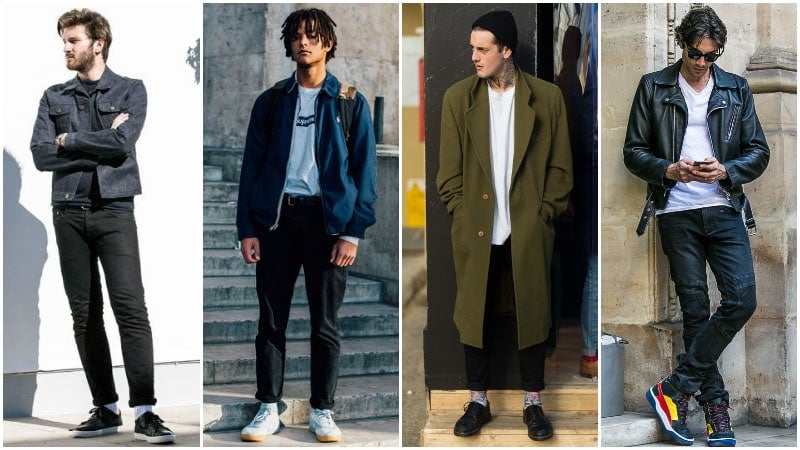 Smart Casual
By simply pairing your black jeans with polished pieces, you'll be able to create a stylish and smart casual outfit. To nail the look, start by swapping out your sneakers for a pair of brogues or Chelsea boots. By doing so, you'll instantly elevate your outfit past the usual casual look. Then, choose pieces for your top half that are sophisticated without feeling stuffy. A T-shirt worn with a blazer is a great option, as is a rollneck sweater and tailored coat. If you want to wear a button-up shirt, you can choose a more casual jacket or a coat to avoid appearing overly formal.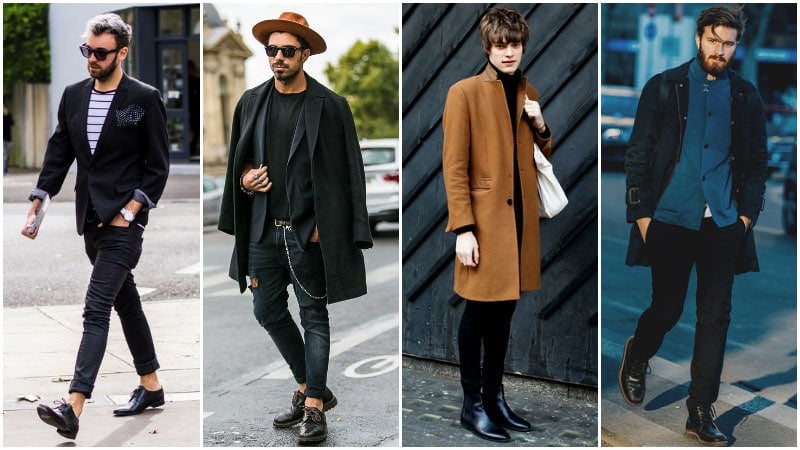 Semi-Formal
Although black jeans are inherently casual, they can still be dressed up to create a stylish semi-formal look. As long as you don't wear them to any formal events, such as a wedding, black jeans are a good modern alternative to suit pants or chinos. To pull off a semi-formal look with black jeans, start by choosing a slim pair without any rips. Then, pair your jeans with formal pieces, such as a dress shirt, blazer, and Oxford, Derby, or loafer shoes. If you're still concerned about appearing under-dressed, try adding a tie for a classic touch.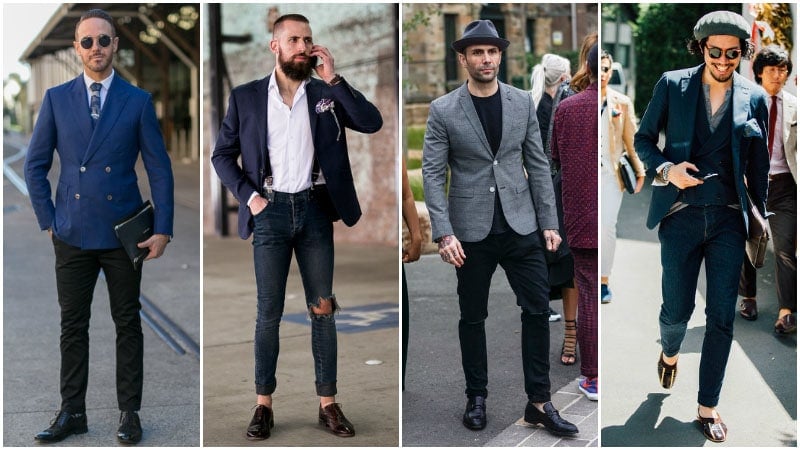 What Color Shoes to Wear with Black Jeans
By simply swapping your footwear, you can transform the appearance of your black jeans to suit any style you want. From boots and brogues to sneakers and even sandals, these adaptive pants can pair with virtually any type of shoe. The only problem you may find when choosing footwear is the colour. As a rule, sticking to black shoes will always work well. If you're after something a little different, however, you should consider brown.
Black Shoes with Black Jeans
Due to their matching colour and simple appeal, black shoes are a failsafe option for pairing with black jeans. Deciding which black shoes to wear may be a little trickier. To find your perfect black footwear, you need to know whether you're trying to achieve a casual, smart casual or semi-formal look. Then, just choose the shoes that best suit your outfit. While black sneakers are perfect for casual looks, black boots are ideal for a smart casual style. You can also try black oxfords or loafers for a sophisticated semi-formal outfit.
TOP BUYS
Brown Shoes with Black Jeans
While brown shoes are undoubtedly more challenging to wear with black jeans than black shoes, they can look good when kept casual. Chukka and Chelsea boots work particularly well in brown and will pair nicely with black jeans. You can also choose brogues for a slightly more sophisticated look. While it's best to avoid more formal styles like oxfords, you can try some Derby shoes as long as they're a little more casual, such as a suede style. When wearing brown shoes with black jeans, you also need to be sure that they aren't the only light element in your outfit. So, avoid the black T-shirt and opt for a lighter colour instead.
RELATED: How to Wear Black Pants with Brown Shoes
TOP BUYS
How to Style Black Jeans
Black jeans come in many varieties and can be worn in numerous ways. You can start your black jeans outfit by picking the jeans that best convey the image you want to project, such as distressed denim for a rock and roll aesthetic or skinnies for an urban look. Pair them with different items to suit your style. For example, a sophisticated man might choose to wear his black jeans with a pair of loafers and a white button-up while a grunge gent might prefer a band T-shirt and Dr Martens. Thanks to the neutral colour of these jeans, you don't have to worry about clashing too much. All you need to do is choose between a minimal look with other simplistic hues or opt for boldly coloured garments for a more eye-catching appearance.
Black Jeans Outfit Ideas
While black jeans can look great with many outfits, there are, of course, some that are more stylish than others. As these pants are a basic item, they will always work well with other classic pieces, such as a white T-shirt or a shirt, grey sweatshirt, blue denim jacket or black bomber. Keep these items in mind, and you'll always have an easy outfit idea ready to go on short notice. As for footwear, sneakers are a failsafe option that will always work for a weekend outfit. If you're after a look with a little more flair, just keep reading for more outfit ideas.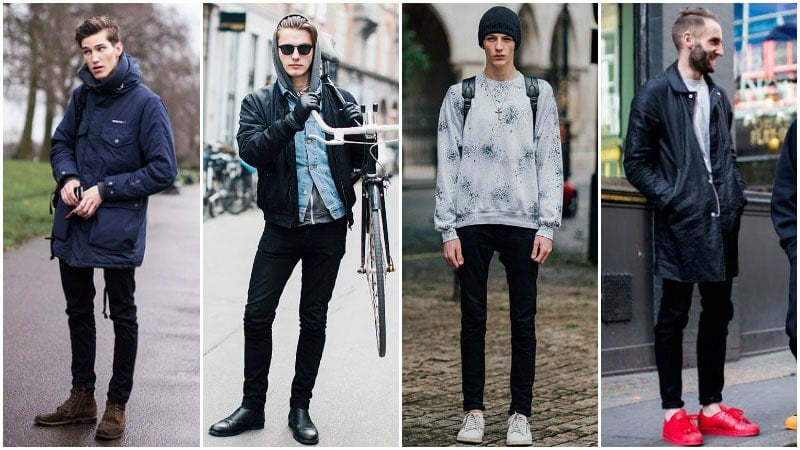 What to Wear with Black Jeans
Choose your black jeans based on your personal style.
When wearing black jeans, make a choice between either a black shirt for a sharp yet edgy appearance or a white shirt for a more formal look.
For a quick and easy casual black jeans look, just add a white T-shirt, black biker jacket, and sneakers.
To achieve a smart casual style, you can partner your black jeans with a rollneck sweater and tailored coat.
For a semi-formal style, try pairing your black jeans with a dress shirt, blazer, and oxford shoes.
Black shoes will always work well with black jeans, but brown shoes can also pair well when kept casual.
SUBSCRIBE TO OUR NEWSLETTER
Subscribe to our mailing list and get interesting stuff and updates to your email inbox.