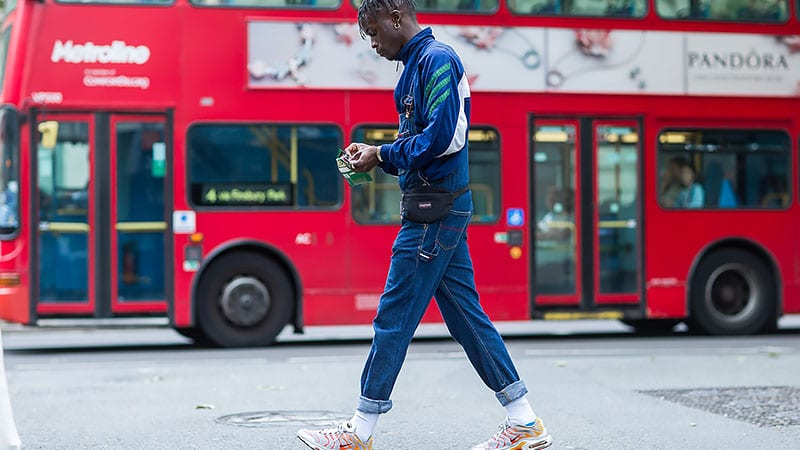 Pinrolling is a useful skill every modern gent should have in his arsenal. The handy technique is not only practical but also perfect for creating a fashionable and flattering appearance. Ideal for countless occasions, pinrolling can shorten the length of your pants while tapering them in at the hem. This shaping provides pants with a fresh, on-trend look while also showing off killer kicks. So, if you're still just cuffing your pants, it's time to step up your style game and learn how to pinroll like a pro.
RELATED: 40 Best Jeans Brands for Men
Pinrolling vs. Cuffing
Although pinrolling and cuffing are quite similar, they do have their differences. While both involve rolling up the hems of your pants to shorten the length, the technique and results differ. Cuffing is the simpler of the two methods, it features a straight fold that maintains the fit of your pants. Following this process means that if your pants are a straight-leg style, they'll stay that way when cuffed. Pinrolling, on the other hand, tapers pants in as it shortens them, leaving you with fitted hems no matter what shape of pants you started with.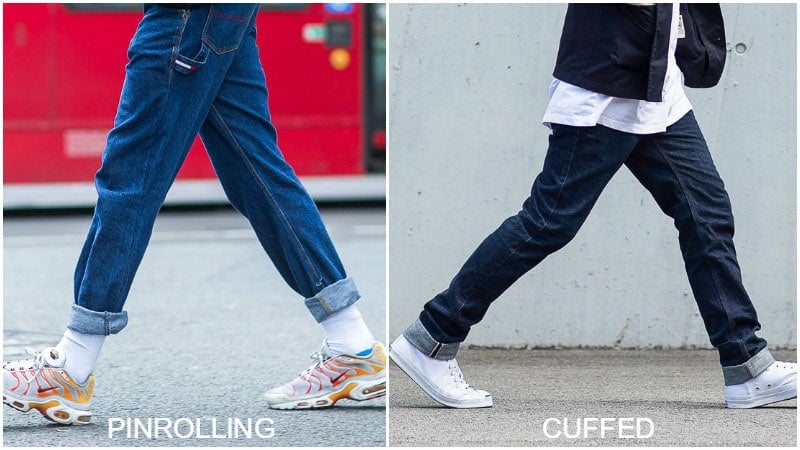 Best Pants to Pinroll
When it comes to the best pants to pinroll, jeans and chinos are the top options. General trousers and suit pants are too formal to wear with a pinroll and should be avoided. Likewise, there are also specific cuts that you should avoid when planning to pinroll your pants. Anything too wide or too skinny will not achieve the desired look and appear awkward, so it's best to choose straight and slim-fit shapes instead. When selecting jeans, also keep an eye out for Selvedge denim. These styles feature seams with a simple, neat finish created on a loom and exude a more sophisticated appearance than regular jeans when pin-rolled.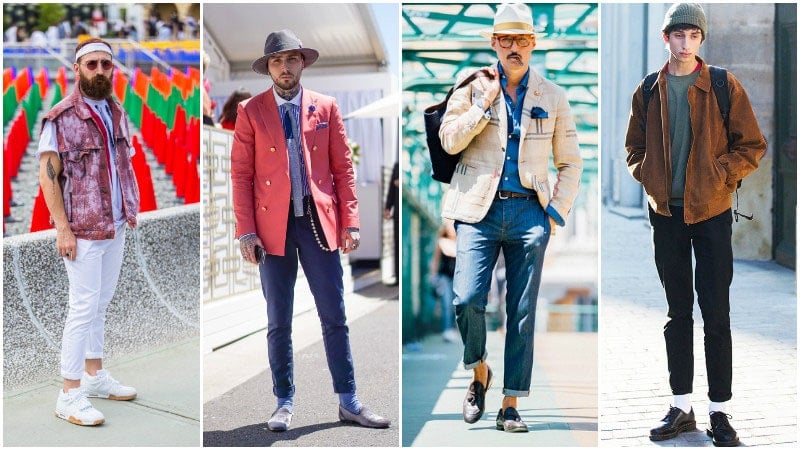 How to Pinroll Jeans
Pull-on your uncuffed jeans and stand up straight.
Starting with one leg, pinch a section of fabric on the inner seam to make the hem appear tighter around your leg.
Fold the pinched section of the fabric against your ankle to create an overlap.
Holding the overlapped fabric together, cuff and roll your jeans up an inch or two.
Roll them once or twice more to reach your desired hem height, but be careful of creating too much bulk.
Finish by smoothing out creases.
Pin rolled Jeans Outfit Ideas
Pin rolled jeans are versatile and can work with a variety of looks, including casual and smart-casual styles. The taper created by the roll provides a cleaner look than baggy jeans or large cuffs and can, therefore, produce a more crisp and contemporary appearance. A relaxed look with some sharp sneakers and a T-shirt is a cool and straightforward weekend style that can work for any gent. If you like your outfits a little more polished, be sure to trade-in your T-shirt for a button-up.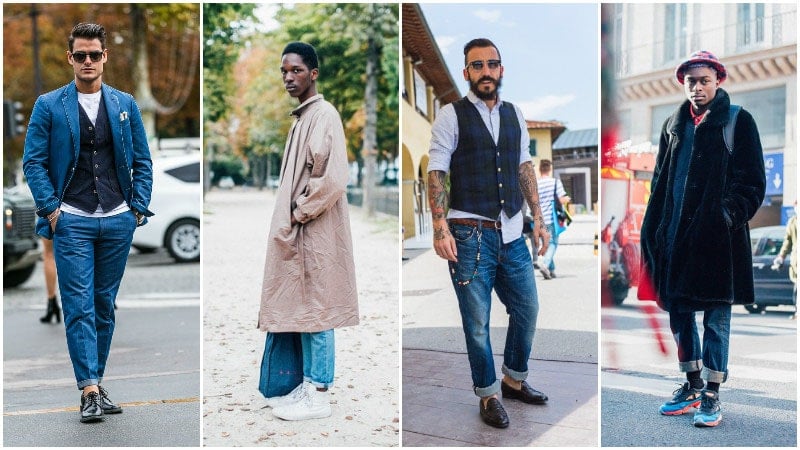 How to Pinroll Chinos
Once you've learned to pinroll jeans, you can apply the same technique to any other pair of pants. Of course, not all pants feature the same kind of sturdiness and structure as denim. Chinos are traditionally made of a lighter and softer material, which means that they're more prone to unraveling and falling loose. To stop this from happening, you will need to make your pinrolls tighter than you would with jeans. To do so, pinch the fabric snugly against your ankle before rolling up. As the material is thinner than denim, you can also consider rolling chinos up an extra time without needing to worry about creating too much bulk.
Pin Rolled Chino Outfit Ideas
Like jeans, pin-rolled chinos can work for a range of looks, including casual, smart casual, and even some semi-formal looks. For a more relaxed and streetwear-influenced take on the trend, choose a straight-leg pair of chinos and partner them with sneakers. For gents who prefer a look that's a little smarter, try a preppy style instead and choose slim-leg chinos in quality fabric. You can then pair your rolled chinos with a slim-fit button-down shirt and blazer to create a sharp and stylish outfit. Also, don't forget to add some loafers to ensure your ensemble remains just the right amount of formal.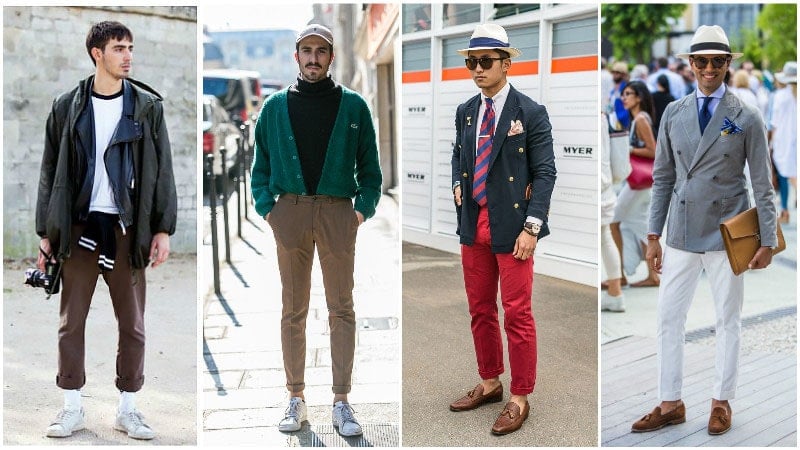 Occasions to Pinroll Your Jeans and Chinos
Pinrolling your jeans or chinos is best reserved for casual and smart casual occasions. The cropped and tapered appearance is contemporary and fashionable but also relaxed and understated. Therefore, the look pairs best with relaxed outfits. Perfect for a stylish weekend ensemble, pin-rolled pants can be worn to brunch, the bar, or even the movies. All you need to do is tailor the rest of your outfit to suit.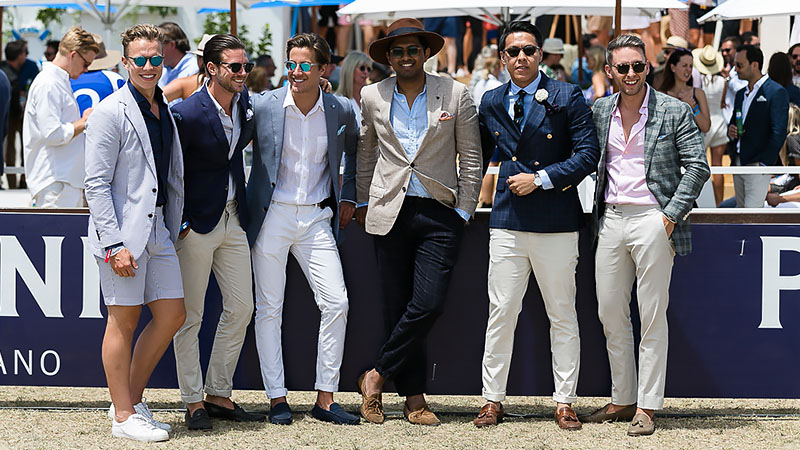 Occasions When Not to Pinroll Your Jeans and Chinos
While pinrolling your jeans or chinos can be an excellent look for many occasions, there are some when it just doesn't suit. As the look is inherently casual, it must be treated as such. Pinrolling your pants for a formal or business occasion is never a good idea. The appearance is simply too relaxed and inappropriate for such settings.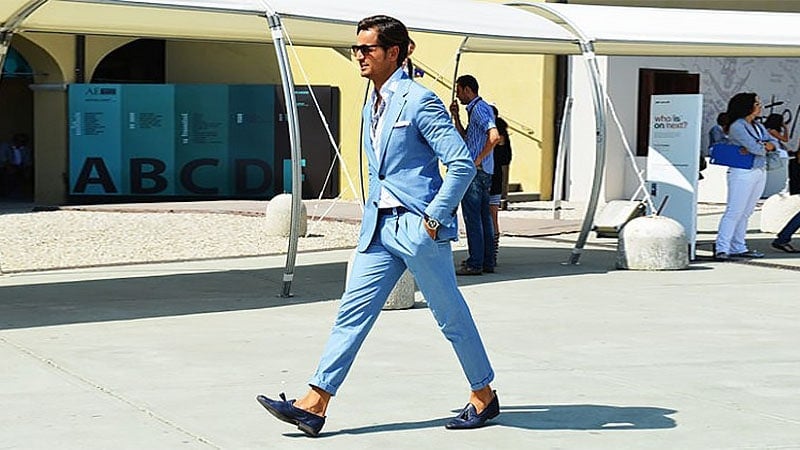 Socks vs. No Socks with a Pinroll
Pin rolled pants can be worn both with and without socks. Although the choice ultimately comes down to personal preference, the clear distinction of skin between shoes and hems tends to create the best appearance. Of course, this doesn't mean you have to go totally sockless. Invisible socks will provide you with all the comfort, cushioning, and moisture-wicking of regular socks without being seen. Gents who are a little bit bolder in the style department can opt for long socks instead. The addition is a quirky and unique way to cover the skin on your ankles and lower legs.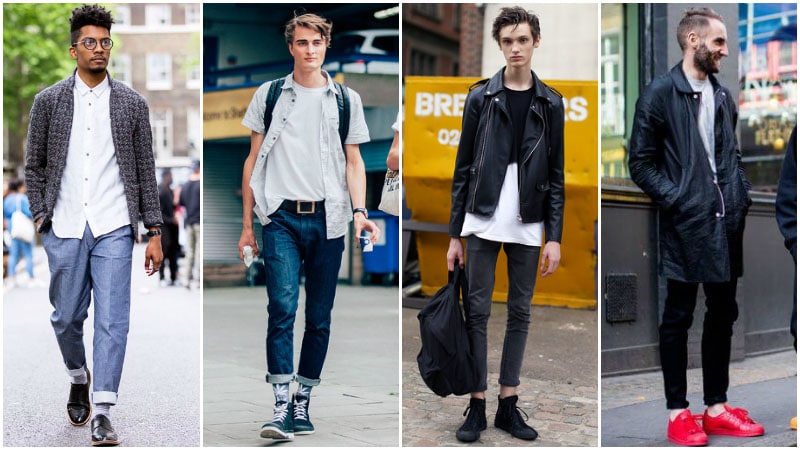 How to Pinroll Jeans and chinos
Pinrolling Too Much: Pinrolling too much will create bulk at the roll and an awkwardly large gap between your shoes and hems. Approximately two rolls should be enough to create the desired appearance.
Pinrolling Too Loosely: Your pinrolls should be tight yet comfortable. Pinrolling too loose may result in your hems quickly becoming unraveled. Be sure to pinch the fabric close to your ankle before rolling to keep it tight and neat.
Pinrolling the Wrong Pants: Pinrolling the wrong pants can create an awkward and inappropriate appearance. Jeans and chinos are the best pants to pinroll. Also, be sure to choose a suitable length and cut, such as a slim-leg fit that finishes just below the ankles.
Choosing the Wrong Shoes: Pinrolling your pants put your shoes on display, so choosing the wrong type is a fashion faux pas. For relaxed looks, choose casual shoes like sneakers, and for smart casual styles, pick shoes that bridge the gap between casual and formal, such as loafers.
FAQs
Is it OK to cuff jeans?
It is ok to cuff jeans, especially if they're too long; however, you want to make sure you're doing it with the right cut. Boot and flare jeans can be harder to cuff without looking odd, so in those cases, it's best to head to the tailor. Straight and slim-cut legs can easily be cuffed at home. Cuffing can also give your jeans a new and trendy look.
What does it mean to wear cuffed jeans?
Cuffed jeans mean you're an incredibly stylish gent who is all over the latest trends in denim and fashion. Alternatively, it could simply mean your jeans are a bit too long.
How do you pinroll jeans that are too long?
You can use the regular pinrolling method to shorten your jeans; however, your results may vary depending on how long they are. If they're really long and you have to roll the bottoms numerous times, you're going to have too much bulk around the ankle. Ideally, you only want to roll your hems twice; you can maybe do three rolls at a stretch. If you need more than this, you should probably head to the tailor to have your jeans hemmed to a more appropriate length or select a different pair to rock this look.
What are the best type of jeans to pinroll?
The best jeans to pinroll will be straight or slim-cut, so the proportions don't look odd on the finished style.
SUBSCRIBE TO OUR NEWSLETTER
Subscribe to our mailing list and get interesting stuff and updates to your email inbox.