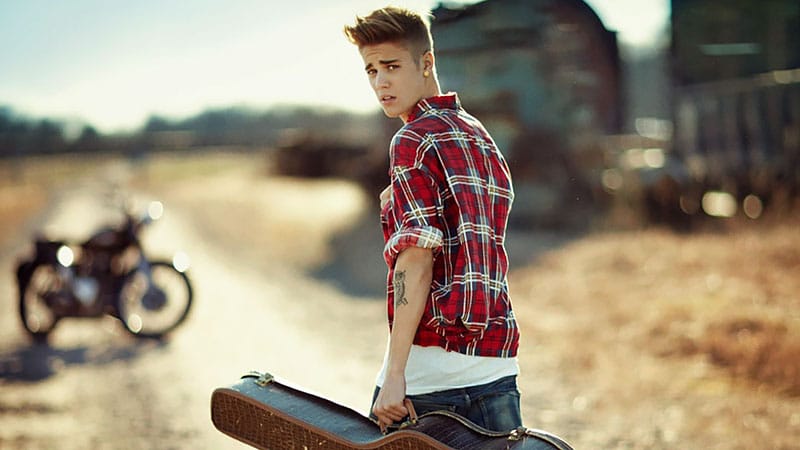 Nothing says cool and casual quite like a flannel shirt. While the garment may be simple, it's also a wardrobe staple that every man should own. Although the name may induce thoughts of the country, it's time to think again. Flannel has made a comeback and is now regularly spotted on the streets around the globe. Check out this guide on how to wear a flannel shirt and you'll be rocking this casual look in no time.
RELATED: How to Wear Men's Casual Outfits
What is a Flannel?
Flannel is a type of fabric that has been around for many years. It's a soft, woven fabric that is typically made of wool or cotton and slightly milled and raised. It initially began with farmers and the working class, who favored it for its warmth and affordability. As the fabric advanced through the years, a check print was introduced and soon became its signature style. Eventually, in the '90s, flannel was adopted by the grunge subculture, giving it a new, edgy feel. Today, flannel shirts are still a favorite item for their comfort and effortlessly cool style. As such, they're a worthwhile addition to every gent's wardrobe.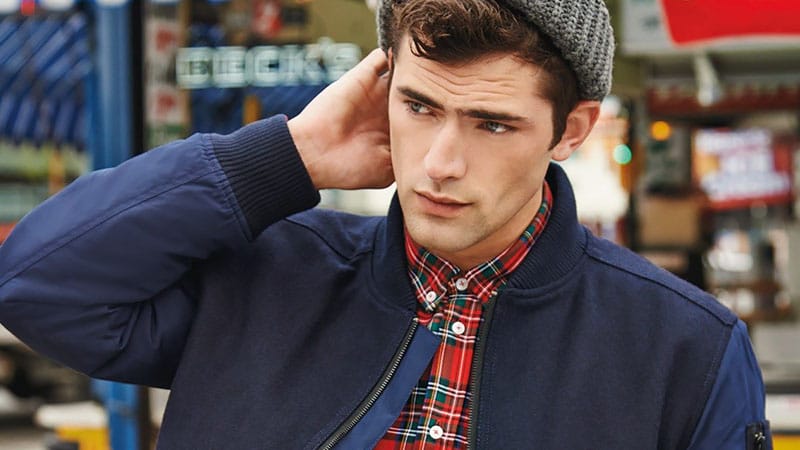 Plain or Check Flannel
Flannel shirts are typically offered in check prints, but they're also available in plain varieties. Whether you choose a plain or check style will affect how and when you wear it. Most of the time, check styles of flannel shirts will have a more casual and relaxed feel, while plain versions will create a sharper, more polished appearance. As such, you should choose which to wear based on the look you're trying to achieve. If you do pick a check flannel, be careful to balance your outfit accordingly. As the print can tend to be quite bold, it's usually best to keep the rest of your outfit minimal and neutral.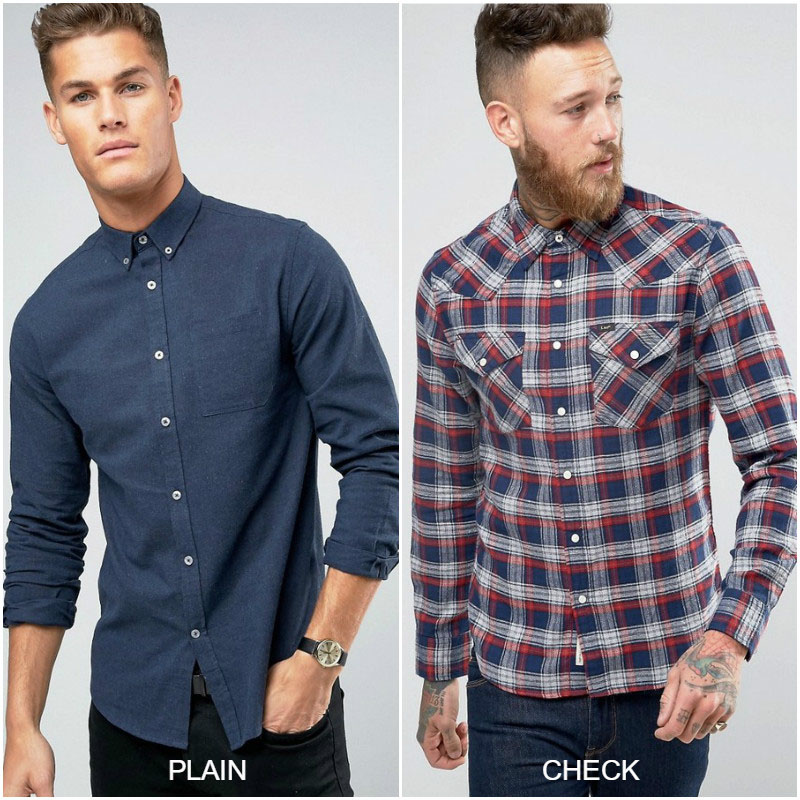 When to Wear a Flannel Shirt?
A flannel shirt is an inherently casual garment, but it can also be dressed up for a smart casual look. It's all about how you wear it and what you wear it with. Of course, the style will always make for a great, weekend look, but there are other occasions when you can wear one. Events, such as a date or dinner, can be a good time to wear a flannel shirt in a smart casual manner. Just be sure to aim for a neat and polished presentation. When it comes to formal, business, or cocktail occasions, leave the flannel at home and opt for a dress shirt instead.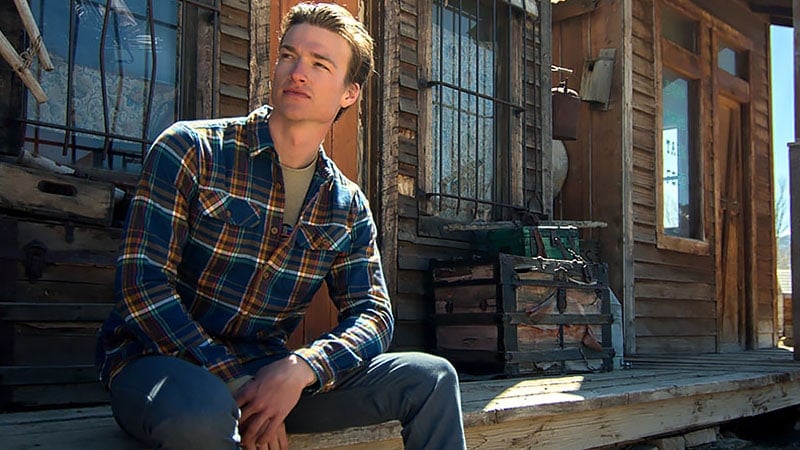 Casual Occasions
You'll probably most often wear your flannel shirt in a casual manner, so it's important to get it right. Just because your look is casual, doesn't mean that you can wear it with anything. If you wear a flannel shirt with sweat pants, for example, you'll appear sloppy. So, stick to jeans for a casual yet fashionable look. Black jeans make a particularly stylish choice with an edgy grunge vibe, but any color can work. As for footwear, lace-up boots or sneakers are the best choices. Layering a flannel over a T-shirt is also a good casual look and means that you can tie your shirt around your waist when the weather gets warm. Alternatively, try rolling up the sleeves or opt for a short-sleeved style in warmer weather.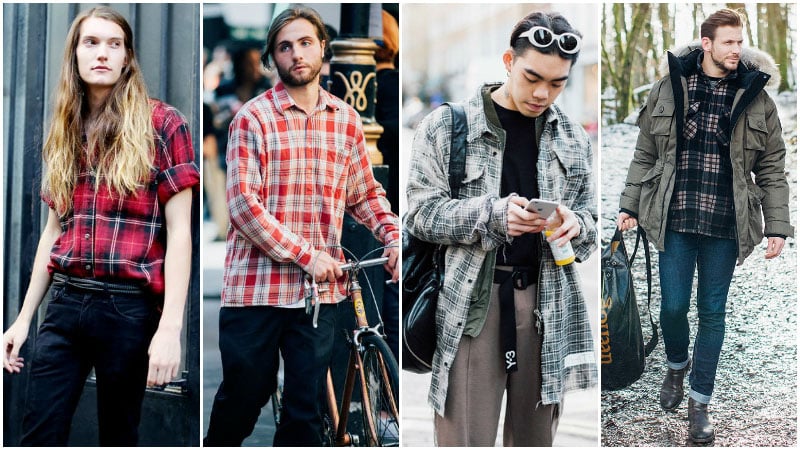 GET THE LOOK
Smart Casual Occasions
Although you may not automatically think of a flannel shirt when putting together a smart casual outfit, you should definitely give it a go. The look is a surprisingly good one and can create a stylish appearance. All you need to do is choose the right flannel and style it in a polished way. Start by avoiding colors that are too loud and choosing more subdued options instead. Also, ensure that your flannel is a good fit and not too baggy. Then, wear it tucked into a pair of dark denim jeans or chinos with a belt. You can also try adding a stylish wool coat or suede bomber jacket. As for shoes, choose a pair that's neither casual nor overly formal. Loafers, chukkas, sneakers, and suede Derby shoes will do the trick.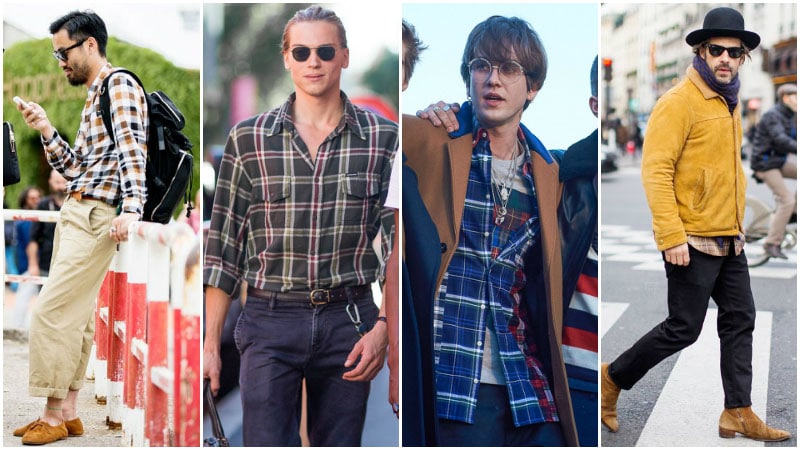 GET THE LOOK
Flannel Shirt Colours
Red Flannel
When choosing a red flannel shirt, opt for a check version over a plain style. Not only will plain red flannel shirts be difficult to find, but they can also be challenging to wear and often end up looking like a pajama shirt. Try to choose check styles that feature black or that have a less vibrant tone of red. Doing so will create a cool, rock, and roll style and safely avoid "picnic rug" territory. Pair it with a black T-shirt, skinny black jeans, and some boots for a winning style.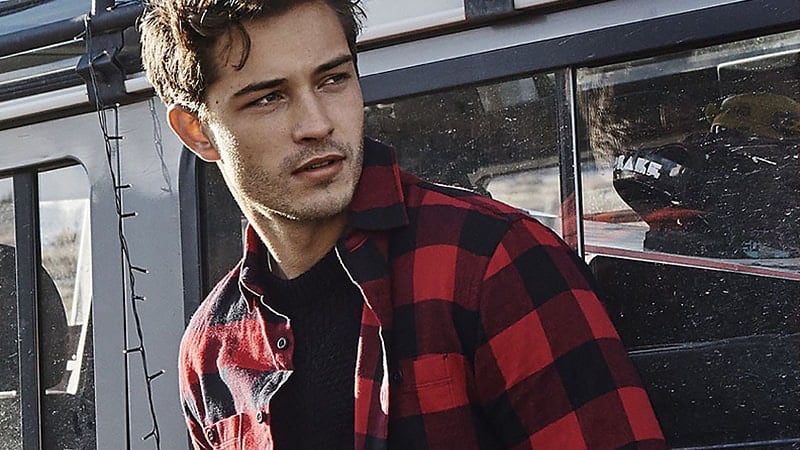 Black Flannel
Like red styles, black flannel shirts can feel quite edgy and a little grunge. This notion is particularly the case for versions that feature large and bold checks. As such, these shirts best suit gents who prefer a rough-around-the-edges type of appearance. If this sounds like you, you should try wearing your black flannel with some black jeans and black sneakers. If you prefer a cleaner look, on the other hand, try choosing one with a subtle print (or no print at all) and partnering it with dark blue jeans.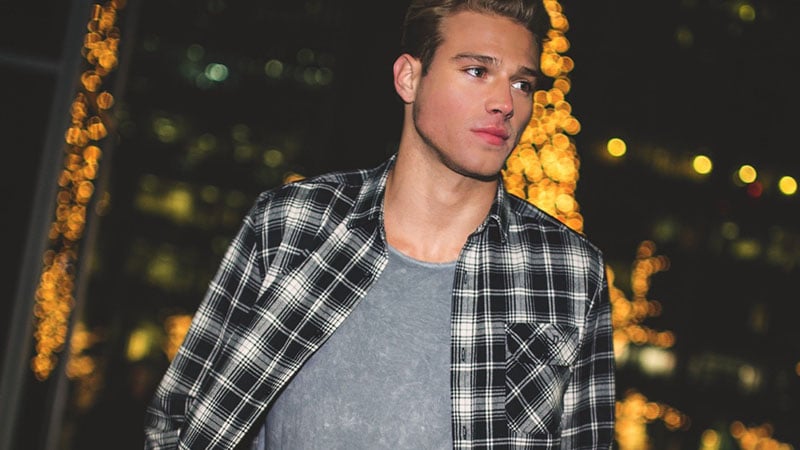 Green Flannel
Green flannel shirts can be unique and suit a range of different styles. One such style, with which they're often associated, is a country/ lumberjack look. For gents with a full beard, that means this color of flannel is for you. Of course, there's no need to grab an axe and act like you're wearing a costume. Some blue jeans and brown boots will help complete this look without taking it too far. As green shirts often feature blue or navy checks, they tend to be cool in tone. As such, this flannel color appears particularly handsome on gents with pale skin tones and cool complexions.
White Flannel
A predominantly white flannel shirt is a great way to rock this trend in a lighter tone. It can lighten your outfit and even make the fabric appear a lighter weight, which is perfect for trans-seasonal dressing. Choose a style with a white base color and a simple check in a color like grey or blue to nail this style. The shirt can then easily be partnered with any outfit thanks to its neutral tone.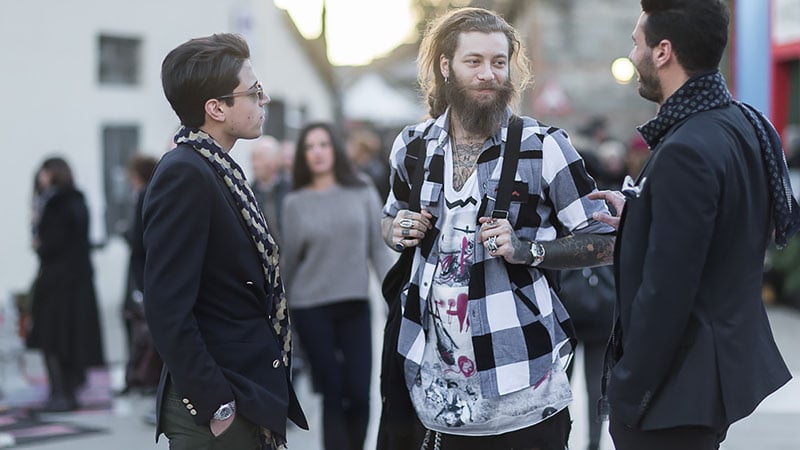 Grey Flannel
A grey flannel shirt can make a particularly smart option. It's especially great for occasions when you are required to look a little more polished, such as lunch or evening drinks. To ensure your shirt is suitably dressed up, choose a style in a single hue or with a subtle check. Anything too bold, such as a large check, will appear more casual and less appropriate for smart casual occasions. To complete your look, add some chinos and brogues.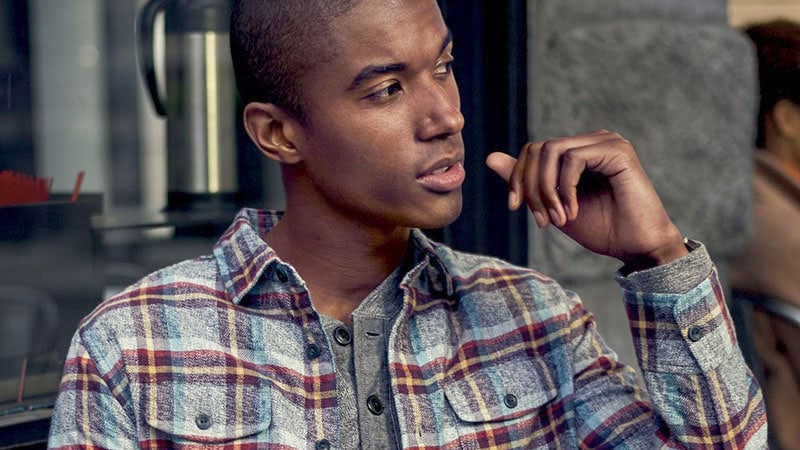 Brown Flannel
A brown flannel shirt also makes a good option and shouldn't be overlooked. The color is perfect for adding a warm touch to outfits in autumn, and the soft, cozy fabric suits the season exceedingly well. When choosing a brown flannel shirt, pick between different shades, such as lighter camel tones and dark, chocolate hues. For the ultimate autumn look, you can wear it with other warm tones, such as sand chinos. When it comes to other times of the year, a brown flannel pairs best with black jeans in winter and blue jeans in spring.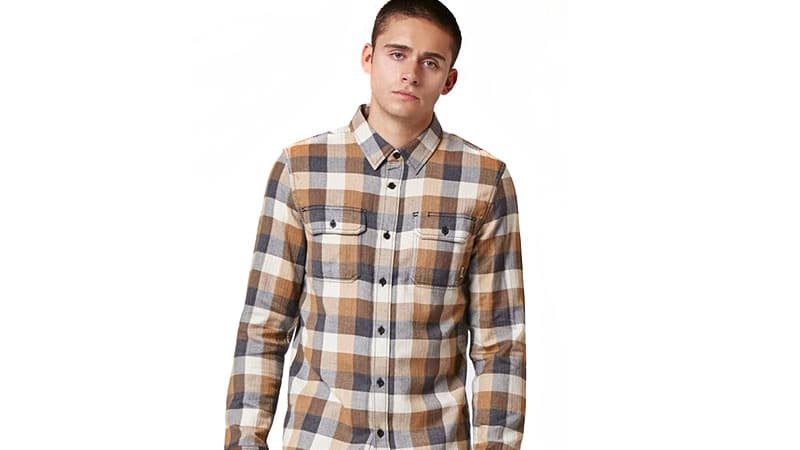 How to Wear a Flannel Shirt
Embrace check styles, particularly for casual looks.
Opt for classic colors, such as red, black, green, white, grey, and brown.
Pair bolder patterns and colors with minimal and neutral outfits.
For a casual look, pair your flannel shirt with a T-shirt, some jeans, and some boots or sneakers.
When the weather gets warm, tie your flannel shirt around your waist or roll up the sleeves.
For a smart casual style, wear your flannel tucked in with some chinos, a belt, and some suede derby shoes.
FAQs
How do you wear an oversized flannel man?
An oversized flannel looks great worn over a plain t-shirt, paired with jeans and some boots. Roll the sleeves up to give your arms more definition, or if it gets a bit warm, tie it around your waist.
Can you wear a flannel in summer?
You can wear flannel in summer. You could choose a flannel-style shirt that's made with a lighter fabric, so it's not as warm. Alternatively, you can wear it unbuttoned over a t-shirt with the sleeves rolled up, or simply use it as an accessory, tied around your waist.
Should flannel shirts be tucked in?
It depends on the look you're going for. If you've chosen a slimmer cut flannel and are wearing it with chinos for a more smart-casual look, tucking it in can be a great idea and elevate your look. Otherwise, for more casual styles, it's fine to leave it sitting loose.
Are flannels attractive?
Flannel shirts are attractive on a guy. They're warm, snuggly, and give a guy a rugged yet stylish look. Plus, they're a great way to incorporate some color into your wardrobe as they come in a range of shades and patterns.
–
SUBSCRIBE TO OUR NEWSLETTER
Subscribe to our mailing list and get interesting stuff and updates to your email inbox.