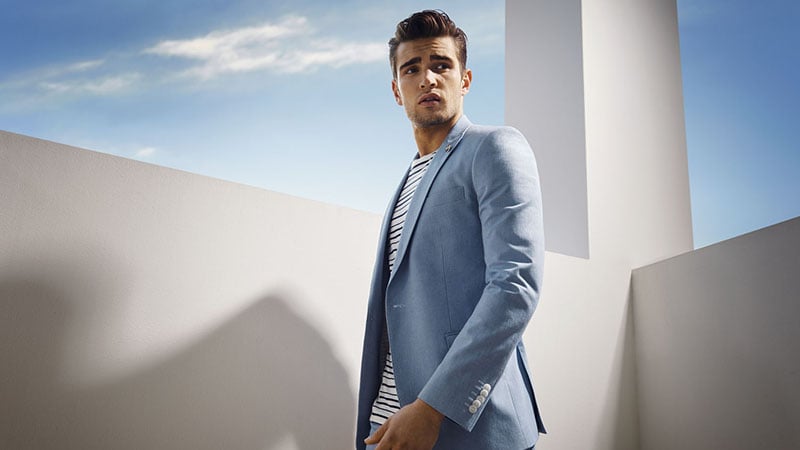 While a blazer may be your go-to for formal occasions, the classic jacket can work surprisingly well for a variety of looks, including those that are casual. So, if you're looking to achieve a relaxed yet refined appearance, a blazer can make a perfect choice. Of course, to nail a casual blazer outfit, there are several factors to consider, including colour, material, fit, and styling. Thankfully, we can provide guidance on all these aspects. All you need to do is follow our advice, and you'll soon be rocking a casual blazer with confidence and style.
What is a Blazer?
A blazer is a type of jacket that is considered suitable for formal occasions. Although blazers are similar to suit jackets, they do not technically feature matching pants. Likewise, blazers also often feature less structured shoulders than suit jackets. They were originally worn by the British Navy and date back to the early nineteenth century.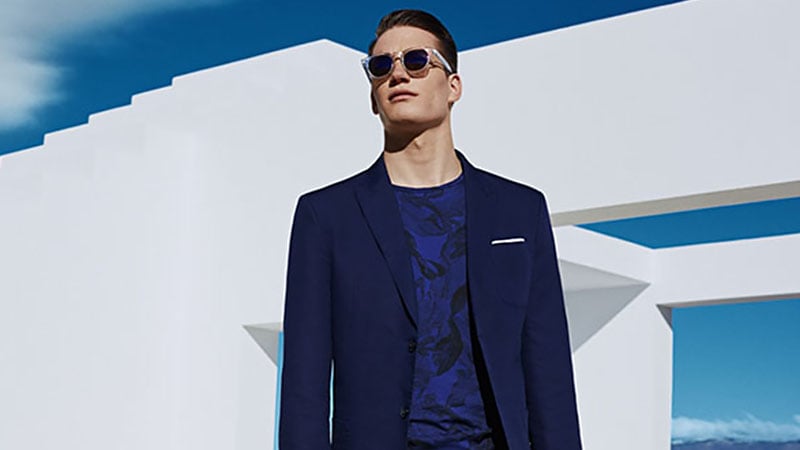 How to Wear a Blazer Casually
To wear a blazer casually, start by choosing a relaxed style. To do so, try opting for lightweight materials, such as linen, and unstructured designs that project a relaxed aesthetic. Once you have your casual blazer, keep the rest of your look on par with informal items. Jeans, chinos, and shorts all work well on the bottom while T-shirts and sweaters suit up top.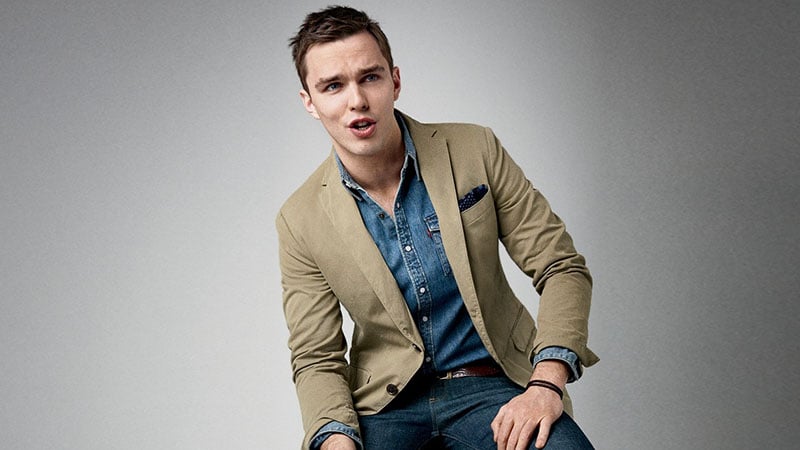 Men's Blazer Types
Cotton
Cotton blazers are a summertime staple and an excellent option for casual outfits. Thanks to their lightweight fabric, cotton blazers sit comfortably on the body, achieving a relaxed yet smart aesthetic. They are available in a variety of colors but are most versatile in classic hues like navy, grey, and beige. Just be sure to pick one that flatters your skin tone. While cotton blazers can suit a variety of looks, they work particularly well with jeans, chinos, T-shirts, and sneakers.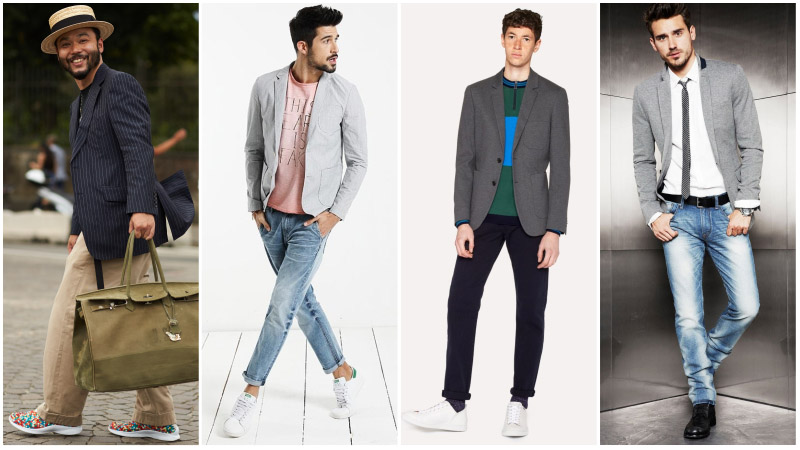 Wool
While wool and wool blend blazers may be too heavy for summer, they are ideal for other seasons. When buying a wool blazer, stick to shades of navy and grey to maximize versatility and longevity. Also, be sure to try it on before purchasing to ensure the cut and quality is right. Once you have your ideal wool blazer, you can pair it with jeans or chinos and sneakers or boots for a stylish casual look.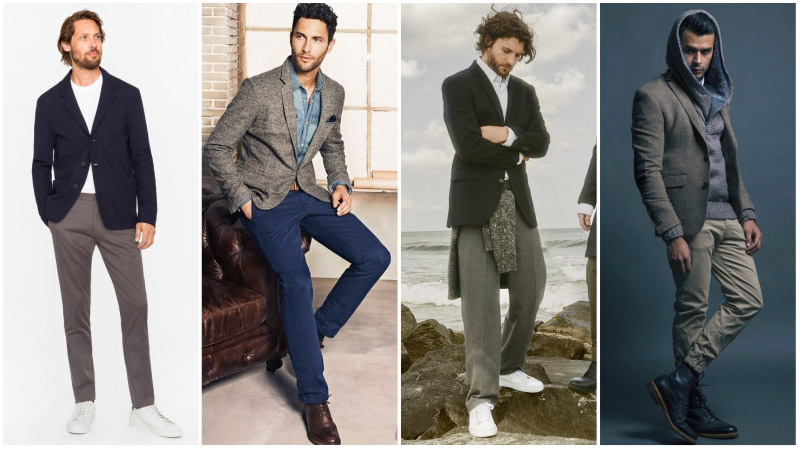 Linen
Thanks to their lightweight and breathable fabric, linen blazers are perfect for keeping cool in summer without sacrificing style. They are particularly suited to casual and smart casual ensembles and look best unstructured. To wear one, keep your overall appearance light and breezy. Also, avoid heavy footwear and opt for sandals, sneakers, or loafers.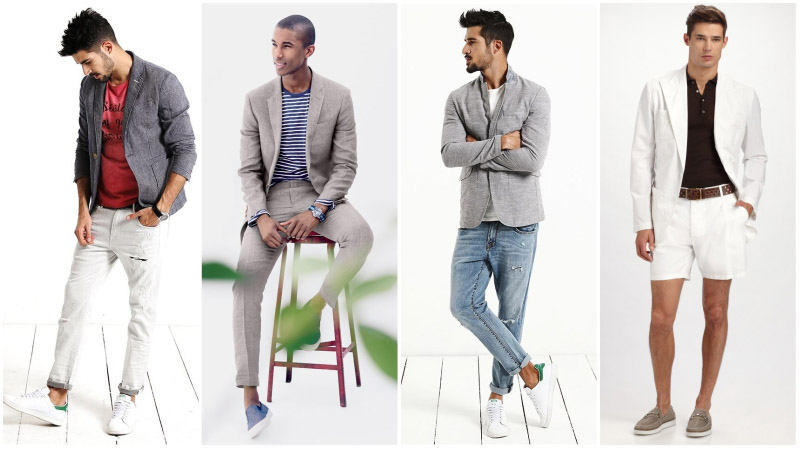 Tweed
Thanks to its heavyweight, tweed is best suited to winter outfits. In fact, a tweed blazer is an excellent option for fashionably staying warm in cold weather. Although tweed jackets are known for their classic charm, they can work surprisingly well with casual ensembles. To rock the look, try pairing a brown tweed blazer with dark blue jeans and a white shirt. Or, go monochrome for a sharp, contemporary aesthetic.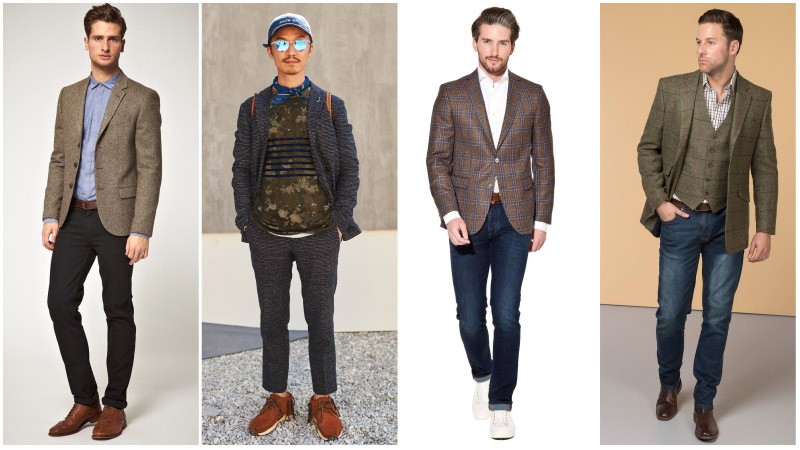 Structured/Unstructured
When selecting a blazer, you have the option of either a structured or unstructured design. Structured designs feature sharp, clean shapes and shoulder pads and are ideal for more formal events. Unstructured blazers are softer, more flexible, feature minimal or no shoulder pads, and are more suitable for casual occasions.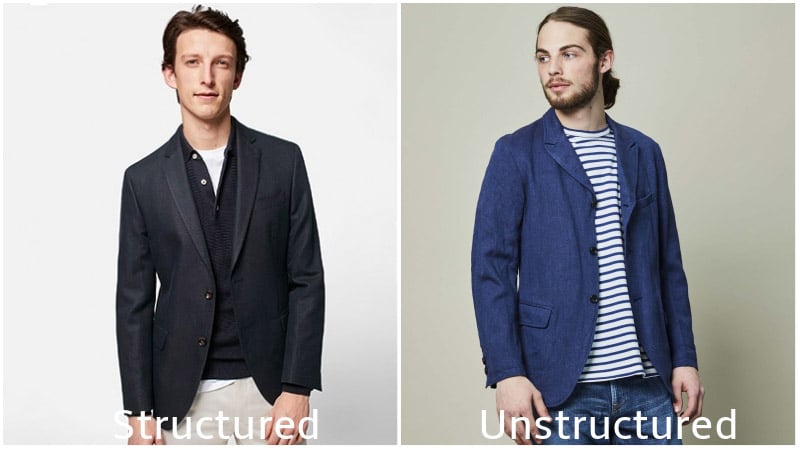 Men's Blazer Styles
Sport Coat
Also known as a sports jacket, a sports coat is similar in cut and length to blazers and suit jackets. However, they are generally more casual and less structured. Sports coats do not feature matching trousers and are often designed in thick, sturdy fabrics, such as tweed and flannel. They were initially designed for outdoor sports, such as shooting, and are looser than suit jackets to accommodate layers.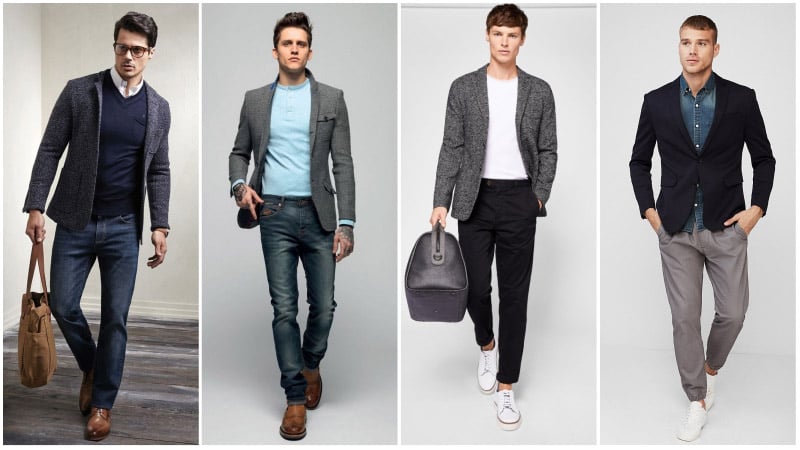 TOP BUYS
Suit Jacket
The main difference between a blazer and a suit jacket is that a suit jacket features matching trousers. However, suit jackets are also typically more formal than standard blazers. As such, they aren't always ideal for casual looks, but it is possible to make them work, especially if the style is unstructured. To do so, try breaking the suit up and teaming your jacket with chinos. Alternatively, embrace the whole suit and wear it with a T-shirt and sneakers.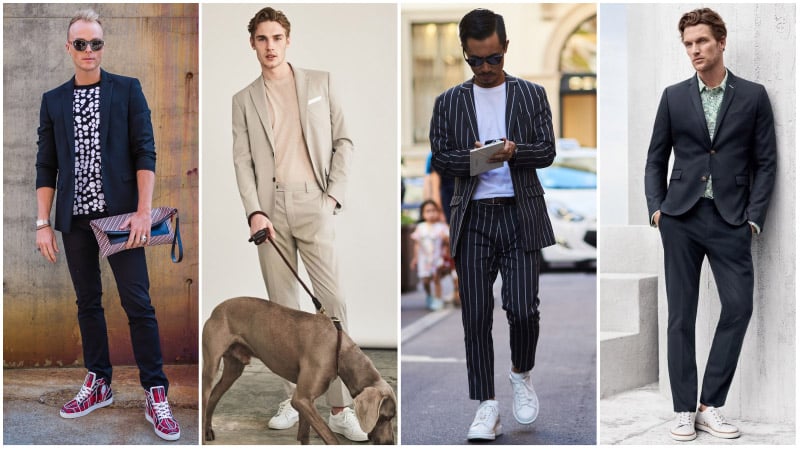 TOP BUYS
Casual Blazer Outfits
Blazer with Jeans
Pairing a blazer with jeans is an excellent option for men who enjoy a smart casual style. The look is especially ideal for dinners, parties, dates, and more. To wear it, try opting for a black, casual blazer. Then, either pair it with black jeans for a contemporary appearance or blue jeans for a classic style.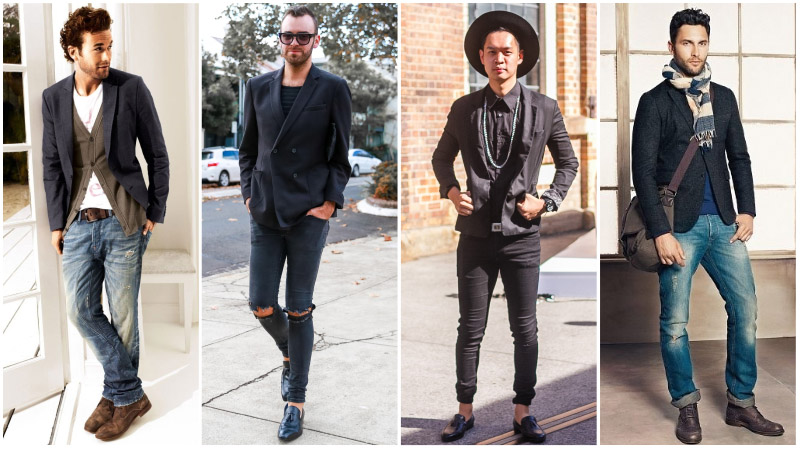 SHOP THE LOOK
Blazer with Chinos
For a polished appearance, a blazer and chinos is an ideal combination. To relax things down a little more, opt for a T-shirt instead of a collared shirt and stick to sneakers for your feet. In particular, pairing a traditional navy blazer with white chinos can create a stylish look with a fun, nautical twist.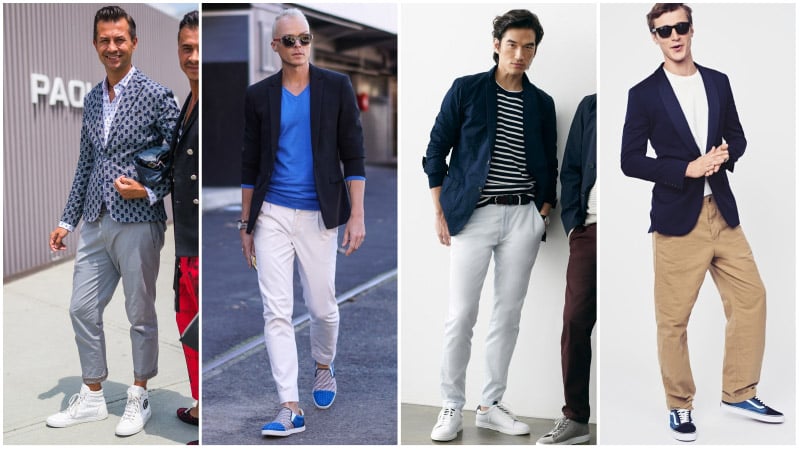 SHOP THE LOOK
Blazer with Shorts
Looking to have a little fun with your casual blazer? Why not team it with a pair of shorts? A blazer with shorts is a playful take on the style and perfect for summer. To wear the look, pair your blazer with chino shorts in a matching color. Then, add a contrasting T-shirt and finish with casual footwear, such as sandals, sneakers, or boat shoes.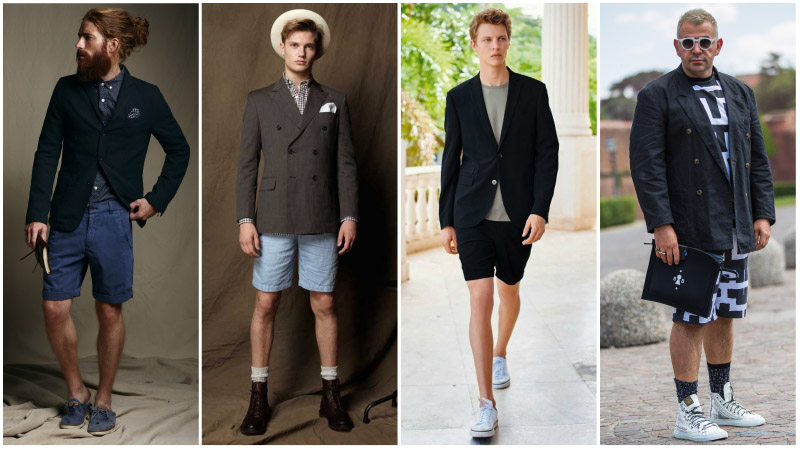 SHOP THE LOOK
Blazer with a T-Shirt
When worn correctly, a T-shirt and blazer can be seriously stylish. To nail the look, ensure both your T-shirt and blazer are slim. Then, partner the pair with slim chinos or jeans. Sticking to neutral block colors, such as black, white, and navy will ensure you don't go wrong.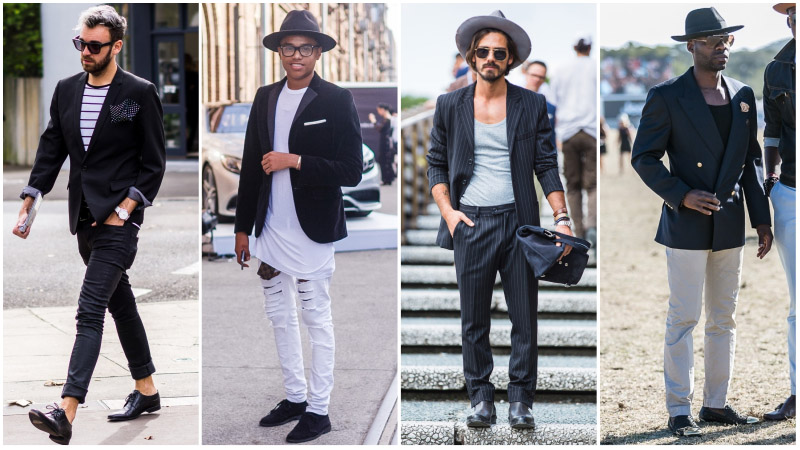 SHOP THE LOOK
Blazer with a Polo Shirt
A polo shirt is a fantastic option for casual blazer outfits. While the collared style is slightly more sophisticated than a standard T-shirt, it still achieves an impressive laidback aesthetic. Additionally, a polo shirt will add an athleisure touch to your look that's perfect for right now. Just add sneakers to make things even sportier.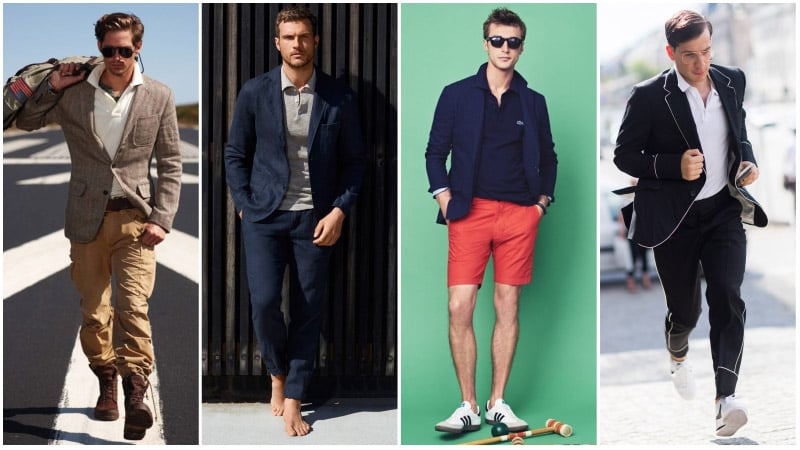 SHOP THE LOOK
How to Wear a Blazer
Choose an unstructured blazer for a casual look.
Stick to lightweight materials, such as cotton and linen, for summer and heavy fabrics, like wool and tweed, for winter.
Pair a blazer with jeans, chinos, or shorts for a stylishly relaxed look.
When it comes to tops, swap your standard button-up for a T-shirt or polo shirt.
Keep your footwear laidback with sneakers or loafers.
FAQs
Is it OK to wear a blazer with jeans?
You can wear a blazer with jeans for a casual appearance, and it is perfect for dinner parties or dates. Try to pick out lightweight materials, like linen or cotton, and unstructured designs, as these work best when trying to create a relaxed aesthetic.
How long is a casual blazer?
The fit of your blazer will be dependent on your size and body shape, but as a general rule, the blazer should stop around the middle of your crotch.
What color blazer is most versatile?
Like grey, navy, and dark neutral tones tend to be the most versatile in blazers. They can be dressed up or down, lend themselves well to a variety of different settings, and can be paired with jeans, shorts, chinos, and T-shirts.
What should I look for when buying a blazer?
When buying a blazer, you want to consider the fit from the shoulder first. You should also pay attention to the fabric's quality and choose lightweight materials for summer and heavier ones for winter. If you want a casual look, opt for an unstructured blazer.
Can you wear an untucked shirt with a blazer?
For a more casual appearance, you can leave your shirt untucked underneath your blazer. A fitted T-shirt is an excellent way to achieve this relaxed aesthetic.
What shoes do you wear with a blazer?
Depending on the setting in which you intend to wear your blazer, there are various footwear options. A casual blazer can be worn with sneakers or loafers.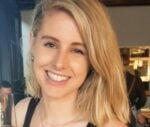 Taylah Brewer holds a bachelor's degree in fashion and business and is a skilled writer with several years of experience in the world of online content creation and copywriting. She is passionate about fashion, beauty, and all things lifestyle-related and has been writing for The Trend Spotter since 2016. She currently works as the Head of Digital & Ecommerce at White & Co.
SUBSCRIBE TO OUR NEWSLETTER
Subscribe to our mailing list and get interesting stuff and updates to your email inbox.