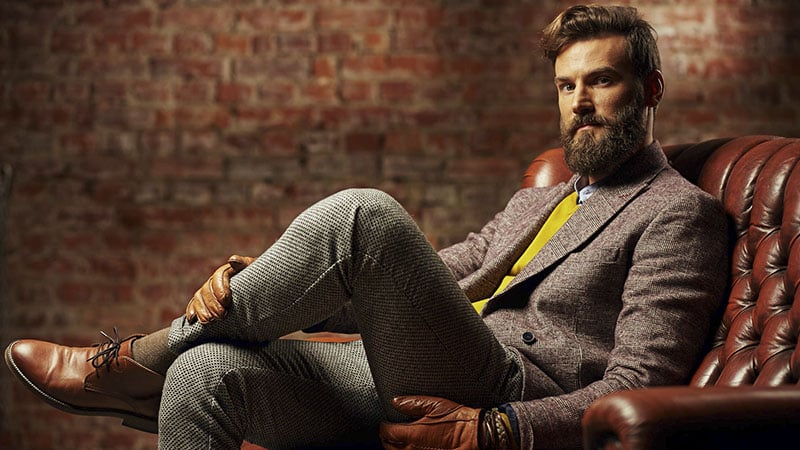 Desert boots have long been a footwear staple for stylish gents. Both fashionable and functional, these classic boots make a perfect choice for a variety of casual occasions. Of course, if you're yet to rock a pair of ankle-length shoes, you may be wondering exactly how to wear them. Thankfully, we're here to lend some expert advice. Whether you're looking for a laid-back shoe to wear to the bar with the boys or a smart yet comfortable footwear option for the office, we've got you covered. Here's our guide on how to wear desert boots for a cool and casual look.
What are Desert Boots?
While desert boots can be found all around the world, their origins trace back to Northern Africa where British soldiers once wore them on desert campaigns (hence the name). Bought from local bazaars, these practical, ankle-length shoes were preferred by the soldiers because of their comfort, durability, lightweight design, and flat crepe sole, which worked well on sand. When Nathan Clark (of Clarks shoes) first saw these boots when stationed in the region during World War II, he was impressed with the design. So, when he arrived home in England, he began creating his own. Today, after many decades, these shoes still offer the same outstanding practicality, comfort, and style. Of course, they're now more likely to be spotted on a city street than a sandy expanse.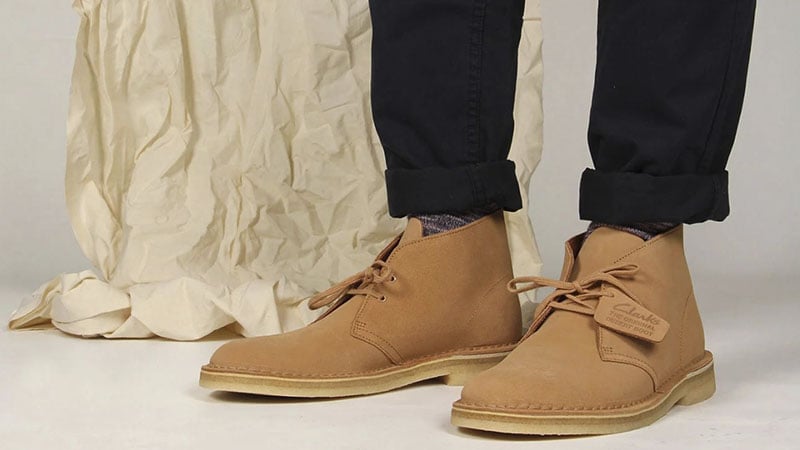 Desert Boots vs Chukka Boots
Desert boots fall into the category of chukka boots. So, while all desert boots are chukkas, not all chukkas are desert boots. Thankfully, there is a way to distinguish the difference. While all chukkas feature a lace-up, ankle-length design with two or three eyelets for laces, only desert boots tend to have a crepe rubber sole. Additionally, most desert boots are more casual in material and design than other styles. Of course, that's not to say there aren't sophisticated desert boots around. As with most fashion items, these shoes have diversified over time with many versions now available.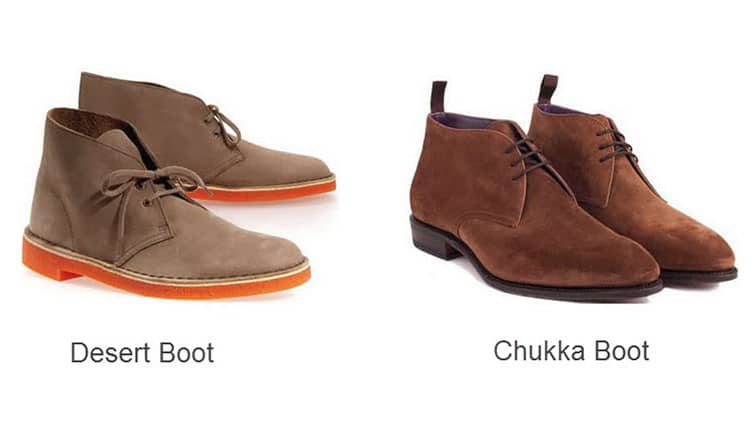 When to Wear Desert Boots
Casual Occasions
Desert boots can look fantastic with a range of outfits. However, they are best suited to those that are casual. For a cool, casual look, try rocking a pair of desert boots with jeans. You can even cuff or roll up the bottoms to stylishly show off your shoes and project an awesome relaxed vibe. Up top, you can wear just about anything. A plain T-shirt, a sweater, a button-down, or even a checked flannel shirt can look awesome with these boots.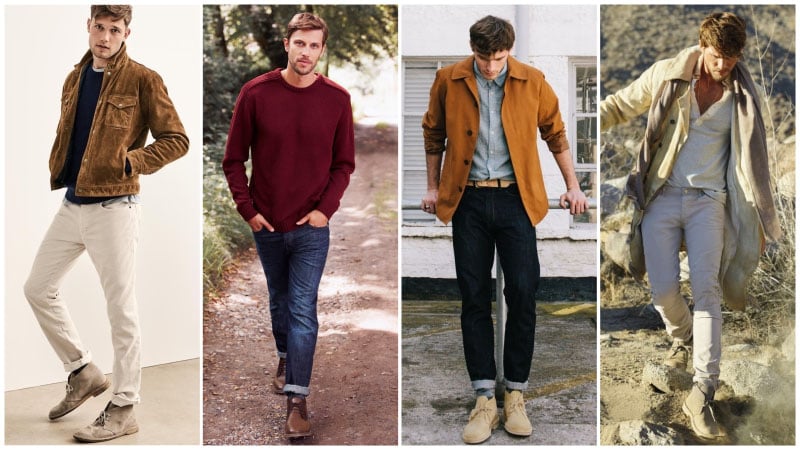 SHOP THE LOOK
Smart Casual Occasions
Desert boots in classic colors like brown, beige, and black are ideal for smart casual occasions. Perfect for when you need to get ready in a flash, these boots can quickly be thrown on with a pair of slim chinos and a neutral button-up shirt for a sleek look. For a slightly more formal appearance, you can try teaming your boots with a relaxed suit. Just remember to keep things a little laid-back by either wearing a T-shirt or ditching the suit jacket.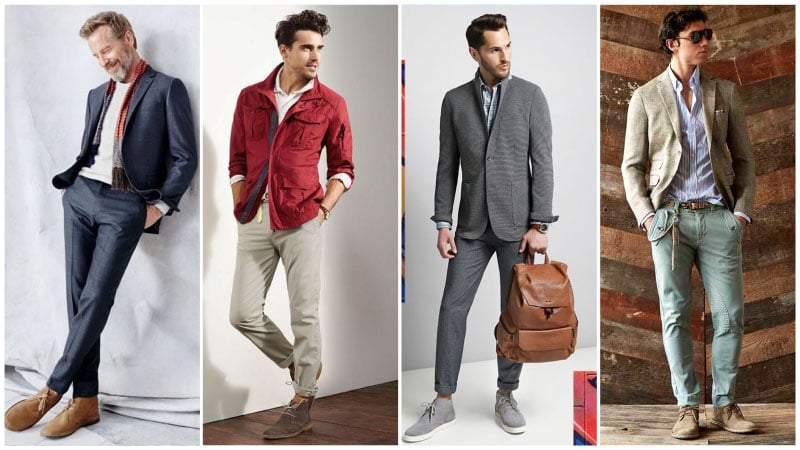 SHOP THE LOOK
Business Casual Occasions
Want to wear your desert boots to the office? So long as you don't work in a highly formal environment, you can do so with confidence. To create a smart business casual look with these boots, pair them with straight or slim chinos or trousers in a classic color like beige, navy, or black. On top, select an Oxford shirt in a block neutral hue like white or a classic checked design. Then, just add a belt and a tie or jacket if you like.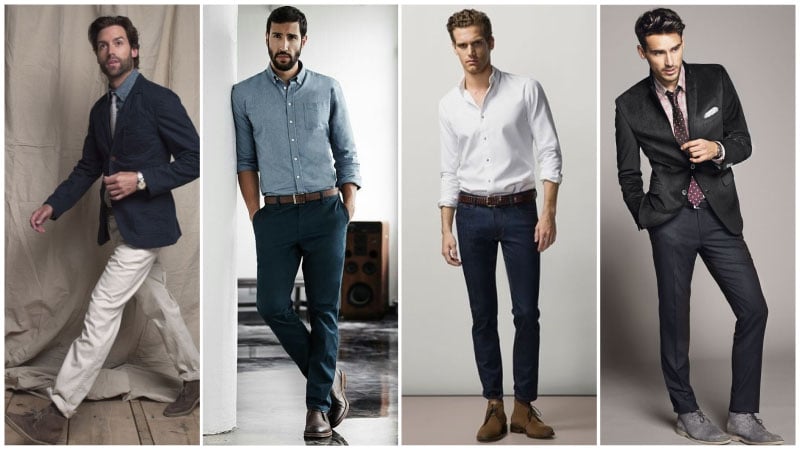 SHOP THE LOOK
Desert Boots for Men
Suede Desert Boots
Suede and brushed leather are classic and popular choices for desert boots. When looking to buy a pair, consider timeless colours like beige, brown and black or slightly bolder hues like grey and navy. As suede typically appears more casual than leather, it's best to pair these shoes with a relaxed yet stylish outfit, such as jeans with a T-shirt or knit sweater. While slim-fit jeans tend to look the best with desert boots, you can rock a different cut if you want or even switch your jeans for chinos on occasion.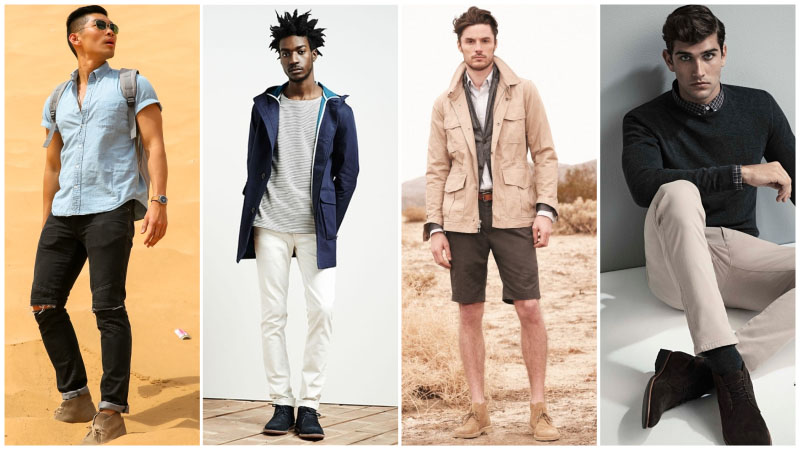 TOP BUYS
Leather Desert Boots
Although not as common as suede styles, leather boots are also a worthy investment for gents. Whether genuine or more animal-friendly, leather desert boots look sleek and smart. So, while they can work with casual ensembles, they also partner perfectly with more polished looks. Although you'll want to select a quality pair of leather desert boots to ensure they'll last a long time, don't stress too much if they get scuffed. A worn-in appearance can add to the style of your boots, creating an impressive rugged aesthetic.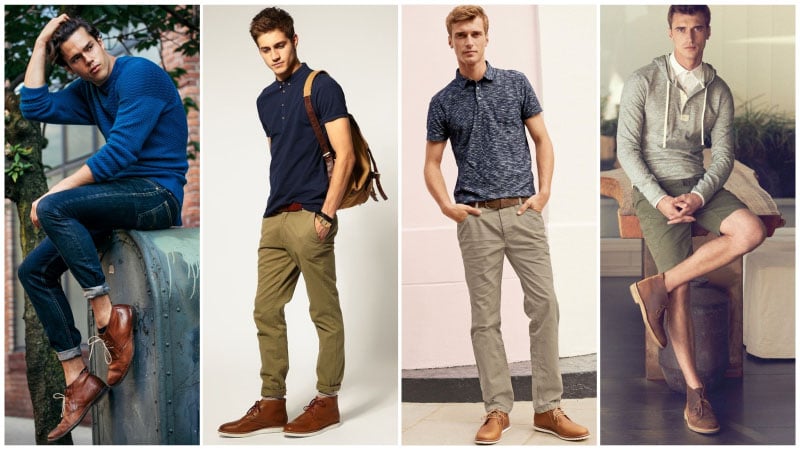 TOP BUYS
Black Desert Boots
Black desert boots are highly versatile, making them an excellent investment for gents. Thanks to their neutral hue, these shoes can work well with a variety of garments and outfits. In particular, a cool monochrome ensemble can appear seriously stylish. To rock the look, team your black desert boots with black jeans or chinos, a white T-shirt, and a casual black blazer, leather jacket, or coat.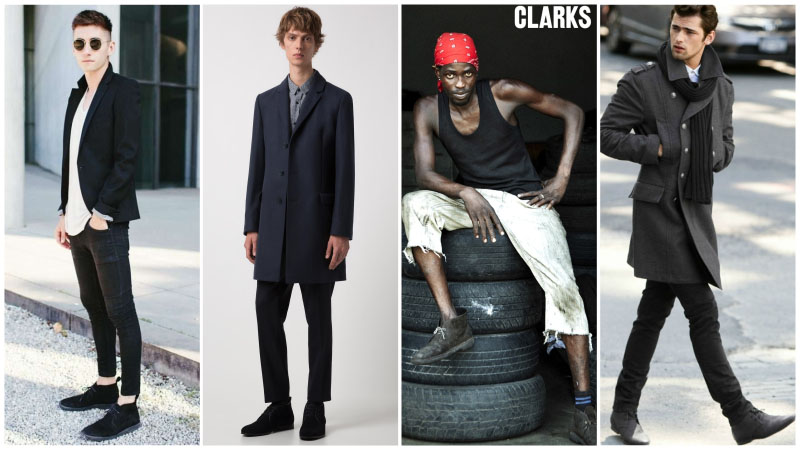 TOP BUYS
Brown Desert Boots
Whether leather or suede, brown desert boots make a fantastic wardrobe addition. Not only do they look great, but these shoes can also work brilliantly with a wide range of outfits. For instance, they can easily be worn with your favorite blue or black jeans for a relaxed yet fashionable appearance. Just add a white T-shirt for casual events or a white shirt for more formal functions. You can even rock a pair of brown desert boots to the office if you wish.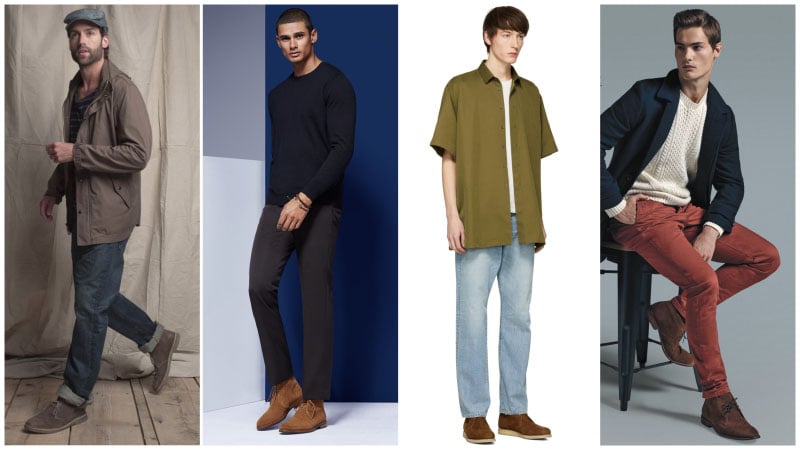 TOP BUYS
How to Wear Desert Boots
Keep your desert boots clean, especially suede styles, which can quickly appear messy without proper care.
Pair suede desert boots with jeans and a T-shirt or sweater for a cool, casual look.
Team leather desert boots with chinos and a shirt for a smart casual style.
For a classic look, choose beige, brown, and black styles.
For something a little bolder, try a navy or grey design.
FAQs
What do men wear with desert boots?
Desert boots look great when paired with jeans or pants with a rolled-up bottom if you want a casual look. Wear them with chinos for a smart-casual appearance and slim chinos or trousers for more formal attire. You can pair your shoes with a sweater, T-shirt, and even a button-down and blazer, depending on the look you're going for.
Are chukka and desert boots the same?
Desert boots are a type of chukka boot, and we understand the confusion. That said, desert boots tend to be made in a lighter color fabric and are more casual. They also often feature a crepe rubber sole.
Can I wear desert boots with a suit?
If you want to achieve a business casual look, you can wear desert boots with straight or slim chinos or trousers and a classic oxford shirt. Stick to dark, neutral tones for the pants and a lighter neutral shade for your top half. You can also wear a suit jacket with them to create a more formal appearance.
Do you wear socks with desert boots?
If you want to wear socks with your desert boots — and it is probably a good idea if you don't want them to have an odor after multiple uses — make sure they are secret socks. What this means is that the socks should not be visible.
Are chukka boots good for walking?
If you are going hiking, chukka boots will not provide enough support, that said, they are lightweight and comfortable, so if you are running errands, these could be the perfect shoes to wear while doing them.
SUBSCRIBE TO OUR NEWSLETTER
Subscribe to our mailing list and get interesting stuff and updates to your email inbox.