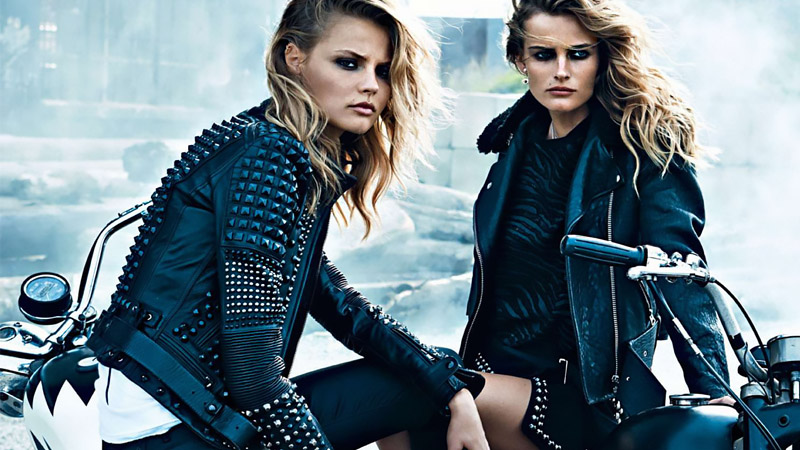 The leather jacket is an essential piece of clothing for every wardrobe. From the classic moto jacket to cozy shearling styles, no outfit can't benefit from some leather outerwear. No matter what your style is, your budget, or occasion, there is the perfect jacket for you. Whether worn with jeans and a T-shirt or a ballgown, you can dress up or dress down any outfit and still look effortlessly stylish. Get ready to turn heads and watch jaws drop with these amazing leather jackets, that are perfect for different occasions.
Leather Jacket Outfits
Black Leather Jacket
A staple piece that every wardrobe needs, the black leather jacket is the perfect finishing touch to any outfit. No matter if it's a bomber jacket or a blazer, it is versatile and perfect for every season. For colder months, opt for a leather jacket worn over a jumper or hoodie; if it's a little warmer, you can add a rockstar edge to a floral dress or keep it casual with a pair of jeans. The opportunities are endless when it comes to styling a black leather jacket; it's a classic for a reason!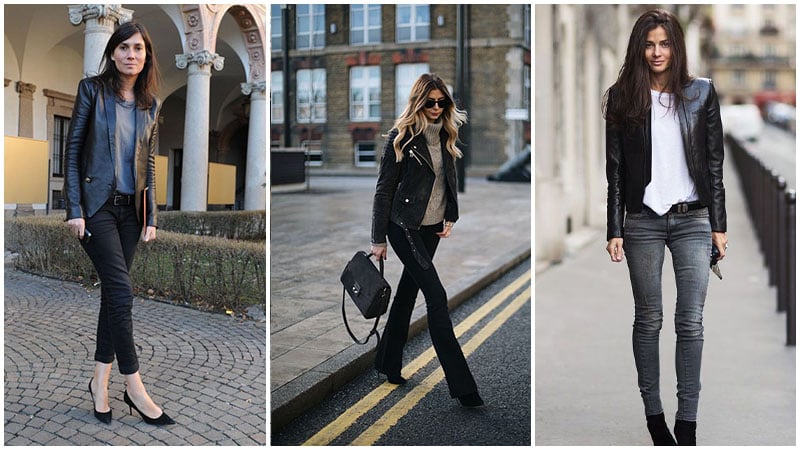 TOP BUYS
Leather Motorcycle Biker Jacket
A motorcycle jacket is a classic that is essential for every season. Oversized, cropped, or vintage, a leather motorcycle jacket adds a grunge essence to an outfit. Make it casual by pairing it with a pair of jeans and a white T-shirt, or unleash your inner rockstar with checked pants and chunky boots. A black motorcycle jacket is a classic choice, but you can mix things up by wearing the piece in any color you wish. This outerwear is adaptable to any outfit; a piece of clothing that works for any occasion.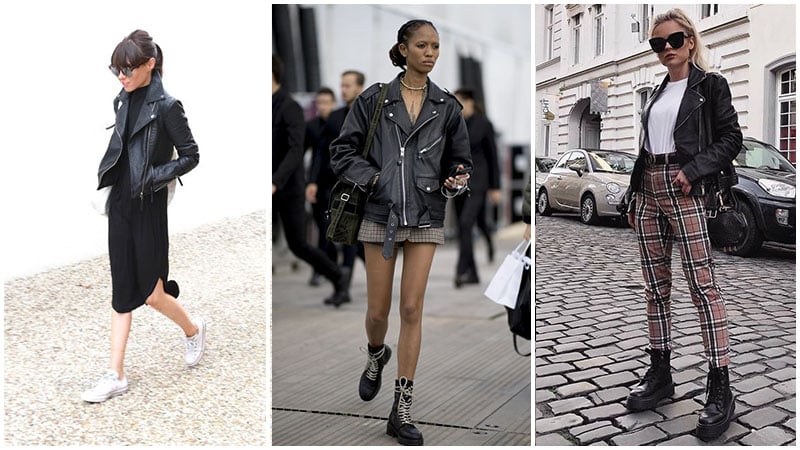 TOP BUYS
Vegan Faux Leather Jacket
Stylish and timeless a faux leather jacket is an ethical and effortless way to tie together a casual outfit, up the ante on a night out, and add a fresh twist to a favorite getup. Guilt-free jackets come in so many different styles; you can choose something different for every occasion!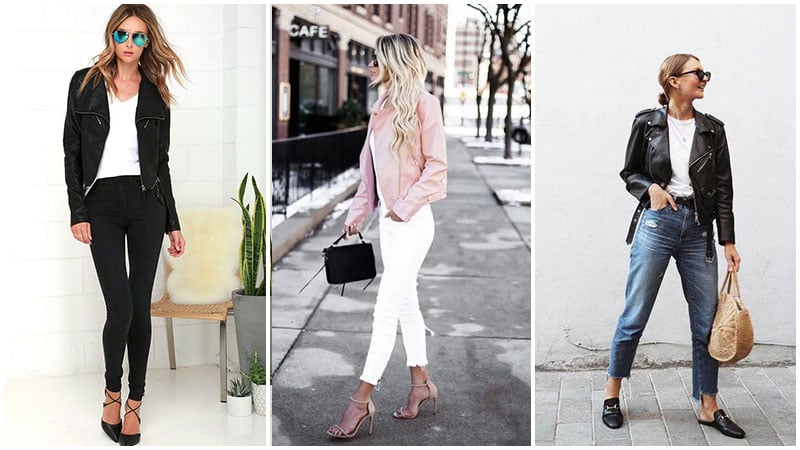 TOP BUYS
Brown Leather Jacket
A staple for any wardrobe, the brown leather jacket creates a statement without deviating from the traditional outerwear. Found in various cuts, shapes, and designs, you can style this jacket any way you like. Pair the brown hue with contrasting colors such as blues, greens, and greys to make your outfit stand out for the right reasons. Combining camel and neutral tones with a brown leather jacket creates a monochromatic and streamlined outfit, perfect for the office or a night out on the town.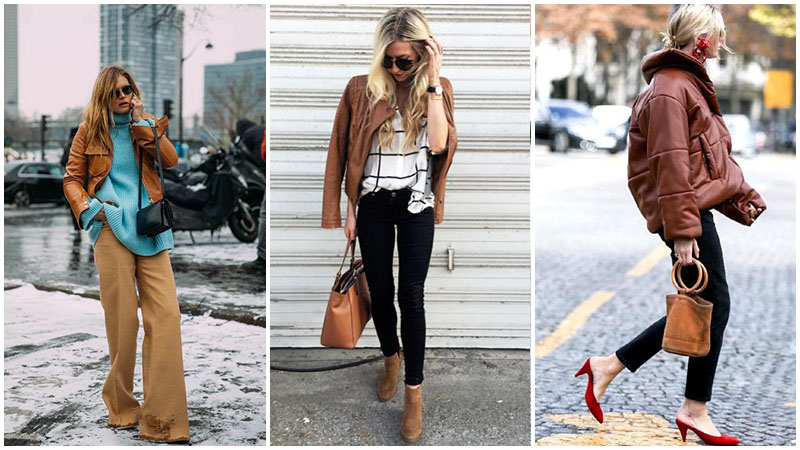 TOP BUYS
Red Leather Jacket
Your leather jacket doesn't have to be traditional to look amazing. Channel your inner Thriller with an oversized red moto jacket, or look like you've won the biggest game of the year by sporting a varsity jacket. The options are endless when it comes to a red jacket. Paired with colors such as white, blue, and even more red and you'll be turning heads everywhere you go!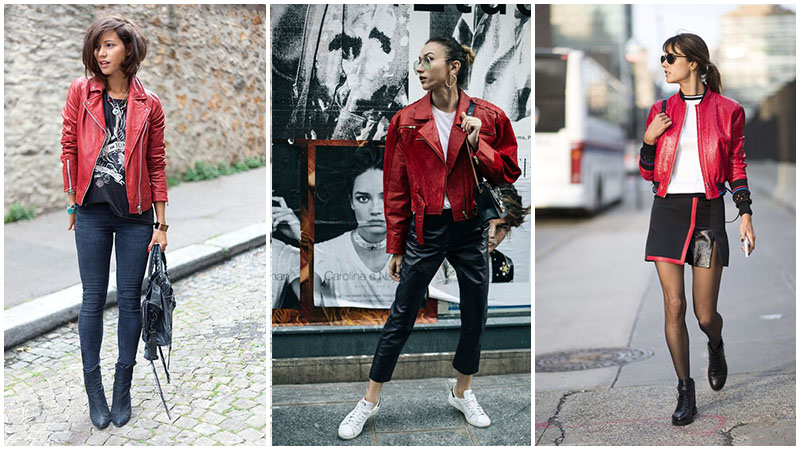 TOP BUYS
Pink Leather Jacket
A blush or bashful colored jacket is a flirty and fun way to make an outfit pop, no matter the occasion. Create an Elle Woods inspired getup by wearing an all-pink co-ordinate or add a splash of color to a black dress. Pinks come in a range of shades, so no matter if you're into a hot pink or something a little more muted, you can find the perfect rose hue for you!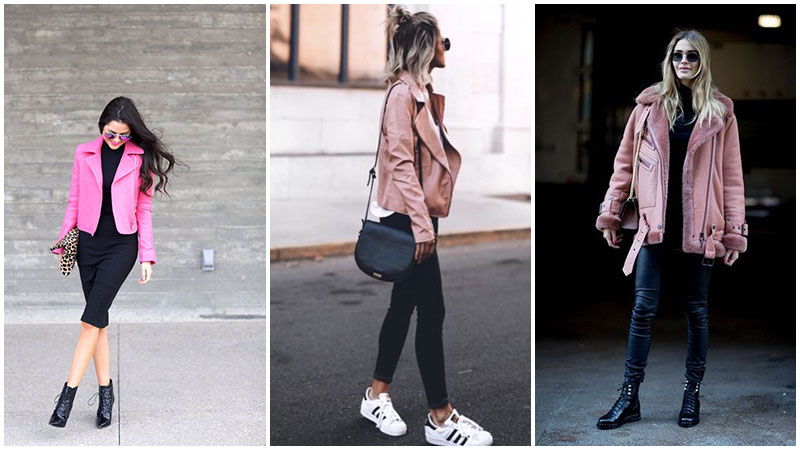 TOP BUYS
Blue Leather Jacket
You won't be feeling blue once you've put on an ocean-colored leather jacket. A perfect choice for a casual getup or a night out, there's a never-ending amount of times and places you can rock this color. From navy blues to emerald-inspired shades, you can pair these jackets with stripes, jeans, or an all-black ensemble. Watch as the compliments roll in once you've pulled on your jacket.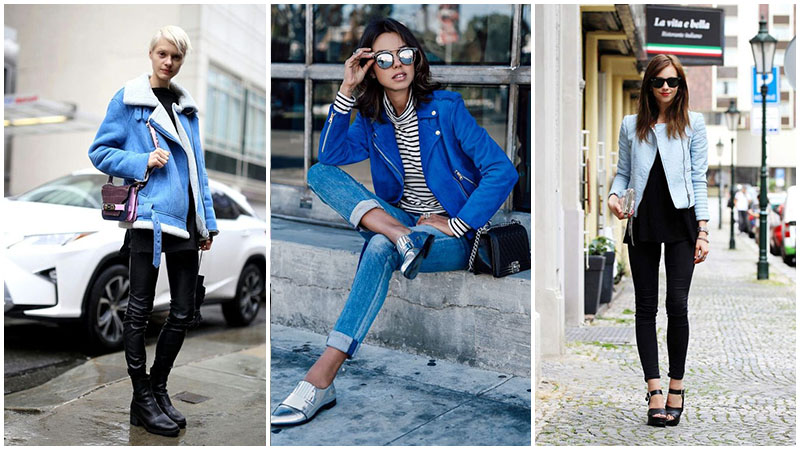 TOP BUYS
White Leather Jacket
Cool as ice, the white leather jacket is a piece of clothing that is timeless and adds instant cred to your wardrobe. Rock out your best 70s-esque style by pairing a white jacket with jeans or a flowing skirt. Add elegance and sophistication to your night out by sporting the jacket with a slinky dress or pencil skirt. Perfect for wintery nights or autumn days, this pearly jacket will keep you in style all year round, no matter the season!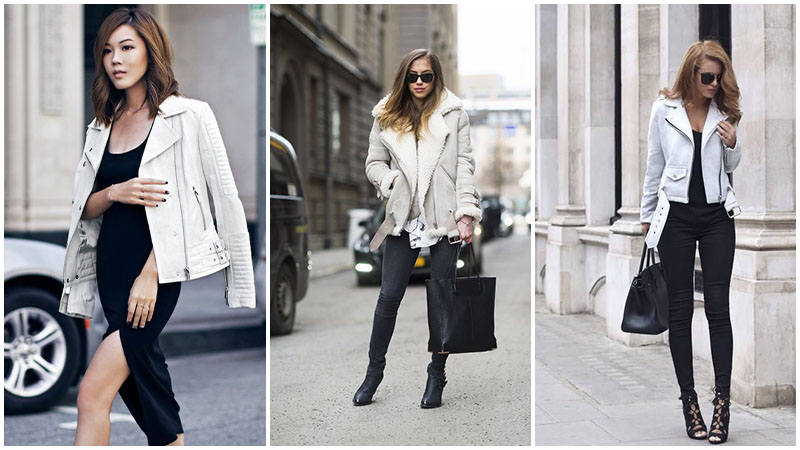 TOP BUYS
Yellow and Tan Leather Jacket
Warm-up every room you walk into with a yellow or tan leather jacket. Flattering any and every skin tone, this jacket choice is a great way to brighten an outfit and let your bubbly personality shine through. Opt for a white T-shirt and pair of jeans to complement the sunny color, or make the canary color pop by wearing it with an all-white outfit. If you're not ready to go all the way with the saffron outerwear, a tan shade is a beautiful alternative that still makes a statement. This color is not subject to warm seasons only; you'll turn even the coldest days into warm ones when you wear these colors!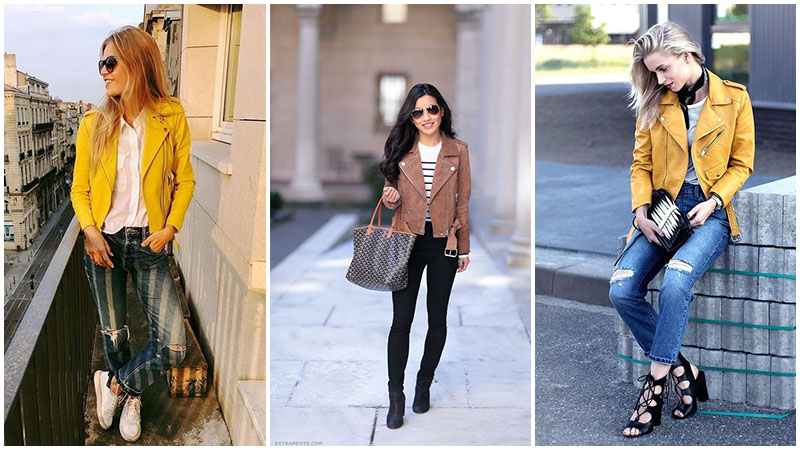 TOP BUYS
Burgundy and Purple Leather Jacket
A leather jacket in this color is always a grape idea. This shade is a versatile and stunning option for those who enjoy stepping outside of the box; timeless in design with a modern twist. Create a subtle but alluring finish to your daily outfit by pairing a grape-colored jacket with a plain T-shirt or roll neck and your favorite jeans. This shade looks fantastic with any other color, especially blues, greys, black and different shades of purple or burgundy. Don't be afraid to stand out with one of these jackets!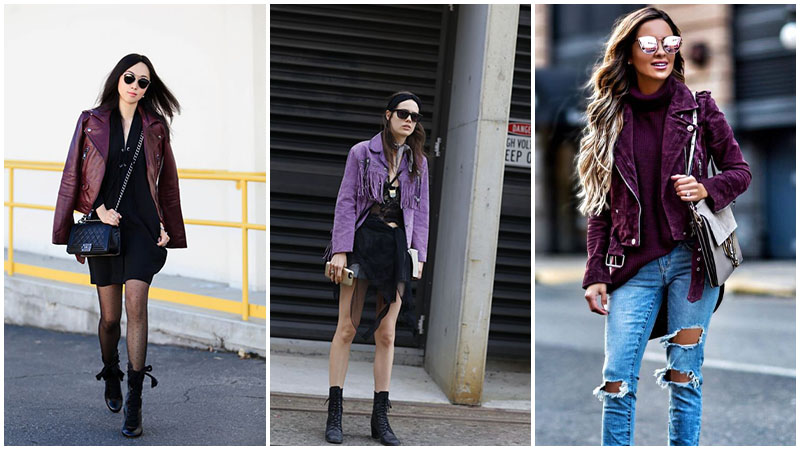 TOP BUYS
Leather Jacket With Fur Collar
For those days where it's too cold to function, a leather jacket with a fur collar is the best way to keep yourself toasty and stylish. Choose from a large collar or something smaller to completely upscale an outfit, no matter where you're going. Coordinate the shade of the fur to the rest of your look or create a contrast by choosing a collar that stands out from your outfit. These jackets are the best way to combine warmth, elegance, and style, what more could you possibly need?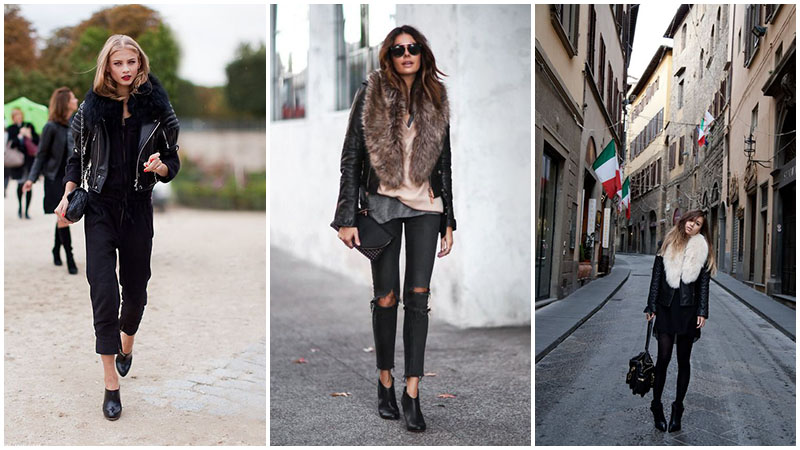 TOP BUYS
Leather Bomber Jacket
An edgy twist on a classic style, the leather bomber jacket adds instant cool to anyone's wardrobe. Sporty and oh-so-stylish, it is a great way to dress up or down an outfit. Keep things casual by wearing the bomber jacket with leggings or jeans, or give a flirty skirt an athletic edge. There's no wrong way to wear a bomber jacket; they give off an element of freshness to your outfit.
TOP BUYS
Cropped Leather Jacket
Grab your high waisted pants and complete the look with a cropped leather jacket. Short and sassy, it is the best way to show off your figure without sacrificing keeping warm. It is a perfect transitional piece of clothing, as it's not too heavy to wear on an autumn day, but will keep the cold at bay. Make a real statement with an ultra-cropped jacket, showcasing your lower half to perfection. If you'd like to keep the cropped nature to a subtle length, opt for a cut that hits just at your waist, allowing you to cinch yourself in and flatter your beautiful curves.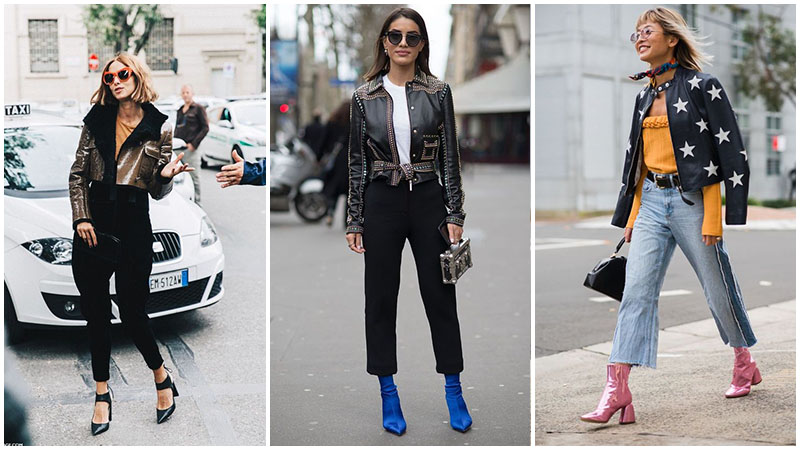 TOP BUYS
Fringe Leather Jacket
There's nothing quite like fringe, so why not take your getup to the next level with the help of some leather fray? From suede to patent leather, you can never go wrong with some drama on your jacket. It is the best way to spice up an outfit with a Western spin. You'll catch the attention of people walking by you and look like a superstar no matter where you go. Ideal for transitional seasons and the colder months, these multidimensional jackets are the best way to liven up an outfit.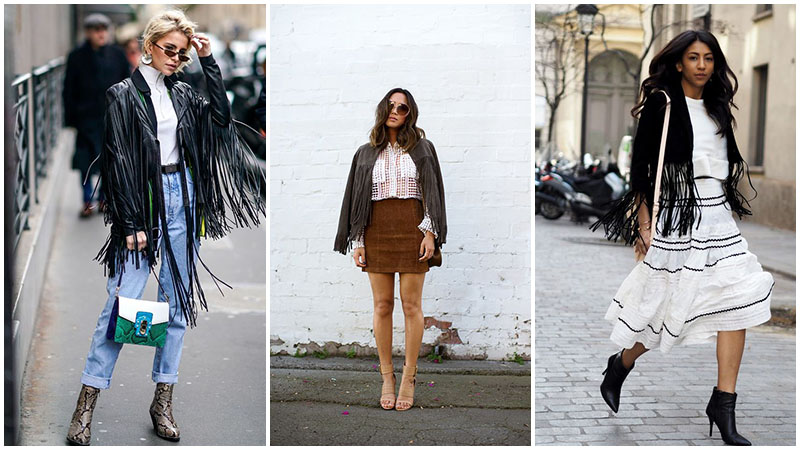 TOP BUYS
Studded or Embellished Leather Jacket
Studs, buttons, appliques, and badges, are the accessories that any leather jacket needs to stand out. Whether you spend an afternoon adding studs to your favorite outerwear or you've just picked up the perfect designer piece, this type of detail adds an extra bit of drama to an essential piece of clothing. These jackets create a unique and beautiful addition to any outfit you're wearing, so don't be afraid to add a little sparkle!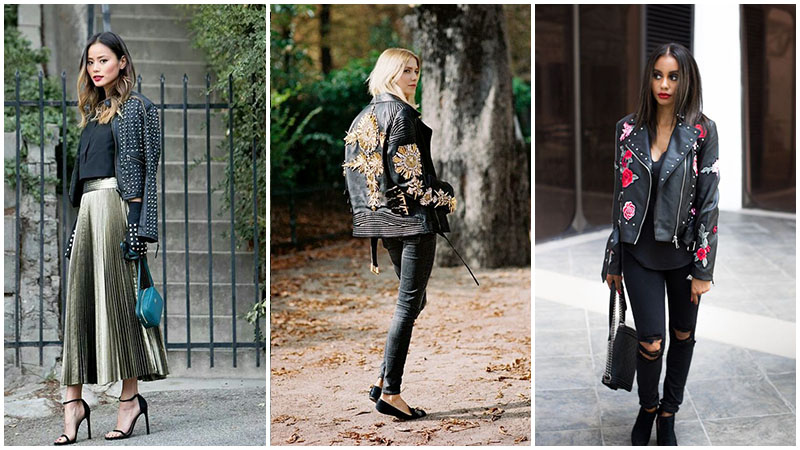 TOP BUYS
Vintage Leather Jacket
If it ain't broke, don't fix it. A vintage leather jacket is the best way to earn yourself some style cred and upcycle pre-loved clothing. Men's jackets, oversized bombers, and blazers are the perfect way to add an old-school flair to a modern outfit. Find a vintage jacket at an op-shop or your parent's house, and style it any way you wish. You can distress it, add studs or leave it as it is, give it a new life!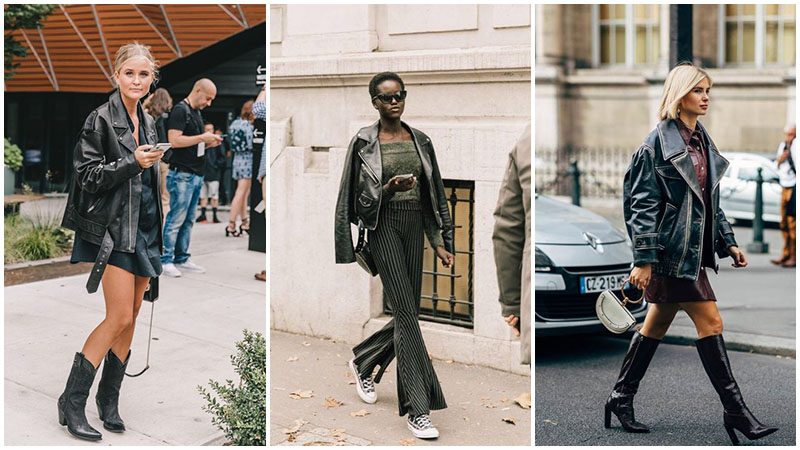 TOP BUYS
Plus Size Leather Jacket
Accentuate your curves and show off our effortless style with a leather jacket. From shearling coats to biker jackets, you can style one of these pieces any way you like. Streamline your outfit with an all-black ensemble, paired with a cropped leather jacket in any color of your choice. Fight tradition by choosing bold colors such as pinks, purples, and yellows to create a one of a kind look. These jackets add style to any outfit, so don't be afraid to mix things up with different colors and designs!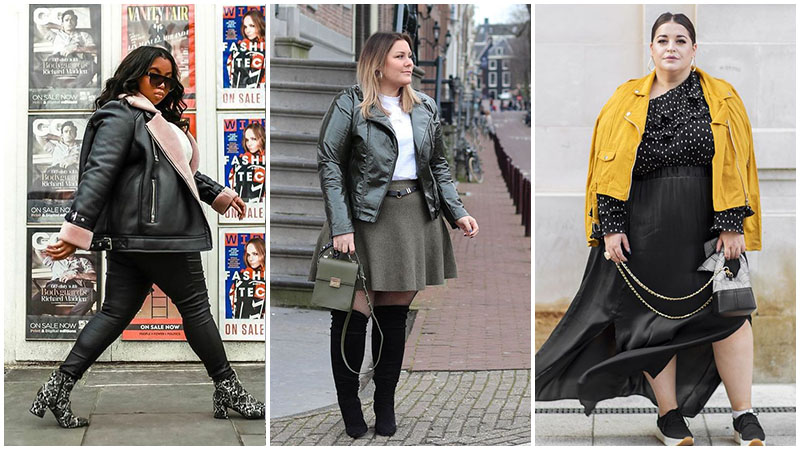 TOP BUYS