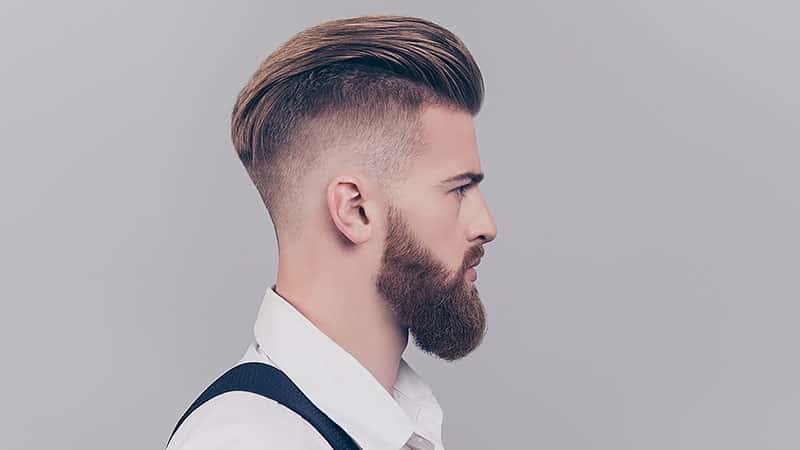 We know every man is different, and your haircut should reflect this! The modern approach to men's hairstyles lets you get creative and embrace something different. The short sides and long top haircuts are not new and have been favored by some of the most classic and sophisticated cuts, but there are plenty of ways to give this style a unique and modern twist, letting you create a look that feels fresh and undeniably cool. You can be daring with a mohawk or keep it a clean and structured finish like the high and tight. If you are looking for inspiration for your next trip to the barber, you have come to the right place. Below are all the ideas you will need to inspire you!
RELATED: 10 Best Men's Short Back and Sides Haircuts
1. Afro With Skin Fade
The skin fade fades down to skin level. This makes it much less subtle than other types of fades but ideal for those who want something edgy that will create contrast. It will complement the natural volume of the afro while also making it appear neat and structured. This is a super flattering way to wear your fro, with minimal effort but maximum coolness.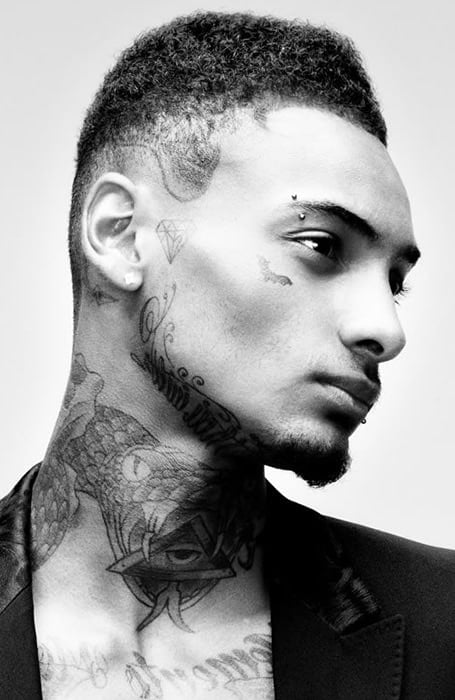 2. Afro With Undercut
Not only is the afro a powerful symbol of blackness, but it is also an undeniably appealing hairstyle because it demands attention. There are many ways to style your fro, including pairing it with an undercut. This will make the strands on the top appear more full and voluminous while removing bulk and weight. Plus, it is an excellent way to achieve more structure.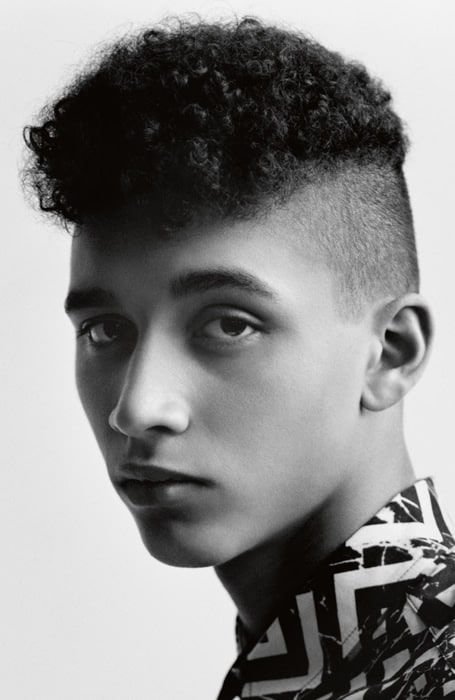 3. Box Fade
Do you want to update your hairstyle with something fresh and artistic? Look no further than the box fades, defined by its box-like shape on the top of the head to achieve volume and fullness (it is best suited to Afro-textured hair, which makes it easier to style). Pair it with a fade to remove weight and bulk from the back and sides.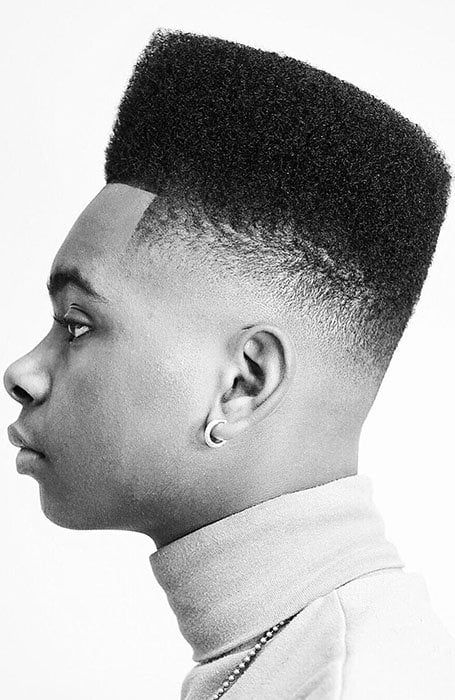 4. Crew Cut
Effortless, these are two ways to describe the classic haircut that is the crew cut. It is a short style with the longest hair kept at the front hairline. The backs and sides will be slightly shorter but not as noticeably different as those that use faded techniques. The result? A low-maintenance way to style your strands that is perfect for all occasions and easily adapted to complement your texture.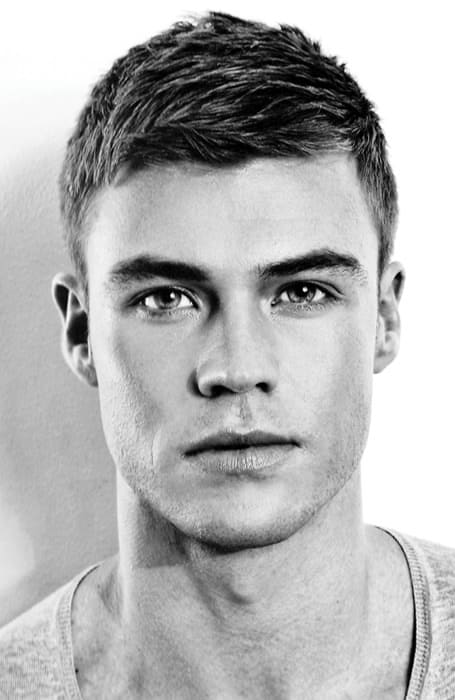 5. Disconnected Undercut
Don't let the terminology put you off; a disconnected undercut is just a hairstyle designed with one piece being longer than the other. This is the ultimate look for men who want an edgy and expressive cut, and the difference in length from the top to the back and sides makes it an excellent way to add structure.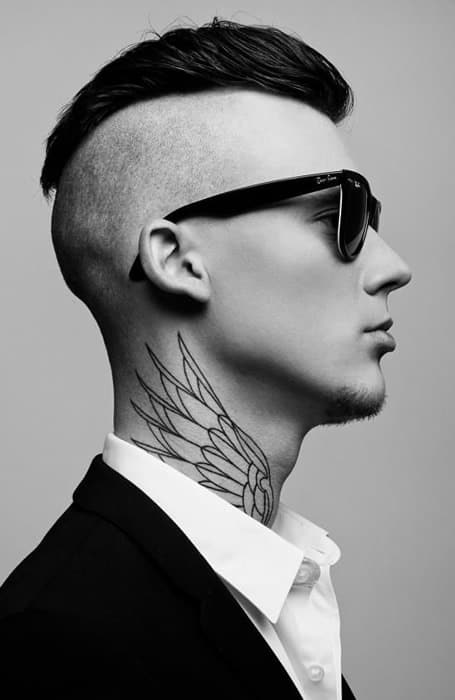 6. Drop Fade With Blow Out
The drop fade is one of the hottest types of fades to try. You can recognize it from how it drops low behind the ear, creating an arc-like shape. To give it the ultimate contrast, you want to pair it with a blowout, a hairstyle that embraces volume and makes your strands stand to attention!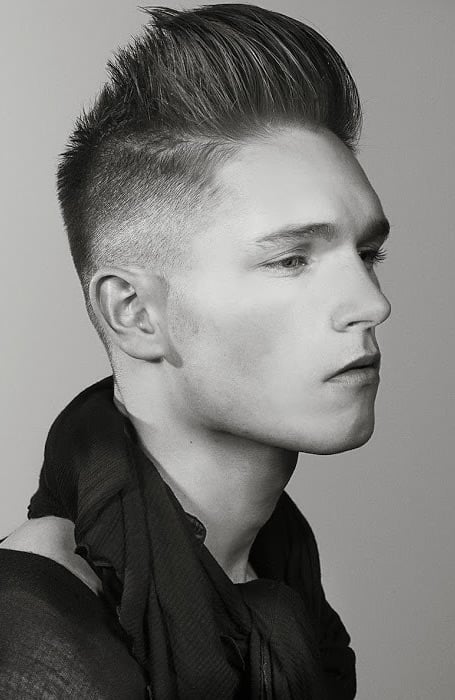 7. Drop Fade With Slick Back
The slick back creates that undeniably sophisticated finish. Brushing the hair backward, away from the hairline, and securing it with a stronghold product makes a sleek and sophisticated appearance. But what better way to update an old classic than adding a modern twist like the drop fade?! This is one of the more noticeable types of fades, distinguished by the arc shape around the ear.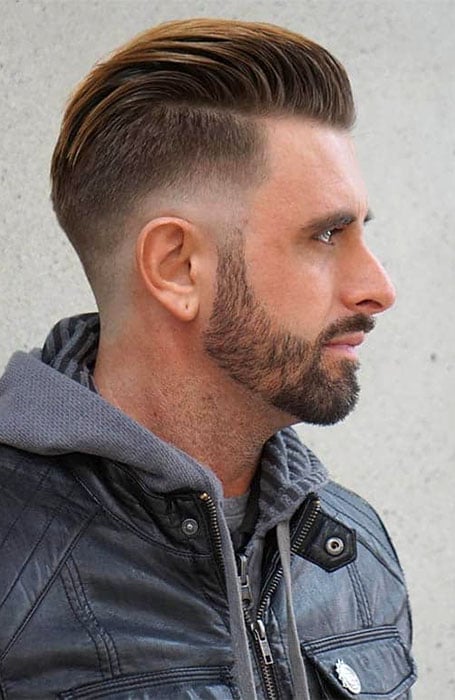 8. Edgar Haircut
Sometimes referred to as the Mexican Caesar, the Edgar haircut is a modern and bold style, ideal for younger men or those who want a unique hairstyle. The length on the top is relatively the same, contrasted by the high fade, which adds to the cool factor.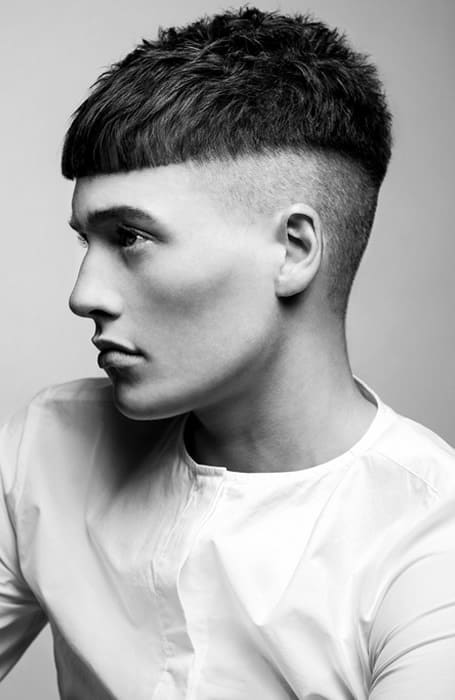 9. Faux Hawk With Undercut
The faux hawk is just as edgy and cool as the mohawk but much easier to pull off. If you want a fresh and modern way to style your hair, pair it with an undercut. This will make the back and sides visibility shorter, highlighting the strands on top and creating the illusion of fuller, thicker locks.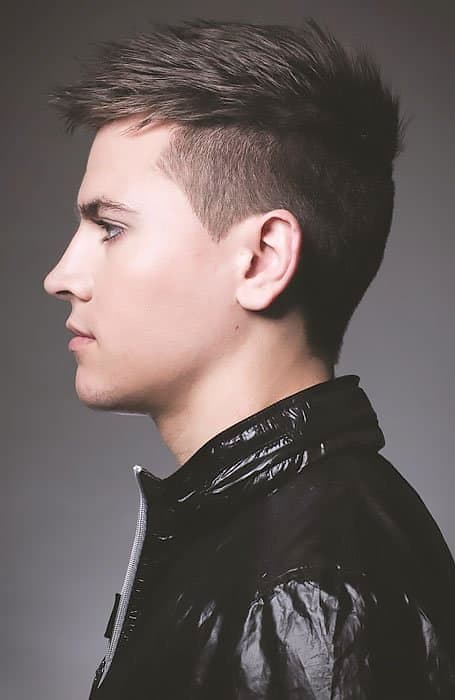 10. French Crop
The French crop is a simple and effortlessly cool short hairstyle for men. At first glance, you may not think there is anything remarkable about this cut, but you would be wrong. It is styled with short hair at the back and sides and longer strands on top, which is paired with a slight fringe. It is the perfect balance in length!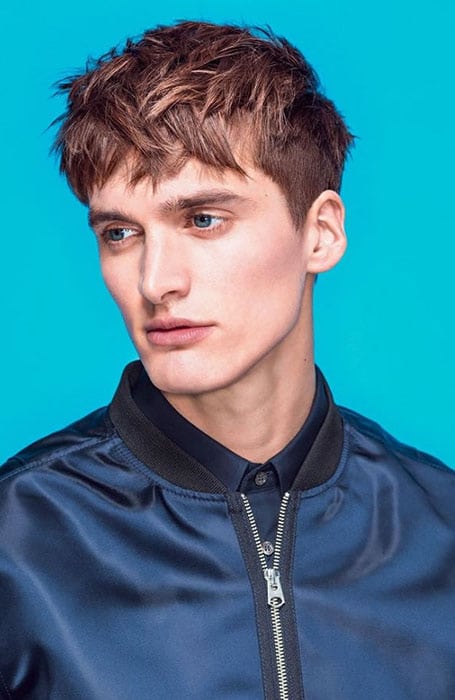 11. Frowhawk
Have you got naturally curly locks? Then there is no better way to make them the center of attention than by styling them in a frohawk. This is basically the mohawk for men with textured strands, created with a strip of hair down the middle and shaved or faded sides (depending on how dramatic you want the finish to be).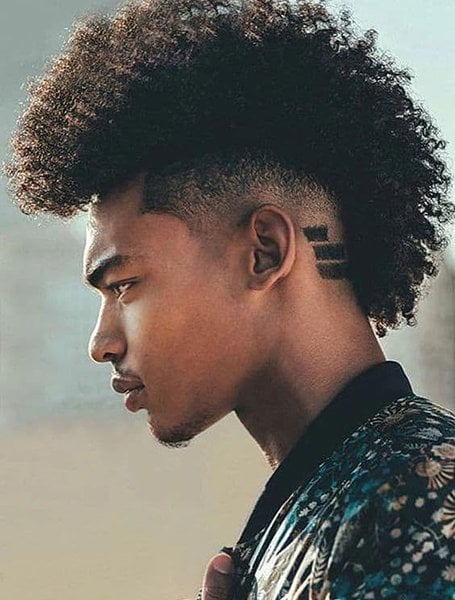 12. High And Tight
How polished the finish makes the high and tight stand out. Often favored by men in the armed forces, the back and sides are shaved shorter, with more length left on top to give you a clean and masculine haircut. The best part? It is super easy to style and very low maintenance; plus, it can be worn with multiple textures.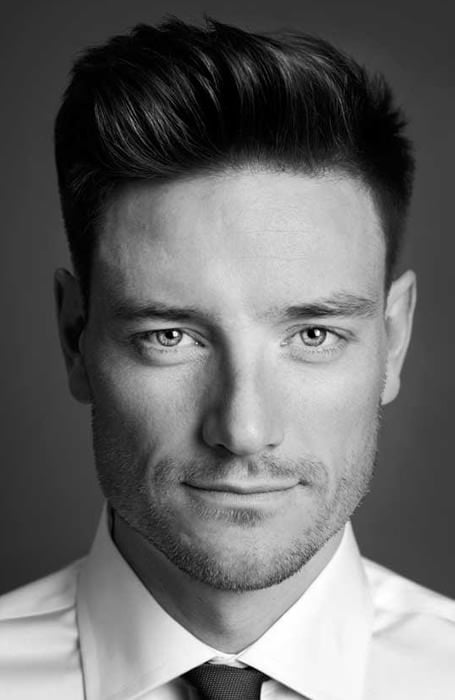 13. Ivy League Haircut
Smart and polished, the Ivy League has a preppy aesthetic, which makes sense because it emerged in some of the world's most prestigious schools. This is a classic short haircut that is ideal for men who want a basic cut that is smart, polished, and can be worn anywhere. There is a little volume at the top with a short back and sides.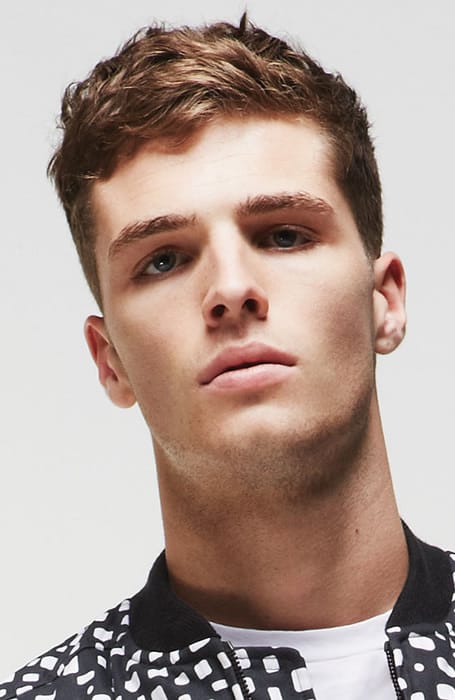 14. Long Mohawk
For those who are truly adventurous, the long mohawk is the punk-inspired hairstyle with so much attitude. Your locks will be luscious and full in a strip and paired with shaved sides, the ultimate way to create contrast. It feels rebellious and fresh and is one of the easiest ways to express yourself. Go bold with brightly colored tips, or keep it simple for a more wearable finish.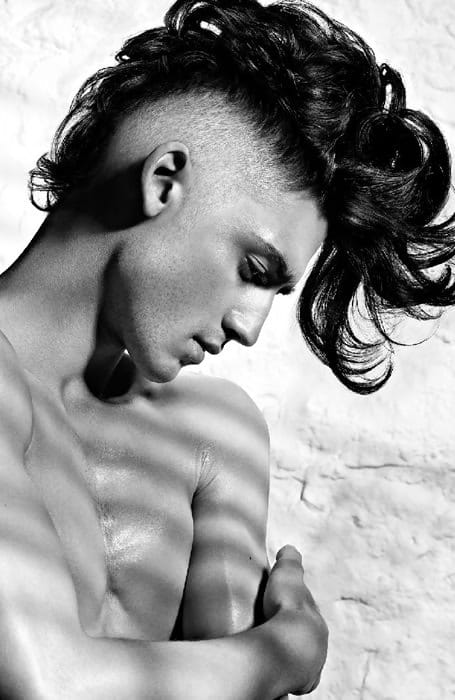 15. Low Fade With Quiff
Casual yet voluminous, the quiff is like the more relaxed brother of the pompadour. It is a timeless and classic look that feels polished and sophisticated. There is a volume at the forelock and a shorter length on the back and sides. Create it with long or short hair, depending on how dramatic you want the finish, but have fun with it!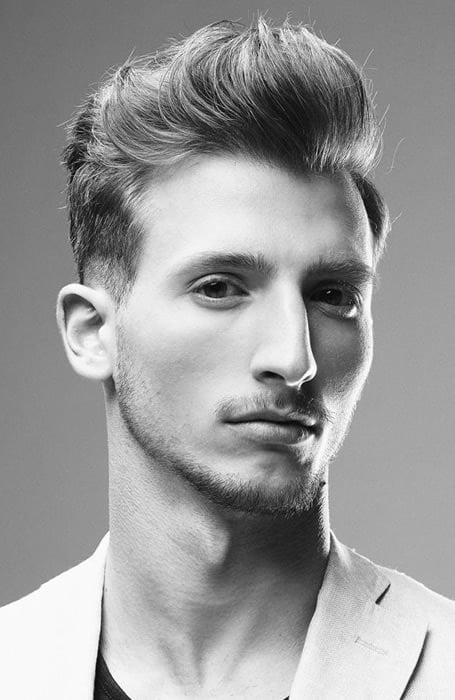 16. Mide Fade Brushed Back Hair Textured Hair
Brushed-back hair is one of the easiest ways to style your strands to help them achieve a naturally textured finish. But it is also an excellent option for creating fullness and volume on the top. And what better way to make this more visible than by styling it with a mid fade? This fade is a tapered cut that stops between your temple and your ears.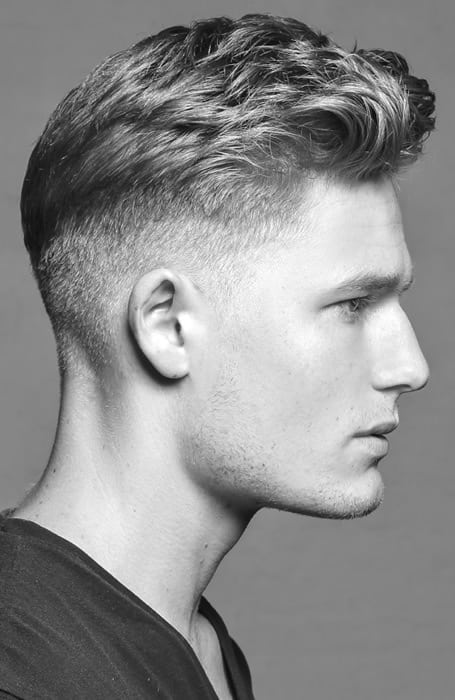 17. Pompadour
If fullness at the forelock is what you want, there is no better style than the pompadour. Your locks will be brushed back and neatly secured, giving this hairstyle that Old Hollywood charm. There are several ways to personalize the cut, but it will be contrasted nicely when paired with shorter strands on the back and sides. This gives you a more balanced finish but also adds sharpness.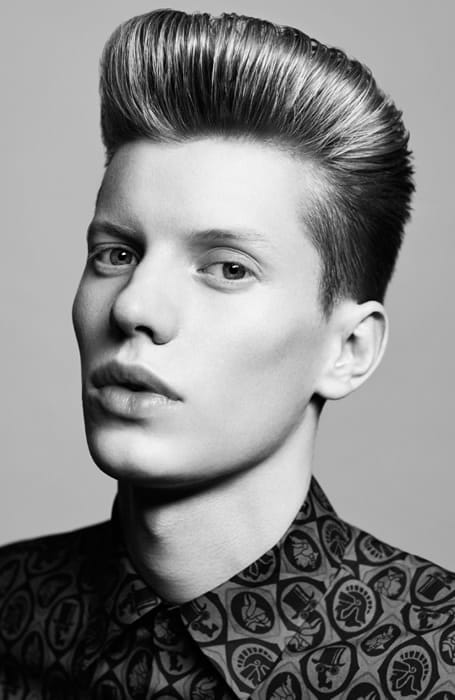 18. Scissor Cut Sides With Quiff
Ditch the razor and opt for a classic result by choosing a scissor cut. This is a brilliant way to achieve texture and create a more natural finish. The haircut can be styled in many ways, including a quiff to give you volume at the hairline. Not only is this flattering, but it can also look masculine and suave.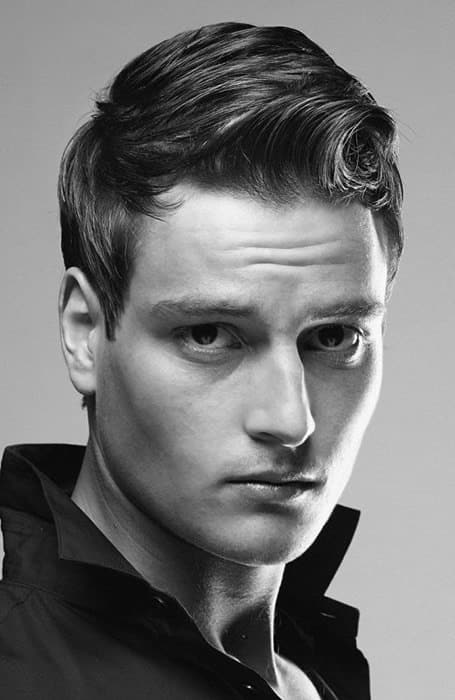 19. Short Side With Messy Hair
We love that sexy and super laidback vibe that messy hair gives off, and it is not surprising why it is one of the hottest styling techniques. It is also ideal because it gives you so much texture. Keeping it short will create the perfect balance for that rolled-out-of-bed look that is not so difficult to wear.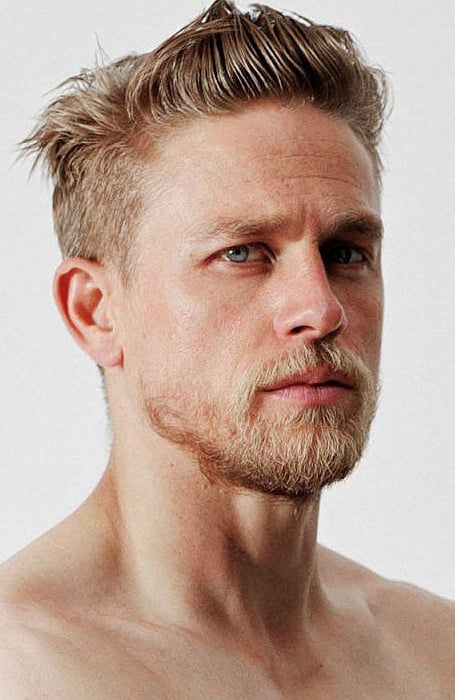 20. Short Side With Natural Part
Styling the hair to form a natural part is one of the most flattering ways to wear it. This is because the way it is parted will draw attention to your face, highlighting and softening your features. By cutting your strands shorter on the back and sides, you can make it look fuller on the top.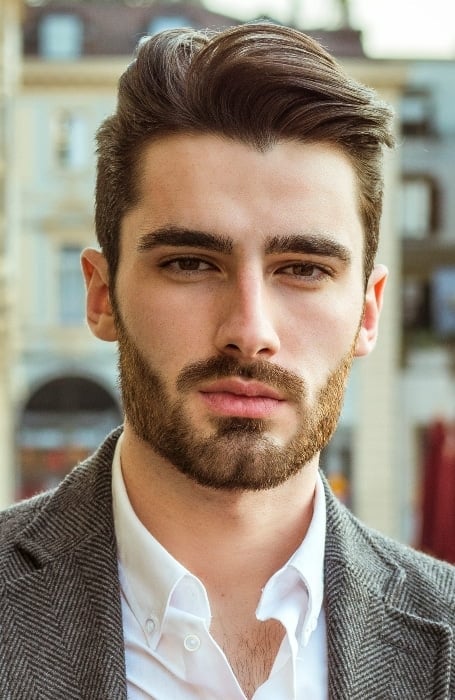 21. Short Sides Textured Blow Out
Some hairstyles are made to stand out, while others are for those who want to blend in. On the short sides, textured blowout offers a bit of both; volume and fullness on the top, but more structure is created with shorter strands on the back and sides. It is basically the ultimate balance, and you will look great when you rock this combo!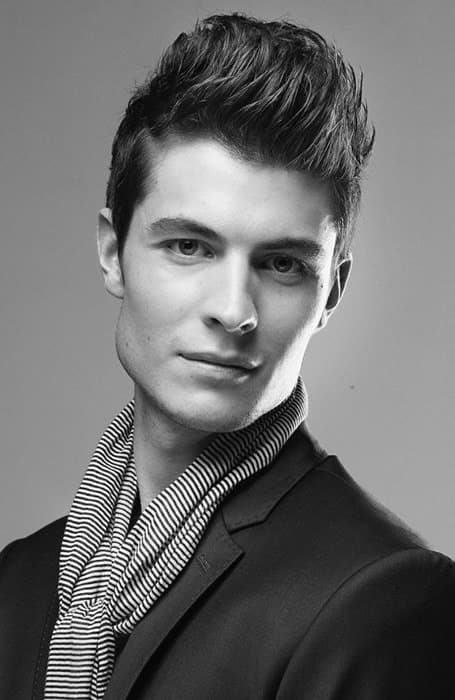 22. Side Part
The side part is simple, but it is one of the most effective. It is excellent for highlighting your features, specifically bone structure, and for drawing attention to the hair, and all it takes is some initial effort of combing your strands over onto one side. The appeal is the masculine and gentlemanly finish, which looks even better when slicked down.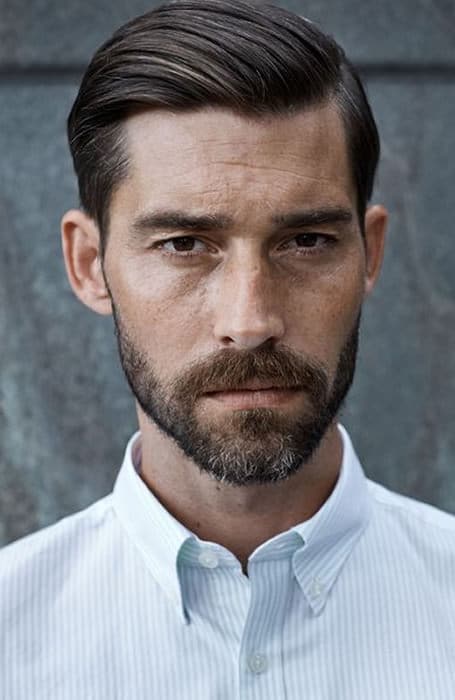 23. Skin Fade With Brush Back Hair
The combination of the skin fade with brushed-back hair is the perfect blend of casual and sophisticated. Of structure and a natural finish, and there are many reasons to try it out. Embrace the volume at the top and remove the weight from the back and sides to give yourself the perfect contrast that you will want to show off!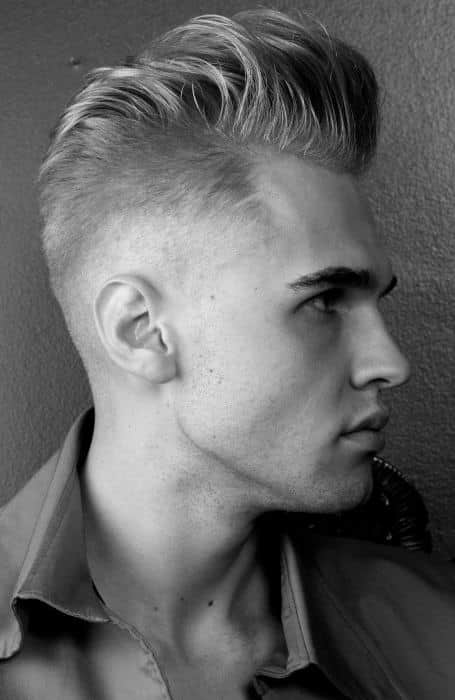 24. Taper Fade With Slick Back
The taper fade is a classic type of fade that looks good when paired with just about anything. This includes the slick back, a sophisticated and ever-so-stylish way to keep your strands secure and out of your face. To do this, you will brush the hair backward, away from the hairline, and secure it with a gel or pomade.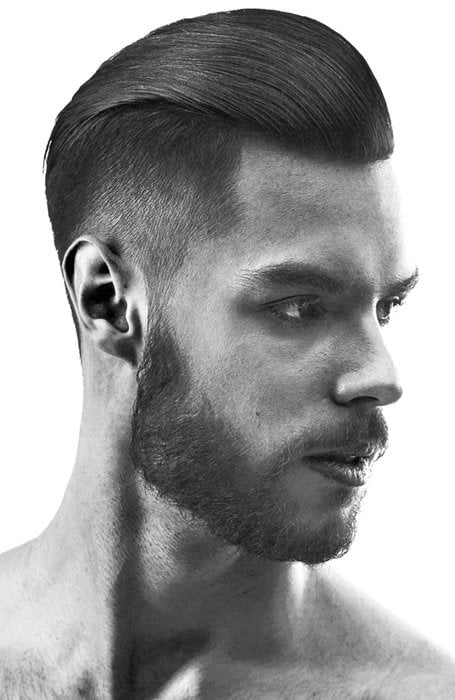 25. Taper Fade With Curly Fringe
Curly hair is one of the most brilliant textures, making even the most straightforward cuts appear voluminous and full. How you style your locks is up to you, but if you want a neat and polished finish, a curly taper fade will help you achieve this by gradually shortening the back and sides. Go big and bold by keeping more length at the top to create a brilliant contrast!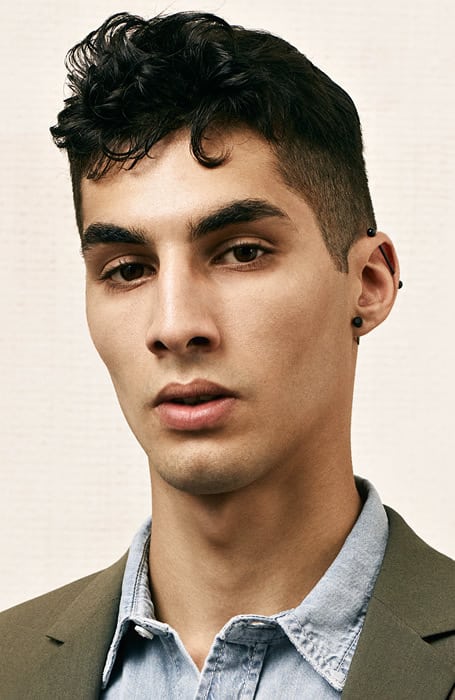 26. Taper Fade With Hair Volume
Big hair, I don't care. Hair with volume is all about embracing fullness and creating the appearance of thick, luscious locks. However, it can be challenging to style your strands, and to make this easier; you can pair it with a taper fade. It is an effortlessly cool way to gradually shorten the length on the back and sides without sacrificing volume.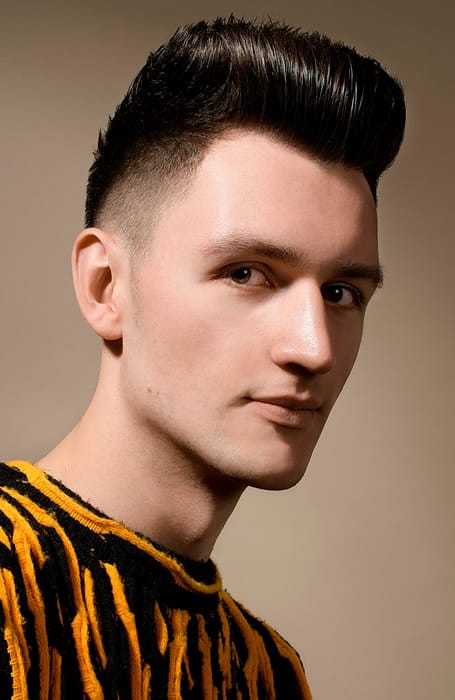 27. Taper Fade With Fringe
The appeal of the taper fade is that it can be worn in so many ways, including styling it with a fringe. Keeping some length on the forehead can be undeniably flattering, but it is also easy to personalize your cut, giving it a fun and modern update that will bring attention to your face. Keep it on the shorter side to make styling easier.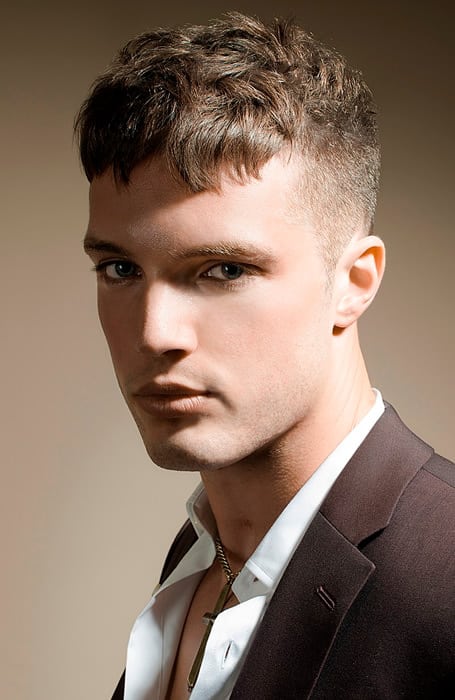 28. Taper With Hair Twists
The taper fade gradually cuts the hair's side and back short, leaving length on top. This is a great way to create a look with a subtle contrast, bringing even more attention to your twist hairstyle. Twists are a protective style for Afro-textured hair and are much easier and less time-consuming to create than braided options.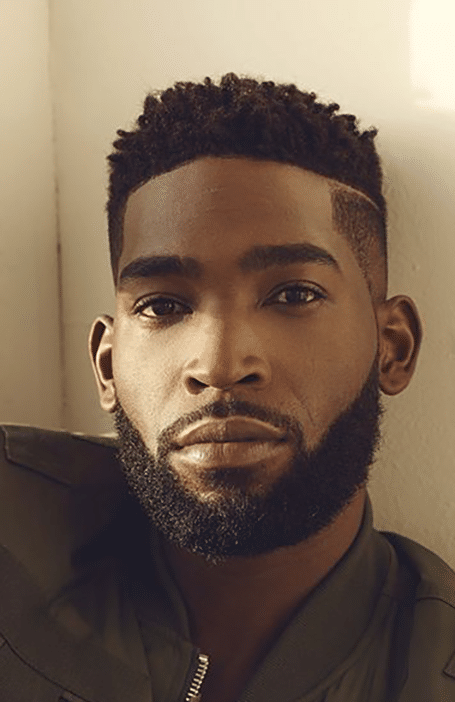 29. Taper Fade With Short Spiky Hair
What better way to create texture than with spiky hair. The spikes favored by boybands in the 90s were stiff and rigid, but the fresh approach is to create lightly textured strands that give you the volume you want without feeling dated. This is the perfect look for younger men and will look undeniably fantastic when paired with a taper fade.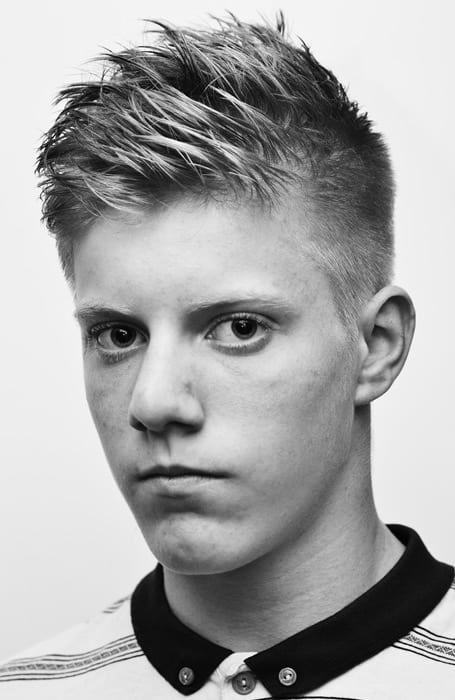 30. Viking Hairstyle
The Vikings were formidable warriors, but their style has also influenced modern generations. If you are looking for a badass look, consider a Viking hairstyle because this is an option that is all about expressing yourself and has so much attitude! Shave the hair on the sides, leaving a strip in the middle (maximum cool points if you pair it with a head tattoo).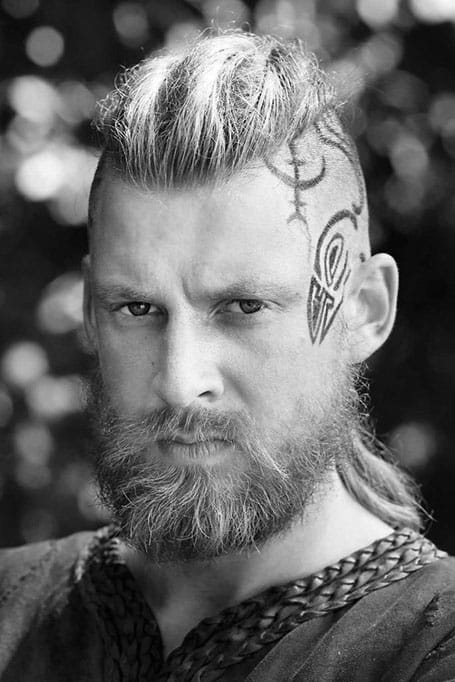 Short Sides Long Top Haircuts FAQs
What haircut is short on sides long on top?
A haircut that is short on the sides and long on the top is exactly as the name suggests. There is more length kept at the top of the head, while the sides are shorter. This could be a gradual shortening with the use of a fade, or they could be shaved to create more of a contrast. The appeal of this look is that the top of the hair appears thicker and more voluminous.
How do you style long top short sides?
You can style long top short side hairstyles in various ways depending on your preference. Some prefer a more classic approach with simple looks and very little variation in length, like the crew cut or Ivy league, while others want more adventurous finishes. This could include an afro with an undercut or a mohawk.
SUBSCRIBE TO OUR NEWSLETTER
Subscribe to our mailing list and get interesting stuff and updates to your email inbox.