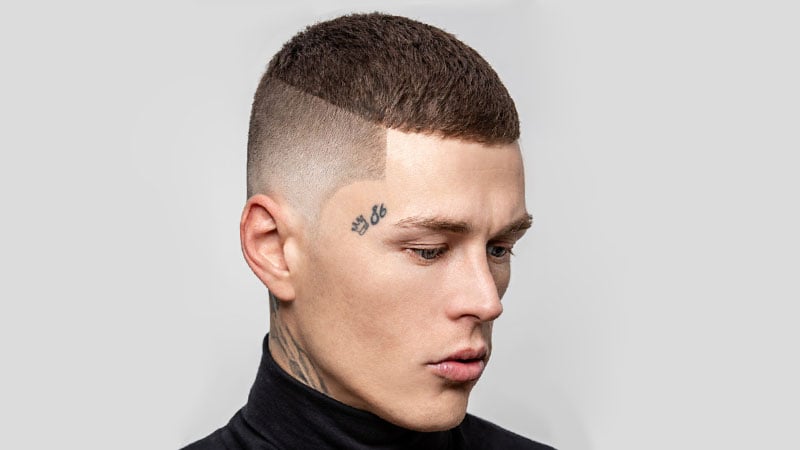 Edgar haircuts are the newest trend for men. Short and sharp yet full of attitude, this style suits guys with long, oval, or angular faces. It's perfect for those who already have short hair but want to update their look with a young, modern, and edgy cut, and it can also disguise an uneven hairline.
1. Mexican Edgar Haircut
The classic Mexican Edgar haircut is ideal for guys with short, thick hair. It involves blending a high skin fade into a short Caesar cut. Your barber will then trim the front to create a straight line across your forehead. While neat and clean, the classic Mexican Edgar haircut still has an attitude and an edgy appeal due to its sharply-defined lines.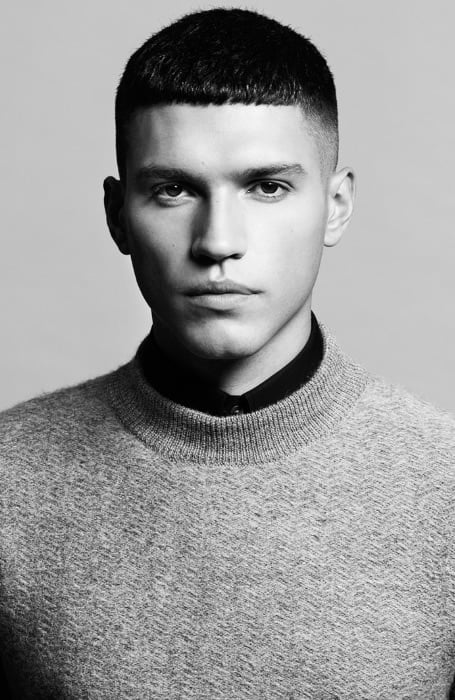 2. Wavy Edgar Haircut
While the classic Edgar works best on straight hair, a wavy Edgar allows you to show off your hair's natural texture and has a more unique and unusual look. The barber will still skin fade your hair at the sides but leave the top section longer to create an undercut effect. Similar to the classic Edgar, your hair will be brushed forward and trimmed to create a straight line across your forehead.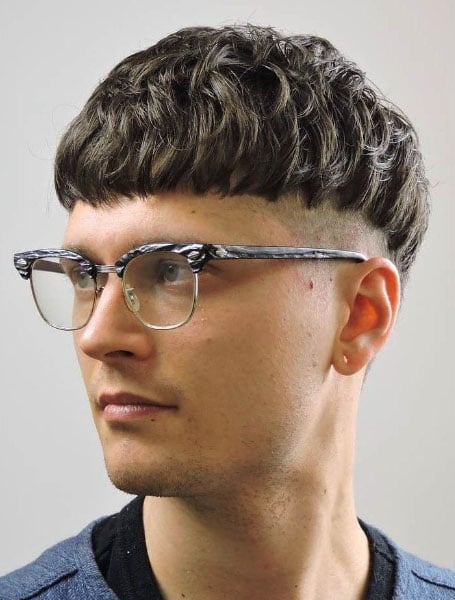 3. Fluffy Edgar Haircut
To give your Edgar cut an edgy look, try adding a spiky texture to the top section of your hair for a fluffy look. However, to maintain the Edgar cut's signature straight fringe, leave the front of your hair smooth and product-free. Maximize the impact of the fluffy Edgar haircut by pairing it with a fade or a bold undercut that draws more attention to your hair.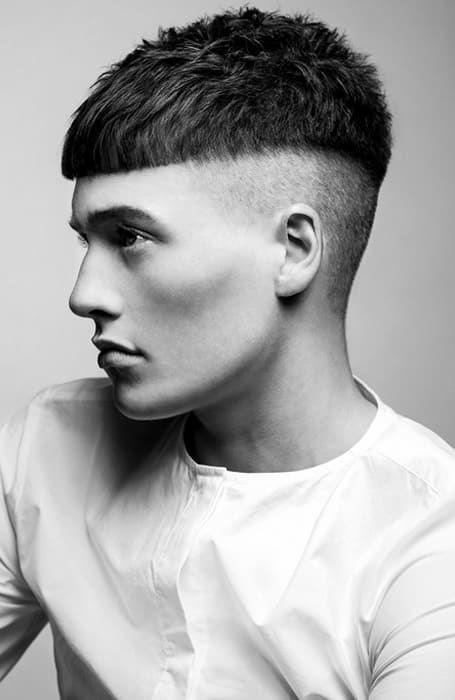 4. Mid Fade Edgar Haircut
For a sharper and more striking take on the Edgar haircut, pair it with a mid fade. Doing so will create an interesting straight-line effect when viewed from the side. It's ideal for guys with medium-length straight hair who want to change up their cut with an edgy and unusual look.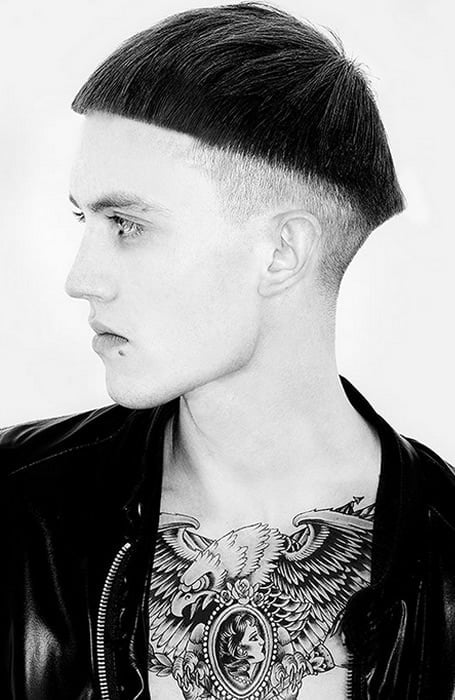 5. High Fade Edgar Haircut
If you already have a high and tight haircut, try a high fade Edgar for a subtle change of pace. As usual, your barber will buzz the sides into a short and sharp high fade. However, instead of cropping the top section equally short, they will brush it forward into a mini Caesar. Fresh and contemporary, it will give your ultra-short cut a little more personality.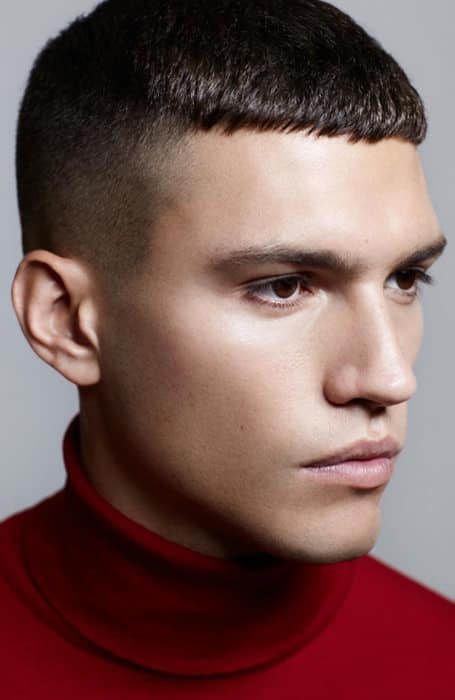 6. Platinum Edgar Haircut
Platinum hair has become hugely popular for men over the past year. Not only does it completely change your look, but it also makes you stand out from the crowd due to its bright white color. Because bleaching your hair makes it weaker, short haircuts like the Edgar are a great option when going platinum. Plus, the edgy look of platinum gives an Edgar haircut an on-trend '80s vibe.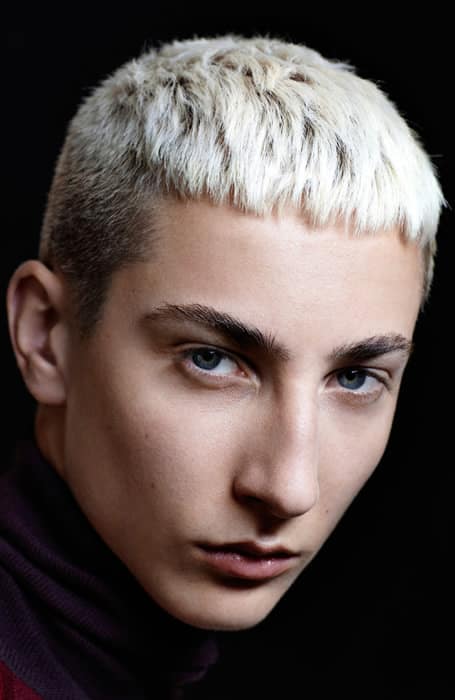 7. Choppy Hair Edgar Haircut
The best way to make your hair stand out is by combining textural elements with sharp angles, and the Edgar haircut with choppy hair is an excellent example of this. The barber creates texture by cutting the top section in many different lengths – known as a 'choppy cut' – while maintaining the classic straight-line fringe of an Edgar cut.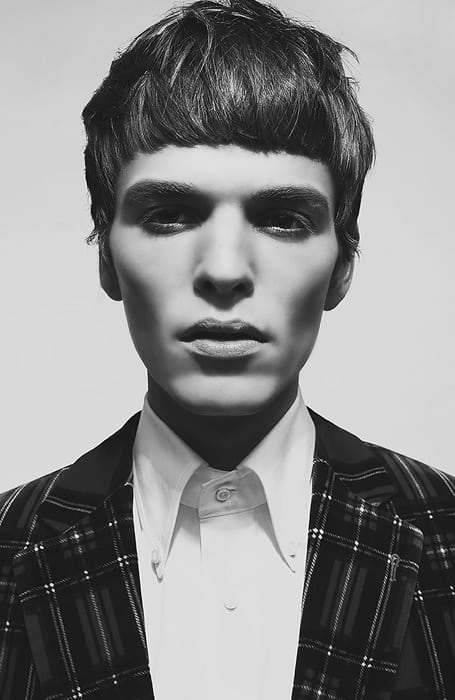 8. High And Tight Edgar Haircut
Another option for fans of the high and tight is to blend it with the sharp lines of the Edgar haircut. Unlike the high fade Edgar, the high-and-tight Edgar involves extending the straight forehead line around the head, creating a disconnected contrast with the buzzed sides. The final effect is a 'lidded' look that draws the eye up, without standing out too much.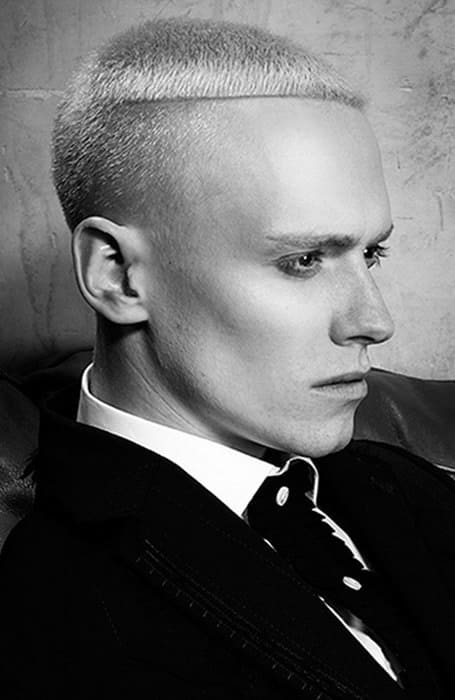 9. Edgar Haircut with Beard
Growing out your beard is an excellent option for guys who want to change their look drastically. A beard can make you look more mature, as well as define your jaw and cheekbones. As an Edgar haircut is a short, angular, and modern cut, it's best paired with a beard that has those same characteristics. Clean lines are essential, so opt for a short beard with a shape up or an anchor beard.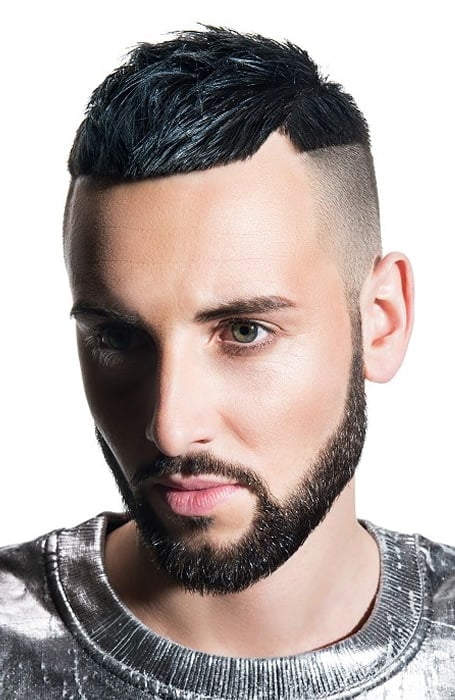 10. Bald Fade Edgar Haircut
For guys with very short hair, the Edgar haircut paired with a bald fade is a great option. Similar to the high-and-tight Edgar, it creates a striking 'lidded' effect by extending the forehead 'line' around your head. However, the bald fade Edgar cut is even more sharply contrasted, as the sides are buzzed short without blending into the more extended top section. Ideal for guys whose style leans more towards athleisure or streetwear, this cut has a sleek yet edgy feel.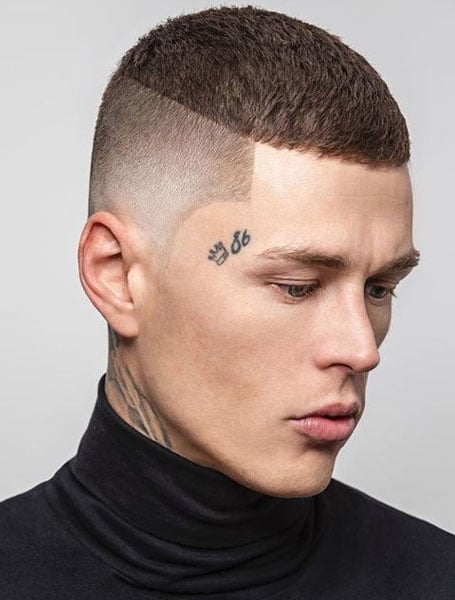 11. Edgar Taper Fade
The taper fade will gradually reduce the length of hair on the back and sides. It is one of the most effortlessly cool faded hairstyles and is a great addition to a range of haircuts, including the Edgar haircut. It feels bold and modern but is also youthful and can be worn by men with all hair textures.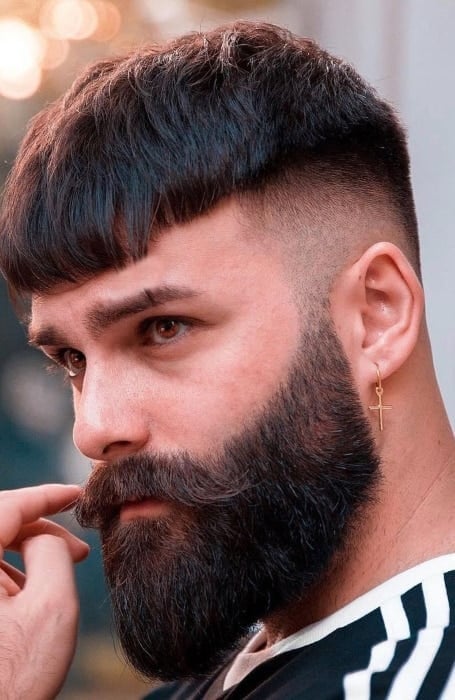 12. Curly Edgar Haircut
The Edgar haircut is a short haircut that is similar to the Caesar cut in appearance but the distinct difference is how it is paired with a high skin fade. This is the classic approach to the cut, but there are many variations, allowing you to personalize the look to suit your preference best and complement your hair texture. A curly taper fade is a great choice because it gives the hair structure and will create a contrast with the fullness of the hair on top.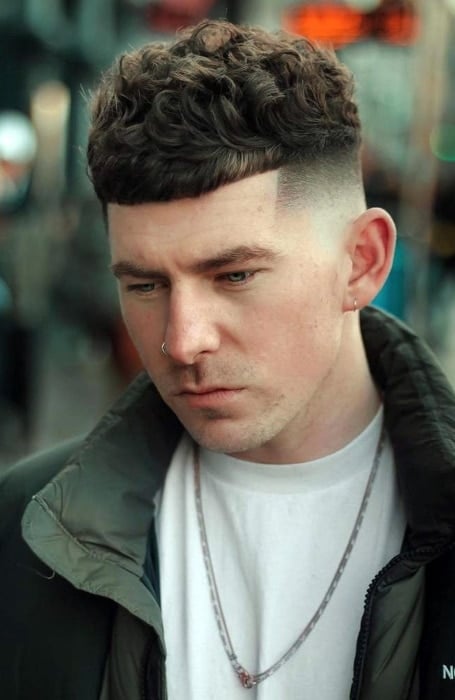 13. Edgar with Line-up and Skin Fade
The Edgar haircut is similar to the Caesar cut in style with the hair cut around the same length all around. It also features a short, blunt-cut fringe. The cut typically features a high skin fade, but you can also adapt it to suit your preference with the faded style of your choice. This could include a skin fade with a line up. The combination will give you an edgy and cool finish, creating a noticeable pattern along the natural hairline.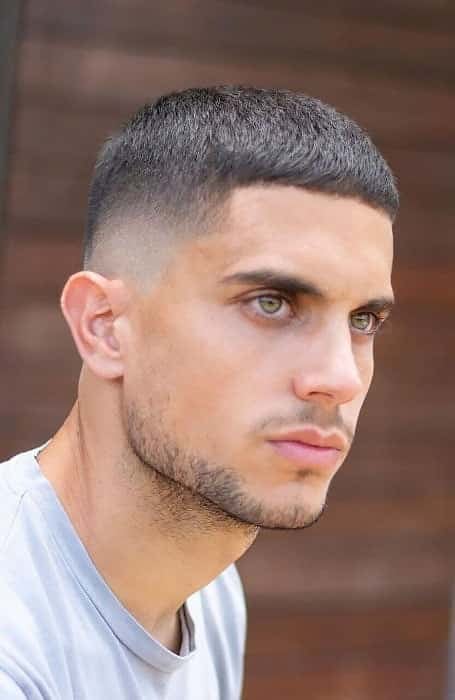 14. Edgar Haircut with Hair Design
The Edgar haircut is an undeniably cool hairstyle that has a youthful appearance. It is a sharp and edgy cut, and adding a hair design will elevate its cool factor. The hair design can be anything, from simple lines and unusual angles cut into the hair, to intricate patterns and shapes. This is a great way to create a unique appearance and give yourself a hairstyle that reflects your style.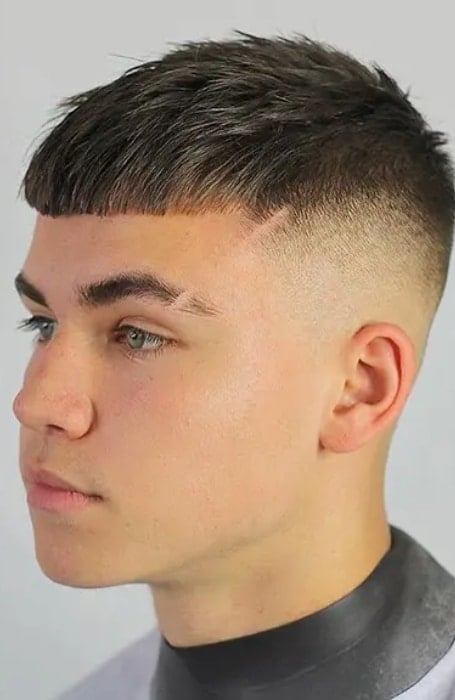 15. Afro Textured Edgar Haircut
The Edgar haircut can be adapted to suit all hair textures and hair types. The original approach is a variation of the Caesar cut that is blended with a high fade or undercut to give it an edgy and modern finish. With Afro hair, the fade will remove some of the weight and bulk from the hair and make it easier to manage. It will also create a contrast with the hair on top, making it appear even more voluminous and full.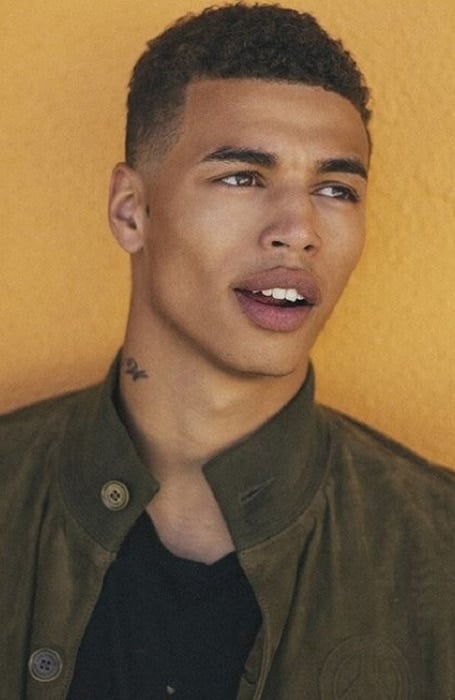 16. Straight Hair Edgar Cut
The Edgar haircut is a modern and bold style that is ideal for younger men. Straight hair can be styled in various ways, including an Edgar haircut. The appeal of short hair with this style is that the precision of the cut will be even more noticeable and cutting the fringe straight and horizontally, with a blunt cut, will draw attention to your face and highlight your features.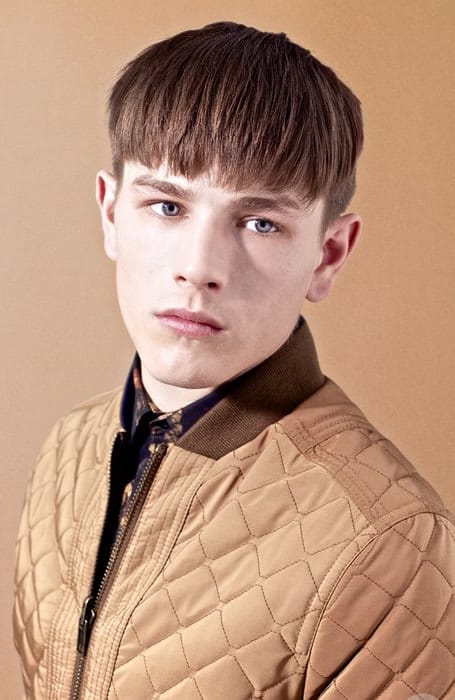 17. Pink Edgar Haircut
There are many ways to style your Edgar cut to create a unique and personalized finish. This includes coloring the hair with a bright and bold hue to make it stand out. Pink is an excellent choice because it is flattering on all complexions and there are different shades of brightness to choose from, making it a versatile option. If you want to draw attention to your haircut, artificial colors are an excellent way to do this and can be incredibly expressive.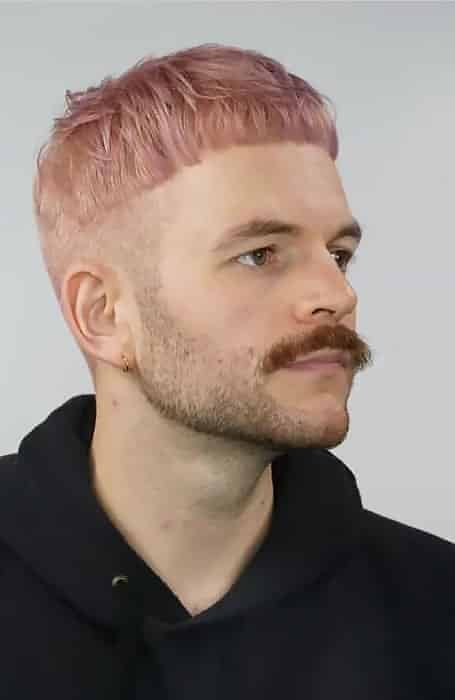 18. Light Grey Hair Edgar Haircut
The difference between the Caesar cut and the Edgar haircut is the Edgar features a high skin fade which creates a contrast and gives a look a modern edge. This is a cut that is youthful and will look good on men of all ages. You can style and color it to suit your preference. Grey hair, whether natural or dyed, is a flattering and cool choice.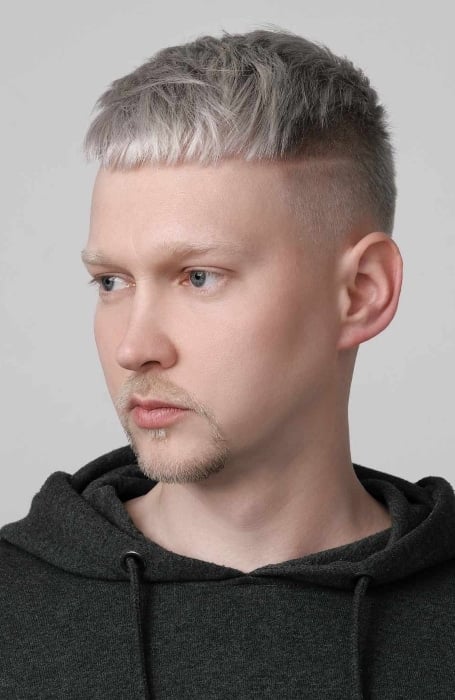 19. Edgar Haircut with Long Fringe
While the classic approach to the Edgar haircut, with its short, horizontally cut bangs has its appeal, you can also adapt the look to suit your preference and this includes pairing it with a long fringe instead of a short one. This can be incredibly flattering, hiding signs of aging like fine lines and forehead wrinkles. The fringe can also work to frame the face and will soften sharp and angular features.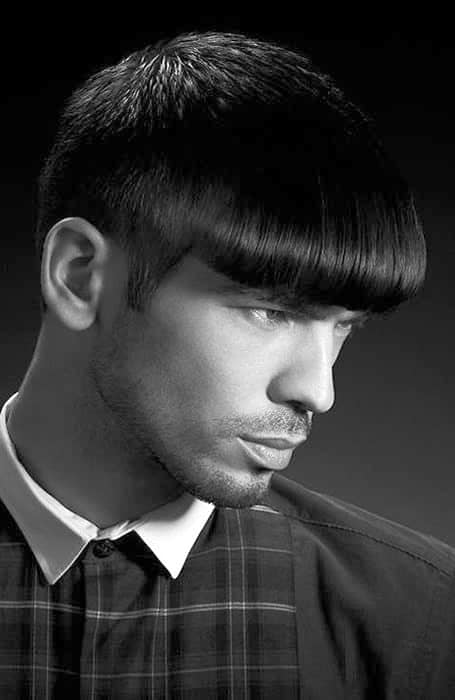 20. Two Tone Edgar Haircut
The two tone hairstyle is for men who want to stand out from the crowd. It is a bold and modern look, created by adding colors to the hair to create a contrast. These can be two natural shades or a combination of artificial hues, depending on your preference. The two tone effect will also highlight your cut and will complement the boldness and youthfulness of the style.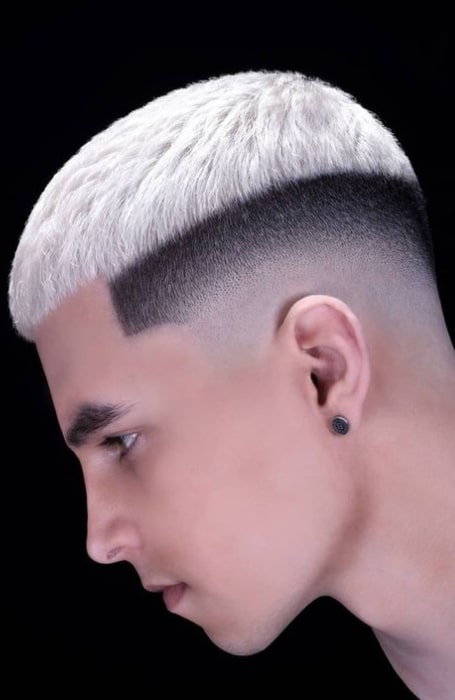 Edgar Haircut FAQs
What is the Edgar haircut called?
The Edgar haircut is a short sharp style, that's full of attitude. The styling is similar to a Caesar, but the Edgar has short sides, back, and top, with a high fade or undercut. It's best suited for thick hair and looks best with a squared-off front and forward brushed bulk.
Who started the Edgar haircut?
The Edgar haircut originated among Mexican teens as a variation of the Caesar cut. It's since become an incredibly popular style among Latin men.
SUBSCRIBE TO OUR NEWSLETTER
Subscribe to our mailing list and get interesting stuff and updates to your email inbox.