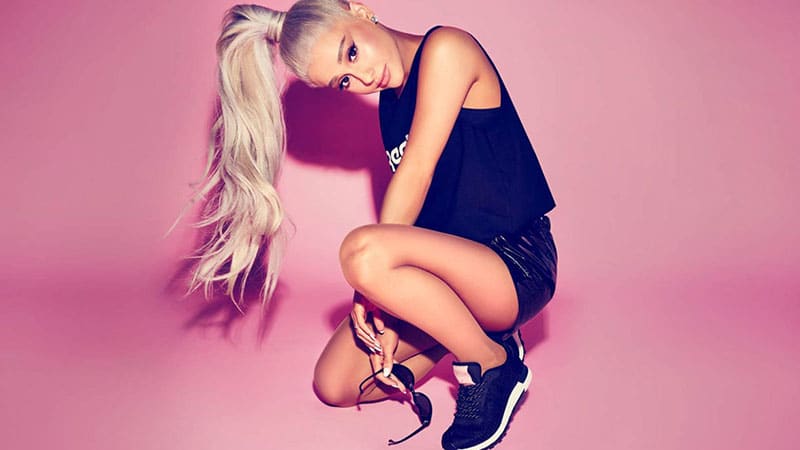 While Ariana Grande may have first gained recognition as a Nickelodeon actress, the 24-year-old is now a megastar who produces platinum albums and sells out shows across the globe. Of course, Ariana's incredible music and acting careers aren't her only accomplishments to date. The star has also developed an impeccable sense of style, which has cemented her as a fashion icon for countless women around the world. In this guide, we take a closer look at Ariana's signature style and show you how you can recreate her favourite looks.
Ariana Grande Style
Fit and Flare Dresses
Ariana's style is undoubtedly feminine, flirty and fun. As such, she loves to wear both skirts and dresses. Fit and flare style dresses, which feature a fitted bodice and flared skirt, are some of her favourites. Not only do these dresses showcase the star's petite fame, but they also create a playful appearance that suits her personality. To try the look for yourself, select a skater or A-line style dress in a feminine colour, print or design.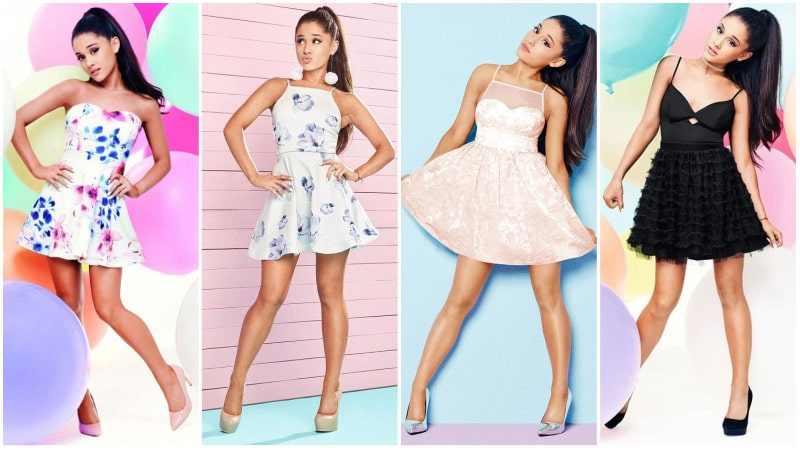 SHOP THE LOOK
Crop Tops and Bralettes
Ariana isn't afraid to show off her body and regularly rocks both crop tops and bralettes. To channel her style, avoid sporty designs and choose crop tops that are feminine and pretty. Styles that are embellished or printed, have a traditionally feminine cut, such as a scoop or sweetheart neckline, or are in a lovely material like lace are particularly ideal. But, no matter the style you choose, be sure to partner it with high-waisted bottoms to ensure a chic Ariana-approved appearance.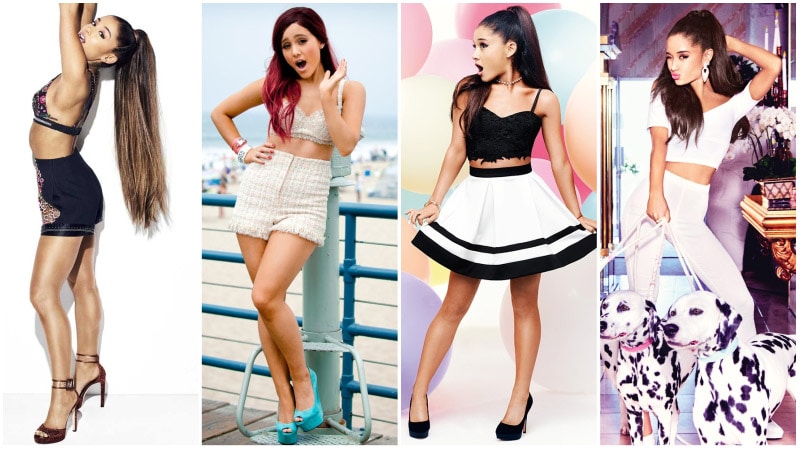 SHOP THE LOOK
Co-Ords
Who doesn't love a matching set? We know Ariana does. The singer has been spotted countless times wearing coordinating pieces from her wardrobe. Many of her favourite co-ord looks include a miniskirt and crop top, but some feature a jacket, shorts or pants instead. Perfect for achieving a stunning head-to-toe look, Ariana selects sets that are youthful yet ladylike. To steal her style, try a matching look with a pastel or printed top and mini-skirt.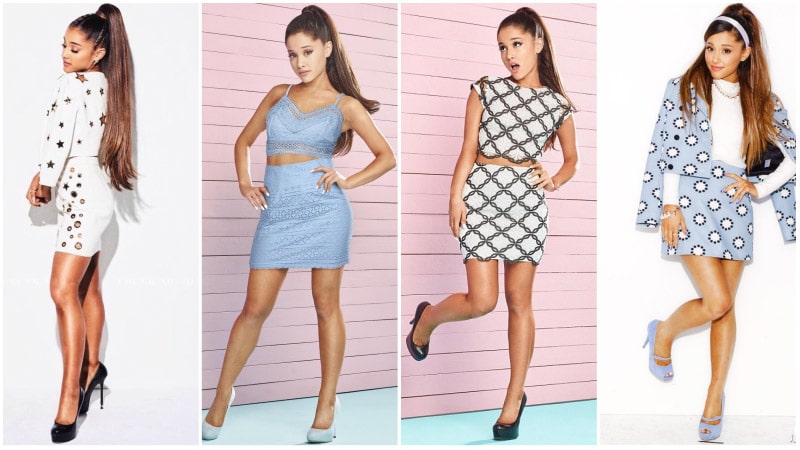 SHOP THE LOOK
Leather
In recent years, Ariana has chosen to spice up her sweet look with the addition of leather. By doing so, she has been able to create a more mature appearance without sacrificing her signature style. Whether a black biker jacket over a floral dress or an all-over red leather ensemble, Ariana's outfits are both chic and fierce. To try her leather look for yourself, start with a jacket and add a matching skirt if you're feeling bold.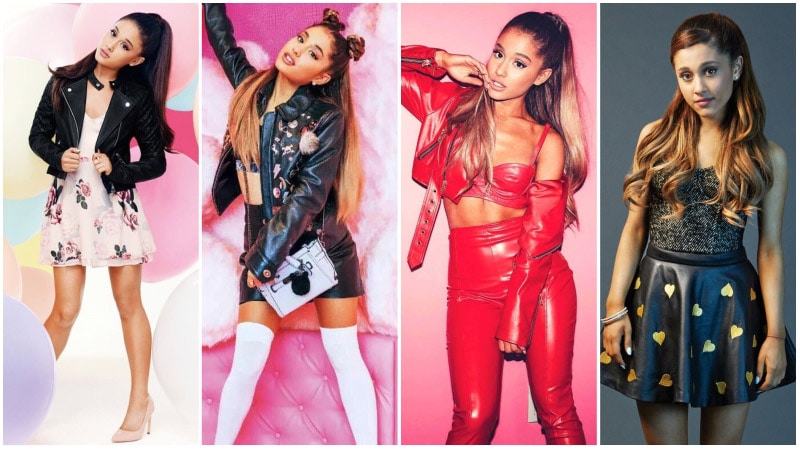 SHOP THE LOOK
Platform Heels
Ariana is a petite star with a height of only 153cm. But, you'd be forgiven for thinking she was taller than she is. The actress/singer loves to give her height and extra boost with a pair of platform heels or stilettos. Whether she's posing for a magazine shoot or singing on stage, the star often rocks platform footwear. Additionally, she also tends to partner these high shoes with short dresses or skirts to dramatically lengthen her legs.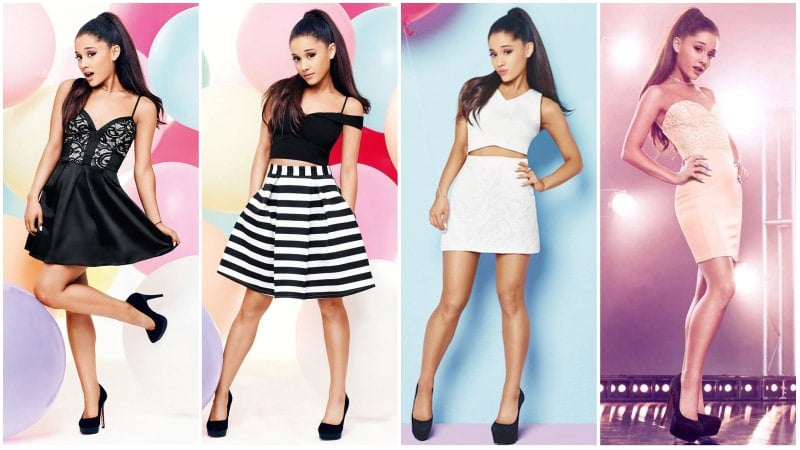 SHOP THE LOOK
Cat Ears
Ariana's cute and playful look doesn't end with her clothes. The star also chooses to carry her signature style through to her accessories as well. In particular, she is often spotted wearing fun headbands, like cat's ears. To rock the look yourself, pick a chic pair, such as a lace or metallic design, and partner them with an Ariana-style high ponytail.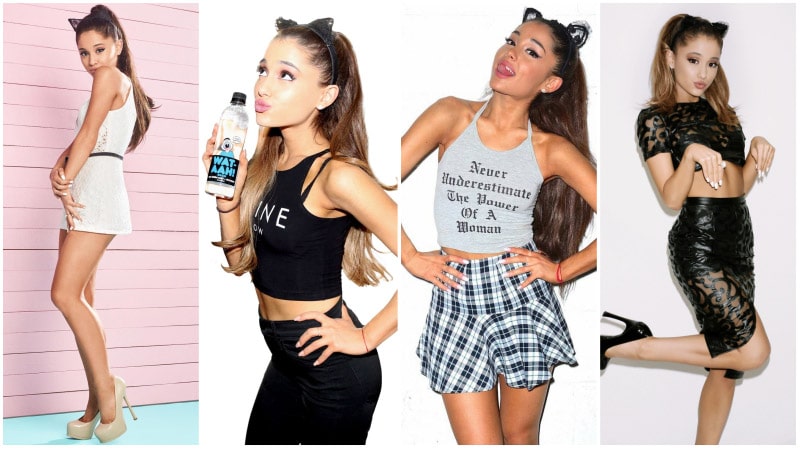 SHOP THE LOOK
Oversized Jumpers
When not singing, acting or signing autographs, Ariana likes to chill out in comfort. To achieve a look that's cute while feeling cosy, Ariana often opts for oversized jumpers, jackets and sweatshirts. She even wears them as relaxed dresses with boots or sneakers to complete her off-duty, on-trend look.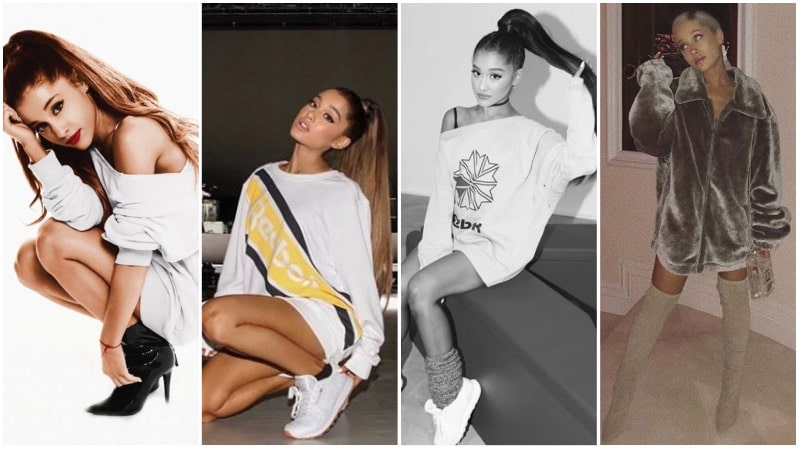 SHOP THE LOOK
Micro Skirts and Dresses
Mini skirts and dresses are often used to lengthen the appearance of legs. But, Ariana likes to take things a step further with micro skirts and dresses. Ariana's micro designs finish at the very tops of her thighs and make her pins look super long and slim. Additionally, as she sticks to a feminine and playful appearance, these short styles appear cute and cheeky rather than inappropriate.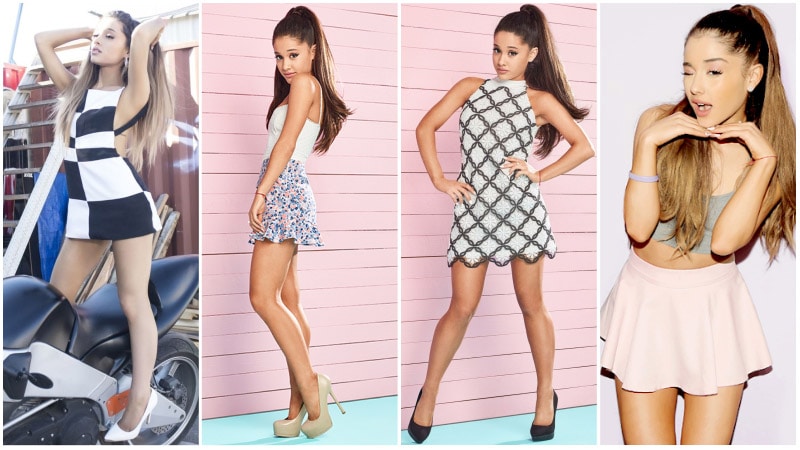 SHOP THE LOOK
Plaid
Adding to Ariana's playful and girly aesthetic is her penchant for schoolgirl plaid. Of course, Ariana isn't afraid to add a little sex appeal to her youthful looks. By opting for short tartan miniskirts and cropped checked tops, this star makes plaid a lot more fun and fashionable. She also enjoys trying different colours, including traditional red and green as well as bold blue and yellow.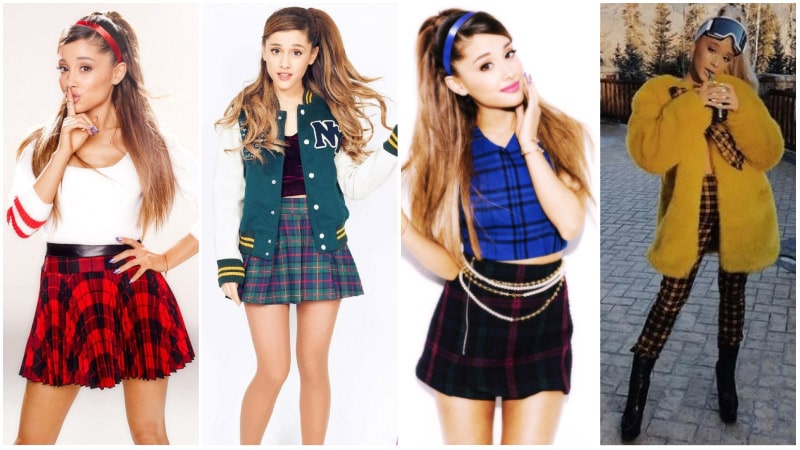 SHOP THE LOOK
Over-the-Knee Boots
Platform heels aren't the only shoes Ariana loves to wear. Miss Grande also enjoys rocking a stylish pair of over-the-knee boots. Perfect for special occasions, such as performances, tall boots provide Ariana with an on-trend statement appearance. But, the star is careful to wear them correctly for her small stature. As long boots can appear overwhelming on short ladies, Ariana strikes a balance by lengthening the appearance of her legs with fitted stiletto styles and a flash of her thighs.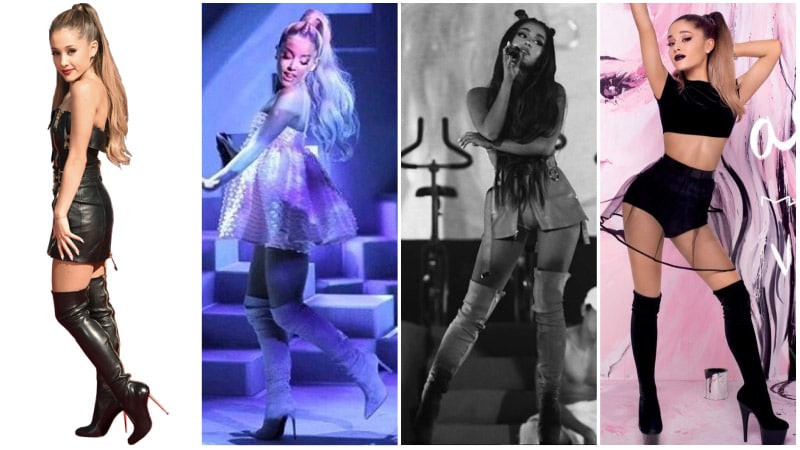 SHOP THE LOOK
Ariana Grande Hair
Ariana Grande's hair is an essential part of her signature style. Her smooth and long high ponytail makes up an important part of her iconic appearance. Of course, the star does change her look occasionally. To keep her ponytail interesting, Ariana often introduces fresh elements, such as bangs, a braid, a headband or even a new hair colour. When not wearing her usual high pony, the singer tries other playful looks, such as half-up, half-down styles.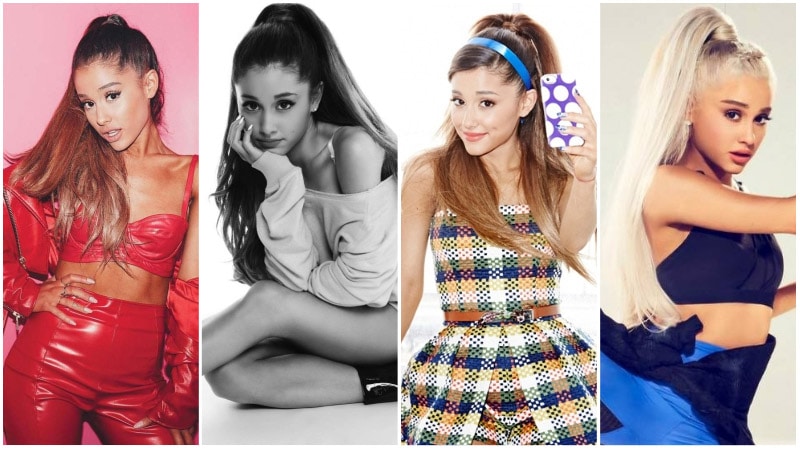 Ariana Grande Makeup
Ariana tends to keep her makeup natural and flattering. To do so, she favours healthy and glowing skin, which she partners with nude or soft pink lips and enhanced eyes. To highlight her eyes, Ariana rocks defined brows with understated brown eyeshadow and long black lashes. She also typically wears a thick swipe of black liquid eyeliner, which usually finishes in an elegant feline flick for cat's eye appearance.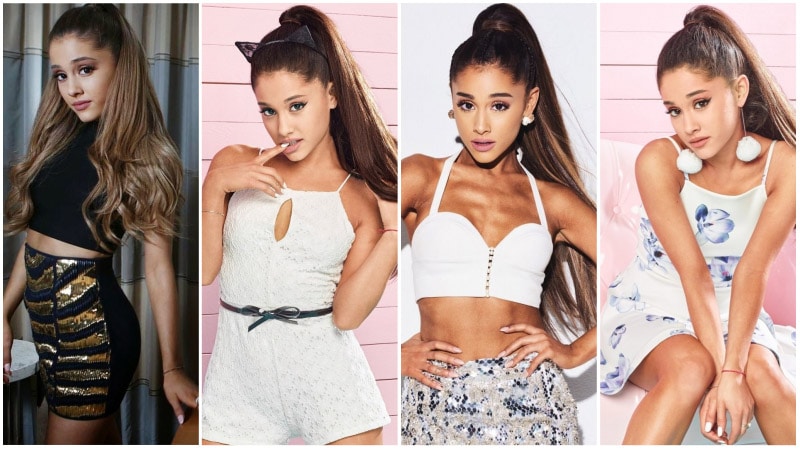 SUBSCRIBE TO OUR NEWSLETTER
Subscribe to our mailing list and get interesting stuff and updates to your email inbox.