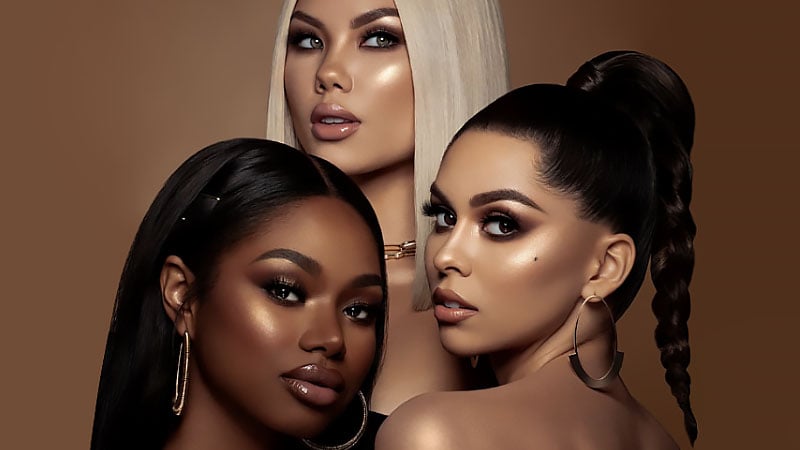 Homecoming is a special occasion, so choosing the perfect homecoming hairstyle can be a challenge. Fortunately, there is a wide variety of amazing and stylish homecoming hairstyles to choose from! Whether you have long or short hair, up-styles or half-up styles, curling or straightening, homecoming hairstyles offer something for everyone. The key is finding the look that best suits your personality and ensuring it complements your homecoming dress. With enough research and experimentation, you'll be sure to find the ideal homecoming hairstyle for your big night.
1. Homecoming Short Hairstyle
Short hair is not only super chic and low maintenance but also surprisingly versatile in styling. There are so many gorgeous, glamorous Homecoming options for short hair, including mini braids or a sleek style. However, one of the simplest and coolest hairstyles is a textured look. Use a sea salt spray or styling mist, twist sections of your hair, and secure it with bobby pins. Then add a statement accessory, such as an oversized clip or pearl barrette.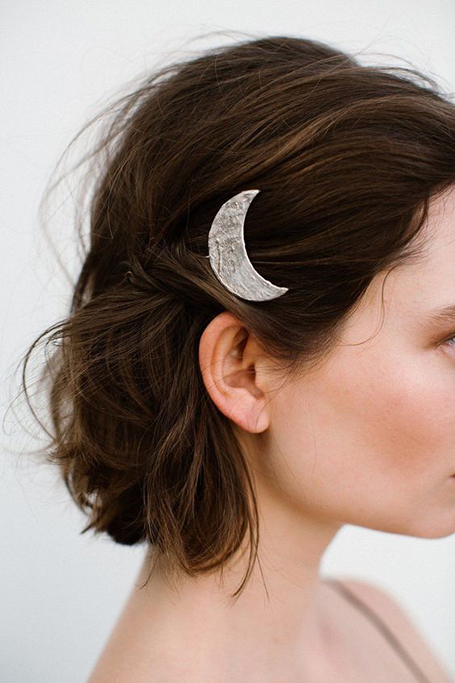 2. Homecoming Medium Length Hairstyle
Medium length hair usually falls around your collarbones or shoulder blades. While it gives you diverse styling options, it's not as high-maintenance as long hair. Plus, you can easily use clip-in hair extensions to add volume or length as needed. For Homecoming, try styling your medium-length hair in a pretty, romantic half up, half down hairstyle, such as a loose crown braid paired with soft waves.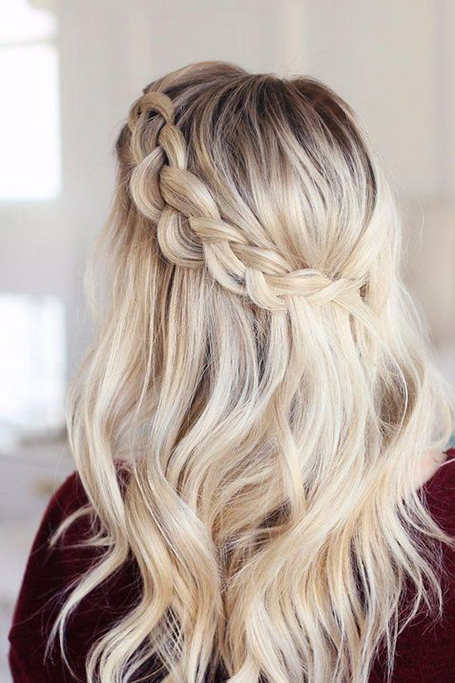 3. Homecoming Long Hairstyle
Make the most of your long hair at Homecoming by wearing it down in a gorgeous wavy style. Wide-barrel tongs or rollers are ideal for creating statement oversized waves that cascade down your back. Keep your style looking sleek by applying a smoothing serum and finishing with a strong-hold mist. Alternatively, use a three-barrel waver to create on-trend mermaid waves for a softer and more ethereal look.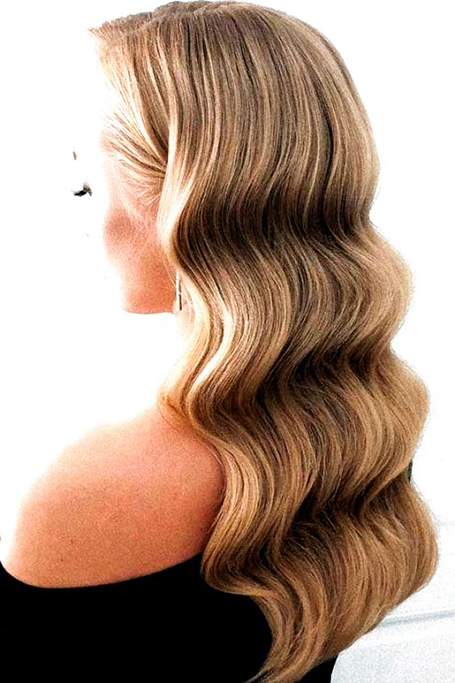 4. Homecoming Curly Hairstyle
Ladies with naturally curly hair should consider an on-trend '90s hairstyle for Homecoming – a curly updo with loose tendrils. The style has a slightly wet look, so make sure your curls pop by keeping them hydrated and defined with curl cream. Then, secure your hair to the top of your head with curl-friendly pins and hair elastics. Leave some pieces free and let them fall forward to frame your face. For the ultimate '90s look, pair your updo with oversized hoop earrings and a slip dress.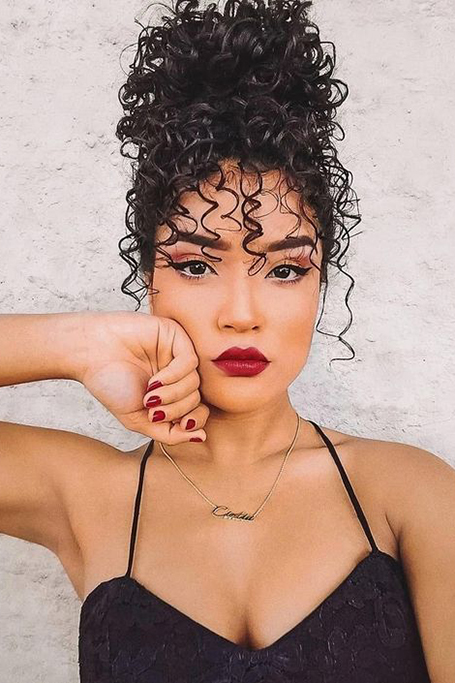 5. Homecoming Straight Hairstyle
You can dial up the glamour for Homecoming with a super straight hairstyle, such as a sleek high ponytail. The look suits those who want a sophisticated and chic finish. Plus, it allows your make-up and jewelry to take center stage. Flyaways are the enemy of the sleek ponytail, so use gel and hairspray to ensure no hairs are out of place. Add length and thickness to your ponytail using a clip-in extension, and wrap a section of hair around the base for a flawless finishing touch.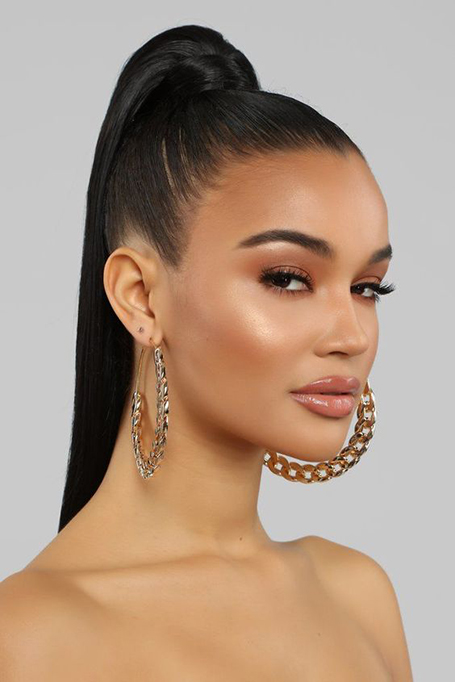 6. Homecoming Cute Hairstyle
A cute hairstyle is ideal for those who want to show off their youthful and playful side for Homecoming. Try a wavy half up half down hairstyle to get the natural and pretty girl-next-door look. Use small tongs or braid your hair overnight to create beachy waves, then pull the top section into a loose bun. Add a cute hair accessory, such as a scarf, ribbon, hairband, or scrunchie, to finish the look. Pair it with natural, delicate make-up – think a subtle bronze eye, flushed cheeks, and rose-toned lip gloss.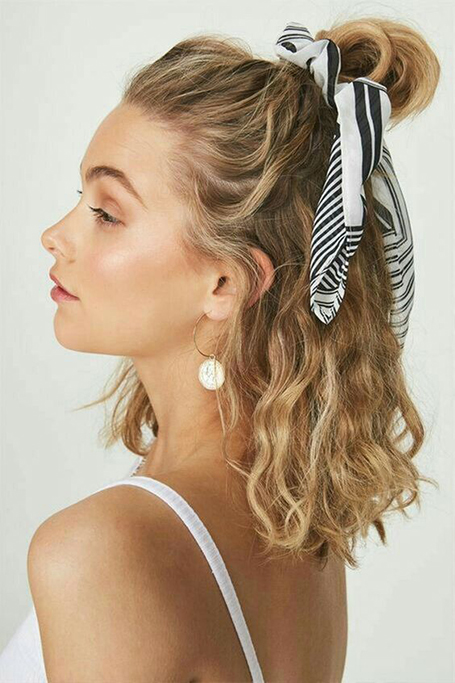 7. Homecoming Easy Hairstyle
You don't need to spend hours on your hair for Homecoming to achieve a beautiful final look. If you're short on time or don't have any styling tools to hand, try a twisted ponytail. Spritz through some texturizing spray, then pull your hair into a loose low ponytail. Next, fold the ponytail up and tuck it through to create a beautiful twisted effect. Cover your hair elastic with a ribbon or a section of your hair, and voila – you have a modern, glamorous, and feminine Homecoming hairstyle in seconds!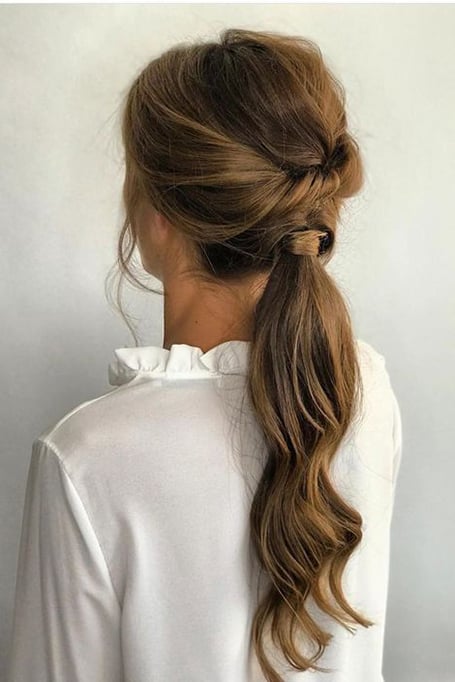 8. Homecoming Half Up Half Down
Half up half down hairstyles give you the best of both worlds – the sophistication of an updo paired with the relaxed and pretty feel of a loose hairstyle. There is a massive range of options, from buns to braids and more. However, a classic and simple option for Homecoming is a knotted half-up, half-down style. Ideal for thick and wavy hair, all you need to do is twist the top section into a loose low knot rather than merely tying it back. It's also a beautiful way to show off the highlights in your hair.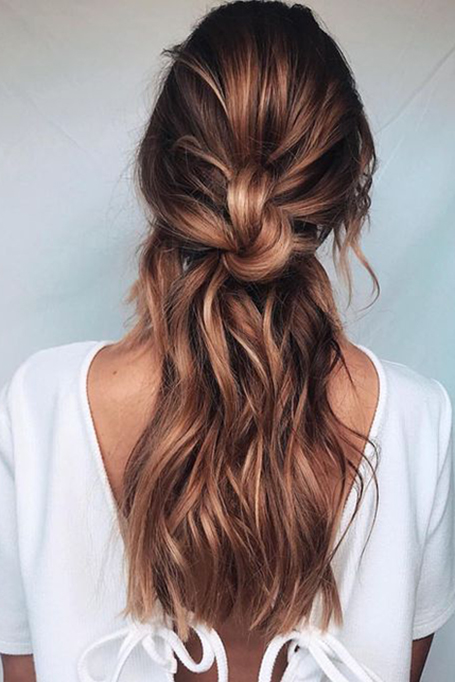 9. Homecoming Half Up, Half Down Updo
A gorgeous Homecoming style for thick hair is a half up, half down updo. It works for both medium and long hair lengths. Separating the top section means your hair doesn't look like one solid mass – plus, it draws the eye upwards, making it a very flattering look for those with round faces. Add some face-framing bangs and waves to add to the sweet feminine vibe of the hairstyle.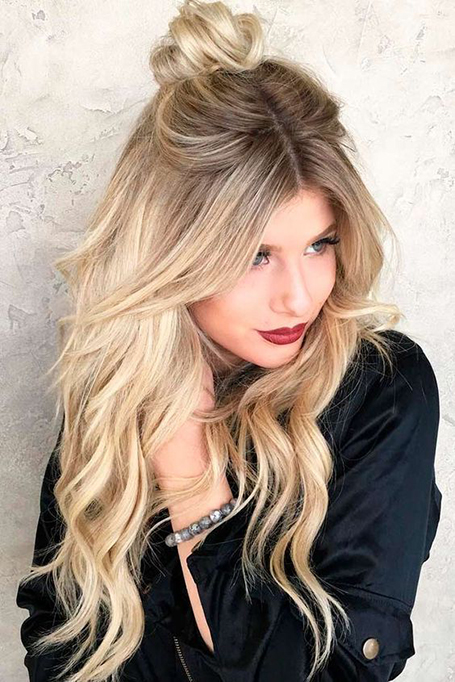 10. Homecoming Braided Hairstyle
Braided hairstyles are always trending due to their beautiful, intricate appearance and protective benefits for Afro-textured hair. Try braided buns with cornrows for a cool '90s-meets-modern vibe at your Homecoming. The buns give the hairstyle fun and youthful appeal, while the cornrows add a sleek and polished touch. Because this is an updo, you can pair it with statement jewelry and bold eye makeup.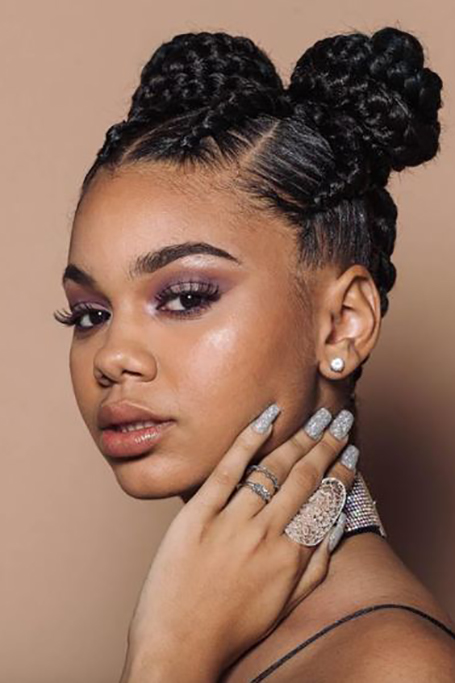 11. Homecoming Hairstyles for Afro Hair
A huge variety of gorgeous Homecoming hairstyles are perfect for Afro-textured hair. From Senegalese twists to Fulani braids or even simple puffs, you can perfectly show off your kinks and curls. One option to get the best of both worlds is a half-twisted or half-braided look. It combines the elegant look of braids and twists in the front section with the fun of an oversized puff in the back section. Because it's a pulled-back style, it will also put the focus on your face, jewelry, and shoulders – ideal if you're wearing a slip dress or off-shoulder outfit.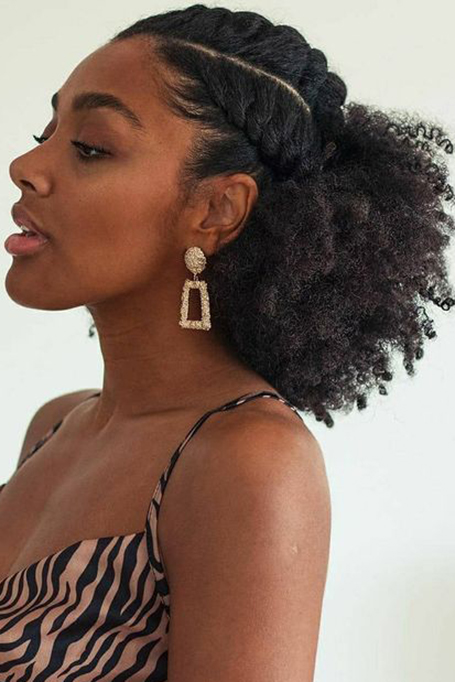 12. Homecoming Hairstyles for Thin Hair
While thin, fine hair has the advantage of being more manageable and smoother than thicker, coarser hair, it can be tricky to build volume or hold a style with this hair type. The best option is a simple style emphasizing the sleek, lightweight look of thin, fine hair. One classic and elegant option is a low bun with face-framing tendrils. There is no need to add any volume or texturizing product – all you need is a straightener or curling wand to give the front pieces a soft wave. Alternatively, leave them straight and wispy for a cool '90s vibe.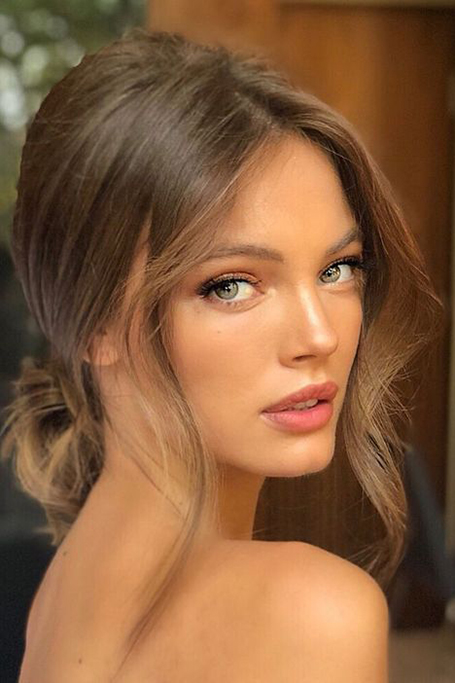 13. Homecoming Ponytail
One of the most beautiful yet straightforward hairstyles is the ponytail. Perhaps the most versatile hair option, ponytails, can take you from the Homecoming game to the dancefloor instantly. Upgrade your everyday ponytail for the special occasion by building up the volume and length with a clip-in hair extension. Secure the ponytail a little higher on your head than you usually would, making it stand out and show off the extra length. Add a cute accessory like a satin ribbon, and finally, use a curling wand to create bouncy waves and curls.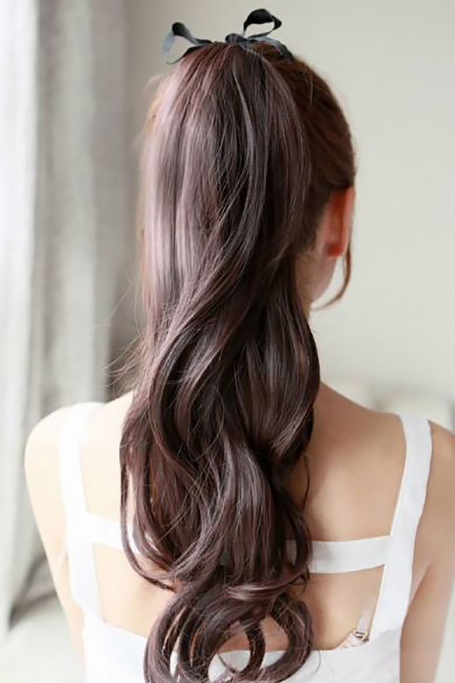 14. Homecoming Hairstyles with Bangs
Are you looking to freshen up your look? Bangs are the quickest and most straightforward way to shake up your hairstyle for Homecoming. Choose a fringe style that suits your face shape – side-swept bangs look lovely on round faces, while A-shape bangs suit square faces, and long, layered bangs flatter almost everyone. If you already have a fringe, why not pair it with a textured updo? While chic and sophisticated, the style is still understated and pretty – perfect for those with a minimalist style.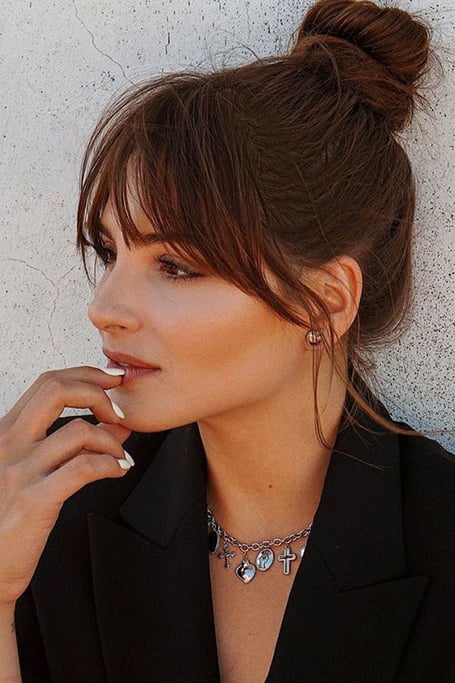 15. Homecoming Low Ponytail
Keep your Homecoming look soft and pretty with a low ponytail. While simple, a low ponytail can still look glamorous enough to wear to an evening event with a few small styling tweaks. First, ensure your hair is silky and smooth. Next, build a little volume in the crown to keep the style looking balanced, then add a clip-in extension to give the ponytail some extra length and body. Finally, leave some face-framing pieces at the front to keep the style flattering and feminine. Finish with a spritz of high-shine spray, and pair with dewy, glowing make-up and statement earrings.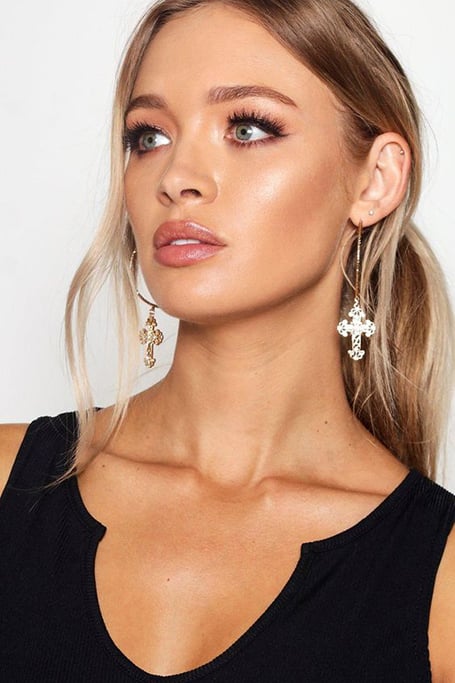 16. Homecoming Pinned-Up Curls for Natural Hair
If you're embracing your natural hair and ditching the weave, wig, or relaxers, consider a beautiful pinned-up curly style for Homecoming. It's a gorgeous updo that will show off your kinks and curls to perfection while drawing the eye up to your face and eyes. To keep your curls looking their best amid the colder Fall temperatures – especially if your Homecoming involves outdoor events – use a moisturizing leave-in conditioner, curl-defining cream, and hair oil.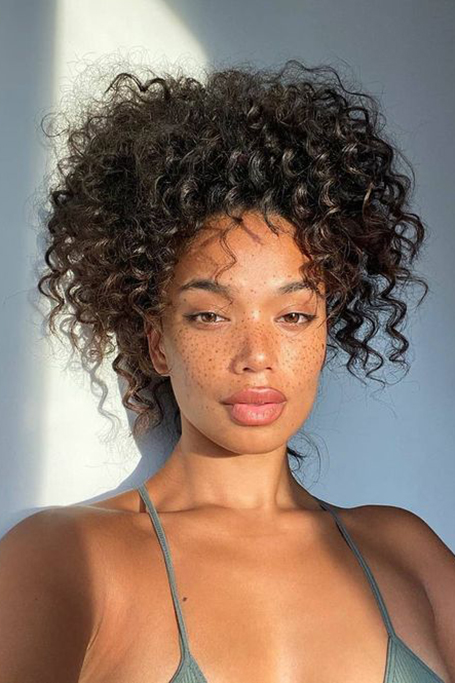 17. Homecoming Updo With Fishtail
Give your updo hairstyle a glamorous twist with a fishtail braid. While it looks complicated, the style is deceptively simple – and looks even better if you have ombré or balayage hair color. Create two fishtail braids on either side of your head and cross them over at the front, securing them with bobby pins to make a faux halo-braid or crown-braid effect. Leave some pieces loose at the front to add to the delicate, bohemian feel of the hairstyle.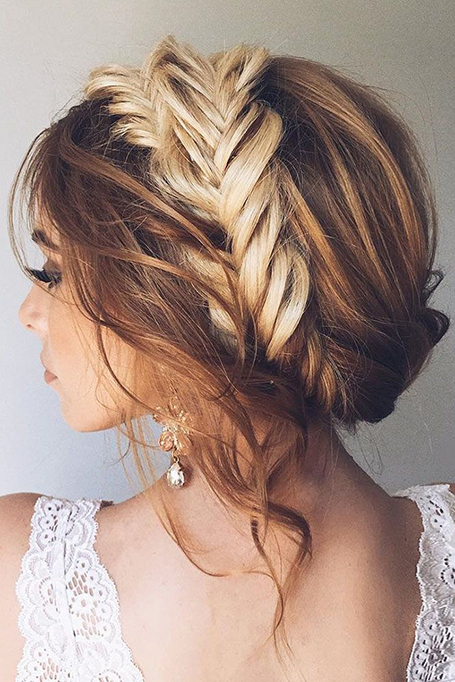 18. Homecoming Halo Updo
A classic halo braid updo looks beautiful for an event like Homecoming – especially if you are going to be named Homecoming Queen. It creates a lovely crown-like effect and has a timeless, formal appeal. Put your twist on your halo updo by adding hair accessories – think mini stars, crescent moons, or pearls for an ethereal look. You could add flowers or braid ribbon to your hair for a pretty finish.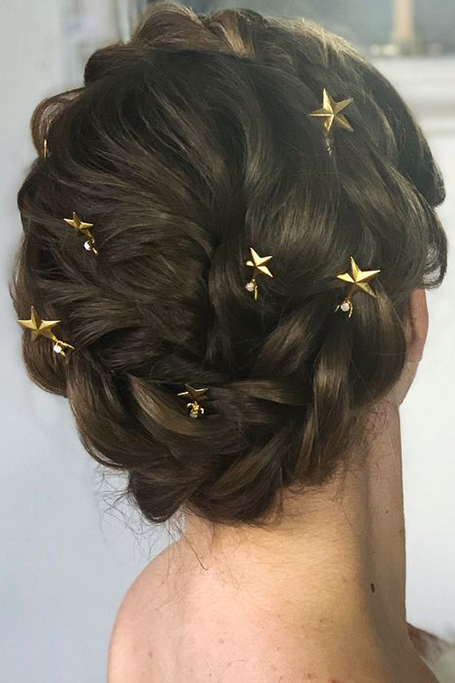 19. Homecoming Slicked Back
A slicked-back style is ideal for those who want a modern and edgy look for Homecoming. It has a stylish simplicity and an editorial feel that is perfect for fashion-forward girls and is also an excellent choice for those with fine or straight hair. The key is to create a wet look without appearing as if your hair has just been washed. Add mousse at the crown and blow-dry to create more volume and lift at the top of your head. Then apply a gel and brush your hair up and back from your face, keeping the sides flat. The result is a super cool, sleek look.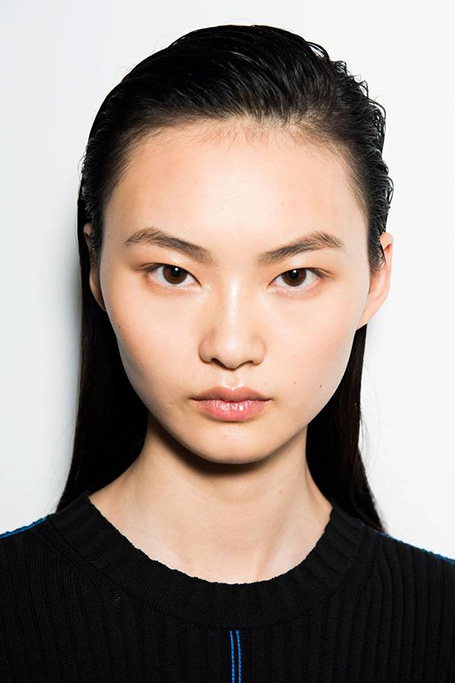 20. Homecoming Pretty Curls
There is nothing prettier than wild, free curls! Show off your hair's natural volume and bounce with a free and easy curly style. The key to taking your curls to the next level for a special occasion like Homecoming is to ensure they are defined rather than frizzy. Reduce flyaways and split ends by combing from the bottom up – never from the roots. Next, use your fingers or a wide-toothed comb to detangle rather than a brush. Then, use a hydrating serum that will define, separate, and moisturize your curls will, adding a beautiful shine.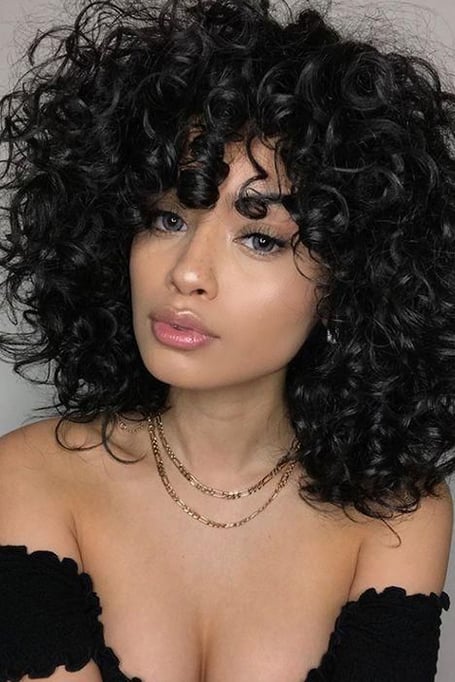 21. Homecoming Messy Knot
Are you searching for a chic Homecoming updo that's as stylish as it is simple? Look no further than a messy topknot. There's no need for any styling tools or products – you only need a strong snag-free hair elastic and bobby pins to secure the knot. The best part is the messier your hair looks, the better. To keep the style looking chic rather than disheveled, leave some long, delicate pieces at the front or around your temples to create a face-framing effect. Then, pair the hairstyle with soft glam make-up – think a high-wattage highlighter, rose blush, and lots of mascara.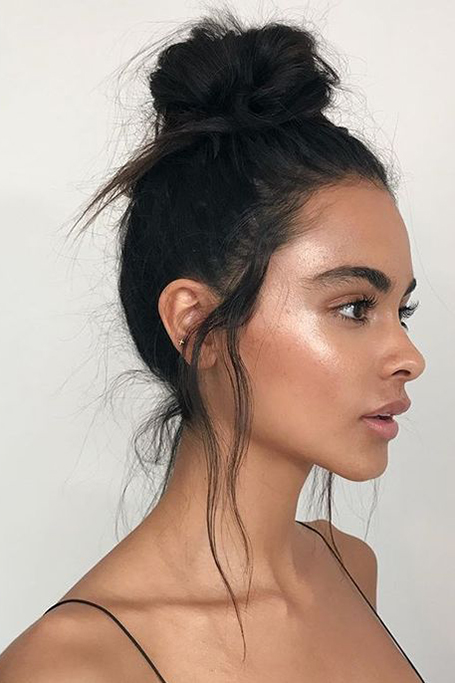 22. Homecoming Side Braid
Due to its understated yet fresh look, a side braid works for day and night events. Plus, it's a great option if you want a braided hairstyle that doesn't require a mirror or a particular technique. Take your side braid from schoolgirl to star of Homecoming by building volume at the crown and leaving some pieces loose to create a faux asymmetric fringe. The hairstyle is particularly flattering if you have a round, heart, or square face.

23. Homecoming Waterfall Braid
A waterfall braid is a gorgeous Homecoming hair option as it has a beautiful feminine, romantic vibe with a Bohemian feel. A waterfall braid creates gorgeous movement and dimension if you have medium-length or long hair that is thick or naturally wavy. Therefore, it is an excellent option if you wear a backless or sleeveless dress. Plus, you can put your personal touch on the style by weaving a ribbon or gold thread through the braid.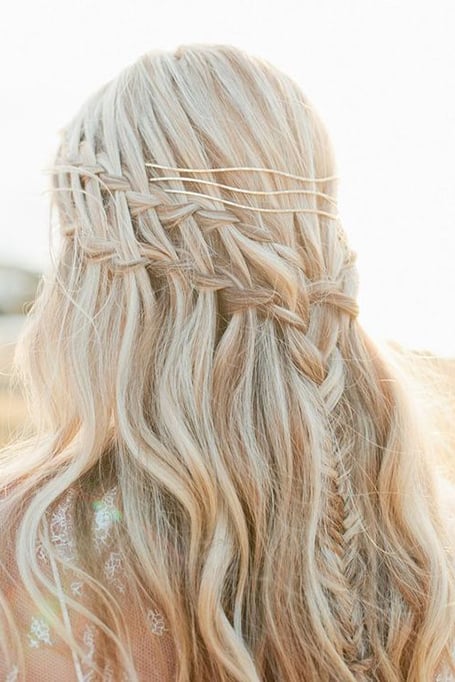 24. Homecoming Messy Bun
Like other intentionally messy styles, a messy bun is all about texture and understated glamour. For that reason, it is an excellent choice for those with a minimalist aesthetic – think monochromatic clothes, fresh and natural make-up, and dainty jewelry. To make the style work for Homecoming, ensure you use a sea salt spray to give your hair some grip, leave one or two pieces free at the front to frame your face, and make sure your bun isn't too big or small. Then add some statement earrings as the finishing touch.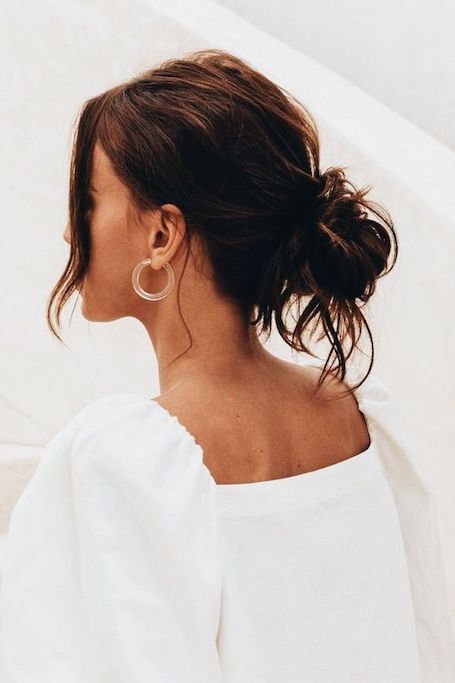 25. Homecoming Beautiful Chignon
Are you looking for a clean and elegant updo for your Homecoming dance? Consider a chignon. Classic and sophisticated, the chignon has been a staple of formal events for decades. The chignon is all about a polished finish on the opposite spectrum to the messy bun or topknot. It looks beautiful with a delicate and feminine outfit, such as a floral or off-shoulder two-piece. Add an on-trend accessory – such as a pearl barrette or clip – to give your chignon a modern twist.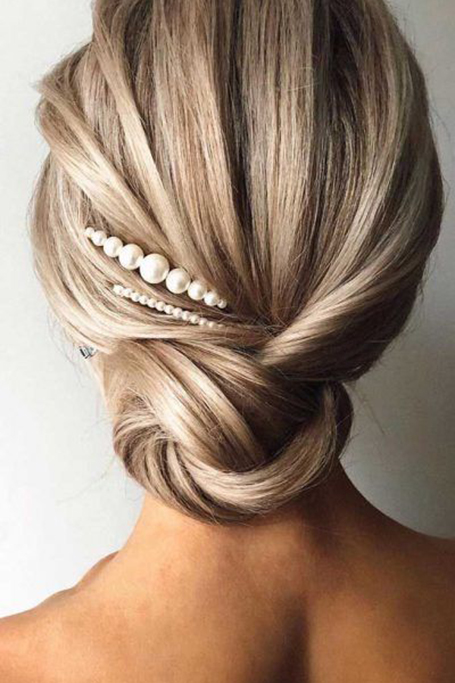 26. Homecoming Romantic Dutch Braid
Try a romantic Dutch braid for a sweet, feminine, and whimsical look for your Homecoming. Dutch braiding uses the underhand technique to create a raised plait instead of a French braid, which lies flat. Give your Dutch braid the ultimate romantic touch by tying it into a bun and leaving a few sections of hair out. You could also add flowers for a beautiful nature-inspired look.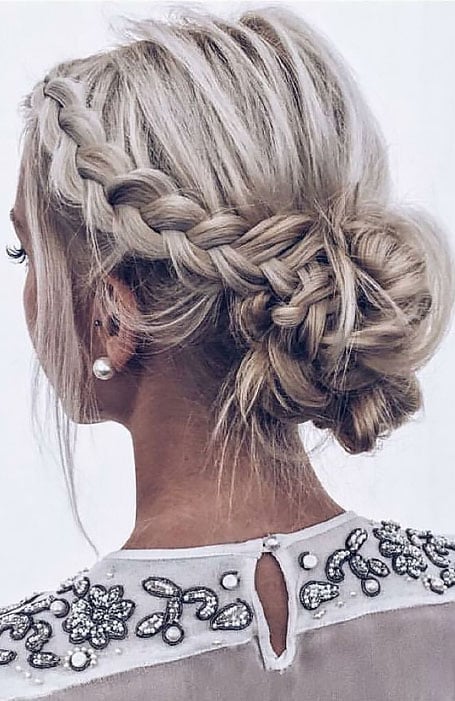 27. Homecoming Retro Curls
Give your Homecoming look a touch of Old Hollywood glamour with retro curls. The style has a classic vintage appeal and is the perfect classy touch if your event is more formal. While retro curls suit almost every face shape, as it is a side-parted hairstyle, it is particularly flattering for those with a square, diamond, and heart-shaped face. Plus, the gentle curve of the waves softens the angles of these shapes too.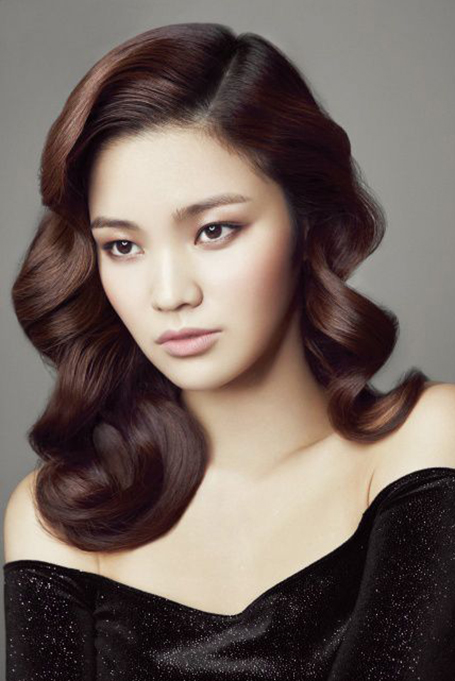 28. Homecoming Elegant Bob
The ultimate cool-girl hairstyle for Homecoming is an elegant bob haircut. A favorite style of fashion influencers and models, the bob is side-parted, sleek, and low-maintenance – yet oh-so-chic. It is ideal if your style is more minimalist, as it pairs well with a black dress and dainty jewelry. However, an elegant bob is also an excellent option for those who want to let their make-up, outfit, and accessories do all the talking, as it won't distract from a show-stopping dress or set of earrings.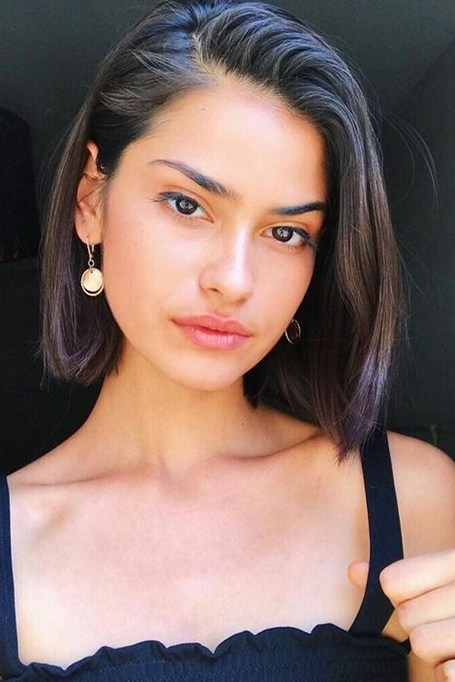 29. Homecoming Double Braid
For those blessed with long, thick hair, a double braid could be the perfect choice for Homecoming. While there are many different braiding options, a double Dutch braid looks particularly striking and will help you stand out from the crowd. Start at the front of your head or your temples and braid backward, covering your hair elastics with a small section of your hair to give the style a glam finish.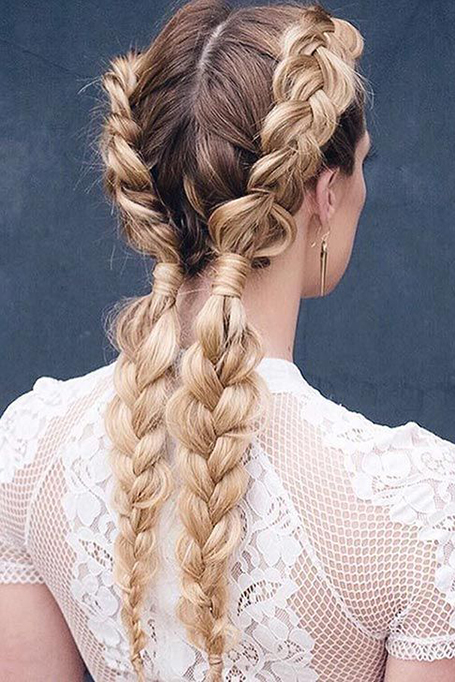 30. Homecoming French Braid Updo
If you want to take your basic updo to the next level, why not add a French braid element? The style makes for the perfect day-to-night look, casual enough to wear to a parade yet elegant enough for a formal event like Homecoming. As it's an updo, it allows you to show off a statement pair of earrings – such as oversized hoops – and also pairs well with a sleeveless or off-shoulder dress. For an extra glam touch, weave a ribbon through the braided section.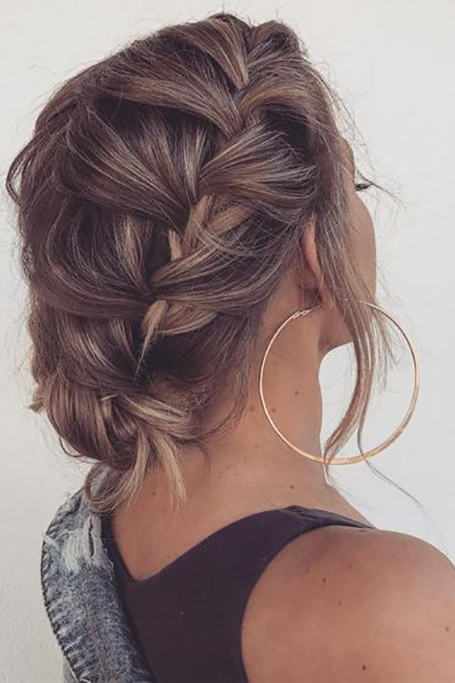 31. Twisted Crown Braid
Homecoming is one of the most special events in a girl's schooling; you want to look and feel your best. A style that will help you do this is a simple twisted crown braid. The braid wraps around the hair, creating a pretty and delicate look. Instead of braiding, you want to twist the hair, which is incredibly easy to achieve. You can experiment with various thicknesses depending on your preference and hair length. The twist can be achieved on most hair lengths, including shorter hair and all textures, making it versatile.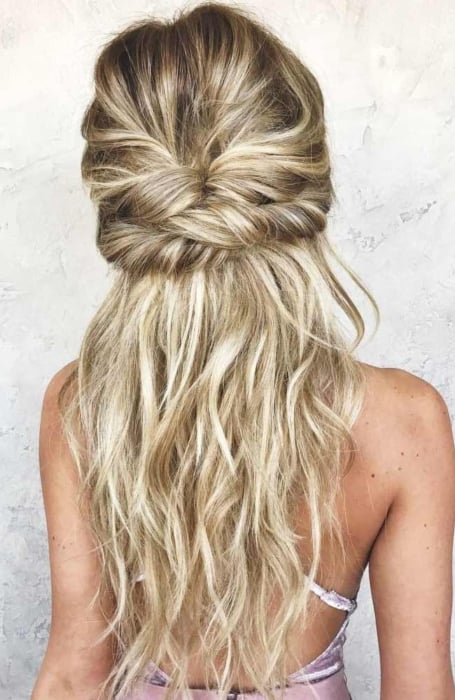 32. High Ponytail
The ponytail is a simple and practical hairstyle, but how you can wear it makes all the difference. High ponytails can be sophisticated or glamorous, and wearing them higher on the head will make the style more noticeable. The high ponytail is best for medium to long hair but can be done with all hair textures. For straight hair, slick the front backward for a polished finish, and for wavy or curly hair, embrace the texture by creating a high ponytail that is deliberately unstructured. The downside to high ponytails is that they can cause breakage and tension on the scalp. This is why this is an ideal look for homecoming, but not every day.
33. Whale Spout Hairstyle
The 80s have inspired fashion and beauty trends, and while many were big, loud, and over-the-top, a style you can try is the whale spout hairstyle. This is a simple updo that is created so that the hair cascades out, resembling the steam of water whales force out when they surface. This style's appeal is that it has a cute and youthful look that will also make your hair appear voluminous and full. The longer and thicker your hair is, the better the result will be. Pulling the hair away from the face can be incredibly flattering, drawing attention to your features.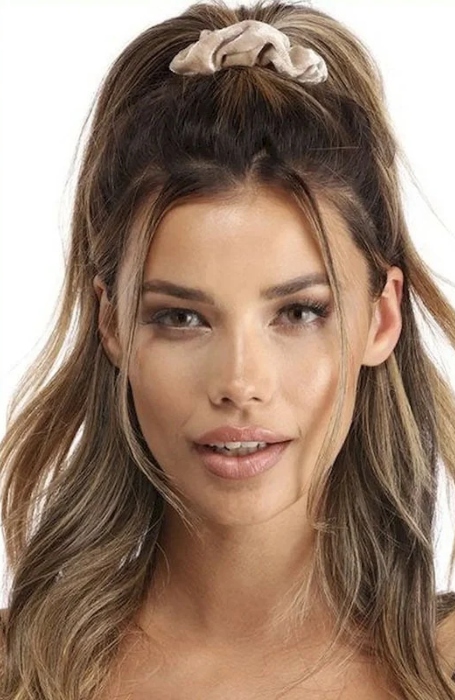 34. Curly Bun
The bun is a simple and effortlessly chic look. Buns are flattering on most people and lend themselves well to most occasions. It can be created with all hair textures and is an excellent way to keep the hair out of the face. With curly hair, you can create a deliberately messy or unstructured finish that can highlight your texture. Leave hair pieces to fall loosely around the face to soften your features, creating a pretty and delicate finish. This look will also work well with hair accessories, and you can add a cute pearl headband. Or try out a bejeweled clip to the side of the hair to make it feel more glamorous for homecoming.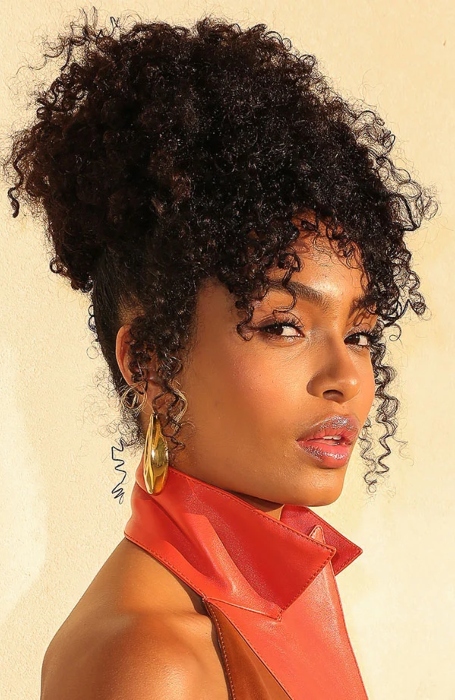 35. French Twist
The French twist is a stylish updo that is created by twisting the hair upward and turning itself against the head. It is one of the most classic styles and looks incredibly chic. It is not a new style, but this is part of its appeal because it looks timeless and elegant and will work well with most hair textures. You can also accessorize the top of the hair with clips. Alternatively, floral details can create a more youthful and modern finish. Homecoming is one of the most important nights of your high school career, so make it memorable with this cute look.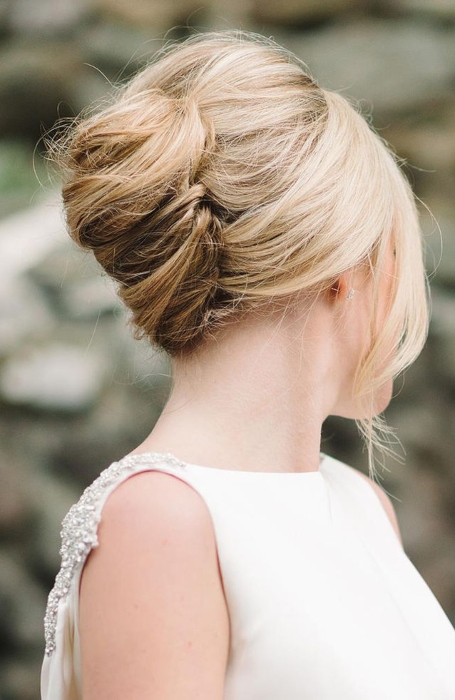 Homecoming Hairstyles FAQs
How should I do my hair for homecoming?
Homecoming is one of your schooling career's most exciting events, so it makes sense that a lot of thought has gone into creating the perfect outfit, which is then accompanied by great makeup and hairstyles. Several styles are perfect for this celebration, including mini braids or a sleek look for short hair. Romantic half-up, half-downs look pretty for medium-length locks, and for longer tresses, you can wear them down in beautiful oversized curls or mermaid waves. If there is a look you want to achieve, but your hair is too short, don't be afraid to try out clip-ons.
What is the most beautiful hairstyle?
There are many beautiful hairstyles to choose from, depending on your personal preference. Some of the most popular and feminine looks include a braided crown, knotted half-up, half-down looks, a chic chignon, twisted fishtails, and loose, low pony-tails.
What is the easiest hairstyle to do?
Luckily some of the chicest hairstyles are actually super easy to recreate. These include the messy bun, a high ponytail, a low bun, a half-up French twist, and the top-knot.
What are some cute and easy hairstyles?
If you want a cute and easy-to-create look, you may consider a pony-tail. The low, loose opinions are very versatile and can be worn to a smart event like a homecoming, while a higher pony is more sleek and glamorous. Other options include slicked-back locks, side braids, or pretty curls if your hair has natural volume. Certain styles work best for short hair, medium, long, thin, thick, and curly. You can read more about them in our article on Homecoming Hairstyles.
SUBSCRIBE TO OUR NEWSLETTER
Subscribe to our mailing list and get interesting stuff and updates to your email inbox.