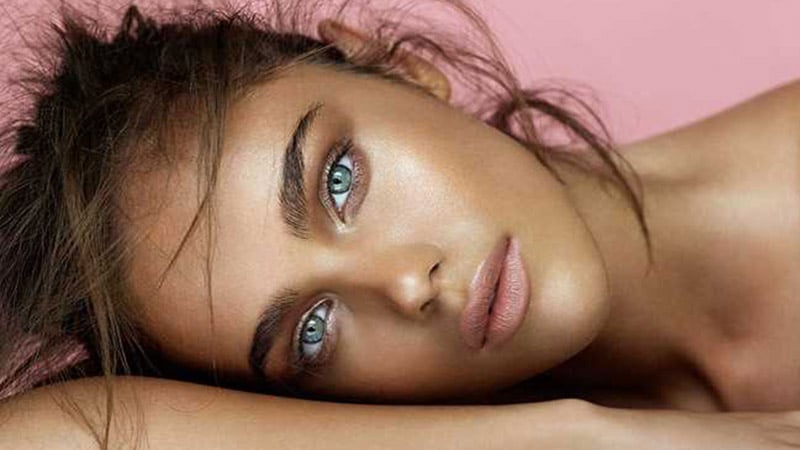 When it comes to makeup, sometimes less is more. A glamorous look is all well and good, but it's just not practical for everyday occasions like school or work. Natural makeup will enhance your features, rather than disguise flaws. It's a simple approach that focuses on a few key areas – skin, eyes and lips – and brings out their best in a subtle way. You'll use fewer products, take less time, and you don't need to know any complex techniques to achieve the look. Read on to find out how to get the natural makeup look and be inspired with quick and easy tutorials.

Natural Makeup Looks
1. Look After Your Skin
The key to great makeup is having a flawless canvas to work on, so it's critical to have a good skincare routine. This is particularly important when it comes to natural makeup because you'll be wearing a lighter foundation or concealer. As well as cleansing and toning, there are a couple of extra steps you can take to get your skin glowing. First, clear up acne and blackheads to ensure your skin has a smooth texture. Next, treat any redness or irritation with soothing, hydrating products designed for sensitive skin. Finally, reduce fine lines and pigmentation with retinol or a Vitamin C serum.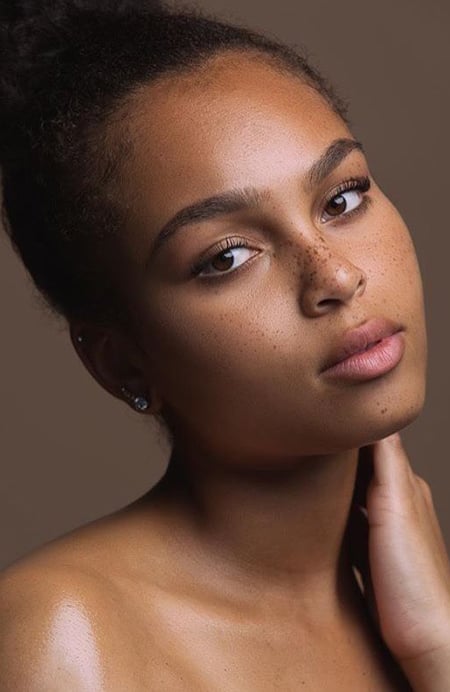 2. Moisturiser, Sunblock, and Primer
Before you get started with your natural makeup look, it's essential to make sure your skin is moisturized and protected from the sun, as well as primed. The type of moisturizer you apply will depend on your skin type – oily, dry, or combination, but this can change depending on the season. The most important component of anti-ageing is wearing a high-spectrum sunblock (one that protects you against both UVA and UVB rays) every day. Next, it's time to prime! Primer makes your skin look even more flawless after you put your makeup on. Not only does it blur out wrinkles and pores, but it also creates a smooth base for your foundation to glide onto and holds it in place throughout the day. If you're pressed for time in the morning, combine your moisturizer, sunblock, and primer into one step with a BB Cream.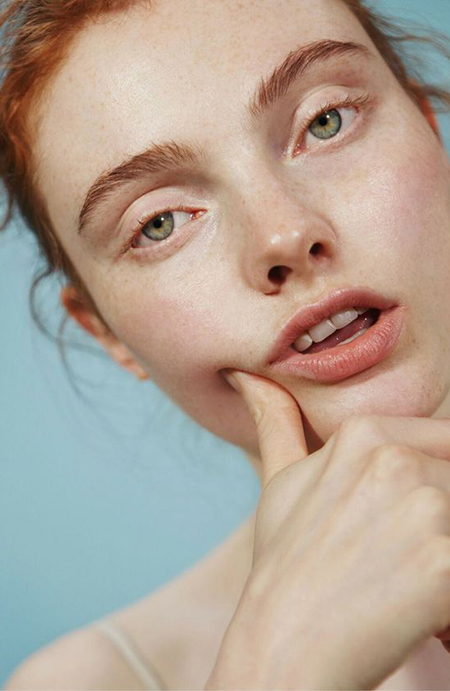 3. Apply Foundation
A natural look generally only requires one or two subtle eyeshadows, which means there's no chance of noticeable fallout, so it's fine to put on your base first. To create a natural makeup look, you want to choose a foundation with light to medium coverage, as a heavy foundation can almost erase your features. Liquid types generally have the most natural finish, and you can mix a drop of illuminator into them to create a fresh, dewy glow. It's essential you choose a formula that will suit your skin type, as well as the shade that's closest to your skin. Finally, the application is the most critical step to creating a natural-looking foundation. Whether you use a brush, sponge, or your fingers, make sure you start sparingly and blend particularly around your hairline, ears, and jaw. You don't want it to look as if you're wearing a mask!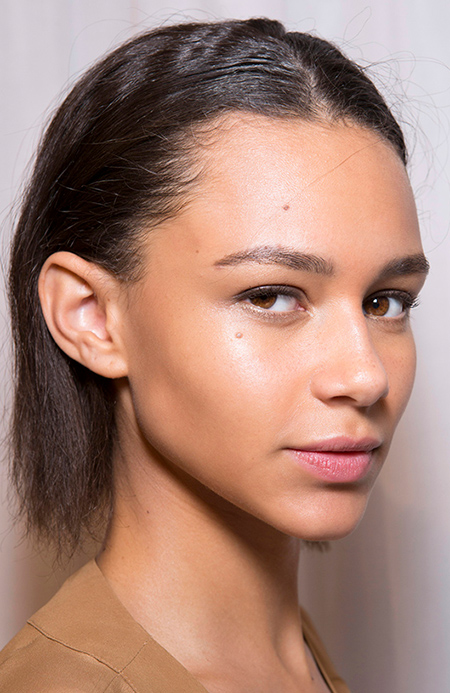 4. Conceal and Use Powder
To get the perfect makeup look, concealer is a must. However, make sure you use it sparingly as you still want to look natural. Also, you may choose not to hide your freckles. Select a formula that has the same texture as your foundation, so it blends in seamlessly; if your foundation is dewy and your concealer is matte, or vice versa, it will look patchy. Use two different shades to target different concerns; one that's the same shade as your foundation for blemishes, and one that's one to two shades lighter for brightening dark under eye circles. Apply your concealer with a brush and use the tip of your finger to blend it in. Then, dust over some setting powder. Use a banana powder under your eyes to add extra brightness, apply a little translucent powder to hold everything else in place.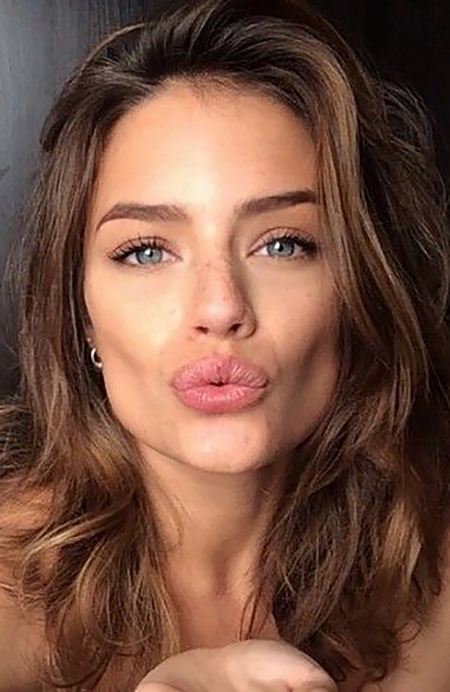 5. Pick Suitable Cheek Colour
A touch of blush is the perfect accent for a natural makeup look. It gives a youthful and healthy glow as well as adding dimension to your face. The best cheek color is your natural flush which will effortlessly flatter your skin's undertones. This could range from pale pink to apricot, deep rose, or even mauve. There are several different kinds of blush, but if you've set your foundation with powder, a blush with the same texture will blend over it without streaking or caking. Use a large, fluffy brush and start at the apple of your cheeks then blend up and out for the most natural finish. It's important to keep the look subtle, though, so if you feel like the color is too intense, go over it with the brush you used for your foundation to mute it back down.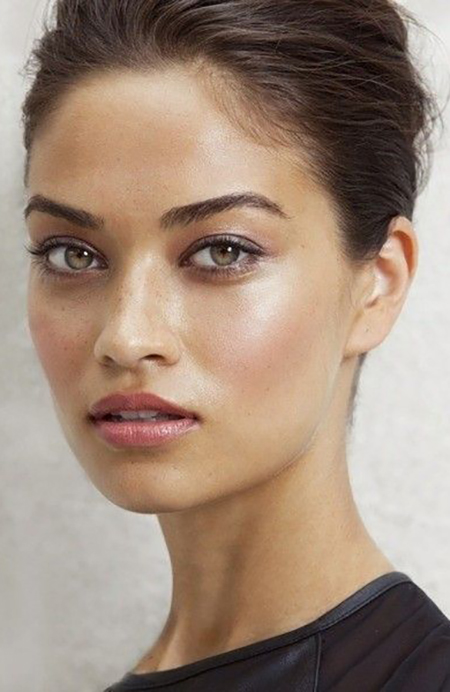 6. Apply Eyeliner (Optional)
You can go without eyeliner when applying natural makeup. Just curl your lashes or apply one light coating of mascara, and you're good to go! If you have a bit more time, you can subtly enhance the shape of your eyes and make your lashes look thicker with eyeliner. Stick to simple brown or black rather than bolder colors, and only apply it to your upper lash line. Don't bother with complicated techniques like a wing. Instead, use a soft pencil then delicately smudge and blend the product into the roots of your upper lashes.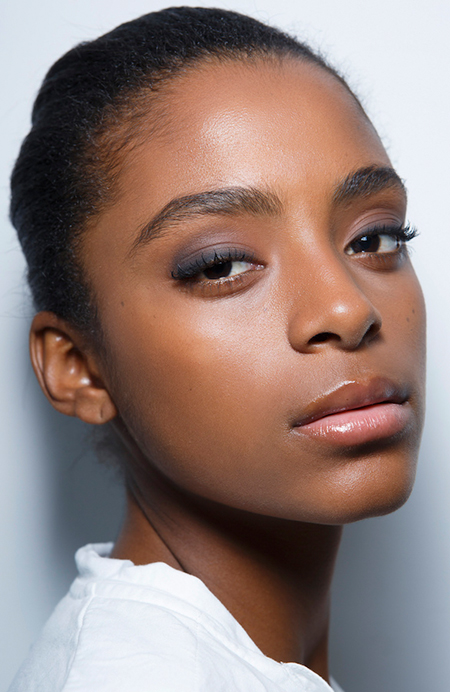 7. Moisturize Your Lips
Nobody wants dry, chapped, or flaky lips! The cause of this problem is usually dry, cold, and windy weather as it draws moisture out of your skin. Before you apply your lip balm, exfoliate away any dead skin with a gentle, hydrating lip scrub. You can also buff them with a very soft toothbrush. Exfoliating makes your lips look healthier and brings out their natural color. Next, apply a lip mask or balm and let it sink in for a couple of minutes. At this point, you can even go the extra mile and put on a plumping balm or serum to make your lips look bigger and deeper in color. Prepping your pout ensures your lipstick and gloss will go on smoothly.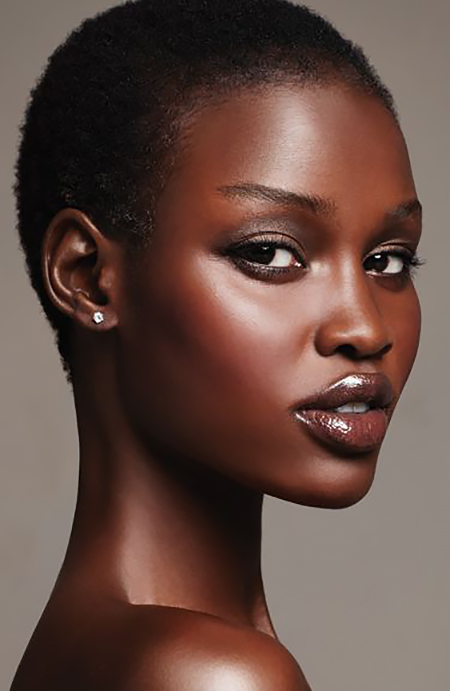 Eyeshadow for a Natural Look
Natural makeup is all about flattering your features, so your eyeshadow should make the most of your peepers' shape. Neutrals like soft browns, beige, peach, and taupe suit all eye colors. Deepen the intensity of the shade in the outer third and use a lighter color to highlight your inner corner. Think of it as a contour for your eyes. Equally important are your eyebrows: brush through them with a spoolie and filling in any gaps with a pencil. Having softly defined brows is the quickest way to frame your face. Here, makeup guru, Angela Bright shows you how to put together a beautiful and understated everyday look.
Natural Makeup Tutorial
This quick and straightforward tutorial from YouTube beauty guru Laura Lee is ideal for beginners. Laura uses less than ten products to create a beautiful final look, which combines flawless skin, a subtle contour, and a nude lip. She brings out her eyes with a generous coating of mascara – no eyeliner or false lashes required! As Laura says, this is perfect everyday makeup for school or work. The best part is that this video is only 6 minutes long, so you can recreate her look in a flash.
FAQs
What is natural makeup?
Natural makeup takes a minimalist approach, using products to enhances your best features rather than covering everything. The focus is generally on the skin, eyes, and lips, using basic items to make each of these pop without being excessive. Plus, natural makeup looks generally take less time and are great for easy mornings and late starts.  
What do you need for a natural makeup look?
Start by looking after your skin with a good routine that includes cleansing, toning, and moisturizing, but that also tackles issues such as spots, aging, dryness, or a damaged skin barrier. Next, remember to use sunscreen to protect against further damage, and a primer can help even skin tone out. Choose a light to medium coverage foundation, and use concealer and powder strategically. Add some subtle color on your cheeks with blush and one or two shades of optional eyeshadow and eyeliner. Finish with moisturized lips and a neutral lip gloss.  
What is the best natural-looking makeup?
The best natural-looking makeup will highlight your best assets, whether that's flawless skin, pretty eyes, or voluptuous lips. Natural makeup will look different on everyone, which is the beauty of the style.
Is natural makeup really better?
Natural makeup isn't better or worse than a full glamor look; it's just different. However, it certainly has some benefits that include less time, less product, and simpler techniques. It's an excellent option for casual days, lazy mornings, or when you're running behind schedule.
SUBSCRIBE TO OUR NEWSLETTER
Subscribe to our mailing list and get interesting stuff and updates to your email inbox.