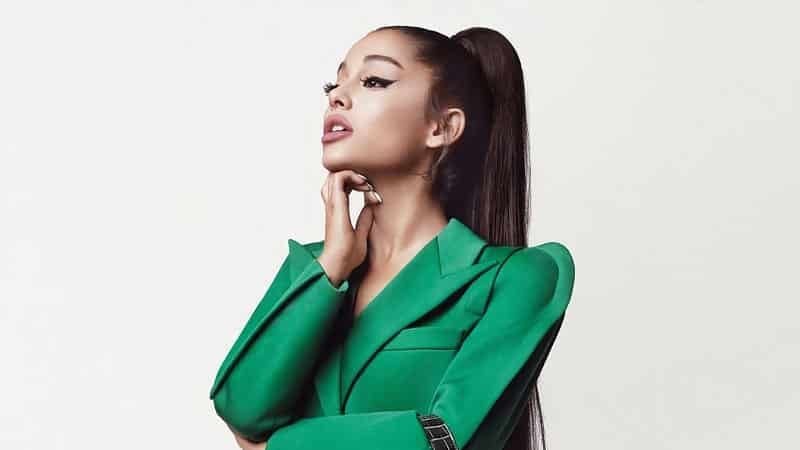 The classic ponytail is simple and understatedly chic and ideal for all occasions. But if you want to update the hairstyle to feel fresh, modern, and super sophisticated, look no further than the sleek ponytail. This is an updo that is defined by its smooth and glossy appearance. The hair will be brushed backward, away from the hairline, and secured tightly. But that does not mean that it will only work with straight strands and is surprisingly versatile and easily adapted to all textures and lengths. There are also different versions, from formal-approved updos to something more creative and expressive, like the bubble effect or braided finish. Nothing is boring about this style; it is one of the hottest looks this year. Don't believe us? Keep reading to find out why.
RELATED: 40 Best Ponytail Hairstyles for Women
1. Sleek Ponytail
You can transform a classic upstyle into something trendy and cute with some creativity. The sleek ponytail is loved because of its neat and polished finish. This makes it the ideal look for various occasions, including more formal events like weddings or work functions. The best thing about this style is it's great for showing off your texture while keeping the hair out of your face. You will look gorgeous and be the envy of everyone!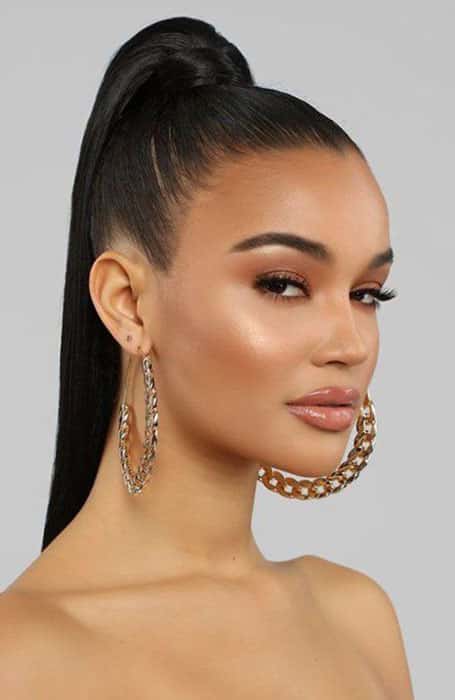 2. Sleek Braided Ponytail
Get the ultimate fusion of sophistication and texture with a braided ponytail! This sleek style will transform your look – making you as polished as ever in front but rocking fun texture on top. If you're losing out due to shorter locks, extensions are here for the rescue… giving no one any reason to miss this mindful makeover opportunity!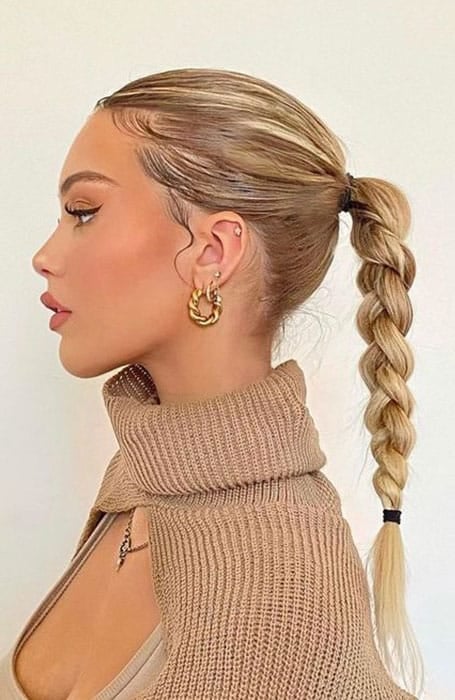 3. Side Part Sleek Ponytail
Ah, the side part. What is not to love about this stylish and elegant parting? The appeal is that it works to frame the face, balance the features, and can be added to any hairstyle. This gives you incredible versatility and can update even the most basic looks. Adding the parting to your ponytail will draw the eye to the hairline and complement your features. Smooth it down to create a glossy finish, and voila!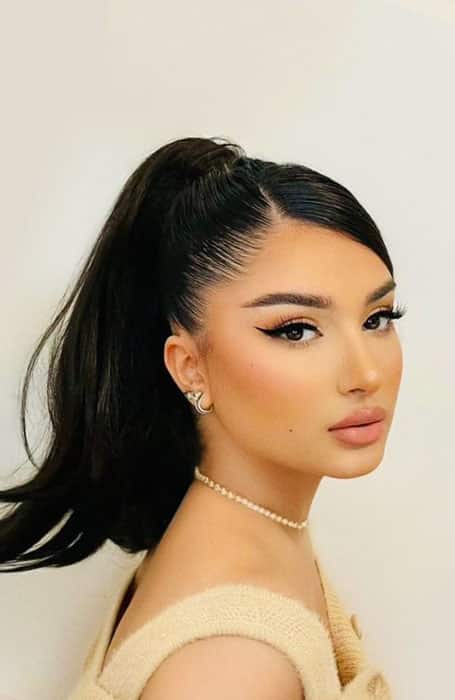 4. Sleek High Ponytail
The high ponytail is one of the best options for those who want a simple upstyle with all the drama and glam of more complicated looks. Wearing it higher will make it more noticeable, and creating a smooth finish can be incredibly flattering as it will keep the hair out of your face, opening up your features. It can also be used to highlight your eyes, which can be enhanced with a bright shade of eyeshadow or an interesting liner. This updo will work best on naturally straight strands, complementing the sleek appearance.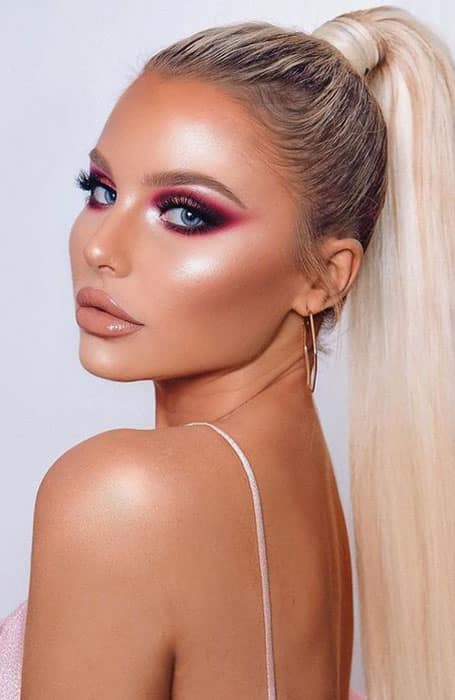 5. Low Sleek Braided Ponytail
If your locks are not as long or you find wearing it higher on the head to be uncomfortable (and it can cause tension on the scalp) a great alternative is the low sleek braided ponytail. This look is gorgeous yet understated. While the hair can be left loose at the back, adding your favorite braid to it will leave you with a modern and fun finish. The contrast between the strands on the scalp and the textured ponytail will create a brilliant balance.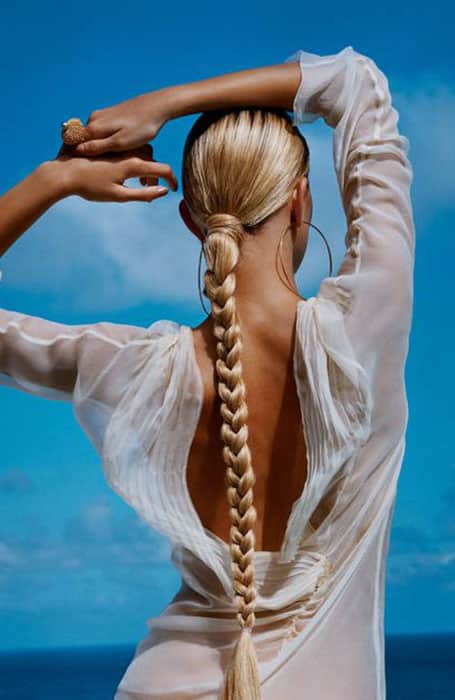 6. Middle Part Sleek Ponytail
If you want to enhance your symmetrical features, then a middle part is an excellent choice. It may be less forgiving and not universally flattering as other partings. For example, the side part, but when it works, it works. It can also be used to hide signs of thinning hair or receding hairlines, taking the focus away from this. Plus, it is fantastic for elongating the face. When worn with a sleek ponytail, this match is made in heaven and the ultimate chic girl updo!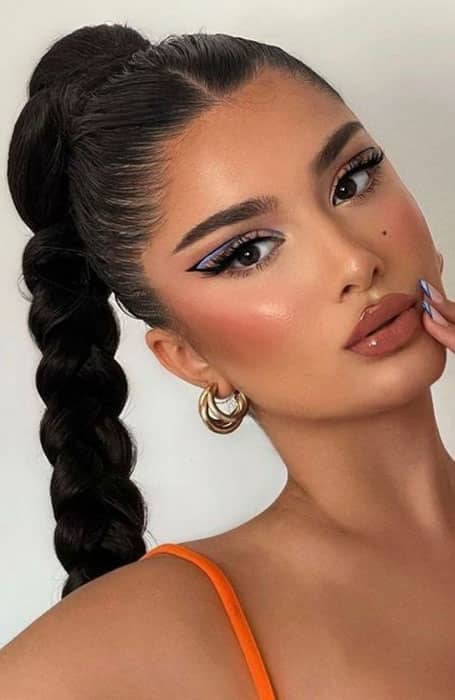 7. Sleek Low Ponytail
Looking for a trendy, fashionable hairstyle? The sleek low ponytail is a perfect choice. Whether you create a braided look at the back or tie it with elastics and bubbles to add more glamour – it's chic enough for any occasion! Hair of all lengths can easily rock this style since wearing lower reduce tension on your scalp while still looking polished and glossy.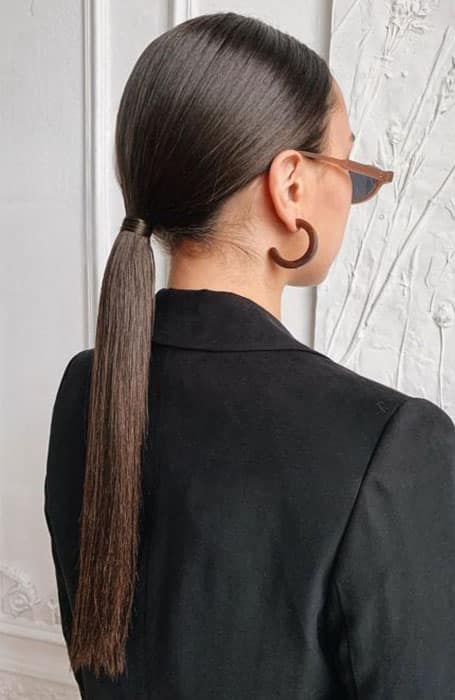 8. Sleek Ponytail with Swoop
Classic sleek ponytails are gorgeous, and there are good reasons why it is one of the hottest looks right now. However, if you love the style but want to personalize it, giving it your edge, then why not wear it with a swoop? The volume it will create at the hairline is ideal for achieving the illusion of fuller, thicker locks and can be incredibly flattering. It is also a look with an Old Hollywood glamor, helping to make your updo feel even more sophisticated. Keep the rest of the hair simple so as not to detract from the top of the head.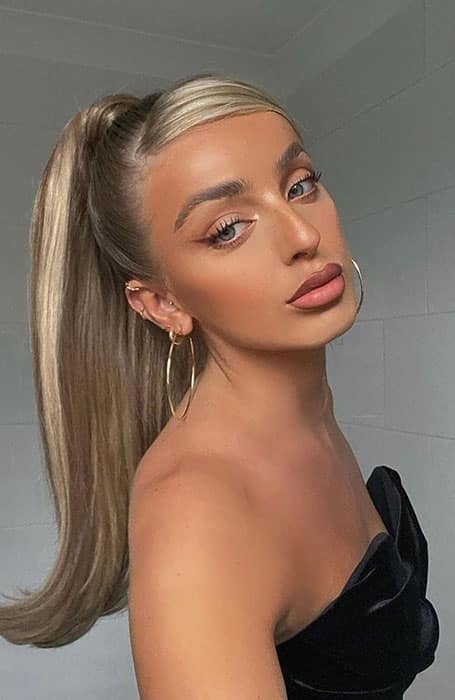 9. Sleek Ponytail with Weave
The sleek ponytail can be created on various textures, and if your hair is not long enough or you want to experiment with a new look, why not try a weave? This term refers to real or artificial hair extensions that are added to produce fullness and create your desired length. If your natural locks are too short or thin and fine, this is an excellent way to transform them. For this style, the strands on the hairline are often brushed back and secured to give it a polished appearance. However, you can also use braids for a textured finish.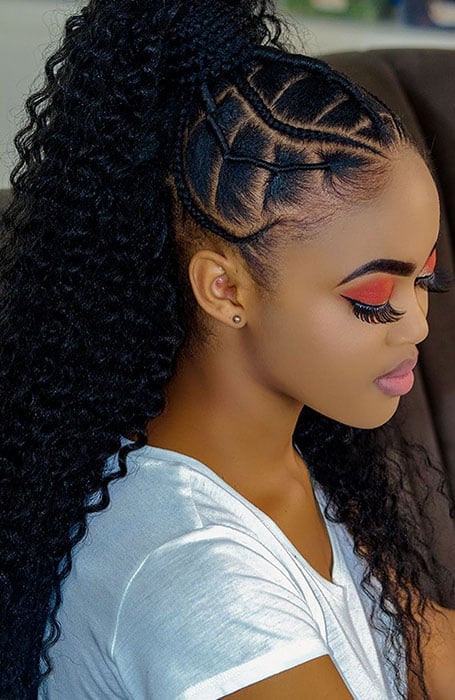 10. Sleek Curly High Ponytail
Are you looking for a gorgeous way to wear your curly hair? Tame your strands at the hairline while embracing your texture with this stunning sleek high ponytail. This is a gorgeous look for women who want to keep their locks out of their eyes and away from their faces. At the same time, this can highlight your features and create a flattering finish. Simple, yet sophisticated, what more could you want?!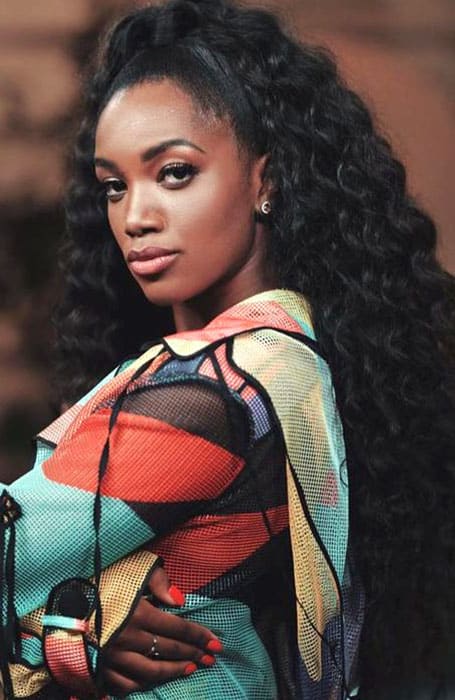 11. Sleek Ponytail with Bangs
Banish bad hair days with a sleek ponytail. It is a sophisticated look that can be worn just about anywhere, and it is super versatile, allowing you to easily adapt it to suit your preference and complement your texture. While most women prefer to keep the strands at the hairline smoothed down, this is not the only option. You can also wear it with bangs. They are an excellent way to soften your features and will draw attention to your face. They can also give you a youthful glow, making them a go-to option for women of all ages.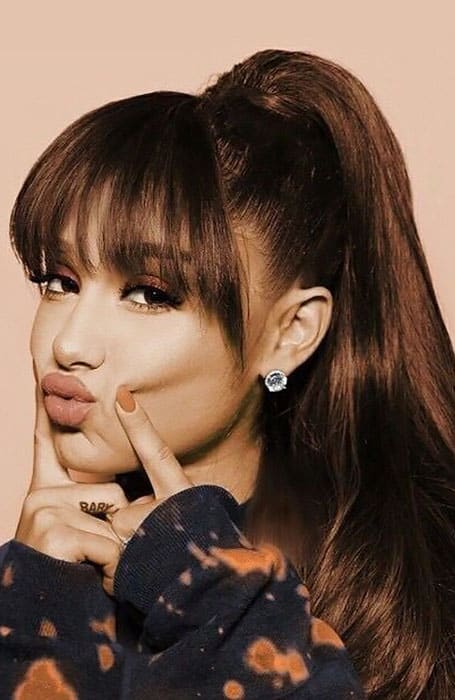 12. Natural Hair Sleek Ponytail
Natural hair is often categorized as coily and defined by density and fullness. It can be challenging to style if you want a glossy finish, but not impossible. The right moisturizer and heat tools will help you achieve that sleek effect you have dreamed of. You can also draw attention to the hairline by styling it with baby hair, giving you a youthful glow while softening the features. Leave the length of the updo loose to show off your texture and create a brilliant contrast.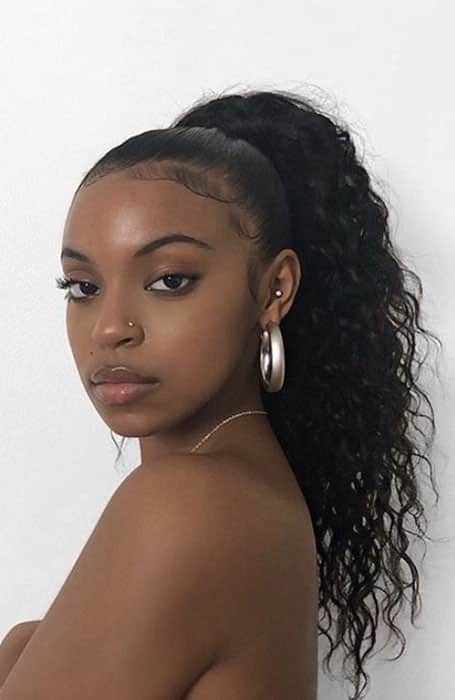 13. Sleek Jumbo Braid Ponytail
Who doesn't love big hair, and what easier way is there to make a statement?! A jumbo braided ponytail is guaranteed to draw attention to your chosen style and show off the texture. It is also super cute, feminine, and easy to achieve. To complement the thickness at the back, create a sleek effect in the front. This will tame your strands and give you a sophisticated and glamorous finish, making it perfect for all occasions, including special events and formal occasions.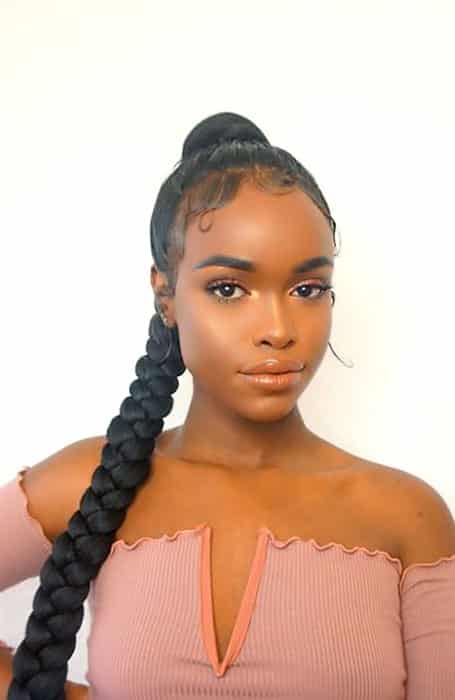 14. Sleek Ponytail Short Hair
Even with short hair you can achieve a sleek ponytail, and it will be every bit as cute. The shorter length will limit your style options at the back, but you can still smooth down your strands on the front, creating a glamorous and polished appearance. Wearing your updo lower can also be practical and comfortable. It will be less tight and not cause as much tension.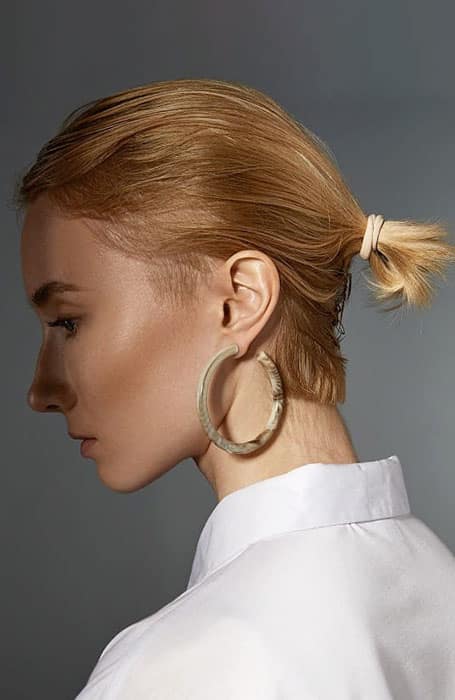 15. 2 Sleek Ponytails with Weave
What better way to achieve fullness and length than with a weave? The right extensions will ensure that even the shortest and finest hair can be transformed into the classiest sleek ponytail. There are many different options for how you wish to style it, and for those looking for a fun and youthful finish, try wearing pigtails or two-side ponytails. The look will complement most textures but can feel more sophisticated when paired with straight strands. This will complement the smooth appearance of the hair in front.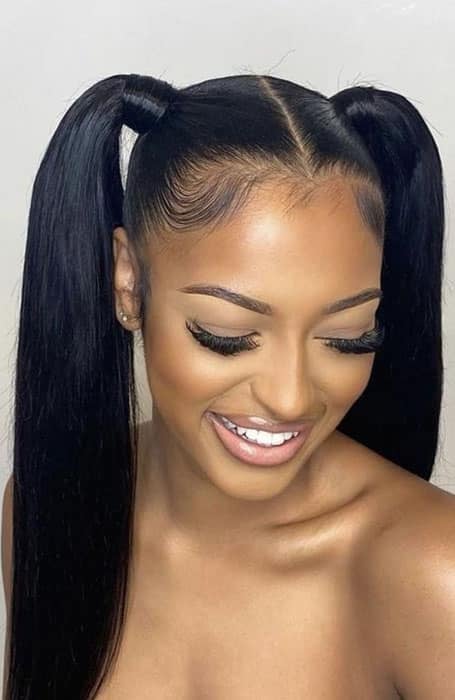 16. Deep Side Part Sleek Ponytail
The deep side part will give you volume on the top, adding sleekness and direction to your hair. Depending on your preference, you can style it over either side of the face, and it can soften the features and create balance. It is an exceptionally flattering way to style your look and is ideal for drawing attention away from a receding or thinning hairline. Ensure your strands are kept secure with a gel.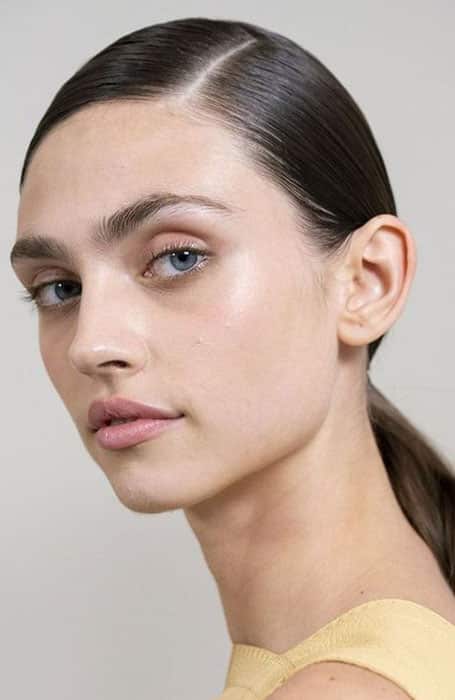 17. Sleek Fishtail Ponytail
Unleash your inner mermaid with the magical fishtail braid! This intricate style looks just like a shimmering sea creature's skeleton and will set you apart from the rest. To give it an extra kick, try starting lower in locks that have been gathered into ponytails for beautiful contrast between sleek front sections and voluminous back strands. You'll look absolutely stunning – let 'er swim!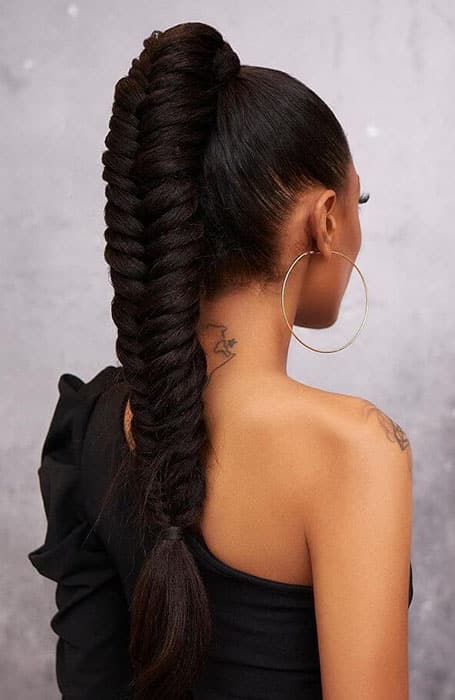 18. Sleek Ponytail with Side Bangs
Ready to add some freshness and youthfulness to your look? Side bangs might be the perfect solution! Not only do they help disguise signs of aging, but they can soften facial features when styled properly while still creating an attractive balance. No matter what hairstyle you choose – from a voluminous hairline to a smooth ponytail – this fun fringed touch is sure to enhance it with chic vibes that will turn heads!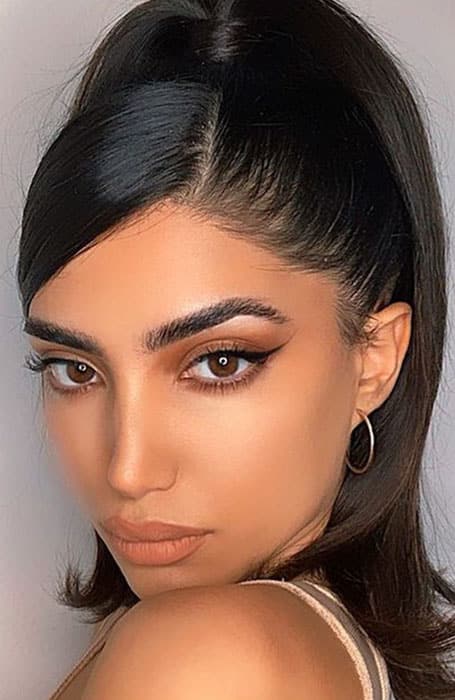 19. Sleek Bubble Ponytail
Get ready to ride the wave of nostalgia! The bubble ponytail is in, and it's here with a fun new twist. Whether you have curly, straight or wavy locks, this super simple up-do will give you that throwback look everyone loves. All you need are some elastics – place them as close together (or far apart) as desired for your perfect custom bubbles – plus some extra TLC from the front lines for a sleek finish…and just like that: 90s cuteness complete!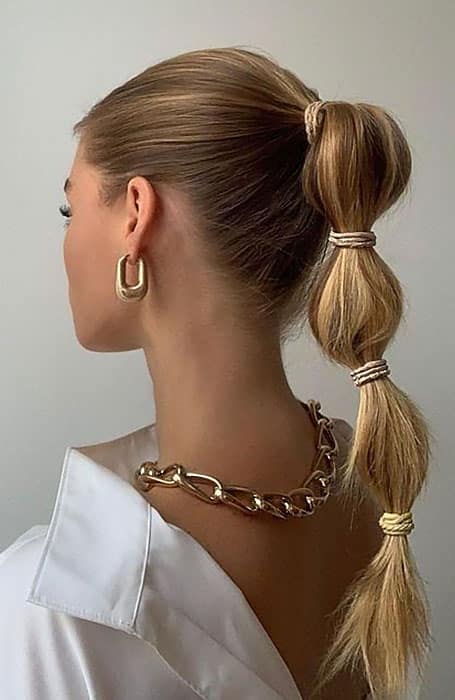 20. Sleek Ponytail with Kinky Hair
Kinky hair is a texture that is naturally curly and has a zig-zag pattern. It is tight and will shrink when wet. The result is brilliant volume and fullness, but it can be more challenging to care for and prone to dryness and tangles. Many women may use a heat styling tool and moisturizing product before attempting to create a sleek finish. Others focus this only on the top of the head, giving you a contrast in texture with the rest of the ponytail. Do not be afraid to experiment to find the best result for you!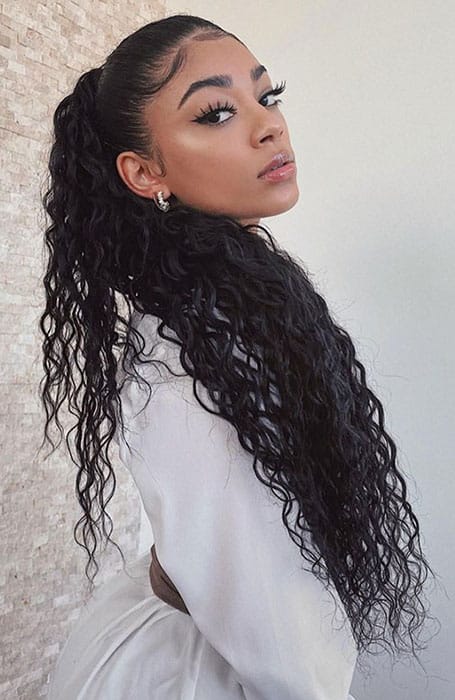 21. Sleek Ponytail Bun
The sleek ponytail can also be transformed into a bun by following just one more step to put the hair up instead of leaving it loose. Simply twist the ponytail around and secure it in the round shape with bobby pins or elastic. This stunning and sophisticated look will open up your face and highlight your eyes. Keeping the strands away from the hairline and off the face can also show off your neck and will create a gorgeous, polished finish.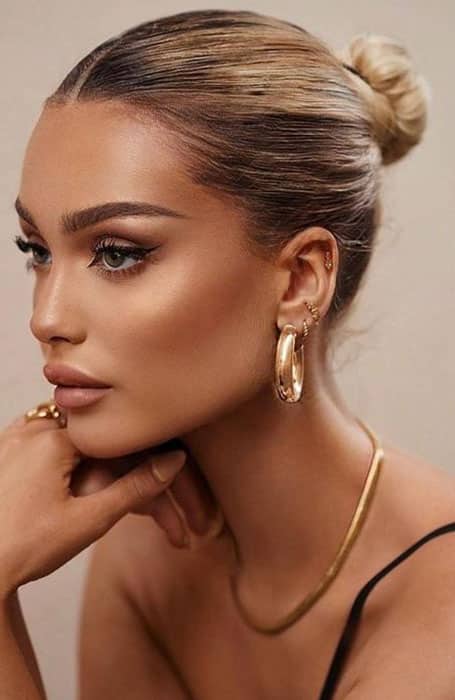 22. Cute Sleek Ponytail
The sleek ponytail is nothing if not versatile! Are you looking for a way to wear your hair that feels cute and youthful? Then look no further because the updo of your dreams can be easily created in just a few short steps. Pull the strands back away from the hairline, and secure them with a styling product. If your texture is not naturally straight, you may wish to use a heat tool like a straightening iron first to make it easier to keep everything in place. To finish, why not add a bow around the base of the ponytail for a pop of color?!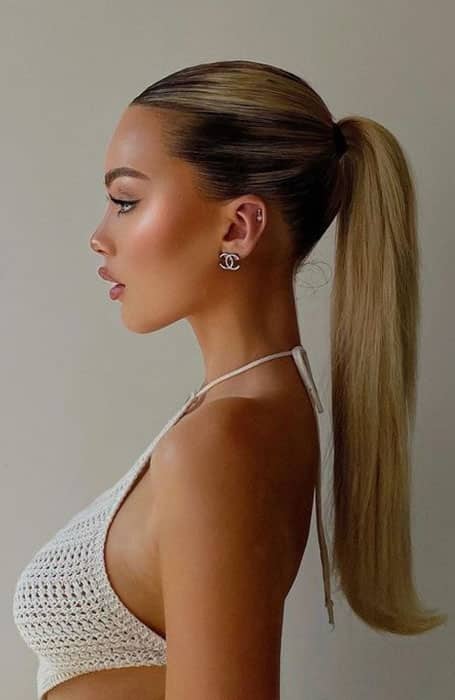 23. Rubber Band Sleek Ponytail
The rubber band sleek ponytail may not look as smooth or sophisticated as some of the other approaches to the style. However, the appeal is that it is expressive and fun, letting you create an updo that reflects your personality. It is also the perfect opportunity to introduce color and create something super youthful. Try it with various textures, including curly and kinky locks, to give the appearance of thick and full strands that contrast with the hair on top.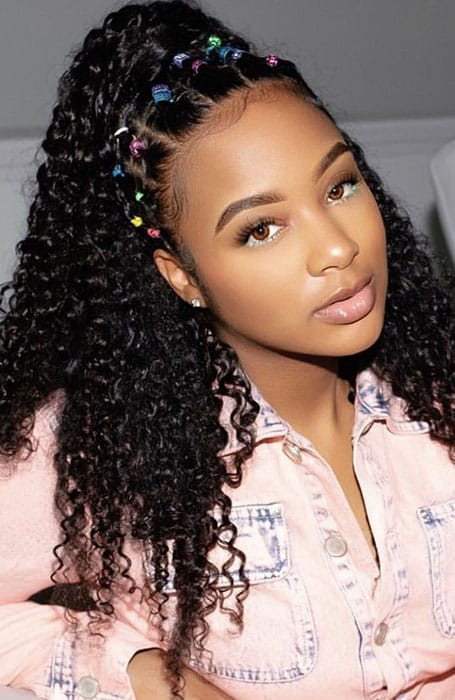 24. High Ponytail with Straight Hair Extensions
Unlike many other styles, the high ponytail requires more length to achieve. This is because it is worn higher on the head, and the best results happen when your strands are longer. But never fear because even those with the shortest locks can achieve a striking finish with the help of hair extensions. These can be artificial or human hair and are an excellent way to add volume, fullness, and length. They can also be purchased in different textures, including straight, which will give you the sleekest results and complement the hairline.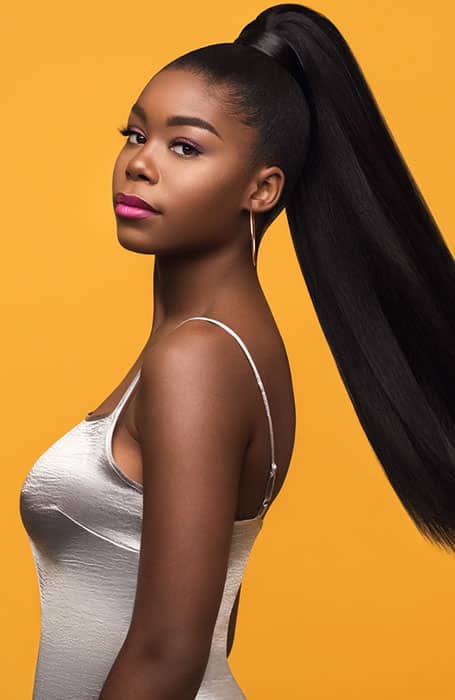 25. Long Flipped Ponytail
For a retro look, why not try out the flipped ponytail? The defining feature of this style is that the hair will be flipped at the ends. This is an excellent way to achieve volume but will also give you a texturally interesting finish. The effect works well with different lengths, including long hair, for a super glamorous and ultra-feminine result. Smooth the strands down at the front to make it sleek and secure it with gel or a similar product to ensure they are kept neatly in place.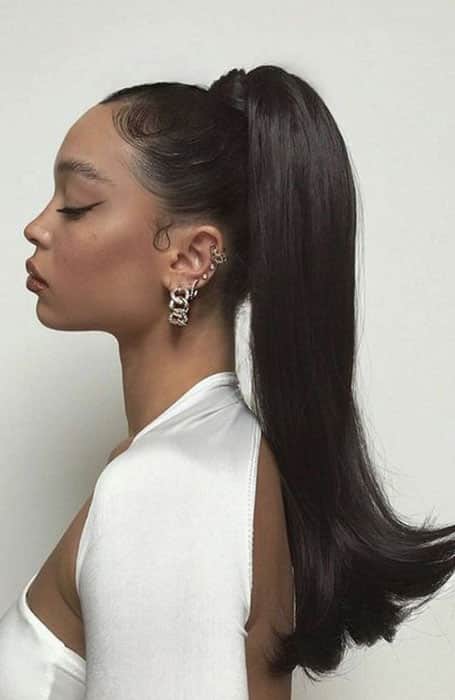 How To Do a Sleek Ponytail
Trying out the latest fashion trend doesn't have to be intimidating anymore! The sleek ponytail is an easy-to-adapt style, perfect for any hair type and length. With a few simple steps, you can enjoy its smooth finish while experimenting with different variations of this timeless updo – all from the comfort of your home. Fear not if you don't know where to begin; simply watch this YouTube tutorial on creating it yourself!
How To Do Sleek Ponytail On 4c Natural Hair
Sleek ponytails can be created on different textures, including natural hair and thick curls. This is a brilliant way to contrast the strands on the hairline and the locks in the back of the hair and will give you a beautiful, feminine appearance. Or, your stylist can blow dry it to create a straight finish. It takes more skill to tame your strands, and you will require extra steps to attain that smooth feel. The YouTube video below will help you properly care for your hair, find the right products to use, and the proper process for achieving the ponytail you have been dreaming of!
Best Gel for Sleek Ponytail
You need to use a gel or similar product to achieve the smooth and glossy finish that the sleek ponytail requires. This will tame the strands at the front of the hair and give you a neat and polished finish. There are various brands to choose from and different holds, some light and others strong. This will depend on your texture and the desired result. Do you want a wet look? Then style with damp hair and a glossing spray. Or do you want a more natural finish? A leave-in conditioner or styling pomade could help.
Shop the Products
Sleek Ponytail FAQs
How Long Do Sleek Ponytails Last?
A sleek ponytail can look great for an event but you may need to wash the hair after or retouch it. However, if you have created the look with a weave or used styling products on natural hair to keep it secure, it can last as long as a week.
What do you use for a sleek ponytail?
What you will use for a sleek ponytail will depend on your hair's texture and thickness and the desired result. Straight hair can be incredibly easy to style and will only need a light styling product to keep the strands in place. Curly textures may use a straight iron first to give them the desired straightness and smooth finish. On natural hair, the process is more complicated and will take longer, but the style can then last up to a week if cared for correctly.
SUBSCRIBE TO OUR NEWSLETTER
Subscribe to our mailing list and get interesting stuff and updates to your email inbox.